Best Mattress for Couples – Our 7 Top Picks for 2022
Written by: Luka
Updated: 09/29/2022
Ah, to be in a couple!
Sharing a part of your journey with that special someone can be so rewarding. But, it does come with its share of struggles. Especially if you are moving in together and need to find a new mattress for the two of you.
Mattress shopping is stressful enough as it is, but add one more person to the equation.
You have to think about things like
Motion transfer,
Finding the right firmness level or size,
Will the edges sag,
Will it be good for more after-hours activities,
etc.
Not to mention the thing that just adds the fire to the fuel – the budget!
I mean, it's enough to make you give up and buy the first mattress you find. But hold your horses, buttercup! We might be able to help.
It's time to find your bed-come-true! There are 7 excellent mattresses that we deem to be the best of the best on this list. Each model has a unique flavor to offer to you and your partner. And every one of them can provide a one-of-kind sleeping experience to you both. So grab a pencil and take some notes!
Note: the mattresses on this list are meant to help you find a mattress that will be the best fit for you. If none of them suit you and your partner, please check out the other roundups and mattress reviews available on our website.
Best Mattress for Couples 2022 List
Saatva Classic Mattress – Best Mattress For Couples With Different Preferences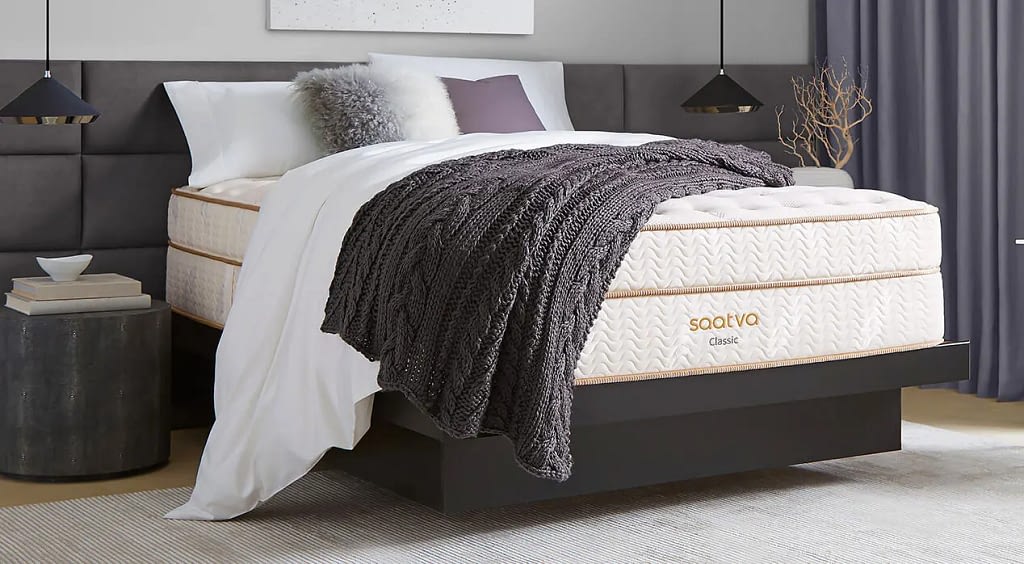 As one of the most praised mattress companies on the market, Saatva stays true to its core values and identity. It delivers "factory-fresh" luxury mattresses straight to your door.
The Saatva Classic mattress is still the most popular model, even with a vast lineup. It's even beloved among couples! In fact, it's also on our best mattress for sex roster!
As a hybrid model, the Saatva mattress is known as a very supportive and responsive bed. Thanks to its dual-layer of individually wrapped coils and plush Euro-pillow top, the mattress has a more "traditional innerspring feel". Something that many sleepers like.
Well, that's all fine and dandy, but what if you and your cosleeper have different preferences? Don't worry about a thing! The Saatva mattress is actually very versatile. It's available in 2 different height profiles (11.5″ or 14.5″) and 3 firmness levels (Plush Soft, Luxury Firm, and Firm). It even has split mattress size options as well, making it a very adaptable mattress for all!
Why does the Saatva Classic mattress stand out?
It's a premium quality hybrid innerspring model.
It has a dual layer of pocketed coils.
It feels more like an "innerspring" mattress.
Due to its versatility, it's a smash hit with couples that have different preferences.
It's great for various sleeper types and more after-hours activities.
Get yourself acquainted with every little detail of this wonderful model! Read our full Saatva mattress review right now.
Casper Mattress – Best Mattress For Couples Who Toss And Turn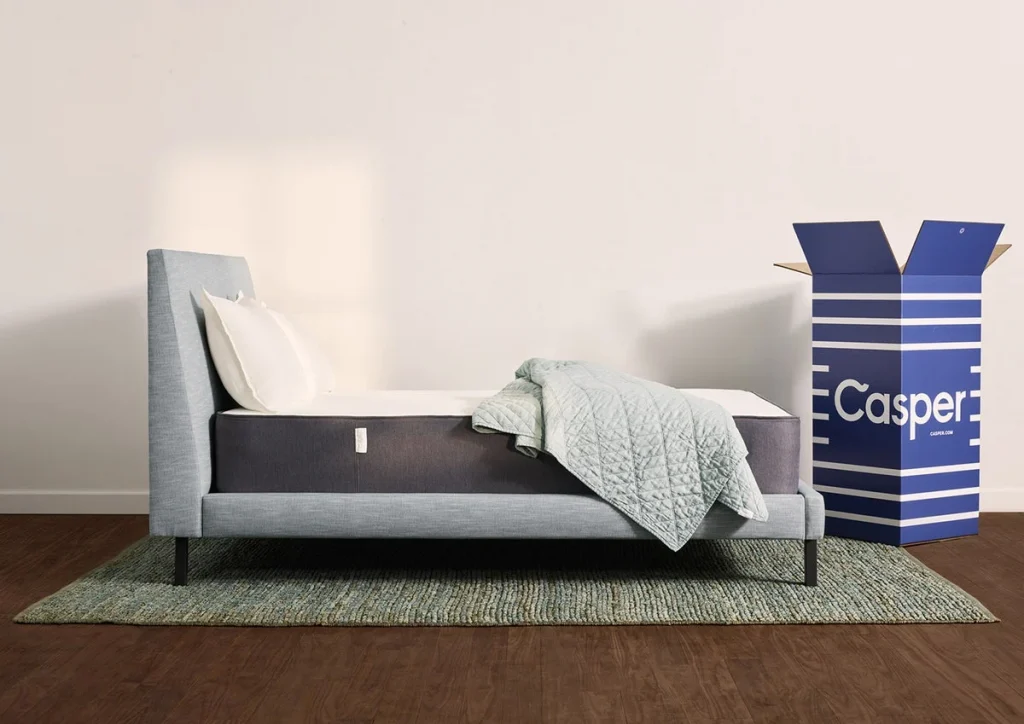 Are you and your partner both restless sleepers? The chances are that you both need a mattress that can adapt well when you toss and turn. Or, in other words, a versatile mattress.
One such great option is the Casper Original mattress, or simply the Casper mattress. Sadly, no relations with the friendly ghost from our childhood. In recent years this model has risen in popularity in recent years thanks to its unique design.
You see, the Casper mattress features something they call the Zoned Support™ layer. If you want to get into the specifics, this layer is divided into 3 areas that feature softer and firmer foams. The firmer foams are placed in the middle, whereas the softer ones focus more on the shoulder and feet.
As such, the mattress is both very supportive and pressure-relieving at the same time. So it doesn't matter if you and your partner have different sleep preferences or whether you like to switch positions. The Casper mattress will keep your spine properly aligned at all times.
Why does the Casper mattress stand out?
It is an all-foam mattress of great value.
Its Zoned Support™ layer relieves and supports critical areas.
Great mattress for those that suffer from back pain.
It is an excellent choice for couples with different sleep preferences.
Due to its versatility, it is beloved by many combination sleepers.
Is this model that friendly in other aspects? Find out if this is true or not in our candid and detailed Casper mattress review today!
Helix Midnight Mattress – Best Hybrid Mattress For Couples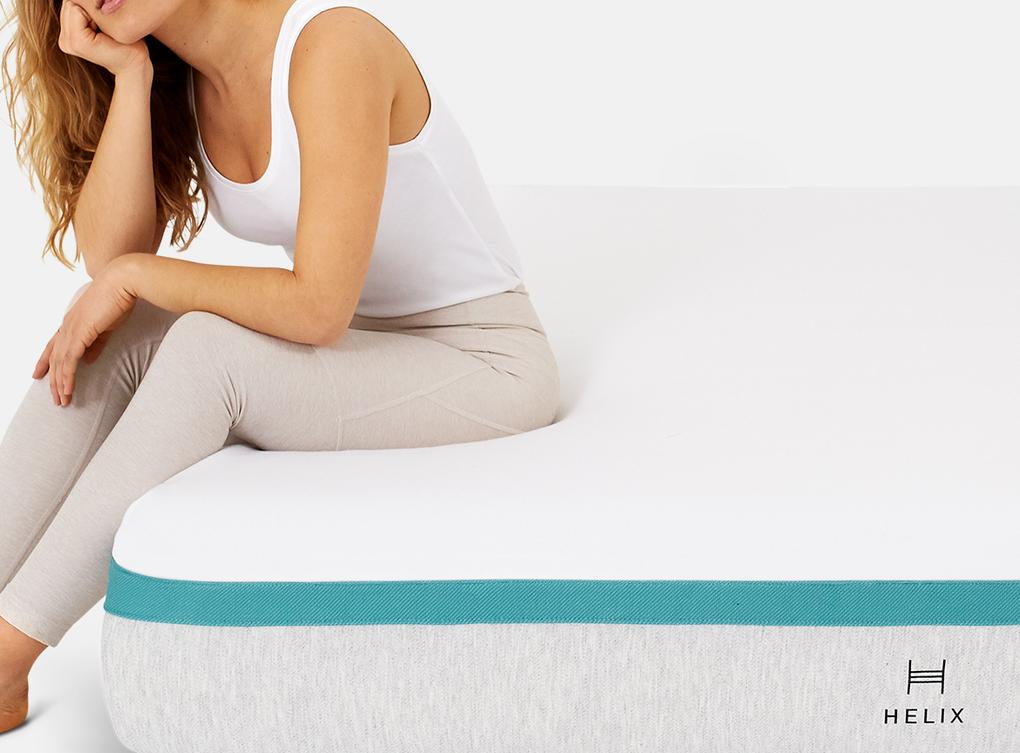 Even with the company's impressive lineup, one Helix hybrid model stands out from the rest. It even has, we would argue, one of the best names on the market.
The Helix Midnight mattress is the brand's most popular model. Not only does it have a colorful design, but it also achieves a phenomenal balanced-out feel. Which is something that many sleepers love. Couples included.
What's the secret behind this model's popularity?
First off, the Helix Midnight is a medium-firm mattress whose height is 12″ tall. It is made using only high-quality materials. Materials like premium foams and 8″ pocketed stained steel coils.
The foams work hard to provide pressure relief and maintain proper spinal alignment. Yet, the pocketed coils are where this model's strength lies. Not only do the coils provide exceptional edge support, but they make the bed quite bouncy.
And a bouncy mattress means you won't get stuck in one place. It allows for more movement for sleeping and other bedroom activities. Hence why you can also read about it in our best mattress for sex list (oh là là).
Why does the Helix Midnight mattress stand out?
The brand's most popular model.
It's a 12″ tall hybrid mattress.
A notable feature is its signature dark blue stripe.
Excels at both comfort and support.
It is also a great mattress of choice for amorous activities.
Not sure if this Helix model will be the right fit for you and your partner? Get to know more about the other models from our comprehensiveHelix mattress review.
Leesa Hybrid Mattress – Best Mattress For Couples And Side Sleepers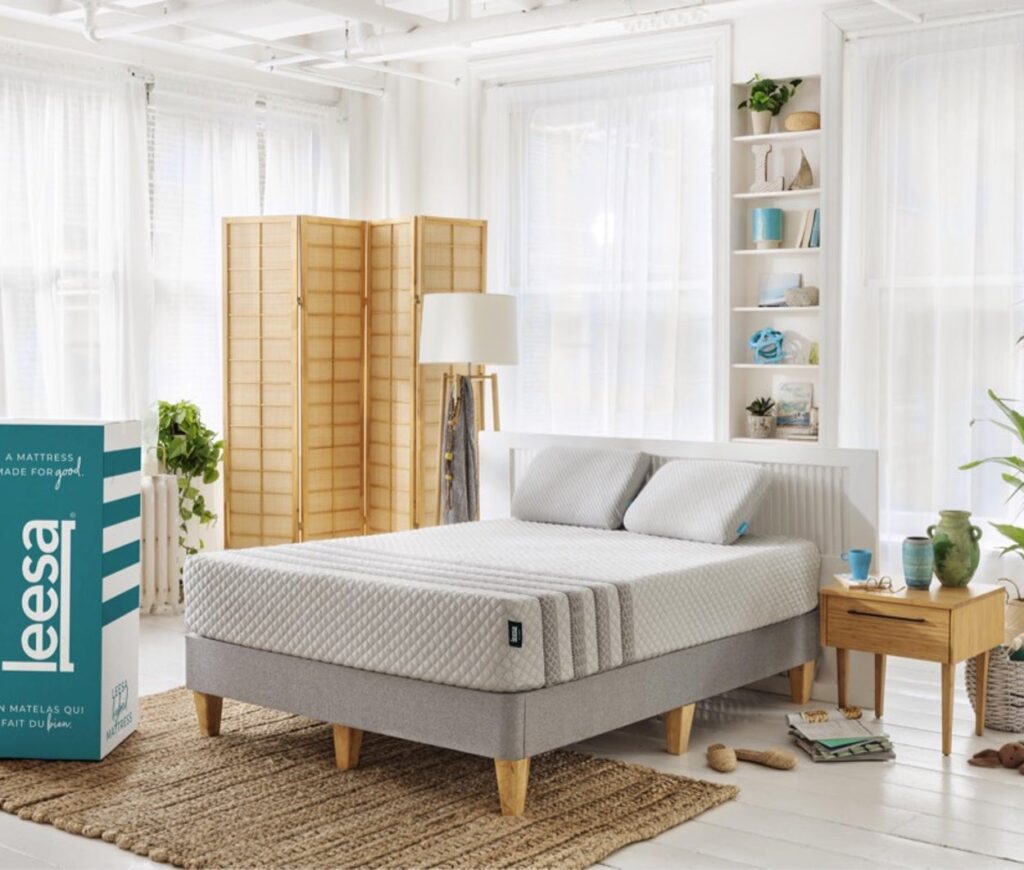 There are a lot of people out there, couples included, that sleep exclusively on their side. Like other sleeper types, side sleepers need a mattress that best suits their needs.
One bed that is an excellent option for both side sleepers and couples is the Leesa Hybrid mattress. This mattress is a medium-firm hybrid innerspring model.
If you're in a couple and/or side sleepers, you don't have to worry about the edges sagging prematurely. Its individually wrapped coils are spread edge-to-edge. Plus, you'll have enough space for both of you.
The model owes its responsiveness to both the latex-like Avena foam and the coils. Not only that, but both of these materials are also very breathable. This makes the Leesa Hybrid mattress great at cooling as well.Another bonus is that the bed excels at pressure relief. Leesa Hybrid owes this to the slow-moving memory foam in its comfort system's second layer. Not only does this layer isolate motion well, but it also cradles the body. Which is something that side sleepers love.
Why does the Leesa Hybrid mattress stand out?
It is a hybrid mattress model.
It's greatly popular with both side sleepers and couples.
Due to its pocketed coils, it has impressive edge support.
Thanks to its second comfort layer, it provides exceptional pressure relief.
Combination sleepers also like how bouncy this model is.
What are some of the other benefits of getting this mattress? Read all about it in our Leesa Hybrid mattress review.
Nectar Mattress – Best Value Mattress For Couples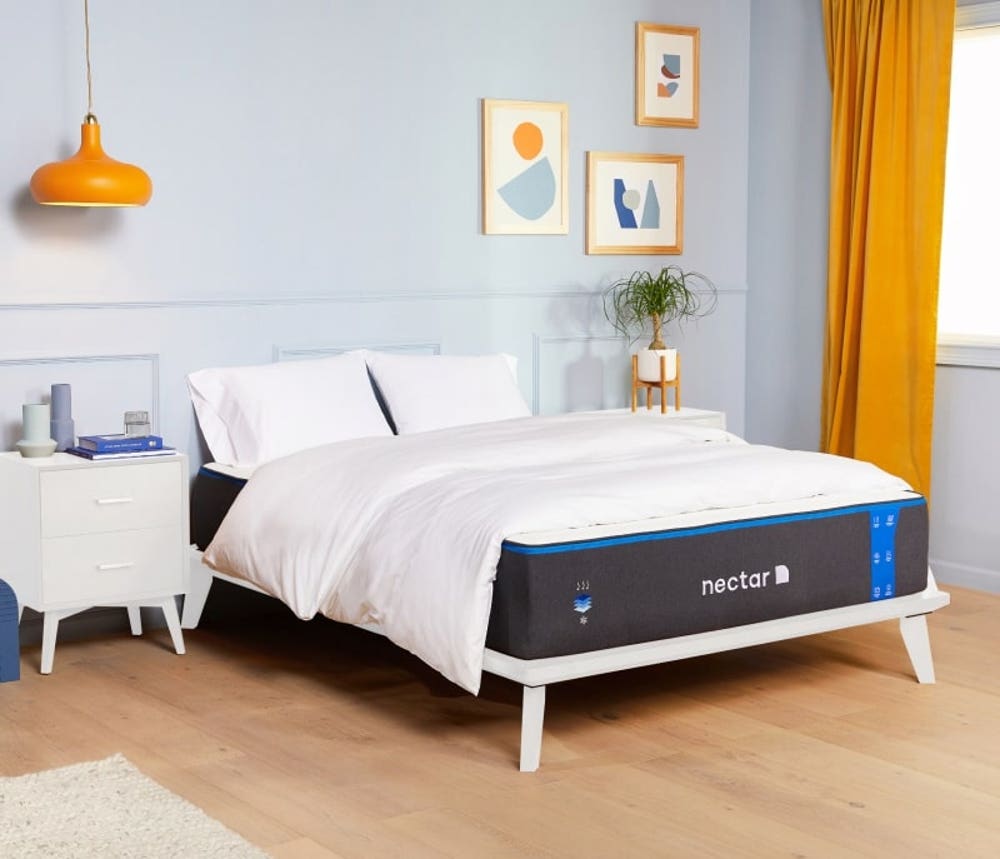 Other than the famous drink of Ancient Greek Gods, Nectar is also the name of a phenomenal memory foam mattress brand.
We just know that couples who love an excellent all-foam bed feel will love the Nectar mattress. All three layers of this model consist of premium materials. One such layer is the cooling gel-infused memory foam. Perfect for couples that tend to sleep warm!
Additionally, the memory foam excels at two critical aspects of every couple's mattress. Which are relieving pressure points and isolating motion and sound. In other words, the Nectar mattress will not only hug your body but also dampen any movement or sound.
But the real selling point of this bed is its super affordable price tag. The full price of a Twin-sized Nectar mattress is $798. Factor in the premium materials, and you've got yourself a fantastic bed for budget-conscious couples!
Why does the Nectar mattress stand out?
It is an amazing memory foam mattress.
The memory foam it uses is gel-infused.
It's exceptional at pressure relief and motion isolation.
It is an excellent choice for couples looking for a value mattress.
It comes with a lifetime warranty.
Is your interest piqued? Do we have your attention? Then head over to our Nectar mattress review, where we break down in more detail what makes it unique.
Layla Mattress – Best Mattress For Couples With Back Pain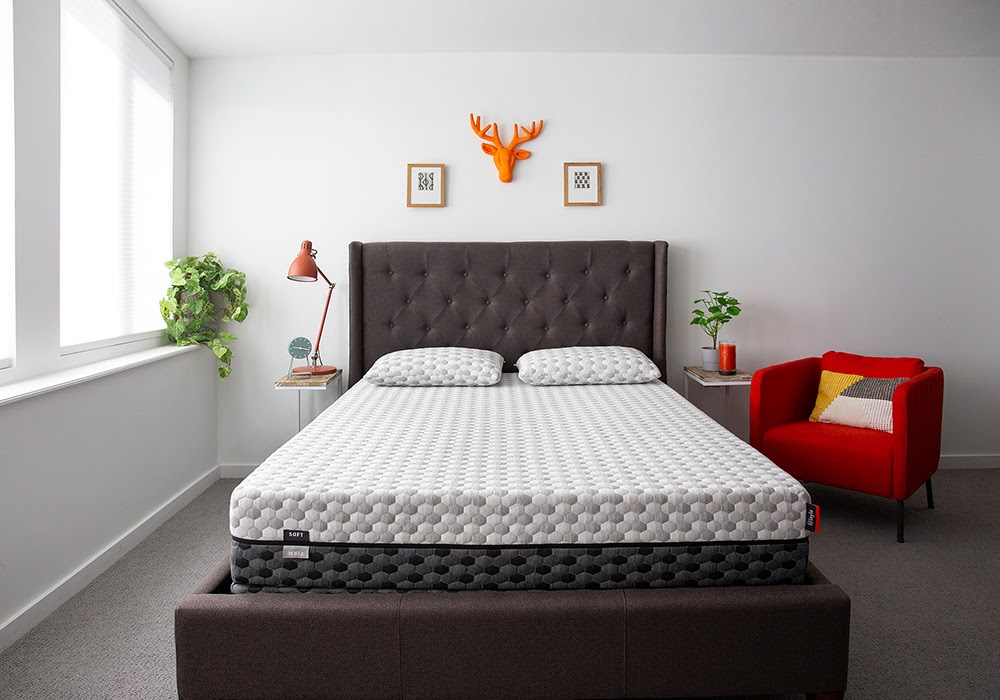 For couples, it is crucial to find a mattress that is equal parts supportive and comfortable. Waking up with back pain is a sure way to kill any romance. Therefore, you need a mattress that will keep your spine neutrally aligned.
One such mattress is the Layla mattress. This memory foam model is highly praised for its unordinary design and pressure-relieving properties. So much so that we just had to put it in our best mattress for back pain roundup.
What makes the Layla mattress unique is its dual-sided construction. You can easily change the firmness of the bed from soft to firm by simply flipping the mattress. Now that's pretty cool.
You'll enjoy the firm side if you and your partner have chronic back problems. The firmer side of the bed makes sure you have the needed contouring under your hips and shoulders. It also ensures that your back is properly aligned.
Why does the Layla mattress stand out?
It's a dual-sided memory foam model.
You can change the firmness by simply flipping the bed.
The memory foam is infused with copper to keep the sleepers cool at night.
The firm side is both pressure-relieving and supportive. Kiss back pain goodbye!
The mattress is also great for sex.
Interested in learning more? Then you should visit our thorough Layla mattress review for all the up-to-date deets
WinkBeds Mattress – Best Mattress For Heavy Couples
What, you haven't heard about the WinkBed mattress? Oh, that just won't do. So sit back and grab some tea while we dish about this incredible bed.
Since its first introduction, the WinkBeds mattress has swept sleepers off their feet. And tucked them in at night. This premium hybrid innerspring model was made to be extra durable and supportive.
Yet, what really sells this mattress is the fact that it was designed to suit various sleeper types. Even those that sleep with a partner. They achieved this by making the mattress available in not one, not two, but four firmness levels. These options are Softer, Luxury Firm, Firmer, and Plus.
Each option guarantees that you will have a hotel-like sleep experience. No matter what your shape, weight, or sleep preference is. However, we do have to acknowledge that one model, in particular, does stand out – the WinkBed Plus.
The WinkBed Plus was created as an ideal choice for heavier-set sleepers and their partners. This is why you can also find it on our overview of the best mattresses for heavy people. Instead of a foam comfort layer, this model has latex in it. By adding latex, the bed is still as supportive as the ones with the foam but longer lasting and more responsive.
Oh, and let's not forget the pocketed coils that are built to offer you unparalleled support. Bouncy, comfy, and sturdy? Just perfect for a plus-sized couple.
Why does the WinkBed mattress stand out?
It's a hybrid innerspring bed.
Made with various sleeper types in mind.
Available in 4 firmness options.
The WinkBed Plus mattress is especially great for big-boned, fluffy couples.
The pocketed coils also help with the air circulation of the mattress.
Wink, and you'll miss our in-depth and honest WindBeds mattress review. Head on over and read all about this bed!
How to Choose the Best Mattress for Couples
So, what do you think of our mattress picks? Do any of these seem the right fit for you and your partner?
And if you have trouble choosing between the best mattresses for couples, don't worry. We got you. Welcome to our guide on choosing the best bed to share with your darling.
What Are Your Sleeping Preferences?
The first step you need to take when choosing a mattress is to identify all your sleeping preferences and make a list. It seems simple enough, but it can get pretty complicated when you add another person to the equation.
The best way to handle this is to make a list of mattress preferences for both of you. Make a difference between what is a "must-have" and what you could potentially live without.
Next, compare your lists and see where you agree and where you'll have to meet halfway. Some couples could end up with identical lists, while some could be looking for entirely different things. Sometimes you'll be able to find a solution, and other times you'll have to compromise a bit.
For example, if you're both average-weight side sleepers or even average-weight back sleepers, it'll be easier to find something you'll both love. But if you spend your nights in different sleep positions and you have different body types, you'll run into some trouble.
Remember that the goal is always to have a good night's sleep with your partner. Don't go for something you know will ruin that. Good luck!
What to Look for in a Mattress for Couples
Picking a mattress for couples isn't all that different than choosing a mattress for single sleepers. However, there are some things couples should pay special attention to.
Support
Everybody has to sleep on a supportive mattress. A mattress with good support keeps your spine aligned, no matter the sleeping position. A misaligned spine can lead to insufficient sleep, back pain, and other health issues. Your mattress should be supportive, no matter if you're side sleepers or back sleepers.
Couples must find a mattress that supports them and can handle their weights. This is especially important for couples with different weights. Mattresses with coils are generally better at handling support.
For example, if they sleep on a smaller bed, the heavier sleeper can create a slope, disturbing the support and comfort of the lighter sleeper. This is just one of the examples of why you need to consider many things when choosing a mattress for couples.
Firmness
Does your bed feel soft or firm to you? How would you describe it? This feeling is called mattress firmness.
Although mattress firmness is generally subjective, mattress firmness scales exist to make thighs easier when shopping. The scale goes from 1 to 10, with extra-soft, soft, medium-soft, medium-firm, firm, and extra-firm.
Even though firmness and support aren't the same, they work together. A mattress that's too soft or too firm will impact your spine, so you must be careful what you choose. Perfect firmness depends on personal preferences, pressure relief, weight, sleeping position, and whether you sleep hot. The best cooling mattress for hot sleepers is also on the firmer side.
This can get tricky for couples if they have different bodies and sleeping styles. One might need a firmer mattress, while the other wants a softer one. Or your preferences could change from time to time. You can find the middle ground, or you can go for alternatives.
One of the solutions for this is a flippable mattress. A flippable mattress, as the name suggests, can be flipped, and both sides can have different firmness options to try out. You can also get a split bed, one made from two different mattresses put next to each other. The final solution comes in the form of a dual-firmness mattress.
Dual-Firmness Mattresses
Dual-firmness mattresses are rare, but they do exist. It's simple. One side of the bed can have one firmness, while the second one has another. These are the best mattresses for couples who want very similar things and are just bothered by firmness. A dual-firmness mattress is a good option because, unlike a split mattress, the bed is completely connected, and there are no holes in the middle if you want to cuddle up. Some even come with full customization available, although they're in the higher price range.
Durability
If you want a mattress to last long, you must invest in one made from durable and high-quality materials. And if two people are going to sleep on it, it needs to be extra durable. Mattresses for couples handle more pressure.
Not all mattresses are the same. Durability depends on the quality and construction of the materials. For example, foams tend to be less durable than metal coils. A value memory foam mattress might be in a good price range for you, but it won't pay off in the long run. But a mattress from natural latex will last longer than an innerspring mattress made from low-quality coils.
Contouring
Support is essential, but so is comfort. A mattress that follows the shape of your body is called a contouring mattress, and it can make your night.
Some mattresses contour less, while some contour more. For example, memory foam is the most contouring material, although latex isn't far behind. Also, different people need different levels of contour. Side sleepers need a bed that follows their hips and shoulders, while average-weight back sleepers and stomach sleepers can just go for a medium-firm and less contouring option. Even hot sleepers won't enjoy a too-contouring mattress.
Pressure Relief
Do you suffer from back pain or any other painful joints? A mattress with good pressure relief can help with this. Connected to contouring, pressure relief is the ability of the bed to spread your weight evenly without pushing against pressure points.
Different sleeping positions come with other pressure points. Side sleepers have pressure points in their shoulders and hips and need a mattress that won't push against these areas too much. And back sleepers usually have these points in their upper and lower back.
Responsiveness
How a mattress responds to the body can differ – some are slow while others are fast. Also described as bounce, this is a fun mattress feature for couples.
If you have an active sex life and tend to move around the bed a lot, you need a mattress with a fast response that will adapt to your movements. The best option for this is latex with a luxury firm feel. Latex mattresses are known for their bounce and quick response. Although keep in mind they're in a higher price range.
Innerspring and hybrid mattresses, especially latex hybrid, are also suitable for a bouncy bed only if you can handle the lack of motion isolation. The price range is also lower than latex.
On the other hand, if you don't mind the slow response and sinking feeling of foam layers, a memory foam mattress is the way to go.
Temperature Regulation
Hot sleepers must know the mattress material and construction before choosing their new mattress. Why? Because when you sleep hot, a bed that traps heat can disturb your nights.
Hot sleepers need a breathable and cooling mattress. In other words, hot sleepers should avoid memory foam. Memory foam is known as a closed-cell material that traps heat. The best memory foam mattress for hot sleepers could be a gel-infused memory foam one. The terms "best memory foam mattress" and "best cooling mattress" usually don't overlap, but some of these cooling models can do a really good job.If you need a breathable mattress, go for one with coils. An innerspring or a hybrid mattress is great for hot sleepers, and latex is also a good choice, even though it's also a foam mattress.
Edge Support
If you like to sleep or sit near the edge of your bed, you must get a mattress with good edge support. Edge support is essential for heavier sleepers and couples as well. Couples sleeping on smaller mattress sizes can roll off the bed or gravitate towards the middle if they don't have solid edge support.
One thing to know – mattresses with coils have good edge support. Innerspring and hybrid mattresses have more coils on the perimeter, making supportive edges. On the other hand, mattresses with foam layers just keep firmer foam on the edges. Even the best memory foam mattress won't stop you from rolling right of it as well as coil ones.
Mattress Size
One of the crucial mattress properties for a perfect mattress for couples is mattress size. How much space do you need? How big is your room? These are all the things you need to consider.
When it comes to standard mattress sizes, three of them are couple-friendly. Those are Queen, King, and California King, from smallest to biggest. A Queen can still be pretty tight for two people, so go for a bigger size if you can. It'll be more comfortable.
Also, keep your sleep positions in mind. You'll be good on a smaller space if you're both side sleepers. But if you're both back sleepers or combination sleepers, you'll definitely need a bigger bed.
Split mattresses for couples with different preferences could also be a good option. For example, a Split King mattress is made from two Twin XL mattresses put together.
Off-Gassing
Do you know that new-mattress-smell? Sometimes it can be stronger than usual, and sometimes it can even be bad for you. Off-gassing is a process that happens when you first open your mattress and have to air it out.
Some mattress types need to be off-gas while some don't. For example, if you get a foam bed-in-a-box, expect a couple of days off-gassing. But if you get an organic mattress, you'll likely have none.
Off-gassing isn't necessarily harmful to adults, but it can irritate them.
Motion Transfer
A good mattress for couples should be great at minimizing motion transfer. Do you move around a lot in your sleep? That would wake up your companion, so you need motion isolation.
If you need sound motion isolation, look no further than memory foam. Although latex is a solid choice, you won't even feel each other moving on a quality memory foam mattress. The motion isolation is just that good.
And if you're a light sleeper, avoid most coil mattresses. An innerspring and even a hybrid mattress don't have perfect motion isolation. However, individually wrapped coils are here to save the day. Or night. They're not as good as foam but can have good motion isolation.
Noise
A squeaky mattress can wake you up at night and can also be less than helpful when you want some quiet nighttime activities with your significant other.
Like motion isolation, foam and latex are suitable for quiet nights, while coils can get squeaky. Because they're made from metal, hybrid or innerspring mattresses can get pretty noisy. However, pocketed coils can also help with this to some extent.
Allergies
Do you suffer from allergies? Is your body irritated by dust mites, bed bugs, and other things you can find in a bed?
Besides using a mattress protector for what we just listed, you can also go for hypoallergenic mattress materials to make your life easier. Organic mattresses from natural latex and some memory foam beds are known for their hypoallergenic properties.
Body Weight
The perfect mattress can also depend on how much you weigh. The heavier you are, the more pressure you put on a bed, and it doubles when it comes to couples. Weight impacts the perfect firmness and construction.
To make things simpler, we separated people into three groups. Lightweight sleepers under 130lbs don't put much pressure on the bed. Their mattress shouldn't push against them too much, so it should be soft to medium-soft. Side sleepers should go for softer, while back sleepers should go for firmer options.
The best mattresses for average weight sleepers from 130 to 230lbs should have a medium-soft to medium-firm feel, or maybe even firmer. It mostly depends on their sleeping position. Average-weight side sleepers need a medium-soft feel, while average-weight stomach sleepers should sleep on a firmer mattress.
Heavy sleepers over 230lbs need a firmer and more durable mattress. They should go from a medium-firm to very firm on the firmness scale. The best mattress types for heavy sleepers are hybrid or durable latex mattresses. Also, since they tend to be hot sleepers as well, they should go for a cooling mattress or one with gel-infused foam.
Heavier side sleepers shouldn't sleep on a mattress that feels too firm, so just go for a slightly lower firmness. Stomach and back sleepers can choose firmer options if they prefer. A medium-firm bed for heavy side sleepers could be the way to go.
Now, when it comes to couples, you have to worry about your sleep styles and weight and how it impacts the mattress. You'll have no problems if you have similar body types, but those with a big difference in weight will have to find another solution. They could go for a split mattress or one with a dual-firmness option.
Lastly, remember that the best mattress for couples needs to be durable, but if you're both heavier sleepers, look for one that can handle both of you.
Sleeping Position
Sleeping positions also impact your mattress choice. Although couples can sleep in different positions, so you must consider your options. Here's what you should know.
Back Sleepers
Back sleepers are very common and don't need a lot to keep their spine aligned. Back sleepers also don't need a lot of contouring.
The best mattress for average-weight back sleepers would be on the firmer side. An average weight-back sleeper can sleep on a medium-firm to medium-firm mattress, and all mattress types can suit them. Heavier back sleepers need to go a bit firmer, and lighter back sleepers a bit softer.
Side Sleepers
Side sleepers rest in the most common sleep position. Although, it's not that good for their back. Average-weight side sleepers need the proper support and comfort, especially for their hips and shoulders.
The best mattress for side sleepers is on the softer side, soft enough to let their hips and shoulder sink but not too much. A soft to medium-firm mattress would be best for average-weight side sleepers. The best mattress type for side sleepers could be a memory foam mattress and even latex or hybrid, but they should avoid the innerspring mattress.
Stomach Sleepers
Stomach sleepers are the least common type, and their position isn't the best for their spine. They should probably switch sleeping positions. However, stomach sleepers still need a good mattress to support them.
The best mattress for stomach sleepers should be firm enough to prop up their hips. Stomach sleepers will prefer a medium-firm feel or a firm mattress. They can sleep on better mattresses, although memory foam might be too soft.
Combination Sleepers
You need a mattress to keep up when you move around a lot in your sleep. That's the case for combination sleepers. They should sleep on a bed with a fast response, no matter their sleep styles.
The best mattress for combination sleepers is a latex mattress. Although, a hybrid mattress is also a good choice. The perfect firmness depends on weight, but a medium-firm feel is a safe path.
Mattress Types for Couples
There are a couple of standard mattress types, all of which have pros and cons, especially when choosing one for couples.
Foam Mattresses
All-foam mattresses are made entirely from foam. The support is made with high foam firmness, while softer foam, usually memory foam, is on top for comfort.
Memory foam mattresses are the best mattresses for couples who need contouring and pressure relief. They're a good choice for couples because of motion isolation and noiselessness. Memory foam mattresses are softer, so a side sleeper is going to love them.
However, their slow response doesn't make them the best mattresses for active or heavier couples and even hot sleepers. Also, hot sleepers should avoid it because traditional memory foam traps heat unless they get cooling gel memory foam. Although, gel memory foam has slightly higher foam firmness.
Lastly, it tends to be less durable and doesn't have good edge support. And it might be too soft for stomach and back sleepers.
Read more: Best Memory Foam Mattress
Latex Mattresses
Latex mattresses are also made from foam, although it is latex foam this time. Latex foam can be made from natural, synthetic, or blended latex.
Latex has higher foam firmness but contouring and pressure relieving, although not as much as memory foam. It's also durable and responds fast, making it one of the best mattresses for couples. It's a good choice for side sleepers and back sleepers alike. Latex mattresses win against foam in the breathability battle, so hot sleepers could like this one. And if you suffer from allergies, you should look for an organic latex mattress.
Keep in mind that latex mattresses can get expensive, especially if they're made from natural latex. But if you're looking for a luxury mattress, you're in the right place. Also, their edge support isn't the best, and the motion isolation isn't as good as memory foam.
Read more: Best Latex Mattress
Hybrid Mattresses
Hybrid beds are created to be the best of both worlds. The most common combination for a hybrid is coils in the support layer, with foam on top. This can be either a memory foam layer or a latex one.
Different options come with other properties, but hybrids are a great combination of support and comfort. A hybrid mattress is a good choice for all sleeping positions, from back sleepers to combination sleepers. It has excellent edge support and breathability, which depend on the top layer. And if hot sleepers really want the softer memory foam feel, they can go for gel memory foam on a hybrid.
However, a hybrid mattress with coils usually has bad motion isolation. Different types of coils can help with motion isolation, but not completely. This mattress can also get noisy and expensive, so keep that in mind if you're not looking for a luxury mattress.
Read more: Best Hybrid Mattress
Innerspring Mattresses
The first mattress type was an innerspring mattress, but it's not everyone's cup of tea. An innerspring mattress is made with metal coils and a thin pillow top. This makes them supportive, but it lacks comfort for some people.
Innerspring mattresses are bouncy, supportive, have good edge support, and can be very durable. It mainly depends on the types of coils they're made with. It's a good choice for back sleepers and stomach sleepers. Also, their all breathable, so hot sleepers might find the best mattress for them right here.
Innerspring mattresses don't handle motion transfer well and can get noisy. Even the best innerspring mattress might be too firm for some. It lacks some foam layers and motion isolation to be good for couples.
Read more: Best Innerspring Mattress
Airbeds
The last mattress type we'll cover is an airbed. You likely won't run into a lot of these, but they come with their advantages.
In an airbed, the air chamber can control support and comfort. This can be a good thing for couples since the firmness can be adjusted, and the mattress could be dual firmness. An airbed could be a good choice for both back sleepers and side sleepers because of its adjustability. They respond fast and can be very contouring and pressure relieving.
Airbeds aren't doing so well regarding durability, price range, motion transfer, or edge support.
Buying a Mattress for Couples
Now you know everything about mattress properties, but there's more to buying a mattress!
Budget
The first thing you need to do before starting this adventure is to determine the price range. A mattress can be a significant expense, and you shouldn't spend more than you need to.
If you want to spend less money than usual, look for online mattress stores and aim for deals and discounts. You'll usually find these deals around big holidays, like Labors day, Memorial day, Black Friday, and such.
Online Shopping
Whether you're aiming for a budget or a luxury mattress, online shopping can help. It's just cheaper and more accessible.
You'll have all the necessary information, which comes with other advantages. Online stores offer free shipping to your door, sometimes even with free white glove delivery, longer warranties, the possibility of a lifetime warranty, and a sleep trial!
Sleep Trial
Since you can't try a mattress from an online store before buying it, they offer you a testing period during which you can choose whether you like it. This is called a sleep trial. How can you know whether their medium-firm model is right for you without testing it first?Sleep trials usually last from 30 nights to an entire year, but the 100-night sleep trial is the most common. If you don't like the mattress, you just need to send it back, and the company will return the money.
Warranty
If your mattress comes with some issues, you should be able to have it fixed or replaced. This is what a warranty is for. Look for a warranty that lasts at least ten years.
Online sellers usually have extended warranties and might even offer you a lifetime warranty. However, be careful of the fine print. Not taking proper care of a mattress could lead to a voided warranty.
Do Your Research
Lastly, take time to do your research. Make a list for both of you and ensure you're getting the best deal possible.
If you set your eyes on a particular mattress, don't forget to check mattress reviews!
Other Things to Keep in Mind
We have some additional tips you can apply so you and your partner can sleep better.
Pillows
Keeping your spine aligned isn't just the mattress' job. Your pillow also plays a big part in this, and it can improve comfort.
The perfect pillow mostly depends on sleep positions. Side sleepers need a pad with a bigger loft, while back sleepers and stomach sleepers should sleep on a lower pillow. However, it also depends on your weight and mattress firmness.
Mattress Topper
If you want to upgrade your mattress without buying a new one, a mattress topper is the way to go.
A mattress topper can be made from different materials and can change firmness, pressure relief, and even impact motion isolation. Couples with varying firmness preferences can try getting mattress toppers with different firmness levels. With this, you can turn a firm bed into a medium-firm one. However, if your old mattress has inadequate support, a mattress topper can't fix this.
Bed Frames
Not using proper support for a mattress can impact its durability, support, and other properties. Also, not using the right bed frame can lead to a voided warranty. Always check for the manufacturer's instructions on the type of bed frame you should purchase.
Frequently Asked Questions
What type of mattress is best for couples?
Finding a mattress just for you is tough, but finding a mattress just for you and your partner is tougher.
You have to take all of the factors like weight and body type and then multiply them. And having a lot of choices available might turn from fun shopping to a rabbit hole of confusion.
However, here are some things to look out for in a couple's mattresses.
First off, you need a mattress that excels at edge support and motion isolation. Latex and high-density memory foam mattresses are the best choices for motion isolation. But may not be great at edge support. Hybrids and innerspring are great at edge support. Though you can still experience some motion transfer on the bed if they don't have thick foam layers.
Another thing you need to focus on is whether or not you can easily switch positions on the mattress. Especially if you are a sexually active couple. So more responsive mattress models are the best, as they allow ease of movement. In this case, innerspring, hybrid, and latex ones are your safest bets.
Psst, we've covered the best mattresses for sex. Check out our steamy list.
There's also the fact that either one or both of you may be a hot sleeper. In this case, you need a cooling mattress like those with latex or pocketed coils in it.
Take a peek at our list of best cooling mattresses.
And the list goes on and on. There are plenty of factors to consider when choosing a new bed. Sadly, there is no one-mattress-fits-all. Luckily, many of the models out there have trial periods.
Test out the mattress. You can always exchange it or return it if it doesn't fit both of you.
What size mattress should couples buy?
Finding a new mattress can be difficult to factor in the budget and the bedroom's size. Especially if you are looking for a bed for two. And let's be frank for a second – mattress sizes can be confusing. What is a Full? What is a Double? What is a King? Why does this sound like a poker game?
All joking aside, there are six standard mattress sizes in total. They range from Twin to California King.
Here's the thing. When choosing a bed for both you and your partner, look at the width.
As a general rule-of-thumb, mattress sizes like Twin, Twin XL, and Full (Double) are more suited for single sleepers, as they are too narrow for couples.
By that logic, Queen, King, and California King offer more space for couples to sleep on. However, if you and your partner want a roomier sleep surface, go with the latter two. Although these sizes are usually slightly more expensive, you are investing in a quality sleep experience for two.
But, if you and your partner have different preferences, look for Split-sized mattresses. These models are split in the middle. That way, both sleepers can enjoy the bed without the motion transfer over to the partner's side. Usually, there are Split King and Split California King mattresses available.
What mattress firmness is best for couples sharing a bed?
Finding a firmness preference that works for both you and your partner can be tricky. But it's possible.
Usually, there are two factors that you need to pay attention to body weight and sleep position.
When it comes to weight, here's what you need to know:
If you or your partner weigh less than 130 lbs, you should go with soft to medium-soft mattresses. They tend to provide a cradling feeling that alleviates pressure.
Average-weight sleepers, i.e., those between 130 and 230 lbs, tend to like medium to medium-firm beds.
Sleepers that weigh more than 230 lbs need a firm mattress, as it offers more support.
Now, let's add the preferred sleep position into the factor:
Side sleepers tend to prefer softer mattresses. They rely on the beds conforming nature.
Back and stomach sleepers need a bed that makes sure that their spines are properly aligned. In short, no sagging feeling around the midsection. So they prefer medium to firm mattresses.
Combination sleepers usually go for more medium-feel mattresses. These beds are equal parts comfortable and supportive without being restrictive.
If you and your partner have a similar body or sleeper type, you can easily find a mattress that is just right. However, if you and your partner have different body types or preferences? Then you definitely need to find common ground.
Our advice? Focus on mattresses that are in the medium-soft to medium-firm range. They tend to have a more balanced feel.
What is the best kind of mattress for heavy couples?
For couples weighing more than 230 lbs, it can be difficult to find a suitable mattress. They tend to need more support than their lighter counterparts. So if they do wind up getting a softer mattress, they will have a bad ol' time.
Therefore, the best shot is to get a mattress specifically designed for curvier people (consult our best mattress for heavy people).
You can also look for a model that uses coils and latex instead of foam for added reinforcement. There are also foam ones that are pretty durable, but honestly, there is still a risk of aches and pains.
Also, look for a bed that runs on the firmer side of mattresses. Anything from 6 and up on the firmness scale is sufficient.
What mattress is best for couples with different weights?
Short answer: get a mattress with coils.
Long answer: if you and your partner have different weights, you need a mattress that can give you the maximum amount of support possible. And in this case, the best choice of mattress is going to be a bed with coils. In other words, a hybrid or an innerspring bed.
However, remember that you have to shift your focus to the needs of the more luscious partner. After all, they're the ones that are going to rely on the support.
Final Thoughts
Let's take a quick refresher:
Though it may not feel like it at first, there are plenty of mattresses out there that are perfect for couples.
Shopping for a new bed for two doesn't need to be stressful.
When looking for a couple's bed, be mindful of both your needs and wants. You might have a good night's sleep on that bed, but what about your partner?
Someone once said that the key to any relationship is communication. So write down a list of pros and cons and get to it. This list is a great place to start, but we encourage you to do your own research. Don't forget to read their mattress reviews as well.