Comfy Mattress Review for 2022: New Hit On The Market?
Written by: Jovana Bozic
Updated: 08/18/2022
Transparency Disclosure: For products purchased through the links on this page and throughout the site, we may get a referral fee (with no extra cost to the buyer). Please read our full How We Rate page for more information. There you can see how we conduct research and test products, as well.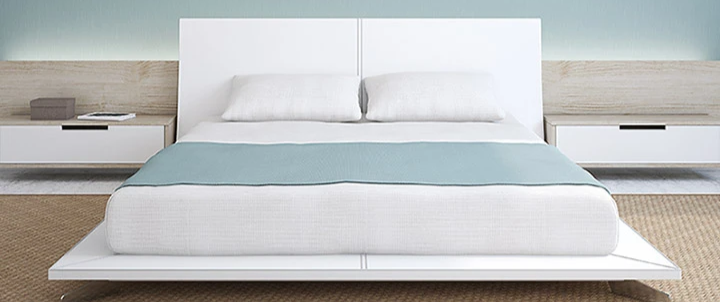 You might be wondering which mattress company is this? And how come you didn't hear about it yet?
You're in for a treat! This is one of the company's first reviews and its products. Our founders had the opportunity to work with the Comfy team, so we have the information first hand. We are pleased to offer our knowledge and share it with you.
Meet Comfy – a fresh, new mattress company ready to shake things up in the mattress market. They are proud to be the first mattress company in the world to offer transparent pricing.
The company was founded at the beginning of 2020. All mattresses are manufactured in the USA. The main motive was to support American jobs and American manufacturers.
The Comfy team is made of 4 very dedicated individuals. They are determined to do things differently. Honesty and transparency are at the core of their business and doing good for the community. To put it simply, they want to be a company you will be proud of doing business with. As they say, "We're a for-profit company with a non-profit heart."
They offer two mattress models as their flagship products. These are Comfy Standard and Comfy Premium. They also offer bedding and bed foundation for now. Products are available at their online store.
This review will focus on the Comfy Standard. We'll cover everything from construction to sleep preferences. Will this mattress be a good fit for you? Is it really that comfortable as the name suggests?
Continue reading this Comfy mattress review and jump right in!
Comfy Mattress Review in a Nutshell
The first mattress company to offer transparent pricing to the customers.
Comfy mattress is a three-layer all-foam mattress.
Offers cool sleep, ideal comfort, and pressure relief.
Comfy is a medium-firm mattress, rated 6-8 on the firmness scale.
First impressions – suitable for every sleep position.
One of the longest sleep trials on the market – 150 Nights.
Another model available: Comfy Premium.
Construction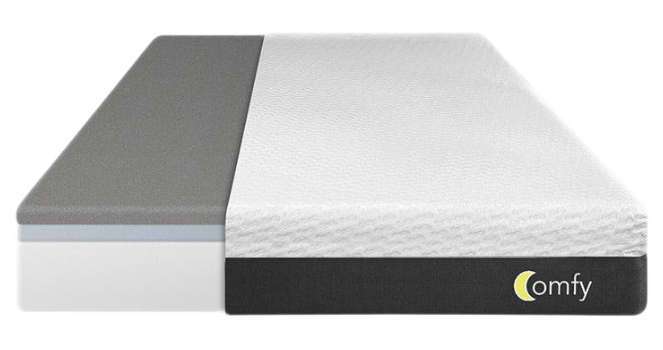 Comfy Mattress
Comfy is affordable mattress with the perfect balance of comfort and pressure relief suitable for all sleeping positions.
Cool-to-touch Cover
The first thing you can see and touch is the lovely cover called a Cool-to-touch cover. This polyethylene-infused cover is specially designed to repel heat. Thanks to this advanced formulation, the cover retains coolness throughout the night.
The Comfy mattress reviews state that people usually rave about the feel of the cover. After the first touch, they are positively surprised at how cool and smooth the surface feels.
Now let's talk about the cleaning instructions. Your Comfy mattress cover is easy to maintain. You can clean spots with an upholstery cleaner. Or you can also use an appropriate cloth or brush. We have heard about cases where the cover was successfully cleaned in a washer or dryer. Nevertheless, we wouldn't recommend it. In case it gets ruined, you won't be able to ask for a replacement or refund since it will void the warranty. So we advise you to stick with the spot cleaning. Better safe than sorry!
Proprietary BeCool Cooling Layer
The Comfy mattress's first layer is called Proprietary BeCool Cooling Layer. It is a 1.5″ Active Feel – Graphite Memory Foam Top Layer. This soft and breathable layer is engineered to achieve an essential job. It absorbs excess heat from your body and keeps you cool throughout the night.
The main material of construction is graphite material. This material is famous for its dramatic airflow enhancement. It pulls the heat away from the sleeper's body during sleep and channels it away. Say bye-bye heat!
Additionally, the cooling layer provides excellent strength for neck and back support. Simultaneously, the layer adapts to the comfort preference of the sleeper's body. This way, the body will not sink in too much.
Extra-Breathable Transition Layer
The transitional layer is a vital part of any mattress build. It provides a seamless transition from a soft comfort layer to a firm and stable base.
The Comfy mattress has an extra-breathable transition layer. The 1.5″ Elevating Memory Foam acts as an elevating force that stops the sinkage. This extraordinary layer provides an optimal body weight distribution. It works in alignment with the foam base. Together they provide support for the back and side. This joint effort results in optimal spinal alignment and added pressure relief.
Support Foam Base
The base (7″ Support Foam Base) is an open-cell durable foam. It creates a breathable foundation that holds its shape over time. It makes the perfect support for the two top layers giving them stability. It also helps to accurately align your spine for an ideal sleep position. The base uses denser materials to provide a solid support for years to come.
Firmness & Feel
Comfy mattress rates between 6 and 8 on the firmness scale of one to ten. This rating is also known as a sweet spot for most sleeper types. It can be described as one of the most comfortable mattresses with medium firmness.
The cover is very cool and smooth once you lay on top of the mattress. The mattress feels very comfortable. It falls definitely more on the firm side, but not too firm — just the ideal golden medium.
Despite the many hours spent on the mattress, customers all report the same thing. It comes back to its original shape. The sinkage is not too high either. It adapts to the body and creates a soft cradling feeling.
If you prefer a softer feel and a cloud-like experience, check out the Comfy Premium. It offers more softness, cooling, and body support. And even though it's the luxury version, it's still very affordable. This especially rings true, when you compare it to other mattress brands.
If you're not sure which firmness would suit you, take a look at our mattress firmness guide.
Durability
The Comfy mattress is new on the market. That means the precise estimation of longevity based on Comfy mattress reviews doesn't exist yet. However, the quality and overall construction of the mattress look promising.
The graphite used in the cooling layer is generally said to be very durable. It's stronger than traditional foams, polyester, and cotton. What do you get when you combine the density of base and transitional layer materials? A mattress that will stand the test of time!
As we all know, proper use and care can significantly prolong the life of any mattress. For Comfy, it's important and recommended to flip the mattress every season. Also, use the appropriate base. A solid base foundation with allowed airflow will work great.
Remember, foam mattresses tend to start sagging faster over time. This is especially the case for heavy sleepers over 230 pounds. However, Comfy will hold up to 650 pounds distributed, provided it is on a proper base. So we can safely assume that a Comfy mattress will last longer for lightweight and average–weight sleepers.
And at last, can we make any kind of prediction about the mattress longevity? Compared to foam mattresses in general, we can give it a solid 5 to 8 years. Based on the materials, we have high hopes for the Comfy mattress. We just can't wait to see how it will perform over the years.
Motion Transfer
Ah, to sleep in the same bed with a partner, child, or pet. This can be so cozy and precious! But it can become a ticking time bomb of frustration at a drop of a hat. Imagine waking up every time someone wiggles a tiny bit.
That's why a mattress with good motion transfer isolation can be a real peacekeeper.
Foam mattresses, in general, have high point elasticity. That means they tend to isolate motion better than other materials. So it's not surprising that Comfy performs very well in this aspect. Its foundation is solid. It can also withstand lots of pressure without causing any damage. The top layers are responsive enough to provide a gentle transition of movements. You probably won't notice your partner move while you're sleeping.
Edge Support
Comfy offers average edge support. The edges are sturdy and solid for a foam mattress. Naturally, some sinkage will occur while sitting on the edge of the bed. It's something that goes with any foam mattress. However, you won't feel like you're slipping off or like you're sinking in too deep.
The support in the center of the mattress is excellent. It gives a comfortable and stable feel. If you roll around the bed a lot, you'll notice how subtle the transition is. Even when you're close to the edge, you'll stay supported throughout the night.
But keep in mind that it's not a good fit over time if you tend to sleep closer to the edge of the bed. Even though a Comfy mattress offers good edge support, the sagging will occur faster. The consistently added pressure in one isolated place will have its effect. We recommend considering a bigger Comfy mattress size as a preventive measure.
Pressure Relief
A good mattress must provide an optimal pressure relief system. It ensures that your body is properly aligned during sleep. As a result, there is no creation of pressure points, and you wake up without aches and pains.
Comfy offers excellent pressure relief thanks to its transitional layer. It delivers balanced comfort & support, together with the cooling layer. The joint effort of the base and transitional layer helps align your spine. Together, they also provide more pressure relief. This is especially important for side sleepers and back sleepers.
Temperature Regulation
Worried that a foam mattress would trap heat? Well, Comfy is no ordinary foam mattress. In terms of temperature regulation, it performs excellent and shows fantastic results so far.
The cooling properties of the cover keep you comfortable and reduce excess heat. Not to mention that the cooling layer is made from graphite material – The material famous for enhanced airflow. Together, the cover and cooling layer provide a fantastic sleeping experience. Even hot sleepers will enjoy this awesome feature!
Comfy Mattress
Comfy is affordable mattress with the perfect balance of comfort and pressure relief suitable for all sleeping positions.
Sleeper Type Preferences & Weight
Comfy is very fresh on the market. We're looking forward to seeing more Comfy mattress reviews and customer testimonials soon. But for now, we can see Comfy mattress promises an equal comfort level to all types of sleepers. Will they deliver? And is it really suitable for all types of sleepers?

We tremble in anticipation!
Side Sleepers
Let's start with the most demanding crowd – the side sleepers. This sleeping position calls for excellent pressure relief. Especially for the shoulders and hips.
The first impression from side sleepers so far is that the beds fit them very well. The firmness level is adequate, and the general feel is that they don't sink in too deep.
Back Sleepers
The Comfy mattress does an excellent job for back sleepers, too. The transitional layer helps prevent the creation of pressure points. The layer said goodbye to aches in the lower back. The first responses from back sleepers are mainly positive. Some even report they don't have any back soreness since they switched to Comfy.
So far, so good!
Stomach Sleepers
When it comes to stomach sleepers, they have mixed feelings so far. Which is not surprising at all. Stomach sleepers tend to have lower back aches if the mattress is not firm enough. Some sleepers reported they felt like they needed a bit firmer mattress, but no aches. They are just unsure yet. And others say it's the best sleep they had in a long time.
We believe it's essential to give your Comfy mattress the recommended month. It needs some time to set and adjust to your body. You also need that time to get used to the mattress.
But, if you feel it's not a fit at all, no biggy. You can easily return the mattress. So, use the sleep trial period wisely! Give yourself the time, and enjoy the process.
Combination Sleepers
Can combination sleepers enjoy Comfy mattress, too?
For now, the first impressions are very positive. But let's try and predict if the Comfy would be a good fit for you.
The first step is to determine your dominant sleep position. The second is to decide your sleeper body type category. But, in general, you would probably find it enjoyable. We see good reactions from combo sleepers so far. That's why you can find Comfy on our list for the best mattress for combination sleepers.
Our recommendation for heavy sleepers (over 230 pounds)? Consider getting a hybrid mattress or an innerspring mattress. This is more of a precautionary measure based on the firmness level of Comfy. However, we still encourage everyone to test the mattress anyway. Comfy offers one of the longest sleep trials, so it's worth a try.
When it comes to lightweight and medium sleepers, Comfy will be an excellent fit. Based on the generally positive feedback so far, all the sleep positions can enjoy Comfy.
Other Mattress Models
Comfy has two mattress models available on their website for sale:
Comfy's team put hundreds of hours into mattress design and development. They worked to develop the most advanced and comfortable cooling layer on the market. Both mattress models feature the graphite-infused BeCool cooling layer.
But what is the main difference between these two models? And which one would fit your sleep habits better? Let's dive right in.
Comfy Premium
Comfy Premium is a 12 inch, 4-layer mattress. This model provides you with enhanced support, cooling, and comfort. Everything you need for a good night's sleep! All foam layers in the mattress are made of CertiPUR-US® certified foam.
The main upgrade from the standard model is the additional layer. The layer is called the Macro Air pressure-relieving foam layer. This premium foam layer is the superhero of pressure relief. It's exceptionally durable and contours your body perfectly. It's no surprise knowing that Macro Air has one of the highest airflows on the market.
Who would enjoy Comfy Premium the most?
Comfy Premium is softer than the Comfy Standard. It rates as 5 – 7 on the firmness scale, which makes him Medium – Plush. Do you prefer to feel like you're in the mattress rather than on top of it? Almost like you're sleeping on a big fluffy cloud? Then this one's the perfect fit for you.
Comfy Premium will give you that extra cozy and tucked-in feel. The additional layer will provide the added pressure relief. This also puts emphasis on optimal spinal alignment in every sleep position.
Still, we wouldn't recommend this mattress for heavy sleepers. Softer mattresses don't give a sufficient level of support and will start to sag faster over time. In this case, we always say: you can't go wrong with hybrid or innerspring mattresses. You'll get a more balanced feel and healthy body support during the night.
One last thing! With a Comfy Premium mattress, you get two free pillows ($80 Value). But, you also get a free dog bed ($149 Value). What a thoughtful little gift for our beloved fur babies! They deserve a good night's sleep, too, wouldn't you agree?
Comfy Premium Mattress
An all-foam affordable mattress like Comfy Premium is highly durable and provides a tension relief that contours flawlessly to your body.
Mattress Sizes & Prices
The Comfy mattress is available in all standard sizes, from Twin to Cal King. Unfortunately, California King is currently out of stock. Judging by the website, it will stay unavailable for the next six months.
By the way, the Cal King Comfy Standard costs only $1,399. So if you're not in a hurry, sit tight and look out for our updates. We keep all the latest deals and discounts on the Anatomy of Sleep Coupon page.
Can't wait? Consider getting the King Comfy Standard. It has the same price, plus there's a sweet discount waiting on the website — still a real bargain.
Comfy mattress weight ranges from 39 pounds for Twin to 79.1 pounds for King. Cal King is out of stock, and its dimensions and weight are unknown yet.
Compared to the average weights, Comfy mattresses are slightly lighter. The average Twin mattress usually weighs from 40 to 60 pounds. The average King mattress weighs from 130 to 160.
Why does the mattress weight matter?
Well, lighter mattresses are easier to transport from the doorstep to your bedroom. Since Comfy doesn't offer white glove delivery, you'll need to set it up yourself. Also, the Comfy mattress box dimension is 19x19x43 inches. Note that each size varies in weight as well.
So, remember to call your friends and family to help with the mattress setup!
Not sure which mattress size to pick? Check out the mattress sizes and dimensions guide for more.
| Size | Price | Weight | Height | Dimensions |
| --- | --- | --- | --- | --- |
| Twin | $799 | 39 pounds | 10″ | 38″ x 74.5″ |
| Twin XL | $829 | 41.3 pounds | 10″ | 38″ x 79.5″ |
| Full | $999 | 52.9 pounds | 10″ | 53.5″ x 74.5″ |
| Queen | $1,199 | 58.1 pounds | 10″ | 59.5″ x 79.5″ |
| King | $1,399 | 79.1 pounds | 10″ | 75.5″ x 79.5″ |
Deals & Discounts
These Comfy mattresses come with comfy deals!
With Comfy Standard, you can get your pupper a versatile plush dog bed for 149$! You can use it indoors or outdoors, so your dog doesn't miss out on its quality sleep, just like you.
With Comfy Premium you can get this plush dog bed for FREE! Pamper yourself and your dog by getting the support you need.
Do you believe sweet dreams are made of great deals? Check out the Comfy Mattress website to save 400$ on your mattress that comes with two free pillows!
Overview of Benefits
Availability
Say you decided to check out this mattress for yourself. What's your next step? Easy! The Comfy mattress can be ordered online through their official website.
In case you're not sure which model to choose, you can always reach out to their friendly support team. So, why not send them an email or write to them through the website chat? They will gladly help you with any questions you may have.
Sleep Trial
The sleep trial is one of the biggest perks of online mattress purchasing. Even though you can't see the mattress in the physical store, you get to test it and sleep on it in your bedroom. Isn't that the perfect test? After that, you'll be 100% sure if you love it or not.
Comfy offers an impressive 150 night trial period on all mattress models. It's one of the most generous in the industry. This fact tells us that Comfy is confident about the product. But also that it wants you to have sufficient time to do a proper "test-drive."
So what to do after you receive the Comfy mattress? The general recommendation is to sleep on it for at least a whole month. This way you'll allow the mattress enough time to adjust to your body. You'll need a few weeks to get used to the mattress. Be patient with the process. Give your Comfy mattress the time to adjust to your sleep habits. That will create the perfect sleeping experience for you. If you already have the chance, why not make a more hands-on decision?
Warranty
The Comfy mattresses come with a Lifetime Warranty. This sets it apart from many other mattress companies that offer only a 10-year warranty. The Comfy team wants to show you they've got your back for life.
The warranty covers all manufacturing and craftsmanship defects in the mattress, such as:
Mattress sagging, fabric tearing, or stitch unraveling
any sort of breakdown of the foam (crack or split in the foam)
mattress cover defects (zipper breaks)
What voids the warranty and disqualifies the mattress for a return?
If the mattress was damaged due to improper use. Improper use such as outdoor storage, laying on concrete, mold, pet use, or other biohazards.
Keep in mind that the mattress must be used and placed on the appropriate base. That would be a solid platform with slats no wider than 3 inches. It shouldn't be plastic or an unbreathable base or concrete.
In case anything goes wrong with the delivered mattress, they encourage you to let them know – pronto. Send an image of the defect to support@thecomfymattress.com for further steps. They'll replace the mattress after the 150 night trial period.
What if the damage happens before the end of your trial? They'll collect it and offer a refund if you'd prefer.
Certification
All Comfy mattress models are made of CertiPUR-US® Certified foam. The foam layers have been tested for dangerous levels of harsh chemicals and heavy metals.
Free Shipping
Comfy is made in the USA, as they proudly say. All Comfy mattresses are made-to-order from the manufacturing facility in Columbus, MS. Even though it would be cheaper to make the mattresses elsewhere, the Comfy team decided to stay. Hence, the team manufactures them straight in the USA.
The sole motive is to support American jobs and American workers. So basically, if you get a Comfy Mattress, you are also supporting American-made manufacturing.
Comfy offers 100% FREE, no-contact delivery via FedEx & UPS for customers in the USA. Shipping to Alaska and Hawaii is, sadly, not available yet. The same goes for international shipping.
How long does it take to get your Comfy mattress delivered?
After you place an order, your mattress is made within 1-2 business days. Then, it's shipped as soon as it's safely placed in the box. Your Comfy mattress will arrive in 3-5 business days after you place your order.
The manufacturer then hands it off to FedEx. Afterward, you'll receive a shipping confirmation email. That way, you can track your mattress right to your door. Isn't that neat?
But bear in mind that there will be no exciting activity with your tracking code in the first 24 hours. FedEx is taking your package to their facilities for sorting during that period. It won't get scanned in until the next day. So sit tight, and check back after that.
Want to know when your FedEx Home Delivery Shipment will be scheduled for delivery? Look at this graphic to see: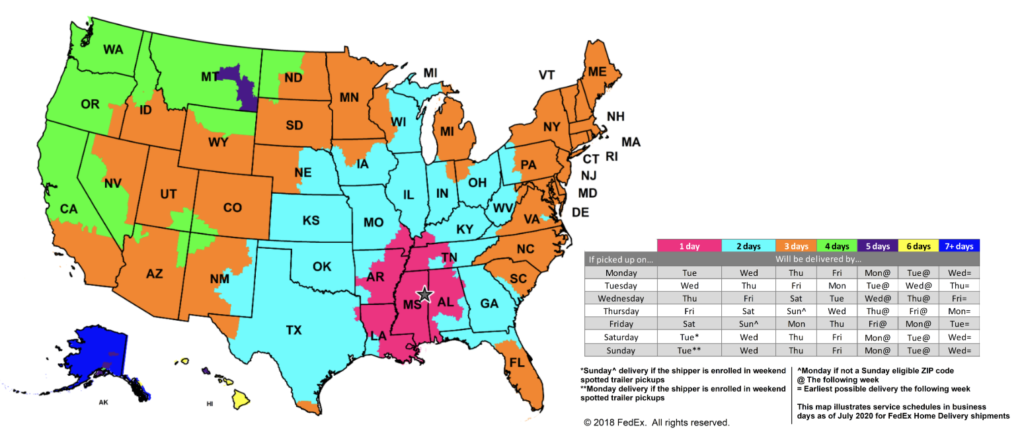 Additional Services
White Glove Delivery
Comfy, unfortunately, doesn't offer White Glove delivery or old mattress removal as additional services.
Financing with Affirm
Comfy mattresses are very affordable, even without discounts and deals. But it does offer an easy-to-use financing option. As a whole, you can hardly say that their mattresses aren't worth considering.
Interested in purchasing a Comfy mattress via Affirm? Just select "Affirm" on the Checkout page and follow the instructions.
Return Policy
In case you decide to return the mattress, remember, you have 150 days to do so. The countdown starts from the original date of the purchase. They don't accept returns after 150 days pass.
To initiate the return, simply contact Comfy's Support Team and schedule a pickup date. They'll refund your purchase within five days of the pickup. After the driver picks up the mattress, the Comfy team will be notified. Then, they'll automatically issue the refund.
It's also possible to return unopened mattresses within 90 days. However, they won't be able to refund the cost of the mattress in that case.
If the mattress was subjected to severe misuse, the driver might determine it is unsafe to pick up. Mattresses in this kind of state will not be eligible for return or pick up.
What makes Comfy stand out?
Transparent Pricing
Comfy is a breath of fresh air in the world of mattresses. They don't want to be just another corporation looking to make an extra buck. They want to be known as a truly transparent company. A company you can be proud of doing business with.
That is why they became the first mattress company in the world to offer transparent pricing. Comfy revealed costs behind all of the mattress models. Everything from labor, through material, transportation, etc. is offered openly for anyone to see. You can find the transparency pricing section on both Comfy Standard and Comfy Premium. So go ahead and take a long look. You won't find this type of information on any other mattress website.
The Comfy team firmly believes that you have the right to know how much your mattress costs to make. So what's our opinion? Having the transparency pricing displayed publicly confirms what kind of business they are. It's also proof of how much they care about their customers.
Donations & Charity
By getting your own Comfy mattress, you also support good causes and provide help to those in need. But how?
The Comfy company feels a great responsibility to serve and give back to the community. Where are their charitable efforts focused? Mainly on mattress donations to homeless shelters and various organizations. They feel it makes a positive difference in the community they live in. Some of the more recent donations are made to St. Vincent de Paul in Northern Kentucky.
Final Thoughts
So, what is the final conclusion of our Comfy mattress review?
This mattress leaves a very positive first impression for sure. This all foam, three-layer mattress has all the right reasons to be chosen and brought home. The high-quality materials in the layers show superb cooling properties and enhanced airflow. Not to mention the comfort and cradling feel that can lull anyone to sleep.
Pressure relief features offer balanced body support and healthy sleep. For now, the Comfy mattress shows to be very enjoyable for all types of sleep positions. However, we'll look out for back sleepers in the future and update the review.
We believe Comfy will continue to grow during this year. We're looking forward to reviewing new models. We hope to see more Comfy mattress reviews on the internet as well. After all, Comfy is on a mission to bring quality, comfort, transparency, and good to the world. Even though they just started out, they offer the most reasonable prices, discounts, and free products. We believe such businesses deserve support from all of us.
If you're looking for the best budget mattress, Comfy is definitely worth taking home. After all, you get a 150-night trial. Nothing to lose, only to gain! Take it for a test drive and see if that is the best sleep of your life.
Comfy Mattress
Comfy is affordable mattress with the perfect balance of comfort and pressure relief suitable for all sleeping positions.