Best Mattresses of 2023 – Top 9 Brands Reviewed
Written by: Milica Terzic
Updated: 02/20/2023
So you're looking for a new mattress but have no idea where to start. There are hundreds of brick-and-mortar establishments that offer many choices. And then there are bed in box brands with thousands more varieties on the market.
So, what's the best mattress for you?
To be able to answer that question, start from the basics. What material feels the coziest to you? What's your favorite sleeping position? Do you have a set budget in mind? Do you sleep alone or with a partner, child(ren), and pets? Do you like firmer or softer beds?
These are all essential factors to consider while looking for the best mattress online.
Luckily, we got your back!
We prepared a few shortcuts to help you start in the sections below.
And if that's too general and you want specific brands, the crème de la crème, see our best mattresses for 2023 at various price points. Whether you're tight on dollars or want a luxury product to spoil yourself a bit, there should be something available on the list.
Finding The Perfect Mattress For You
Mattresses come in different shapes and sizes, but what's best for you is out there. We'll help make sure that your needs are met with this search!
You can find out if a mattress is right for you by reading Anatomy of Sleep's mattress reviews. They have been created with all types in mind, so something here could work for you the way it needs to!
Material
It's no secret that a good night's sleep is key to a productive day. But what you may not know is that the type of mattress you sleep on can make a big difference in how well you rest.
You'll have an overview of common mattress types on our best mattress lists of 2023. We put emphasis on medium-firm bed feel since it is the most popular firmness choice. However, we show other options to help you find the right mattress online.
Sleeping Positions
Do you tuck yourself in like a fetal ball, stretch out like a starfish, or rest on your side? Don't worry – we covered all of them! Back sleepers, stomach sleepers, side sleepers, and even combo sleepers can find great mattress recommendations here. Find your favorite sleeping position on the best mattress list for 2023 to get the top picks.
For Pain
If you're searching for pain relief methods, you're not alone. One of the best ways to combat physical pain is by loving & hugging pressure points in just the right way with a high-quality mattress specific to your condition.
We give you the options for excellent rest if you suffer from upper or lower back pain, hip joint pain, stiff shoulder muscles and tense neck. You deserve to have the best sleep possible.
Budget
If you're in the market for a new mattress, you're likely trying to figure out how to fit it into your budget. But don't worry – there are plenty of great options available, even if you're on a tight budget. So whether you're looking for a traditional mattress or something more modern, we've got you covered! Take a look at different price categories to find the best mattress for your budget.
Other Factors
That's all fine and dandy, but you came here to find something different, right? If you're interested in other factors like comfort and firmness, responsiveness for a couple's bed, or better support for heavier sleepers, take a look at the options below. We cover the best mattresses for those categories in great detail!
Top 9 Mattresses 2023
Saatva Mattress – Best Overall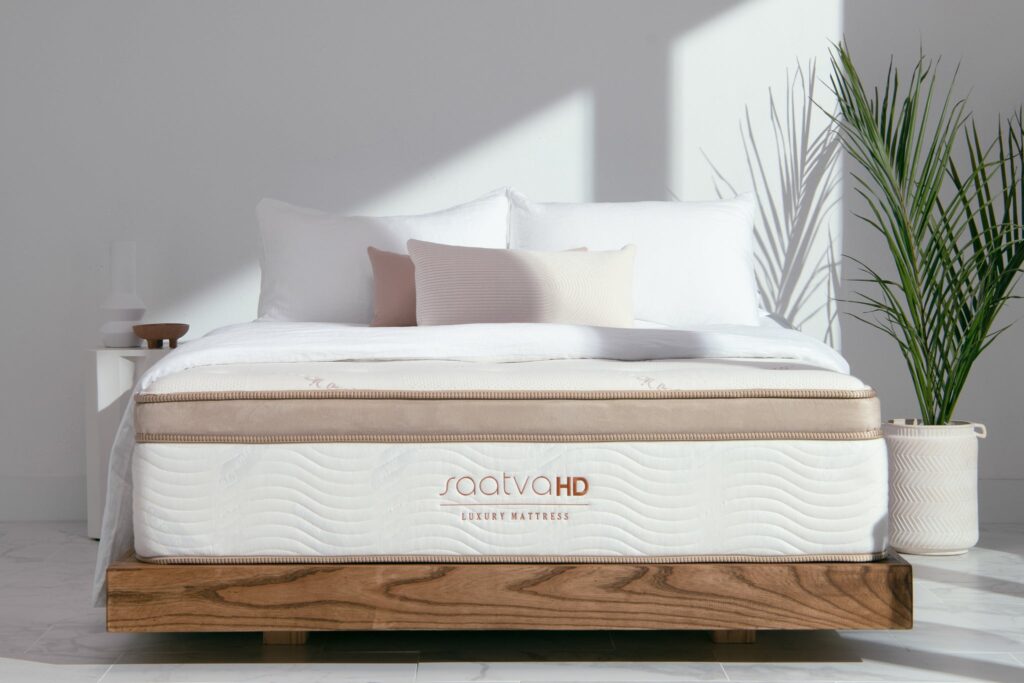 The Saatva mattress is a high-end hybrid innerspring mattress. It features a soft, organic cotton cover and plush Euro pillow top with a thin foam layer for added comfort. It hits all of those critical pressure spots—no wonder this mattress has been considered the best mattress for back and lower back pain.
What makes the Saatva mattresses even more unique is the dual-coil system. With this, sleepers can rest assured that they will get a responsive and durable mattress for years to come.
Not only does it have a 15-year warranty but also exceptional edge support in all three available firmness levels.
Saatva offers multiple firmness options.
Plush Soft is for those who love sleeping on a really plush softer mattress. The Luxury Firm's most popular one is ideal if you need your bedding feeling medium-firm. And finally, there's Firm which is ideal for a heavier sleeper.
With two height options (11.5″ or 14.5″), the product offers versatility for any sleeping position preference. With free shipping along with free white glove delivery, you get a guarantee that your mattress will be delivered right to where it needs to go.
The Saatva mattress is a luxurious mattress you can afford. With such an affordable price point on Queen size going as low as $1675. There isn't anything stopping anyone who wants luxury inside their home.
Why does the Saatva Mattress stand out?
Saatva Classic is a hybrid innerspring (soft, medium-firm, and firm feel options)
It's suitable for all sleeping positions
The Saatva Classic has incredible pressure point relief, recommended for sleepers with back pain
Saatva Classic has great durability, cooling technology, and edge support
Are you interested to read more? Take a look at our in-depth Saatva Classic mattress review.
Avocado Green Mattress – Best Organic Mattress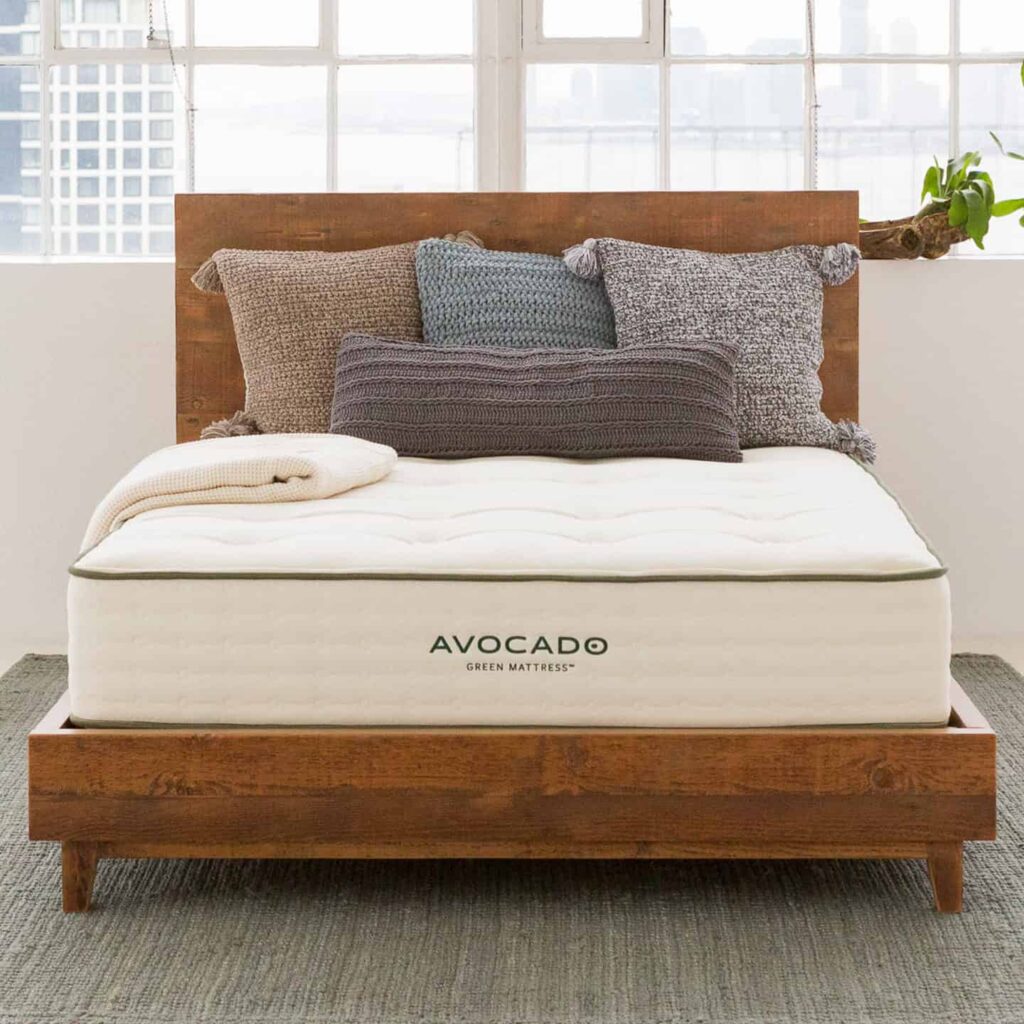 The Avocado Green mattress is a modern, environmentally friendly latex foam hybrid perfect for all sleepers. It's made from 100% organic materials and has no toxic chemicals. You can enjoy the benefits of organic cotton and organic wool, that's why it's also added to our best organic mattress list.
The durable construction ensures that you'll be able to enjoy this bed for years. You won't need to worry about breaking down or wearing out too fast. Not only does quality come first but also sustainability as well, so your purchase supports both today's needs AND tomorrow.
With the pillow-top option, you can expect more support and plushness.
It would be a 6/10, medium-firm under your body weight. Without the pillow-top, you can expect an 8/10 which is the best firm mattress option. That is perfect for most people who just want something softer than what they're used to but still supportive enough when needed.
The Avocado Green Mattress is designed with an ergonomic base that consists of 1,414 individually wrapped steel coils. These are arrayed across five zones to provide you with comfort throughout your sleeping experience.
Individual coils allow for better motion distribution so you can enjoy sleeping peacefully without any disturbances. The individually wrapped coils also contribute to an excellent experience as it provides smoother position changes without transferring movements from one side of your mattress to another.
The team at Avocado is committed to making your mattress buying experience as easy and enjoyable as possible. Their White Glove Delivery service ensures that not only will you get a top-quality product delivered right into the room of choice, but it also comes backed by an extensive 25-year warranty!
Why does the Avocado Green Mattress stand out?
Avocado is an eco-friendly latex foam hybrid mattress with organic wool
Multiple firmness options thanks to pillow-top
Offers incredible responsiveness, motion isolation, and cooling
An ergonomic support system to keep your spine aligned
If you're curious to see more, don't forget to check out the full Avocado Green Mattress review.
Leesa Hybrid – Best Mattress for Side Sleepers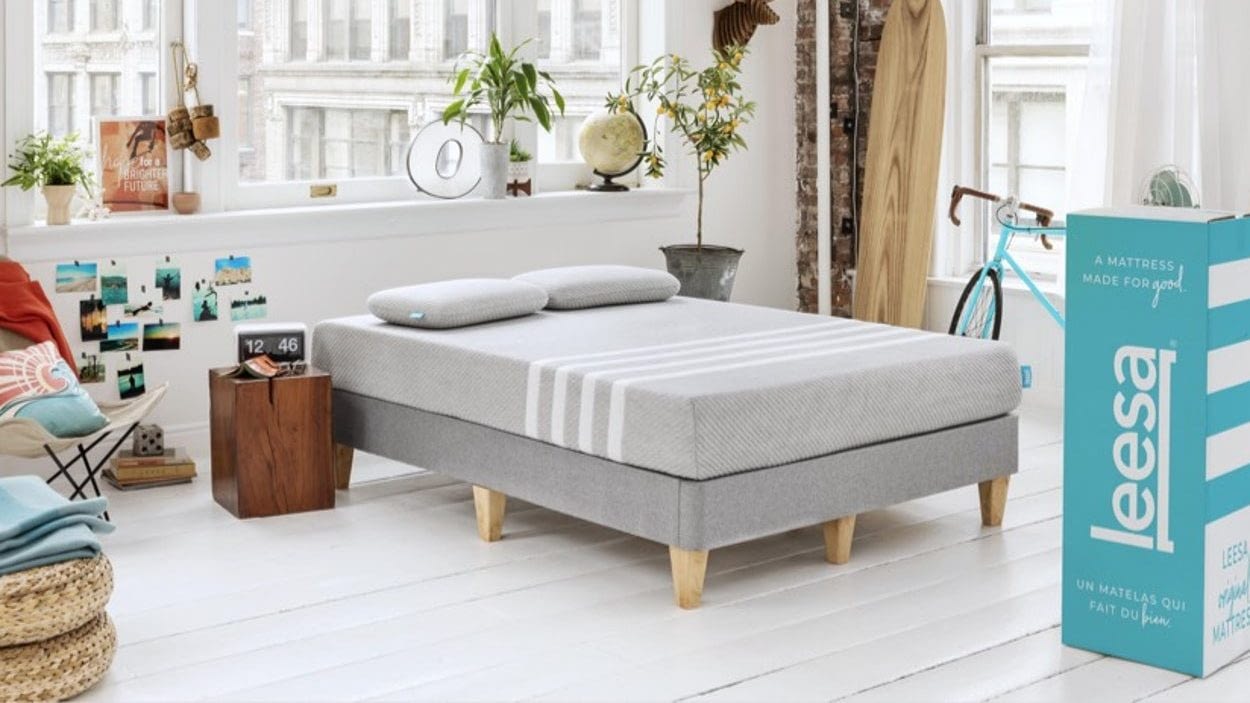 The Leesa Hybrid is a fantastic model that's easy to recognize, thanks to its design and all the benefits it offers. It has an even better appearance with quilted, white, and gray cover sporting four stripes signature look!
The mattress offers a perfect balance between comfort and support with two foam layers. Whether hot or cold sleeping, the Avena layer will keep your body cool with its excellent airflow system.
Plus, it has excellent features that can relieve the pressure that makes all types rid themselves of back pain when they sleep on Leesa Hybrid.
The Leesa Hybrid Mattress is the best mattress for side sleepers and back sleepers.
If you are an average-weight back or side sleeper, the Leesa Hybrid could suit your needs.
The mattress also happens to be quite bouncy, making combination sleeping easier than ever before.
However, those who prefer a softer feel might want to look elsewhere as it may not offer what they need in terms of support and comfort; stomach sleepers can probably get away with using this mattress if their body type fits within its range.
Thanks to its 6″ pocketed-coil system, it offers phenomenal edge support that helps you get out of bed. Anyone with mobility issues should check out our Leesa Hybrid review for more details.
The price of the mattress is $1,899 for a Queen. This price makes it fall right between more expensive beds and cheaper models that may become your favorite if you consider its many qualities.
In conclusion: If given time and attention to think overall qualities carefully, then maybe Leesa Hybrid could be worth checking out.
Why does the Leesa Hybrid stand out?
The Leesa Hybrid mattress is an innerspring hybrid mattress
It comes with fantastic edge support, pressure relief, and cooling technology
An excellent pick for most side sleepers, back sleepers, and combination sleepers
Outstanding construction with high-grade foams and coils
Would you like to know more about Leesa Hybrid? Read our candid Leesa Hybrid mattress review.
Dreamcloud – Best Mattress for Stomach Sleepers

The Dreamcloud mattress is a hybrid innerspring luxury mattress that provides the perfect balance between support and comfort. It's excellent for back sleepers, who need enough cushion to keep their spines neutrally aligned without any pain at lower contradicts or tight muscles catching up on them while they're sleeping!
As you feel the first touch of lush on your skin, it's like being swaddled in a cloud. You are enveloped with softness and comfort as this quilted mattress cover has increased breathability.
Increased airflow originates from its polyester, rayon, and Mongolian cashmere material blend. It will keep away those pesky allergens while still providing ultimate support for any sleeping style.
The DreamCloud mattress is designed to give you the perfect sleep experience every night.
They have created two layers to ensure this: a slow-moving inner layer made of gel memory foam and an outer cover that cradles your body while maintaining its shape – so it's never too soft or hard on top.
The coils of this mattress offer custom support, with 8″ individually wrapped coils. The individualized design will ensure that you feel adequately compensated for your body's shape and size while also reducing motion transfer between partners in bed!
DreamCloud provides a medium-firm feel, rated 6.5 out of 10 for firmness, and is considered the best mattress for back and stomach sleepers with lightweight frames (130 pounds) up to 230 pounds in weight classifications.
DreamCloud luxury mattress offers you the most comprehensive protection with its lifetime warranty and a free 365-night trial. This mattress is worth considering, as we love how they stand by your satisfaction.
Why does the DreamCloud Mattress stand out?
DreamCloud is a high-quality hybrid innerspring luxury mattress
Mongolian cashmere allows better airflow
Outstanding motion transfer necessary for couples
Excellent choice for combo and back sleepers
Maybe you've heard of DreamCloud Mattress before and want to know more about them? Check out our full mattress review here.
Puffy Mattress – Best Firm Mattress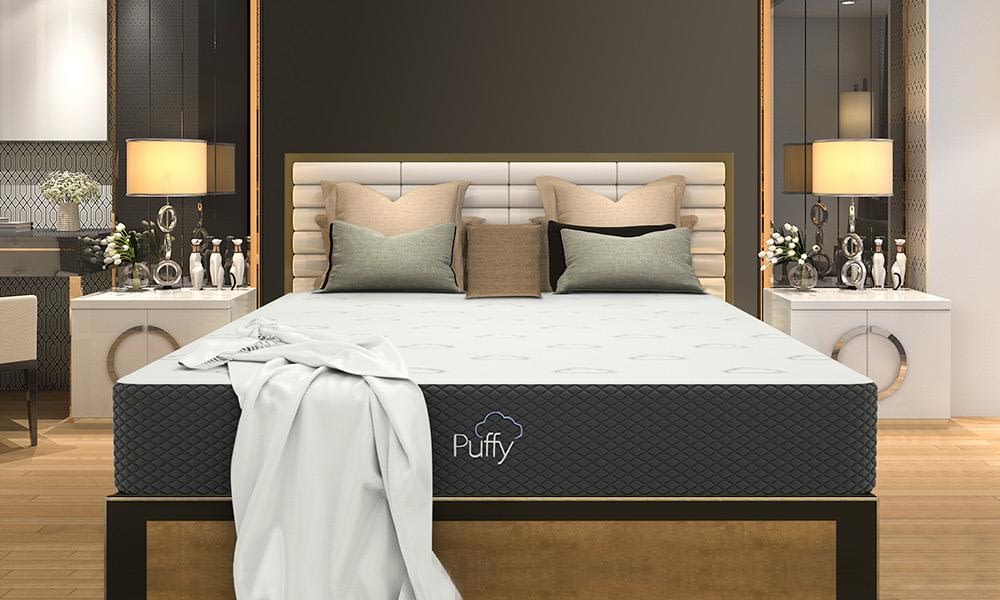 The Puffy Mattress is a 6/10 on our scale, just slightly firmer than average. It features memory foam over the transition layer and base foam with different levels of softness for each component.
Puffy's cool gel-infused memory foam is specially designed to increase airflow in the mattress and bring neutral temperature. The cooling cloud consists of special 2″ thick gel memory foam layers that provide comfort without interruption from heat or discomfort due to its repelling properties.
This would be perfect for hot sleepers looking forward to their much-needed comfort while they sleep soundly through night-time restlessness.
Motion transfer can be crucial in choosing a mattress. Suppose you are a light sleeper and get woken up quickly. In that case, it's essential to have sound isolation qualities so that your partner doesn't wake you up. The first all-foam layer does a fantastic job absorbing almost any amount of motion transfer.
The softer layer of a Puffy mattress does an excellent job for back and stomach sleepers.
It allows even bodyweight distribution and prevents pressure points in the lower spine area, which is excellent news if you're around 230 pounds.
Light or medium-weight sleepers might find it quite comfortable, while heavier individuals may prefer an extra foam firmness from their mattress. Aim for a mattress around 7/10 on the foam firmness scale or more to ensure you get the right amount of support and comfort.
Puffy is a quality mattress that easily landed on our best mattress list. If you're looking for a great mattress, take the opportunity to try out their 101-night trial and see if it's worth going back home to your cloud-like mattress every night.
Why does the Puffy Mattress stand out?
Puffy is a traditional memory foam feel mattress rated 6/10, medium-firm
A good option for lightweight and medium back and stomach sleepers
Excellent motion transfer and comfort levels
A terrific option for hot sleepers thanks to gel-infused memory foam
Are you looking for the best mattress that is also a medium-firm memory foam mattress? Check out our detailed Puffy mattress review.
Nectar Mattress – Best Memory Foam Mattress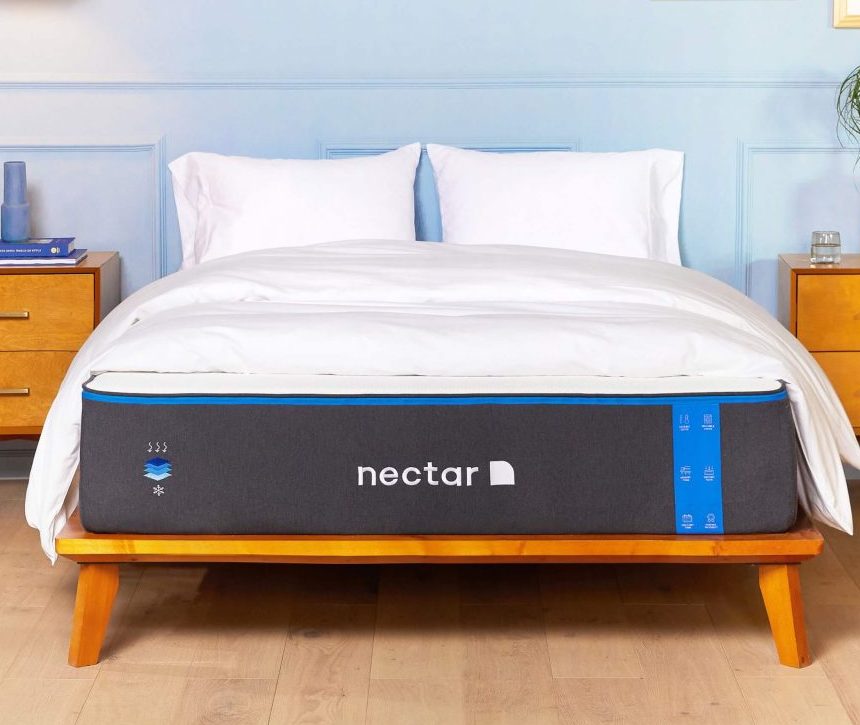 The Nectar Mattress is a popular and high-rated memory foam bed. It's been around since 2016, which means that over 95% of people who purchase it are happy with their purchase. They certainly think it's the best mattress out there!
Nectar offers exceptional contouring and pressure relief, bringing good cooling properties. The 3″ gel memory foam layer regulates the sleeper's body temperature, and it also repels excess heat to keep you cool all night long. It makes Nectar one of the best cooling mattress options in the foam family.
Additionally, you're looking at one of the best mattresses for side and back sleepers.
It has a comfort layer infused with gel while also providing high-density support. That means you should feel little to no pressure on your shoulders or hips when lying down.
We've chosen this bed as one of our top picks due to its excellent contouring properties, making it perfect, especially if suffering from neck pain.
With impressive motion distribution, the Nectar Mattress is perfect for those who want to sleep in without feeling uncomfortable. The construction provides neither responsiveness nor bouncy feel but instead hugging comfort that conforms closely around your body while you rest. You can expect the traditional memory foam feel.
With an affordable mattress that makes it easy on your wallet, too, at just $799 currently for a Queen size. Nectar will be sure not to disappoint.
Why does Nectar Mattress stand out?
Nectar is a comfortable memory foam mattress, rated 6.5/10, medium-firm
Nectar has a slow-moving foam that creates excellent motion transfer
Light and medium-weight side and back sleepers adore it
It's suitable for sleepers with back and neck pain
Nectar made you think, didn't it? Visit our full mattress review to find out more about this product.
Helix Midnight Mattress – Best Hybrid Mattress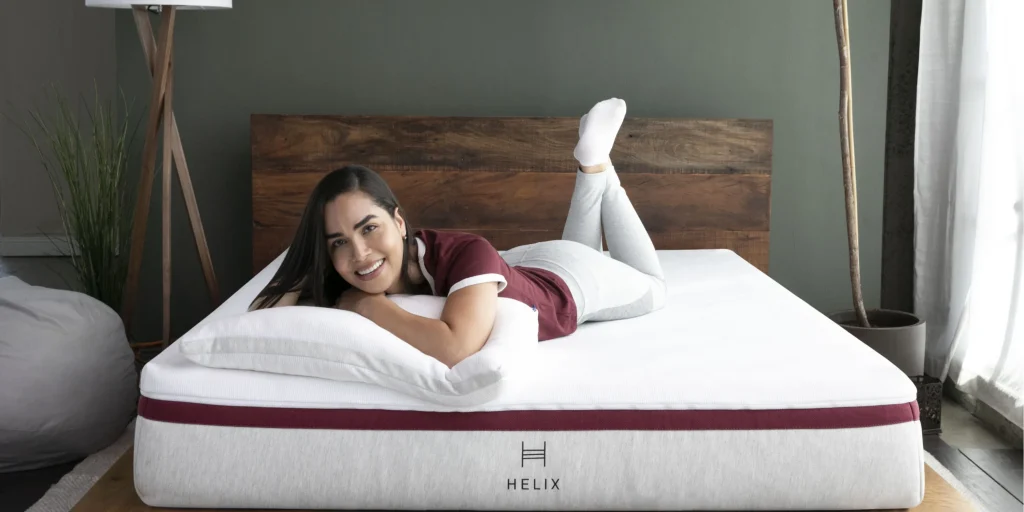 Helix knows that everyone has different needs when it comes to sleeping, so they make sure each customer gets a personalized experience. You take an online sleep quiz and then receive recommendations for your perfect mattress model based on what type. Isn't that neat?
However, if you're not in the mood for quizzes, we recommend starting with the Helix Midnight.
It provides excellent comfort and offers enough support that almost anyone will be satisfied, no matter the sleeping style.
The Helix Midnight has a dark blue stripe in the middle and rates between 5-6. We can recognize it as a medium-firm mattress, making it perfect for those looking to sleep soundly without feeling too soft or hard.
The Memory Plus Foam layer provides excellent body contouring and support while adding to the overall feel without compromising comfort. It's an innovative 2-inch gel-infused foam that lies underneath the soft, breathable cover.
The High-Grade Polyfoam transitional layer provides ergonomic support and cushioning, and it also adds to the top layer feel while ensuring coils are securely protected from edge sagging. Thanks to 8″ of hundreds of individual coils, you get a solid foundation that cradles your body without sacrificing motion transfer capabilities. This is a great performance for a medium-firm bed.
Fun fact – the company initially designed Helix Midnight for side sleepers, but customer reviews show that is also a good mattress for back pain.
We all have our favorite sleeping pose, and Helix company is aware of that. They gave their all to make the best mattress option for all of us!
Why does the Helix Midnight stand out?
Helix mattress is an outstanding hybrid mattress for back pain
Superior edge support and pressure relief properties
excellent motion transfer due to individually wrapped coils
An ideal mattress for back pain and back sleepers
Do you know that feeling when a song gets your blood going? Did you feel like that while reading about Helix Midnight?
Then, hop over to our full Helix Midnight mattress review for the whole experience!
WinkBed Mattress – Most Comfortable Mattress
If you ever enjoyed your time on a high-end hotel mattress and crave that touch of luxury – the WinkBed should be at the top of your list.
The WinkBed is a hybrid-innerspring model that offers four firmness options, making it very versatile. You can choose soft, medium-firm, or firmer, depending on your body type and weight, as well as preferred sleep positions.
Winking at your comfort, the WinkBed offers multiple firmness options: Softer, Luxury Firm, Firmer, or Plus WinkBed (specially designed for a heavier sleeper looking for better support and comfort). A Luxury Firm is the most popular option that gives a medium-firm feel. Most of the WinkBeds fans prefer Luxury Firm because it's a firmer mattress but relives pressure like a charm. With Softer, you can count on a soft mattress usually good for light sleepers.
The Tencel cover of this model is what makes it so inviting.
It's derived from eucalyptus, which helps relieve pressure spots and provide much-needed comfort and a cool sleeping experience.
WinkBed has a pocketed coil support layer, or should we say layers? A whopping five layers of pocketed coils! These pocketed coils are also responsible for temperature control and better motion isolation.
They work together to achieve spinal alignment that pinpoints any pressure spot with ease. That's why you'll see this fantastic mattress on our lists for the best mattress for back pain, the best mattress for hip pain, and the best mattress for neck and shoulder pain. Jaw-dropping portfolio, if we may say so.
Why does the Winkbed Mattress stand out?
Winkbed mattress is a hybrid innerspring luxury mattress
Perfect for all sleeping positions and body weight, especially for stomach sleepers
Multiple firmness options: Softer (4/10), Luxury Firm (6.5/10), Firmer (7.5/10), or Plus WinkBed (8/10)
Offers exceptional motion transfer, pressure relief, and durability
Are you ready to wink back at this mattress model? Please take a look at our in-depth WinkBed mattress review for more.
Casper Original – Best Mattress for Back Sleepers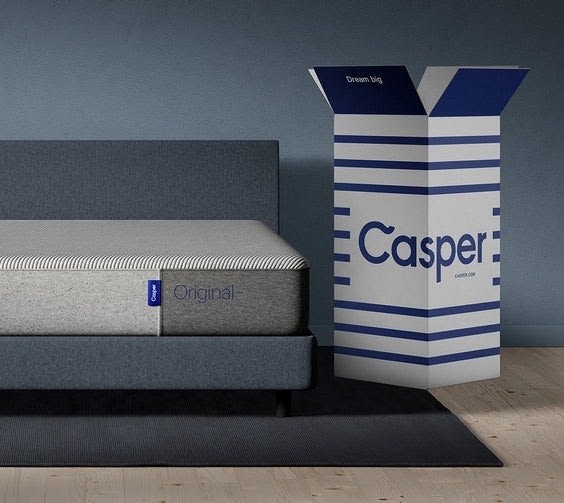 Casper has created a unique memory foam mattress perfect for back and stomach sleepers. With their dedication to providing exceptional service, they offer memory foam mattresses with extra support and comfort in mind; this way, you can get the most out of your sleeping experience!
The Casper has a three-layer construction that provides pressure relief and support for your lower back, hips, as well as shoulders. It feels medium-firm to average-weight sleepers, so it'll provide just enough softness to keep you aligned all night long.
Preventing pressure points in your lower back and waking up pain-free are possible thanks to the Zoned Support system. The three different zones on a mattress provide varying levels of support to ensure you get an optimal night's sleep.
The softest zone is at either end, providing relief for your upper body and lower back. The middle section targets hip/back pain that can occur when sleeping on your back, side, or even stomach.
It provides a 6-7/10 foam firmness, so it's an excellent choice if you want the best firm mattress. It's a great option for back and stomach sleepers since it provides additional lumbar support.
The pain and aches are signals from our bodies, and we should never ignore them. That's why ensuring proper support and an adequate level of pressure relief are a must for all sleeper types (yes, we're looking at you, too)! So don't forget to check this mattress, and maybe this one is just what you need.
Why does the Casper Original stand out?
Casper is an all-foam mattress with three layers (7/10)
Ergonomic Zoned Support system for comfort and support
Great for all positions, especially for back and stomach sleepers
Helps with back pain, can relieve pressure from hips and neck as well
If you're seriously intrigued by this lovely memory foam mattress, check out our Casper mattress review.
How We Rate
We don't just write reviews.
We scour the web for authentic, accurate content and then aggregate it all into one place, so you have access to reliable and objective information at your fingertips.
We're trustworthy, objective, and unbiased.
Our focus lies solely on trustworthy information that will help you make an informed decision about your new mattress.
We take pride in publishing only high-quality material explicitly written because we want you to experience nothing less than exceptional.
We do the heavy lifting for you.
You can bet your bottom dollar that there are many factors to consider when selecting the right mattresses to add to our lists. But don't worry because we've done all the heavy lifting. Take a look at the main mattress industry factors below to understand the process.
Mattress Industry Factors
Construction:
What is it?
There are many types of mattresses out there, but they all have one thing in common: the ability to provide you with a comfortable night's sleep. So what makes them different? Well, for starters, their composition.
Some rely more heavily on gel or foam, while others combine both materials. Mattresses also differ in the number of comfort layers.
We take a good look at every mattress anatomy to detect their materials and layers to show you all the pros and cons.
Memory Foam Mattresses:
What are they?
Foam mattresses have three distinct layer types: Comfort layer, transitional layer, and a base layer (support core). They provide soothing, pressure-relieving comfort that can't be found in any other type of mattress due to their unique motion isolation ability.
For more options in this category, take a look at the best memory foam mattresses list.
Innerspring Mattresses:
What are they?
These mattresses are a terrific choice for those who want to feel like they're on top of the mattress and not sleeping within it. These beds come with more support than other types and offer excellent responsiveness so that you don't sink too far into your bed while lying down at night!
The traditional innerspring mattress has a spring layer that provides neutral temperatures and adds bounce. They typically have a thinner comfort layer.
Here's our list of best innerspring mattresses if you have wondered about them.
Hybrid Mattresses:
What are they?
These beds are perfect for anyone who wants the comfort and support of a memory foam mattress. A hybrid is usually the best cooling mattress as well as you can count on its superb cooling features.
The hybrid mattress combines various materials into one product, so you get all these benefits without choosing just one! You'll recognize them by comfort layer followed by the coil system underneath.
For more options in this category, take a look at the best hybrid mattresses list.
Latex Mattresses:
What are they?
These mattresses are similar to memory foam, except they provide more bounce and luxury. Latex foam has natural cooling features, that's why this type of material makes an excellent choice for eco-friendly hot sleepers. If you're looking for a cooling mattress, latex foam creates a very pleasant mattress experience for sure.
Check out our list of the best latex beds if it seems like a good option for you.
Firmness & Feel
What is it?
The firmness refers to the hardness of a mattress. Whether a mattress is hard or soft is often subjective and depends on many factors.
Also, most mattress companies have their way of measuring firmness levels. They also offer multiple firmness options sometimes.
But you will see a firmness scale that became somewhat of a standard. It's a ten-point scale and we grouped the numbers in firmness degrees from Extra Soft to Extremely Firm. Most sleepers tend to choose a middle ground, something that is more medium firm.
What determines it?
Mattress feel depends on two crucial factors: mattress material and mattress construction.
Material can make a mattress feel softer or more medium firm. And the construction amplifies it based on the number of comfort layers and coils system presence. Together it defines firmness levels and body contouring. In a nutshell, if you get a mattress with a thicker comfort layer, you can expect a softer feel with added pressure relief.
And why would you care about any of this?
Well, with optimal firmness, you can get a good and healthy rest. And a healthy rest period equals healthy life in general. Your body is supported correctly, keeping a healthy spinal alignment which creates a sense of comfort and relaxation in the body.
If you're curious to learn more, check out our Mattress Firmness Guide for some in-depth and practical instructions. Also, check out the best soft mattresses and the most comfortable mattresses.
Support:
What is it?
Support is the capability of a mattress to hold your body in one and keep your spine aligned.
Support core, or base layer, is usually designed to give the whole mattress stability and a secure foundation. It should always be firm enough to stop the sleeper's body from sinking in too deep into the mattress.
On the other hand, it needs to be flexible enough to accommodate the body mass and prevent pressure from building up.
You'll notice some mattresses have foam bases that are denser. Some mattresses offer a zoned and ergonomic design of the support layer. Solutions to the support problem are versatile, with one clear goal: to keep the sleeper comfortable and supported during sleep!
What is the difference between support and firmness? Does a firmer mattress offer more support?
It's a common mixup. The short answer is – There's a big difference, and NO, firmer doesn't necessarily mean more support!
In a nutshell, firmness tells you if it's a firmer, medium-firm, or softer mattress. Support shows you if the mattress can hold your body in a healthy position during sleep. That's why you can easily stumble upon a mattress that is either too soft or too firm and not supportive enough of your specific body mass and sleeping style. You should aim for something close to medium-firm if you're unsure.
Check out the Mattress Firmness guide if you're still scratching your head. You'll find more details about the difference between firmness and support.
And if you're ready to look at all the different support options, check out our best mattress for heavy people, our best hybrid mattresses, best innerspring mattresses, and best memory foam mattresses.
Durability
What is it?
Some mattresses are more durable and last longer, while others can disappoint in that way. We make sure to include estimations of mattress longevity based on the material, user reviews, and other mattress reviews.
We always say that if you pick a good mattress to have the proper support and firmness based on your weight, the durability should work to your advantage. You can also rotate the mattress every 3-6 months to keep your mattress in the best possible shape for as long as you can.
Check out the best online mattresses and the best mattress in a box list for a quick overview of durable mattresses.
Pressure Relief
What is it?
When we talk about pressure relief, we usually think about a mattress that distributes sleepers' weight evenly in a way that allows the body to feel comfortable. Optimal pressure relief occurs when pressure cannot build up in your back, neck, shoulders, and hips, thanks to a good mattress.
Comfort layers make sure your body gets enough contouring to neutralize the weight.
Pressure relief is connected to mattress firmness and support system. The spine can fall out of balance if a mattress doesn't have optimal firmness and support system to fit the sleeping style. That's why you can experience tension in the areas we mentioned.
You can never go wrong if you listen to your body.
Start from what feels good to you, and navigate from there. A mattress with good pressure relief must accommodate your sleeping style and preferences. Only then can you genuinely feel and say, "this is the perfect mattress!"
If you struggle with any aches, check out our best mattresses for neck and shoulder pain, the best mattresses for back pain, and the best mattresses for hip pain.
Edge Support
What is it?
Edge support shows how reliable and sturdy are the edges of a mattress. A mattress that doesn't collapse too much when you sit on the edge and feels stable even when lying close to the perimeter has superb edge support.
Why does it matter if the mattress has good edge support?
Many people rely on it to keep them secure and to assist them. Some of them may be combo sleepers that toss and turn a lot, so they don't want to end up on the floor by accident.
On the other hand, even side sleepers, back sleepers, or stomach sleepers can wind up on the edge of the mattress. Either because they like sleeping on the edge or because they share the bed with a partner, kids, or pets. Having good edge support can give you extra space and can provide stability.
In case of mobility issues, edge support is a MUST. A reinforced mattress perimeter can assist the person in getting off the bed with ease.
Oh, and one last thing!
Edge support also plays a massive part in mattress durability, and it can prevent early sagging of the edges. Combined with a high-quality support core system, it can also prevent sagging in the middle of your mattress because it keeps the weight evenly distributed.
If you're looking for examples of outstanding edge support, we recommend looking at our lists of best innerspring and hybrid mattresses.
Motion Isolation
What is it?
Mattress with excellent motion isolation is a game-changer when you're sleeping with a partner, pets, or kids. If you tend to wake up on every subtle movement of your partner, the current mattress is not doing an excellent job for you.
Motion isolation (or transfer) is the ability of a mattress to keep all movements localized to the place of impact without spreading it to other parts of the mattress. In other words, the mattress moves to accommodate your position switch, but your partner doesn't feel a thing on their side of the bed.
Head over to our list of beds for couples if you like what you've read so far.
Temperature Regulation
What is it?
Temperature regulation is the ability to regulate the temperature on the mattress surface. Optimal temperature promotes healthy sleep and allows you to fall asleep faster.
Some materials can enhance the airflow and allow the body heat to dissipate faster. On the other hand, mattress construction can also promote neutral temperatures.
Having the best cooling mattress is essential for all of us, especially during hot summer waves.
Hot sleepers need to pay special attention to the temperature regulation characteristics because it can drastically change their sleep experience.
Here's a list of the best cooling mattress options for all of our dearest hot sleepers.
Sleeping Positions
What are they?
This factor is significant because it will determine whether or not a mattress can give you the utmost comfort in your favorite sleeping position. Combined with firmness and pressure relief, we can make general recommendations about mattresses that apply to most sleepers.
Based on additional factors (like motion transfer, edge support, temperature regulation, zoned support, etc.), we can narrow down the list further for you, based on what you need. It can be a mattress for a couple that needs a certain bounce, or it can be a hybrid mattress with tremendous airflow to help you sleep cooler.
Side Sleepers
Who are they?
If you are a side sleeper, finding out which mattress will provide the most comfort and support may seem like an impossible task. However, there is hope!
The best bed type depends on what kind of sleep occurs while in it, so pay attention now: softer medium-firm mattresses might be better suited for side sleepers because they offer pressure relief for shoulders and hips. This type of firmness is usually found in memory foam mattresses. But you can honestly look at a hybrid mattress or any other type as long as you know which firmness feels comfortable to you!
Check out the list for side sleepers to find the right mattress for your shoulders and hips' comfort.
Back Sleepers
Who are they?
When sleeping, it's essential to keep the spine in a neutral alignment. It means looking for mattresses with some lumbar support for back sleepers. Hybrid beds may provide relief by combining soft materials (like memory foam) on one side of their top layer and more durable materials such as polyurethane or steel springs underneath, which helps provide cradling assistance while you slumber!
We've got just the thing for you! Take a look at our best mattresses of 2023 for back sleepers.
Stomach Sleepers
Who are they?
The best bed for stomach sleepers will allow them to keep their spine in neutral alignment and avoid any unnecessary pressure on the lower back. Stomach sleepers should opt for firmer mattresses, which provide greater lumbar support through increased density or spring units within their structure firmness level.
If you're looking for stomach sleepers' bliss, go ahead and check our list of beds for stomach sleepers.
Combination Sleepers
Who are they?
If you switch positions during sleep, it's vital that your mattress is responsive and can isolate motion. Pay attention to how it feels when lying on top of the bed. You need to switch positions without feeling trapped in your bed!
And what mattresses would offer such beautiful features to a combo sleeper like you? Check out our list of best beds for combination sleepers to find out!
Deals and Discounts
What is it?
We focus on current deals and discounts to help you save money and find an affordable mattress whenever it's possible. Most of the mattresses we reviewed offer deals all year round, and some of them offer fantastic holiday sales that you shouldn't miss.
These deals can be a nice price drop or a bonus pillow, bedding, and so on. There are even special discounts for healthcare professionals, first responders, students, and so on.
Make sure to check current deals on our coupons page.
Also, check out the best mattresses for the money, best budget mattresses, and the ones under $1000, or under $2000.
Customer Care
We don't just look at the mattress factors, we also consider mattress companies, additional perks, and customer care factors. All of these factors are observed and carefully examined in every mattress review.
Let's see what those are, shall we?
Sleep Trial
What is it?
One of the most fantastic perks of online mattress shopping is the option to sleep on your newly bought mattress for a certain number of nights before committing to it fully or returning it – pain-free! This period is called a sleep trial, and it can vary from 30 to 356 days, based on the mattress company.
We recommend mattresses that usually have more extended trial periods, but it's okay if you're happy with your mattress from the first moment you lay down and fall asleep. Love at first sight happens, and we can't deny that!
Give it at least 30 days
However, it's good to give any mattress that 30 days test to see if it will adapt to your body the way that creates the most comfortable sleeping experience for you. You can also use that time to see if the mattress is cool enough and easy to change the sleep position. Look for mattresses with multiple firmness options if you're still unsure about the precise firmness.
Warranty
What is it?
You might be wondering what's the actual difference between the trial period and the warranty. The trial period you get is shorter, to put it simply. Warranties last for years, sometimes decades, and they cover a limited number of issues.
Warranty can be anywhere from 10 to 20 years, and some companies offer a lifetime warranty. That means the warranty lasts as long as you own the mattress.
Knowing the ins and out of the warranty can protect you against mattress defects and workmanship because it explicitly tells you how and when to act. It also protects the mattress company because the warranty says in which situations you can get a refund, replace the mattress, or get repairs.
Don't skip the Warranty!
Warranty is a fundamental step in your buying journey, and you shouldn't skip reading it. Of course, it's not a very attractive piece of information to go through. We get that, and that's why we cover warranties in every mattress review we do, and we try our best to keep it short and precise!
Hop over to our mattress reviews if you're curious to see more. Also, check out the best bed in a box mattress list.
Certification
What is it?
All reputable mattresses have certification displayed on product pages. It shows you that the materials were officially tested and confirmed to be non-toxic and healthy for regular use. You'll usually see Certi-PUR, Oeko-Tex certificates, Greenguard, GOLS, and so on. Some of them are typical for organic mattresses, and some apply to other types.
If you want to see eco-friendly mattress options, check out our best organic mattresses list.
Shipping
What is it?
No one likes shipping costs sneaking upon them, and that's why we always make sure to include this information in our mattress reviews.
The majority of the mattresses we reviewed offer free shipping. Also, the shipping time is pretty reasonable, and all you have to do is open the door and receive your mattress in a box.
Return Policy
What is it?
Before you say "yes" to a mattress, check the return policy. You need to know the conditions and how much it could cost.
Luckily, we also thought of that and included the information in our reviews.
The reasons for returning a mattress can vary, but the three most common reasons are wrong firmness, discomfort, and body heat retention (commonly problematic for hot sleepers).
Choosing the wrong firmness level can result in inadequate pressure relief and body aches (depending on the sleeping position). That, in turn, can cause discomfort, and you can't fall asleep. You toss and turn most of the night, trying to find that comfortable position.
That's why it's safe to look into medium-firm feel first. Also, keep in mind that some models offer multiple firmness options to help you with choices.
A wrong mattress can also overheat and feel uncomfortable to hot sleepers, especially if you're a hot sleeper and you picked a mattress with less cooling materials and inadequate temperature regulation for your body.
So, it's better to return the mattress and switch it for a different one than to continue sleeping on a mattress that is just not a good fit. And most online mattress companies offer free returns as long as you choose to do it during the trial period.
Oh, and one last thing – mattress companies donate returned mattresses to charity, and that's one more reason not to cry about the mattress returns.
Free White-Glove Delivery
What is it?
One of our favorite perks is the Free White Glove Delivery (sometimes a small fee is charged though), which usually includes mattress setup and mattress take-aways.
The delivery team brings the mattress, carries it to the desired place in your home, and they proceed to set up the mattress. Afterward, they remove all of the packagings, so your room is left in the best possible state.
This service can also include the old mattress removal, which is why this service is a nifty way to kill two flies with one stone. Out with the old, in with the new! And all of it during one day.
Most mattress companies have a small fee for this service, but you can undoubtedly find ones that offer free white glove delivery and mattress removal.
As long as you're here, please look at our clever guide about how to dispose of a mattress.
Financing Options
What is it?
When we see different payment options, we know that a mattress brand cares for its customers and wants to help them reach their product as soon as possible.
Luckily, most online mattress companies nowadays offer Klarna, Splitit, and other installment payment options. You can see which options are available for every mattress in our reviews.
Here's a list of mattresses for the money if you want a good value mattress.
Transparency
What is it?
Transparency is, unfortunately, still very rare. We also understand that companies don't want to share product cost breakdowns. But we appreciate and highlight the ones that show complete manufacturing and labor costs because that kind of action shows integrity and honesty without a grain of doubt.
Final Thoughts
We've got a lot of great options for the best mattresses of 2023. To make your decision easier, here's our shortlist once again!
FAQ
How do I choose a mattress?
The first step is to identify how you spend most of your sleeping time – back, side, stomach, or combination of multiple positions? Keep in mind that some models have multiple firmness options.
Once you are sure about the position, think about the firmness and how much cradling you prefer. Are you a fan of medium-firm beds, or do you like to sink in a little bit?
Also, include your weight in the factors, and always look for the mattress firmness that will offer enough support because you want to have a durable and reliable mattress to keep you cozy for years to come.
Also, take note of any additional factors that might play an essential role in your life. For example, do you sleep with a partner and need a bigger bed? Do you belong to hot sleepers and need a cooler mattress?
Look at all the exciting categories we mentioned that might help you find the perfect one!
When is the best time to buy a mattress?
The best time to buy a mattress is during significant holidays – if we're focused on the money factor. President's Day, Memorial Day, and Labor Day are all great opportunities for savings! Make sure you don't miss out on any of these sale periods by checking our coupons page year-round as we update with the latest discounts every month, including Black Friday deals now too.
But, if we're focusing on you as a factor, the answer would be slightly different.
The best time for a new mattress is anytime you feel discomfort from the current mattress. Don't wait for holiday sales if you're in dire need of a new bed. Your health is more important than saving a few bucks.
The majority of mattress brands offer all sorts of discounts all around the year, so make sure to check out your options and find the perfect slumber zone for you.
What mattress will last the longest?
Latex mattresses last between 12 to 15 years. That's right, 12-15 years! This means you can buy a new bed every decade or two and still get great sleep. Latex foam is very durable, bouncy, and extremely pleasant for sleep. However, the organic mattress can also be pricier.
Now, that doesn't mean you shouldn't consider an excellent memory foam mattress or a good, sturdy innerspring, especially if you already like them.
Every mattress can last longer with proper care, and it's possible to reach 10+ years with a high-quality mattress, no matter the material. Still, we underline it- proper care and adequate weight will determine how fast or slow your mattress will start to deteriorate.
What types of mattresses are the most comfortable?
Comfort is a very individual factor. It's all about what you prefer. So if you're a side sleeper and that position feels comfortable for you, then go ahead! Side sleepers are usually choosing beds with good body cradling, from 3 to 6, depending on personal preferences.
For stomach sleepers and back sleepers, the recommendation is to look for something stable to give constant support and zoned support for additional comfort. Check the brands with multiple firmness options because you can easily spot the difference there.
If back pain issues come up when lying on one particular mattress type but not another (like memory foam vs. hybrid), it's time to switch things up.
Don't be afraid of modifying your personal preferences just a little bit- you might find yourself happier overall with the new mattress.
If you're unsure where to start from, hop over to our list of most comfortable mattresses.
What is the best mattress for back pain?
The type of mattress you're looking for can also be the best firm mattress. A good night's sleep on a proper mattress helps alleviate most types of discomfort, and this will keep the spine in proper alignment to prevent further damage. A mattress that is too soft or too firm can be a cause of back pain for many back sleepers.
Check out our best options for back pain to find what could suit you the most.
What is the best mattress for side sleepers?
The best mattress for side sleepers needs proper support and pressure relief if they want to wake up refreshed and ready for their day. Side sleepers need something to keep them comfortable all night long and reduce pressure spots in the shoulders and hips.
Side sleepers should also consider factors like mattress firmness (usually recommended between 3,4 to 5,6, based on the body weight and firmness preference) and whether motion transfer is reduced (important when sharing a bed). Also, medium-firm beds are usually a good compromise for couples with mixed preferences.
Take a glance at our best mattresses for side sleepers to see all the great options.