DreamCloud Mattress Review for 2023 – Our In-Depth Guide
Written by: Milica Terzic
Updated: 02/20/2023
Transparency Disclosure: For products purchased through the links on this page and throughout the site, we may get a referral fee (with no extra cost to the buyer). Please read our full How We Rate page for more information. There you can see how we conduct research and test products, as well.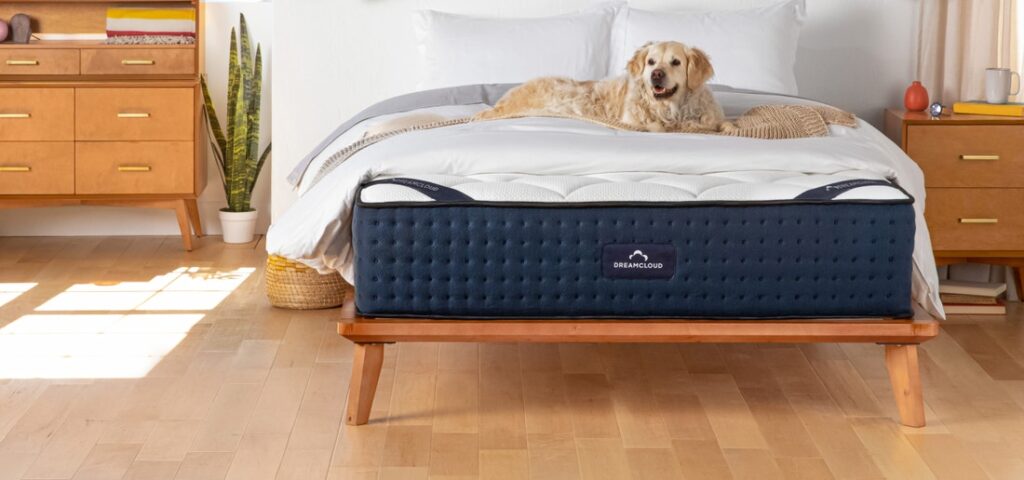 Have you ever thought about what it's like to sleep on a big, fluffy cloud? To be whisked away to a magical dreamland? To wake up the following day feeling like you can conquer anything?
Sadly, you can't ever experience that, but you can come close. In January 2018, Nectar Sleep has launched the DreamCloud mattress company. Even though it is relatively new on the market, this online bed-in-a-box company has quickly proven itself.
DreamCloud's mission? To give you the most luxurious sleeping experience without cutting corners.
How do they achieve this? By designing premium hybrid mattresses made using exquisite materials from around the world. And then selling them at an affordable price.
Today, you can deck out your bedroom with various DreamCloud products like sturdy bed frames and comfy bedding like pillows or sheet sets. They even sell weighted blankets that have grown in popularity in recent years. As they are still a "young" company, they offer three different models:
The flagship DreamCloud mattress
The DreamCloud Premier mattress
The DreamCloud Premier Rest mattress.
In this review, we will shed some light on the DreamCloud mattress. This luxury hybrid innerspring model has in a short time gained popularity. It features really boujee materials, and it is reasonably priced for a hybrid model. A lot of people like it because it offers excellent support, comfort, and versatility.
But, we do beg the question, is DreamCloud really that awesome? Or are we influenced by its relative novelty?
Well, there is only one way to find out. Let's get this review on the road!
DreamCloud Mattress Review in a Nutshell
The DreamCloud mattress is a hybrid innerspring model.
Ranks 6.5/ 7 out of 10 on the firmness scale.
The flagship DreamCloud model is very durable.
Performs well at motion isolation.
The DreamCloud flagship model is great at pressure relief.
It's an excellent choice for hot sleepers.
Best suited for back, some side, and combination sleepers.
Lifetime warranty and 365-night trial period.
One more model is available: DreamCloud Premier and DreamCloud Premier Rest.
DreamCloud Hybrid Mattress
The DreamCloud mattress is a five-layered hybrid mattress known for its great value. The model is especially a hit with hot and back sleepers.
Construction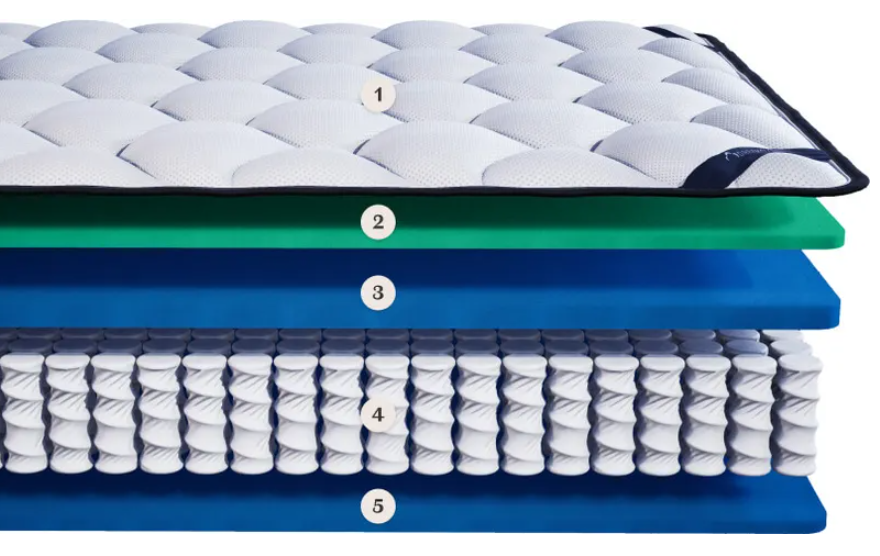 Cover
The first thing one notices when buying a new bed is its cover. The soft DreamCloud mattress cover is a blend of polyester, rayon, and Mongolian cashmere. Other than its luxurious and plush feel, the cashmere is also known for its breathability. Combined with the poly-blend, the material is also durable.
What is also interesting about this cover is that it's quilted into the first mattress layer. Because of this, the DreamCloud mattress looks and feels like a giant pillow. Really inviting!
But this also means that the DreamCloud's cover is non-removable and can't be washed in a machine. Don't worry! This just means that you have to spot clean the bed cover, like many other mattress models.
Comfort Layers
The DreamCloud mattress is a unique model in more ways than one. Instead of a standard one comfort layer, it technically has two. What do we mean when we say that?
Well, tufted in the cover is a polyfoam. This is what gives the DreamCloud mattress its soft, pillow-like appearance. This foam is only half of an inch thick and acts as the mattress's primary comfort layer.
Underneath, there is the secondary comfort layer. The layer consists of gel-infused memory foam with a density of 2.5 PCF and is slow reacting. The foam's primary role is to add to the overall comfort and support. It contours to the shape of the sleeper's body so that it relieves pressure.
Now, memory foam is a material that is known to trap heat. This is offset by infusing the foam with cooling gel. As such, the foam adds to the breathability of the DreamCloud mattress. It also guarantees that you will sleep cool as a cucumber at night. Something that hot sleepers might particularly enjoy.
Transitional Layer
Next up is the transitional layer. Or as the DreamCloud mattress company calls it, is the sink-in-just-right layer. The 2.5″ foam layer, with a density of 1.8 PCF, acts as a buffer of a sort. It allows the body to sink through the comfort layers without going in too deep to feel the coils in the base.
In short, the layer provides just the right amount of support and cushioning. That way you can sleep more soundly.
Base Layers
The most important of every bed is the base. The base provides not only the bed its structure but also support to the sleeper. In the case of the DreamCloud mattress, its base consists of two layers.
The first layer is made entirely out of support innerspring. The 8″ coils are all individually wrapped and are very bouncy. These pocketed springs have multiple functions:
They offer edge-to-edge support and pressure relief.
They make the DreamCloud mattress responsive so that you can move with ease.
As they are pocketed, the motion transfer is minimized.
The space between the coils helps with the airflow. This also influences the cooling effect of the gel comfort layers.
Underneath the springs is a 1.5″ polyfoam layer. Its main job is to provide stability to the mattress. It offsets the bounciness of the mattress but also gives support to the upper coil system.
Because of how the base is designed, we think that people with back pain might like it.
Are DreamCloud mattresses made in the USA?
In order to make one of the best products on the bed-in-a-box market, the DreamCloud mattress company sources quality materials from diverse countries. As such, DreamCloud products and mattresses are made in places like Vietnam, Malaysia, China, Mexico, and the US.
A lot of customers may be turned off by a bed that isn't entirely made in the US. But, this shouldn't bother you too much. The bed is made with premium materials. During production, the DreamCloud company keeps the highest safety and sanitation standards in mind. Even though some of its materials are outsourced, the DreamCloud mattress is still affordable.
Firmness & Feel
One of the first things one looks at a new bed is how it feels. According to the DreamCloud official website, the DreamCloud mattress is rated 6.5 out of 10 on the firmness scale. This ranking places the mattress as medium-firm.
Now, we know that this statement is not enough. How a mattress feels or how firm it feels can change from person to person. It also depends on many factors such as one's weight, for example. When you look at other DreamCloud mattress reviews, you will see different rankings. However, most reviewers rank it at 6.5, some rank it 7.5, others at 7. Some even rank it as 6.
So, what's our ranking? We're going with the majority. But we acknowledge that the model might feel firmer to some individuals. We give the DreamCloud mattress a 6.5/7 ranking, which classifies it as a medium-firm, firm mattress. This sort of ranking makes the mattress more versatile and suited for a lot of sleepers. However, we still encourage you to test this model for yourself, just to be on the safe side.
But, you might be wondering, what does the bed feel like?
Thanks to its comfort layers, the mattress actually feels a bit soft to the touch. Many sleepers like how the DreamCloud mattress doesn't cradle the body too much. Which is what memory foam models do. It provides pressure relief, but you can still move freely. Many have stated that it feels like you're sleeping "on top" of the bed. Something combination sleepers might enjoy.
Still, the DreamCloud mattress can feel firm over time. As a hybrid model, the DreamCloud has coils whose role is to support the body and make it easier to move on top. Because it's so responsive, some DreamCloud reviewers have compared it to a traditional innerspring mattress.
What's our take?
Based on the majority of other reviews, the DreamCloud mattress falls somewhere between an innerspring and an all-foam mattress. The bed offers some contouring, but you also get to move without restrictions. We won't be surprised if you feel like you're "floating."
Durability
The folks over at DreamCloud company guarantee that your mattress will last for as long as you have it. This is because they have invested time, energy, and premium materials to ensure that you have a luxury model at a fraction of the cost.
We can't argue that the DreamCloud mattress isn't well constructed. However, we have found that not all DreamCloud mattress reviews agree with them. Most see it lasting for about 5-7 or 6-8 years. Why so much of a discrepancy?
The DreamCloud mattress company has only been around since 2018. Which is why there are not many long-term customer records. We don't know what the weight limit is either. But, we know that the approximate time when a mattress will show some wear and tear based on its materials. The DreamCloud mattress uses medium-dense foam and coils in its construction. These foams usually show some wear after 5 to 6 years, while springs prevent sagging up to 7 to 8 years. So longer than all-foam and low-quality hybrid models.
In short, you can expect that your DreamCloud mattress will last you for a very long time. Our estimation is at least 5 to 8 years at most. Keep in mind that proper care and regularly rotating your bed can make it last even longer.
Motion Transfer
When sleeping with a restless partner, you need to pick a mattress that isolates motion well. Or you might as well kiss romance goodbye.
Now here is where we get mixed results. Some think that the DreamCloud mattress doesn't perform well in this aspect.
The DreamCloud mattress has coils. This means that there will be some bounce, and in turn, some movement. However, the bed also has two key things that minimize that movement. The coils themselves are pocketed, so expect less motion transfer. Also, the DreamCloud mattress uses memory foam in the upper layers. This is a material known for absorbing and isolating movement.
Most DreamCloud mattress reviewers think that the bed performs well or even better than most hybrid models. While it might not be the best on the market, it's unlikely that you will be up all night due to a restless partner.
We believe that most people will like the DreamCloud mattress. Although, we don't recommend it for particularly light sleepers. If you are in a couple, we suggest that you try the bed out for yourself. Also, check out our top list of best mattresses for couples.
Does DreamCloud mattress sag?
Edges that sag prematurely shortens the lifespan of a mattress. This is why it is essential to look for a model that has great edge support.
Here we found some differing results. Now, DreamCloud is a hybrid mattress, which usually lasts longer due to the coils. Some DreamCloud mattress reviewers were not satisfied with the edge support, as there is no reinforcement. This is noticeable if you often sit or sleep near the mattress perimeter.
However, most reviewers still like DreamCloud's edge support. The bed's perimeter is still supportive enough. It owes its supportiveness to the high-density foam and the coils. Most sleepers, including couples, will find the DreamCloud mattress's edge secure enough. So it's unlikely they will have significant problems with it.
If you have mobility issues, we don't think you will have any issues with the DreamCloud mattress, so you can try it. We still recommend you check out other models from our top picks for people with mobility issues. Just to be on the safe side.
Pressure Relief
One of the worst feelings in the world? Waking up with aches and pains.
Solution? Getting a mattress with excellent pressure relief.
When it comes to this aspect, the Dream Cloud mattress performs well, which is on par with most hybrid models. It eases the pressure from key areas, thanks to its structure.
The DreamClouds upper layers are made from foams, one of which is memory foam. The foams create a cradle around the sleeper's body and also redistribute the weight. In turn, this reduces pressure from the shoulders and the hips.
But because the DreamCloud mattress is slightly firmer, the body doesn't sink in too deeply. Instead, it creates a sort of floating sensation. This is why the bed might not be a hit with side sleepers, while back sleepers might sleep soundly.
Still, most DreamCloud mattress reviews heavily praise its pressure-relieving properties. And honestly? We like what we see.
Temperature Regulation
One of the fantastic features of every hybrid model is the excellent thermo-regulation. And the DreamCloud mattress is no different.
Thanks to the innersprings, the air flows freely throughout the mattress. These coils also make sure that you sleep cool at night. Not to mention, the memory foam is infused with a special cooling gel. This gel helps keep the mattress surface cool. Because the foam is dense, you will stay "on top" of the mattress. That way, the air can flow better, and you can sleep cool.
What also helps with regulating the DreamCloud mattress's temperature is the cashmere cover. Cashmere is a breathable material that wicks away moisture and heat away from the body.
All of these mattress materials work together to prevent heat retention. In turn, this makes the DreamCloud mattress an excellent choice for hot sleepers. They will find this model quite enjoyable, as it sleeps cooler than an average bed. In our books, this is an A + mattress for a cool and refreshing night.
DreamCloud Hybrid Mattress
The DreamCloud mattress is a five-layered hybrid mattress known for its great value. The model is especially a hit with hot and back sleepers.
Off-Gassing
As is the case with most bed-in-a-box mattresses, your new DreamCloud mattress may emit a bit of an odor. Let us preface this by saying that this is entirely normal. Also, the bed is indeed CertiPUR-US® certified.
In order to fit inside of the box, the DreamCloud mattress is folded, compressed, and vacuum-sealed. During shipping, the bed cannot release volatile organic compounds or VOC for short. The VOCs are not harmful, and only a low amount can be found in any mattress. What it does is that it releases a smell after the bed is unpacked.
To get rid of the smell, you have to leave the DreamCloud mattress in a well-ventilated room to air out. The smell should disappear after approximately 48 to 72 hours.
Sleeper Type Preferences & Weight
If you visit the official website, the DreamCloud mattress was built with all sleeper types in mind. While this is commendable, the reality can be quite different.
How the mattress will fit your needs usually depends on various factors. Factors like weight, body type, or sleep position can influence the sleep experience.
While we do recommend that you try the mattress, don't skip the following sections. The sections were written with the information gathered from multiple DreamCloud mattress reviews. That way, you can make a more informed decision, whether or not you would like to try this mattress model out.
Without further ado, let's jump right in!
Side Sleepers
As they put more pressure on the hips and shoulders, side sleepers usually prefer softer beds. Depending on their weight and preferences, of course. Because the DreamCloud mattress feels more medium-firm, we don't really recommend it for strict side sleepers.
The majority of DreamCloud mattress reviews agree that average-weight side sleepers might enjoy it. They will be able to get enough support and pressure relief. Heavy- and lightweight side sleepers will not find the mattress comfortable or supportive. They might like the DreamCloud Premier mattress instead.
Back Sleepers
Looking at a lot of experiences with the DreamCloud mattress, most back sleepers enjoyed sleeping on it. This is because the mattress's medium feel and coils keep the sleepers on top. As such, it provides them even back support, which they need so their spines can be properly aligned.
The ones that will benefit the most from the support and comfort will be average-weight back sleepers. Petite back sleepers should also have no troubles with the DreamCloud mattress. Most heavyweight sleepers will also like this model. But if their weight is closer to 300 lbs, it might not be supportive enough. We recommend they take a look at the best mattresses for heavier sleepers.
All in all, we believe that the DreamCloud mattress is one of the best mattresses for back sleepers. It provides them with excellent pressure relief, making sure that everything is supported. If you choose this bed, you won't be disappointed.
Stomach Sleepers
Stomach sleepers heavily rely on support around their abdomens. As such, they usually go with firmer mattress models. As DreamCloud mattress is medium-firm, you would think that this model might be a good pick for them.
Like with side sleepers, we are also getting some mixed reviews here. Some reviewers think that the DreamCloud mattress will be supportive enough for most stomach sleepers. The bed pushes back the hips while maintaining proper spinal alignment. However, when you factor in weight, you get a different story.
A lot of DreamCloud mattress reviewers have noticed that lightweight stomach sleepers like this model the most. It is just firm enough for them to give them the necessary support. The same goes with average-weight stomach sleepers that are closer to 130 lbs. Their spines stay nicely aligned. Heavier average-weight stomach sleepers may experience their hips sagging over time. This, in turn, throws their spine out of alignment and causes lower back pain. Heavyweight stomach sleepers will also not have a fun night sleeping on the DreamCloud mattress.
To put it simply, we don't think this is a good mattress for strict or heavier-bodied stomach sleepers. Some lighter stomach sleepers may enjoy spending time on the DreamCloud mattress. But a bed isn't fun if only a few can enjoy it. We recommend going for a firmer model or taking a peek at our best mattresses for stomach sleepers.
Combination Sleepers
Combination sleepers look for two things in a mattress: bounciness and responsiveness. They tend to switch multiple positions during the night, so if they need a bed, they won't get stuck in it. Therefore, the DreamCloud mattress should be a great choice for combination sleepers.
First off, the DreamCloud mattress is very responsive, thanks to its coils and layers of dense foams. Due to the nature of the foams, they won't get "stuck" in one place but still get enough support. Not to mention the DreamCloud is a bouncy model. This makes moving on top of the bed much more effortless.
However, even if they do like to change positions, combination sleepers do have a side they prefer. Looking at other DreamCloud mattress reviews, we couldn't find much information about this type of sleeper. They are a bit tricky to write about. But most combination sleepers will find the mattress enjoyable. Particularly those that like to sleep on their back.
And, let's not forget to factor in weight. Based on the previous sections, average-weight combination sleepers will definitely like the DreamCloud mattress. Heavier-bodied combination sleepers, closer to 300 lbs, might not get enough support. With lightweight combination sleepers, it depends on their preference. But we believe that most of them will like it.
Although not the best one, most combination sleepers will not regret getting the DreamCloud mattress. You can always try the bed, just to be sure, if it's the right choice for you.
| | Under 130 lbs. | Under 130 – 230 lbs. | Above 230 lbs. |
| --- | --- | --- | --- |
| Side Sleepers | Fair | Excellent | Good |
| Back Sleepers | Good | Good | Good |
| Stomach Sleepers | Good | Good | Good |
Other Mattress Models
Not sure if the DreamCloud mattress is the right pick for you? You might like their other models, the DreamCloud Premier mattress and DreamCloud Premier Rest mattress.
You're probably thinking, what's the difference? Which one is comfier, do they have coils or not?
Well, there's only one way to find out. Let's compare the two a bit, shall we?
DreamCloud Premier
The DreamCloud Premier is the model designed to bring more plush and lush into your life. Compared to its high-value sister model, it has a more elegant look and softer feel. We have the additional comfort layers to thank for that. Together with Luxury Cashmere-Blend Cover, they create a very gentle and soothing feel.
This added plushy effect makes it a better fit for side sleepers and back sleepers. It also offers an excellent cooling effect for hot sleepers. On the other hand, if you prefer the classic innerspring feel and a firmer mattress, DreamCloud is the better choice.
The luxury model is naturally a bit more expensive than the flagship mattress model when it comes to price. A Queen DreamCloud Premier costs $1,988 on a regular day with no discounts on the horizon.
Is the DreamCloud Premier price reasonable?
We believe it is because all the materials are premium. Also, if you look at other luxury hybrid models on the market, you'll see that DreamCloud Premier is still inexpensive.
DreamCloud Premier
DreamCloud Premier combines memory foam and coils as one of the top luxury mattress models that guarantee deeper, cozy snoozes.
DreamCloud Premier Rest
The latest model in the collection is the DreamCloud Premier Rest. This newest mattress was designed to give you an extra dose of luxury of the DreamCloud Premier. The mattress has 7 layers. Together, they provide you excellent motion isolation, responsiveness, and support. It is also the tallest model yet, with a height of a whopping 16″.
Because DreamCloud Premier Rest has more comfort layers, it feels softer than both the flagship model and the Premier. As such, we think side sleepers will enjoy this mattress. Thanks for its bounciness, combination sleepers will like it as well. Don't worry about sleeping hot on the DreamCloud Premier Rest! This model comes with additional cooling technology that will really hit the "cool" spot for a lot of hot sleepers.
As this DreamCloud mattress model uses high-grade materials, it is currently the most deluxe bed to date. The full price for the Queen size DreamCloud Premier Rest is $2,198. Now, that's a lot of cheddar!
Why should you get the DreamCloud Premier Rest? If you would like to invest in a premium hybrid mattress that feels soft and bouncy yet still supportive, this might be the mattress for you.
DreamCloud Premier Rest
The softest member of the DreamCloud family is the Premier Rest that cradles the body in all sleeping positions to relieve pain immaculately.
Mattress Prices and Sizes
If you're looking for a mattress that comes with a value price – DreamCloud is your friend! Compared to other hybrid models, this brand really steps it up in terms of quality and price. It offers high-end materials, construction, and superb comfort. The regular price of a Queen is $1,598, compared to other Queen hybrid mattresses costing over $2,000.
Our point? You don't need to break the bank for luxurious comfort with a DreamCloud mattress.
When it comes to sizes, DreamCloud mattresses are available in all six standard sizes – Twin, Twin XL, Full, Queen, King, and California King. It also comes with a pretty decent weight compared to the industry average. This is important to know if you prefer to do the mattress setup without White Glove Delivery.
Heavy lifting is only fun at the gym, right?
| Size | Price | Weight | Height | Dimensions |
| --- | --- | --- | --- | --- |
| Twin | $1,273 | 50 lbs | 14" | 38" x 75" |
| Twin XL | $1,473 | 53 lbs | 14" | 38" x 80" |
| Full | $1,698 | 72 lbs | 14" | 54" x 75" |
| Queen | $1,798 | 85 lbs | 14" | 60" x 80" |
| King | $2,089 | 107 lbs | 14" | 76" x 80" |
| Cal King | $2,089 | 107 lbs | 14" | 72" x 84" |
Deals & Discounts
Fancy trying out the DreamCloud mattress? Visit their official website to check out current promos, deals, and discounts.
For more great pocket-friendly deals, take a look at the Anatomy of Sleep's Coupon page. Find your favs curated by us!
Overview of Benefits
Where to buy a DreamCloud mattress?
You can order your DreamCloud mattress exclusively from DreamCloud's official website.
If you have any questions or troubles with placing your order, don't hesitate to get in touch with DreamCloud's customer service. The DreamCloud Sleep Concierge Team is available 7 days a week from 8 AM till 4 PM PST. Visit the following link to contact them.
According to the DreamCloud Stores page, the mattress is also available at some retail stores. Due to COVID-19, some of them might be closed, so make sure to call them in advance if you want to visit them.
Sleep Trial
What makes DreamCloud mattress really stand out is its 365-night trial. Yes, you read that correctly. A year-long sleep trial! Yes, you may proceed to scream in excitement.
Unlike most mattress brands, the DreamCloud company understands that buying a bed is a long-term commitment. After all, we do spend about a third of our life in bed. The DreamCloud folks give you more than enough time to try out your mattress. That way you can make a more precise decision and fall in love with it.
And that's not all! During the sleep trial, you can exchange or return your DreamCloud mattress at any time. You only need to contact them via phone, chat, or email.
Lifetime Warranty
Hold on! Are our eyes deceiving us? Lifetime warranty?
Yeah, we did! We are, legit, not pulling your leg. All DreamCloud mattresses come with a lifetime warranty. This warranty is a hell of a lot longer than the standard 10-year one, you get at other mattress brands. It guarantees that your mattress, its materials, and overall construction will last for how many years you own it.
The only downside is that DreamCloud's warranty is limited. Translation?
It has certain limitations. That is why it is essential to know what the warranty covers and what doesn't cover.
The DreamCloud limited lifetime warranty covers:
Mattresses sold by the DreamCloud company or its authorized retailers.
Mattresses owned by the "original purchaser" – the ownership is non-transferable.
Damage that occurs through normal wear and tears.
Physical flaws that deteriorate the mattress, despite proper use.
Manufacturing defects.
Deterioration caused by a visible indentation greater than 1.5″
The DreamCloud limited lifetime warranty doesn't cover:
A mattress that was misused, neglected or used improperly.
Increased softness of the mattress's foam, which happens over time.
Defects caused by physical abuse or damage to the structure and/or cover material.
Mattresses that were bought "as-is," "previously owned," or any other phrase, indicating that the mattress was previously purchased by someone else.
We also have to add that for the first 10 years of the warranty period, you can get your DreamCloud mattress replaced by the DreamCloud company if it's determined that it has a covered defect. After 10 years, the company can either repair or replace your mattress. You may have to pay a transportation fee, which will be refunded to you in case a defect was determined.
Want to know more about the DreamCloud warranty? Please visit:
Certification
As we spend a lot of our time sleeping, we need to know that our mattress is safe. Not only for ourselves but also for our partners, pets, and children.
The DreamCloud mattresses are CertiPUR-US® certified. This means that the models meet the highest standards for content and emissions. This is proven by independent testing by CertiPUR-US® third-party institutions.
The mattress is free from unsafe materials like ozone depleters, heavy metals, formaldehyde, VOC, and other chemicals and gases.
How and where does the DreamCloud ship?
Another great news? Whether you order or return the mattress, it doesn't matter! DreamCloud ships free from one of its many distribution centers within the contiguous US. Delivery is done by FedEx, and it usually takes 2 – 5 business days. The mattress is shipped in a box to your doorstep.
However, there are three things you need to note before you order a DreamCloud mattress:
Residents of California, Rhode Island, or Connecticut may get charged an extra state-mandated shipping fee. These states have specific laws for recycling. This also applies whether or not you choose the "White Glove Delivery" service.
If you live in Hawaii or Alaska, the company charges an additional fee of $150 per large item ordered.
Sadly, the DreamCloud company doesn't ship to Puerto Rico, Guam, the Virgin Islands, or other US territories.
Additional Services
White Glove Delivery
When placing an order for your new DreamCloud mattress, you can select the "White Glove Delivery" option. For an additional $149, you will get your mattress delivered and set up straight to your room. If you ordered an extra item, you will be charged an extra $45 per item, like a bed base.
Due to COVID-19, the "White Glove Delivery" is not available. Instead, DreamCloud offers "Contact Free Delivery" so that you and your loved ones will be safe.
Mattress and Foundation Removal
The company offers old mattress removal if you choose the "White Glove Delivery" option. According to some DreamCloud mattress reviews we came across, this service costs $20.
Easy-to-Use Financing
You know, mattresses can be an investment, and quite frankly, it can be stressful having to pay a lot of money at once. Luckily for you, the DreamCloud mattress company offers two financing options. These options are here to help you easily manage your payments.
The company has teamed up with Affirm and Splitit, which help you make your payments each month, with or without credit. With Affirm, you can pay over 3 to 24 months and get approved for a 0% loan! With Splitit, you can pay monthly installments of a maximum of 12 months with no approval needed.
If you are interested in how these services work, visit the following link.
Return Policy
If at any time during your 365-night trial, you decide to return or exchange your DreamCloud mattress, you can do that with ease.
In the case of returns:
You may submit a request 30 days after delivery at the earliest, but no later than 365 days.
To begin the process, fill out DreamCloud Resident Home Return Request form online.
A specialist will contact you within 24 hours.
You need to fill out all of the required information and documentation to complete the return.
The mattress you want to return must be in good condition so that DreamCloud can donate it.
Mattresses that have been misused or improperly used are ineligible for return and warranty claims.
If the DreamCloud product was shipped outside of the contiguous US, it's not eligible for return.
Your refund will be issued in the form of the original payment method. If you purchased via an offer code, its value won't be refunded.
In the case of exchanges, they are handled within their return process. You can choose if you want to purchase a replacement mattress before the refund is finalized.
Please visit DreamCloud Returns page and FAQ page, section Returns & Exchanges, for more details about the Return process.
Is DreamCloud a good mattress?
What is the take-away from this DreamCloud mattress review?
The DreamCloud mattress is a luxury hybrid innerspring model quality at a wallet-friendly price. Not only is it durable, but it also appeals to many sleepers. This medium-firm model combines both excellent support and comfort without the sunken-in feeling. Thanks to its construction, the DreamCloud mattress offers excellent pressure relief. It also performs well at isolating motion.
Hot sleepers will especially like the excellent cooling aspect of the DreamCloud mattress. We predict they will spend many nights on it. The model might not appeal to some side and stomach sleepers. But most back and combination sleepers will find the mattress to be just what the doctor ordered. Sadly, heavier-bodied sleepers might not enjoy it all too much. In comparison, lightweight and average-weight sleepers will like the experience very much.
Another great thing about the DreamCloud mattress is that you get to try it out for a 365-nights trial period. This is almost 4 times longer than most other bed trial periods. Not only that, but each DreamCloud mattress carries a limited lifetime warranty. This fact shows just how much faith and care DreamCloud folks have put into designing this mattress.
Not satisfied with your bed? You can always reach out to their amazing and helpful customer care and easily return or exchange your DreamCloud mattress.
Now, we are very impressed by this mattress and everything that the DreamCloud mattress company has to offer. And we hope you are too. It would be a downright shame if you didn't try this fantastic model and take a chance on it.
So, why not test it and see if you would like it? After all, you may even get a special coupon from us.
DreamCloud
The DreamCloud mattress is a five-layered hybrid mattress known for its great value. The model is especially a hit with hot and back sleepers.