Purple Hybrid Mattress Review for 2023: The Best Cooling Option?
Written by: Jovana Bozic
Updated: 02/20/2023
Transparency Disclosure: For products purchased through the links on this page and throughout the site, we may get a referral fee (with no extra cost to the buyer). Please read our full How We Rate page for more information. There you can see how we conduct research and test products, as well.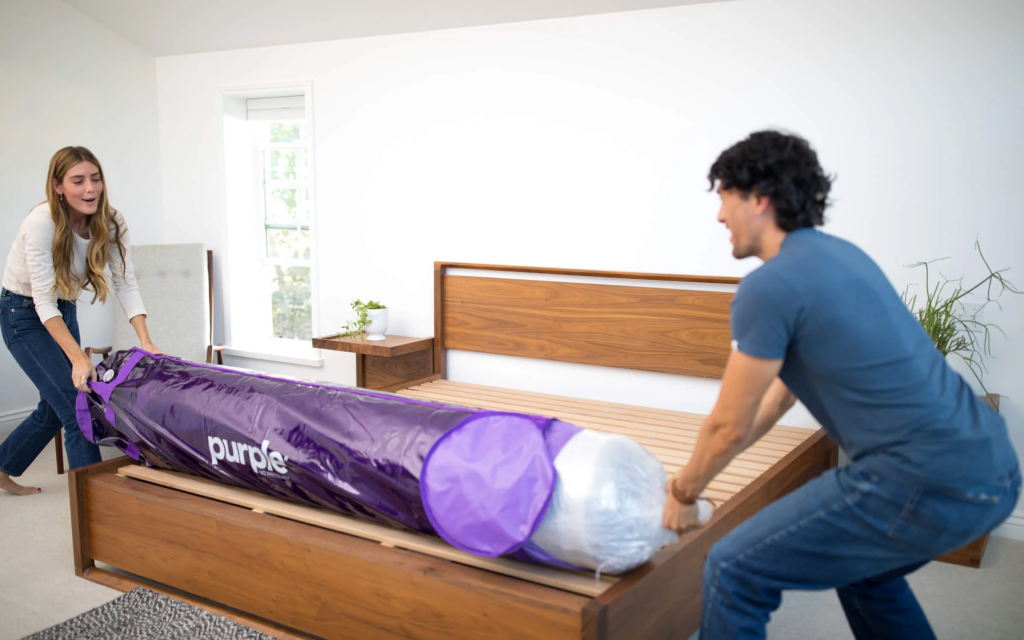 Purple Hybrid Mattress Review 2023
When you think about mattresses, what's the first thing that comes to mind? Foamy, comforting feel? Stable, flat surface?… Right, you wouldn't fantasize about sleeping on a mattress with square-like holes in it.
Yet, Purple company proves anything is possible. All you need is:
The right attitude
Expert knowledge
Innovative spirit
Brilliant, viral commercials
They produced an alternative to traditional memory foam and made a huge splash back in 2015. Today, Purple's signature Hyper-Elastic Polymer™ is still very much in trend.
The fact that the comfort layer is made from a grid pattern is still puzzling, to be honest. But, the technology behind it proves to bring a comfortable slumber zone for so many people.
The first Purple mattress was released back in 2015. The company realized pretty soon there's a huge potential for hybrid mattresses. A favorite option of many people who need a more durable mattress that can offer better support. Inspired by that idea, the company released the Purple Hybrid Mattress in 2018 as their first hybrid model.
In this Purple Hybrid mattress review, we'll learn more about construction and performance. Let's unwrap this mystery and see if Purple Hybrid would be a great match for you!
In a Nutshell
The Purple company's first hybrid mattress.
Purple Hybrid Features 2″ Purple Grid and 7.5″ support coils.
Purple Hybrid is excellent for hot sleepers.
Medium-firm mattress, 6.5 on the firmness scale.
Heavy back and stomach sleepers tend to enjoy it the most.
You get a 100 nights sleep trial to test the mattress.
10-year warranty on Purple Hybrid mattress.
Purple Hybrid is made in the USA production facilities (state of Utah).
Other models available: Purple Original, Purple Hybrid Premier, and Kid mattresses.
Construction
Purple Hybrid Mattress
Purple Hybrid is a medium-firm hybrid model that offers open-celled comfort layer that keeps the temperature neutral.
The Cover
StretchMax Cover is a soft and elastic material. It's created to bring breathability with the woven side panels. The design and construction allow you to get the most out of the Purple Hybrid.
StretchMax Cover composition is polyester (67%), viscose (29%), and lycra (4%).
If the cover gets dirty or anything spills on it, spot clean it with a mild detergent. That'll do the trick.
Comfort Layer
The first layer is the 2-inch hyper-elastic polymer comfort grid. The grid feels bouncy at the touch. It conforms to the sleeper's body, offering much-needed support.
The Purple Hybrid's grid can feel a bit unusual at first. You can feel the little squares of the construction bend once you lie down on the mattress. Most people get used to it after a short period, though.
Transitional Layer
Next up, we have a 1-inch transition layer of 2 pounds per cubic foot (PCF) polyfoam. The sleeper is comfortable, thanks to this transitional layer. It works as a barrier between the sleeper and the support layer made of a sturdy pocketed coil system.
Support Layer
Purple Hybrid has 7.5″ of responsive support coils. Each coil is wrapped in a noise-reducing fabric. That adds to the motion transfer properties of the Purple Hybrid mattress. The other benefits of the coils are better edge support and increased airflow.
Firmness & Feel
Let's see what kind of feel a bed-in-a-box hybrid mattress offers. Keep in mind that the feel and comfort level of any mattress is very subjective. Factors like sleeper, weight, sleep position, sleeping alone or in a couple are at play.

On a firmness scale, we rate Purple Hybrid as medium-firm, 6.5 – 7. Even though the comfort layer is very responsive, don't be fooled by the initial feel. It is considered a bit firmer than the Purple Original. Most of the Purple Hybrid mattress reviews agree on that.
The Purple Hybrid mattress conforms to the sleeper's body without sinking in too deep. It offers more of a supportive feel, in other words. The sleeper gets the sense of floating on top of the Purple Hybrid mattress. This mattress will not be a suitable fit for sleepers who prefer to feel cradled by the mattress.
For softer mattresses, please take a look at our list of the best soft mattresses.
When it comes to the feel of the hyper-elastic polymer comfort grid, opinions are divided. Some people get used to it in a heartbeat and passionately vouch for Purple Hybrid. Traditional foam mattress lovers tend to be unimpressed with it.
But, we always say – know thyself. Recognize what feels the best for you, and then test the best option.
How long do Purple Hybrid mattresses last?
Purple Hybrid has been on the market for less than five years. That means we can't know for sure how durable the mattresses are. But, we can make an estimation based on the average lifespan and material quality.
The Purple Hybrid comes with a 10-year warranty. That is the best-case scenario duration. The realistic scenario is to expect some sagging and body impressions after 5 to 7 years. That puts the Purple Hybrid mattress shoulder to shoulder with an average hybrid model.
This model offers some strengths that are very promising. The hyper-elastic polymer is a durable material that can sustain its form for a long time. The support steel coils are also made of very resilient material. The weakest link seems to be the transitional layer. It may decay sooner than other layers.
So, what can prolong the Purple Hybrid mattress's lifespan?
The company recommends rotating the Purple Hybrid mattress head-to-foot now and then. The best would be to do it every three to six months.
If you're interested to see other hybrid models, take a look at our list of best hybrid mattresses.
Motion Transfer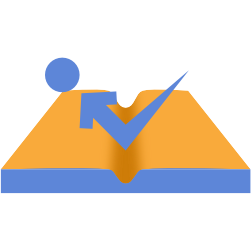 Motion transfer is the amount of movement you can detect while lying on the mattress. Being able not to feel every movement is a serious business for folks who share their bed. And we understand—shoutout to all of our light sleepers.
Generally, Purple Hybrid isolates motion very well. The coils are springy, which associates with squeaking sounds and poor motion transfer. But, the coils in this model are individually encased. That gives them the freedom to move independently and accommodate every move. By doing that, less disturbance is created across the Purple Hybrid mattress.
Still, it's not all roses and unicorns. Since the comfort layer is hyper-elastic polyfoam, it suggests there's a bit more bounce to it. The responsiveness of the layer can cause some light sleepers to wake up quickly.
Edge Support
People praise hybrid mattresses for good edge support. It is essential for extra support and security. Especially for restless sleepers that tend to move around the bed a lot.
Purple Hybrid mattress performs very well on this account. It provides solid support due to added high-density foam encasement. The sleepers report they could feel the extra support while sitting on the edges.
Pressure Relief
When it comes to pressure relief, the Purple Hybrid mattress shows promising results. The unique construction of the comfort layer contours to the sleeper's body. It offers similar pressure relief to other hybrid mattresses.
Overall, the support is efficient for sleepers under 230 lbs. They will experience the most pressure relief. The sleepers over 230 lbs might not experience the same effect in some cases. For example, side sleepers and stomachs experience more shoulder and hip pressure.
You need to find a mattress that will provide proper support and pressure relief. Otherwise, you end up starting your every day with grumpy, achy mornings.
Please look at our list of mattresses for heavy sleepers to find other more suitable options.
Temperature Regulation
Will Purple Hybrid provide a blissful, cool sleep?
Purple Hybrid mattress reviews agree and say – yes. It provides superb cooling and breathability during sleep. Every layer is designed to promote airflow from top to bottom. The open-celled comfort layer and the coil system keep the temperature neutral.
Purple Hybrid Mattress
Purple Hybrid is a medium-firm hybrid model that offers open-celled comfort layer that keeps the temperature neutral.
Sleeper Type Preferences & Weight
We know sleeping position and weight are the key ingredients that drive a decision. You don't want to play a messy guessing game when it comes to your sleep.
That's why we continuously dedicate the time to give you the full breakdown. See the pros, and cons based on sleeping position and weight.
Without further ado, let's see how and if the Purple Hybrid mattress will fulfill your dreams.
Side Sleepers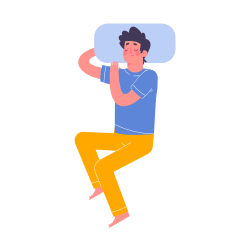 As a rule of thumb, side sleepers experience more pressure around the shoulders and hips. That's why they need more pressure relief and seek added body contouring.
Purple Hybrid offers excellent pressure relief to sleepers under 230 lbs. They seem to enjoy the firmer feel of the Purple Hybrid and tend to experience good pressure relief.
However, the 2 inches of comfort layer can be inadequate for strict side sleepers over 230 lbs. The comfort layer will bend to accommodate the sleeper's weight. But, the sleeper will not sink in deep enough to relieve the hip and shoulder pressure points.
Back Sleepers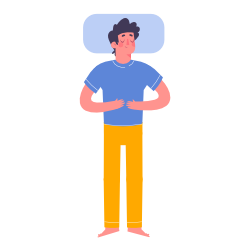 Back sleepers need a steady, even surface with a pinch of cushioning. That is why back sleepers like the Purple Hybrid mattress. They recognize its balanced feel and sense of optimal body contouring. The coil system brings that extra reinforcement which allows for sag-free body support.
Sleepers under 230 lbs find Purple to be a perfect match, with its firmer feel. Even sleepers over 230 pounds will relish the stability provided by the mattress. But, some may notice they need a firmer mattress for optimal spinal alignment. This specific opinion seems to vary among Purple Hybrid mattress reviews.
Stomach Sleepers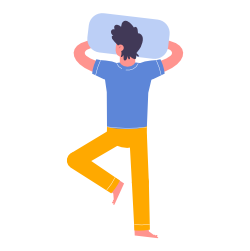 What do stomach sleepers need?
In general, this sleeping position can bring more pressure to the neck and spine. Stomach sleepers, therefore, need good midsection support. One that will not sink in too much under the sleeper's weight.
The majority of stomach sleepers enjoy sleeping on the Purple Hybrid. Lightweight sleepers under 130 lbs find the mattress most comfortable. They reap the benefits of excellent pressure relief of the comfort layer.
Stomach sleepers from 130 to 230 lbs will also experience comfortable sleep. Unfortunately, the potential for sagging increases for this weight group. If a mattress shows any early signs of sagging. It means it will probably lose its form faster with strict stomach sleepers.
Some heavy sleepers (over 230 lbs) will find Purple Hybrid quite comfortable. Most will experience some sagging around the midsection. This type of sagging results in neck pain because of pressure points. It is connected to the thin comfort layer that can fail to provide the needed midsection support.
We believe that some of these beds from our list of best mattresses for heavy sleepers will be a better fit.
Combination Sleepers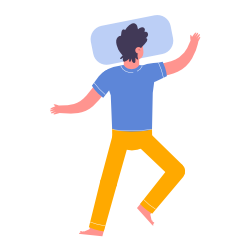 And last but not least – combination sleepers. Their experience with Purple Hybrid is satisfactory for a few reasons. Firstly, the responsiveness of the grid allows for a noise-free, fast position change. Secondly, the individually wrapped coils support moderately smooth position change.
Sleepers weighing between 130 to 230 lbs will probably experience the best results. For sleepers above 230 lbs, changing positions might be less smooth. If you prefer to sleep on your stomach or your side the most, we recommend considering other options.
Please take a look at our list of best mattresses for stomach and best mattresses for side sleepers.
Other Purple Mattress Models
Aside from Purple Hybrid, Purple offers their original Purple mattress and Purple Hybrid Premier. The main thing these models have in common is the hyper-elastic polymer grid used as a comfort layer. And what are the differences? And which one will suit you better?
Continue reading to get the whole picture about these mattresses.
Purple Mattress
The company's flagship model is a 9.5″ tall all-foam mattress. It features a 2″ Purple Grid, 3.5″ Dual-Layer Comfort Foam, and 4″ high-density polyurethane foam base. The mattress has a very stretchy and breathable cover, like all the Purple mattresses. On the firmness scale, it fits as a classic medium-firm feel mattress (6.5).
So, what are the pros of this model?
Good value for the price
Pure foam mattress feel
Better fit for combo sleepers
And the cons?
Not a good fit for heavy sleepers (above 230 lbs)
Not a good fit for stomach sleepers
Too firm for side sleepers
The price of a Purple Queen is $1,299, while the Purple Hybrid Queen costs $2,099. Naturally, hybrid mattresses are a bit pricier compared to all-foam mattresses. If you're not impressed with the price, take a look at our list of mattresses for a tight budget.
For more in-depth information about this model, please take a look at our Purple mattress review.
Purple Plus Mattress
Purple mattress comes with a unique grid-like comfort layer and medium-firm feel that makes it a good choice for combination sleepers.
Purple Hybrid Premier (Purple 3 and 4)
There are two more hybrid models available – Purple 3 and Purple 4. They're upgraded versions with a thicker comfort layer and increased pressure relief. Let's see if our side sleepers have a chance to find the happy ever after with any of these models.
Purple Premier Mattress (Purple 3)
The Purple Mattress has ultra-high-quality fabrics designed for the flawless synergy of durability, luxury, and No Pressure Support.
Purple Hybrid Premier has a 3″ Purple Grid, 1″ transitional layer (2.0 lbs density polyurethane foam), and 7.5″ Pocketed Springs. Mattress height is 12″, and the mattress is a medium (5.5) feel.
Purple 4 has all the same layers in its construction. What makes it different, then? The added inch in the comfort layer. Purple 4 is a medium-soft (4.5) mattress on the firmness scale.
Purple Premier Mattress (Purple 4)
With the most pressure relief and most immersive feel of Purple mattresses, the Purple 4 combines perfect spinal alignment and cradling.
The 4″ Purple Grid creates a zero-gravity effect, as many people say. You feel the softness of the layer, but at the same time, you feel like you're floating above it.
Who will enjoy Purple 3 and 4?
Heavy sleepers
Side sleepers should consider Purple 4
Combo sleepers tend to enjoy Purple 3
Hot sleepers
Who won't reap the benefits of the Purple 3 and 4?
Lightweight sleepers
Anyone who prefers traditional foam feel
Anyone who likes to feel hugged by the mattress
The Purple 4 Queen size is $3,499, and the Purple 3 Queen is $2,699. It is pricier than an average hybrid mattress. If you're reconsidering, take a look at our list of best hybrid mattresses.
Kid Mattresses
Purple also has kid mattresses for kids up to 14 and for teens. So if you're looking for an upgrade in the kid's bedroom, here's an exciting option.
The kid mattresses feature a 2-inch Purple Grid and a Dual-Layered Comfort Foam. It's modified to be comfortable for kids weighing less than 115 pounds. Generally, it's tinier than the standard mattress making it 7 inches high. There is only a Twin size available (38″ x 75″) for $599.
The teen version is $699 with dimensions of a Twin 38″ x 75″ x 9.25″. It's intended for teens and adults weighing 115 pounds or more.
How much does a Purple Hybrid mattress weigh?
Purple Hybrid can weigh from 77 lbs to 149 lbs, depending on the size. You'll see the dimensions and prices for Twin XL, Queen, and King in the table below.
Purple Hybrid does appear to be a bit heavier than an average hybrid mattress. An average Queen hybrid can weigh around 115 pounds. The Purple Hybrid Queen weighs 122 pounds. This difference in weight is not enormous, but we still feel it's necessary to know all the facts.
| Size | Price | Weight | Height | Dimensions |
| --- | --- | --- | --- | --- |
| Twin XL | $2,999 | 77 lbs | 11" | 38" x 80" |
| Queen | $3,499 | 122 lbs | 11" | 60" x 80" |
| King | $4,299 | 149 lbs | 11" | 76" x 80" |
The company says that you'll need to prepare a set of extra hands to help move the delivered Purple Hybrid. If you don't want to bother with that on your own, you can pay for a White-glove delivery service.
Once you open the mattress, it will expand pretty fast, which makes it safe to sleep on the same day of delivery.
Off-Gassing
The second thing you'll want to know is whether there's off-gassing involved. Even though there will be some odors, those are not harmful and will air out quickly. They are coming from the plastic wrap plus the new mattress scents. It's best to leave the windows wide open for a few hours before you put on the mattress protector.
Overview of Benefits
Availability
Purple Hybrid mattress is available online and in physical stores across the USA.
The perks of online purchase include getting the mattress at your address. Plus, having the chance to test it in the comfort of your home for the Sleep Trial duration.
In our humble opinion, it's always good to sleep on the new mattress for some time before you commit to it. Mattress companies usually recommend waiting for 15 to 30 days before the return.
Sleep Trial
As mentioned, Purple company offers a decent, bed-in-a-box-industry-standard 100-night trial period. The countdown starts from the day your mattress comes knocking on your doorstep.
Another thing to note is the crucial period needed for the mattress to adjust. Purple needs you to give the mattress a minimum of 21 nights. In that time, the mattress can adequately adjust to your body and preferences. Or not. But after 21 nights, you'll be sure if it's a go or a no go.
Warranty
The company offers another industry-standard benefit – the 10-year Warranty. Not one of the longest of the market, but decent and fair.
And here comes the boring part, but hear us out. You know how you get the Terms & Conditions stuff, and you click "Agree" and move on with your life?
Well, this is a similar situation. But – Your health, good sleep, and money are at stake. That's why we decided to decode the Purple Hybrid Warranty and pull what's vital for you to know.
So, in a nutshell:
Warranty applies in cases when you correctly used the Purple Hybrid mattress. You also had appropriate support for the mattress. If the product then developed a visible indentation (greater than 1 inch), the warranty still applies. That means a split, crack, or damage of the materials.
The Warranty doesn't apply if you accidentally damage the mattress or misuse it. Improper support of the mattress also falls under this category. Pro tip: carefully inspect your mattress once it's in your home. You'd need evidence if the product was damaged during transport.
Warranty applies if you use a firm, flat, and non-spring foundation only. Otherwise, the Purple company will determine if the Warranty is void based on the proof of proper use.
You won't pay for repair or replacement if the damage occurs during the 10-year warranty period.
Once you repaired or replaced the mattress, the Warranty runs from the original date of purchase and not from the date of repair.
The Purple mattress company determines on their own whether your mattress will be repaired or replaced.
After the Warranty expires, you can expect to cover the costs of:
Transportation handling
Inspection costs and repair, or replacement
Also – the mattress cover has a separate Warranty:
It has a 2-year warranty from the date of the purchase against any defects related to the craft.
The company determines whether the cover will be replaced (same or different color or material) or repaired.
You will be responsible for all costs (to-or-from transportation, handling, and inspection)
Made in the USA
Purple Hybrid is handcrafted from the finest American-made materials. The production facilities are located in the state of Utah. If you'd like, you can visit the Alpine factory and see how the Purple mattresses are made. Fun!
Certification
The Purple company puts a lot of effort into keeping its products safe for customers. They use environmentally friendly materials, which are backed up by CertiPUR-US® certification. All the materials are safe, recyclable, and non-toxic.
The unique construction of the Purple Hybrid promotes airflow. It helps keep a neutral environment and prevents bacteria from entering your mattress. The cover is allergen-resistant, which helps keep the dust, mites, or pollen at a safe distance.
How does Purple Hybrid mattress ship?
Purple offers free shipping to all 48 contiguous United States. Additional shipping costs apply for Hawaii and Alaska. As for international shipping, unfortunately, it's not available. Orders from Canada include costs for shipping, duties, and customs fees.
Shipping times vary depending on factors such as holidays, weather conditions, and promos. But they say that the order usually leaves the warehouses within 3 to 5 days. The exact time of arrival will depend on your location. All in all, be prepared to wait from 1 to 2 weeks.
Return Policy
The company offers free returns on all mattresses. But first, you need to wait for the required period of 21 days during your 100 days sleep trial. After that, you can initiate the return or exchange process.
Call Customer Care phone number provided on the website. Once they clear you as eligible, the process starts.
In case of an exchange, you are allowed one exchange during the sleep trial. The Sleep Trial continues to run from the original date of the previous mattress delivery. You will probably have to wait from 2 to 7 business days for a full refund.
If you decide to return or exchange it after the 100-night trial period, you'll need to cover the costs.
Additional Services
White-Glove Delivery & Mattress Removal
White-Glove delivery and old mattress removal are available for a price. During the checkout process, you'll be able to select these services for an additional fee of $149.
In-home delivery and setup are unavailable due to the COVID-19 pandemic. It is currently communicated on the official website.
Finance Options
Even when we're ready to buy a mattress, we're not ready to say goodbye to all that cash. Money doesn't grow on trees. So it's a pretty nerve-racking moment that drives many people away from a good mattress.
Luckily, Purple company comes to the rescue with a few friendly finance options for you.
Purple offers Splitit and Affirm. There is 0% interest with the Splitit, and you can choose 2-12 months payment plans. With Affirm, you can get a conventional loan starting at 0% APR and choose from 6 to 48-month payment plans.
Final Thoughts
The time for the final verdict of our Purple Hybrid mattress review has come. The burning question is:
Is the Purple Hybrid Mattress worth it?
Yes, it's worth it for people who need just what this mattress has to offer! That would be its superb cooling properties due to the open-celled comfort layer. Together with the coil system, we get no heat trapped in the mattress.
Constant temperature regulation is an absolute must for hot sleepers. They tend to feel discomfort with some foam mattress options and go for hybrids. Purple Hybrid is an excellent choice if you fall under the category.
Pressure reduction is another excellent quality of this model. The soft, cushioning Grid cradles the whole body and provides proper spinal alignment. Many back and stomach sleepers adore that feeling of sleeping on top of the mattress.
Combo sleepers are usually satisfied with the mattress. Especially if their dominant sleep position is on the back or stomach. The position change is smooth and quiet because of the excellent motion isolation.
Purple Hybrid promises a long-lasting mattress that will accommodate any sleep position anytime. Unfortunately, that is not that simple.
We noticed that side sleepers over 230 lbs might not get good contouring in some cases. It seems that the grid will not sink in as deep as needed for side sleepers sometimes. The result of that can be pressure points in the shoulders and hips.
Yet, stomach and back sleepers over 230 lbs will enjoy the comfort of the mattress and find it stable. Sagging around the midsection can also happen for some of the sleepers.
We also noticed that Purple Hybrid is high-priced compared to other hybrid options. Also, the white-glove delivery is not free. And if you don't have an adequate foundation, consider buying one. Otherwise, you risk faster mattress deterioration.
With all its ups and downs, we do recognize that Purple Hybrid is a great mattress. There is nothing to lose if you choose to test this mattress for 100 nights. Sleep on it (*pun intended*) to make the final decision with your best interest in mind.
Purple Hybrid Mattress
Purple Hybrid is a medium-firm hybrid model that offers open-celled comfort layer that keeps the temperature neutral.