8 Best Mattresses for Back Sleepers in 2023
Written by: Jovana Bozic
Updated: 02/20/2023
If you are someone who travels to dreamland on your back, you recognized that you need a mattress that will fit your sleeping style. And, you're right. Sleeping on your back is considered one of the healthiest positions for sleep. But, to achieve the proper comfort, it's essential to understand your back sleeper needs.
When we sleep on our back, our whole body is placed in a neutral position. The posture is neutral, with the hips, shoulders, and neck aligned. What helps decrease potential pressure points in the lower back is adequate mattress firmness.
If the mattress is too soft, it fails to provide the support necessary for an aligned back. Imagine how stressful that can be for the muscles in the back, fighting to achieve a good form. On the other hand, lying on a mattress that is too firm is not good either. It can throw the spine out of alignment, causing lower back pains. Combined with a wrong pillow, that can result in neck aches as well.
People make the mistake of an impulsive mattress purchase, disregarding their preferences and needs. You, on the other hand, are one smart cookie! Looking for a mattress good for your sleeping position is a fantastic move.
In the text below, you'll see our top mattress picks for back sleepers.
We included the most reputable brands with some outstanding features, such as:
long sleep trial period
generous warranties
excellent motion transfer, etc.
Keep in mind that the mattress market is full of excellent options. If you don't find anything you like, don't get discouraged. Just head over to our other categories for more mattress options.
Continue reading to find some fantastic mattresses for back sleepers!
Our Top Picks:
Saatva Mattress – Best Innerspring Mattress For Back Sleepers
Zenhaven – Best Latex Mattress For Back Sleepers
Casper Mattress – Best Mattress For Lower Back Pain
Avocado Green Mattress – The Best Organic Mattress for Back Sleepers
Nectar Mattress – Best Value Mattress For Back Sleepers
DreamCloud – Best Hybrid Mattress For Back Sleepers
Layla Mattress – The Best Foam Mattress For Back Sleepers
Winkbed – Best Luxury Mattress For Back Sleepers
Saatva Mattress – Best Innerspring Mattress For Back Sleepers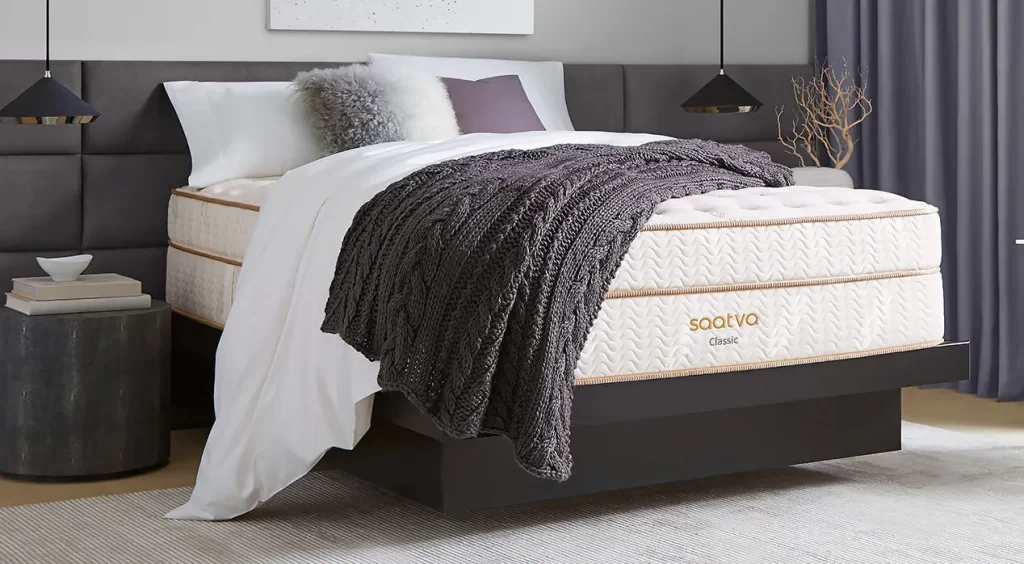 If you're hunting for a supportive feel of an innerspring mattress, look no further than Saatva Classic. This brand offers a luxury hybrid innerspring mattress that can make your dreams come true.
Starting from the top, we have a touch of plush in the form of a 3″ Euro pillow top. It is carefully stitched underneath a 100% cotton cover. Together they create a perfect balance of softness and breathability. The materials are treated with antimicrobial treatment to prevent the growth of bacteria and mold. None shall pass!
An enhanced back support system is why the Saatva mattress holds a special place in back sleepers' hearts. Beneath the Euro-top lies a thin layer of polyfoam and memory foam. This CertiPUR-USⓇ certified high-density memory foam diligently supports the lumbar region. It keeps the spine in a healthy alignment throughout the night. The alignment is the key to diminished pressure points and back pain.
Another bonus point goes for multiple firmness options. You can choose Plush Soft (3/10), Luxury Firm (5-7/10), or Firm (8/10). Back sleepers usually enjoy Luxury Firm the most. But if you prefer extra contouring, consider Plush Soft. It's also a catch for lightweight back sleepers (under 130 lbs).
For our heavy back sleepers, Saatva Firm is just the thing. The mattress will provide enough support to keep your spine correctly aligned. At the same time, it helps the mattress stay in good shape for a long, long time.
Saatva mattress is worth the money. Looking at a Twin, it's $935, while a Queen costs $1,595 before discounts. With all the customization options and the quality of the materials, the prices are more than reasonable. But, if you're looking to save a few bucks, take a look at our coupon page.
A sleep-trial period of 180 days gives you a perfect chance to test the mattress and see if it checks all the boxes. And if Saatva is the one, you can sleep peacefully knowing that it comes with a 15-Year Warranty. Neat!
Why Does Saatva Mattress Stand Out:
Luxury Innerspring mattress with premium quality materials
The Back Support System is essential for back sleepers
Saatva Firm is a good option for heavy sleepers
Soft Plush and Luxury Firm popular with back sleepers
180 days sleep trial with a 15-year warranty
Saatva Mattress
Available in 3 firmness options, the luxury hybrid mattress Saatva enjoys great popularity with various sleeper types.
Zenhaven – Best Latex Mattress For Back Sleepers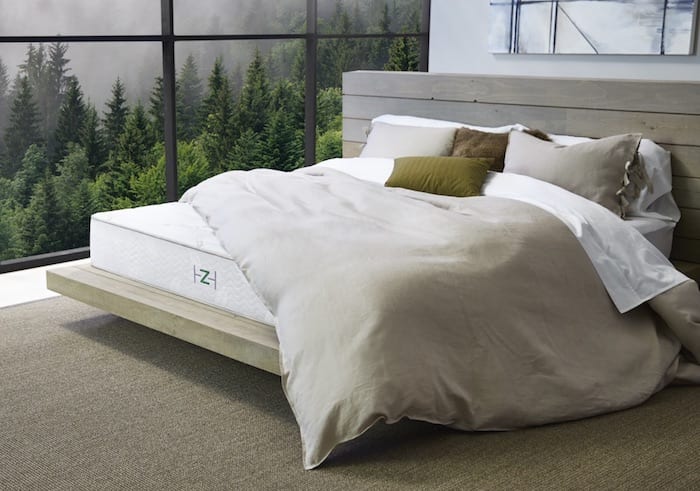 We have another great option from the Saatva brand. If you like bounciness but also want durable, organic materials, you should check out Zenhaven.
Zenhaven is handcrafted with premium, natural, non-toxic materials. The softcover is 100% cotton, making it very pleasant and cool. It's treated with an exclusive antimicrobial treatment just like Saatva. That makes it a no-go zone for bacteria and mites.
Underneath, we have organic New Zealand wool. Wool keeps the neutral body temperature and helps with the breathability of the mattress. So if you tend to sleep hot, this is good news to keep in mind.
But the hero of the day is organic Talalay latex that makes this mattress unique. With the 5-zone natural latex, back sleepers can expect to get maximum pressure relief. The zones vary in density in a way that relieves different pressure points. Thanks to 5-zone natural latex, your spine stays in a neutral position that is optimal for healthy sleep.
What's also cool about Zenhaven is that the mattress is flippable. There's Luxury Plush that rates 4-5 on the firmness scale with a zero-gravity feel. If you want to feel like you're floating in space, you know which side to choose.
And if you get bored with space travel, flip it to the Gentle Firm. It's 7-8 on the firmness scale and offers a firmer feel, more supportive feel. Gentle Firm is a preferred choice for the majority of back sleepers. It's a good thing you can test both sides and see which one will be the teacher's pet for the long run.
When it comes to price, we're not going to lie. Right off the bat, it does appear to be a bit pricey. But Zenhaven has excellent reasons for it:
A long-expected lifespan
non-toxic, antimicrobial, high-quality materials
full-latex layers, which are usually more expensive
If you would like to check for discounts, visit our coupon page. Also, check the website for additional seasonal discounts. They have pretty great deals.
Zenhaven comes with a 180-night trial period, just like Saatva Classic. But, latex offers added durability, which gives Zenhaven a 20-year warranty. Wouldn't you agree that Zenhaven is a great candidate for latex fans?
Why Does Zenhaven Stand Out?
Full-latex, luxury mattress with premium organic materials
5-zone natural latex maximizes pressure relief for back sleepers
Flippable mattress with Luxury Soft (4-5) and Gentle Firm (6-7) firmness options
180-night trial period and 20-year warranty
Zenhaven Mattress
An all-latex mattress like Zenhaven is a top choice for anyone who prefers organic, luxurious materials and switchable firmness levels.
Casper Mattress – Best Mattress For Lower Back Pain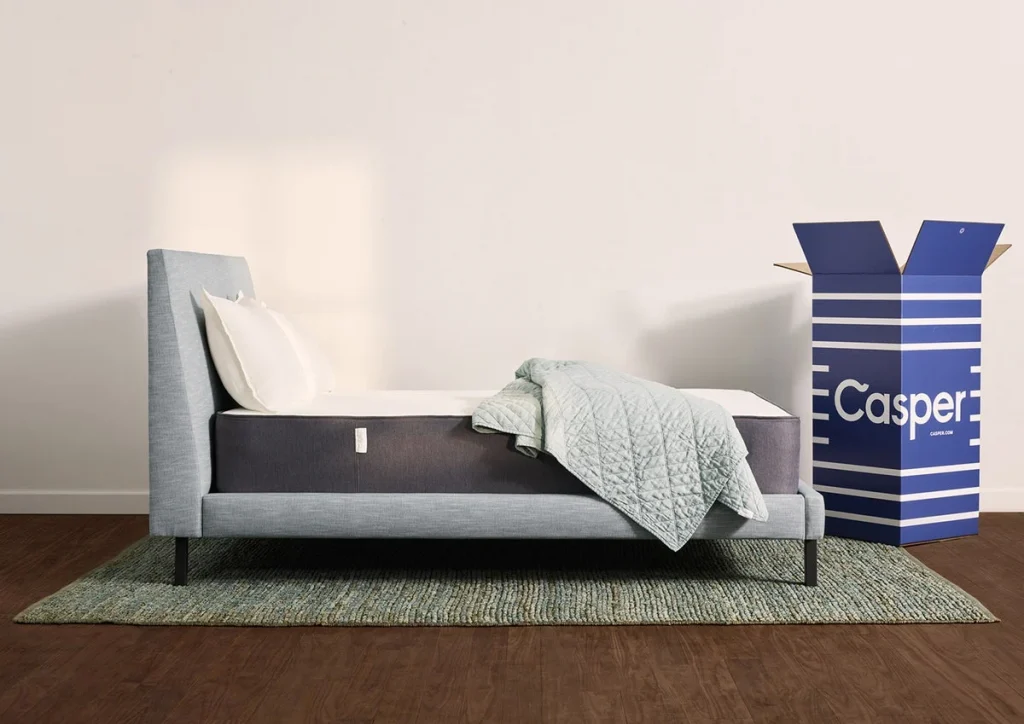 If you want special treatment for your lower back in the form of a foam mattress – you've come to the right place! Casper offers a unique construction that makes him stand out from the crowd. The company dedicated time and resources to creating a perfect rest zone for back sleepers. Let's see what that's all about, shall we?
The hidden treasure called Zoned Support™ lies beneath the AirScape™ comfort layer. As you may already suspect, the layer is divided into three specific zones. These zones have an ergonomic design that keeps your spine aligned. Your body weight stays distributed evenly across the mattress surface.
How do the zones achieve that?
Well, the two softer zones are positioned at the ends of the mattress. They provide relief to the upper and lower body. And the third zone is positioned in the middle of the mattress, targeting your hips and back. This zone is a tad firmer, creating the optimal support for the back sleepers. The middle zone also keeps hips and back lifted in a neutral position and prevents pressure points in the lower back.
So if you suffer from lower back pain, Casper is just what the doctor ordered! Preventing pressure points in your lower back and waking up pain-free is possible thanks to the Zoned Support System.
Casper mattress is an all-foam mattress, with a 7/10 on the firmness scale. It's an excellent choice for anyone who loves the firmer foamy feel.
If you're not a fan of foam mattresses, no problem! For more options for back pain, please take a look at our best mattresses for back pain.
Another group of sleepers that usually enjoys Casper are combination sleepers. So if you tend to change positions during sleep, Casper adapts very quickly to the pressure change. Your body will easily move and get sufficient support in all other positions. But, this applies mainly to lightweight and medium-weight sleepers.
Why Does Casper Mattress Stand Out?
Firmer all-foam mattress with three layers
Zoned Support™ layer perfect for lower back pain
Allows easy position change for combination sleepers
A medium-firm mattress with a bit of a bounce
Increased breathability due to Airscape comfort layer
Casper Mattress
With a perfect balance of comfort and support, it's no wonder that the all-foam Casper mattress is such a great fit with back and combination sleepers.
Avocado Green Mattress – The Best Organic Mattress for Back Sleepers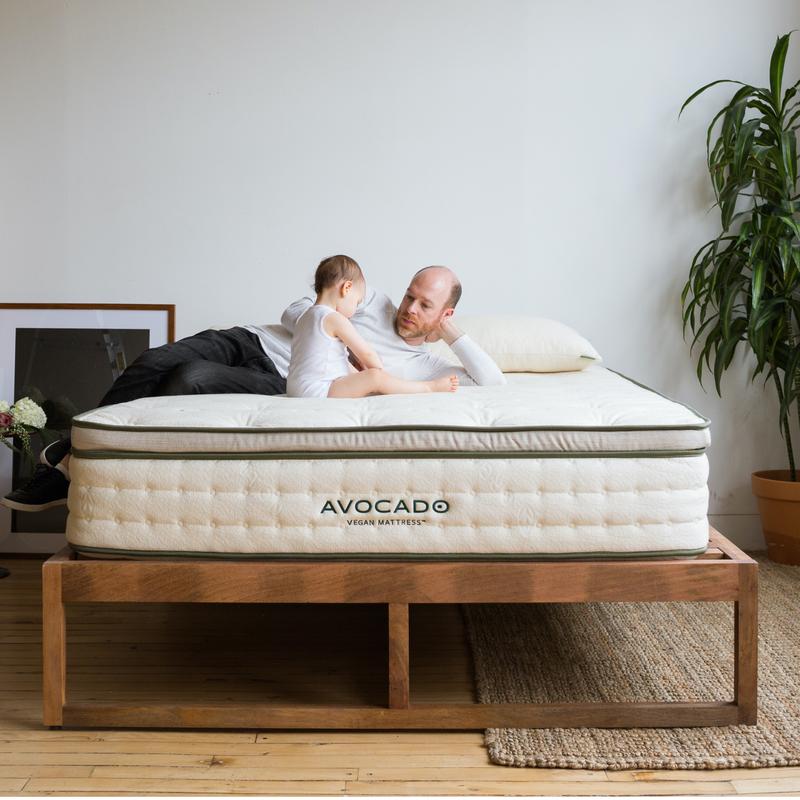 Avocado Green Mattress is another fabulous option for back sleepers. It offers the benefits of latex, hybrid construction, and an eco-friendly mindset and mission. But what makes it appealing to back sleepers, you might ask? Let's see!
Everyone enjoys the feeling of the fresh, cold surface of the bed, especially in the summer. Avocado enhances breathability with the combination of organic cotton and Joma New Zealand Wool. Together, these materials regulate temperature and remove the heat from the sleep equation.
The standard model is 11″ tall and comes with a layer of Dunlop latex. With the 3 inches of GOLS organic certified latex rubber foam, Avocado presents a balance of firmness, support, and comfort. It's rated 7/10 on the firmness scale, which makes it ideal for our back sleepers. If you love to rest on a stable and firm surface without any sinking, that's your mattress candidate right there.
For folks who like the added plush and contouring, there's an option with the added Pillow-top. It's filled with an additional 2-inch layer of GOLS organic certified latex rubber foam, making it 6/10 on the firmness scale. It's medium-firm but offers more pressure relief and a softer feel.
Avocado has one more trick up its sleeve. Or shall we say 1,414 because that's the number of individually wrapped coils in the mattress base?
The coils are arranged in 5 distinguished ergonomic zones. The Middle section zone provides targeted pressure relief in your lumbar area. This support system creates an even weight distribution that helps prevent back pain.
Additionally, edge support is off the charts thanks to the fully reinforced steel perimeter that goes all the way to the edge. It means the mattress will stay in its original shape longer, and no one will roll off the bed by accident. That makes Avocado an attractive choice for both single people and couples.
If you're in the mood to properly test a mattress before committing to it, why not give it a whole year? That's the length of sleep trial that Avocado offers. It also comes with an impressive 25-year warranty.
Why Does Avocado Mattress Stand Out?
The best eco-friendly mattress
Standard option (7/10) is an outstanding choice for back sleepers
Pillow-top option (6/10) good for combination sleepers
Sturdy edge support is great for single sleepers and couples
365-night sleep trial and 25-year warranty
Avocado
Avocado is a hybrid mattress with latex comfort layer and pocketed coils popular among many different sleepers.
Nectar Mattress – Best Value Mattress For Back Sleepers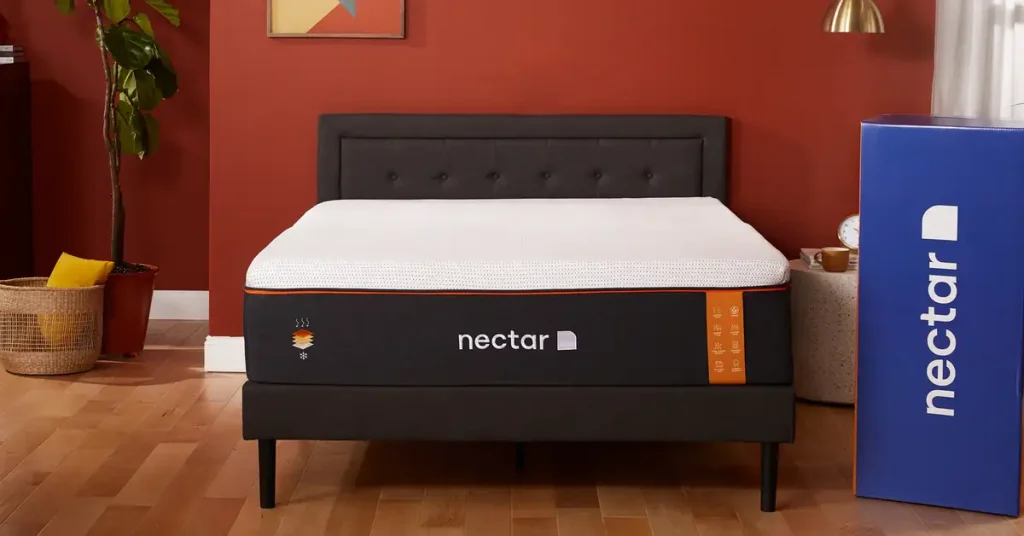 Value seekers, rejoice! With Nectar mattress comes superb quality, outstanding 365 days to test the mattress, and affordable prices. Now, that's a great deal worth checking out.
Nectar mattress is an all-foam mattress that uses a thick, four-layer design to achieve comfort. The combination of foams helps back sleepers get much-needed pressure relief in the lumbar area. Proper spinal alignment is the ultimate goal.
The Nectar Smart Layer provides a hugging sensation that will lull you to sleep. The 3″ of pressure-relieving memory foam allows muscle and joint relaxation. It is also gel-infused and prepared to fight off the heat and keep you cool.
The teamwork between the Dynamic Support Layer and the mattress base is what brings stability and firmness. The mattress base also allows top layers to show their best colors when it comes to edge support.
Nectar is rated 6.5 on the firmness scale. The fact that it's medium-firm makes it an excellent choice for back sleepers of any weight. Additionally, stomach sleepers can find it enjoyable and adequately supportive. So if your partner is a stomach sleeper, for example, you two would adore this mattress.
The price for a Twin is $599, and a Queen size costs $999 without discounts. However, Nectar always surprises its website visitors with exciting discounts and deals. If you love a good bargain, Nectar will surely deliver.
Why Does Nectar Mattress Stand Out?
All-foam mattress 6.5 on the firmness scale
Great value for the money, affordable prices
Excellent pressure relief and contouring for back sleepers
Stomach sleepers also enjoy sleeping on Nectar
365-night sleep trial and lifetime warranty
Nectar Mattress
Nectar is a premium quality mattress at an affordable price. The secret to its outstanding comfort lies in plush layers of memory foam.
DreamCloud – Best Hybrid Mattress For Back Sleepers

Are you looking to snag a hybrid mattress with a touch of luxury? Meet DreamCloud. The mattress is packed with impressive comfort and quality attractive to many back sleepers.
DreamCloud strikes the perfect balance between support and contouring. The first layer gives the DreamCloud mattress its soft, pillow-like feel. It also contours to your shape, providing the necessary pressure relief to the back and hips.
Underneath, there is another comfort layer. Yes, DreamCloud has two comfort layers, which is pretty significant! This layer has memory foam that is slow-reacting, gel-infused memory foam. It adds stability and support to the first layer, ensuring you don't sink in too deep.
DreamCloud's coil layer is another piece of the puzzle. It keeps the sleepers on top. It provides even body weight distribution and even back support necessary for pressure relief.
DreamCloud is also praised for its excellent edge support. It owes its super-strength to the high-density foam and the coils. The edges are secured and unlikely to sag or drop in unwanted ways. So, if you sleep close to the edges, you don't need to worry about rolling off the bed.
If you're sharing a bed with a partner, sound motion isolation is probably on the list of must-haves. Luckily, DreamCloud is designed to minimize noise and motion. Individually wrapped coils prevent vibrations from travel. And the second foam layer stabilizes the bed, which significantly reduces sensing any movements.
In general, the quality of the mattress is exquisite. Plus, it comes with a full year of sleep trial and a lifetime warranty. Looking into this mattress and taking it home is a no-brainer.
Why Does DreamCloud Stand Out?
A luxury hybrid mattress rated 6.5 on the firmness scale
Provides the perfect balance between pressure relief and support
Excellent edge support and motion transfer
Very popular among couples
365-night trial and lifetime warranty
DreamCloud
The DreamCloud mattress is a five-layered hybrid mattress known for its great value. The model is especially a hit with hot and back sleepers.
Layla Mattress – The Best Foam Mattress For Back Sleepers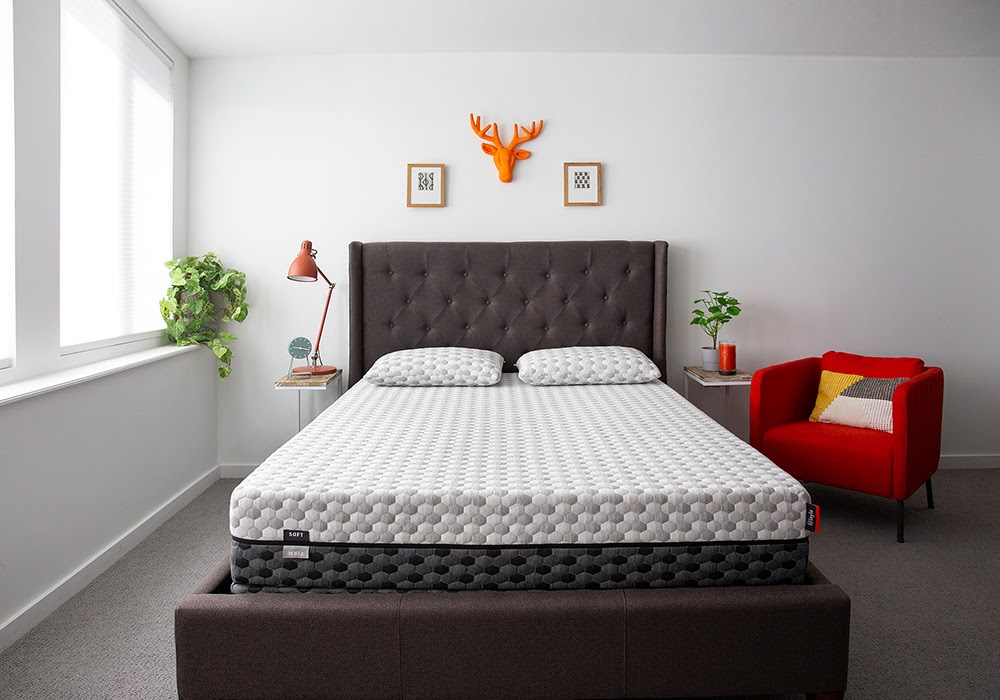 Whenever we write about Layla, Eric Clapton's song starts playing in our minds. There you go, you get 2 in 1 – a great mattress and a great song to add to your playlist!
But Layla also comes with two firmness levels in one mattress. It's flippable, meaning you can sleep on both sides of the mattress and choose which one is more comfortable for you.
The majority of back sleepers prefer the firmer side, which rates between 5.5 – 7. It's medium-firm, offering less sinking in the mattress. If you prefer to feel hugged by the mattress but not swallowed by it, the firmer side is your cup of tea.
But wait, which side is the firm side? Easy – look for the darker hexagon pattern. It is 1″ Copper-Gel Memory Foam that offers ample support around deep compression areas of your body. Your spine will get the proper love and care as you fall to sleep on your back.
The soft side has a light gray hexagon pattern. It's an attractive choice for side sleepers and just about anyone who loves to feel cradled and cozy.
Some people even switch sides depending on the season. The firm side and cool sleeping experience are ideal for summer. The soft side gets you that deeper, soothing hug needed on cold winter nights.
A bonus point goes for extra breathable materials. Layla uses copper to bring rapid cooling and remove the heat from the mattress. The cooling properties activate instantly as a reaction to body temperature. As a result, you get to sleep peacefully without interruptions of relentless heat waves all over the place.
If you're still not sure about Layla, check out our coupon page for potential discounts. With a 120-night trial and a lifetime warranty, Layla seems like a sweet deal.
Why Does Layla Mattress Stand Out?
Flippable, all-foam mattress with two firmness levels
Layla's firm side is ideal for back sleepers
Enhanced cooling properties due to copper
Side sleepers enjoy the soft side
120-night trial and lifetime warranty
Layla Mattress
Layla is a mattress with switchable firmness. Side sleepers enjoy it most, but all sleeper types call Layla a dream in a box.
Winkbed – Best Luxury Mattress For Back Sleepers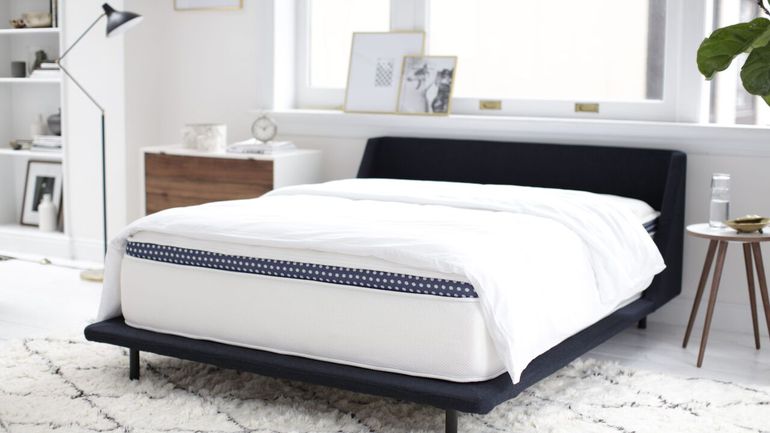 Next up, we have the Winkbed, a hybrid, innerspring mattress. This badie can stand shoulder to shoulder with the luxury showroom market mattresses. So, if you're looking for a luxurious mattress diva to enhance your bedroom without breaking the bank, continue reading.
In the 13.5 inches height, Winkbed packed many high-quality goodies to make back sleepers feel comfortable and supported. The cover is made out of Tencel, which allows a breathable environment and cool sleep. Airflow is further enhanced with the gel-infused Euro-pillow top.
Speaking of the Euro-pillow top, it gives pressure relieving properties to the mattress. It ensures your back, hips, and shoulders receive excellent cushioning. It also eases muscle tension in the mentioned areas. That means you get to fall asleep feeling relaxed and content.
But, the real gem that makes this mattress attractive to back sleepers lies under the comfort layer. The support layer contains five zones of pocketed microcoils. These zones provide targeted lumbar support in the middle section and contribute to good pressure relief. Combine it with a Firmer Winkbed option, and we have a winner! Ding-ding-ding!

But in all seriousness, it boils down to what you perceive as comfortable. Luckily, Winkbed came prepared with a few different firmness options to fulfill all your hedonistic wishes for comfort.
Soft Winkbed mattress is rated 4.5 on a firmness scale. That one would probably be too soft for a back sleeper. But, Luxury Firm Winkbed is the 6.5, usually the popular pick for various sleep positions. It's also a reliable choice for most lightweight and average-weight back sleepers. On the other side, if you prefer a firmer feel and "on top of the mattress" feel, consider the Firmer option instead.
Another great feature that will make you treasure this mattress is the Extra-Edge™ Anti-Sag Support. Excellent edge support is essential for couples or anyone who wanders off to the edges of the bed during sleep. Winkbed has extra reinforcement on the outer edges to keep you safe and secure even when you're dangerously close to the edge.

With the 120-night sleep trial and a generous lifetime warranty, Winkbeds is one of the best choices for back sleepers in the market. Don't forget the luxurious vibe that made Winkbed a widespread choice for hotels as well.
Why Does Winkbed Stand Out?
Hybrid innerspring mattress with a luxurious look
Targeted lumbar support thanks to pocketed microcoils
Luxury Firm and Firmer option great for back sleeper
Excellent edge support reinforcement around edges
WinkBeds
WinkBeds are true hybrid mattresses made by hand. Crafted with luxury in mind, they're among the most comfortable mattresses on the market.
How to Choose the Best Mattress for Back Sleepers
That would be all our picks for the best mattress for back sleepers! Maybe one of them is the right one for you!
And if it's not, don't worry! We also made this short guide to help you choose your next mattress. Let's get into it!
Why Back Sleeping Requires a Good Mattress
Firstly, let's see why back sleeping requires a good mattress.
Back sleeping is considered the healthiest sleeping position, and it's the second most common one. Unlike side sleepers and stomach sleepers, back sleepers can easily keep their spine aligned. Here are a couple of reasons why that's important.
Spine Alignment
Regardless of your sleeping position, a mattress should offer proper spinal alignment. The good news is that this is easier for those who sleep on their back than, let's say, side sleepers. Your spine should be in a neutral position, and your hips and shoulders should be aligned without putting too much pressure on them. That's why you need to choose a mattress with the proper firmness and support levels.
Back, Neck, and Shoulder Pain
Bad spinal alignment can lead to painful joints and other health issues. The most common problems with back sleeping are back pain, neck pain, and shoulder pain.
This is why they need to choose a mattress that doesn't just support their back but also conforms to their body and relieves pressure. Mattress firmness is a crucial aspect here.
Please take a look at our list of best mattresses for back pain.
Pros of Back Sleeping
As long as your mattress has the right firmness, keeping your spine aligned as a back sleeper is easy. Also, unlike side sleepers, you're not putting so much pressure on your hips and shoulders, and it's healthier for your organs.
Cons of Back Sleeping
Still, back sleeping isn't perfect. It has a couple of problems, but they're not all bad. Back sleeping tends to make you snore and heightens the chance of sleep apnea. It can also lead to lower back pain if the mattress isn't right.
What to Watch Out for When Getting a Mattress for Back Sleepers
But what steps exactly can you take to choose the best mattress for back sleepers? Here's what you should watch out for.
Support
As we already said, you need a supportive mattress. Improper spinal alignment can lead to painful joints and impaired quality of sleep.
While it might be easier for back sleeping than for some other positions, don't be afraid to test out a mattress for a while to ensure it suits you. Your spine should be in a neutral position, which is easy for back sleepers, and your hips and shoulders should sink in just enough without too much pressure on them.
Firmness
Mattress firmness is an entirely subjective feeling. What might be a soft mattress to some could be a medium-firm feel for you. Still, there's an objective mattress scale that could help you out.
Most people prefer a medium-firm feel, which could be a good choice for back sleepers. They need a bed soft enough to make their hips and shoulders sink, but not too much. It also depends on body weight, which we'll get into later.
Compared to back sleeping, stomach sleepers are very similar, and the best mattress for side sleepers is a softer one.
If you want to know more, check out our mattress firmness guide.
Mattress Types
The four most common mattress types are hybrid, innerspring, latex, and memory foam. Back sleeping is pretty universal, so all of these could suit you, as long as they fit your other requirements.
Hybrid
A hybrid mattress is made as a combination of two types, the most common ones being innerspring and memory foam. The comfort layer can also be made from memory foam or latex foam.
If you want good support and comfort, you should get a hybrid mattress. The coils offer great support, while the memory foam layer gives you the proper comfort and pressure relief. If you need motion isolation, look for hybrid mattresses with pocketed coils.
Check out our list of best hybrid mattresses.
Innerspring
As the oldest mattress type, the innerspring bed has a coils support layer with a comfort layer on top. It's the best mattress for supportive sleeping, and it's likely the best firm mattress for back sleeping.
Although it's terrible for motion isolation, unless it has pocketed coils, a traditional innerspring mattress is the best cooling mattress.
Check out our list of best innerspring mattresses.
Latex
Mattresses made from organic latex foam are a favorite among eco-friendly shoppers. Latex foam can be organic, or not, and it can have varying foam firmness. But they're a bit more expensive.
Latex is firmer, supportive, and has a bouncy surface. It's a good luxury mattress for back sleeping. Just make sure you aren't allergic to latex.
Check out our list of best latex mattresses.
Memory Foam
Last but not least – memory foam. All-foam beds are made from a high-density poly foam as the support, with softer foam on top. A memory foam mattress is an excellent choice for those who want a body-conforming mattress with motion isolation and slow response. It's usually soft, but it can have varying foam firmness.
Side sleepers usually prefer a memory foam mattress, but it also suits back sleeping. Well, as long as they aren't hot sleepers since even the best memory foam mattress traps heat. Hot sleepers should get a cooling mattress, like the gel memory foam one.
High-Quality Materials
You always need to choose the best possible materials for your mattress. Bad materials can affect the quality of your sleep, and they'll deteriorate faster. This is especially true for heavier sleepers putting more pressure on the mattress. Inquire with the manufacturer and ensure you're getting the best possible quality.
For example, hot sleepers who need memory foam need to look for a good quality cooling mattress to match their needs.
Contouring
Compared to side sleepers and other sleep positions, back sleeping doesn't need that much contouring. Still, the best mattresses offer contouring around the hips, to reduce hip pain.
The best choices for contouring are foam and latex mattresses.
Pressure Relief
You need to relieve pressure off painful areas. As mentioned before, back sleeping means that your hips and shoulders should sink in just enough without too much pressure on them.
The best mattress for relieving pressure is one with thick memory foam layers. If you're a back sleeper with painful joints, avoid firm mattresses.
Body Weight
You might haven't known this, but your best mattress depends on body weight. It's just the way it works – heavier people put more pressure on the bed, so it needs to be durable and supportive.
It primarily impacts firmness. Lightweight back sleepers under 130lbs can sleep on a soft to medium mattress, while average weight back sleepers, ranging from 130lbs to 230lbs, should sleep on a medium to a medium-firm bed.
The right mattress for heavier sleepers should have a firm or medium-firm feel. If they want a memory foam bed, they should get one with higher foam firmness.
Temperature Regulation
Hot sleepers, regardless of sleep positions, need a bed with good temperature regulation, so those who sleep hot should avoid memory foam beds.
A memory foam mattress is made from a closed-cell material that traps heat. Even the best memory foam mattress will do this.
Manufacturers try to make a cooling mattress like gel-infused memory foam, but it's not for everyone. The best cooling mattress is probably an innerspring or a hybrid mattress, which can be suitable for back sleeping.
Edge Support
A bed with soft edges will make you roll to the middle, which could be okay if you sleep alone or in a big bed. Foam beds generally have insufficient rim support because it's just encased in firmer foam, but if you need sturdy rims, go for an innerspring or hybrid mattress.
Mattress Size
Unlike side sleepers, back sleepers take up a little more space. They're not as bad as combination sleepers, but they must choose the right mattress size. See our mattress sizes and dimensions guide for more.
Also, do you sleep with a partner? Do both of you sleep on your backs, or is one of you different? Regardless of position, you'll need a big bed to accommodate both of you. You'll need to consider your partner's sleeping requirements, and watch out for motion transfer. If you want an innerspring, get pocketed coils.
Budget
Getting a cheap mattress can be tricky but not impossible. You can get a lot of good deals, especially in online stores.
Also, mattresses for back sleepers are generally easy to come by and don't have any notable additions that could up their price. Unless you get a cooling mattress or something with zoned support. Most beds on the market are suitable for back sleeping.
Online Shopping
Is online shopping better than going to a brick-and-mortar store? Here at AOS, we believe that online mattress shopping is superior.
Physical stores might let you feel the mattress immediately, but online companies give a lot more. Online shopping most often comes with free shipping, extended warranties, and a sleep trial, and it's also much easier to get information.
Sleep Trial
A sleep trial is a must, no matter what position yous sleep in! It's also one of the reasons why online mattress shopping is better.
Getting to test out your mattress for more than just a couple of minutes is extremely helpful. Most online mattress companies offer a 100-night sleep trial, but it can range from just 30 days to even a whole year. Also, you usually get a free return.
Warranty
Another thing you should always get for your mattress, regardless of shopping online or in physical stores, is a warranty. A warranty is there to ensure that you can return the bed and get a new one if any problems arise.
Sometimes mattresses have manufacturing issues that have nothing to do with you. Or they claim to be durable and then turn out not to be. Either way, a warranty protects the buyer, and the best mattresses have a lengthy warranty.
Do Your Research
Research when shopping for mattresses for back sleepers, and don't be afraid to take your time! Finding a new mattress for back sleepers is more straightforward than other sleeping positions, like combination sleepers and side sleepers, but you should still be careful.
Inquire with the manufacturer if you have any questions and check mattress reviews! Mattress reviews can help a lot when online shopping.
What Else Do Back Sleepers Need?
That's all you need to know about choosing the best mattress for back sleepers! Here are some other things you could watch out for.
Pillows
The mattress supports your spine, which is relatively easy for back sleeping, but you also need something to keep your head and neck supported to avoid issues. The best pillows for back sleeping are of medium height, so they don't lift their head too much or too little.
Mattress Toppers
You can use mattress toppers to change or improve your cheap mattress, but the mattress should still give the support you need. Choosing a mattress topper is entirely based on personal preferences. Do you want a softer memory foam feel or want to try out different materials? It's up to you, but it still can't replace a new mattress if your old one is deteriorating.
Frequently Asked Questions
Are firm beds good for back sleepers?
In general, the best mattress firmness for back sleepers is medium-firm to firm. However, the subjective feel of mattress firmness affects how comfortable a mattress will be for you.
Remember the 10-point firmness scale? It's used to assess a mattress's firmness objectively. Mattresses rated from 1 to 4 fall under the soft mattress category. Mattresses rated 5.5 to 6.5 are medium-firm, while everything above 7 feels firmer. But the question remains: how do you find the right firmness for you?
When we factor in the sleeper's weight, things get easier. If you weigh somewhere between 130 to 230 pounds, a medium-firm mattress will likely feel right. Average-weight back sleepers prefer a firmer mattress feel with a supportive surface.
If you are a light sleeper weighing under 130 pounds, look for a softer medium-firm mattress. Mattresses rated between 5 to 6.5 are usually a good firmness level to consider.
Similar applies to sleepers over 230 pounds. Look for a mattress with added support and firmness between medium-firm to firm (6.5 to 7 or 8).
What mattress characteristics are vital for back sleepers?
With so many mattress options, it's hard to distinguish which one would be the perfect fit. But, whenever things get complicated, it's essential to go back to basics. What matters to back sleepers?
Firmness level. Depending on your weight, you will likely choose a medium-firm to a firm mattress (from 6.5/7 on the firmness scale). Back sleepers usually need a firmer mattress to provide proper support.
Contouring. You will want a mattress that contours to your body shape. It depends on your preference and what feels comfortable to you. Some mattresses offer the feeling of sleeping "in" the mattress. Others offer more of a floating sensation.
Pressure relief. A good mattress needs to provide pressure relief to your back and hips. When these parts of the body are adequately supported, the muscles can relax as well. Otherwise, your muscles pull a double shift trying to keep your body in a good position. That results in back pain and a grumpy mood.
Support and spinal alignment. Proper spinal alignment is directly connected to pressure relief. When body weight is distributed evenly, there is no added tension on your spine. Your body can relax in a neutral and healthy position.
With all of these characteristics in mind, think about what feels comfortable to you. When does your back feel most supported? How much contouring do you need?
If you also experience back pain, please check our list of best mattresses for back pain.
Which type of mattress is good for back pain?
Every mattress type has something good to offer. It comes down to proper spine alignment, which every type of mattress can achieve.
Let's explore the significant mattress types and see what they offer. Learning the differences will clarify which mattress type would suit you the best.
Please take a look at our list of best mattresses for back pain.
Innerspring Mattresses
The main characteristic of innerspring mattresses is the coil layer at the base. Coils provide additional responsiveness to those who prefer a bouncier bed. Innerspring models usually have a thin comfort layer on top of the coils. They provide some contouring, but sometimes not enough pressure relief. Luckily, hybrid beds bring more cushioning to the picture.
Highlight: Innerspring mattresses can provide a good and stable environment for back sleepers. They are usually firmer due to a thin comfort layer, which is excellent for back sleepers.
Check out our list of best innerspring mattresses.
Hybrid Mattresses
This type of bed is a combination of springs and thicker foam comfort layers. Hybrid mattresses are very versatile in materials, construction, price, firmness level, etc.
Highlight: A hybrid mattress is created to bring more pressure relief. Thanks to the thickness of comfort layers, back sleepers can find the right type of feel. The coil layer usually gives even support necessary for proper spinal alignment.
Check out our list of best hybrid mattresses.
Foam Mattresses
Foam mattress companies usually use a mix of lower-density foams and high-density foams. Firmer foams are reserved for the mattress base. The base offers stability and support to the upper layers. The comfort layers are usually more conforming to the body shape.
Highlight: All-foam mattresses offer superb body contouring and deep pressure relief. The foam adapts to your body, creating a combination of comfort and support.
Check out our list of best foam mattresses.
Latex Mattresses
Latex is famous for its durability, support, and comfort. It's usually a medium-firm material that can be found in foam and hybrid models. It shows excellent results for back sleepers.
Highlight: Latex creates a beautiful balance between cradling and support. Back sleepers who like to feel like they are floating on the bed usually choose latex.
Check out our list of best latex mattresses.
Are memory foam mattresses good for your back?
Absolutely. All-foam mattresses offer many benefits, such as deep contouring and pressure relief. Many back sleepers choose foam mattresses for that reason. Foam mattresses are very versatile in firmness levels as well. You can find a firmer mattress with a good feel for you.
Foam is also very successful at relieving back pain and hip pain. The comfort layers shape to accommodate your body and provide even pressure relief.
Are you interested in foam mattresses? Check out our list of best foam mattresses.
Are there disadvantages to back sleeping?
There are a few disadvantages of back sleeping that may be relevant for some sleepers.
Acid reflux: Acid reflux, when persistent, can indicate gastroesophageal reflux disease (GERD). Sleepers with GERD experience more discomfort when sleeping on their back. In this case, the best thing you could do is to try and train yourself to sleep in other positions. That way you can decrease symptoms associated with acid reflux.
Snoring: The sound that happens when the air flows past the relaxed breathing tissues. Everyone snores every now or then (even you, let's be honest). However, snoring can be increased when people sleep on their backs.
Neck pain: Some sleepers experience neck pain when sleeping on their backs. The cause of pain is associated with a wrong choice of pillow. So, don't blame your mattress! If your pillow is too thick or too thin, you might need to look for something more optimal depending.
Discomfort in pregnancy: Back sleeping is not ideal for pregnant women. The baby bump increases pressure in the middle section, causing unequal bodyweight distribution. That can result in pain aches, especially in the second and third trimester. Pro tip: stick to side sleeping for adequate body weight distribution. Once the little one comes, you can return to back sleeping as usual.
Final Thoughts
To recap, here's the list of our top mattresses for back sleepers.
| Mattress | Best/Most |
| --- | --- |
| Saatva Mattress | Best Innerspring Mattress For Back Sleepers |
| Zenhaven | Best Latex Mattress For Back Sleepers |
| Casper Mattress | Best Mattress For Lower Back Pain |
| Avocado Green Mattress | The Best Organic Mattress for Back Sleepers |
| Nectar Mattress | Best Value Mattress For Back Sleepers |
| DreamCloud | Best Hybrid Mattress For Back Sleepers |
| Layla Mattress | The Best Foam Mattress For Back Sleepers |
| Winkbed | Best Luxury Mattress For Back Sleepers |
As you know, there are so many options on the market these days. We focused on the brands and mattress models that made many back sleepers happy. We hope our list helped you start your search for the right mattress. Good luck!