Best Latex Mattress for 2023 – A Comprehensive Guide
Written by: Milica Terzic
Updated: 02/20/2023
Behold behold the latex mattress extravaganza!
Are you ready to see why there's a rising popularity of this material in mattress production? Let's get straight to it.
Sleep on Latex: Why?
We recommend buying a mattress that's made with latex, especially a natural one. Latex mattresses are durable and offer significant pain relief. Low-maintenance by type, latex mattresses fit some sleepers more than other mattress options.
The main things that latex ensures in a mattress are:
a proper alignment of the spine
exceptional pressure relief for pain points
muscle tension relief and deep relaxation
decent healthy rest and a better mood
excellent contouring without feeling trapped.
Latex is made from the sap of rubber trees and processed using compounds that are also natural. A latex mattress can also be made from synthetic or blended latex.
Disclaimer: We will see the eight best latex mattresses by far. Surely, there are a lot more mattresses on the market and if we find a better one, we will definitely upgrade our list! Until then, feel free to visit our other best mattress lists and reviews. There's plenty of extra information that will make your mattress decision-making process simpler.
This list will hopefully bring you closer to the right decision! Let's begin in 3,2,1…
Our Picks for Best Latex Mattresses 2023
Avocado – Best Green Latex Mattress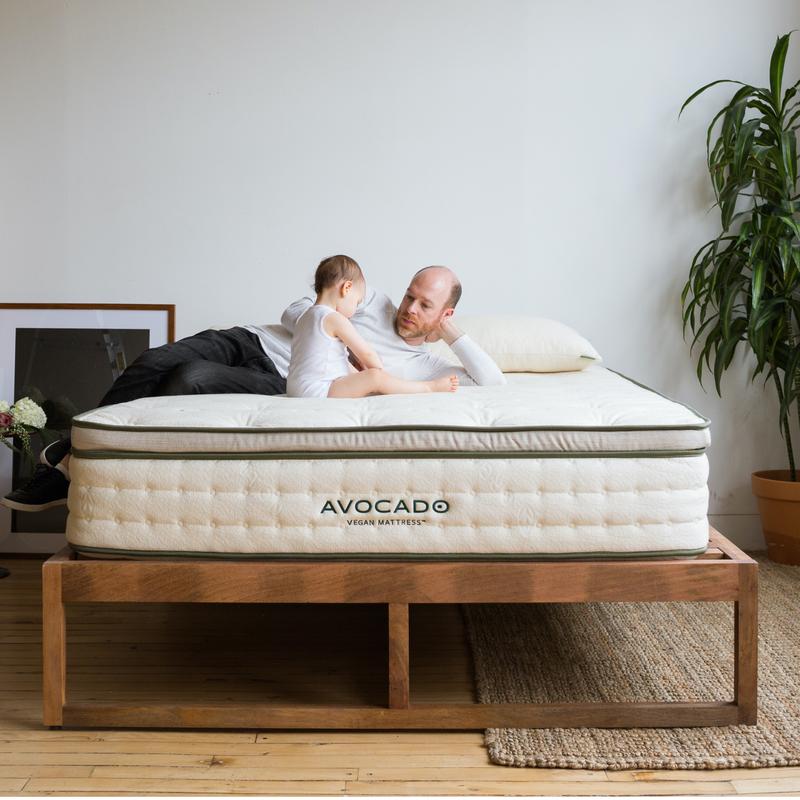 Do you also think of a crunchy, buttery toast breakfast when you hear the word Avocado, or is it just us?
Anyways, this Avocado sure is something green, but it's not for breakfast. It's for the nighttime. And what is a better option for sleeping than a green, organic mattress made in the USA?
Avocado Green is a hybrid mattress made of coils and enriched with latex. Over time, latex doesn't sag but doesn't learn your body's outline either. Instead, Dunlop latex stays bouncy over time. Latex mattresses are very durable and worth the price for bringing exceptional pressure relief.
Standardly firm, you can upgrade the 11″ version of the Avocado mattress with two more inches of Dunlop. The green mattress will be a tad more fluffy and comfortable. There is significant pressure relief on both versions. Which option you'll pick depends on your sleeping habits and preferences.
A bouncy, responsive feel is present with the Avocado Green mattress. Even more comfort and plushness are achieved with the Avocado Latex Mattress. This one is latex only and has no coils.
Avocado has worked hard to meet a dozen organic certifications for its products. This way mattresses and other bedding products preserve biodiversity. They pledge a negative carbon footprint, vegan products, and clean energy.
All the Dunlop used in the Avocado Green mattress is GOLS (Global Organic Latex Standard) certified. It ensures 95% certified organic raw material content in products.
The latex isn't glued with harmful chemicals to the coil layers. It's needle tufted by hand instead.
This hybrid is one of the best latex mattresses because it is organic, breathable, and easy to customize. Avocado is rated #1 for back support. Happy sleepers report enhanced contouring, neck pain relief, and a healthier sleep altogether.
Thanks to the comfy latex, Avocado is excellent for side sleepers who prefer green products. Heavy sleepers over 230 pounds can also enjoy nights on the Avocado Green. It's thanks to a zoned coiled system and organic breathable Dunlop latex.
Why does the Avocado Green mattress stand out?
You get a full year to try it, a 365-days sleep trial period.
It is an affordable latex mattress, considering its materials and certifications
Negative carbon footprint and organic origin
A true hybrid with high-quality Dunlop latex
Can you see yourself picking out an organic, luxurious mattress? And a mattress that's not only amazing for you but is conscious about the environment as well? If you do, you should check out the deals we have with Avocado, which will save you $ on your new comfy mattress.
Also, check out the full Avocado Green Mattress review to learn more…
Avocado
Avocado is a hybrid mattress with latex comfort layer and pocketed coils popular among many different sleepers.
Zenhaven – Best Latex Mattress for Sex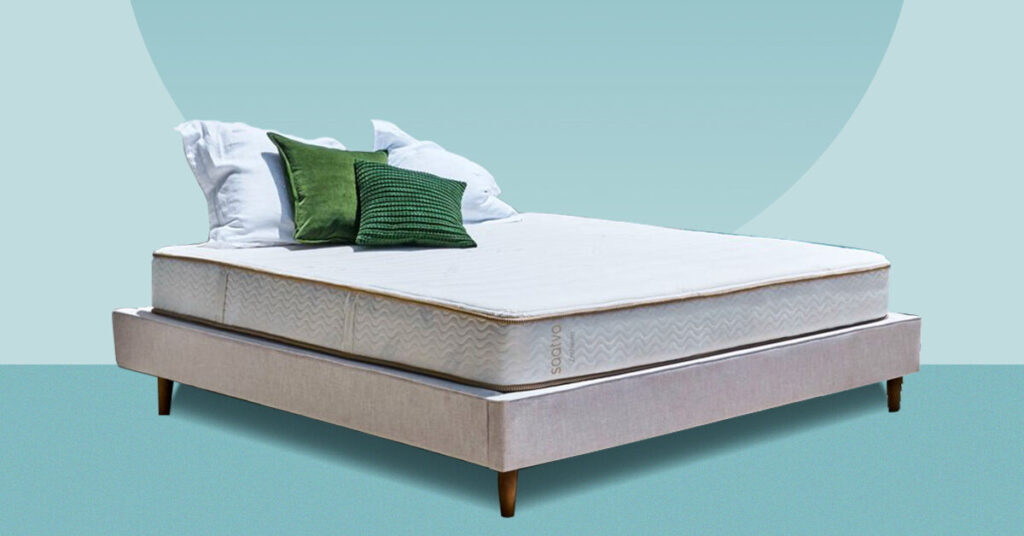 If you are already a fan of latex mattresses, you will love the bouncy-spongy feel of Zenhaven by Saatva. You may especially enjoy this mattress if you plan to move to second base and get busy.
It may even become your favorite. This soft and squishy mattress is made with organic Talalay latex. It is considered a luxury mattress with interchangeable firmness.
Two firmness levels of Zenhaven make the mattress adaptable to various sleeping groups:
Luxury Plush 4.5/10 – medium-soft
Gentle Firm 7/10. – firm
Ten inches of organic latex construct the Zenhaven mattress. Organic latex is in all layers, making the mattress special at motion isolation. At the same time, it retains bounce and springiness.
Due to the construction, Zenhaven is a fantastic latex mattress for sex. It's supportive, highly resilient, and durable. Zenhaven is making nighttime activities super easy and more fun. Moving around the mattress and changing positions is much easier. That is because of the bounciness of latex.
Both firmness options will serve you well for these activities, but it will be easier to move on the firmer side.
A wool fire barrier on both firmness sides regulates temperature extraordinarily. Wicking away excess moisture makes sleeping and having sex much more comfortable.
Latex has cooling pinholes of different sizes that let air circulate.
The cotton cover is breathable and organic, reducing heat additionally. A gentle caress on the skin comes from your partner and your new favorite latex mattress.
Why does the Zenhaven mattress stand out?
The latex offers pronounced support on all pressure points.
Its bounciness make it an amazing mattress for sex
Back and stomach sleepers will love the Gentle Firm side.
Side and combo adore the Luxury Plush side of the mattress.
Gratis White Glove Delivery and old mattress removal
If you see yourself and your partner having an intimate, comfy time on the Zenhaven, check out our deal for the Zenhaven mattress.
Be sure to read the full Zenhaven mattress review to see what else it's great for…
Zenhaven Mattress
An all-latex mattress like Zenhaven is a top choice for anyone who prefers organic, luxurious materials and switchable firmness levels.
How to Choose a Latex Mattress
Well, that would be our list of the best latex mattresses of 2023. What do you think? Do any of them seem like the thing you're looking for?
If the answer is still no, have no fear. We made this short guide to help you choose the best latex mattress just for you. Here's what you need to know about latex.
What Is Latex?
Latex is a material known for its elasticity and resilience. It is made from a milky substance extracted from the rubber tree. There are three types of it – organic, synthetic, and blended.
When used in latex beds, this material is processed into latex foam that consists of small air bubbles.
If you're a hot sleeper, then a latex mattress would be perfect for your needs. Also, it offers comfort without too much sinking, and it is highly elastic and bouncy, allowing people who move around during sleep to easily change sleeping positions.
Latex as a material does a lot for a mattress, making it an obvious pick for sleeping healthy. The main things are:
a longer lifespan
better adaptability
higher breathability for hot sleepers
We often mention latex in the context of the high comfort levels of a mattress and its natural origins.
Types of Latex
But, there are differences between the three latex types. Here's what you should know.
Organic Latex
Organic latex and natural latex are derived from the sap of the rubber tree, after which they're processed. There are two distinct ways this material is processed, creating Dunlop and Talalay latex, which we'll cover next.
The end result from rubber tree sap isn't wholly latex because some chemicals need to be added in the process. But, suppose they want to get the organic mattress certification from the Global Organic Latex Standard. In that case, there need to be less than 5% chemicals in the material of the latex beds, which is still better than non-organic materials.
Also, if you're strictly searching for an organic mattress, look for ones with this certification because not every natural latex is organic.
Latex beds from natural latex are firmer and more durable but also very heavy. Latex beds are a good choice for an eco-friendly mattress, and it doesn't off-gas. This might be the mattress for you if you're looking for an organic mattress with hypoallergenic properties and less harsh chemicals. But they're in the higher price range.
Dunlop Latex
In the case of natural Dunlop latex, all of the sap is poured into the mold and baked. After it settles, there's high-density foam at the bottom of the Dunlop Latex, while the top is airier.
Dunlop latex is usually used in the support core, as this material is firmer and bouncier. It doesn't really come with multiple firmness options. This latex type is in the lower price range.
Talalay Latex
On the other hand, creating natural Talalay latex involves filling half of the mold with sap and then putting air in the material by vacuum. This creates a uniform mattress with a softer firmness.
Top latex mattresses are made from Talalay latex. Talalay latex is a better choice as a cooling latex mattress for hot sleepers and an excellent latex mattress for side sleepers. If you want this latex, expect a higher price range.
Image source
Synthetic Latex
Synthetic latex foam can be made from various materials, but the most common is Styrene-Butadiene Rubber (SBR), a type of plastic.
This makes it less durable and bouncy. Unlike natural latex, it comes in multiple firmness options.
Still, it could contain harsh chemicals and isn't environmentally friendly like a natural latex mattress made with sap harvested from rubber trees. This latex type used to be in the lower price range, but since it's made from petroleum, their prices today can get pretty close.
Blended Latex
As the name suggests, blended latex is a blend of natural and synthetic latex, and their ratio in the mix can differ.
Even though it might seem like a good combo, it usually has more synthetic latex and fewer pros that come from natural latex. You can find it in the middle price range.
Density and ILD
Before we begin the guide, there are two things that can impact latex mattress' attributes.
Density
First, you need to know about two factors that can significantly affect how a latex mattress feels. Number one is density.
Density is described in kilograms per cubic meter (D=kg/m3), showing how compact, heavy, and firm the mattress is. It usually ranges from D60 to D95, and it can affect the price range.
Most latex mattresses are made from different densities layers to create a better experience. Dunlop is more dense and firm, and Talalay latex is softer.
Indentation Load Deflection (ILD)
To put it simply, ILD shows how much pressure is needed for a material to compress, and it's related to firmness in this case. However, not everyone measures firmness and ILD in the same way, so you should keep that in mind.
In most cases, soft latex mattresses have an ILD of 15 to 25, medium to the firm are 25 to 35, and firm are over 35.
Pros and Cons of Latex Mattresses
First, let's see what makes latex stand out and why you might want to avoid it.
Pros
Supportive
Durable
Natural materials
Antibacterial and hypoallergenic
Cooling
Cons
Heavy material
It's in the higher price range
Not as good at pressure relief and motion isolation as memory foam
What to Look for in a Latex Mattress
That's all you should know about latex! Now let's see what else can help you choose the best latex mattress.
All-Latex vs. Latex Hybrid
Honestly, it all depends on what you're looking for.
An all-latex mattress has a support layer made from high-density latex foam, with a (usually) softer layer of comfort latex foam.
Hybrid mattresses are usually a combination of innerspring and memory foam, but latex is also common. A latex hybrid mattress usually has a support layer made from coils, like in innerspring mattresses, with a latex layer on top.
It can also have pocketed coils, helping with support and motion transfer. Both of these are in the higher price range, but hybrids are generally cheaper. A latex hybrid can also have transition layers from natural wool along with latex layers.
They both have excellent support and durability, but you should get an all-latex mattress if you don't want motion transfer. Hot sleepers are better off choosing a hybrid latex mattress for their bedrooms. Also, a latex hybrid mattress might be the best latex mattress for side sleepers.
The best latex mattress for you is the one that best fits your requirements.
Support
Support is the most important aspect of mattress buying, no matter the price range. The best latex mattress for you should have your spine aligned. In a latex mattress, the support layer is made from high-density latex foam.
A latex mattress is generally firm, but it also conforms to the body. This makes a very supportive mattress, and you won't feel like sinking into it. Look for an organic cotton cover for more comfort.
Firmness
Mattress firmness is subjective, so you must determine what you like first. Which firmness level from 1 to 10 is the best for you? Extra soft, soft, medium, firm, or extra firm? In latex mattresses, firmness is related to Indentation Load Deflection and different latex layers.
Latex mattresses tend to be firm, but it also depends on their type. Natural latex mattresses are firmer than synthetic latex mattresses, but a synthetic latex mattress can have multiple firmness options. Also, Talalay latex is softer than Dunlop latex but not as soft as memory foam.
Responsiveness
Unlike a memory foam mattress, a latex mattress is very bouncy with a fast response. This makes it a good option for different sleeping positions, like combination sleepers, couples, and even people who just don't like the feeling of sinking too deep into a mattress. If bounciness is something you want, look no further.
Durability
Latex is the way to go if you're looking for a mattress that will last you a long time. Along with hybrid mattresses, it's known as the type with the longest expected lifespan. This is because many latex mattresses are firmer, making a durable mattress, unlike memory foam.
However, there's a difference between various types of latex and longevity. Natural latex is more durable than synthetic latex, but natural materials are also in the higher price range. A latex hybrid bed with a high-quality latex layer could last you a long time.
Contouring
Even though it's firmer and bouncier, a latex mattress is responsive and will conform to your body without feeling like you're sinking into it. However, it's not as good as memory foam. And if you want a softer bed, look for synthetic latex since it can have multiple firmness options.
Sleeping on top of a mattress is also good for those who sleep hot since hot sleepers tend to overheat when they're in contact with too much material. Contouring is an important part of choosing the best cooling latex mattress for hot sleepers.
Pressure Relief
Spinal alignment and painful areas require a mattress with good pressure relief, and a latex mattress is a good choice in this case. An eco-friendly mattress from natural materials will feel like you're sleeping on top of it, but it won't push against pressure points too much. It's a good choice for many sleeping positions.
On the other hand, same as with contouring, a latex mattress can't compare with a memory foam mattress when it comes to pressure relief.
Quality Materials
Latex is usually considered a high-quality material, so you shouldn't have any issues with this. Still, natural latex mattresses are of higher quality than synthetic or blended. Added materials, like organic wool layers or organic cotton covers, can also up the price range and quality. Organic cotton and wool are often choices for eco-conscious shoppers.
If you want to get the best latex mattress that will last you a long time and help against dust mites, look for natural materials. You'll likely find them in the higher price range, though.
Temperature Regulation
Do latex mattresses sleep hot? And what is the best cooling latex mattress? Hot sleepers need a bed that keeps them cool throughout the night, and latex mattresses are a solid choice.
Unlike memory foam mattresses, which are notorious for trapping heat, latex mattresses tend to be very breathable. Sleeping on latex mattresses will give you a floating feeling, which helps with temperature regulation for hot sleepers. An organic cotton cover can also help hot sleepers improve the best cooling mattress for them.
Some latex beds even have holes in them to keep the airflow going and create that good cool feeling for those who sleep hot. The best cooling latex mattress for hot sleepers would be from natural Talalay latex, especially with an organic cotton cover for added comfort. A latex hybrid mattress is an even better choice for hot sleepers since the coils in the support layer provide more breathability.
Learn more: Best Cooling Mattresses
Edge Support
If a mattress has inadequate edge support and you sleep near the edge, you'll feel like you'll roll off it any second. Good edge support is essential for heavier sleepers and people who like to sleep on the edge of the bed.
Memory foam and latex mattresses have their perimeter enforced in firmer foam, which isn't strong enough. However, latex hybrid mattresses, similar to innerspring beds, have the rim encased in stronger coils, which is way better for edge support.
Off-Gassing
Do you know the smell a new mattress has? Well, it usually goes away in a couple of days, and this process is called off-gassing. It comes from the chemicals in the bed, and a natural latex mattress will off-gas way less than synthetic latex mattresses and ones made from other artificial materials. Remember that a natural latex mattress with organic materials is generally in the higher price range.
Motion Transfer
Even though latex mattresses are bouncy, they're generally good at handling motion transfer. Although, they're not as good as memory foam. For example, if you're sharing a bed with someone, they'll still feel a bit of movement from across the bed, but not as bad as on an innerspring mattress.
Also, if you get a latex hybrid mattress, expect more motion transfer, even with pocketed coils in the support layer.
Noise
You could go for an all-latex mattress if you want a virtually noiseless bed. A latex mattress is a good choice if you're sharing a bed with somebody or you want a soft mattress for some fun times with your partner.
On the other hand, a latex hybrid mattress can get squeaky because of the coils. Pocketed coils can help with this, but it might still be noisier.
Allergies
If you want to battle allergens found in a typical mattress, you have to use a mattress protector. Achoo! However, natural latex is hypoallergenic and resistant to dust mites, mold, and mildew. Latex mattresses will save your life in a battle against dust mites!
Also, try to choose an organic latex bed with materials like organic wool and organic cotton. They're in the higher price range, but they have fewer chemicals!
Body Weight
Whether your mattress is the right choice also depends on your body weight. The heavier you are, the more pressure you'll put on the bed, affecting your pressure points and the mattress's longevity.
Lightweight sleepers under 130lbs need a softer bed, so latex might not be the best choice for them because of its firmness, but memory foam is probably right. However, synthetic latex comes in multiple firmness options. Average-weight sleepers can sleep on a medium-firm latex mattress just fine.
When it comes to people heavier than 230lbs, they need a durable and supportive bed, and a firm latex mattress is an excellent choice for them. They could either get a natural latex mattress or a latex hybrid mattress, and the latter is better for heavy hot sleepers. Check out our top choices in our guide on the best mattresses for heavy sleepers.
Number of People Using the Mattress
Of course, if you're sharing a bed with someone, you'll need to consider their sleeping preferences too. Couples usually like latex mattresses since they are very adaptable, but expect a higher price range in size required for two people.
And, if you're looking for a bed or nighttime activities, a latex mattress might just be the one for you. It's bouncy and cool, making it an excellent playground for you and your partner. If you aren't sure which mattress to get, check out our guide on the best mattress for couples.
Sleeping Position
Sleeping positions are crucial when choosing a new mattress. Here's what you should know to get the best latex mattress for your sleeping position.
Back Sleepers
A latex mattress is a good choice for back sleeping because of its firmness. The mattress needs to keep the spine aligned, but hips and shoulders can't sink in too much. A latex mattress gives them that, with just enough pressure relief.
Read More: Best Mattresses for Back Sleepers
Side Sleepers
A mattress for side sleepers needs to keep their spine aligned while letting their hips and shoulders sink. Latex mattresses are usually firmer, but synthetic latex can have different firmness levels. However, latex might not be the best mattress for side sleepers with shoulder pain. It just doesn't offer enough pressure relief for that, especially an organic latex mattress, which is usually firmer.
A hybrid latex mattress can be a good choice. And if they're into natural latex mattresses, they should go for Talalay latex because it's softer.
Read More: Best Mattress for Side Sleepers
Stomach Sleepers
Back and stomach sleepers need that firmness. Stomach sleepers are also in luck since latex mattresses are generally firmer, which is precisely what they need. The best choice for stomach sleepers would be a natural all-latex mattress. The mattress for stomach sleepers is a firmer mattress to prop up the hips. But, they still get enough pressure relief. If they want a really firm latex mattress, stomach sleepers should definitely go for an organic latex mattress.
Read more: Best Mattress for Stomach Sleepers
Combination Sleepers
Latex is a very responsive material, so combination sleepers will love this one. Changing sleeping positions a lot in your sleep means combination sleepers need a bed that will adapt fast and keeps their spine aligned no matter what. Lucky for them, latex mattresses are here to save the day.
The best firmness level for combination sleepers would be a medium firm latex mattress. Also, a latex hybrid mattress could be a great mattress for combination sleepers since it offers adequate support and comfort needed for various sleeping positions. All in all, latex is a good choice for combination sleepers.
Read more: Best Mattresses for Combination Sleepers
Buying a Latex Mattress
Budget
Your budget is one of the essential things you must consider when shopping for a latex mattress. We already said it, but a quality latex mattress is in the higher price range. Especially for a natural latex or organic latex mattress.
Latex mattress cost depends on latex type, whether latex or a hybrid mattress, and whether it's organic. Organic materials will set you back some extra bucks. As mentioned before, organic wool and organic cotton can also affect the price range, but they make for a good luxury latex mattress that might even come with a lifetime warranty.
If you're on a really tight budget, your latex mattress options are limited, and you should find an alternative in a different price range. And if you find a latex mattress in a suspiciously low price range, be careful.
Online Shopping
Is online shopping better than in-store shopping? Arguably, yes. Shopping online usually comes with lower prices, free shipping, extended warranties, and a sleep trial. Also, you'll probably find a bigger offer of latex mattresses than in your local mattress store. Online mattress brands also let you check reviews and customer rating. now go get that free shipping! Finding the right mattress can be tricky, but our guide on best mattress could help you!
Sleep Trial
A sleep trial is the best way to test your mattress. A latex bed comes to your address, you test it out for many nights, and you return it free of charge if you don't like it. Sleep trials can last from 30 days to even an entire year, but the 100-night sleep trial is the most common. Take the time you need to test out those latex beds! Hot sleepers need to see if that breathability is enough for them!
Warranty
You should always get a warranty for your mattress, no matter its type. Latex beds are durable, but latex mattresses can have body impressions and sag problems. Check your warranty to see what applies in that case.
Look for at least a 10-year warranty in this case, but some companies even give a lifetime warranty. A lifetime warranty is rare but an often occurrence with latex mattresses.
Do Your Research
Last but not least, take your time! That latex bed isn't going anywhere.
Make sure you know what you're looking for, inquire with the manufacturer about details, and don't forget to check mattress reviews and customer rating.
Who Should Buy a Latex Mattress
Latex is popular among sleepers because it achieves spinal alignment while relieving pressure. Anyone who has pain and feels stiff will enjoy sleeping on a latex mattress and waking up with a smile.
Knees, hips, neck, shoulders, and back all enjoy the hugging feeling of bouncy latex. All sleeper types can get to love slumbering on a mattress with some latex. It will depend on the rest of the construction which mattress will fit a sleeper's needs.
The nature of the material makes latex mattresses more durable than other mattress materials.
Additionally, heavier sleepers can opt for a latex hybrid mattress more than a foam hybrid. The reason is less sagging and more breathability for heavy hot sleepers.
Both hybrids and foam mattresses tend to be more responsive and cooling if they have latex. The best natural cooling latex mattress is made with Talalay latex. This way, hot sleepers and couples may choose a latex mattress over others to:
feel less movement from their co-sleeper (no waking up during the night!)
sleep more chill, as latex wicks away moisture (especially if it's in a hybrid)
have uninterrupted sleep cycles and sleep more healthy altogether.
But, keep in mind that latex mattresses are usually in the higher price range, don't offer as much pressure relief as memory foam, and don't make a cooling latex mattress for hot sleepers as good as a hybrid or innerspring do. Also, using a latex mattress for side sleepers might not be the best, depending on the situation, mainly because of pressure relief.
Frequently Asked Questions
Which is the Best mattress: Springs, Foam, or Latex?
If you've been browsing for a mattress for some time now, you know that there are many mattress options when it comes to construction.
If you've been browsing for a mattress for some time now, you know that there are many mattress options when it comes to construction.
all-foam mattresses (memory foam or latex)
hybrids (mix of coils and memory foam)
hybrids (mix of coils and latex foam)
All variations are designed to cater to the broadest range of sleepers possible.
Memory foam is excellent for anyone who needs a lot of pressure relief, especially for back and neck pain. Memory foam is hugging by its nature because it lets the body sink into the mattress. This type of foam is perfect for a cocoon-like sleep, but it's hell for hot sleepers.
Side sleepers prefer memory foam mattresses or hybrids with a thick foam comfort layer.
Latex also contours the body. It has less cushioning than memory foam but is bouncier. It's good for heavy sleepers with neck and back pain specifically.
It is responsive and thus a little challenging for restless couples. Sleeping on a hybrid latex mattress could keep waking each other up. But, airflow is amazing with latex, especially if a hybrid is in question, so hot sleepers might find it perfect.
Hybrids are a very durable type of mattress. They have superior edge support and could be a superb match for couples because there is more space to take up.
Motion transfer is evident with hybrids because of coils. But, newer mattresses are of individually wrapped pocketed coils to isolate movement as much as they can.
But coils make a significant difference when it comes to temperature regulation. They let the airflow through the coils, letting you sleep cool all night without waking up sweaty.
But every mattress is designed differently from the previous. So, an all-foam mattress will last you a long time if you choose the perfect one for your needs. Hybrids can be as hugging and silky as foam mattresses if you choose the one with the best benefits, again, according to your preferences.
Final Thoughts
A lot of latex in this listicle has lately been listed. Can you repeat this fast five times without messing up?
But, really, to sum it up – these were the top best latex mattresses in the industry. Some of these will fit your needs and sleep habits in the best way possible.
It can be expensive, but it is due to its natural roots and construction. It's a durable material that will pay off with its comfiness, longevity, and adaptability.
Happy further mattress browsing!