Best Budget Mattress – Updated Reviews for 2023
Written by: Milica Terzic
Updated: 02/20/2023
It's a piece of cake to mention the most luxurious mattresses and to claim they're the best in every category. But, that would be both false and insufficient. Why? Because of many affordable mattresses that excel in their lux counterparts in numerous categories.
Truth be told, you can easily find a plethora of budget-friendly mattresses online. You can find one not only fits your budget but one that's comfy, durable, and a long-term investment.
We know you're on a budget. But, don't forget the importance of comfort and tension relief of a good-quality mattress. Here is a list of the best budget mattresses that you can skim through and see your options. All fulfill the requirements of securing better health.
Our Picks for Best Budget Mattresses 2023
Nectar – Best Value Mattress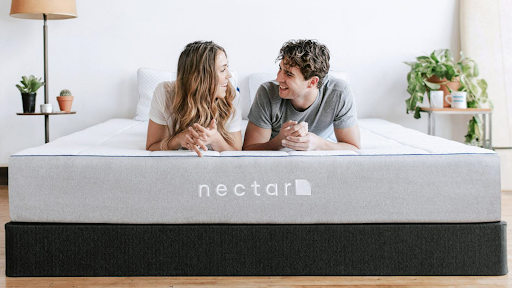 Nectar has layers that make motion isolation incredible. These layers offer more ample cushioning and support that relieve pressure vastly. What impressive motion isolation means is that Nectar is great for couples. It's an investment that two can split. If you're in search of one, check out our best mattress for couples list.
Next to superior pressure relief, Nectar's premium construction comes at a very reasonable price.
Nectar is one of the best value mattresses, and it has a 365-day sleeping trial and a lifetime warranty. Both are way longer than the industry's average.
That's not the end of the fantastic deal on the Nectar mattress. The price of the mattress itself is very affordable, also below average. (The average for a Queen is ~ $999).
Also, check out the free gifts you get when you buy Nectar:
Two Nectar pillows, or one for Twin and TwinXL size
A mattress protector (hypoallergenic cotton)
Super-soft microfiber sheet (pick the color yourself)
The Nectar mattress welcomes all types of sleepers on its fluffy Tencel-covered surface. This feeling of sleeping in and not on the Nectar mattress is due to close-body contouring.
The only downside is that this inexpensive mattress doesn't include free White Glove Delivery. There is one, but for an extra $149, which could be too much if you're on a budget. Yet, standard shipping is free.
Why Does Nectar Mattress Stand Out?
Affordable price + free gifts with purchase
Excellent pressure relief
Close-body hugging sensation
Great for couples (killer motion isolation)
Head over to the full Nectar mattress review to find more about Nectar's benefits.
Nectar Mattress
Nectar is a premium quality mattress at an affordable price. The secret to its outstanding comfort lies in plush layers of memory foam.
Casper – Best Mattress For Back Pain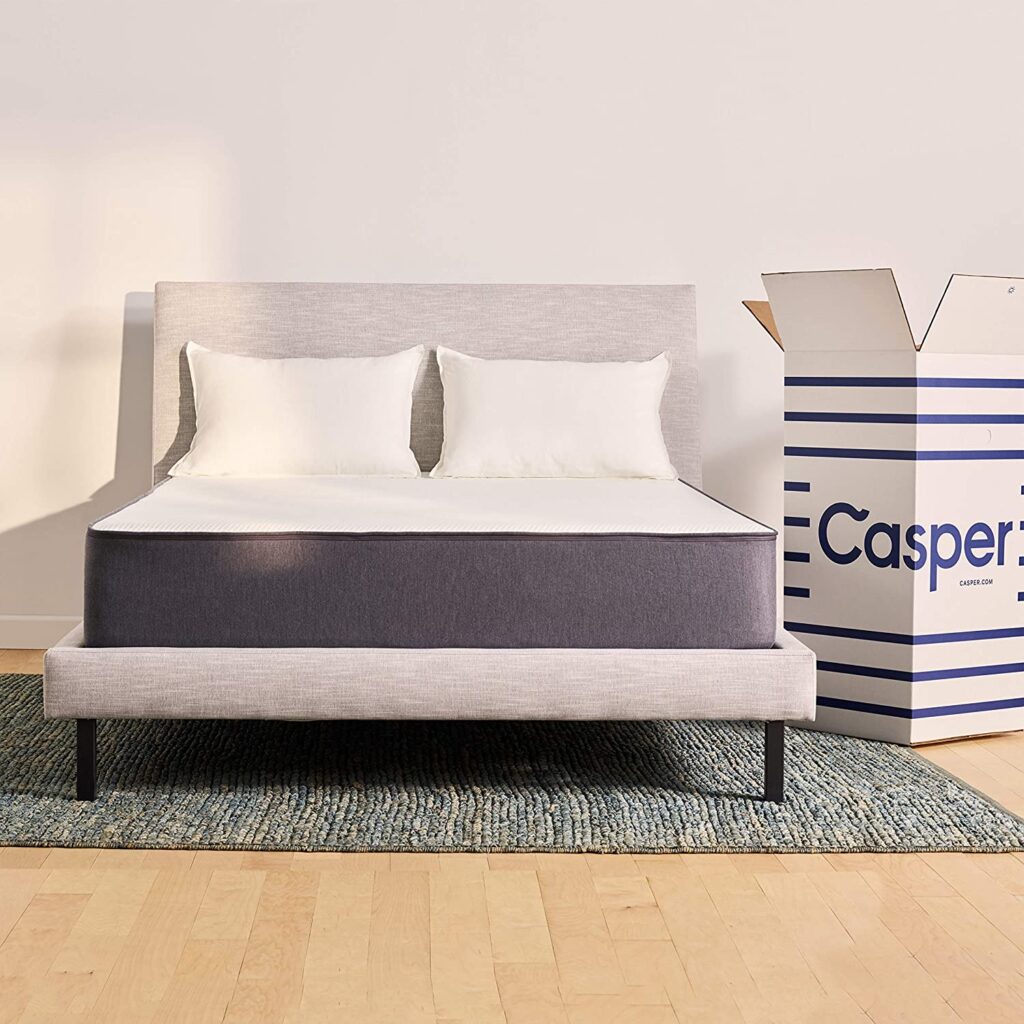 The Casper is a hybrid all-foam mattress. It is known to be a mattress always evolving and upgrading. But, it has always been comfortable. Besides, it has made it to the list of the best cheap mattresses for its affordability.
Even though a simple construction, Casper has excellent stability and back support qualities. It is also one of the best mattresses for back pain.
Hence, one of its key performances is durability. Casper can provide at least seven years of comfortable nighttime support. It is thanks to the high-quality and durable polyfoam that constructs the base. And that is very worthy of your precious pennies.
The whole mattress construction works like a charm when it comes to spinal alignment. The Zoned Support feature supports all pressure points: hips, shoulders, spine, and back. But Casper is neither firm nor soft – it's somewhere in between.
This mattress also sleeps more chill than other all-foams. That is due to open-cell foam that lets air flow through.
So there's an affordable, durable, and comfortable mattress for Casper's coziest price. You get 100 nights to try out the mattress, which should be just enough for you to decide if you will love it or ditch it.
Finally, for an extra $149, professionals install a Casper mattress in your bedroom. Old foundations and mattresses can be removed, too.
Why Does Casper Mattress Stand Out?
It's one of the best inexpensive mattresses for back pain.
Casper is a long-lasting mattress (7 years average lifespan).
The Zoned Support feature holds all pressure points in place.
You can get the Queen size for less than $1,000.
Are you interested in Casper? Visit the complete Casper mattress review to find out more.
Casper Mattress
With a perfect balance of comfort and support, it's no wonder that the all-foam Casper mattress is such a great fit with back and combination sleepers.
Tuft & Needle – Best Mattress For Couples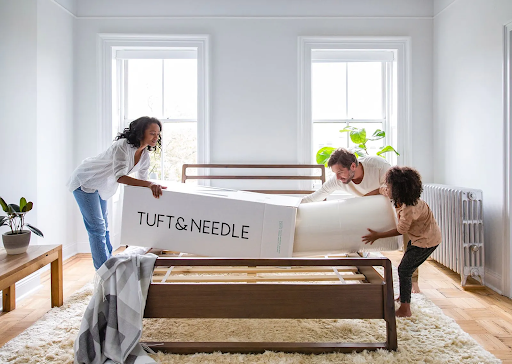 A cheap yet good mattress like Tuft & Needle is among buyers' favorites. One of the reasons for loving Tuft and Needle is the simple design and immense pressure relief. The foam layers with a medium-firm feel follow the body's shape and keep the spine aligned.
No noise and no transfer of movements are other reasons for the frequent choice of Tuft & Needle. This is true even when deciding between less expensive mattress models. No squeaking and no bouncing from your restless co-sleeper makes it a pretty great option, eh?
Hence, the Tuft & Needle mattress is an attractive choice for couples, as well.
The simplicity of this mattress lies in no transitional layer. There are two layers instead of the standard three, but a thin synthetic latex glues the foam layers. The lack of a transitional layer could make you think there's no support and cushioning.
And, to an extent, it is true. Stomach sleepers could not feel as comfy sleeping on T&F as back sleepers would. But it also isn't true because a lot of sleepers adore this hybrid foam mattress. Combo sleepers like the feel of a responsive mattress because it's easy to move on it. And while you're at it, also check out our best mattress for combo sleepers.
Mostly, Tuft & Needle mattress enjoys significant popularity with back sleepers.
It's a temperature-neutral mattress with exceptional pressure relief. More than other foam models, Tuft & Needle keeps your body cool and fresh during the night.
Hot sleepers, take notes! Tuft & Needle could be a steal for you.
If you're on a budget and like Tuft & Needle, you'd like to know the starting price for a Twin size is $745. Now that is affordable!
Mattresses can be heavy, bulky, and difficult to set up alone. Paying an extra $150 for professionals to bring it up the stairs, unbox and set it up is worth it. Especially if you're alone, it pays off to get White Glove Delivery with the Tuft&Needle. Alongside this, the company will provide old mattress and box spring removal if necessary.
Why Does Tuft and Needle Mattress Stand Out?
Simple design but exceptional pressure relief
Back sleepers love sleeping on it
Below-average priced mattress
An attractive choice for couples
Check the full Tuft & Needle mattress review to learn more on hybrid-all foams.
Tuft & Needle Mattress
Tuft & Needle is an all-foam, budget-friendly mattress with a simple design, that will provide you excellent comfort and support.
How to Choose the Best Budget Mattress
Those would be our picks for the best budget mattresses right now! One of them could be your new mattress.
In addition to that, we created this short guide that will help you choose the best cheap mattress. In this part of the article, we wrote about what a budget bed entails, what you can expect from it, and what to look for when buying a new one.
Let's get into it!
What's Considered a Budget Mattress?
To simplify, a cheap mattress is a lower-priced mattress compared to other similar mattresses on the market.
Generally speaking, a budget bed should cost up to a couple of hundred dollars, but there are no rules. As you'll see soon, the price can vary depending on different factors, like whether they're made from latex or memory foam. Some mattresses could be the cheapest in their group, but you would still have to shell out more for them.
It's important to remember that the price isn't necessarily an indicator of quality, but if a mattress is too cheap, you'll probably pay for it in some other way.
Let's see what can impact the mattress' price.
What Impacts the Price of a Mattress?
Mattress price can depend on several factors, and we listed the most important ones here.
Type
Mattress type can significantly affect the mattress price, but the prices can vary even in these separate groups.
There are four most common mattress types on the market – foam, latex innerspring, and hybrid.
In addition to that, there are some less common mattress types, like futon and airbed. Although, they're usually for people with special requirements. A futon is cheap, but not everyone finds it comfortable, while airbeds are expensive and not the best choice for those shopping on a budget.
In the next part of the article, we'll explain each of the most popular mattress types and how it relates to the price of a Queen size mattress for that type.
Foam
Foam mattresses are made from different layers of foam. Like most mattresses, they're made from a support core and comfort layers.
The most popular one is a memory foam mattress, but there are also memory foam alternatives. The support layer in a memory foam mattress is made from polyurethane foam, which is high-density foam. Comfort, on the other hand, is achieved with a memory foam layer.
In general, neither foam nor memory foam is that expensive, so this is where you might find an affordable mattress. However, remember that prices can vary, and you can find luxury and cheap memory foam mattresses.
A memory foam mattress is known for its softness, body contouring, and sound motion isolation.
Lowest-priced foam mattresses could cost even less than $500.
Latex
Latex mattresses are made from two to three layers of latex foam. This foam can be either organic or synthetic, but both have a higher price point compared to memory foam.
Latex has good support, a firm feel, and a fast response time.
Even though synthetic latex is cheaper, and you might find some more affordable options, a latex mattress will still set you back. They aren't the best affordable mattress, but they can still be found on the list for mattresses under $1000.
Innerspring
Innerspring mattresses are made from coils. An innerspring mattress, like a memory foam mattress, is made from a support core and a comfort layer. In this case, the support core is made from metal coils, while the thin comfort layer is on top.
The innerspring mattress is generally the cheaper mattress type, along with memory foam mattresses, but that can depend on the coils. Older, traditional coils are more affordable, while newer ones cost more.
For example, beds with pocketed coils are popular because of better motion isolation. This is because coils aren't connected, and they're a good choice for couples. Still, the motion isolation in an innerspring could never match memory foam mattresses. The innerspring mattresses in the low price range should cost less than $700, which is still more than a cheap foam mattress.
Hybrid
Hybrid mattresses are generally created as two or more mattress types. The most prominent hybrid mattresses have a coil support layer and a comfort layer made from foam, as a combination of an innerspring and a memory foam mattress.
Next to latex mattresses, hybrid mattresses are the least affordable ones. A hybrid mattress with a lower price point should set you back for less than $1000. If you're looking for the best cheap mattress, you'll likely have to avoid hybrids.
Materials
Besides the mattress types listed above, different materials can also affect the mattress price. Organic latex can set you back at least $1,600, and high-density memory foam isn't cheap either.
In addition to that, some materials are added to mattresses to improve their quality, but they also up the price. One example of this is a cooling mattress.
Cooling materials are used for mattresses that trap body heat, like memory foam mattresses, to make them more bearable for those who sleep hot. Copper is most commonly used for a cooling mattress, but gel pads are also popular.
Even though a cooling mattress is a great idea, they don't always work. Memory foam is great because of its softness and slow response, but only for those who aren't hot sleepers. You might find a cheap cooling mattress, but unlikely.
Some coils in innerspring and hybrid mattresses are even thicker and sturdier. As mentioned before, pocketed coils are good, but cost more. Either way, all of these additional materials can up the price.
Construction
The price is also dependent on the construction. You have to expect a higher price range if you want a high construction quality or something that will take more time to make. For example, coils generally take more time to create than foam layers. It's why a foam mattress is the best cheap option.
There's also a big difference in the price range of hand-made mattresses and those built by machines.
Size
The price also depends on the size of the mattress. Generally speaking, the bigger the bed is, the higher the median price.
Since the price also depends on other factors, a Twin foam mattress could even cost more than a cheap Queen mattress! And a King size mattress made from memory foam could cost less than a Queen hybrid one. Check out the mattress size guide for more.
Brand
Branding is another important factor on this list. The more popular and famous a mattress company is, the higher the prices. Some brands deserve the hype, and some don't, so always test the mattress and check the reviews before committing.
Retailers
Retailers need to pay for their space, employees, and other business-related costs, so brick-and-mortar stores tend to have higher prices. In comparison, online mattress companies tend to have lower mattress costs.
Additional Mattress Costs
Last but not least, there are some other mattress costs you should know. Shopping for a mattress usually doesn't just entail the bed.
You might have to pay for shipping if you're shopping online, although most online mattress companies offer free shipping. Also, most mattresses of online brands come with a return with free shipping after the trial period. Although, some brick-and-mortar stores charge for delivery.
Additional costs for a mattress include different bed accessories, like bed frames and mattress toppers.
What to Expect from a Budget Mattress
Well, that's what an affordable mattress is, and those would be the factors that affect the mattress prices in general. But what can you expect from a bed with a lower price point? And where can you find the best cheap mattress? Here are some things you should know.
You Get What You Pay For
For the most part, you get what you pay for.
Even though the price doesn't always represent the quality of the mattress, the truth is that most of the time, it does. There's a reason why a cheap mattress costs less – something had to be sacrificed.
We're not saying that you definitely won't find a good cheap mattress. After all, comfort is subjective. It might fit your preferences just right. We're just saying that you shouldn't set your expectations too high when it comes to looking for the best cheap mattress. Still, you might be surprised by the offer.
Don't forget about sales and coupons. While you likely won't get hybrid mattresses in a low price range, you could still find a cheap memory foam mattress with surprising quality.
The lower price doesn't mean that you won't be able to find a good value mattress for your price range. Just keep following our guide to know what to watch out for when looking for the best cheap mattresses!
Some Materials Are More Affordable
Some materials are simply more affordable than others.
That's why the best affordable mattresses are made from some types of foam, but even foam prices can differ. Memory foam is very popular and considered comfortable by most, but high-density memory foam can set you back more. If you need a cheap cooling mattress it's better to go for an innerspring mattress than gel memory foam.
Cheaper beds also tend to be made with up to three layers, and the best affordable mattress is usually just an all-foam mattress with high-density foam as a support layer and memory foam on top.
Other options for budget beds are innerspring types. As mentioned before, not all coil types are cheap. But if you're looking for a cheap cooling mattress and can't get gel memory foam, innerspring is the good choice for you.
If you're looking for a cheaper mattress, natural latex foam and hybrid mattresses should be avoided. Also, you likely won't find any of the beds with additional materials and features in a budget-friendly price range.
Support
It's important to remember that an affordable mattress isn't always a bad mattress. Even though some materials are cheaper, these mattresses can have adequate support.
However, not all of them are good, and they usually can't be compared to more expensive, high-quality mattresses.
Interestingly, cheap foam mattresses usually have higher foam firmness. Even though firmness doesn't equal support, higher foam firmness in a mattress can positively affect spinal alignment. Still, budget beds tend to be less supportive in general, but some of the best cheap mattresses provide great support.
However, even the best cheap mattress is usually only adequate for people of low to average weight. Cheaper materials generally can't handle a lot, as you'll see next.
Durability
More affordable materials aren't as durable as some of the high-quality ones.
While an excellent high-quality mattress could even last you up to 10 years, depending on the type, cheaper mattresses are a different story. An affordable mattress of good quality is expected to last you only about five years, while low-quality ones could start to deteriorate as soon as two to three years into using them.
This is true for an affordable foam mattress, especially for a memory foam mattress. Closed-cell foams like memory foam deteriorate faster in general, not only when they're cheap. A budget memory foam mattress will sag the more you use it.
This is why you need to do your research and ensure that the memory foam in your new mattress is high-density foam.
Firmness
Firmness is a subjective feature of a mattress, and it's determined by how soft or hard a mattress is to the touch. However, a firmness scale with levels from one to 10 is there to help us get an idea of the mattress' firmness, and it's defined with levels extra soft, soft, medium, hard and extra hard.
If you want to know more, check out our mattress firmness guide.
As mentioned before, a cheap mattress is usually made from firmer materials, primarily all-foam mattresses with high foam firmness. Most cheap mattresses can be rated medium to the firm on the firmness scale.
Even though you can find a cheap memory foam mattress, it likely won't be as soft as a cloud.
Off-Gassing
One problem you might encounter with cheap mattresses is off-gassing. Off-gassing is a process that happens when you first open the bed, and all the gasses from the manufacturing process are let out.
This is why it's usually recommended to leave your mattress alone for a couple of days so it can air out and not sleep on it. With some materials, this process could last for days, during which the bed will smell. When it comes to a cheap mattress, the off-gassing process could stay a while, so be ready.
Off-gassing usually happens to materials like memory foam and latex, but it can happen to almost any mattress. A hybrid mattress could also have some off-gassing, especially if it has a memory foam layer or latex in it.
Customer Service
The customer service for an affordable mattress company tends to be okay. Some could abstain from information about the beds for you, but most are entirely professional.
Additionally, most online budget-friendly companies offer free shipping and a free trial during which you can test out a mattress and send it back if you don't like it. These are one of the features of the best cheap mattress companies.
Possible Problems
Other than the problems listed above, cheap mattresses can also have additional problems.
Cheaper materials are generally prone to sag and are less durable against wear and tear.
Some cheaper beds even contain fiberglass, but that shouldn't bother you unless you remove the mattress cover. Also, some polyurethane mattresses could react with moisture and produce urea, which can be found in urine, causing the bed to smell.
Should You Buy a Budget Mattress?
We listed all of the good and bad things you can expect from a cheap mattress, and we hope it helps you out.
If you're still not on a tight budget and still can't determine whether you should make this purchase, here are some reasons you should or shouldn't buy an affordable mattress.
Pros of Buying a Budget Mattress
Most people aim to buy a budget bed because they're, obviously, on a tight budget. And as we said before, a mattress in the lower price range isn't necessarily a bad mattress.
Even if you're on a budget, you can still look for the best affordable mattress. A high price range doesn't mean that a bed is high-quality or that it will fit your preferences.
This is why it's essential to do your research and to rely on your judgment when buying a new mattress, no matter if it's a cheap queen mattress or a hybrid mattress.
Another reason someone would buy a cheap mattress is to use it for guest rooms. The main issue with cheap mattresses is that even the best affordable mattress tends to be less durable, but not if you use it less. So, if you're looking for a mattress for your guest room, that might be the best affordable mattress for you.
Cons of a Budget Mattresses
On the other hand, there are also many reasons why cheaper mattresses should be avoided or why you should do more research on the particular one before purchasing.
One of the problems we already mentioned is support. Even though they tend to be firm and offer adequate support for people of low to average weight, cheap mattresses aren't the best choice for everyone. Heavier people, or those who need zoned support, are less likely to find a proper mattress on the budget-friendly scale.
For example, even though memory foam is excellent, it's less durable and supportive for heavier people. Even the best memory foam mattress could have some trouble if too much pressure is put on it. An all-foam bed with high foam firmness and a memory foam alternative is a better choice if you're looking for a cheap bed.
Additionally, if you want organic or natural materials, you likely won't find them in the lower price range. Like the ones from natural latex, these mattresses tend to cost a lot. A typical hybrid mattress is also priced higher.
What to Look Out for When Choosing a Budget Mattress
Finally, we have some tips for you that could help you choose your new mattress. These tips are generally used when shopping for a bed, but there are some things you should watch out for so you can get the best affordable mattress possible.
Let's see what you should keep in mind when getting that new bed!
Your Requirements
First and foremost, your personal preferences are the one crucial aspect of mattress buying you should always keep in mind.
Sit down and determine what you like, how you want to sleep, and what you find comfortable. Next, pick your mattress so that its features fit your preferences.
After all, comfort is entirely subjective, and different people like different things. If you're not comfortable in your bed, your sleep quality will deteriorate, which impacts your health.
If you like a soft bed with pressure relief, as side sleepers need, you should go for memory foam. If you need more support while still having that soft feel, you can go for a hybrid mattress with a memory foam comfort layer. Some hybrid mattresses are even made with latex, but these aren't very affordable.
However, you should know that your options may be limited if you want to shop for a cheap mattress and have some special requirements. For example, features like natural materials and zoned support can certainly up the mattress' price.
If you're a hot sleeper and need something like gel memory foam so that your mattress doesn't trap heat, be prepared to pay a little more. In this case, innerspring might be the better option.
Consider Your Budget
One of the first things you need to do when shopping, in general, is to determine your budget. Sometimes it's really easy for us to go over the budget because it seems like it's "not that much" and "we can't live (or in this case, sleep) without this." It happens to everyone.
As mentioned before, there are plenty of factors that determine the price of the mattress, from the mattress type to the brand.
Remember to be realistic when setting your budget. You likely won't find a good mattress for a meager price, but it doesn't mean that you won't find a proper one for a couple of hundred dollars.
That being said, you could even find a mattress for free. However, it will be used and likely won't fit your preferences.
Materials and Construction
The main things you should watch out for when buying an affordable mattress are its materials and construction, as these have the most significant impact on the overall quality of the bed.
However, one of the biggest misconceptions people have is that just because a mattress is cheap, it's made from low-quality materials. This isn't true for all beds.
For example, some budget foam mattresses are made from suitable quality foams and still be budget-friendly. An all-foam bed could even have additional features, although they can generally increase the price.
The one thing you need to do is research. Research those materials and see if they give good value for the price. Most companies should disclose information about their materials, and you shouldn't be afraid to ask.
Let's look at examples for foam and innerspring mattresses since most cheap mattresses are one of these two types. A hybrid mattress or a latex mattress is less likely to be in the lower price range.
An all-foam bed should have a foam density of at least 1.8 pounds per cubic foot to be considered good quality. Memory foam is a soft body contouring material, but it's less durable. It's recommended to get a memory foam mattress with a foam density of at least 3 pounds per cubic foot. It should also have at least three foam layers.
What if you want the best cheap innerspring mattress? Or maybe a hybrid mattress? Here we look at construction, especially the number of coils and their forms. You should look for a bed with at least 500 coils. Also, traditional continuous coils are generally cheaper than pocketed and zoned coil options.
You should watch for mattress thickness and layers when it comes to construction, as they're essential for mattress quality. A good quality mattress should be at least 10 to 12 inches thick and have three or more layers (especially for foam).
Size
Do you sleep alone or with a partner? How much space do you need to sleep comfortably?
Ask yourself these questions before determining what mattress size you'll need.
The perfect mattress size can also depend on your height and sleeping position.
There are six standard mattress dimensions – Twin, Twin XL, Full, Queen, King, and California King. If you want to know more, check out our mattress size guide!
Twin, Twin XL, and Full beds are for single sleepers, while Queen size, King, and California King can fit two adults. Those over 6′ tall should go for longer beds, like the Twin XL, Queen, King, or California King.
For example, the best cheap bed for single adult side sleepers under 6′ tall should be a Twin. You get the gist of it. Back and stomach sleepers, on the other hand, should go for a wider option if they can afford it.
Generally, the bigger the bed, the higher the price. But price depends on other factors too. However, if you already determined all of the different aspects and didn't know whether you should choose between a King or a Queen size, a Queen mattress will set you back less.
If you're shopping on a budget, aim for a size down.
There are also non-standard mattress sizes, but they're usually harder to find and cost more because of manufacturing.
Firmness
Firmness is basically how soft or hard a mattress is to the touch. This aspect is entirely subjective, but there's still the firmness scale that can help us determine how a bed feels.
This scale goes from one to ten, with extra soft, soft, medium, medium-firm, and firm levels.
Most budget beds tend to be made with firmer materials because they're cheaper, but you could also find softer beds if you're on a budget. A medium-firm mattress is preferred by most.
The proper firmness also depends on your position and body weight. For example, side sleepers need a softer mattress to contour their body right, so the mattress for side sleepers could be a soft to medium-firm memory foam one. Back and stomach sleepers, and even combination sleepers, need a firmer mattress. A medium-firm mattress could potentially fit them well. People of light to average weight can sleep on softer beds, while heavier people are better with a firm bed.
Since firmness and comfort are entirely subjective, the only way to determine what suits you is to test it out. Most people prefer a medium-firm mattress, but that might not be your case.
If you're shopping online, find a company that offers a free trial so you can test out the mattress. You could also go to your local brick-and-mortar store to lay down on some bed and see what you like, but we generally think that it takes more time to figure out whether a certain firmness suits you.
Sleeping Position
Next, your perfect mattress depends on sleeping positions. Your sleeping position doesn't only affect the mattress firmness but also the mattress size.
For example, the best mattress for side sleepers is a softer mattress that will give them enough pressure relief and enough support to keep their spine aligned. Side sleepers also require less space than other types of sleepers, so they can choose a smaller bed. Side sleepers could find a sturdy cheap mattress, but it might be harder to find one with a soft and durable comfort layer.
On the other hand, back and stomach sleepers take up more space and need a firmer bed that doesn't let their hips sink in too much, especially stomach sleepers. It might be easier for them to find a medium-firm to firm mattress for a lower price.
However, the best mattress for stomach sleepers needs to offer a bit more space.
Check out our best mattress for back sleepers. And if you tend to change positions during sleep, see the best mattress for combination sleepers.
Lastly, combination sleepers will probably have the most trouble finding a budget-friendly mattress. Combination sleepers need a medium-firm bed with enough support and pressure relief, which is relatively easy to find, but they also need even more space than typical back and stomach sleepers. Combination sleepers should also sleep on a bed with a fast response time to match them moving around in their sleep, and mattresses that can do that are generally latex or hybrid, which aren't very affordable.
Body Type
How comfortable your mattress is can also be determined by the sleepers' body type, no matter if they're stomach sleepers or side sleepers.
As mentioned briefly before, heavier sleepers need a medium-firm to firm and more durable mattress that can give them enough support and won't start to deteriorate fast. Light to average sleepers can sleep on soft, medium, or medium-firm mattresses, depending on other factors.
Most budget beds are made from firmer materials, so these mattresses should be firm to medium-firm. This might sound great in theory for heavier people, but those materials aren't always good quality. Some of them aren't very durable, and they'll last even shorter if you put a lot of pressure on them. The best cheap bed for them might be harder to find.
This is why it's essential to research the materials before choosing an affordable mattress.
Pressure Relief
People who experience pain, like back pain or hip pain, need a mattress that will give them enough pressure relief. But pressure relief is generally good because, as the name suggests, it lowers the pressure on areas that should be under the most stress.
For example, side sleepers put a lot of pressure on their hips and shoulders, the widest parts of their bodies. This can lead to painful joints, so side sleepers need a mattress with adequate pressure relief.
Budget beds tend to be firmer, but some memory foam alternatives can offer proper pressure relief while still being budget-friendly. Foam beds tend to be the best cheap option for beds with pressure relief.
Edge Support
If you don't sleep in the center of the bed, or if you like to sit on the side of it, you'll need good edge support.
Beds that don't have edge support make the sleeper roll to the middle, which isn't great if you're a couple sleeping on a smaller bed. Heavier people also need more edge support.
Innerspring mattresses tend to have the sturdiest edge support, and they might be the right choice for you if this is important. The edge support in foam mattresses is usually made of firmer foam, but innerspring beds still win in the edge support category.
Temperature Regulation
Some people sleep hot, and they need a mattress that doesn't trap body heat.
All-foam mattresses are usually the best cheap mattresses, but they have one big problem. They are trapping heat, especially in memory foam.
Unlike an innerspring, latex, and hybrid mattress, the foam doesn't let air through. It traps the heat of the sleeper's body and makes it even more uncomfortable for them.
This is because memory foam is a closed-cell material, and there's no space for air to go through. Some manufacturers try to fix this by adding copper, graphite, or gel pads, but all of these additions up the price of the mattress. Besides, they don't work as well. Gel-infused memory foam works in theory, but it's not that effective in real life.
If you sleep hot but want to stick to your budget, it might be best to avoid beds like a cooling gel memory foam mattress and go for an innerspring.
Customer Reviews
One of the best things you can do, especially when shopping online, is to check other customers' reviews of the mattress you want to buy. Sure, comfort is subjective, but you can still get valuable information from these reviews.
You can find reviews from an expert or regular people who just bought the mattress to sleep on it. Either way, they'll say what they like or don't like about the bed, and their taste might fit yours! Whether it's innerspring it memory foam, someone certainly tried it before!
Finding reviews for brick-and-mortar stores might be more challenging, though.
Trial Period
Getting a trial period to test your new mattress is extremely important, especially if you're getting an affordable mattress.
Beware, not every company is going to offer you a trial period. However, if you want the best value for your money and want to ensure that you like the bed, you will have to find one that does it.
Budget beds can come with some problems, or they could just be uncomfortable for you, so you should be able to return them.
A trial period can last from 30 days to even a whole year, but around 100 days is the most common option. That's more than enough time to see if your bed suits you.
Trial periods are easier to come by on online mattress stores. Makes sure to check out whether you'll need to pay for shipping the mattress back.
Warranty and Return Policy
As mentioned before, budget beds can come with some problems that have nothing to do with you. If they're made with low-quality materials, they could deteriorate faster, sag in up to two years, and even start to smell.
Either way, you need to find a company that offers a good warranty and returns policies, whether your mattress is budget or luxury. A good-quality mattress should come with a warranty of about ten years and even more. This way, you'll know that the company means business and cares about your comfort.
Sales and Coupons
One of the best ways to get a good bang for your buck is to shop for mattresses during sales and to use mattress coupons if you run into any. You could even find a high-quality bed for a lower price than usual.
Sales are usually the best during the holidays. Time your mattress shopping to be around dates like Black Friday, Memorial Day, Labor Day, President Day, and other similar dates. You can check for coupons on different mattress-related websites.
Remember to follow budget-friendly companies for any news of sales or coupons and check some pricier brands as well. You could get a mattress that usually costs a lot for fewer dollars.
Do Your Research
We mentioned a couple of times up until now to always do your research. This is a crucial step to ensure that you get an affordable mattress of acceptable quality.
Research the company, the retailer, and people's past experiences. Find out what you can about materials and the construction of the mattress. Feel free to ask the company about these things and information about firmness, edge support, pressure relief, etc.
Doing your research before committing to the purchase can save you a lot of time and money.
Online Shopping
Is it better to shop online or to visit your local brick-and-mortar store to get an affordable mattress?
Well, typically speaking, online stores are better for your budget. Unlike a brick-and-mortar store, online stores don't need to pay for the location, workers, and other similar business-related bills. This is why most physical stores are more expensive than online stores.
Most online mattress stores will send you a mattress with free shipping, but that's not the case for each one, so check. The shipping is also simple since you'll get the mattress in a box.
When shopping in a physical store, you can immediately test out how a mattress feels. However, this isn't a big problem even with online stores since most mattresses come with a trial. Still, you'll have to have a more concrete idea of what you want in a bed if you're shopping online.
Shopping for a mattress online usually comes with some perks like free shipping, free returns, and an extended warranty, so they're probably a better option.
How to Make Your Mattress Last Longer
We have already mentioned this a couple of times, but budget beds that aren't made from high-quality materials are less durable than other mattresses. Foam mattresses can significantly deteriorate fast and sag over time.
Even though you could never make your mattress last forever, there are some steps you can take to ensure it lasts as long as possible. Here's what you should do.
Clean the Mattress
It's essential o keep your mattress as clean as possible. Actions like eating in bed, jumping on it, and even letting your pets sleep there can affect the mattress's longevity.
If you happen to spill something on the mattress, the smartest thing you could do is clean it immediately. Food stains and crumbs can attract bacteria and bugs, usually ants or cockroaches.
You can clean mattress stains with natural cleaners like lemon juice and salt or a mixture of dish soap, baking soda, and hydrogen peroxide. Gently apply these mixtures to the stained areas and remove them with a clean rag.
Use a Mattress Protector
Mattress protectors are one of the best ways to ensure that your affordable mattress lasts longer. You can even go for a waterproof version to avoid any stains.
Mattress protectors also protect your mattress from skin flakes and bodily oils, which can accumulate in the bed over time.
Mattress protectors are either fitted, similar to fitted sheets, or encasement, covering all sides of your mattress. Either way, ensure you're looking for the correct dimensions to fit your bed.
Rotate Your Mattress
Rotating your mattress from time to time fights sag and wear and tear. However, some new beds don't need rotation to keep in shape, but you can check this with the manufacturer.
If it needs o to be done, rotate your mattress every couple of months for 180 degrees.
Watch Out for Bed Bugs
Bed bugs are little brown bugs that can hide in your mattress, sheets, and even bed frames. They're active at night and feed on the sleeper's blood. They're hard to get rid of, so you should do everything to ensure they don't get to your bed.
Some of how you can do this are using an adequate mattress protector, always keeping your room and bed clean, and watching where you sleep or what second-hand furniture you bring home.
Use the Right Support
Using the proper support for your mattress doesn't only affect its longevity but also the warranties. Some warranties will be voided if your bed isn't adequately supported.
Different mattress types require different types of support. For example, the innerspring should have a box spring but doesn't necessarily need one, while foam beds need a firmer platform.
Frequently Asked Questions
Can You Just Buy A Mattress Without The Box Spring?
The excellent news for all value hunters is that you don't need a box spring for the mattress you buy. That's not just for budget mattresses, of course, but all price ranges.
The point behind the box spring is to support the mattress or elevate it to an adequate height. But the problem with box springs is that they take up a lot of space. People report box springs getting squeaky after some time.
And you don't need that. It simply ruins the experience on your mattress.
Still, what you should always have is a proper foundation for the mattress you buy. Don't keep your mattress directly on the floor.
The foundation you choose doesn't have to be a box spring but a cheaper alternative instead. A high-quality bed frame is necessary because it:
Promotes the comfort of the mattress
Keeps the mattress at your preferred level
It doesn't interfere with warranties
Motivates airflow
Increases its durability
It makes mattress cleaning way easier
Distributes the weight more evenly
What Mattress Types Are Less Expensive Than Others?
If you're hunting for cost-effective options, know which types to choose and avoid.
All-foam and innerspring models are generally cheaper than hybrid or natural latex materials. The more expensive are models that need more costly materials to be made. But in no way does it change the quality levels of cheaper mattresses. The design or construction is simpler, not cheaper by quality.
You can find incredible innerspring or memory foam mattress options. And they can last you a long time. See for yourself – would you enjoy sleeping more on foam or an innerspring mattress?
On the flip side, you don't have to say goodbye to latex and hybrids because they have a high price. You should head over to our Coupon page and claim the offers we currently have to get yourself the best deal.
Are Budget Mattresses Worth It?
Buying an inexpensive mattress doesn't mean you'll get a product of low quality. Way more important than the price tag is to find a quality mattress that lets your body be and stay healthy.
Your most important criteria for a mattress should be:
the proper support (construction)
keeping the body from sinking (comfort layers)
soothing the spine (amount of cushioning)
eliminating tension (pressure relief)
Of course, the price of a mattress is an essential factor for your budget. But a mattress that fulfills these criteria will serve excellently. Whatever the price may be.
Another useful tip: Before purchasing any mattress, check its firmness levels. What firmness you like will depend on your sleeping style and comfort preferences. All mattresses have highlighted the level of firmness on their website. They also know how important that is for customer satisfaction.
A mattress that is within your pay AND comfort range is an exceptional mattress for you.
Did you know? The majority of mattress brands offer sleep trials, a period of a couple of months up to a year to try out the product. You can sleep on it and return the mattress if it turns out you don't enjoy it. Also, get a full refund.
After all, this is the most cost-effective thing to do, as you're trying the product yourself.
How To Get Best Deal On A Mattress?
Shopping for a mattress isn't always easy, but here are times of the year when it pays off tremendously! At the end of the day, it's all about being smart about it and resourceful. That's one of the reasons why we do these lists – to help you out!
Holidays
On national holidays mattress brands give out amazing deals and discounts. The biggest ones are:
Black Friday
Cyber Monday
President's day
Memorial day
Independence day
Amazon prime day
Labor day
Veterans day
Timing
May and April are the best months for getting the best cheap mattress. The reason is that mattress companies release new products in June. Before that period are frequent clearance and sales to make room for new, upcoming stuff.
Hunt for deals in this period to catch a banging mattress deal!
Coupons
Our Coupon page is the place where you get the best budget mattress most quickly! Get $$ off your mattress purchase instantly. Pay a visit and pick a mattress that fills your heart but doesn't rip out everything from your wallet.
You can also claim offers directly from this best budget mattress list.
Are All Budget Mattresses Made From Low-Quality Materials?
The short answer is – no. Not all budget mattresses are made with low-quality materials and construction, but some of them are.
Just because a material is cheap doesn't mean that you won't find it comfortable or won't last long. It all depends on what kind of material it is and whether the bed fits your requirements anyway.
That being said, you should be careful with foam budget mattresses. Even though this foam could be perfectly suitable t first, it could also be the type that deteriorates quickly. Poorly made innerspring beds can also can problems with coils, but not all of them do.
This is why it's crucial to do your research before purchasing.
How Much Does a Cheap Mattress Cost?
There's no set price for a cheap mattress. It depends on what you're looking for. As written at the beginning of this article, a couple of factors affect the price. Some are type, materials, construction, size, and even brand and retailers.
Generally speaking, a cheap mattress should cost you up to a couple of hundred dollars.
You could even get a mattress for free from donation places, but don't expect them to fit your requirements completely.
How Long Does a Budget Mattress Last?
Budget mattresses are sometimes made with less durable materials, and they could last for a short time if you don't do your research right. Some budget mattresses even start showing severe wear and tear signs after up to two years.
However, you can get a high-quality budget mattress that will last you as much as typical beds, up to 10 years. Make sure to check for any sales or coupons and research the materials used in the bed.
Where Is the Best Place to Get a Budget Mattress?
The place where you'll likely find a good-quality budget mattress is an online store.
Online stores have lower prices than physical ones, and buying a mattress online usually comes with perks like a free trial, extended warranties, and free shipping and returns.
Is It Better to Buy a More Expensive Mattress?
Truthfully, it depends on what you're looking for. A budget mattress doesn't mean it's a lousy mattress, but the term "bad" also depends on your preferences.
Maybe your personal preferences fit a latex mattress or a hybrid one. However, they were not that cheap. It might be better for you to get a more expensive bed and ensure a good quality sleep if you can afford to.
Final Thoughts
These were the best affordable mattresses worth the money. They can serve as amazing dupes for luxurious cushions out there.
Mattresses take care of your spine. They offer love to the hips, and the neck never skips. Oh, how excellent mattress performance makes us poetic and inspired to rhyme.
But we'll stop it right here until it becomes weird. We weren't kidding when we said we really love mattresses.
And affordable ones are among our favorites – because we all deserve to sleep on a comfy cushion. And wake up rested with a glowing face. ✨ We hope you find one that suits you in this list and enjoy everyday snoozes like a King/Queen.
| Mattress | Best Budget Mattresses |
| --- | --- |
| Nectar | Best Value Mattress |
| Tuft & Needle | Best Mattress For Couples |
| Casper | Best Mattress For Back Pain |