Best Mattress for Sex in 2023 – Top 8 Brands Reviewed
Written by: Milica Terzic
Updated: 02/20/2023
Let's talk about a very favorite activity for many – sex. Or, in this case, mattresses for sex.
When we're feeling in the mood, most of us like to keep our activities private, in our bedrooms. And that makes sense, as sex is personal and intimate. It can make or break relationships.
You get to know your partner more profoundly. You discover their needs and secret desires. It's also a time to sometimes get silly. Especially over the fact that the human body is sometimes pretty nasty and funny at the same time.
As this is such a vital part of the human experience, you can't really overlook it when choosing a new mattress. If you're sexually active, you need a mattress that is great both for sleep and sex.
And trust us, there is nothing more of a turn-off than a mattress that breaks down as you're going down.
So strap yourself in, and take a long, hard look at our top picks of best mattresses for amorous activities. What can you expect?
A variety of choices, up-to-date information, and lots of naughty puns. Which, we argue, are the best kind of puns there are.
In the quiet words of Lady Gaga, let's have some fun!
Note: the mattresses in this list are meant to help you find the bed you're looking for. But you may also feel that none of these models will suit your and your partner's needs. In that case, please read our other best mattress lists and reviews. After all, it takes two to tango.
Best Mattress for Sex 2023 List
Saatva Classic Mattress – Most Versatile Mattress for Sex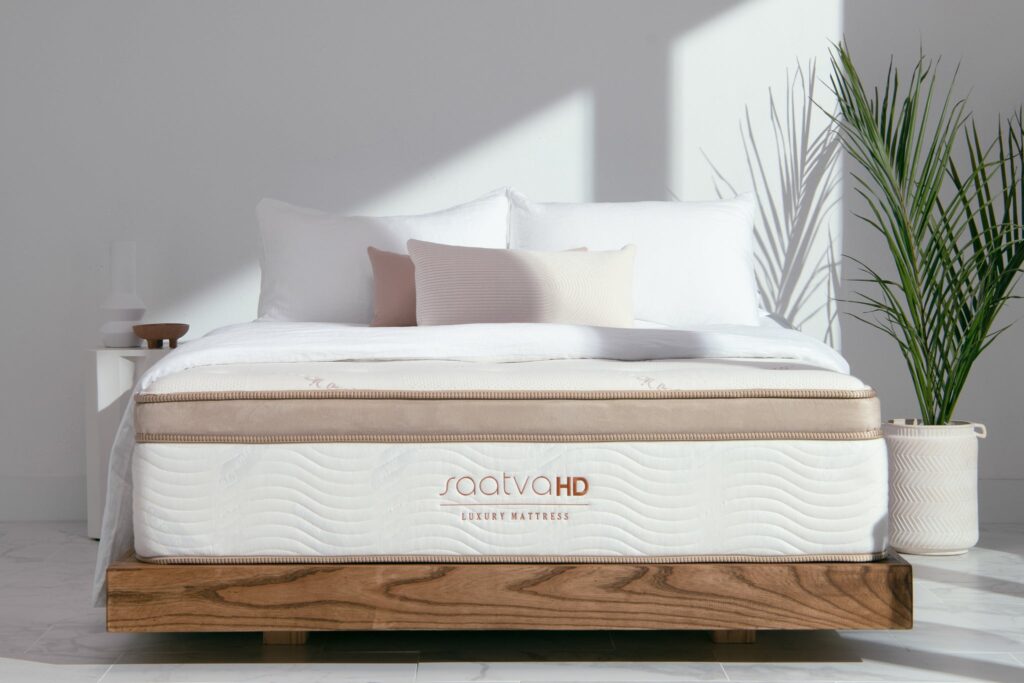 Hybrid and innerspring mattresses tend to have a good reputation among couples that like a "bouncy" mattress. And that can't ring more true than for the Saatva Classic model.
The Saatva company's luxury flagship model is a hybrid innerspring mattress with a twist. It frequently ranks on top of many best mattresses lists, as it performs great in a lot of aspects. But does it hold up for a particular boudoir activity?
One of the things many couples like about the Saatva Classic is its versatility. It is literally designed to suit sleepers of different shapes and sizes. For starters, it comes in three firmness and two height options. What, you can choose the height and how firm you want it? Yes, you can!
You can order it in an 11.5″ or 14.5″ height profile and can choose between Plush Soft (3), Luxury Firm (5-7), or Firm (8) options. Side, back, stomach, or combo – it doesn't matter! You can switch (sleep) positions with ease.
Not only that! The Saatva Classic also comes in two Split mattress sizes:
Split King and
Split California King.
If you and your co-sleeper have different firmness preferences, this is a pretty cool option to consider!
However, the thing that sells this model is how responsive and supportive it is. Its secret? The Saatva Classic has two layers of coils. As these durable coils make the bed very bouncy, you and your partner can move more freely on top of the mattress.
Worried about motion transfer? The coils are all individually wrapped in order to minimize possible squeaks and movement. Plus, pocketed coils allow better overall airflow. So the only heat you'll be feeling will be from your "more strenuous night activities."
Also, as a couple, you need all the space you can get. Luckily for you, the Saatva Classic has reinforced perimeters. That way, you can maximize all the surface!
Why Does Saatva Classic Mattress Stand Out?
It is a luxury hybrid innerspring model.
The Saatva Classic is available in 3 firmness and 2 height options.
You can even get it in Split mattress sizes.
It is a highly versatile mattress that suits a wide range of sleepers.
Thanks to its responsiveness, it is an excellent mattress for sex.
What? You're still not convinced? Well, that just won't do. Visit our in-depth Saatva mattress review. See for yourself if this might be your mattress come true.
Saatva Mattress
Available in 3 firmness options, the luxury hybrid mattress Saatva enjoys great popularity with various sleeper types.
Leesa Mattress – Most Pressure Relieving Mattress for Sex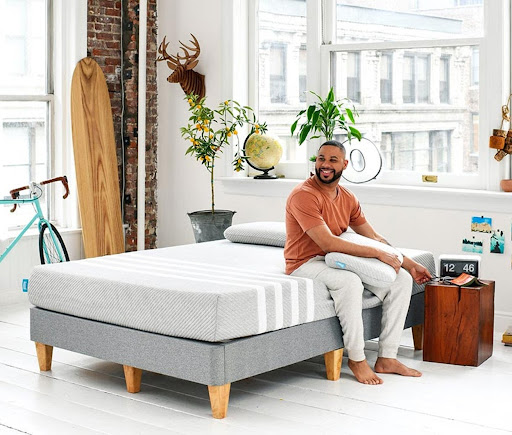 The Leesa mattress company is known for its quality and diverse mattresses. But when it comes to loving, choose their flagship model, the Leesa Original mattress.
With foam mattresses, there is always the question of whether or not they'll be as responsive as hybrid mattresses. Luckily, you don't have to worry about that with the Leesa mattress.
This all-foam mattress features a special LSA200 foam, like a mix of memory foam and latex. Like memory foam, it can contour to your body shape, so expect superb pressure relief. But this foam is also more responsive and breathable than latex. So you won't feel like you're getting stuck in quicksand. Also great for combination sleepers!
The one thing that might be an issue is the lackluster edge support. Weak edge support means you won't have that extra surface for more fun night activities. But if you and your partner want to try the Leesa mattress out, consider getting a bigger-sized mattress to expand your playground.
In short, it offers an outstanding balance between comfort/support and bounciness that some couples might like.
Why Does Leesa Mattress Stand Out?
It is an all-foam mattress.
It features the LSA200 foam, which acts both like memory foam and latex.
The Leesa mattress is an excellent choice for combination sleepers.
Because of its weak edge support, consider going with a Queen or a King size mattress.
It's a very balanced-out mattress that a lot of couples will love.
Curious to know more? Take a peek at our Leesa mattress review, that's just dripping with juicy details.
Leesa Mattress
The all-foam Leesa mattress is the company's flagship model that many lightweight sleepers rely on exceptional pressure relief.
DreamCloud Mattress – Best Cooling Mattress for Sex

Ever wanted to take a trip to the slumberland? Instead of a passport, try the DreamCloud mattress.
The DreamCloud mattress is a luxury hybrid innerspring model launched in 2018. This 14″ tall, 6-layered mattress has been on the rise in popularity. And a lot of people have graded excellent during intimate moments. But why?
Thanks to its premium quality foams and coils, the mattress provides the sleepers with a very balanced experience. You can expect excellent pressure relief and supreme bounciness. The foams work hard together so that you don't experience pressure in critical areas.
The coils are what make the bed extra responsive. And the more bouncy the mattress is, the easier it will be to switch positions. The coils are also great, as they are placed edge-to-edge. This means that you and your partner will enjoy the extra usable surface area.
Another selling point? The DreamCloud mattress excels at temperature control. This is achieved thanks to its:
Polyblend cover that has breathable Mongolian cashmere,
The secondary comfort layer, which consists of gel-infused memory foam,
And finally, a dual-layer of pocketed coils.
So to recap – if you want to have some fun times on a really great bed, then the DreamCloud mattress might be the way to go.
Why Does DreamCloud Mattress Stand Out?
The DreamCloud mattress is a hybrid innerspring model.
It first launched in 2018 and has been growing in popularity ever since.
It is 14″ tall and has 6 layers of high-grade foams and pocketed coils.
The mattress is an excellent pick for couples that sleep hot (in more ways than one).
The DreamCloud mattress is highly responsive and superb at pressure relief.
Got the hots for this model? How about you quench your thirst with our steamy DreamCloud mattress review?
DreamCloud
The DreamCloud mattress is a five-layered hybrid mattress known for its great value. The model is especially a hit with hot and back sleepers.
Nectar Mattress – Best Mattress for Sex and Back Pain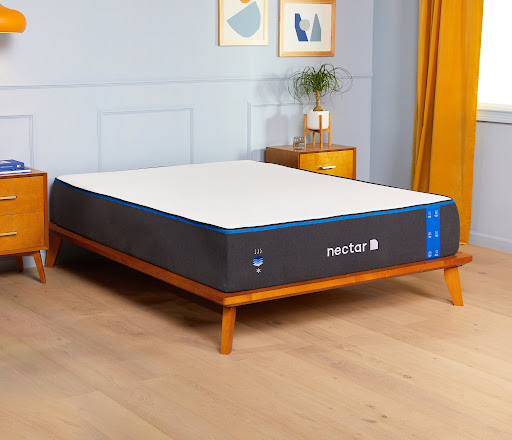 In ancient times nectar was considered to be one of the drinks of the Gods. But today, it can quench another type of thirst altogether.
The Nectar mattress is a popular all-foam mattress model that consists entirely of high-grade memory foam. All three layers, to be more precise.
But wait, isn't memory foam body-conforming? Yes, it is, but Nectar makes it work (*snaps fingers*)!
First off, Nectar is a super comfy mattress that is beloved by many couples. The memory foam does a great job of isolating motion and sound. So if you feel like getting freaky and sneaky, the mattress won't snitch, okay?
Secondly, this model has both a quilted Tencel cover and a gel-infused memory foam comfort layer. This means it sleeps much cooler than other memory foam mattresses. You may feel some heat, but only if you tend to overheat.
Did we mention that the Nectar mattress has phenomenal pressure relief? The model balances out both support and comfort. You'll still get to experience the hug of the memory foam, but the foams are responsive enough so that you won't fall in too far. And this hugging sensation is excellent news for a lot of sleepers with bad backaches!
Why Does Nectar Mattress Stand Out?
The Nectar mattress is an all-memory foam mattress.
Many sleepers highly praise it.
It promotes better airflow than most foam mattresses on the market.
The Nectar mattress is also great at isolating movement and noise.
Many couples with back pain adore it!
Is it hot in here, or is it just your curiosity brewing? Cool yourself off and rest your eyes by reading our Nectar mattress review.
Nectar Mattress
Nectar is a premium quality mattress at an affordable price. The secret to its outstanding comfort lies in plush layers of memory foam.
Helix Midnight Mattress – Best Hybrid Mattress for Sex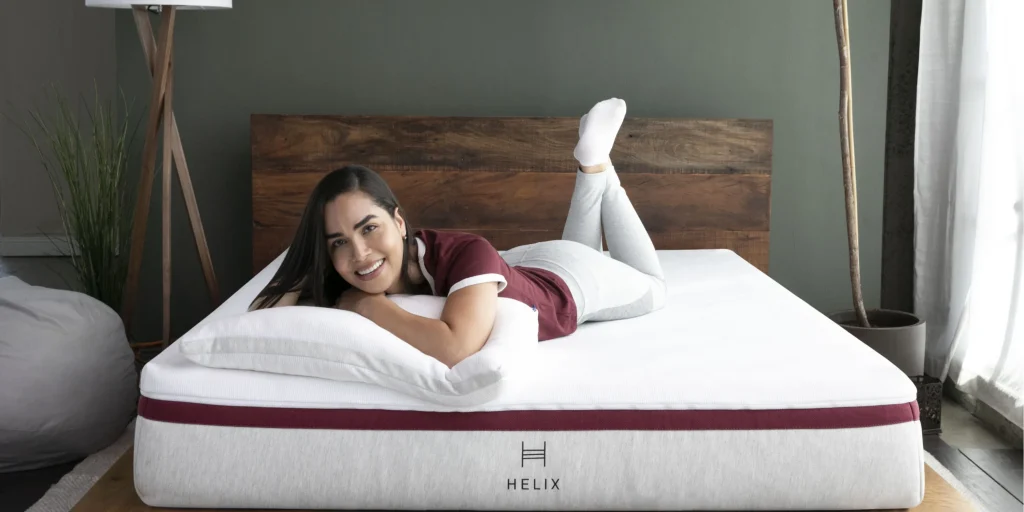 With a name like Helix Midnight, how can a mattress not be great for after-hours?
The company's popular model, the Helix Midnight mattress, is one of the 6 beds from their standard lineup. It is a 12″ tall, hybrid innerspring mattress that has a signature dark blue stripe.
It is so popular because it is designed to suit a large variety of people. It has a firmness level of 5.5 to 6 on the scale, which gives out this nice balanced feel to the mattress. The model owes this feeling to its construction. Helix Midnight features memory foam in its comfort layer. Hence why you should expect excellent pressure relief and support.
What makes this model one of the best mattresses for sex? Well, this mattress is also great at responsiveness. The mattress features a layer of 8″ individually wrapped coils that are spread edge-to-edge. The role of the coils is to amp up the bounciness of the mattress. That way, you can change positions more easily during sex.
And trust us. No one likes to get stuck in the mattress during sexy times! You have to follow the motion of the ocean!
Why Does Helix Midnight Mattress Stand Out?
The Helix company's most popular model.
It is a hybrid innerspring mattress that is 12″ tall.
It's recognizable for its dark blue stripe.
It is made to suit various sleepers in mind.
Helix Midnight is known for its excellent comfort and support.
Can't seem to get enough? Want to get to know the other models from the standard collection? Take a look at our thorough Helix mattress review and find out all there is to know.
Helix Midnight
The brand's most popular model, the Helix Midnight, achieves the perfect marriage of comfort and support that many sleepers will greatly enjoy.
Layla Mattress – Best Flippable Mattress for Sex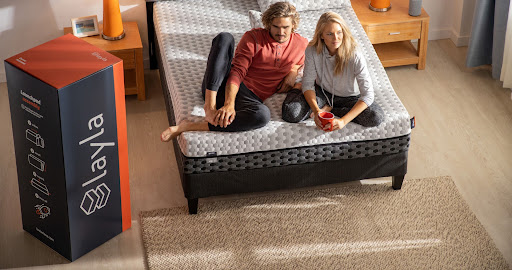 We're pretty sure that this mattress has nothing to do with Eric Clapton, but it's still got us on our knees.
The Layla mattress is one of the more popular models out there. It is an all-memory foam, a dual-sided mattress that has a pretty unique design.
Let's start with the first thing one notices – the cover. The cover is a poly blend that has a hexagonal pattern. It is also enriched with a ThermoGEL that helps you cool down. What's even more interesting about the cover is that it has contrasting colors.
Did we mention that the mattress is dual-sided, right? If you're not sure what that means, well, let's just say you and your partner won't be the only thing being flipped at night.
But how does this work? Well, both sides of the Layla mattress are made with memory foam that has different density levels. By doing this, the bed has two different sides that have different firmness levels: soft and firm. So you can easily change the firmness level by just flipping the bed. Still, we do recommend you stick with the firm side, as it's slightly more responsive.
One of the bonuses of having a memory foam mattress is that it absorbs noise. The mattress excels at motion isolation, so that means that, sadly, there won't be any bounces. But on the flip side, you won't make squeaky mattress noises when you're doing "activities." Just the right amount of sneaky!
Now one drawback is that as a material, memory foam is notorious for trapping heat. However, the Layla mattress offsets this by using memory foam that is infused with copper. Why copper?
Well, it is not only antimicrobial but also absorbs heat away from the body. Now that's metal!
Why Does Layla Mattress Stand Out?
It is a flippable memory foam mattress.
It excels at motions and sound isolation.
The mattress has a unique design.
The memory foam is copper-infused so that most sleepers won't get too hot at night.
It is a great mattress if you want to be comfortable during sexual activities.
Begging for more (knowledge)? Then feast your eyes on our Layla mattress review!
Layla Mattress
Layla is a mattress with switchable firmness. Side sleepers enjoy it most, but all sleeper types call Layla a dream in a box.
Loom & Leaf Mattress – Best Memory Foam Mattress for Sex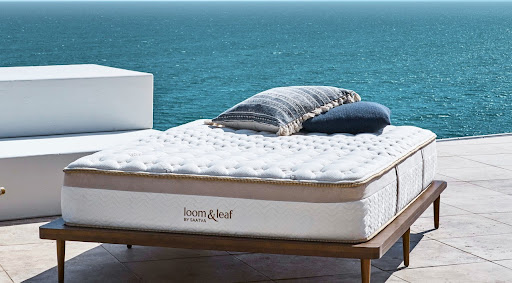 All-foam mattresses are usually not recommended for sexy times. However, there are a few exceptions to the rule. Here's another of them.
The Saatva company's Loom & Leaf is a premium all-foam bed that you can get in two firmness levels: the Relaxed Firm and Firm. The mattress is made with eco-friendly materials, so it's another plus in the pro column.
Now, memory foam mattresses tend not to be as responsive as hybrid mattresses. This is important if you'd like to enjoy some horizontal polka. The Loom & Leaf mattress is not so responsive, but it is better than many other models on the market. The reason for that is its two layers of memory foam:
The first layer has a Spinal Gel zone that keeps you and your partner cooler at night and alleviates pressure points.
The second layer is visco-elastic, which provides deep contouring and supports the body.
Both of these layers cradle the bodies but without the sinking sensation.
As the Loom & Leaf mattress comes in two different firmness levels, it is designed to suit various sleepers. However, if you want a more bouncy feel, definitely go with the Firm option. You'll still enjoy the feel of a memory foam mattress but can also immensely enjoy it while you make love.
Why Does Loom & Leaf Mattress Stand Out?
It is an eco-friendly, premium all-foam bed.
It comes in two firmness options: Relaxed Firm and Firm.
It features a double layer of memory foam in its comfort layer.
The Loom & Leaf is designed to be great for a variety of sleepers.
It is an excellent memory foam bed for activities.
Saatva's Loom & Leaf mattress is one of its more popular models. Find out why by checking out our full mattress review.
Loom & Leaf
Loom & Leaf is a premium all-foam mattress, that excells both at pressure relief and motion isolation. Perfect for those that have neck and shoulder pain.
WinkBed Mattress – Best Mattress for Sex and Couples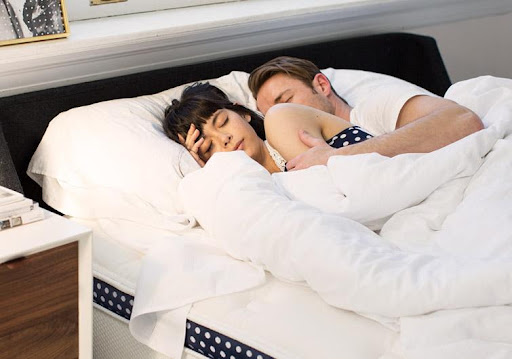 This is one mattress you don't want to take a wink on! And funnily enough, it's called exactly that!
The WinkBed mattress is another premium hybrid innerspring model that many compare to the Saatva Classic. However, saying which one is better than the other is unfair. Both models have different aspects to offer sleepers. So, in that case, what makes WinkBed so great for sex?
The WinkBed mattress comes in 4 firmness options: Softer, Luxury Firm, Firmer, and Plus. The first three are similar in construction and feature a special gel-infused Hypersoft Foam. But the Plus option is specifically designed to support heavier sleepers. It features latex foam instead.
Nonetheless, the WinkBed mattress is appealing to many sleepers, from petite to a bigger build.
Still, what steals the show is the 5 layers of individually wrapped micro coils. Try saying that 5 times fast! The micro coils give the bed its signature support and fantastic motion transfer. They also enhance the breathability of the mattress together with the Tencel cover.
However, the main job of these pocketed micro coils is to provide you and your partner with the bounciness needed for the amorous congress. They are both highly responsive but still supportive. In short, you don't have to worry about the awkward sensation of getting stuck. They might even "enhance the experience."
The bottom line is that the WinkBed mattress can accommodate both you and your partner. And it will still guarantee a good time for all!
Why Does WinkBed Mattress Stand Out?
The WinkBed mattress is a highly versatile hybrid mattress.
You can choose between 4 firmness levels.
It is made to be suitable for nearly every sleeper type and weight.
It has 5 layers of bouncy and sturdy micro coils.
Couples will enjoy the mattress's responsiveness and adaptability.
Did you like this sneak peek? Want to know more? Well, there is only one place you can get it – read the WinkBed mattress review.
WinkBeds
WinkBeds are true hybrid mattresses made by hand. Crafted with luxury in mind, they're among the most comfortable mattresses on the market.
How to Choose a Mattress for Sex
Well, that would be our definite list of the best mattresses for sex. What do you think? Is one of them the right choice for you?
Don't worry! If you're unsure which mattress to choose, we made this short guide to help you out. Here's how you can figure out the best mattresses for sex.
How to Choose the Best Mattress for Sex
Let's see what you should remember when getting that new mattress.
Firmness
First of all, firmness. Mattress firmness is a subjective feeling of a mattress – is it hard or soft to the touch? A scale from 1 to 10 is used to make things easier, ranging from extra soft, soft, medium or medium-firm, firm, and extra firm.
Even though firmness is subjective, when it comes to sex, it's better to choose a firmer mattress. It will give you more support and bounce, making it easier to move around the bed without feeling like you're sinking into it. Foam beds are generally soft, while latex, innerspring, and hybrids tend to be medium-firm to firm.
However, the perfect firmness also depends on other things, like body weight and sleeping position, as you'll see in the next part of the article. Also, most people prefer a medium-firm bed.
Check out our mattress firmness guide to find out more.
Your Partner's Needs
If you're shopping with a partner, you must consider both of your needs. If you have different body types or different sleep preferences, this can complicate some things. Maybe one of you likes a soft mattress, while the other needs a medium-firm one.
Check out brands that offer mattresses with a "universal" feel or that are adaptable. Also, consider looking for beds with dual sides or split mattress options. Look at Saatva for reference.
Responsiveness and bounce
Now some people will say that responsiveness and bounciness are two different categories. Responsiveness is how quickly the bed adjusts to movement as you sleep on it. On the other hand, bounciness shows how a mattress reacts when compressed (does it leave an imprint or not?). So both refer to how a bed reacts to your movements.
Either way, it's better to have a responsive mattress that can keep up with you and accommodate your movements. A bed that essentially "fights against you" means a bad time. The best mattresses for sex are bouncy but also respond well to your body.
Mattress Type
Different mattress types are made from different materials and in different ways. They all have various features and fall in a different price range; some are better for sex than others. Let's see which are the best ones.
Latex
Latex mattresses are known for their bounciness/responsiveness. So that's what makes people get them for sex. They are virtually silent, so you can go all out if you want to be sneaky at night. Also, they offer good motion isolation and pressure relief.
Another bonus point is that most latex mattresses are made with natural latex, so they're a great choice if you're looking for an organic mattress. For example, Talalay or Dunlop. Eco-friendly and fun for couples? Don't mind if we do.
But due to the nature of their support cores, they might not offer excellent edge support. Like hybrids, they also have an above-average price range compared to other types.
Innerspring
When we think about the word mattress, we usually think of the traditional innerspring bed. They are known for their coils; only some have a comfort system. They might have a pillow-top or just the cover, and that's about it. Because of this, they are very bouncy and sturdy, so they are a lot of fun while making love. An innerspring usually has medium-firm to firm firmness levels. They're also usually in the lower price range.
Even the best innerspring mattress has issues with motion isolation because of the coil system. Bad motion isolation can be fun for sex, but not everyone likes it when it comes to sleeping preferences. Pocketed coils can slightly fix the issue, but they affect the price range.
They also retain very little body heat, so that's a big plus for couples and hot sleepers. But they are very noisy and most consider an innerspring to be an uncomfortable mattress.
Memory Foam
Foam beds, particularly those with memory foam, have recently gained popularity. They are affordable, produce virtually no noise, and offer pressure relief and motion isolation. They're usually on the softer side because of the memory foam layers, but they can also have higher foam firmness. Many mattresses on the market are, in fact, foam beds. They also tend to be in the lower price range, so you can get one for fewer bucks.
However, they have some drawbacks. First, foam beds are known to retain heat. So hot sleepers, beware! Hot sleepers that really want a foam bed should go for gel memory foam or copper-infused memory foam. Although, gel foam can up the price range a bit.
Because they are so conforming, they are not as bouncy as other models, so you might not switch positions easily. Unless you invest in a quality foam bed, you might not have good edge support, so no more room for activities!
Hybrid
A hybrid mattress is usually a mix of foam and innerspring mattresses. A hybrid mattress has the support of the coils and the comfort of the foam layers, with a memory foam layer instead of a pillow top. A hybrid mattress is not as bouncy as innerspring models, but they are less noisy. However, even the best hybrid mattress will have motion isolation issues.
If they have a memory foam layer, they might not be as contouring as the original. But they do have them beat when it comes to temperature regulation. Latex mattresses are as durable as hybrids, but hybrids have better edge support. Just like latex, hybrids tend to be in the higher price range.
Airbed
Not many people choose airbeds, but some have stated that they're responsive enough for sex. Unlike most mattress types, you can select your mattress firmness. Add or remove air from the adjustable air chamber in the core.
However, an airbed is not a durable mattress and is in the higher price range. Also, they have bed motion isolation. If you want to experience something different, then go for it. But don't wear anything that can pop the bed!
Motion Isolation
Beds with sound motion isolation are essential for couples. You don't want your partner to wake you up by tossing and turning and thus jostling the bed, right? But when it comes to sex, motion isolation has less impact than other things.
If you want sound motion isolation, go for a foam mattress or a latex mattress, as they're the best. On the other hand, an innerspring or a hybrid mattress is the worst choice. Even the best innerspring mattress will transfer motion, and a hybrid mattress is only slightly better. The coil system is sturdy, but it transfers motion unless you get pocketed coils, the individually wrapped coils, which are slightly better.
Noise
Well, this criteria depends on where and with whom you live. A noisy mattress might not be an issue if you and your partner live in a house. The problem arises when you live with roommates or in a building with thin walls. It can make things awkward and put a damper on your fun times. And no one wants to feel the "shame."
Also, a squeaky mattress can piss you off and ruin the mood. Latex and foam are the best choices for noiseless activities, and an innerspring or a hybrid mattress should be avoided. Once again, the coils are to blame, but they can be slightly quieter with pocketed coils.
Temperature Regulation
If you're sleeping (in more ways than one) with a partner, the chances are that you will both overheat. So it would help if you had a breathable mattress. A latex or a hybrid mattress is excellent for hot sleepers, but some foam beds sleep pretty cool too, like the gel memory foam.
Check out our list of top cooling mattresses for more information.
The one mattress type hot sleepers should avoid is foam. Foam is notorious for how the closed-cell foam layers trap heat. Even the best memory foam mattress is going to do this. If you need foam, you can get a cooling mattress, like the cooling gel memory foam. Gel-infused foam can also have higher foam firmness. Beds with gel foam might be in the higher price range.
Mattress Size
Of course, if there are two of you in the bed, you will need more sleeping space. Regarding sex, the rule is simple – the bigger, the better.
The standard mattress sizes considered significant enough for two people are Queen, King, and California King. If you want a good experience, get one as big as possible. But keep in mind that bigger sizes fall in the higher price range.
The perfect mattress size can also depend on your body weight and sleeping position. For example, lighter and smaller people need less sleeping surface, while bigger and heavier people need more. Side sleepers can sleep on a smaller bed, while back sleepers and stomach sleepers need more space. Lastly, combination sleepers need the most space since it's one of the most active sleeping positions. Check out our ultimate guide to mattress sizes and dimensions to find out more.
Edge Support
When you think about it, having saggy edges is not the vibe. Not only will the mattress not last as much, but there is a possibility that you'll fall off the bed while in the moment. A mattress with reinforced edges lasts longer, and you have more surfaces for activities. To quote Paris Hilton: "That's hot!"
Not all mattresses have good edge support. If you want sturdy edges, go for an innerspring or a hybrid mattress. Mattress with foam layers, like latex and foam, usually have the firmer foam on the rim, and that's poor edge support.
Contouring
A contouring mattress is needed for comfort. Along with support, contouring is essential to keeping your spine aligned and having healthy sleeping habits.
A great mattress should conform to your body, and don't push on it too much. Side sleepers especially need this because they need a bed that keeps their spine aligned while letting their hips and shoulders sink into the bed.
Foam is usually the best for contouring, and innerspring beds are the worst. After all, they just have the pillow top for comfort. There are also options with zoned support, but they're usually in the higher price range.
Sleeping Position
We already mentioned how mattress firmness depends on your sleeping position, and this is because every sleep position requires different levels of support and comfort to keep your spine aligned.
Back sleepers need a medium-firm or firm mattress that will keep their spine in a neutral; position. It's the most common and healthiest position to sleep in. You just can't let your hips and shoulders sink in too much.
Check out our list of the best mattresses for back sleepers.
Side sleepers are the second most common type. They need a softer mattress that keeps their spine aligned but is still soft enough to contour their pressure points – hips and shoulders.
Check out our list of the best mattresses for side sleepers.
Stomach sleepers should probably work on changing their sleeping position because it has some drawbacks and health risks. Stomach sleepers, like back sleepers, need a firmer bed that won't let their hips and shoulders sink in too much. A medium-firm mattress can also be a good choice for average-weight stomach sleepers, but heavier stomach sleepers should look for more firmness.
Check out our list of the best mattresses for stomach sleepers.
Lastly, we have combination sleepers, which need a mattress that will match their moves through the night. The best mattress for them is probably a medium-firm one. It might be tricky for them, but they should choose mattress firmness depending on other factors, like how much they weigh. They also need a bigger bed because they tend to cover the entire surface of it.
Check out our list of the best mattresses for combination sleepers.
Pressure Relief
Proper pressure relief is essential for comfort, especially for those who suffer from painful joints. You don't want your bed to push too much against pressure points.
Also, some sleep positions need the proper pressure relief, like side sleepers. You can't have your mattress pushing too much against your hips and shoulders, which are the pressure points in this case.
Foam is the best mattress type for pressure relief, but latex is also a good choice. Pressure relief usually comes from softer beds, but a luxury firm bed with medium-firm levels can also be comfortable. You can find beds with pressure relief in a wide price range.
Pressure Points
Back Sleepers
Side Sleepers
Stomach Sleepers
Body Weight
The perfect mattress firmness can also depend on your body weight. We already said that getting a firmer mattress for sex is better, but you should also keep comfort in mind when making your choice. Also, firmness is subjective.
Weight impacts the perfect firmness because the more someone weighs, the more pressure they put on the mattress. It's also connected to sleeping positions. Average-weight stomach sleepers need medium firmness, while heavy-weight back sleepers need something even firmer to sleep soundly.
Light-weight sleepers under 130lbs should go for softer mattresses that won't feel like they're pushing against them too much. Average sleepers between 130lbs and 230lbs should go for a medium to a medium-firm mattress, depending on other factors.
Heavier sleepers put a lot of pressure on the mattress, so they need a firm to even an extra firm bed. Because people over 230lbs put a lot of pressure on a mattress, it can cause soft mattresses to deteriorate faster. An innerspring with a pillow top might be the best choice for them.
High-Quality Materials and Durability
A new mattress is an investment. It's not a pack of gum that you can buy anytime. It's something that you'll spend a third of your life on. Also, the more active in bed you are, the faster the mattress will show signs of wear and tear. So you have to look for a durable mattress that has high-quality materials, regardless of the price range. Materials like coils, latex, and premium foam.
The quality of the material doesn't necessarily depend on the price range, and you can find a lot of good mattresses that don't cost as much.
If hot sleepers want a foam bed, they should get one with a cooling option. It might be in the higher price range, but hot sleepers are going to get a nasty surprise if they decide to try to soldier through with regular foam.
Budget
A mattress is an investment, but its price range shouldn't put a big dent in your finances. Luckily, many beds on the market are wallet-friendly and have an excellent quality that won't put a damper on your love life. Also, if you like any of the mattresses from this list, go to our coupon page.
Whether you want a luxury firm mattress, one with soft foam or medium firmness, you'll sleep soundly only if it fits your budget.
Online Shopping
Is an online store a better place to get a mattress? We believe that it is.
Sure, brick-and-mortar stores let you immediately feel the mattress and test it out, but that's not enough time. Online stores have a better information system and often come with free trials, free white glove delivery, and better warranties.
Sleep Trial
A sleep trial is essential when getting a new mattress. You want to have enough time to test out that bed with your partner and see if it suits both of you.
This is why online stores are better. They offer sleep trials that can last from just 30 days to even a whole year! The most common one is a 100-night sleep trial, which is more than enough to see whether a bed suits you.
Warranty
A warranty is a way to endure that your purchase is safe. Good mattress companies will offer an extended warranty to show that they're sure of their product's quality.
Online mattress stores offer better and longer warranties. However, a warranty is a must no matter how you shop.
Do Your Research
Last but not least, always do your research! The perfect mattress is just around the corner and isn't going anywhere. Whatever you do, don't rush it.
Figure out what you like, follow some guidelines, inquire with the manufacturer about the materials and construction, and most importantly, check mattress reviews before making your choice.
Some Other Things to Keep in Mind
Having a good night with your partner isn't just about the mattress. Some other things can impact the experience.
Bed Frames
Some mattresses need bed frames for proper support, while some don't. It depends. But can a bed frame impact your sex life? Well, kind of.
If you need to choose a bed frame, make sure it's made from quality materials and sturdy enough to handle some action. Also, make sure it isn't noisy. Some bed frames can get squeaky, which can ruin the mood.
Bedding
Your sheets can also affect your bedroom experience. Generally, the softer the bedding is, the more comfortable you will be. Also, ensure the material is breathable and can handle some steaminess.
Frequently Asked Questions
Do bed frames matter for sex?
Short answer: yes.
Long answer: if you want to get freaky with it, you can't just buy any bed frame.
Some may find it hot that the bed frame breaks during the deed (this is a no-judgment zone). But having to buy a new bed frame over and over again will seriously put a dent in your wallet. Mattresses are not exactly affordable!
Also, some bed frames can be noisy. And having sex on a squeaky bed frame might ruin the mood. If you and your partner live with others, it can be … awkward.
Our advice? Consider investing in a sturdy and quiet bed frame. Sturdy bed frames are more supportive and durable. Especially if you're a little on the bigger side.
Which mattress firmness is best for sex?
Look, if we were to generalize, we would say that firm mattresses are better for sex, and that would be it. However, the truth is that it does really depend on a lot of factors, which are all subjective.
First off, your body type and weight can influence how you experience a mattress. If you're petite or under 130 lbs, the chances are that if you pick an extra firm mattress, you'll have a bad time. The same goes if you're over 230 lbs and pick a soft mattress.
Then your favorite sleep position also comes into play. For example, side sleepers generally prefer softer models. But stomach and back sleepers rely on firmer ones.
And let's face it – you have your personal preferences and needs. Maybe you're a petite side sleeper that prefers firmer mattresses. Maybe you're a stomach sleeper that likes softer beds.
What the mattress firmness scale shows us is how well the bed will support you as you sleep. Or rather, will it support your spine, and will it be comfortable. But in order to have a healthy spinal alignment, your weight and sleep position can influence whether a mattress is too soft or firm. This is why it's represented on a scale from 1 to 10, with 1 being the lowest and 10 being the highest.
Luckily, when it comes to sexy times, most people like mattresses that rank between 4 (medium-soft) to 7 (firm), and a medium-firm usually wins. Which is actually a great range to choose from for knocking boots. With too soft mattresses, you might feel that they'll give out. The too-firm mattress might not be as responsive.
We do encourage that you and your partner spend some time thinking about which mattress you should get, firmness-wise. After all, you have to consider both your weights and sleep positions. For example, side sleepers and stomach sleepers need different mattress firmness. And average-weight stomach sleepers need a medium-firm to a firm bed. Thankfully, a lot of the mattresses on this list have great trial periods and return policies. That way, you can come to a better conclusion together.
What makes a mattress great for sex?
If you're looking for a mattress that is great for sex, it can be frustrating. The mattress industry is vast, and there is a vast ocean of options out there. You can experience vertigo by just not knowing where to start first.
So here's a list of things to consider when looking for a mattress that you can do the horizontal polka on
Is it responsive/bouncy?
Is it comfortable?
Is it noisy?
Is it durable?
Do the edges sag?
Are you and your partner hot sleepers?
Does it go over my budget?
Does it match my and my partner's preferences?
Now that you've got this list, you can venture on further to find your mattress to get jiggy with it.
What is the best type of mattress to have sex on?
People often overlook it, but it's important to know what kind of material the mattress is made of. Each mattress type has its unique characteristics. As such, no two mattress models are the same, and consequently, we can't really say which is the best.
When it comes to sex, what does each mattress type offer?
A latex mattress can be very bouncy, firm, noiseless, and fun, and it can also be an organic mattress. However, it has poor edge support, it's usually expensive and some people are allergic to latex.
A traditional innerspring mattress can also be very bouncy and fun, with good breathability (something hot sleepers will love), but it's on the less comfortable side. It can also get pretty noisy and has bad motion isolation.
If you want to get a hybrid mattress, expect some bounce, but less than from a traditional innerspring mattress, and some comfort, but also less than from a traditional foam mattress. They could also be the best of both worlds though since they're less noisy and have better temperature regulation. Just like latex, they can be on the pricier side.
When it comes to foam beds, they're generally considered the most comfortable ones because of their body conformity and slow responsiveness. But are they good for bedroom activities? It depends on your preferences. A memory foam mattress has no bounce, has bad edge support, and it's hell for hot sleepers since it traps body heat.
Last but not least – airbeds. Airbeds seem like a fun choice in the bedroom. You can change adjust the firmness and figure out what you like, and they're just different. However, they're not as durable, so you better watch out.
As you can see, each mattress type has its pros and cons. We encourage you to do your own research. Consider both your and your partner's preferences.
After all, you're looking for a mattress you can both enjoy in more ways than one.
Will a mattress topper improve the experience?
A mattress topper improves the mattresses' firmness to make them softer. If you feel like your bed isn't soft or firm enough, a mattress topper is an excellent way to change it up. Different materials are available, but a latex mattress topper is a good choice if you want to make your bed more bouncy.
Final Thoughts
We hate to see you go, but here's a quick and spicy recap on us:
| Mattress | Best/Most |
| --- | --- |
| DreamCloud Mattress | Best Cooling Mattress |
| Helix Midnight Mattress | Best Hybrid Mattress |
| Layla Mattress | Best Flippable Mattress |
| Leesa Mattress | Most Pressure Relieving Mattress |
| Loom & Leaf Mattress | Best Memory Foam Mattress |
| Nectar Mattress | Best Mattress for Back Pain |
| Saatva Classic Mattress | Most Versatile Mattress |
| WinkBed Mattress | Best Mattress For Couples |
Sadly, there is no one-mattress-to-rule them all, but these models come close.
They're not just good at sex but can also offer you and your partner a little something to "spice things up" a bit. Some are great at cooling, some can provide you relief, while others can help with switching.
Just remember, just like with sex, it's important to listen not to your needs and wants but also to your partners. You can have fun by yourself, but it's more special when it's shared.
We hope you had a great time reading this text and wish you happy hunting!