Puffy Mattress Review for 2023: Just a Hype, or a Real Deal?
Written by: Jovana Bozic
Updated: 02/20/2023
Transparency Disclosure: For products purchased through the links on this page and throughout the site, we may get a referral fee (with no extra cost to the buyer). Please read our full How We Rate page for more information. There you can see how we conduct research and test products, as well.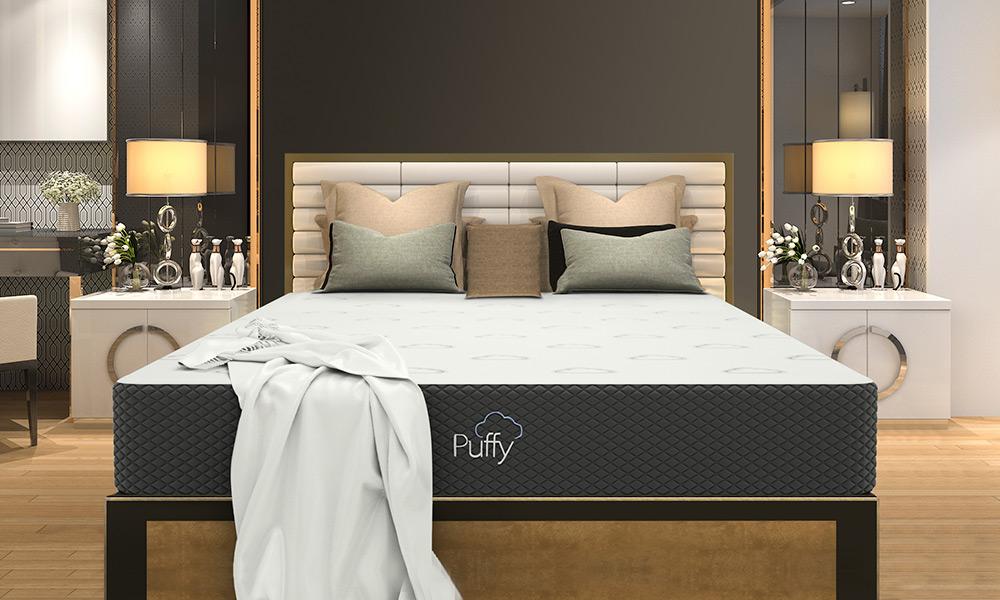 The name "Puffy mattress" surely points a finger in the direction of soft and cozy-looking things, like clouds. After all, who wouldn't want to feel like they're sleeping on a cloud?
But aside from being a smart, catchy name, Puffy is also a promise of the ultimate sleeping experience to all different kinds of sleepers.

Puffy, a California-based company, was launched back in 2017. The company is committed to designing and creating bedroom products that will provide optimal body support. Additionally, the goal is to provide a rejuvenating sleep experience for everyone.
Their primary focus is mattresses, furniture, and bedding products. This year, Puffy started to expand its reach in the modern decor market with a new product – Puffy Rug.

Puffy is also very popular and well known. It has been featured on The Ellen Show, The Talk and was recently awarded Best Mattress of 2020. They even say that it's "America's most comfortable mattress."

Is the Puffy mattress as comfortable as they say? Is it the right fit for you? Should you give Puffy mattress a try?
Continue reading our Puffy mattress review and get a definite answer.
Puffy Mattress In a Nutshell
Puffy is an all-foam mattress made of three layers, offering both comfort and body support.
Puffy is a medium-firm mattress, rated 6 out of 10 on the firmness scale.
Puffy gives a nice, cradling feeling without sinking in too much.
Puffy pressure relief feature is very effective for lightweight to medium side sleepers and back sleepers.
Puffy offers two more models – Puffy Lux Mattress and Puffy Royal Mattress.
Puffy Mattress
Puffy is a medium-firm, all-foam mattress comfortable for lightweight to medium side sleepers and back sleepers.
Construction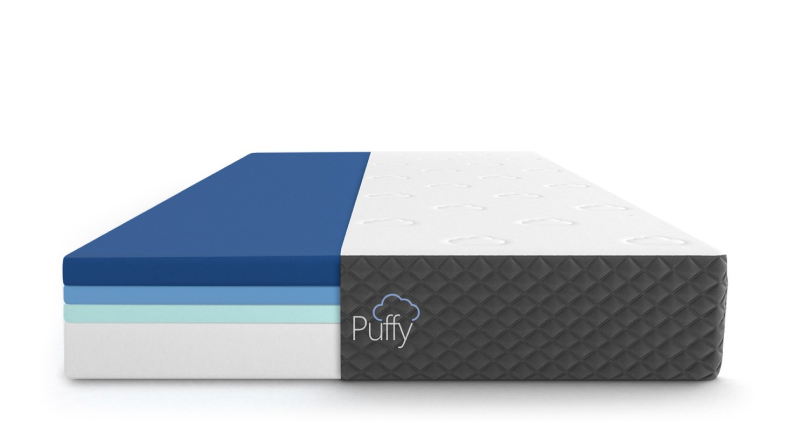 Cover
The Puffy cover consists of standard polyester. As a thin cover that is fairly stretchy, it should help reduce heat and feel comfortable. The cover is hypoallergenic as well. It stops dust, dust mites, and other allergens from entering the mattress. It prevents irritation while you sleep.
The Puffy cover can be unzipped and washed in a machine. It's good news for anyone concerned with stains, odor, and general maintenance of the cover.
Comfort Layer
The first layer of Puffy mattress is gel-infused 2-inch Cooling Cloud Memory foam. This slow-moving gel memory foam provides a soft feel. It also adapts to the body weight and position, making the sleeper feel cradled. Cooling gel is also there to promote airflow, which stops overheating and brings optimal body temperature. Puffy comfort layer is also engineered to bring extra reinforcement along the edges.
Transitional layer
Under the Puffy's comfort layer lies the next 2-inch layer composed of Cloud Climate transitional polyfoam. As the name implies, this layer helps the transition from the comfort layer to the firm base. Thanks to this layer, your body won't sink into the Puffy mattress too deep.
Base
Last but not least is the 6-inch base layer Puffy's Cooling Cloud™ & Firm Core Support foam. It's designed to adapt to the body and provide support as it shifts throughout the night. Puffy's Firm Core Support Layer is specially designed to keep your spine in an optimal position.

The base of the Puffy mattress is generally denser than the other two layers. It helps stabilize the bed and prevent excessive sagging and sinkage.
Are Puffy Mattresses Firm or Soft?
Puffy mattress rates 6 out of 10 on the firmness scale. It places Puffy in a position of the industry-standard medium-firm bed. Keep in mind that a 1 would be the softest mattress on our firmness scale, while 10 would be the firmest mattress. Even though some of the Puffy mattress reviews show different firmness ratings, the majority points out to 6, or 6.5 on average.

Customers are generally satisfied with the feel and firmness of their Puffy mattress. The first layer gives that soft, "cloud-like" experience. But the sleeper doesn't sink in too much, thanks to the transitional layer.

How long do Puffy mattresses last?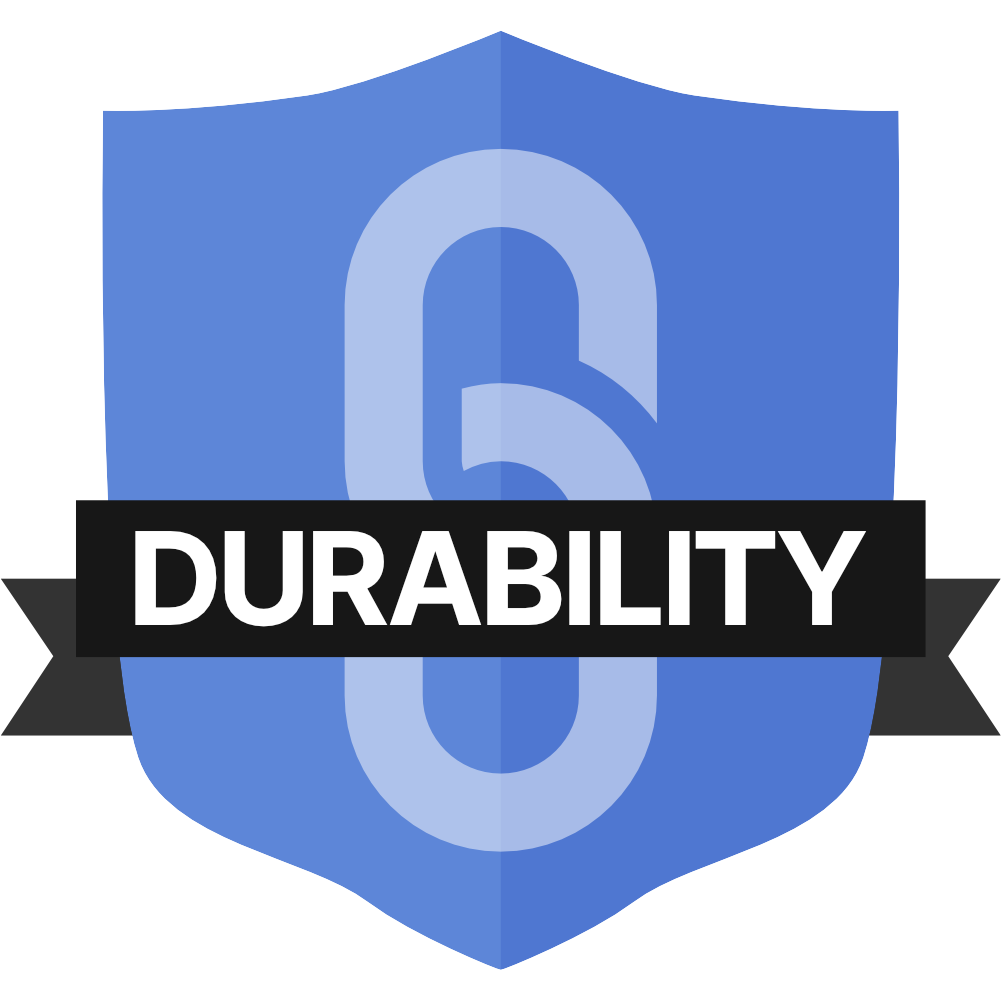 Puffy should last at least 5 to 8 years, according to the majority of Puffy mattress reviews. That tells us that it's a reasonably durable mattress. Puffy uses low-density foam (2.5 PCF). It can result in a shorter life span in comparison to denser foam mattresses.

Puffy mattress is a better fit for lightweight to medium sleepers. They will see less deterioration over time. Heavier sleepers may notice the sagging earlier. Besides optimal sleeper weight, good maintenance will prolong the mattress's lifespan.
Motion Transfer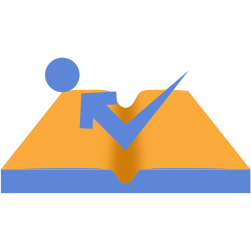 If you share your bed with a partner, motion transfer can be crucial in choosing a mattress. If you are a light sleeper and get woken up quickly, you need a sound motion transfer isolation.

Puffy gets positive reviews for motion transfer, which is not surprising at all. Memory foam and polyfoam isolate motion better than some other materials due to high point elasticity.

The first layer of the Puffy mattress does a great job of absorbing motion. Even if you roll over the bed or switch sleep positions, your partner won't feel the movement.

In some cases, sitting on the edge of the bed caused the Puffy mattress to dip a little bit. But it was still a very isolated movement that can't wake anybody up.
Edge Support
Puffy offers pretty good edge support for a memory foam mattress. Naturally, when a person sits on the edge of any mattress, some sinkage will occur. Puffy even upgraded the edges in newer models, giving it more support and firmness.

Aside from the type of material, the weight of the sleeper is something that will cause less or more sinkage.
Heavier sleepers show less satisfaction with the Puffy mattress. It doesn't provide the necessary support over time. Sleeping near the edge of the bed tends to be very frustrating because of the sinkage. So keep that in mind.

Heavier sleepers should consider hybrid or innerspring mattresses instead. These types will offer more support and prevent them from sinking in too deep. The right mattress should always provide the greatest support and fit your body.
Pressure Relief
This is one of the features that most reputable Puffy mattress reviews praise. What is pressure relief? It's the ability of a mattress to provide a healthy weight distribution of the body. As a result, it decreases pressure points. This is especially important for side sleepers. They tend to create pressure points in the hips and shoulders that can cause soreness and pain.

Puffy mattress offers maximum pressure relief. That's why he's a great choice for side sleepers. It's also a very good choice for other sleep position preferences.
Temperature Regulation
Not all materials are created equal. That's why memory foam mattresses are followed by a common concern that they trap heat.
Puffy performs very well thanks to cooling memory gel. The comfort layer does a good job at keeping the sleepers cool, and it absorbs the heat very efficiently. It keeps neutral temperatures better compared to other similar mattresses.

Temperature control is very important for hot sleepers. They tend to overheat during sleep and wake up feeling uncomfortable. Most of the Puffy mattress reviews pay special attention to this group of sleepers. They reported that the Puffy mattress kept hot sleepers comfortable and cool. You can imagine how important temperature regulation is for a good night's sleep.
Puffy Mattress
Puffy is a medium-firm, all-foam mattress comfortable for lightweight to medium side sleepers and back sleepers.
Sleeper Type Preferences & Weight
If you look at the Puffy website, you'll notice it's designed for all sleeper types. The Puffy mattress offers a great relief pressure feature. It appeals to most sleepers with the promise of comfort and healthy sleep.
But, we know how vital the sleep position can be. It pretty much determines which level of firmness and support will be adequate for you. Let's take a closer look, and see if a Puffy mattress would be a good fit for you.
Side Sleepers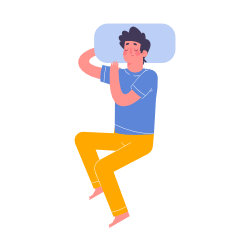 The majority of side sleepers enjoy sleeping on the Puffy mattress. It provides excellent comfort and a cradling feel. The combination of the layers prevents shoulder and hip discomfort. The body gets optimal support and spinal alignment when laid aside.

It applies mostly to lightweight and medium-weight sleepers (under 230 pounds). Heavier side sleepers will need a firmer surface. A thicker comfort layer will provide the right support and relieve pressure points.
Back Sleepers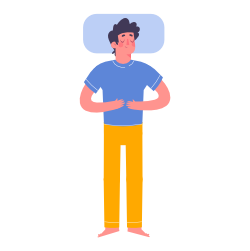 The comfort layer of a Puffy mattress does a great job for back sleepers as well. It allows even body weight distribution. This prevents the creation of pressure points in the lower back.

Heavier back sleepers (230 pounds) should consider a firmer mattress than Puffy. Look for ratings between 6 to 7 on the firmness scale.
Since Puffy mattress rates 6 on the firmness scale, it will be too soft. It will provide less effective back and hip support through the night.
Stomach Sleepers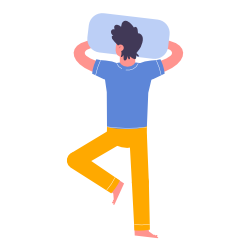 Heavy stomach sleepers seem to find the Puffy mattress least comfortable. Most of the pressure can occur in the hips and neck, especially for heavier sleepers. That's why they need something more firm, where they will get more hip support during sleep. Basically, every other reputable Puffy mattress review shared the same conclusion.
Combination Sleepers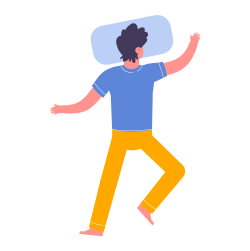 So, what if you're a combination sleeper and switch sleep positions during the night? Will a Puffy mattress be a good option for you?

You can easily recognize if the Puffy mattress would be a good fit. Just think about your dominant sleep position and weight. Our recommendation is to look for something firmer than a Puffy mattress if you're a heavier sleeper. Look for mattresses rated 7 or higher on the firmness scale. Then, take into account the dominant sleep position and compatibility with the mattress. If you're a side sleeper or a back sleeper, the Puffy mattress can be an excellent fit for you.

You'll enjoy the Puffy mattress the most if you're a light to medium weight side or back sleeper.
| | Under 130 lbs. | 130-230 lbs. | Above 230 lbs. |
| --- | --- | --- | --- |
| Side Sleepers | Excellent | Good | Fair |
| Back Sleepers | Good | Fair | Poor |
| Stomach Sleepers | Good | Fair | Poor |
Other Mattress Models
Puffy offers two more models: Puffy Lux mattress and Puffy Royal mattress. What are the differences between them, and what do they have to offer?


Puffy Lux Hybrid Mattress
The Puffy Lux mattress has four layers, and it's 2 inches taller than the classic model. It brings advanced spinal support and a plush dual cloud support layer for extra airflow.

Puffy Lux mattress has more material options. You can choose memory foam or a hybrid mattress (foam + coils), which is a good option to have. Coils will provide extra edge support. This means your Puffy Lux mattress will be firmer around the edges. All-foam mattresses will give you a more of a classic memory foam feel, just like the original model.

The exceptional pressure relief system will bring support to side sleepers and back sleepers under 230 pounds.
Puffy Lux Hybrid Mattress
This hybrid memory foam mattress will adapt to your body outline thanks to coils that offer stability, control heat and relieve back pain.
Puffy Royal Hybrid Mattress
The Puffy Royal mattress is a premier five-layer mattress. It was created for people that look for a softer mattress. It's 14 inches tall due to extra layers created to bring more responsiveness.
You can choose memory foam or a hybrid mattress (foam + coils) when you're considering this model.

Who should get the Puffy Royal Mattress?

This model of Puffy mattress is best suited for lightweight sleepers (130 pounds). Since it's a softer mattress, the weight will dictate how much body support a person will get. If you want to feel like you're sleeping on a cloud, Puffy Royal will get you there for sure. But for more body support, focus on the Puffy mattress and Puffy Lux mattress.
Puffy Royal Hybrid Mattress
This premium lux soft hybrid mattress offers unparalleled comfort, cooling, stability, and zoned full-body support.
Mattress Prices and Sizes
Puffy mattress is available in all standard sizes from Twin to California King.

All the sizes measure 10 Inches in height. For most people, that is enough memory foam padding to feel cozy and comfortable.

Weight ranges from 29 pounds for Twin to 61 pounds for King. They are lighter compared to the average weights of other memory foam mattresses. The average Puffy Twin weighs from 40 to 60 pounds, and a Puffy King weighs from 130 to 160.
It is good to know the mattress weight by size before you order your Puffy. You'll have to transfer it from your doorstep to the bedroom and set it up on your own since Puffy doesn't offer white-glove delivery.
| Size | Price | Weight | Height | Dimensions |
| --- | --- | --- | --- | --- |
| Twin | $1,449 | 29 lbs | 10″ | 39″ x 75″ |
| Twin XL | $1,499 | 30 lbs | 10″ | 39″ x 80″ |
| Full | $1,649 | 40 lbs | 10″ | 54″ x 75″ |
| Queen | $1,799 | 48 lbs | 10″ | 60″ x 80″ |
| King | $1,999 | 61 lbs | 10″ | 76″ x 80″ |
| Cal King | $1,999 | 61 lbs | 10″ | 72″ x 84″ |
Deals & Discounts
Puffy is a big deal. Seriously.
Puffy will give you that cradling feeling – but you won't sink when you see the price! Check out their best mattress offers and save up to $755!
Get $300 OFF + up to $455 FREE accessories with every mattress. Now, how's that for a big deal?
Overview of Benefits
Availability
Puffy sells all products online, which means you can't see them in physical stores. But, you can test your Puffy mattress at home and decide whether to keep it for good.
Sleep Trial
Puffy offers a 101-night sleep trial on all mattresses, bed frames, and accessories. It's not one of the longest trial periods in the market. Yet, it's long enough for you to test the Puffy mattress in its natural habitat – your bedroom.

The company recommends sleeping on a Puffy mattress for at least 30 days. For you to initiate the return, you have to wait 14 days. That's a required period that allows the Puffy mattress to settle and adjust to your body.
Warranty
The Puffy mattress comes with a lifetime warranty. In case there are any defects in the delivered mattress, the company will replace or repair the mattress in question free of charge.
What qualifies as a defect?
A physical flaw in the construction of the cover, such as fabric tearing or stitch unraveling
Visible indention or sag of the foam greater than one and a half (1.5) inches
A manufacturing flaw in the cover zipper of Puffy mattress
What qualifies as a defect?
Misuse
An improper bed, bed base, or foundation
What doesn't qualify as a defect?
Normal wear and tear
Allergies or sensitivities to fabrics or materials
Minor imperfections such as slight cosmetic flaws
Naturally occurring aromas from foam, cotton, or other materials, and more
Certification
Puffy mattresses are CertiPUR-US® Certified. The foam inside the Puffy mattress has been tested. The certificate shows it has low levels of harmful chemicals and heavy metals.

The mattress cover is Oeko-Tex® Standard 100 Certified. This means that it has passed safety inspections. These inspections look for harmful chemicals, substances, and heavy metals.
Free Shipping
Puffy offers free standard shipping to customers in the USA. Shipping charges apply on orders from Alaska and Hawaii. International shipping isn't available for now.

Once you place the order, your Puffy mattress will be shipped within 1 to 3 days. Keep these two things in mind: 1) The mattress is compressed, rolled, sealed in plastic, and placed in a box. 2) Once it arrives on your doorsteps, it's on you to unbox and set it up in your bedroom.
Additional Services
Puffy doesn't offer White Glove delivery or old mattress removal.
Return Policy
There are no shipping charges, and the Puffy company takes care of everything. If you decide to return your mattress within the first 101 nights, a full refund is available. Just email the support team with the order number, and they'll get the return process started. Puffy does not keep returned mattresses. Instead, they coordinate with customers to have the returned mattress picked up. After that, they donate it to the local charity.
Final Thoughts
So, what is the final verdict of our Puffy mattress review?
The popular three-layer mattress has all the right reasons to be your final choice. Pressure relief features make the whole experience enjoyable for so many people. The hugging feel of the Comfort layer will lull you to sleep in no time. The whole integrated system of the Puffy layers will work together to give you a good night's sleep.

If you're a side sleeper, you will reap the benefits of enhanced body support the most. It will prevent the creation of pressure points in your hips and shoulders. It will give you balanced support through the night. Lightweight back sleepers can experience the same relieving effect on their lower back.

We are convinced that Puffy will continue its expansion during this year. We're looking forward to reviewing new models soon. After all, Puffy is on a mission to bring the ultimate sleeping experience. They will not stop until they create the perfect Puffy mattress for everyone.

If you're looking for a quality mattress, Puffy is definitely worth taking home. After all, you get a 101-night trial. Take it for a test ride and see if that is the mattress that you'll long to go back to every night.
Puffy Mattress
Puffy is a medium-firm, all-foam mattress comfortable for lightweight to medium side sleepers and back sleepers.