Best Mattress for Back Pain – Our Top 9 Picks for 2023
Written by: Jovana Bozic
Updated: 02/20/2023
If you're reading this page, you realized there's a connection between sleep and back pain. And – you're right. Sleep-related back discomfort is widespread among adults in the USA. And the likely culprit? Your everyday unsupportive mattress.
What do we mean by unsupportive?
Having a mattress that is too soft or too firm for you can be an issue. In both scenarios, your spine falls out of the natural position, causing the muscles to tense up in the effort to bring your body back to neutral.
For example, imagine you're lying down on a mattress that is too soft. Your body will push down into the mattress. Your hips will sink in too much, as well as your upper body. What it'll do is cause a misalignment followed by lower or upper body pain.
With a cement firm mattress, your lower spine loses touch with the mattress. With a gap between your back and the mattress, your spine is not getting equal support. Your body ends up working against gravity all night which causes aches and stiffness.
So, your instinct to look for a new mattress was spot on! You need a mattress that will provide pressure relief and support essential for a good spinal alignment during sleep. Your muscles need to relax as well and get that well-deserved rest.
In the text below, you'll find our recommendations for various categories related to back pain.
We collected reliable and reputable mattress brands that showed outstanding performance. Remember that we had to narrow down the list to keep it an effortless starting point for your heroic quest. If you don't find anything you like, feel free to explore our other mattress categories.
Are you ready to find your comfy new mattress? Great! Let's dive deep into the land of No More Achy Backy.
Our Mattress Picks
Saatva Classic – Best Overall Mattress For Back Pain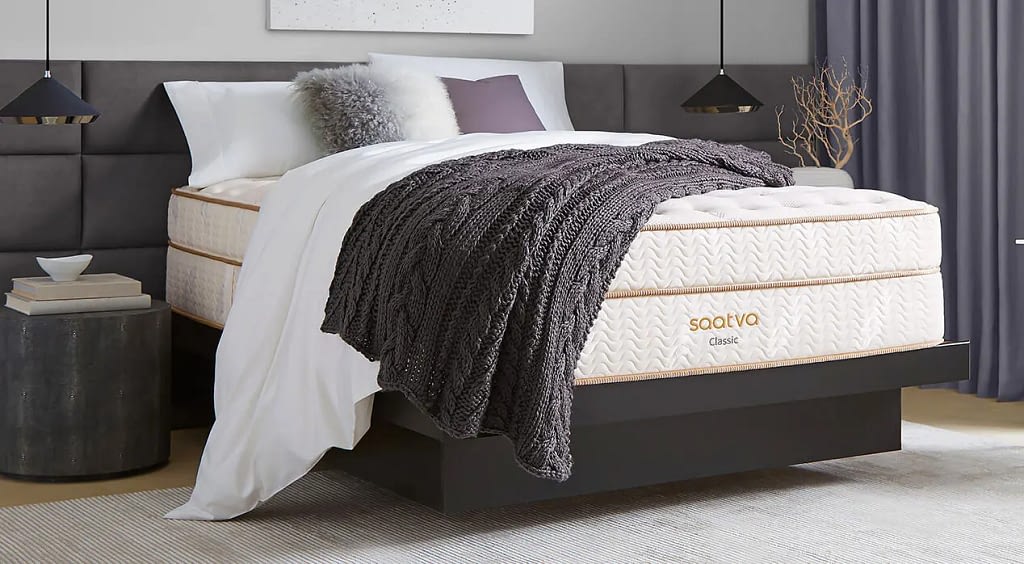 Looking for a mattress that will bring the sleeping experience to a whole new level? Sit tight, because Saatva Classic is just the mattress for you. This innerspring hybrid has impressive construction that checks all the right boxes. We're talking pressure relief, comfort, and cool sleep.
But first of all, why would Saatva Classic be an excellent choice for back pain sufferers?
The answer lies beneath the plush Euro pillow top. The enhanced back support system is there to support the back area and provide pressure relief. It's made of a thin high-density memory foam focused in the middle area of the mattress. The targeted system ensures that the spine stays in an optimal position throughout the night.
What is unique about Saatva is the dual-coil layers. The coil-on-coil design makes Saatva very sturdy and responsive without feeling too stiff. The extra bounce is also an excellent quality for a couple's mattress. If you're looking for a good mattress for sex, check out our list of best mattresses for sex. Saatva is, of course, one of the candidates on that list.
Two layers of coils mean one more thing – added mattress breathability. The air can move freely without any remaining heat overstaying its welcome: Bye-bye, overheated bed.
Saatva Classic is a complete hit with most sleepers, thanks to the multiple firmness options. You can pick Plush Soft (3/10), Luxury Firm (5-7/10), or Firm (8/10).
How do you decide which one's for you?
Well, back sleepers and stomach sleepers usually enjoy Luxury Firm the most. It offers the right firmness level. Plush Soft is usually a good choice for lightweight side sleepers or anyone who loves soft, contouring with added plush.
If excellent edge support is essential for you, consider Saatva's superb design. It has thick foam rails that surround the bed perimeter. It supports the integrity of the mattress and prevents sagging. The rails also make getting in and out of bed more effortless.
The price for this mattress is very reasonable when you take its luxurious construction into account. You can also expect to receive a 180-night sleep trial and a 15-year warranty. All in all, this is a mattress that will enhance your bedroom experience on so many levels.
Why Does Saatva Classic Stand Out:
Enhanced back support system targeting lumbar area
Multiple firmness levels: Plush Soft (3/10), Luxury Firm (5-7/10), or Firm (8/10)
Extra breathable mattress due to coil-on-coil system
Excellent edge support
180-night's sleep trial with a 15-year warranty
Is Saatva Classic an exciting option for you? Head over to our Saatva full mattress review to learn more.
Saatva Mattress
Available in 3 firmness options, the luxury hybrid mattress Saatva enjoys great popularity with various sleeper types.
Casper Original – The Best Foam Mattress For Back Pain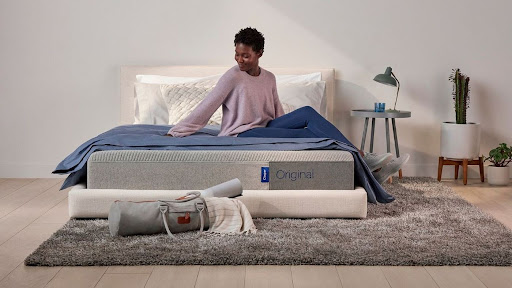 Is lower back pain waking you up in the morning? Luckily, there's always a good mattress to help ease the discomfort! Casper mattress is famous for its unique ergonomic design targeting the lumbar area. It's just what the doctor ordered!
This all-foam mattress has three ergonomic zones. The softer zones are located in the upper and the lower part of the mattress. These softer zones provide optimal pressure relief to the shoulders, neck, and feet.
The middle section is where Casper shines in the eyes of back sleepers and back pain sufferers. The zone is firmer compared to the other two zones. Also, the density of this zone allows proper pressure relief and lifted back and hips. Thanks to the ergonomic design, your body weight is evenly distributed. Sounds good, right?
Back sleepers are very happy with the feel and support they get from Casper. Combination sleepers also show great affection for Casper Original. A typical combination sleeper will love the ease of position change during sleep. It seems Casper adapts very quickly without any resistance or added vibrations across the mattress surface. But, this applies mainly to lightweight and medium-weight sleepers.
Do you know what's also cool?
The AirScape Layer. No, seriously. It's cool because of the thousands of perforations that circulate the air through the layer. The cooling technology keeps the temperature pleasant for sleep.
Casper mattress is a medium-firm mattress rated 7/10 on the firmness scale. So if you're in for a firm, foamy hug with ergonomic support, Casper is the obvious candidate for lower back pain relief.
Why Does Casper Mattress Stand Out:
All-foam mattress (7/10) with three layers
Ergonomic zones provide pressure relief to lower back pain
An excellent option for back sleepers and combination sleepers
Increased breathability due to the Airscape comfort layer
Did Casper Original catch your attention? Please take a closer look, and read our full Casper mattress review.
Casper Mattress
With a perfect balance of comfort and support, it's no wonder that the all-foam Casper mattress is such a great fit with back and combination sleepers.
Nectar Mattress – The Best Affordable Mattress For Back Pain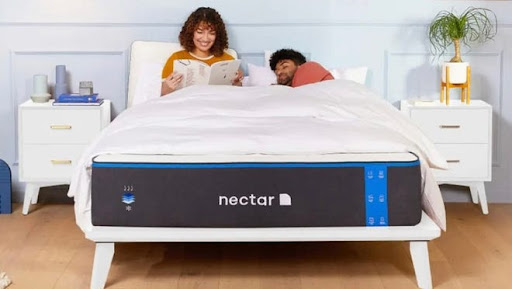 The Nectar mattress does a great job when it comes to sleep-related back discomfort. Based on a 2020 randomized survey, 9 out of 10 back pain sufferers said Nectar was good at relieving the discomfort. Also, 90% of customers reported reduced stiffness, soreness, and aches after sleeping on Nectar. What makes Nectar so unique and soothing? Let's check it out together!
Nectar's layers work hard to bring a top-notch quality of sleep. The upper layer is made of 3 inches of high-density, pressure-relieving gel memory foam. It gives this layer a cushy, pleasant feel. Your joints and muscles can relax and get the proper support during sleep.
The transitional layer, called the Dynamic Support Layer, is the one that stops you from sinking in too deep. This way, your back, shoulders, and hips can get the necessary support and prevent pressure point creation.
And, as always, the last layer of the Nectar foam cake is reserved for the sturdy base. This 7-inch layer of standard foam secures layers above and helps them achieve their best.
The Nectar has a truly medium-firm feel with a 6.5 on the firmness scale. The balance between softness and firmness gives it broad appeal no matter the sleep position. However, it does wonders for back sleepers of any weight, especially average-weight sleepers.
What sweetens the deal with Nectar is the extra-long sleep trial. You get to test your mattress for 365 nights. With a lifetime warranty and affordable price, Nectar looks like an excellent candidate worth checking out.
What Does Nectar Mattress Stand Out:
provides excellent pressure relief for the lumbar area
excellent choice for back sleepers and some stomach sleepers
Medium-firm mattress (6.5), attractive to all sleeping positions
Isolates motion to the maximum
Great value for the price, 356-nights sleep trial, lifetime warranty
Are you interested to learn more about Nectar? Good choice! Please read more in our full Nectar mattress review.
Nectar Mattress
Nectar is a premium quality mattress at an affordable price. The secret to its outstanding comfort lies in plush layers of memory foam.
DreamCloud – The Best Hybrid Mattress For Back Pain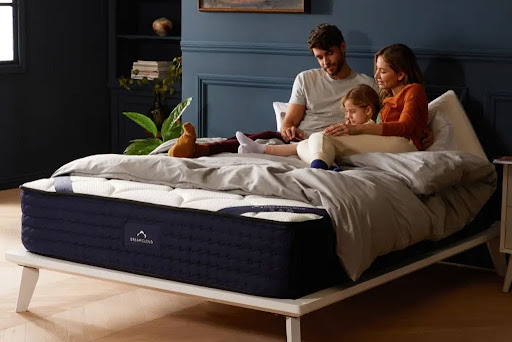 When we think about back pain, a firmer bed may not be the first thing that pops into our minds. However, a firm yet supportive bed is what's needed for an adequately elevated back.
DreamCloud is an excellent example of a medium-firm hybrid mattress equipped to ease any backache or stiffness. On the plus side, it brings that luscious look and high-quality materials to last for a long time.
What's so special about DreamCloud?
Right off the bat, we need to mention two comfort layers contributing to pressure relief. The top layer is 1.5 inches thick polyfoam. It's carefully tufted in the mattress cover to bring the pillow-like comfort and look.
The second comfort layer is 1.5-inch gel-infused memory foam. It offers a slow-responding memory foam feel and absorbs pressure. The combined effort of the comfort layers brings much-needed support. The high-pressure areas such as the lower back and hips can comfortably rest on the mattress.
The additional piece that keeps you nicely supported is the layer of pocketed coils in the base. The coils provide the backbone to the top layers, keeping their pressure relief properties in check.
The 8 inches of coils contribute to mattress responsiveness and minimized motion transfer. The coil system allows uninterrupted airflow and helps regulate the mattress temperature. The mattress stays cool, and you get to sleep peacefully through the night.
The DreamCloud is a medium-firm, 6.5/10 on the firmness scale. Back sleepers will find it very supportive. It's very comfortable thanks to its firmness and pressure-relieving properties.
Combination sleepers prefer the responsiveness of the mattress. It allows fast position change due to the excellent coil system. Combination sleepers can toss and turn, knowing that the mattress can keep up with them.
This mattress may not be ideal for all side sleepers. However, for some average-weight side sleepers, DreamCloud can help ease back pain and stiffness.
So, what more can you need? With a luxurious hybrid mattress made to stay for a long time, you can't go wrong. Take it for a test ride for a 365-night sleep trial and see for yourself.
What Does DreamCloud Stand Out:
Luxury innerspring hybrid mattress
Two comfort layers provide excellent pressure relief
An excellent choice for back sleepers and combination sleepers
Excellent motion transfer and edge support
365-night sleep trial and lifetime warranty
Are you curious about DreamCloud? Come on over to our full DreamCloud mattress review for more information.
DreamCloud
The DreamCloud mattress is a five-layered hybrid mattress known for its great value. The model is especially a hit with hot and back sleepers.
Layla Mattress – The Best Flippable Mattress For Back Pain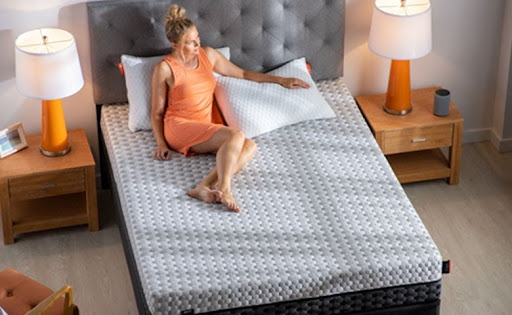 Layla does an outstanding job when it comes to pressure relief. It comes with two sides that offer different levels of firmness to match everyone's needs.
The firmer side is somewhere between 5.5 – 7 on the firmness scale. With a medium-firm feel, it comes as an obvious mattress choice for back sleepers. Anyone who prefers to sleep "on top" of the mattress rather than "in" the mattress will also like Layla's firmer side.
When you suffer from back pain, that indicates that some parts of the body need additional support. By that logic, you would need the area underneath your back to stay alleviated. On the contrary, you would need added contouring underneath your hips and shoulders.
The firmer side is very good at relieving back pain. With 1 inch of copper-gel memory foam comes generous support around deep compression areas. Layla ensures your body stays in a neutral position that helps relieve any form of back pain.
Another great side of the Layla mattress is the clever use of copper. You know how traditional foam mattresses get booed for poor temperature regulation? Well, Layla dogged the bullet thanks to copper's cooling features. It brings instant cooling and repels heat from the mattress. The copper particles react to the sleeper's body instantly.
It's also antimicrobial material that prevents bacteria and mold from entering the scene. You can sleep safely in your lovely bed, feeling all snug and cozy.
There's also the opportunity to test the mattress for 120 days. You can see how both sides of the mattress work for you. The softer side might be too plush for back-related issues. But, side sleepers can expect to find that side of Layla very enjoyable.
Why Does Layla Mattress Stand Out:
Flippable, all-foam mattress
Layla's firm side is recommended for back pain
Copper-gel memory foam enhances cooling
Back and stomach sleepers prefer firmer side
120-night trial and lifetime warranty
Did you like the Layla mattress? Join us at the full Layla mattress review to see more exciting details.
Layla Mattress
Layla is a mattress with switchable firmness. Side sleepers enjoy it most, but all sleeper types call Layla a dream in a box.
Avocado Green Mattress – The Best Eco-Friendly Mattress For Back Pain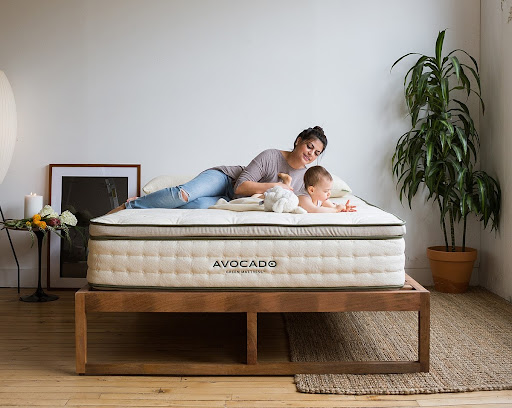 Question: What do you get when you add certified organic wool, latex, cotton, and a layer of pocketed coils? You guessed it – a mega comfy Avocado Green mattress.
The Avocado mattress is one of the most endorsed mattresses on the market. The company is on a beautiful mission to bring sustainable and eco-friendly products to all types of sleepers.
Avocado features 1,414 individually wrapped steel coils. They are arranged in 5 distinct ergonomic zones. This type of design ensures the weight is evenly distributed across the mattress surface. The pressure points are alleviated, especially in the lumbar area.
Pressure relief is additionally secured through the comfort layer. The standard version comes with 3 inches of GOLS organic certified latex. It brings the right level of firmness for those of us who prefer to sleep on our stomachs and backs. Latex works to keep you feeling more on top of the bed rather than in it.
Remember, a mattress that is too soft can cause back pain. But, if the standard version seems too firm for you, fear not! You can choose to upgrade it with a pillow-top.
The added 2 inches of latex bring the firmness level from 7 (Firm) to 6 (medium-firm). The pillow-top brings additional pressure relief. But, the mattress is not too soft or plushy as a result of that. It brings more body contouring to focus, making it a good option for average-weight people who want more cushioning.
Avocado is also perfect for hot sleepers. It incorporates materials that are naturally good at temperature regulation. The organic wool cover and the latex comfort layer make Avocado sleep cool like a cucumber. Not to mention the coil system that enhances airflow on its own.
Avocado is made in the USA, offering a jaw-dropping quality of materials for a reasonable price. If Avocado fits both into your lifestyle and your preferences for back pain relief, check it out. Get a 365-night sleep trial and find out if this is the right mattress for you.
Why Does Avocado Green Mattress Stand Out:
The best eco-friendly mattress for back pain
Standard option (7/10) is a great pick for back sleepers
The pillow-top option (6/10) is suitable for combination sleepers
Excellent choice for hot sleepers
365-night sleep trial and 25-year warranty
What else is awesome about Avocado? Please hop over to our full Avocado mattress review and find out.
Avocado
Avocado is a hybrid mattress with latex comfort layer and pocketed coils popular among many different sleepers.
Loom & Leaf – The Best Mattress For Heavy People With Back Pain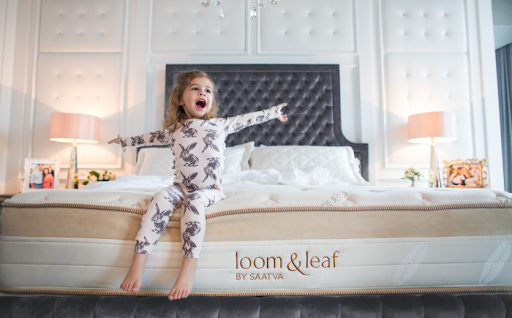 Saatva's Loom & Leaf is a heavily praised mattress among all types of sleepers. However, Loom & Leaf strikes a balance between firmness and comfort needed for back pain relief for heavy sleepers.
Starting from the cover, we have certified 100% organic cotton. It's soft, breathable, and hypoallergenic. So, if you're looking for an excellent all-foam option made with premium organic, plant-based materials, Loom and Leaf is just the thing. All mattresses are handcrafted in the USA.
The comfort layer is 2-inch gel-infused memory foam. The special ingredient rests in the middle third of the layer. It's called a proprietary Spinal Zone Gel designed to offer additional spinal support.
The transitional layer, together with the base, pushes for final stability and support. A transitional two-inch loft pad holds the barrier between the conforming layers and the firmer base. The base is 5.5 inches of high-density polyfoam, acting as the final foundational piece.
Loom & Leaf comes with two firmness options: Gentle Firm and Firm. Gentle Firm is rated between 5 to 7, which makes it a medium-firm option. It can be a perfect choice for average-weight side sleepers, back sleepers, and back sleepers.
The first two layers of Gentle Firm come with deep contouring properties. That means your shoulders, hips, and back can get the hug of comfort needed for pain-free sleep.
The Firm option is rated 8 on the firmness scale. With a denser transitional layer, this model comes as the perfect fit for sleepers over 230 pounds. It's also attractive for stomach sleepers who enjoy firmer mattress surfaces. The firmer option will keep your body on top of the mattress at all times.
You can also count on cooling properties incorporated in the memory foam. The ultra-breathable gel-infused foam will keep you cool throughout the night.
The mattress is hand-delivered to your room for free, with the option of old mattress removal. Try Loom & Leaf for a 180-night sleep trial and see if this premium-quality beauty is tailor-made for you.
Why Does Loom & Leaf Stand Out:
All-foam mattress made of premium, eco-friendly materials, handcrafted in the USA
Spinal Zone Gel in the middle section for lumbar support
Two firmness levels: Gentle Firm (5-7) and Firm (8)
The firm option is an excellent pick for heavy sleepers
The gentle firm option is a good pick for average-weight side sleepers, back sleepers, and stomach sleepers
Is Loom & Leaf a good pick for you? Jump over to our full Loom & Leaf review to get more important details about it.
Loom & Leaf (Saatva)
Loom & Leaf is a premium all-foam mattress, that excells both at pressure relief and motion isolation. Perfect for those that have neck and shoulder pain.
Leesa Original Mattress – The Best Mattress For Lightweight Sleepers With Back Pain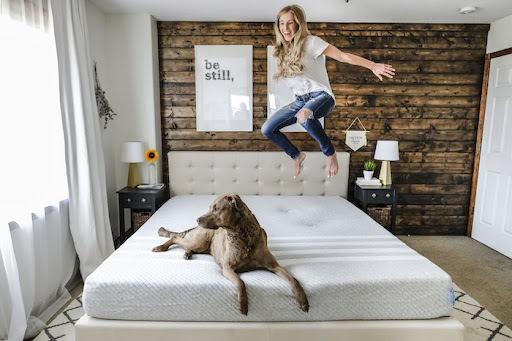 Leesa is an excellent choice for anyone looking for a good bargain. It's a jackpot with three exquisite foam layers, offering a balanced feel and support. To top it all off, Leesa comes at a great price with a Queen size at $1,299.
So, why is Leesa a good catch for lightweight sleepers with back pain? Let's check it out!
Once we remove the gray cover with the signature white stripes, we can see the comfort layer. It's 2 inches of cooling, responsive polyfoam. What's interesting about it is that it combines the contouring properties of the foam and the bounciness of latex. That makes it very comfortable for lightweight sleepers.
The next layer is a 2-inch memory foam layer – the sandwich child of the layer family. It keeps the smooth transition between the upper layer and the firm base. It is also contributing to pressure relief in the hips, shoulders, and back. The dual effect of the two layers provides enough contouring and support to the body.
Leesa mattress rates between 5 to 7 on the firmness scale, making it a good option for most sleeping positions. The bounciness and deep contouring make Leesa a total knockout with lightweight sleepers. They can expect to get the right amount of sinking in the mattress, especially important for side sleepers. Even average-weight side sleepers can feel the necessary body contouring on their shoulders.
Leesa is not a great option for heavy sleepers since they can find the mattress too soft. Sinking in too deep can result in back pain and uncomfortable sleep.
Lightweight back and stomach sleepers can also find the heavenly experience with Leesa. It will provide love and support to the hips and back, lulling the lucky sleepers to sleep in no time.
If you're ready for this foamy wonder, take it home for a test ride for a 100-night trial. With a 10-year warranty and free shipping, Leesa seems like a sweet candidate for your list.
Why Does Leesa Original Stand Out:
All-foam mattress with three layers
Generally a hit with lightweight sleepers and some average-weight sleepers
a great choice for lightweight side sleepers, back sleepers, and stomach sleepers
Great motion transfer properties due to a responsive comfort layer
100-night sleep trial, 10-year warranty, budget-friendly mattress
Did Leesa match your needs? Please take a look at our full Leesa mattress review. There's a lot more to uncover!
Leesa Mattress
The all-foam Leesa mattress is the company's flagship model that many lightweight sleepers rely on exceptional pressure relief.
Winkbed – The Best Luxury Mattress For Back Pain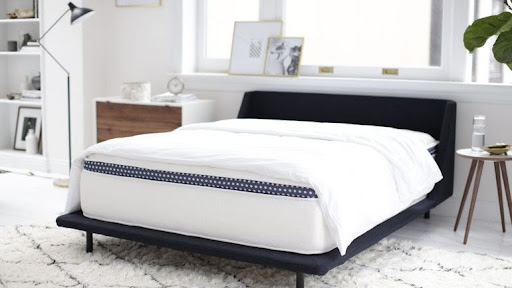 Now, here's a mattress that can be considered a high-profile catch. Winkbed comes with impressive and innovative features to serve many customers. Let's check it out, shall we?
Winkbed's cover is quilted with 2 inches of gel-infused polyfoam. It gives pressure relieving properties essential for back pain. Your back, hips, and shoulders will receive excellent cushioning. This layer also helps with muscle tension, enabling your body to fall into a deep state of relaxation.
What's especially beneficial for back pain sufferers is the one-inch lumbar support layer. This layer sits on top of the coils. It provides targeted support through the middle section of the mattress. The layer keeps the upper comfort layer in check and your back correctly positioned.
Underneath the comfort layers, Winkbed has a zoned, pocketed coil system. The zones provide targeted back support and promote proper spinal alignment. The coils push back in areas such as the hip and back area. That way, your body can experience the full potential of restorative sleep.
You can choose between four firmness levels: Soft (4/10), Luxury Firm (6.5), Firmer (7.5/10), and Plus (8). Luxury Firm is the safest option to consider for back pain since it's medium-firm. It's the best ratio of supportiveness and pressure relief. However, if you prefer a firmer feel but not a rock hard surface, the Firmer option can also be a perfect pick.
Motion isolation, edge support, and temperature regulation are all above average. With a 120-night sleep trial and a lifetime warranty, Winkbed is an outstanding choice.
Why Does Winkbed Stand Out:
Luxury Hybrid mattress with multiple firmness options
Targeted lumbar support is great for back pain
Luxury Firm and Firmer option great for back sleepers
Excellent motion transfer, edge support, and cooling
120-night sleep trial and a lifetime warranty
Ready to see more of Winkbed? Check out our in-depth Winkbed mattress review.
WinkBeds
WinkBeds are true hybrid mattresses made by hand. Crafted with luxury in mind, they're among the most comfortable mattresses on the market.
How to Choose a Mattress for Back Pain
That would be our definite pick of the best mattresses for back pain in 2023! What do you think? Is one of them the right one for you?
If you need more help, we made this guide you can follow to relieve your back of stress and improve your sleeping habits. Let's see what causes back pain and how your mattress can help.
What Causes Back Pain?
Before we show you what to look for when choosing the best mattresses to deal with back pain, you should know what causes it.
Many things can cause back pain. Some people are chronic back pain sufferers, which can be caused by various injuries, degenerating discs, or pinched nerves. These people could feel muscle spasms, non-specific muscle pain, or radicular pain, like a sharp pain that spreads.
On the other hand, some people feel back pain when they wake up, and it goes away during the day. The main culprit of their pain is likely their mattress.
Your mattress can impact back pain if its firmness doesn't suit you or if it doesn't keep your spine aligned. It could also happen if your mattress is too old. Older beds tend to sag, which is bad for spinal alignment and sleep quality.
Different Types of Back Pain
Besides the differences between chronic back pain and acute back pain, back pain can also be differentiated by the area it impacts.
Lower Back Pain
Lower back pain sufferers feel pain in their lumbar region. It can be caused by many things, some more complicated than others.
This part of the spine can be moved around the most, which is why it's common for pain to occur. You probably already felt it. A mattress can cause pain in this area from inadequate support, so so the best mattress for people with lower back pain is one with lumbar spine support.
Middle Back Pain
Middle back pain can be felt between the lumbar regions and the rib cage, but it's less common. This region is less movable, so it's not prone to injuries as much as the lower back. Still, pain in this area can be caused by underlying health issues, lousy mattress support, and bad pressure relief.
Upper Back Pain
Upper back pain is less common than lower back pain but more common than middle back pain. It's also not that movable, similar to middle back pain.
Wrong spinal positioning can also cause upper back pain. If you're using a mattress that doesn't support your shoulders the right way or a pillow that's not high enough, you'll likely experience upper back pain.
How You Can Reduce Back Pain
Luckily, besides seeking medical help from a professional, you can do some things yourself to lower back pain.
Some essential tips include having a balanced diet with less sugar and caffeine, getting enough sleep, and exercising. According to a recent study, bad sleep patterns can impact pain levels.
And also, you should get a high-quality mattress.
How to Choose the Best Mattress for Back Pain
Now let's see what you should look for when getting a bed for back pain.
Support
A supportive mattress is supposed to keep your spine aligned. Bad spinal alignment can lead to back pain. The appropriate support can depend on some things, primarily the sleeping position.
Zoned Support
A supportive mattress with zoned support is constructed to support some body parts more than others. For example, they could have better support layers in the areas of hips and shoulders. This also depends on sleep position and can help you with back pain.
Balanced Foam
Balanced foam mattresses have various foam layers, using their best qualities. It can combine good support and pressure relief for back pain sufferers.
Firmness
Firmness is a subjective feeling – do you feel your mattress is soft or firm? There are different levels on the firmness scale, from extra soft, soft, medium, and medium-firm, to hard and extra-hard. Most people prefer medium-firm mattresses.
Some would say that the best firmness for back pain is a medium-firm mattress, but the right firmness depends on other factors. As you'll see, the right firmness depends on the person's sleeping position and weight. Average-weight stomach sleepers need different firmness than light side sleepers.
Pressure Relief
Good mattresses for back pain should have good pressure relief. Depending on the sleeping position, some points of our body are put under more pressure than the rest. This can cause joint and back pain, so you need to get a bed that doesn't push against them too much.
For example, memory foam mattresses are generally known as the best mattress type for pressure relief because they're usually soft to medium-soft.
Mattress Type
Mattresses for back pain can be of different types, and here's which ones you should watch out for.
Memory Foam
All-foam mattresses use high-density poly foams for support, while the comfort is offered through softer foam layers, primarily memory foam. A memory foam mattress conforms to the body and relieves pressure points. However, even the best memory foam mattress traps heat, so hot sleepers should avoid it.
A memory foam mattress can be both good and bad for back pain. The support from firmer foam can be inadequate for some people, but the pressure-relieving and contouring make it a memory foam mattress an excellent choice, especially for side sleepers.
Latex
Latex mattresses can be organic or synthetic, so it's a good choice if you're looking for an organic mattress. They're known for being bouncy and supportive, and breathable. They come with good pressure point relief, but they're on the medium-firm to firm side. However, they can be expensive.
Regarding back pain, latex offers excellent support but doesn't offer as much pressure relief as a memory foam mattress does.
Hybrid
A hybrid mattress combines two mattresses – usually an innerspring mattress and a memory foam mattress. It uses the best aspects of the other mattress types. A hybrid mattress has good support thanks to the coil system from an innerspring mattress and adequate comfort levels and pressure relief thanks to the foam. Just like latex, a hybrid mattress is usually in the higher price range.
This is why a hybrid mattress is usually the best mattress for sleepers with back pain. A hybrid mattress comes with balanced support and comfort, with minimized disadvantages of the mattress types it's made from. Hybrid mattresses can have different firmness levels, from soft and medium-soft to medium-firm and firm.
Innerspring
An innerspring mattress has a coil support core with a thin comfort layer. It's known for its bounce and good support, but it also has terrible motion isolation and might be too firm for some. If motion isolation is a problem for you, look for an innerspring mattress with pocketed coils, which are individually wrapped coils.
Innerspring mattresses could be a good choice for back pain only if they offer enough pressure relief. Innerspring mattresses have good support, but their comfort might be lacking. They're usually medium-firm to firm. If you're looking for something slightly more comfortable than an innerspring mattress, get a hybrid mattress.
Airbed
An airbed offers support through an inflatable chamber, and some even let you control the firmness through this. They can even have other materials on the support core, like memory foam and latex.
Depending on the added materials, airbeds can be a good choice for back pain. However, they could lack support, and they tend to be expensive.
Contouring
If you feel back pain, you need a good body contouring mattress to deal with it, especially if you're a side sleeper. Beds with great contouring usually have a soft to medium-firm feel.
A latex mattress or a memory foam mattress offers great contouring, although a hybrid could be good too. Innersprings are generally the worst at this, but you could find some better models.
Body Weight
As mentioned before, the perfect firmness depends on your body weight. It's simple, the heavier someone is, the more pressure they put on the mattress.
Lightweight sleepers under 130lbs need a bed that won't cause joint pain. The best option for light sleepers is a softer mattress to a medium-firm one.
Average-weight sleepers, between 130lbs and 230lbs, should sleep on a medium to a medium-firm mattress to avoid spinal misalignment. Heavyweight sleepers over 230lbs should get a firmer bed that will push against them enough and won't deteriorate as fast.
Sleeping Position
The perfect firmness and support also depend on your sleeping position because every position requires different things to keep the spine aligned.
Back Sleepers
Back sleepers with back pain should sleep on a mattress that will push against their back just enough, so the best level for them is a medium-firm to a firm mattress. Check out our list of the best mattresses for back sleepers!
Side Sleepers
Side sleepers with back pain need a medium-soft or a soft mattress with good support that keeps their spine aligned but lets their hips and shoulders sink enough. Because a lot of pressure is put on their hips and shoulders, these areas need pressure point relief so they don't feel joint pain.
One of the best mattresses for back pain for side sleepers is a soft mattress or a medium to the medium-firm mattress.
Check out our list of the best mattresses for side sleepers!
Stomach Sleepers
Stomach sleepers don't have the best position for their health. However, they need a lot of support and little pressure relief, and they should go for a firm mattress, so their hips don't sink too much.
Check out our list of the best mattresses for stomach sleepers!
Combination Sleepers
Combination sleepers move around a lot in their sleep, and they need a bed that will match them no matter their position, which can be a little tricky. To be safe, they should sleep on a medium-firm mattress. After all, it's preferred by most for a reason.
Check out our list of the best mattresses for combination sleepers!
Responsiveness
A responsive mattress is needed if you move around a lot in your sleep or want a bed that will adapt to your body quickly. If you're looking for a slow response and a sinking feeling, look no further than memory foam. But if you want a fast response from a mattress that will contour your body but still adapt fast, go for a latex mattress.
Motion Isolation
People that sleep with a partner usually need sound motion isolation. You don't want to toss and turn to wake you up.
Avoid an innerspring mattress if you're a light sleeper and need sound motion isolation. The coils transfer motion too well. Pocketed coils, which are individually wrapped coils can slightly fix this. A hybrid mattress is also a somewhat better choice if this type of support is what you're looking for.
The best mattresses for motion isolation are memory foam and latex.
Temperature Regulation
You could get the best mattress for back pain, which could still negatively impact your sleep because it traps heat. This is a message for all the hot sleepers out there – beware, because memory foam is your enemy.
Being dramatic aside, memory foam is a closed-cell material that traps heat, and hot sleepers should avoid it. Even the best memory foam mattress traps heat. If hot sleepers want a cooling mattress, they should get an innerspring, hybrid, or even a latex bed.
Hot sleepers could also get an alternative like the contouring gel memory foam or copper-infused memory foam, both excellent cooling options if you need memory foam for your back pain. Don't worry, you won't have to sacrifice your comfort!
Check out our list of the best cooling mattresses!
Edge Support
A mattress with solid edge support is essential for back pain sufferers because a mattress with soft edges will make you sleep in the middle of the bed. This will cause sagging, which is terrible for your back. Spring mattresses and hybrid mattresses have stronger edges because they're made from stronger coils, while foam and latex mattresses usually have foam encasement on the perimeter.
Durability
As mentioned before, back pain can be caused by insufficient support, and you can get inadequate support from an old, deteriorating mattress. This is why it's essential to get a mattress that's made from durable materials. You don't want the pain to come back after just a few years.
Be careful with cheap memory foam. Since the material is usually soft, it deteriorates fast under pressure. High-quality memory foam is better at handling stress. Non-supportive coils in an innerspring or a hybrid mattress can also impact back pain.
Budget
While you don't exactly need a luxury hybrid mattress for constant back pain, you do need one of higher quality. That being said, you can find plenty of good-quality beds in the lower price range.
You should know your budget beforehand, and don't overspend! Memory foam, one of the best mattress types for back pain, is generally affordable. Just make sure you're getting a good deal for your buck.
If you're interested, check out our list of the best budget mattresses!
Online Shopping
Is it better to shop for a bed for back pain online or in-store? Even though you can immediately feel the bed in a physical store, we prefer online shopping.
It's easier to get information bout the materials and other aspects of the mattress, and it usually comes with other advantages like free white glove delivery, a sleep trial (something back pain sufferers need), and extended warranties. Also, they're usually more budget-friendly.
Sleep Trial
The most significant part of mattress shopping is testing it out. Is it the right fit for you?
Luckily, sleep trials exist. Most online mattress stores offer a sleep trial, and with it, you can test out a mattress, see if it suits you, and return it if it doesn't. Sleep trials can last from 30 days to even a whole year, but most companies offer a 100-night sleep trial.
Warranty
A warranty is a must when getting that new bed! It's a way for a company to say, "Hey! We know our product's good, and here's proof!"
You can get a warranty from any trusted mattress seller, but online stores tend to have extended warranties. Sometimes mattresses come with manufacturing issues that aren't your fault, and you should be able to return them.
Do Your Research
Last but not least, always do your research! That mattress isn't running anywhere, so be thorough to save yourself some trouble in the future.
Ask the manufacturer about the materials, ensure you know what you're looking for, and check mattress reviews to ensure you're getting what you signed up for.
Some Other Things to Keep in Mind
Besides the mattress, here are some other things you can do to alleviate back pain.
Changing Your Sleeping Position
What if your mattress doesn't match your sleeping position, and you feel back pain but can't afford a new mattress? Try changing your sleeping position.
Some sleeping positions are better than others. For example, stomach sleepers should try sleeping on their side if they feel back pain. This also helps by changing pressure points.
Pillow
Your head should also have proper alignment. Otherwise, you can develop neck and even upper back pain. The perfect pillow also depends on your sleeping position. Side sleepers need a high pillow, back sleepers a medium one, and stomach sleepers should sleep on a low bed.
Side sleepers could also try sleeping with a pillow between their knees for better support, and back sleepers could put one under their knees.
Mattress Topper
If your mattress doesn't have the right firmness but can't afford a new one, you can invest in a mattress topper. Their cheaper can be made from many high-quality materials and can improve the experience. However, they can't improve support.
Bed Frames
Some mattresses need to have the right bed frame for optimum support. Inquire with the manufacturer to find out whether your mattress needs a bed frame or not to be as supportive and comfortable as possible.
Frequently Asked Questions
Is a soft or firm mattress better for lower back pain?
Generally speaking, a firmer bed would be a better option for lower back pain. If the mattress is too soft, it fails to provide support to your spine. If we reference the firmness scale, the optimal range would be from 5 to 7 on the firmness scale.
However, ideal mattress firmness depends on your weight and preferred sleeping position.
Lightweight sleepers under 130 lbs usually enjoy options closer to the 5/10. Average weight sleepers between 130 and 230 lbs choose medium-firm to firm (6.5 – 7). Heavy sleepers over 230 pounds need a firmer bed rated 7,8 on the firmness scale.
Is memory foam mattress good for back pain?
A memory foam mattress can be an excellent choice for back pain. It allows contouring around hips and shoulders, and it adapts to your body shape pretty fast. With the right firmness, you can get both support and pressure relief.
If you're interested to see some memory foam options, take a look at our list of best memory foam mattresses.
What sleeping position is best for lower back pain?
If you've experienced lower back pain, there are a few sleeping positions to help.
Sleeping on your side with a pillow between your knees is one of them. The pillow will correct the spinal alignment through the pelvis and hips position correction. Also, check if there's a gap between the mattress and your waist. If there's a gap, put a smaller pillow there to add extra support in that area.
Another recommendation is to sleep on your side in a fetal position, with your knees tucked towards your chest.
If you don't prefer to sleep on your side, you can sleep on your back. But add a pillow beneath your knees. That way, you'll remove the strain and pressure from the lower back.
What sleeping position is best for upper back pain?
Upper back pain can be relieved through certain sleeping positions.
Sleeping on your side with a pillow underneath your legs or between your knees can help. If you're a stomach sleeper, consider adding a pillow underneath your tummy. The pillow's support will help ease some of the tension and remove the stress from your back.
Is my mattress causing back pain?
If you don't suffer from chronic back and your pain goes away a couple of hours after waking up, your mattress is the most likely culprit.
A mattress can cause back pain if it's not supportive enough, if it's too firm or too soft, or if it's too old.
Final Thoughts
Let's take a final look at our list:
| Mattress | Best/Most |
| --- | --- |
| Saatva Classic | Best Overall Mattress For Back Pain |
| Casper Original | The Best Foam Mattress For Back Pain |
| Nectar Mattress | The Best Affordable Mattress For Back Pain |
| DreamCloud | The Best Hybrid Mattress For Back Pain |
| Layla Mattress | The Best Flippable Mattress For Back Pain |
| Winkbed | The Best Luxury Mattress For Back Pain |
| Avocado Green Mattress | The Best Eco-Friendly Mattress For Back Pain |
| Loom & Leaf | The Best Mattress For Heavy People With Back Pain |
| Leesa Original Mattress | The Best Mattress For Lightweight Sleepers With Back Pain |
We hope you found this list to be helpful. The mattress market is so versatile that it's impossible not to find The One. But, when you're looking for a mattress for back pain relief, be extra curious about all the details. Also, make sure to think about how your weight and sleep position fit into the mattress equation.
We wish you good luck in finding the best mattress for back pain. You deserve phenomenal sleep!