Nectar Mattress Review for 2023: Affordable Luxury For Your Bedroom
Written by: Milica Terzic
Updated: 02/20/2023
Transparency Disclosure: For products purchased through the links on this page and throughout the site, we may get a referral fee (with no extra cost to the buyer). Please read our full How We Rate page for more information. There you can see how we conduct research and test products, as well.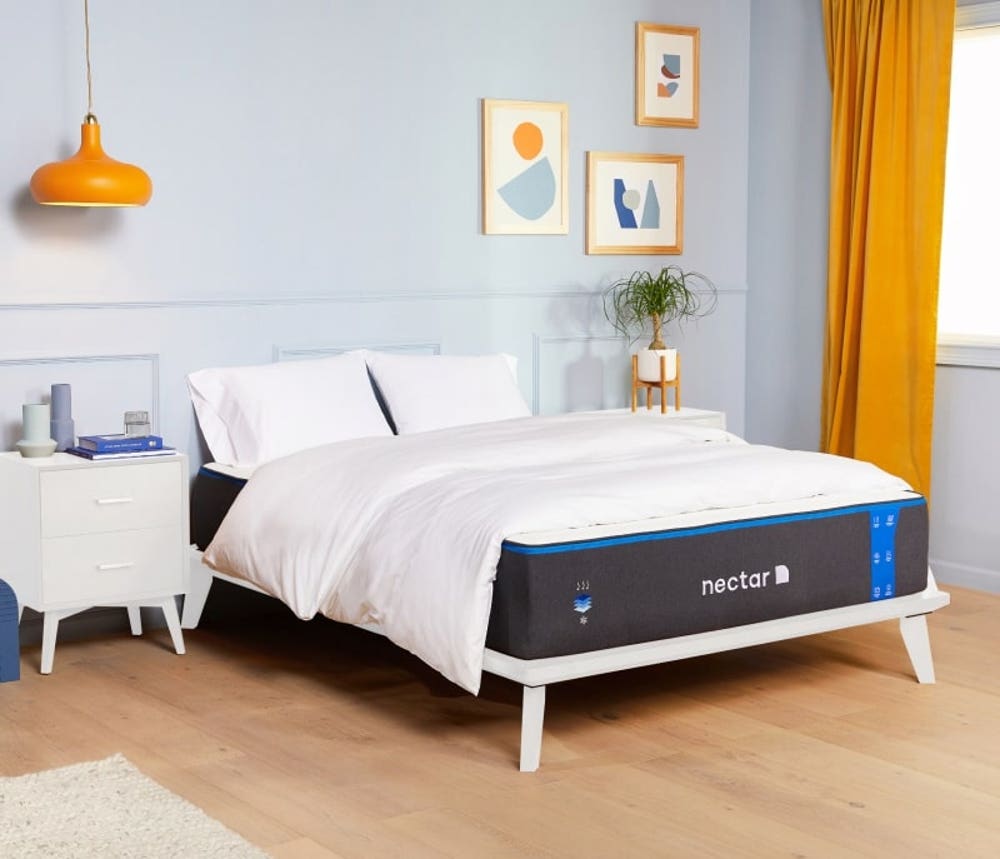 Nectar mattress is advertised to provide the ultimate comfort for every sleeper. Do you remember seeing it on the Wendy Williams show, when the whole crowd got one as a Christmas present? Yes, Nectar did THAT.
As a company, Nectar Sleep is unique. Founded in 2016, it was named the fastest-growing e-commerce company in the US and a top place to work in NYC.
Alongside that, the company has been winning many awards for its sleeping products since its foundation.
Besides two all-foam mattresses, Nectar manufactures and sells:
Bed frames
Bedding
Furniture
Dog beds
In Roman and Greek mythology, the term nectar represents the drink of the gods. In the sleeping industry, Nectar is the mattress of the gods. Just kidding, but more than a million people have bought the Nectar mattress since 2016!
Yes, a million & that's admirable, but the next logical question emerges:
Is Nectar THE mattress that will provide you the most blissful third of your life?
Because that's not an insignificant lot of your time.
Answering this straight from the shoulder isn't easy. Keep reading this unbiased Nectar mattress review to do so.
In A Nutshell
Nectar is an all-foam mattress
It's great for couples
It's most comfortable for back and stomach sleepers
It works on all bed frames
The company offers a 365-day sleep trial
The mattress comes with a lifetime warranty
Every mattress comes with free shipping & gifts!
Is Nectar mattress good?
As mentioned on the Nectar Sleep website:
9/10 customers would recommend the Nectar Mattress to their friends and family
90% of customers said their Nectar Mattress helped reduce overall aches, stiffness, discomfort
9/10 back pain sufferers said their Nectar Mattress helped some or a lot
And the most attractive thing?
It's the price! Nectar really is an affordable cushion. Scroll down to prices & sizes of the Nectar mattress review to make sure.
Nectar Mattress
Nectar is a premium quality mattress at an affordable price. The secret to its outstanding comfort lies in plush layers of memory foam.
Construction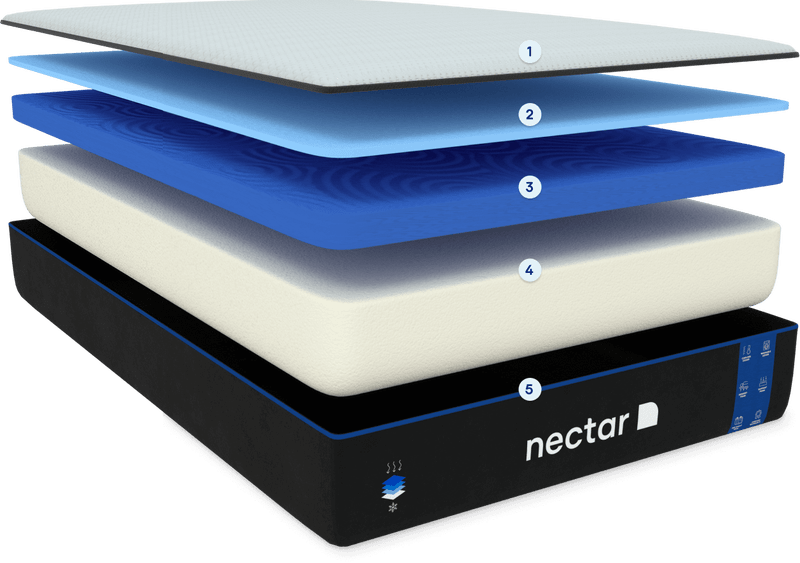 Nectar dreams big – to bring the most comfortable sleep to everyone. The way is by making affordable mattresses. We believe their success is so great because they took care of the mattress's design and construction. The mattress construction consists of 5 layers designed to make certain of a breathable cooling action.
Cover
The Nectar mattress's first layer is the Quilted Cooling Tencel™ Mattress Cover. A soft and airy 1″ top layer that caresses your face and skin makes it a little easier to snooze your morning alarm.
This cover is so comfortable and soft because it's made from a mix of cotton and Tencel™ fiber. Tencel is a stretch knit material that wicks away moisture and keeps you cool at night. It is also responsible for comfort.
Do You Need the Nectar Mattress Cover, or Could You Sleep without It?
Nectar recommends not to sleep on the mattress without the cover. If you're waiting for a replacement cover, it's best to wait until you receive the new cover. When you receive the replacement in the mail, switch them as quickly as possible.
Gel Memory Foam Comfort Layer
Another 3″ of comfort makes sure you don't feel any lumps or sleep hot on the Nectar.
They call it a gel memory foam layer because it is made, well, from gel memory foam.
The point of gel-infused foam is heat-trapping, so you don't sleep hot (which can happen with all-foam mattresses). This layer comforts you and contours your body while you sleep.
Transition Layer
The Adaptive Response Transition Layer is the middle layer that is 1.75″ high. This layer is a part of the mattress because it makes movement easier.
It should support you while you sleep, without feeling like you can't get out of bed. The transitional layer gives Nectar more bounce and responsiveness.
Base
The supportive base layer is also made from foam, and it's responsible for stabilization. It is 5.25″ high and made from high-density polyfoam.
It acts as a solid base that keeps memory foam layers in check, reinforcing support. It also gives top layers time to shine when it comes to edge support.
Bottom Mattress Cover
Nectar has a bottom mattress cover. Did you see that anywhere else?
This cool feature keeps the mattress stable. It prevents the mattress from slipping from the bed frame
This whole construction makes the Nectar mattress fit on all bed frames:
Boxspring
Divan bases
Traditional frames
Adjustable bases
Platform
All layers make a construction for the coolest sleep with the most airflow on any bed frame.
Is Nectar mattress made in USA?
Nectar is not made in the USA. Despite that, it uses very high-quality materials worldwide. It manufactures its products in Vietnam, Malaysia, China, and Mexico. All production is done with the utmost safety and sanitary measures in place.
Still, Nectar is America's most comfortable mattress. But if you really want a mattress locally made, take a look at the Saatva Classic Mattress Review.
Firmness & Feel
Considering firmness, Nectar is described as a medium-firm memory foam mattress, with a score of 6.5/10. The best sleep is usually on this firmness level.
Over at Nectar, they like to call this firmness level the mattress sweet spot. But, we'd like you to pay attention to this:
According to your weight and the way you sleep, the firmness level of any mattress will vary. It's normal that your experience of the mattress and its firmness will differ.
The feel of the mattress is mostly determined by construction and firmness. Nectar is not very responsive due to all-foam construction. It rather gives you a comfy nook to spend your nights in.
That is why very light individuals under 130 lbs. could find the mattress too firm.
The mattress takes about a month to break in a bit.
Depending on your sleeping position, this mattress could feel too firm or too soft.
For more in-depth info, check that section of the Nectar mattress review.
Durability
Nectar believes that you only need one mattress forever – the Nectar Mattress. Even though it isn't made in the USA, it's crafted with various premium materials, making Nectar a cloud to snooze on.
The company offers a lifetime warranty. This means they really believe in the product's longevity, where it should last you for 7-10 years. (If you weigh over 250 lbs, sleeping on Nectar could be shortening the mattress's lifespan).
Memory foam mattresses are designed to be durable and relieve common pressure points. Those include areas beneath your shoulders, hips, and legs.
It seems like you will be using Nectar for many, many years for sleeping with better spinal alignment. It's practically for any body type, with slight variations of firmness feel
Motion Transfer
Many reviews suggest Nectar has amazing motion transfer, and no movement is felt.
To be honest, it is what we expect from an all-foam mattress.
Foam is formed in a way to make you feel like you're sleeping in a cloud-like nook.
This is especially felt if you don't switch positions during the night.
Nectar used this characteristic to create a sleeping mattress that maximizes movement isolation.
Do you share a bed or like to have a drink while watching Netflix?
Yeah, we all have those lazy days. The Nectar mattress will isolate motion to the maximum.
You won't even feel your partner moving because the transition isolation is seamless.
Don't worry about waking your partner either, as an all-foam mattress is silent due to no coils.
Edge Support
Why is edge support even considered a factor when choosing a mattress?
It is important what kind of edge support a mattress has if you:
Share a bed with someone or
If you like sleeping towards the edge of the mattress
Nectar is an all-foam mattress, which is slow-moving. That doesn't mean rolling off the mattress. Nor collapsing from the edge.
You can easily lean over while sitting or lay down at the edge. All without feeling like you will fall off.
This is all due to the high-density polyfoam in the construction of the mattress.
Bottom line is – the mattress offers respectable edge support.
Pressure Relief
Are you in the market for a new mattress? Is pressure relief one of your key requirements? In this case, Nectar could be your deep sleep cloud. Nectar has been officially rewarded for comfort and soothing back and neck aches.
Nectar's memory foam layers have the ideal ratio of softness, firmness, and support most people want. It's what the mattress is well-known for!
And in many customer reviews, Nectar is highlighted for strong contouring.
Its construction is developed to ensure pressure relief with just enough sinkage. And just a little responsiveness will give you replenishing quality sleep.
Temperature Regulation
Regarding temperature regulation, foam is naturally less cool than latex and hybrid. This is due to the way foam conforms to your body when you drift off to sleep. Nectar has done its best to tackle hot & humid sleep, by using The Tencel cover. It allows airflow into the mattress.
Remember those gel memory foam layers from the beginning? They work their way into circulating more air while you sleep.
Despite the efforts, some heat will persist. If you are a hot sleeper, all foam memory mattresses like Nectar might not be your ideal mattress.
Take a look into Nectar's Lush Mattress or take a look at our best cooling mattress list instead.
Nectar Mattress
Nectar is a premium quality mattress at an affordable price. The secret to its outstanding comfort lies in plush layers of memory foam.
Sleeper Type Preferences & Weight
Nectar mattress is known for great pressure relief for hips, shoulders, back, and neck. Depending on the way you sleep, it will be more or less comforting to your body.
The ideal owner of a Nectar mattress is someone who enjoys a long sleep with no interruptions. This is possible due to slow-moving memory foam and just the right amount of sinkage.
Regarding weight, Nectar is ideal for individuals heavier than 130 lbs. up to 250 lbs. Individuals lighter than this could find Nectar way too firm. Heavier bodies could sink in the bed more, leaving spots and dents in the long run. If you're over 250, sleeping on Nectar could be shortening the mattress's lifespan.
Side Sleepers
Around 74% of people sleep on their side, so designing a mattress filling out that requirement is a must!
Nectar is designed to cater to side sleepers. The main goal is they don't wake up during the night but find the right spot every time.
Depending on your weight, Nectar will definitely feel softer or more firm.
Generally, light and medium-weight side sleepers will find the Nectar very soft. Heavier side sleepers will feel more support and pressure relief.
If you are a side sleeper, check out more top picks for side sleepers.
Back Sleepers
Once again, those sleeping on their backs are the group that will enjoy the Nectar mattress most. Especially if they don't sleep hot and enjoy all-foam cushions.
Sleeping on the Nectar mattress on your back offers:
Great contouring
Respectable edge support
Great pressure relief from aches and pains
Stomach Sleepers
Stomach sleepers above medium weight will feel more support and firmness sleeping on the Nectar mattress. This group will enjoy the Nectar mattress as well.
Have in mind that very light stomach sleepers could find it a bit too firm.
Because of the memory foam, your body will eventually sink a little. It's the good kind that creates a comfy nook that'll keep you in REM for just the right amount.
Combination Sleepers
The combo is the group of sleepers that tend to rotate during the night, often with one dominant sleeping position. Either way, Nectar is a mattress with slow-moving memory foam which isn't as responsive as latex. Transitioning on a memory foam bed requires more effort to roll, which could lead to you waking up a bit tired.
This is an honest Nectar mattress review, so we're straight up: Think twice about buying Nectar if you're a combination sleeper. Movement during the night could be delayed and complicated.
In this case, it's probably best to check mattresses best for combination sleepers.
Other Mattress Models
Nectar tends to bring comfortable sleep with seamless movement to everyone. Hence, it has created more offers besides the popular Nectar Mattress:
The Nectar Premier Mattress
The Nectar Premier Copper Mattress &
The Nectar Bundle
Nectar Premier Mattress
Nectar Premier Mattress is a snatch! It's the ideal softness, firmness, and total body support ratio.
With top-notch movement prevention, the Nectar Premier is also memory foam. But, indifference to The Nectar, The Premier offers even more cradling and contouring. Denser foam in the comfort layer allows you to find the comfiest sleeping spot. That's all without waking your significant one.
The Nectar Premier has enhanced cooling due to ActiveCool memory foam. The catch with that one is that it adjusts to individual body heat. Combo and stomach sleepers who like napping on memory foam will enjoy this model the most.
Nectar Premier Copper Mattress
If you enjoy the contouring feel of memory foam and top-notch motion isolation, the Nectar Premier mattress will suit you perfectly.
Nectar Premier Copper Mattress
It is very similar to the previous one but unique in its way. Nectar Premier Copper is the most advanced and most expensive model by Nectar Sleep. Nectar adds on their website: tallest, coolest, most supportive, too.
Premier Copper is a premium model, a stable and safe bed that will snuggle you more and better. The key difference is copper fibers, aiming to wick away heat and bring cooler sleep every night of the year. The quilted cover also has added copper for the same cool-to-the-touch sensation purposes.
It is medium-firm – 6.5/10 on the firmness scale to fit a wide array of sleepers. Due to the 14″ height, it offers tremendous pressure relief. Bullseye for back sleepers – Premier Copper supports the lower lumbar region most.
Nectar Premier Copper Mattress
The most supportive Nectar mattress yet. Still entirely made of memory foam, it has a medium-firm feel and fits multiple sleeper types.
Mattress Prices & Sizes
One of the important factors of a Nectar mattress review is to weigh the price of the mattress. It's time to invest for what you will spend 8 hours a day on. Have you wondered:
What size of mattress do you need?
How much $$$ to spend on a mattress?
Hopefully, this Nectar mattress review will help you answer some of these questions. Knowing the answers makes it easier to decide which size of Nectar mattress you need.
Take a glance at the table below with all sizes and measurements of Nectar. Choose the best fit for you to turn in every night.
| Size | Price | Weight | Height | Dimensions |
| --- | --- | --- | --- | --- |
| Twin | $599 | 45 lbs. | 11″ | 39″x75″ |
| Twin XL | $769 | 48 lbs. | 11″ | 39″x80″ |
| Full | $899 | 68 lbs. | 11″ | 54″x75″ |
| Queen | $999 | 74 lbs. | 11″ | 60″x80″ |
| King | $1,299 | 89 lbs. | 11″ | 76″x80″ |
| Cal King | $1,299 | 89 lbs. | 11″ | 72″X84″ |
Getting an HQ memory foam mattress for as little as $798 sounds like you get plenty, wouldn't you agree?
So far, the Nectar mattress:
has high-quality construction,
is less expensive than similar all-foam mattresses, (average is $1,050)
The price of the mattress should never block you from sleeping blissfully!
Deals & Discounts
You can see the regular pricing of the Nectar mattress and all the goodies you get with it on the price table. But, these prices can go even lower! Be sure to follow Nectar's official website for regular discounts and offers. And while you're here and reading this review, check the offer we have with Nectar.
Free Gifts With Purchase
Another amazing perk of the Nectar is that, with every mattress purchased, you get:
2 free Nectar pillows – shipped with the mattress inside the box for easy access (one for Twin and TwinXL)
A free protector – hypoallergenic cotton protector, that will help you sleep comfortably
free sheets – super-soft and long-lasting, made from microfiber. they offer a comfortable, cool sleep environment (you choose the color)
Wendy Williams sleeps on the Nectar, why don't you?
Overview of Benefits
Availability
Nectar is well-known for being an e-commerce mattress brand. Ordering Nectar from their website is the easiest option.
The website is where you get the feel of what Nectar mattress is all about – You'll see the brand's philosophy. Also even more on construction, materials, durability, and size, and prices of the all-foam mattress.
Nectar Mattress in Store
The mattress is also sold nationwide in stores. This is especially good if you want to hop on the bed, see and feel the foamy mattress in person before deciding to buy.
Check to see which stores & locations sell the Nectar mattress near you! It could be right around the corner.
Sleep Trial
For this price, it sounds almost unbelievable that you get 365 days of home trial. Sleep on the Nectar mattress for a full year and return it if you aren't satisfied.
You will have to wait for 30 days before you return it, though—just enough time to break in the mattress and get a taste of it.
You get every season of the year to see if your sleeping habits correspond with the benefits of this mattress.
You also get a full refund if you return the mattress, meaning that this is a stress-free, risk-free process.
Warranty
Nectar is so proud of their product, and they give you a lifetime warranty! Who does that?
Few companies are ready to devote themselves to your sleeping ways.
Nectar guarantees that you won't need another mattress.
If you've had the mattress for less than 10 years, Nectar will send you a new one if these defects occur:
deterioration
a physical flaw like degradation, split or crack
a manufacturing defect in the assembly
The nice thing is that the old mattress will be donated to a local center or recycled.
If you've slept on the mattress for more than 10 years and something happens with construction materials, Nectar will fully repair it for free. If you sleep on a Nectar mattress, you're covered for its lifetime.
The only charge for replacement/repair will be a transportation cost of $50 each way.
The warranty DOES not cover:
Any product subject to misuse, neglect, accident, or used in violation of instructions, including instructions to place the mattress on a proper bed frame.
Certification
Nectar mattress certification claims that its foam meets CertiPUR-US® standards. These include durability, emissions, and content. Independent, accredited experts from testing labs analyze every inch of the mattress.
Laboratories analyzing the Nectar mattress confirmed no ozone depleters, PBDEs, TDCPP, mercury, or lead. This makes Nectar safe for grownups, kids, pets, and your entire home.
Free Shipping
When you order the Nectar mattress, don't worry about paying to ship. It's free within the contiguous United States, regardless of buying or returning the mattress. An extra fee of $150 (per large item) will be charged to order shipping to Alaska and Hawaii.
When Does Nectar Mattress Ship?
The shipment of the Nectar mattress is within 4 – 7 business days, with no contact delivery. The delivery itself is from 9 – 12 business days altogether, from the moment of purchase.
Additional Services
White Glove Delivery
With the free shipping on checkout, you can choose white glove delivery for just $149.
That service exclusively brings your new mattress to the bedroom and removes the old one.
Wait for the call when your order arrives at the local White Glove Service provider.
Easily arrange the ideal time and date for your Nectar mattress installation.
White glove delivery has been paused for the current global health situation.
Does Nectar Mattress Come in a Box?
Another attractive thing about Nectar is that it comes in a bag, not a box, making it easy peasy to set up!
How to unbox and set up your Nectar mattress?
Move the bag to your desired room
Slide the mattress out of the bag
Unroll mattress onto the base
Unbox with someone, as its bulky and heavy
Total time: 5 minutes!
It takes 2 – 3 days for the mattress to expand fully, but honestly, you can sleep on it after 5 – 6 hours. Just keep in mind that the full experience is actually after those 2 – 3 days.
If you'd rather prefer a great mattress in a box, check out our top list instead.
How Long Does Nectar Mattress Smell? (Off-Gassing)
While skimming through the Nectar Mattress Review, you should have all the important information at hand. For example, when buying a new mattress, you might sense an unfamiliar smell.
But don't worry, it isn't any harmful chemicals that will put you at risk. Nectar really vouches for this, explaining on the website:
The smell of a new mattress is slight and should dissipate after a few days. It comes from the vacuum sealing of new foam, not from any bad chemicals.
So it turns out that the bag gives it a slight smell that you can get rid of fast if you:
air out your room for a few hours a day to get rid of the sealing scent
leave a bowl of white vinegar next to your bed where it can suck up smelly particles
sprinkle baking soda on the mattress and vacuum after an hour to absorb the residual smell
Easy-to-Use Financing
Nectar lets you pay at your pace!
Besides standard payment, you can use easy financing options like Affirm and Splitit.
There is also Amazon Pay and PayPal available.
If you qualify, you could get a Nectar mattress for as low as $67/mo over 12 months at 0% APR.
Return Policy
Returning Nectar is free and easy. You get a full year to try it out. If it's not meeting your expectations, fill out the form and ship the mattress back like you would send mail.
You will receive a full refund of the Nectar mattress, whatever you paid initially.
Also, the promotional items you got are yours to keep if you wish! You can return, donate or dispose of the promo items that came included with your mattress buy.
Be sure to wait at least 30 days before you return it, as your body needs around a month to adjust to a new mattress.
Final Thoughts
It turns out thousands of reviews are true: Nectar mattress is a great one after all!
And according to this Nectar Mattress review, it is designed purely with your comfort in mind. Memory foam hugs your body and contours itself to your unique shape. This way, it helps relieve pressure and secure first-class sleep.
This is a mattress with an amazing price point. It's great for couples because of its motion isolation and is a great option for back and side sleepers.
To put it literally (but sweet) – Nectar has your back.
Nectar Mattress
Nectar is a premium quality mattress at an affordable price. The secret to its outstanding comfort lies in plush layers of memory foam.