Leesa Mattress Review for 2023: An Honest Assessment
Written by: Milica Terzic
Updated: 02/20/2023
Transparency Disclosure: For products purchased through the links on this page and throughout the site, we may get a referral fee (with no extra cost to the buyer). Please read our full How We Rate page for more information. There you can see how we conduct research and test products, as well.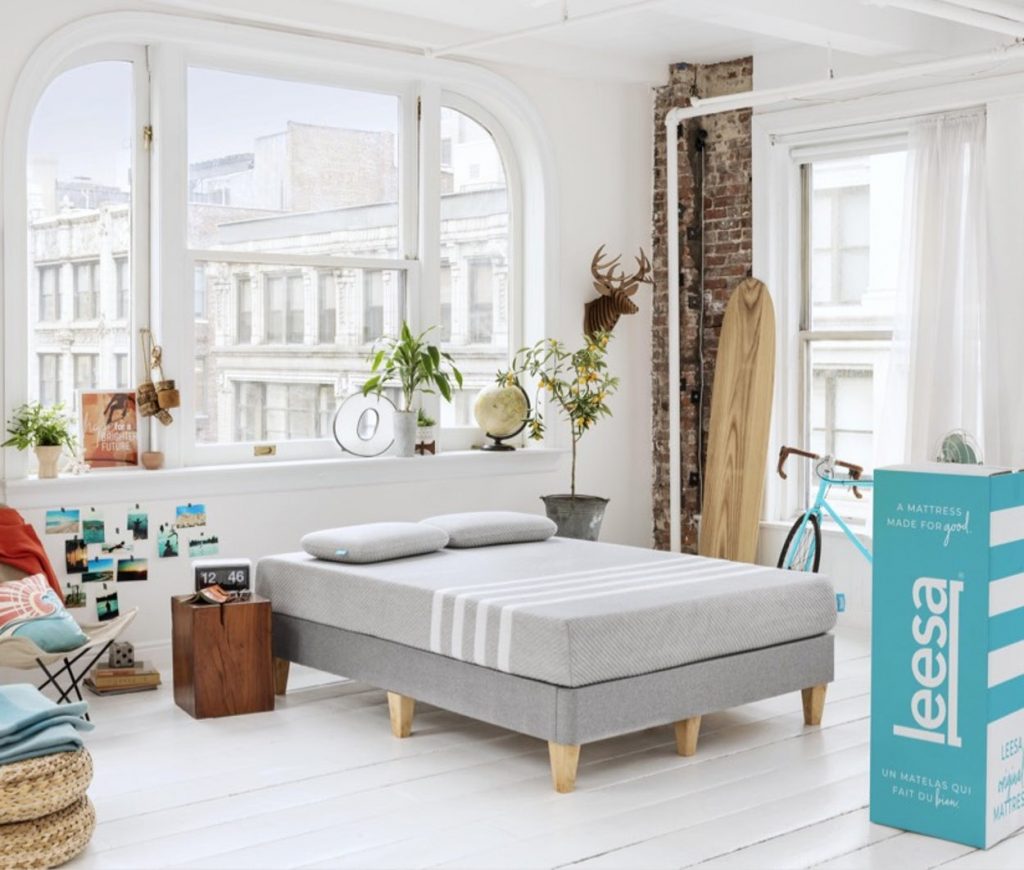 Can you still deliver good quality in a saturated online market of bed-in-a-box mattresses?
If you would ask the Leesa company, the answer is yes. The company launched back in 2014, right on the shores of Virginia Beach. It was one of the first companies on the online market to offer direct-to-consumer mattresses.
Even today, the company strives to deliver comfortable mattresses, bed frames, pillows, duvets, and other products. They are a Certified B Corp. This certification means that they are transparent in their practices. They also take into account environmental and social issues. Leesa uses renewable energy, natural and recycled materials. The company is committed to building stronger communities. Since day one, the company donates one mattress for every ten sold to families and children in need.
Today's review will shed light on their flagship model, the Leesa Original mattress. But most know it as the Leesa mattress. It is still one of the most sought-after models on the bed-in-a-box market. It is an all-foam mattress that provides both the comfort and support that your body needs after a long day of activities.
Many customers highly praise the Leesa mattress for its pressure relief and firm support.
However, is it really as good as they say it is? How does it hold up?
Read our review below to find out!
Leesa Mattress Review In a Nutshell
The Leesa mattress is an all-foam, high-quality mattress. It offers both comfort and support to the body.
Thanks to its comfort system, it provides pressure relief and reduces lower back pain.
It is a medium-firm mattress, best suited for lightweight and side sleepers.
It is 10″ thick.
All Leesa mattresses have a 10-year limited warranty.
They offer white glove delivery and a home trial period of 100 nights.
Leesa offers three more models – Leesa Hybrid, Leesa Legend, and Studio by Leesa.
The company is a certified B Corp. The company adopts environmentally friendly practices. It gives back to the community, and is transparent in its operations.
Leesa Original Mattress
The all-foam Leesa mattress is the company's flagship model that many lightweight sleepers rely on exceptional pressure relief.
What is Leesa mattress made of?

Cover
The Leesa mattress is covered in a soft, breathable seamless gray twill cover. The fabric is made from polyester, but it is thicker and more soothing than that of its competitors.
One of its specific characteristics is Leesa's signature four-stripe design. The design makes the mattress stand out from the other brands on the market.
Comfort Layer
Underneath the Leesa cover, there is a 2″ layer of breathable, responsive, cooling polyfoam. This foam, called LSA200, has features that you can find in latex and memory foam. It is described as being egg carton-shaped.
Compared to memory foam, the layer is more responsive. If you push your hand into this material, it will bounce back quickly to its original form. The layer is also designed to allow more airflow, which keeps the mattress from trapping heat. Even though the foam resembles latex a lot, it is actually more durable than it.
Transitional Layer
The next layer of the Leesa mattress is the memory foam layer. This 2″ layer contours to the body, which in turn relieves the pressure of the back, hip, and shoulder areas. Unlike the upper comfort layer, this layer doesn't respond as fast.
What is also unique about this mattress is that the comfort and the transitional layer are a part of one system. They provide comfort and a good night's sleep to a wide range of sleepers. Both of the layers have an average density of 3 PCF (pounds per cubic foot). The foams also combine features such as contouring, bounciness, motion transfer, and temperature regulation. In short, they achieve the perfect balance. Because of this, many Leesa mattress reviews tend to bind the two layers together.
Base
The base is made of a standard high-density base polyfoam. Not only is this layer 6″ thick, but it also has a density of 1.8 PCF. The base is what helps protect the body from sinking in too deeply into the mattress. It also provides stability for sleepers of all shapes and sizes.
The base is also thick enough to give Leesa its signature shape and make it more durable.
Firmness & Feel
According to their website, the Leesa mattress is a medium-firm that ranks between 5 and 7. The bed is designed to provide pressure relief and reduce lower back pain. This makes it an excellent choice for most sleep positions.
In a lot of other reviews, it usually ranks between 6.5 and 7 on a firmness scale. This ranking indeed puts it in the medium-firm category. The firmness comes from its base layer, made out of a high-density polyfoam. The layer is responsible for supporting the body. Both the comfort and the transitional layers work together to offset this firmness. They achieve this by relieving the lumbar region's pressure.
When it comes to how a bed feels, it is entirely subjective. Usually, memory foam mattresses get a bad wrap because people tend to sink into them. Thanks to its structure, the Leesa mattress gives you the support you need. You can move freely on top of it without any sinkage. It sort of has a cradling feeling. Some describe Leesa as having an overall neutral feel. Although some praise its top layer, saying it is airy and light. All in all, if you are looking for a mattress that it's not too soft or not too firm, then this is your cup of tea.
How long does Leesa mattress last?
Leesa offers a 10-year warranty on all of its mattresses. This includes the Leesa mattress as well. The Leesa doesn't contain any long-lasting materials, like latex or coils. Despite this, it is crafted from foams that have high density.
Both the LSA200 foam and the memory foam in comfort and transitional layers have a density of 3 PCF. In comparison, the polyurethane foam in the base is 1.8 PCF dense. Because of this, it should last you between 7 or 10 years. It goes without saying that it is recommended that you properly maintain it regardless.
It is also important to note that the Leesa mattress is designed to support individuals up to 300 lbs. You have to keep this in mind if you want to buy Leesa.
Motion Transfer
If you sleep with a restless partner or a pet, you definitely should pay attention to the motion transfer. In other words, can the mattress isolate movement from one side of the bed to the other.
Most reviewers agree that it excels in this aspect. As we previously stated, both the comfort and transitional layer contour to the body. These layers, in turn, make Leesa pretty good at absorbing and isolating movement. Though, we do have to mention that you may feel some jiggle if your partner or pet jumps or moves vigorously. This is something to take into consideration if you are a light sleeper.
Edge Support
If you have a smaller size bed or rely on edge support, this might not be the right mattress for you. Sadly, this aspect is the Leesa mattress's weak link.
When it comes to the edge of the mattress, you really don't want to have a sensation of potentially falling out of the bed. Many have felt as though they would roll off the edge when lying down. If you and your partner are getting a smaller size bed, the edge support might not be satisfactory.
The edge support might be an issue for those that weigh over 230 pounds or those with mobility issues. Our advice? Consider getting a hybrid or an innerspring one instead.
Pressure Relief
We can all agree that a good night's sleep is just what the doctor ordered to recover after a long, long day. That is why it is vital to choose a mattress with great pressure relief.
Foam mattresses, especially memory foam ones, are superb in relieving pressure. As it combines both of these materials, it molds to the shape of your body. That way, the layers alleviate pressure in areas, like the lumbar area, the neck, the hips, or the shoulders.
The Leesa is, therefore, great for both back and some side sleepers. Though if you are of a heavier weight, you may feel that it sinks a bit.
Does Leesa mattress sleep hot?
The fact is that all-foam mattresses, especially memory foam ones, tend to be hot. As the Leesa mattress falls into this category, it may trap some heat. As such, it might not be the right pick for those that usually sleep hot.
However, most sleeper types will find the Leesa mattress quite cool. Its cover is breathable. Its special LSA200 foam was also designed with cooling aspects in mind. The egg carton shape of the foam gives room for airflow. Thanks to this shape, it keeps the mattress both cooler and fresh. So the chance of you waking up overheated is unlikely.
Leesa Original Mattress
The all-foam Leesa mattress is the company's flagship model that many lightweight sleepers rely on exceptional pressure relief.
Sleeper Type Preferences & Weight
Leesa advertises their models as perfect for all sleep positions. Thanks to its construction, the mattress relieves pressure and reduces pain.
But not all people are built the same. Hence, not all sleepers and body types will have the same experience. The question of the hour is, how does it really hold up?
Side Sleepers
When it comes to side sleepers, they heavily rely on pressure relief, as most of their weight is distributed over a smaller area. Thanks to its memory foam, side sleepers can expect above-average contouring and cushioning.
But, as we mentioned above, the way a sleeper experiences the mattress may differ.
Most agree that the Leesa mattress is an excellent choice for lightweight sleepers. When it comes to average weight side sleepers, it gets a bit complicated. On the one hand, those that weigh 200 lbs or less should get enough pressure relief from the mattress. On the other, those that weigh between 200 and 230 lbs can feel some pressure on their shoulder and hip areas.
Sadly, side sleepers over 230 lbs may find that the Leesa sinks too much for them. As it sinks, they feel uncomfortable when sleeping. If you fall into this category, consider getting a firmer model.
Back Sleepers
Back sleepers put a lot of pressure on their spine and neck as they are sleeping. That is why they need firmer mattresses that contour and support their lower back area.
Needless to say, those sleepers that weigh under 130 lbs will find that this mattress is the best pick for them. They don't sink too much into the Leesa. Average-weight back sleepers can also expect good comfort and support. Though, sleepers whose weight is over 300 lbs may not get enough support that they need.
Stomach Sleepers
People that sleep on their stomachs tend to need a firmer mattress. When they sleep on their stomach, they put more pressure on their stomach and spine. As such, their hips tend to sink into it. In this position, the spine tends to curve much more.
As before stated, Leesa is the right pick for lightweight sleepers. Especially for those that like a softer feel. The Leesa mattress will provide them all the support and comfort that is needed.
According to most Leesa mattress reviews, the majority of stomach sleepers may not find the mattress all that enjoyable. The medium-firm bed may feel too soft for them under the hip area. Average weight sleepers closer to 130 lbs should get enough support. But sleepers whose weight is up to 230 lbs or more may feel more stress on the lumbar area.
The memory foam inside does provide support and less sinkage. All in all, stomach sleepers may want to consider getting a firmer mattress.
Combination Sleepers
Even if they have a dominant position, combination sleepers tend to toss and turn during the night. This is why they can't go wrong with either a medium-soft or a medium-firm mattress.
Because of this, light- and most average-weight combination sleepers will find the Leesa mattress enjoyable. The memory foam does a great job of isolating movement. This is great for keeping your partner from waking up. The comfort layer's foam is designed to respond whenever you shift and give a nice amount of bounce.
If you weigh anywhere between 230 to 300 lbs, this mattress might not be the right choice for you.
| | Under 130 lbs. | 130-230 lbs. | Above 230 lbs. |
| --- | --- | --- | --- |
| Side Sleepers | Excellent | Excellent | Good |
| Back Sleepers | Excellent | Good | Fair |
| Stomach Sleepers | Good | Fair | Fair |
Are Leesa Mattresses good?
Besides the Leesa Original mattress, the Leesa company has three other models. These are the Leesa Hybrid, the Leesa Legend, and Studio by Leesa.
You are probably wondering; how are they different from the flagship model, or what they have to offer?
Who are they best suited for?
Let's take a closer look, shall we?
Leesa Hybrid
When it was first introduced, the mattress was known as the Leesa Sapira Hybrid. The Leesa Hybrid mattress is the company's luxury hybrid innerspring mattress. Unlike the Leesa mattress, the Hybrid has a different structure. It is made by combining premium foam and pocket springs. The springs add extra support, bounce, and durability.
Like the Original, the Leesa Hybrid mattress is covered with a breathable, white, soft cover. The cover is designed with their signature stripes in gray. It also uses foam that is perforated to cool.
The Hybrid mattress is 11″ thick, and it is more expensive than the Leesa Original mattress. For example, the Queen size Hybrid goes for $1,899. Compared to the Queen size Original, which costs $1,199. Thanks to its construction, it is also heavier than the Original.
The Leesa Hybrid mattress has a softer feel, making it a great fit for side sleepers. As it has coils, the Leesa Hybrid has better edge support. This is why it is an excellent choice for couples that share a bed. As the mattress is designed to handle weight up to 350 lbs. Hence, the heavier sleepers will enjoy it better than the Original.
Leesa Hybrid Mattress
The all-foam Leesa mattress is the company's flagship model that many lightweight sleepers rely on exceptional pressure relief.
Leesa Legend
If you are looking for a more luxurious feel, then the Leesa Legend might be the right choice for you. The Leesa Legend mattress is a luxury-tier hybrid mattress. The Legend has a dual pocket spring system. It has pocket springs, which provide extra edge support. The mattress also has micro coils, which give targeted hip and shoulder support. It also has excellent pressure relief and motion transfer qualities.
The 12″ thick mattress uses high-quality, sustainable materials in its design. The iconic four-stripped Leesa Legend cover is made from various materials. It combines hypoallergenic and thermoregulating Merino wool and 100% organic cotton. But the cover also includes a polyester fiber that comes from recycled bottles. Fun fact, the California King size Leesa Legend mattress has polyester fiber derived from 73 plastic bottles.
The mattress feels softer than both the Leesa mattress and the Leesa Hybrid. Because of this, side sleepers will enjoy it. Especially with those that like their mattresses extra comfortable.
As it uses premium materials, the mattress is more on the expensive side. The Queen size Leesa Legend mattress is $2,399, so it is just something to consider before buying.
Leesa Legend
This legendary mattress has 2 layers of springs for superb edge support and targeted hip and shoulder support, and Merino wool to combat the heat.
Studio by Leesa
The Studio by Leesa is the most affordable mattress on their offer. Like the Leesa Original mattress, it is an all-foam, high-quality mattress. But, there is a difference. The top two layers of the Studio mattress are made from memory foam. These foams provide the comfort and support that the body needs for a good nights' sleep.
The first thing to notice about the Studio is the cover. The breathable, signature cover has a different color, heather-blue with blue stripes. According to some Leesa mattress reviews, the Studio by Leesa feels firmer. Compared to the Original, it has a ranking of 7.5. Because it feels like a typical memory foam mattress, it is a great pick for lightweight sleepers. It is also compatible with most sleeper types.
Studio by Leesa
Studio by Leesa has high-quality, responsive memory foam that provides tension relief in the hips & shoulders and overall better sleep.
Mattress Prices and Sizes
When searching for a new mattress, one of the make-or-break factors is definitely the price. The Leesa mattress is popular, due to its combination of good quality and reasonable price. The Leesa is an all-foam mattress that's mostly memory foam. As such, many reviews agree that it is reasonably affordable.
As you can see in the table below, the Leesa mattress is available in all mattress sizes. These are: Twin, Twin XL, Full, Queen, King, and California King. The weight ranges from 45 lbs for Twin to 92 lbs for King. The average weight range for a King size mattress is from 130 to 160. As you usually have to carry and assemble the bed yourself, this is something to note.
The Leesa is also 10″ thick. This is pretty average for all-foam mattresses and will suit most sleepers.
| Size | Price | Weight | Height | Dimensions |
| --- | --- | --- | --- | --- |
| Twin | $849 | 45 lbs. | 10″ | 39″x75″ |
| Twin XL | $999 | 48 lbs. | 10″ | 39″x80″ |
| Full | $1,099 | 56 lbs. | 10″ | 53″x75″ |
| Queen | $1,299 | 71 lbs. | 10″ | 60″x80″ |
| King | $1,399 | 90 lbs. | 10″ | 76″x80″ |
| Cal King | $1,599 | 92 lbs. | 10″ | 72″x84″ |
Deals & Discounts
Did we tickle your fancy? Visit the Leesa website for more information about their current deals and discounts.
Don't forget to also visit the Anatomy of Sleep's Coupon page. Get a great deal on us!
Overview of Benefits
Availability
You can buy your Leesa mattress online. But if you want to try it before buying, Leesa is also available in the following store chains:
West Elm
Macy's
Pottery Barn
Sit'nSleep
They also have showrooms:
The Virginia Beach Dream Gallery in Virginia (3200 Pacific Ave, Virginia Beach)
The SoHo Dream Gallery in New York (112 Wooster Street, SoHo, New York)
However, a quick Google search will show you that the Soho location is permanently closed. Their Virginia location is temporarily closed. Leesa mattress is also available on Amazon. If you want to return the mattress purchased through Amazon, you have to arrange it via Amazon.com directly.
Sleep Trial
There is a 100-night trial, so you have plenty of time to try out the Leesa mattress and decide if you want to keep it. You are required to try out the mattress for at least 30 nights since the delivery date. If you are not satisfied, you can return the mattress and get refunded. Note that only your first Leesa mattress purchase includes the trial period and free return. Also, the mattress needs to be clean and not damaged in any way so that you can return it.
Warranty
For all of their mattresses, Leesa provides a 10-year limited warranty. If the mattress shows any unrelated defects to the normal wear and tear in the ten years of warranty, the Leesa company will replace or repair the product. You don't have to pay any fee for the replacement or repair, but you must pay for any shipping costs related to the claim.
What does the warranty cover?
If the mattress has visibly deteriorated despite it being used with a proper or supportive foundation or base.
If the mattress is damaged despite everyday use due to any physical flaw that happened during craftsmanship.
If the cover has any flaw in the craftsmanship, which includes both seams and the zipper assembly. In this case, Leesa will replace the cover to match the currently available style. It may have a different color, design, or material.
What doesn't the warranty cover?
If the mattress feels softer after a while, without it affecting its pressure-relieving make-up.
If the level of mattress's comfort is not up to your preferences.
If the structure and/or the cover was abused or damaged through burning, cutting, tearing, spilling, soiling, etc.
If the damage was caused by using an unsuitable bed frame, foundation, platform bed, or adjustable base.
The warranty doesn't cover the replacement(s) of other pieces in the Leesa sleep system unless they are defective as well.
The warranty is void if the product was purchased through unauthorized retailers.
If the product was previously purchased or used by another customer. The warranty is also void if the product was purchased with any wording that indicates that it isn't "new" or of "first quality." This can be words like "as-is," "preconditioned," "used," "returned," "previously owned," etc.
The warranty is only valid to the original purchaser and is non-transferable.
Certification
All the Leesa mattresses have foams that are CertiPUR-US® certified. This certification shows that the foams are made to be safe for everyone. Or in other words, the foams don't include heavy metals, ozone-depleting chemicals, flame retardants, etc.
How does Leesa mattress ship?
Leesa ships free to all 50 states in America via FedEx. The company ships to Canada as well, but note that the 100-night trial and 10-year warranty will be void.
As all mattresses are made-to-order, the shipping process will be a bit longer. On their official website, the Leesa company states that due to COVID-19, the shipping may be two weeks long. When the mattress is ready for shipment, they will send you an email with tracking details.
As you can also order the Leesa from Amazon or from stores, you have to check if the policies may be slightly different.
Additional Services
White Glove Delivery
Leesa does offer a white glove delivery for some locations if you pay an additional fee of $150. If you do choose this service, it may take up to 7 business days to complete the delivery.
Mattress and Foundation Removal
The company can also remove your old mattress and box spring if you choose the white glove delivery. However, you can get this service if you have also ordered the Leesa foundation and frame.
Easy-to-use Financing
The company offers easy financing options via Affirm and PayPal Credit. Through Affirm, you can get 0% APR for 6, 12, or 18 months.
How does this work?
First, you need to pick any mattress.
Secondly, prequalify or select pay with Affirm at checkout. You will need to provide the required information to get the rate as low as 0% APR.
Lastly, get a decision and pay over 6, 12, or 18 months.
Caution: in some cases, you will need to make a down payment.
Interested? Check the official website for Affirm.
Return Policy
As mentioned before, you have a 100-night trial to try your Leesa mattress. You need to wait a minimum of 30 days so that you can decide if you want to keep it. If you choose to return the Leesa mattress, you have to either call or email their customer service. If you fall within the trial period, they will organize to pick up the mattress from your home and fully refund you. It is important to note that only your first Leesa order comes with a free return and with a trial period.
If you live in Alaska or Hawaii, you will sadly need to pay a $100 return fee.
What happens to your returned mattress? Leesa donates all mattresses that are in good condition to families and children in need.
Final Thoughts
What can you take from this Leesa mattress review?
When it comes to other foam mattresses, the Leesa mattress is a great choice. It combines exceptional quality with a reasonable price.
While the Leesa does have lackluster edge support, the medium-firm mattress still ranks high. Across the board, many praise its foam construction. The foams work together to make you feel comfortable and supported during the night. With its breathable cover and unique foam, it will keep you cool. That way, you can feel refreshed in the morning
Unfortunately, the Leesa mattress isn't going to be a hit with heavyweight or some stomach sleepers. But it will be enjoyable for most sleeper types.
If you are looking for a mattress that gives you a cradling sensation, then you might want to consider the Leesa mattress. Thankfully, they have a generous trial period of 100-nights.
Try Leesa and experience waking up with the best hug every day!
Leesa Mattress
The all-foam Leesa mattress is the company's flagship model that many lightweight sleepers rely on exceptional pressure relief.