Purple Mattress Review for 2023: Why It's at the Top of The Game
Written by: Jovana Bozic
Updated: 02/20/2023
Transparency Disclosure: For products purchased through the links on this page and throughout the site, we may get a referral fee (with no extra cost to the buyer). Please read our full How We Rate page for more information. There you can see how we conduct research and test products, as well.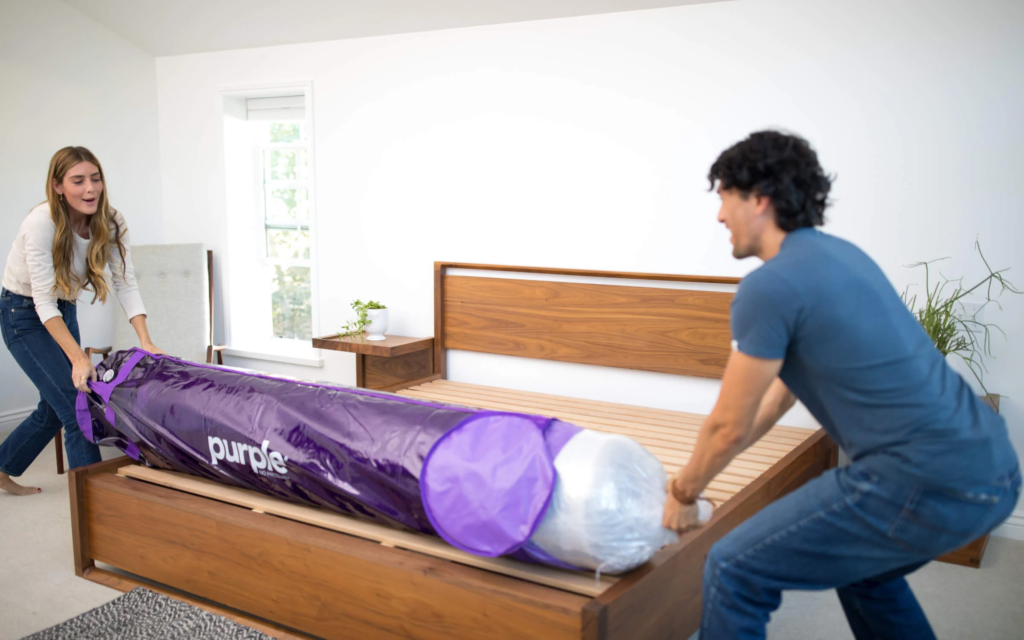 It's hard not to know about the Purple mattress these days. You probably saw the famous commercials with Goldilocks and the three bear beds. The Papa bear bed situation was too relatable for some of us, to be honest.
Interestingly enough, people either fall madly in love with it or hate it like sin. It's just the way it is since the beginning of the company. One of the reasons is the unique construction of this mattress.
The story of Purple mattress starts in 1989 with two brothers, engineers. Together they started a company.
They focused on creating high-tech carbon fiber sporting goods and wheelchairs.
After years of hard work, testing indicated there was a need for a better cushioning system. That need created an idea. They developed the Floam™, the world's lightest-weight cushioning fluid. Soon after that, the application of this new technology skyrocketed.
The Purple mattress was born. Meet the Purple Grid – the material that caused so many mixed emotions. And yet, no other mattress company offered anything similar to this day. The company works hard to achieve innovation, comfort, and superb quality.
Besides mattresses, the company offers:
Pillows
Seat cushions
Bedding
Weighted blankets
Bed frames
Pet beds
Will the Purple mattress be a good fit for you or your family members? How comfortable is it?
And what about that grid-thingy layer?
Continue reading our Purple mattress review and learn everything there is to know in no time.
Purple Mattress In a Nutshell:
Original Purple mattress is a three-layer, all-foam mattress.
It's famous for its unique grid-like comfort layer (2″ Purple Grid).
Purple is a medium-firm mattress, 6.5 on the firmness scale.
Combination sleepers tend to enjoy it the most.
You get a 100 nights sleep trial to test the mattress.
10-year warranty on all Purple mattresses.
Purple is made in the USA production facilities (state of Utah).
Other models available: Purple Hybrid, Purple Hybrid Premier, and Kid mattresses.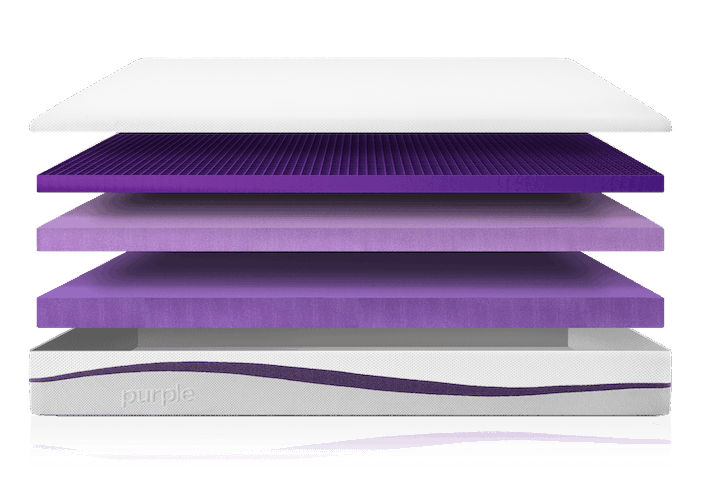 Purple Plus Mattress
Purple mattress comes with a unique grid-like comfort layer and medium-firm feel that makes it a good choice for combination sleepers.
Construction
The Cover
Before we go into layers, let's see what the cover has to offer, shall we?
Soft Flex cover is made of stretchy material which supports the movement of the grids. The material is very breathable and thin. It's composed of polyester (67%), viscose (29%), and lycra (4%). All in all, very comfortable and cool.
How to wash Purple mattress cover?
The cover is removable. However, we don't recommend machine washing. You don't want to risk shrinking the cover. Spot cleaning with mild detergent will do the trick!
Comfort Layer
The comfort layer is better known as the 2″ Purple Grid. This proprietary Hyper-Elastic Polymer is the secret sauce of Purple mattresses. It's what makes the mattress stand out from the rest of the companies.
The unique grid structure remains firm until the pressure is applied. Then it drops a bit to accommodate the body and provides good body support. It's specially built to provide even body distribution throughout the night. It's also very durable and protects the layers underneath.
The Purple Grid layer offers a bouncy feel that many people like.
Transitional Layer
Next up, we have the Dual-Layer Comfort Foam. This 3.5-inch layer is made of high-density polyfoam. It provides a smooth transition and stops the body from sinking in too deep. It is denser and a bit firmer than the comfort layer. Yet, it strategically cradles the body in combination with the 2″ Purple Grid.
In a nutshell, this layer provides both structural stability and comfort.
The Base
The Base The 4-inch base is made from high-density polyurethane foam. It offers a medium-firm support level. The base is firmer than the other two layers for an excellent reason. It gives necessary stability and structural support to the overall mattress.
Can Purple Mattress Be Used On An Adjustable Bed?
Yes, you need a robust and sturdy base for a Purple mattress. There are two main reasons:
Using an appropriate base for your mattress will ensure durability and optimal support.
Warranty applies if you use a non-spring foundation that is firm and flat. Otherwise, the warranty is void.
Choose between adjustable bed frame, platform, or box foundation. For the best support, all slats should be 3 inches or less apart.
Firmness & Feel
Before choosing a mattress, you need to know what your body likes. Determine the right firmness level that suits your sleeping habits.
The Purple mattress can be recognized as 6.5 out of 10 on the firmness scale. Some Purple mattress reviews even rate it as 7, which is closer to the scale's firm side. But the majority of reviews rate it as the medium-firm mattress.

Who would associate medium firmness with a bouncy grid made of polyfoam, right?
The transitional layer and the high-density base are responsible for the firmness level.
Together with the top layer, you get an excellent pressure relief system.
And what about the mattress feel?
Everyone is curious about the soft grid layer different from any other mattress. Purple mattress reviews say that once you lay down on it, you'll instantly notice the grid. It will drop a bit, and it will conform to your weight. They say that for heavier sleepers, the mattress can feel a bit softer. So keep this in mind as well.
The texture of the grid will be a new experience for you. Some people are thrilled by it, and others can't get used to it at all. We always recommend weighing the pros and cons of any mattress. Then decide based on what's best for you. After all, a 100-night sleep trial period is always available to you.
Durability
When it comes to durability, you want to look for a mattress that will support your sleep habits in the long run. So, how durable is the Purple mattress?
Some Purple mattress reviews state that it's very durable and malleable. The Hyper-Elastic Polymer is a durable material, so that's not an issue.
What seems to be a potential issue for durability is the foam base. In general, the foam base is less sturdy than the steel coil foundation.
Another thing to look out for is the sagging and deterioration of the mattress over time. Like many other foam mattresses, Purple will start to sag faster for heavier sleepers. For lightweight and medium sleepers sagging will occur much slower. It will probably result in a longer mattress lifespan.
According to the official website, Purple mattress has a ten-year lifespan. Mattresses go with a 10-year warranty, too. But consider the sleeper's weight as an essential factor. Then we'd say the mattress lasts between 7 to 10 years.
Motion Transfer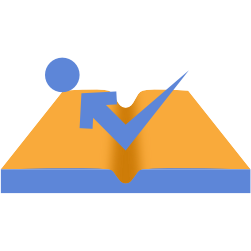 When we think of motion transfer, the first question that comes to mind is, "Hmmm…Is Purple mattress good for couples?".
After all, sharing a bed is entirely different than sleeping alone. Especially if your partner in crime tends to toss and turn a lot during sleep.
Generally, Purple comes across as a good choice for motion transfer isolation.
Any Purple mattress review you look at will tell you the same.
Solid motion isolation is not a surprise. Foam mattresses generally isolate movements very well.
However, keep in mind that Purple has that distinct comfort layer.
The hyper-elastic polymer feels bouncier to the touch compared to other foam mattresses. Still, we wouldn't worry about it too much. Purple is made to absorb any vibrations thanks to its slow-moving gel foam.
Edge Support
In terms of edge support, there's a unanimous opinion, more or less.
The edge support is not the most praised feature of the Purple mattress.
Nonetheless, Purple rates average on this matter.
In the early days, the original model had a tricky issue with edge support.
Customers complained about the faster occurrence of sagging and indentations.
This is very frustrating since it can affect the comfort level of the mattress.
However, the company listened and came up with a solution. They released the upgraded model with much stronger edges. The added thick foam side rails around the perimeter of mattresses seemed to do the trick!
Even though some of the complaints still occur on this matter, this mattress can still be a good fit for you. If you are really in love with the idea of this mattress – give it a go!
Try to avoid potential early sagging of the mattress by being very attentive to it.
Instead of rotating the mattress every six months, try rotating it every two or three months.
Temperature Regulation
We all experience some reluctance when considering purchasing a foam mattress.
The word on the street is that foam mattresses trap heat. That is why bed in a box mattress companies pull double-duty. Their teams work hard to create both superb comfort and an advanced cooling system.
Purple mattress achieved just that. The company created open construction that brings more airflow through the comfort layer. It absorbs less body heat. As a result and promotes an exceptionally cool sleep experience.
We're glad that our Purple mattress review could deliver great news for hot sleepers.
Purple Plus Mattress
Purple mattress comes with a unique grid-like comfort layer and medium-firm feel that makes it a good choice for combination sleepers.
Pressure Relief
Here comes the intricate part – the pressure relief. Be sure not to skip this section!
As we mentioned, Purple offers a unique grid structure, unlike any other foam mattress.
The comfort layer goes the extra mile to provide both support and pressure relief.
Once you lay down, you will experience the cradling feel of the comfort layer.
Your body is kept in a neutral position which will allow good spine alignment.
Now, here's the million-dollar question: WHO will get good pressure relief? Everyone?
The short answer is – No. Probably not everyone.
The comfort and feel are mostly subjective. It can vary significantly depending on the sleep position and sleeper weight. These factors will determine how relieving the comfort layer will be for a person.
Overall, Purple does offer excellent pressure relief to back sleepers and stomach sleepers. It may offer less pressure relief to heavy sleepers and lightweight sleepers, though.
We'll talk more about the details in just a second!
Sleeper Type Preferences & Weight
Buying a new bed shouldn't be an impulsive decision. That's why you're reading this Purple mattress review right now. If you are ready to invest in better sleep, you need to know your sleep habits. Your weight and body type will play a huge role. The combination of these factors will determine how the bed will feel for you.
It would be best if you also weighed the pros and cons of any brand you're considering and have all the facts.
That's why we always make sure to give you the full breakdown to decide with confidence.
Let's see if the Purple mattress fits in your life.
Side Sleepers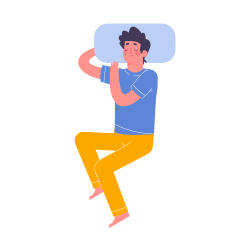 Side sleepers usually go for beds with excellent pressure relief. Why is that?
Well, sleeping on your side creates additional pressure points. Hips and shoulders get the biggest impact. No one likes waking up with discomfort and aches the following day. Sleep should be rejuvenation, not misery.
Most Purple mattress reviews see Purple as disadvantageous for side sleepers.
Lightweight sleepers probably won't get a sufficient level of pressure relief. While laying down, the petite sleepers will not push into the mattress grid layer enough. That causes the comfort layer to conform less to their body. The final result is that the bed will probably feel too firm.
However, it can work for lightweight sleepers that prefer a firmer bed feel. It feels like you're sleeping on top of the Purple mattress without sinking in a bit.
The heavier sleepers (over 230 lbs) experience similar disadvantages. In this case, the Purple mattress might provide less than optimal body support. The added pressure of the sleeper's body will make the grid collapse more than optimal. The result – less body support. Faster sagging and indentations.
If you're still considering a Purple mattress, we recommend taking a look at Purple 3 and 4. These models have thicker grid systems. They will provide firmer beds and better pressure relief.
Otherwise, please take a look at our list of mattresses for heavy sleepers, and find the right match for you.
However, it's not all bad for side sleepers. Medium-weight side sleepers can get good pressure relief. They may notice some pressure build-up, but the bed provides a comfortable feel. Overall, average-weight sleepers can reap the benefits of Purple's supportive nature.
Back Sleepers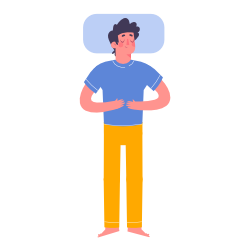 Most back sleepers will enjoy the Purple mattress. Keeping the spine in a neutral position is the key to good pressure relief while sleeping on the back. The comfort layer and grid structure collapse to cradle the body.
The result is good lumbar support and no aches in the lower back.
The firmness level of the bed will suit medium-weight sleepers the most.
They will get the best combination of support and pressure relief in the lumbar area.
Lightweight sleepers (under 130 lbs) seem to find it comfortable as well.
The only issue for some lightweight sleepers may be the firmness level. Not to worry, though.
You can return the product if you find it too firm. For more information, look at the Overview of the benefits section.
Heavy back sleepers report minor sagging in comparison to heavy side sleepers.
However, it still may feel too soft. That is why we warmly recommend checking out our list of mattresses for heavy sleepers.
Stomach Sleepers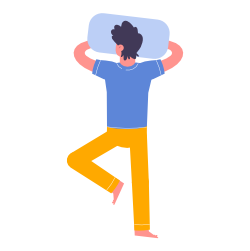 The majority of stomach sleepers enjoy the first contact with the Purple mattress.
The hips don't sink in too much, and the body feels nicely aligned in a neutral position.
However, most of the reviews agree that Purple mattress is a better fit for combination sleepers.
Especially if they spend only a portion of time on their stomach and then switch the position.
Lightweight sleepers (under 130 lbs) tend to get excellent pressure relief.
It's not surprising since stomach sleepers need a firmer bed for proper support.
Medium sleepers (130 – 230 lbs) tend to experience some sagging.
Unfortunately, it's a result of the weight distribution that occurs in this position.
You can flip the mattress more often to try and prevent the early signs of sagging.
However, it's much more practical to consider Purple 2. It's specially designed to offer additional support. Another option is to check our list of best mattresses for stomach sleepers.
Stomach sleepers over 230 lbs will experience even faster sagging.
On the other hand, the comfort level and pressure relief will undoubtedly be compromised.
The bed will probably feel too soft. That can add strain to the shoulders, neck, and even back.
So do one of the following:
Combination Sleepers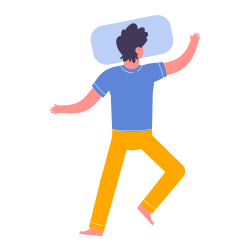 You probably have a strong guess by now. Yes, Purple would be an excellent choice for combo sleepers. Medium-weight combo sleepers would reap the most benefits.
Why is Purple mattress such a good match for combo sleepers?
Well, the Purple mattress has a very responsive comfort layer. It allows a seamless transition from one position to another. That works amazingly well for people who change sleep positions during sleep.
Petite sleepers that prefer a firmer bed are welcome to try it out.
And for the heavy sleepers, we stick to our previous advice – go for a sturdier bed. It will last longer and give you much-needed pressure relief in the long run.
| | Under 130 lbs. | 130-230 lbs. | Above 230 lbs. |
| --- | --- | --- | --- |
| Side Sleepers | Excellent | Good | Fair |
| Back Sleepers | Excellent | Good | Fair |
| Stomach | Excellent | Fair | Poor |
Other Purple Mattress Models
In case you're wondering about the other Purple mattresses, here's a quick overview. Let's see what other goodies Purple mattress has in store for us.
Purple Hybrid (Purple 2)
Just like his predecessor, the Purple Hybrid features a 2-inch breathable Grid layer. The firmness level also stayed the same, medium-firm (6.5).

The main difference is in the construction and added height (11 inches). Purple Hybrid offers responsive support coils and cushioning transition foam.
Innovation in this model brings:
Increased airflow.
A more dynamic response than all-foam beds.
Increased durability.
This model is a perfect choice for:
Hot sleepers.
Heavy sleepers.
Stomach sleepers.
Increased airflow will provide cool sleep to anyone concerned about all-foam mattresses.
The coils will provide a sturdier bed for stomach sleepers.
Not to mention the optimal comfort level that will come with a hybrid mattress.
Stomach sleepers over 230 lbs. will benefit more from this type of bed. A firmer mattress will stay in good shape longer. It will provide the necessary hip and lower back support.
Purple Hybrid is a bit more expensive in comparison to Purple original.
For reference, a hybrid mattress in size Queen costs $2,099. An all-foam mattress in the same size costs $1,299. However, it's not too bad compared to other hybrid beds on the market.
You can check out our Purple Hybrid full review for more details.
Please take a look at our list of best hybrid mattresses for a comparison.
Purple Hybrid (Purple 2) Mattress
Purple Hybrid is a medium-firm hybrid model that offers open-celled comfort layer that keeps the temperature neutral.
Purple Hybrid Premier (Purple 3 and 4)
Now let's talk about the Purple Hybrid Premier – it sounds very premium. Wouldn't you agree?
You can choose between:
3-inch Purple Grid with a medium (5.5) feel. It's usually referred to as Purple 3.
Purple Hybrid Premier (Purple 3)
The Purple Mattress has ultra-high-quality fabrics designed for the flawless synergy of durability, luxury, and No Pressure Support.
4-inch Grid with a medium-soft (4.5) feel. It's usually referred to as Purple 4.
In terms of construction, the bed is 13 inches high. It has a thicker comfort layer which means more pressure relief and added support. Especially for heavy sleepers. It's also perfect for people who love that dreamy, floating feel.
Purple Hybrid Premier (Purple 4)
With the most pressure relief and most immersive feel of Purple mattresses, the Purple 4 combines perfect spinal alignment and cradling.
In terms of prices, the Queen size is $2,699. It is relatively expensive for most shoppers. The Purple 4 Queen size is $3,499, which is jaw-dropping for the majority of shoppers.
The good news is you will get free White Glove delivery and mattress removal.
So think about your options. You can always look at our top picks and best mattresses for a tight budget.
Kid Mattresses
If you're looking to buy a new bed for your kids, the Purple mattress has your back.
They offer two versions:
Purple mattress for kids up to 14 years old
Purple mattress for teens and adults
Let's talk about the Purple mattress for kids up to 14 years old first.
The construction is similar to the original model. It offers 2-inch Purple Grid and a Dual-Layered Comfort Foam.
It's adapted to cradle smaller bodies weighing less than 115 pounds. Naturally, it's shorter than the regular gown-up mattress making it 7 inches high.
There is only one size – Twin (38″ x 75″ x 7″), and the price is $599.
The Purple mattress for teens offers Twin size only and costs $699. Dimensions are 38″ x 75″ x 9.25″.
It offers the same construction with the 2-inch Purple Grid and the support layer. It's designed to offer ideal comfort for teens and adults weighing 115 pounds or more.
Our advice is to test the Purple mattress during the home trial period and see how your kids react to it. After that, decide if it's a perfect fit for the whole family. If not, just initiate a return during the 100-nights trial period and look for the next candidate.
How Much Is A Purple Mattress?
The price ranges from $799 for a Twin size to $1,898 for a Split King size Purple mattress.
Of course, now and then, you can stumble upon a good deal on their official website.
We always recommend looking out for potential deals. The sleep product industry has big sales pretty often, and who doesn't love a good bargain?
Check out our coupon page for all the current deals and coupons.
How much does a Purple mattress weigh?
Purple mattress weight varies from 65 lbs to 140 lbs. based on the size. The Purple mattress is available in all standard sizes. You can choose from Twin to Split King.
Compared to average foam beds, they are a bit heavier. Twin size usually goes from 40 to 60 pounds. Purple Twin weighs slightly more – 65 pounds. When it comes to King size, it falls under the average weight. But still, it's on the heavier side.
Why should I care about the Purple mattress weight?
You won't get free white glove delivery with the Purple mattress original. If you're not interested in paying the additional fee for the service, it mattress a lot (*ba dum tss*).
How to move a Purple mattress?
You'll need at least two people to move and set up your Purple mattress. They kindly pointed this out on the website. It applies to the bigger and heavier sizes.
Imagine you decide to buy a Purple mattress that weighs between 105 and 204 lbs. That would translate into Queen, King, Cal King, or Split King size. In that case – you NEED two people to move it safely (unless you're Hulk or something).
If the Purple bed is what you want, prepare an additional set of hands to help you do the heavy lifting.
Good Luck!
| Size | Price | Weight | Height | Dimensions |
| --- | --- | --- | --- | --- |
| Twin | $799 | 65 lbs. | 9.25″ | 38″x75″ |
| Twin XL | $999 | 70 lbs. | 9.25″ | 38″x80″ |
| Full | $1,099 | 81 lbs. | 9.25″ | 54″x76″ |
| Queen | $1,299 | 110 lbs. | 9.25″ | 60″x80″ |
| King | $1,699 | 140 lbs. | 9.25″ | 76″x80″ |
| Cal King | $1,699 | 140 lbs. | 9.25″ | 72″x84″ |
| Split King | $1,898 | 140 lbs. | 9.25″ | 76″x80″(2 pieces) |
Deals & Discounts
Purple mattress offers:
Healthcare Professionals Discount – offers 10% off.
Military Discount
First Responder Discount
Truckers Discount
Education Discount
Refer-a-friend Program
How to know if you're eligible?
The general rule applies to all of the discounts (we'll cover that in a second).
Who is eligible?
To check that, press the "Verify Eligibility" button. Then, follow the steps and complete your verification. If you don't get an answer on the spot, give it at least 20 minutes. A verification email will arrive shortly.
Once you get verification, you'll also get your promo code for one-time use. Add it into the checkout code field and apply the discount.
Check out our coupon page for all the current deals and coupons.
Overview of Benefits
Where to buy Purple mattress?
You can buy a Purple mattress both online and in a physical store. If you're interested in visiting one of the stores and seeing the product in person, take a look at the list of locations on their website.
The chance to try the Purple mattress on the spot offers a good advantage.
You get to try the product before you make the final decision. But, it also creates the opportunity to make a decision impulsively. Buying a new bed is an important decision that will affect your quality of sleep.
If you decide to order the Purple mattress online, you get a decent sleep trial. In our opinion, it's always better to sleep on the new bed for at least 15 to 20 days. That way, you can get a realistic estimate and make the right decision for you.
Sleep Trial
The sleep trial for Purple mattress lasts 100 days for every mattress purchase. It officially starts once the product is delivered to your doorstep. We can say it's a decent sleep trial duration. However, it's not one of the longest on the market. Yet, it offers an excellent opportunity to test the bed and return it if it's not the right fit.
Warranty
It's always good to be careful and read the warranty details meticulously. That way, you'll know what you're getting. After that, it's a good move to compare it to other reputable brands.
The company offers a 10-year warranty on the Purple mattress. It's a good warranty length, but it's not among the longest on the market once again. It also comes with a very detailed explanation for every product. Click here to see the detailed information about the warranty.
Here are the main takes about the Purple mattress warranty:
Warranty applies when the mattress was properly used and supported. If the product then developed a visible indentation (greater than 1 inch) the warranty still applies. They mean a split, crack, or damage of the materials.
The warranty doesn't apply if the damage was caused by the customer's misuse or improper support of the mattress. Pro tip: carefully examine the mattress once it's delivered to your doorstep. You'll need evidence if the product was damaged before you got it.
Warranty applies only if you use a firm, flat, and non-spring foundation. Otherwise, they can ask for proof that the mattress was used on an appropriate base. Then, they will determine if the warranty is void.
If you report the mattress defect during the 10-year warranty period, you will not pay for the repair or replacement.
After repairs or replacements, the warranty runs from the original date of purchase and not from the date of repair.
The Purple mattress company solely determines whether the mattress will be repaired or replaced.
After the warranty expires, you will pay any costs of:

To-or-from transportation handling
Inspection costs and repair
Replacement
Here are the main takeaways from the Purple cover warranty:
The cover is not included in the 10-year warranty. It has a 2-year warranty from the date of the purchase against any defects related to workmanship.
The company solely decides to replace the cover (same or different color or material) or to repair the cover.
You will be responsible for all costs (to-or-from transportation, handling, and inspection)
Made in the USA
Purple production facilities are located in the state of Utah. Materials are American-made with consistent quality control and inspections.
Fun fact – warehouses used to be a candy factory before Purple took over.
Certification
All of the foams from Purple mattress are certified by CertiPUR-US®. That means that the materials are environmentally friendly and safe for you. Purple mattresses are made from high-quality, safe materials that are recyclable.
Is Purple mattress toxic?
The company also says that the Purple materials do not off-gas since they are 100% non-toxic. Of course, some smell may occur once it's taken out of the box for the first time. They explicitly say it has a faint smell of a new mattress that fades away quickly.
Is Purple mattress hypoallergenic?
Purple mattress proudly emphasizes that their mattresses are hypoallergenic.
The unique construction promotes airflow, which keeps the bed nice and dry. Keeping a neutral environment helps prevent bacteria from colonizing your bed.
Cover's allergen-resistant material keeps the dust, pollen, and mites at bay
Free Shipping
Purple offers free shipping to all 48 contiguous United States. For Alaska and Hawaii, there are additional shipping costs. Purple can only ship to US and Canadian addresses for now. Orders for Canada include all shipping, duties, and customs fees.
How long does it take for a Purple mattress to be delivered?
The order leaves their warehouses between 3 to 5 days. After that, depending on your location, you'll wait between 3 to 5 days. White glove delivery can take weeks.
Return Policy
The company offers free returns on all mattresses. You are required to spend up to 21 nights on the mattress.
Only then can you initiate the return process or exchange. It is not unusual since every other company has a similar requirement. The purpose is to give the mattress the time to adjust to your body
To initiate a return, you'll need to call Customer Care (phone call specifically said on the website). Once they confirm you're eligible, the process starts.
What does it mean to be eligible?
It means that you're still in your 100-nights trial period and that minimum of 21 days passed. Additionally, the mattress must be in good condition. They don't accept damaged or stained mattresses.
You get a full refund of the product price usually within 2-7 business days.
The company will cover all the costs for returns and exchanges within the 100-night trial period.
After that period, you'll be responsible for all the return or replacement costs.
The return policy will be different for Purple mattresses ordered from Amazon.
You'll need to check their official return policy.
The same rules apply for exchange, as you must have guessed.
What is essential to know is that you're allowed one exchange for your trial period.
Once you get the new mattress, the 100-night trial will continue to run from the previous mattress delivery date.
When mattress removal is selected, the first mattress will be removed at the same time as the new one arrives at your home.
Additional Services
White Glove Delivery & Mattress Removal
Free white glove delivery isn't available for the original Purple mattress. But, you can upgrade the shipping option in the checkout for a fee of $200. After placing the order, you'll be contacted within 7 to 10 days to schedule in-house delivery.
Also, white glove delivery is usually available only in 48 states. The service includes:
Delivery to your doorstep
Opening and preparation of the product
Inspection
Placement of the product in your home
Removal of all packing materials
Standard removal of bedding on a one-for-one basis (selected at the checkout)
In-home delivery and setup are unavailable due to the COVID-19 pandemic. This is currently communicated on the official website.
Purple can refuse to remove a mattress that is soiled or stained.
Most certainly, if it indicates insect infestation.
Finance Options
If you're looking for financing options, Purple offers two ways to handle the payments. One option is to use Splitit.
It helps you split the payment into smaller, bite-sized pieces. There's 0% interest, and you can choose 2-12 months payment plans.

The second option is Affirm. You can get a conventional loan starting at 0% APR. The prequalification is not too hard, and you can choose 6-48 month payment plans.
Final Thoughts
What did we learn from this extensive Purple mattress review?
Well, first of all, we admire the fancy rocket science behind the grid design. Also, we had some good laughs thanks to the funny commercial. This company proves to be very much relevant in 2022.
The Purple mattress offers many great features. One of them is the Purple Grid with exceptional airflow. This system allows heat to leave the bed and let it "breathe" while you sleep.
Another outstanding feature is the motion transfer. Couples can count on effective motion transfer isolation with Purple mattress. It's one of the most incredible things about this model.
Purple is also a hypoallergenic mattress. It successfully creates a safe snooze zone for you and your whole family.
Let's see a short recap of all the good Noes: No noise, no off-gassing, and non-toxic materials.
However, things get tricky once we get to the Sleeper Style & Weight section. On the one hand, the Purple mattress is an outstanding option for combination sleepers. Thanks to Purple Grid, the transition from one position to another is effortless. On the other hand, all the other combinations seem a bit complicated.
Side sleepers tend to find Purple mattress a bit too firm. It doesn't always prevent pressure points because of it. You'll agree it can't be a pleasant feeling waking up with shoulder and hip aches.
The mattress feels the least comfortable for lightweight sleepers. Their bodies are usually not getting the right amount of body-conforming. Back sleepers, stomach sleepers, and heavy sleepers should look at Purple 2,3, and 4 as a no-brainer option.
The Purple mattress is generally not a perfect fit for our heavy sleepers (over 230 lbs) out there. It will probably feel too soft and fail to provide the necessary pressure relief. Not to mention the faster deterioration and sagging over time.
There is no harm in getting this mattress and testing it in your home for 21 nights minimum. Please give it a good thought, weigh all the pros and cons. Make the final decision with your best interests in mind.
After all, you deserve a good night's sleep. Never settle for less.
Purple Plus Mattress
Purple mattress comes with a unique grid-like comfort layer and medium-firm feel that makes it a good choice for combination sleepers.