Best Mattress for Stomach Sleepers for 2023 – Top 6 Brands Reviewed
Written by: Milica Terzic
Updated: 02/20/2023
Picture this. You come back home from a day filled with activities. You're exhausted to the bone. Your body is weary, and then you see it—your big, comfy, fluffy bed. And finally, you just plop on it and stay there.
Though it might not be a common sleep position, stomach sleepers come with their own needs and wants. They might snore less, but they usually suffer from neck and lower back pains. So finding that perfect mattress can be quite challenging. Not to mention stressful!
It can all be downright confusing. From the diverse types of mattresses, various brands, to the most It can all be downright confusing. From the diverse types of mattresses and various brands, all to the most minuscule of details.
It's a mystery where to even start! In such cases, you could really use some expert help.
And that's where we come in! We've searched far and wide for the best of the best, checking every nook and cranny of the world-wide-web. Our results?
Well, we've made this detailed list of the best mattresses for you! Just a little head start from the other shoppers! Let's dive right in and find your bed come true.
The following list aims to help you find a mattress model that might suit you based on your preferences. If none of the models presented on this list suit your needs, we encourage you to check our other lists and reviews.
Best Mattress for Stomach Sleepers 2023 List
Saatva Classic Mattress – Best Hybrid Mattress for Stomach Sleepers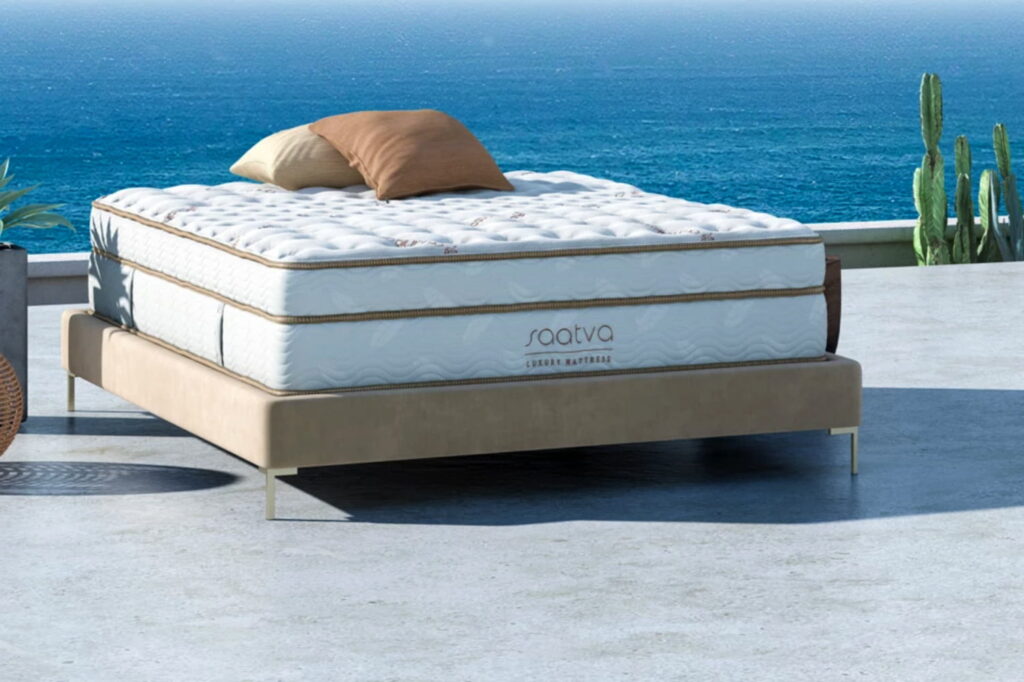 The Saatva mattress company is our favorite brand because it offers incredible models designed to suit various sleepers – from hot sleepers to organic lovers, latex and hybrid mattress options, etc.
As they are all different, let's see what makes the iconic Saatva Classic one of the best mattresses for stomach sleepers…
First off, this flagship mattress is a hybrid innerspring model. It comes in three firmness levels: Plush Soft (3), Luxury Firm (5-7), and Firm (ranked 8). It's also available in two height options of 11.5″ or 14.5″. Which is in itself very versatile and accommodating to a lot of sleepers.
Because of its construction, it's a cooling mattress great for belly sleepers who sleep hot.
While it also has a plush 3″ Euro pillow top and a memory foam layer, what really sells the mattress is the dual-layer of coils. These coil layers are both pocketed. They enhance the overall support and breathability of the mattress. The coils position the body more on top of the mattress, which is crucial if you are stomach sleeping!
However, we don't recommend that you go with the Plush Soft version of the Saatva Classic. It might be too soft for you and won't keep your spine properly aligned.
Instead, stick with the Luxury Firm or the Firm option. Especially if you're among average-weight stomach sleepers. These will definitely give you that extra support and minimum sink that you crave!
Also, Saatva Classic would be a sound choice if you're with the hot sleepers group sleeping on your stomach. The individually wrapped coils make the air circulate continuously, wicking away excess heat.
Why Does Saatva Classic Mattress Stand Out?
Saatva Classic mattress is a hybrid innerspring model
It comes in 3 firmness and 2 height options – but stomach sleepers should avoid Plush
It is a versatile mattress model that is a hit with a lot of sleepers
Its best selling point is the two layers of individually wrapped coils (hot sleepers perk)
The coils offer quality support and minimum sinkage that stomach sleepers just love
Saatva Mattress
Available in 3 firmness options, the luxury hybrid mattress Saatva enjoys great popularity with various sleeper types.
Helix Dawn Mattress – Best Stomach-Sleeper-Specific Mattress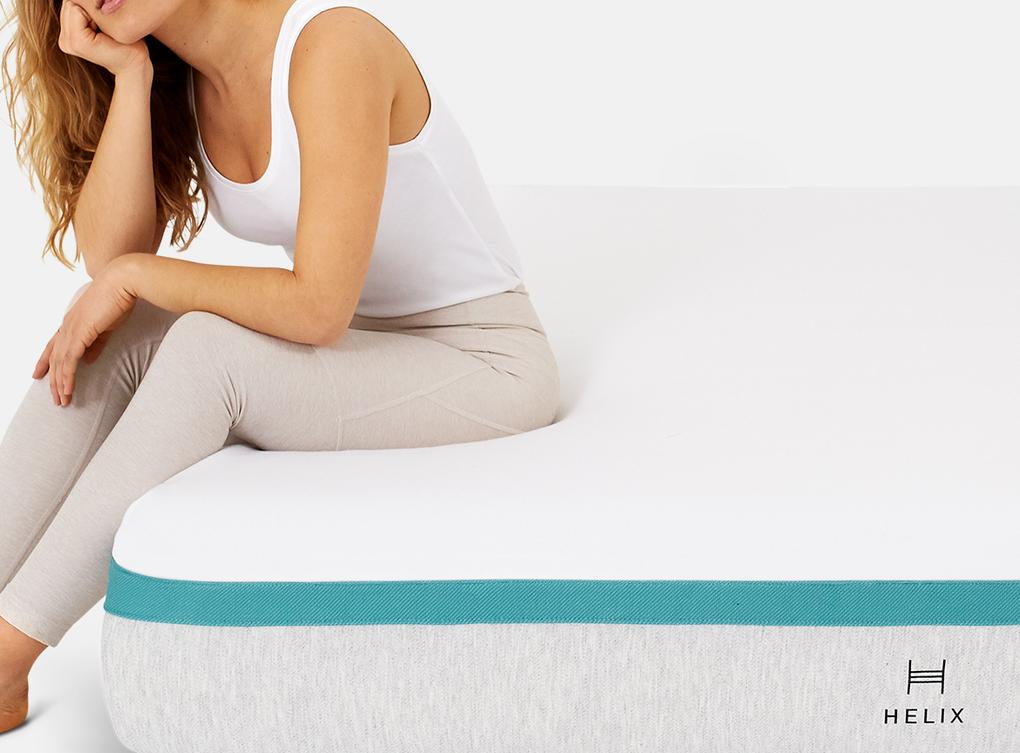 Who doesn't want some color in their life? If you're stomach-sleeping looking for that perfect hybrid mattress to spruce up your sleep haven, consider trying out the Helix Dawn model!
Now, if you read our Helix mattress review, you'll know that the Helix Dawn model is one of 6 standard models. It's also available in a LUXE option. The Helix Dawn is recognizable thanks to its signature yellow stripe.
That's all fine and dandy to know, but you're probably wondering why this mattress is on the best mattress for stomach list? Let's see.
Well, first off, let's look at its firmness level. Ranked 8 out of 10 on the scale, it is also the firmest model from the standard lineup. This sort of ranking is ideal for stomach sleepers. Firmer mattresses are usually more supportive.
This firmness is achieved through the use of their high-density foams. This model uses two layers of the same latex-like foam, known as the Dynamic foam. The Dynamic foam is bouncy like latex, but it's firmer and more supportive material. The Helix Dawn's foam feels stiffer.
It adds to the overall support of the hybrid mattress without too much cradling. You don't want your mattress to swallow you because your hips, shoulders, and knees should always be at the same height level.
Combined with the individually wrapped coils, you don't have to worry about your spine going out of alignment sleeping on Helix Dawn!
Still not convinced? Another bonus point of this model is that it performs excellent at thermoregulation and thus is ideal for hot sleepers! Not only are the springs all pocketed, but the Helix Dawn features a special cover. The cover is a very breathable dual-layer that promotes better mattress airflow.
Also, as this hybrid mattress is quite firm, it pushes the body to be more on top. So, in turn, you won't get into that much contact with the mattress' surface. Talk about a major selling point for stomach hot sleepers!
Why Does Helix Dawn Mattress Stand Out?
It is a hybrid mattress model with a firmness ranking of 8
It features a dual-layer of a latex-like foam, called the Dynamic foam
It's the best mattress because it offers exceptional support and comfort
Hot sleepers will love that it keeps them from overheating
The signature bright, happy yellow stripe will add a dash of optimism to any bedroom
Helix Dawn
The Helix Dawn mattress is the firmest of the bunch, making it also the most supportive bed for stomach sleepers.
Loom & Leaf Mattress – Best Memory Foam Mattress for Stomach Sleepers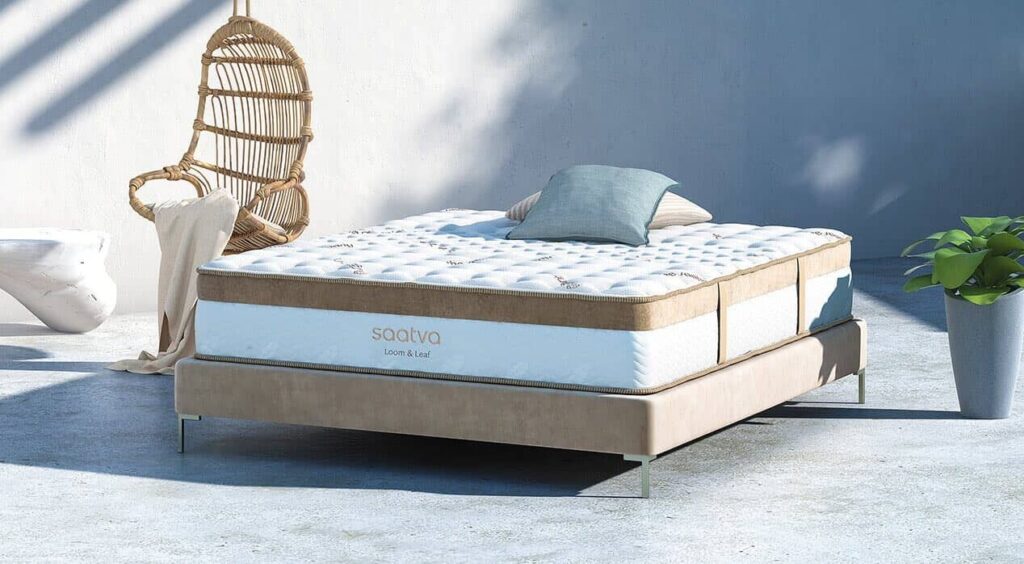 The Saatva company is famous for its motto, "luxury you can afford," and innovative mattresses. But what makes the Loom & Leaf among the best mattresses for stomach snoozers?
First, a little background. Loom and Leaf mattress is an all-foam mattress. It is made with premium, high-density foams. It also uses a lot of eco-friendly materials and comes with a first-class service. Like a lot of Saatva models, it is available in two firmness levels:
Relaxed Firm with a ranking of 5 to 7 and
Firm with a ranking of 8.
As you can see from its firmness levels, this best foam mattress is also the best mattress for stomach snoozers. Especially the Firm option. This is because stomach sleepers tend to choose firmer mattress models for the necessary support. It's important that this sleeper type chooses a mattress that will keep the spine aligned at all times.
What makes this mattress so special is that it can suit a wide variety of body types – it's great for stomach and side sleepers especially.
Stomach sleepers under 230 lbs will like sleeping on the Relaxed Firm. The Firm option will hit the right spots for those over 230 lbs.
However, the real selling point of this model is its excellent pressure relief. The Loom & Leaf mattress features dense foams. The foams cradle the body and prevent pressure from building up in vital points. This cradling sensation is achieved through its comfort layers and the transitional layer.
The first comfort layer is memory foam infused with a Spinal Gel zone. The layer helps minimize heat retention and allows the body to sink in. The second comfort layer is visco-elastic memory foam. It enhances the contouring and the spinal support of the mattress. The transitional layer's foam also amplifies the overall comfort of the mattress.
What's our takeaway? If you're stomach sleeping and like memory foam mattresses, this might be an excellent pick for you.
Why Does Loom & Leaf Mattress Stand Out?
It is an eco-friendly, all-foam mattress that is made with premium quality materials
The memory foam used in this mattress is enhanced to provide the best sleep experience
It's excellent at both pressure relief and sleeping cooler at night (hey hot sleepers!)
The mattress is available in two firmness options: Relaxed Firm and Firm
It is one of the popular models from the Saatva mattress company
Loom & Leaf
Loom & Leaf is a premium all-foam mattress, that excells both at pressure relief and motion isolation. Perfect for those that have neck and shoulder pain.
Zenhaven Mattress – Best Latex Mattress for Stomach Sleepers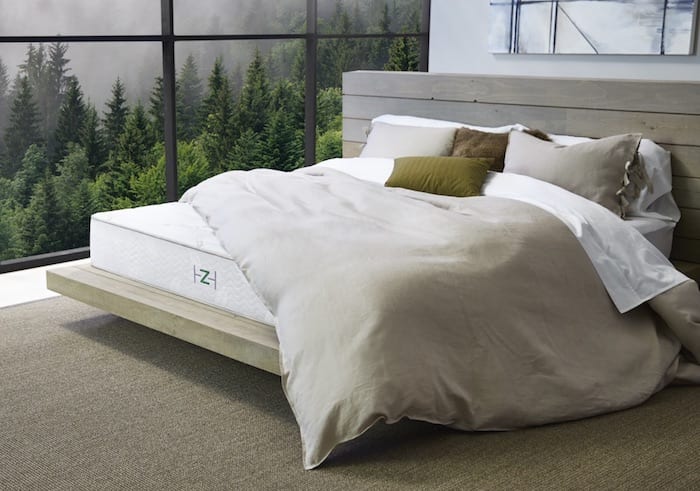 We solemnly swear that we're not obsessed with Saatva mattresses. But we can't help it that they're so good. Did you know Zenhaven is an organic mattress?
The Saatva company really had an Oprah moment with their mattresses. They have mattresses for every occasion and every different person! And considering we put three of their best-sellers on this list, they must be doing something right!
If you are a stomach sleeper that likes the feel of a latex mattress, then the Zenhaven mattress is a real treat! This model features 100% Talalay latex, which makes this mattress organic, high-quality and a must-have!
Latex is also a material that is known for its temperature control and longevity. Stomach sleepers like this material, as it has excellent pressure-relieving properties. It's also long-lasting, so the higher price point is somewhat understandable – Zenhaven is a great investment.
What also makes Zenhaven special and durable is that it is a flippable mattress. Meaning that you can sleep on either side of the mattress. A hybrid mattress could never, right?
And each side of this model has its own firmness levels:
Gentle Firm (7 firmness rank) and
Luxury Plush (4.5 firmness rank).
As you can see, the Gentle Firm side is significantly firmer than the Luxury Plush side. Which is ideal for strict stomach sleepers. If you were to sleep on the Luxury Plush, you would not have a great night. Best mattresses for stomach nappers aren't soft.
Latex materials are known to be cooling, so this is an excellent mattress for hot sleepers and couples. If you're sharing the mattress with someone, be sure to get at least the king-size mattress of Zenhaven to sleep comfortably without interruptions or cramping. A queen-sized best mattress won't be as comfy for adults.
Why Does Zenhaven Mattress Stand Out?
It is a dual-sided, organic mattress by the Saatva mattress company
The natural latex used in this mattress makes it medium firm
Latex is known for its exceptional breathability, durability, and pressure relief
Back and stomach sleepers find it an ideal latex bed
Strict stomach sleepers will prefer the Gentle Firm side, as it will give them the extra support
Zenhaven Mattress
An all-latex mattress like Zenhaven is a top choice for anyone who prefers organic, luxurious materials and switchable firmness levels.
Nectar Mattress – Best Mattress for Stomach Sleepers with Back Pain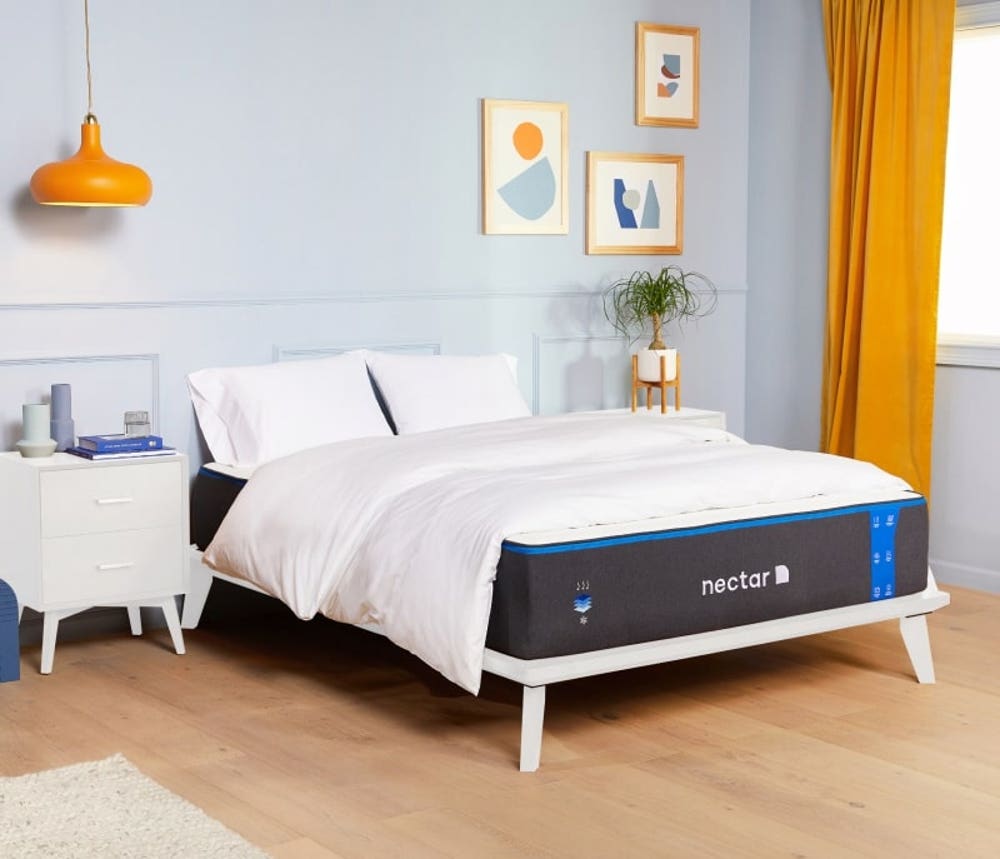 Can you enjoy the drink of the Gods in a solid form? Yes, you can with the Nectar mattress!
All joking aside, is it really a wonder why the Nectar mattress is so popular? The company's flagship model is an all-foam mattress that has three layers of memory foam and gel-infused memory foam. One is quilted into the cover, while the other is found in the comfort layer. The third is placed in the transitional layer.
That's a lot of memory foam, but it's placed there for a reason
The three layers of memory foam work together to give you the needed support and contours to the shape of the body. This is something that belly sleepers need to achieve a neutral spine. Sleeping on foam relieves vital pressure points and prevents unnecessary sagging. Particularly in the midsection area.
Also, the Nectar mattress is medium-firm, while the foam firmness of this best foam mattress is 6.5/10. The firmness makes Nectar exceptional for both back and stomach sleepers.
Because it prevents sagging, it will make sure your back is properly aligned. And if your back is aligned, then there will be no backaches. And who doesn't just love that?
Why Does Nectar Mattress Stand Out?
It is an all-foam mattress with three layers of memory foam
It offers an outstanding balance of comfort and proper support
The gel-infused foam makes it great for hot sleepers
Great for stomach and side sleepers with backaches
Nectar Mattress
Nectar is a premium quality mattress at an affordable price. The secret to its outstanding comfort lies in plush layers of memory foam.
WinkBed (Plus) Mattress – Best Extra Firm Mattress for Stomach Sleepers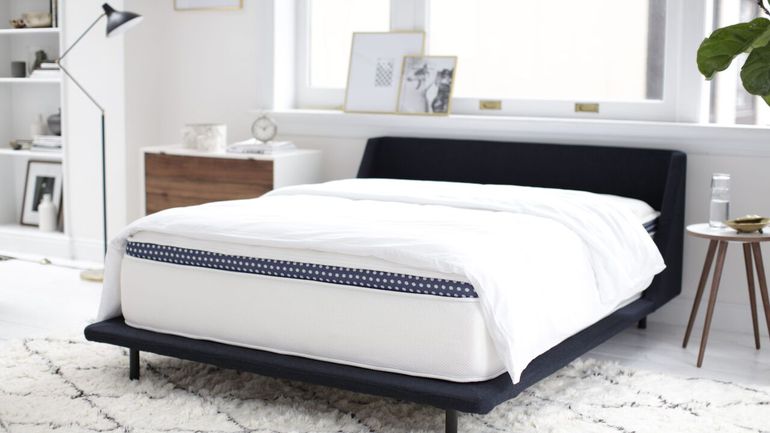 You're probably wondering, why is there a Plus in the parenthesis? Well, we're going to be talking about two versions of the WinkBed mattress. Let us explain further…
The WinkBed mattress is a high-end hybrid innerspring mattress. It is highly sought-after, as it uses high-quality materials that can stand the test of time. But what makes this mattress unique is that it is available in four firmness levels:
Softer
Luxury Firm
Firmer
and Plus.
Wait, these are more than two levels? Yes, but there is a slight difference in their construction. The Softer, Luxury Firm and Firmer mattresses have a double quilted Euro-pillow top. The top also features a special HyperSoft Foam. This foam is infused with a gel for added pressure relief.
On the other hand, the WinkBed Plus has a latex foam layer. This makes it more breathable and bouncier than the others. Hence, the beginning statement.
This luxury hybrid mattress is not great for lightweight stomach sleepers. It could be too firm for them, and difficult to 'break into' the mattress
However, what makes these models distinctive, is that they are all quite sturdy. After all, they're designed in such a way that they have something to offer to various sleeper and body types and offer firm support on the entire surface. The edge support on it is superb.
Due to their exceptional firmness, it's a no-brainer why stomach sleepers greatly enjoy the Luxury Firm and Firmer WinkBeds. Both will ensure that your midsection won't sink in too much and throw your back out of balance! Spinal alignment is our most important factor and WinkBed gives the proper support for that.
Even though they should avoid soft mattresses, the lighter stomach sleepers will like the Softer option. For heavyweight stomach sleepers and hot sleepers, the WinkBed Plus will be an A+ choice.
Why Does WinkBed (Plus) Mattress Stand Out?
This hybrid innerspring mattress model comes in 4 firmness options
The Softer, Luxury Firm and Firmer WinkBed mattresses are great for pressure relief
The Plus is built with people with bigger BMI in mind
All of the options are great for stomach sleepers of various shapes and sizes
All versions are also great at cooling, but the Plus sleeps cooler thanks to its latex layer
WinkBeds
WinkBeds are true hybrid mattresses made by hand. Crafted with luxury in mind, they're among the most comfortable mattresses on the market.
What to Consider When Buying a Mattress for Stomach Sleepers
You're going to want to check all these categories before deciding on your perfect mattress:
Mattress materials
Firmness options
Sleeping accessories
Advantages & drawbacks of stomach sleeping
How to improve stomach sleeping
Body types
Support and relief.
What Is the Best Type of Mattress for Stomach Sleepers?
This is tricky to answer, as there is no "best type" of mattress. Each type of mattress has its pros and cons. And when you add personal preferences and body types to the mix, this further muddles the answer.
For stomach sleepers, you have to look for highly supportive mattresses. It will keep you more on top of the mattress. The safest bet will be to choose the classic innerspring or the hybrids. But you can even go for the all-foam or latex models that are firmer and have sound support layers.
Memory Foam Mattresses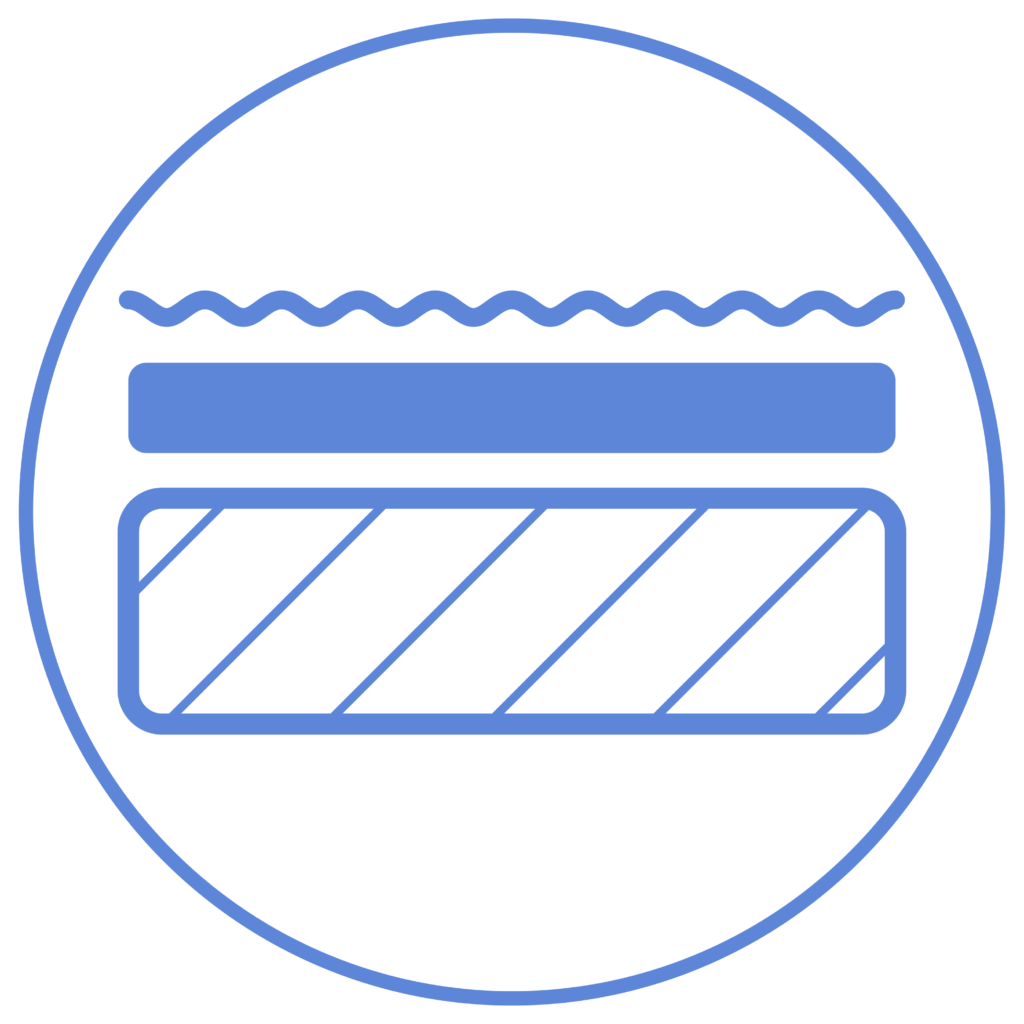 Traditional memory foam mattresses aren't the obvious choice for belly sleepers, because they are generally softer than other types. But, modern technology changes the old ways of memory foam like heat-trapping and sinking in too deep.
Awesome memory foam beds conform to the body in every position and offer the right amount of support and pain relief. Lightweight stomach sleepers and average-weight stomach sleepers especially could snooze just fine on a bed like this.
They are thick, dense, and firm, but each brand varies so be sure to inspect what the best foam mattress is for you.
Innerspring Mattresses
Innerspring mattresses have a traditional feel and are less pricey. The firm support coil system will keep you feeling comfortable and supported, no matter the size of your innerspring bed.
Mattresses that have coils are bouncy and will move around a lot but pocketed ones don't because they're wrapped in an individual layer of fabric. That's why innersprings are great for combination & hot sleepers. The construction allows airflow and doesn't hold on to heat trapped in the mattress layers.
They're bouncy and resilient, meaning it won't be difficult to switch positions from a flat stomach position to a running man stomach pose.
Latex
Natural latex mattresses are among the best choices for those who sleep on their stomachs and sleep hot. They provide tremendous comfort and support, and they're hypoallergenic because they are built from natural materials. In addition to being extremely comfortable, latex is known for delivering unparalleled resilience.
Sleeping on latex is like floating in the ocean. The latex type makes you feel weightless while sleeping, and it doesn't sink or sag easily because of its elasticity and responsiveness to pressure. This is an excellent feature for hot sleepers, too!
Luxury latex layers encased within lovely soft fabric provide ample support without being too hard or uncomfortable.
The only downside to sleeping comfortably on latex? The price tag. Sometimes they're more expensive than a luxury hybrid mattress and might turn some people off. But we highly advise it if you're ready to splurge on a fantastic latex bed.
Hybrid
Hybrid mattresses provide the best of both worlds in terms of comfort and support, which is usually beneficial for stomach sleepers. Versatile by materials and firmness options, hybrid mattresses tend to vary in construction which eases the research process. But, they are often a great choice for stomach hot sleepers due to outstanding thermoregulation.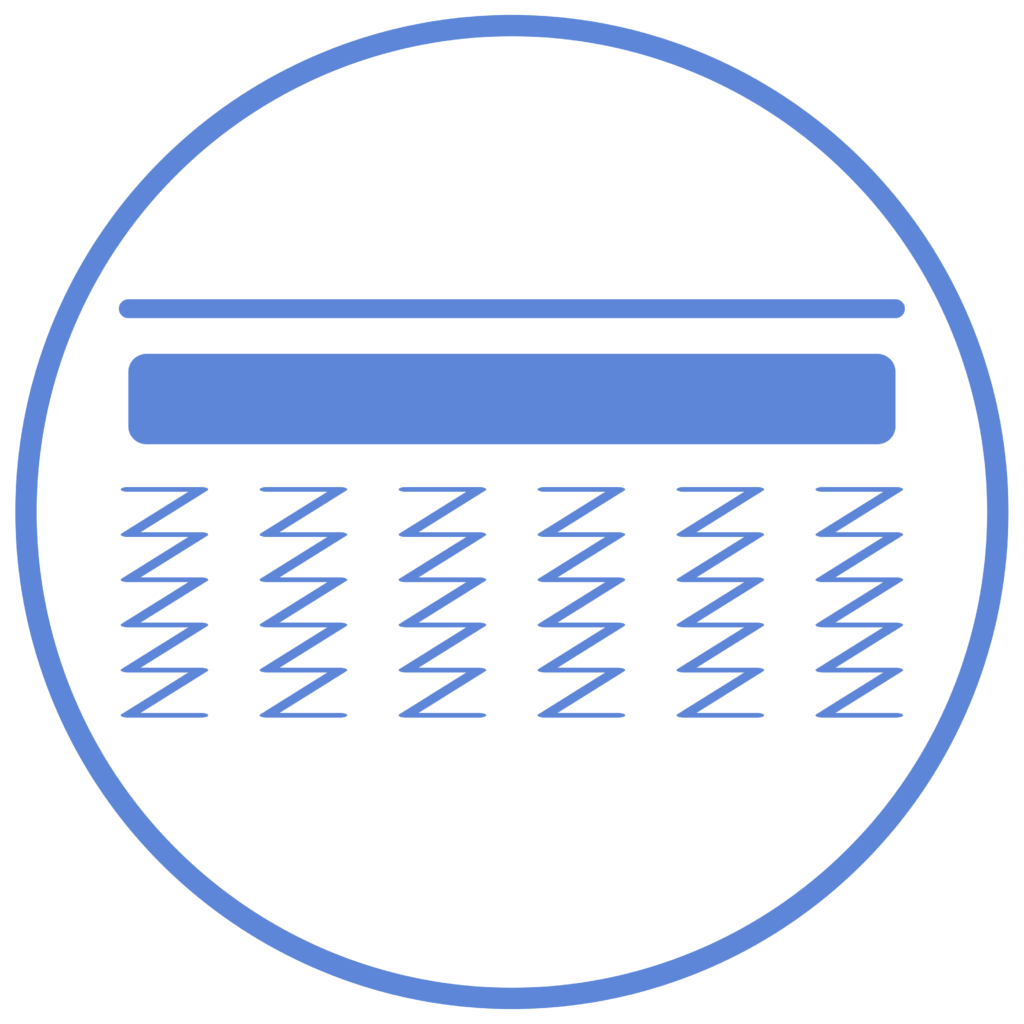 Coils give a hybrid mattress unparalleled edge support, which is important if the bed is being shared. There are so many options!
The comfort layers have cushioning to help relieve pressure points while still providing adequate stability so that your waistline won't sink unduly during restful slumber.
Pillow-Top
The deal with pillow-top beds is that they have a softer surface so they may be great for easing neck & shoulder pain. The extra cushion can play a super role for stomach sleepers, especially if it's a medium-firm mattress under the pillow-top (You'd want to avoid a super soft pillow-top mattress).
Some pillow tops, more than others, will suit your secure slumber time, so be sure to do thorough research before buying, but know that they could be made of latex, foam, or hybrid combos.
Depending on its quality, your pillow-top of choice could be a long-lasting investment you get to call your bed. But be wary, a mattress with a deep pillow top is one of the worst options for stomach sleeping.
Airbed
Have you ever felt the need to adjust your bedding? You can with an air mattress. Using an app or remote control to fill or empty air chambers in a mattress. Some airbeds can even adjust the firmness of each side, so stomach sleepers and their partners can have unique and 100% fitting firmness and feel levels. Doesn't it sound like a perfect scenario?
The one thing you need to remember is that stomach sleepers tend to prefer really sturdy beds. If you sleep face down on the mattress, it's highly likely that you will experience sinking into the bed. And that can disrupt proper spinal alignment. Getting an airbed with flexible settings may be THE option here.
You'll feel like you're sleeping on a cloud of comfort as your head sinks into its soft surface, and if it doesn't have enough air for one night, just pump up this baby!
What Is the Best Mattress Firmness for Stomach Sleepers?
Soft
Classically soft all-foam mattresses are a no-no for most stomach sleepers. Latex foam layers on the other hand tend to be more on the medium-firm side. In that context, stomach sleepers could be sleeping on soft latex, but not memory foam mattresses.
The reason for this is simple. Gel memory foam has a cradling effect, which side sleepers absolutely love, but stomach sleepers don't. Their hips sink into the soft memory foam mattress and compromise spinal alignment. Ain't nobody got time for that.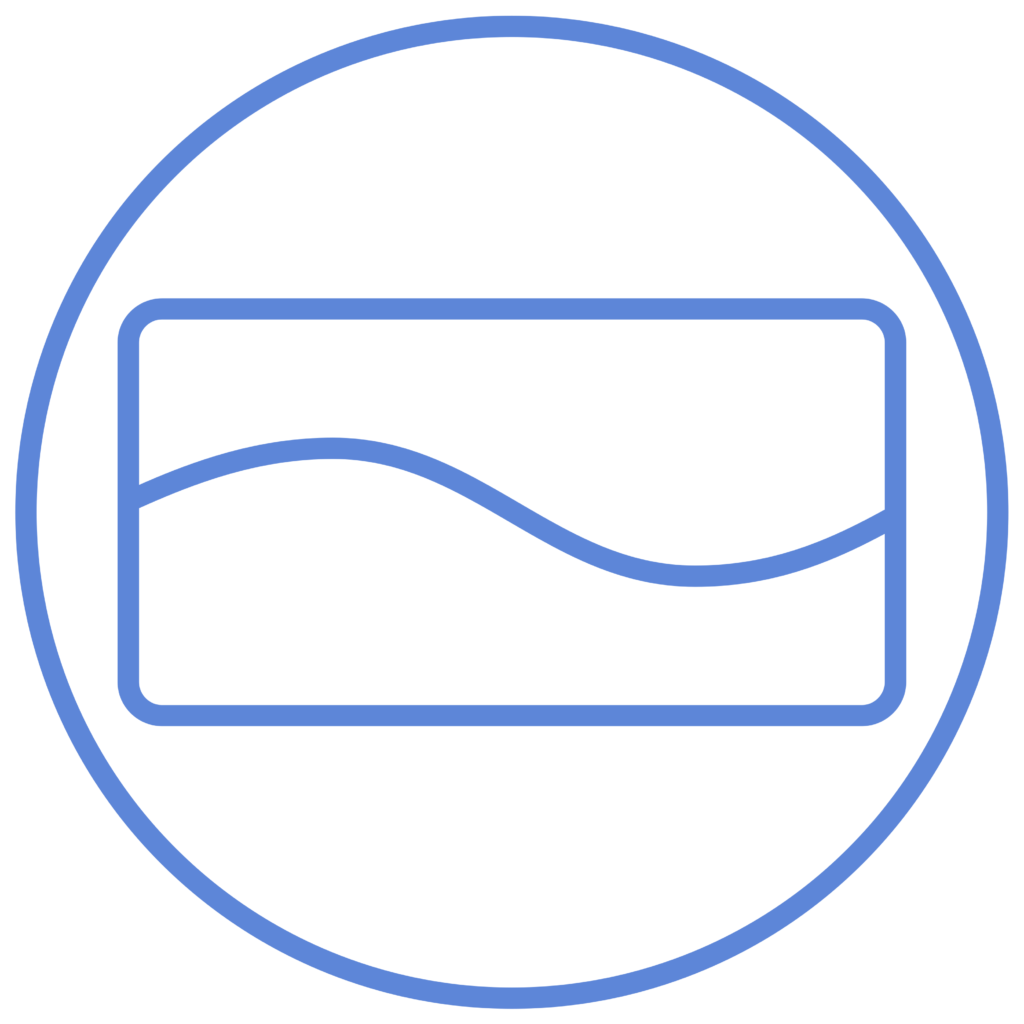 The only exception could be lightweight stomach sleepers under 130 pounds. And that is also not a rule. But sometimes really, light stomach sleepers could feel proper support on a softer mattress.
Our advice if you're a stomach sleeper: Get the right mattress for you, which is medium firm. If it turns out to be too sturdy and you need something softer, look into getting a mattress topper that can hug you like a snug bug.
Medium-firm
A medium to firm mattress is the best for those who sleep on their stomachs. It will keep your spine in natural alignment and reduce back pain from sagging mattresses or uncomfortable bedding products like old sheets with dents.
If you weigh over 250lbs, finding and opting for the best mattress with 6+ on the mattress firmness scale would be ideal.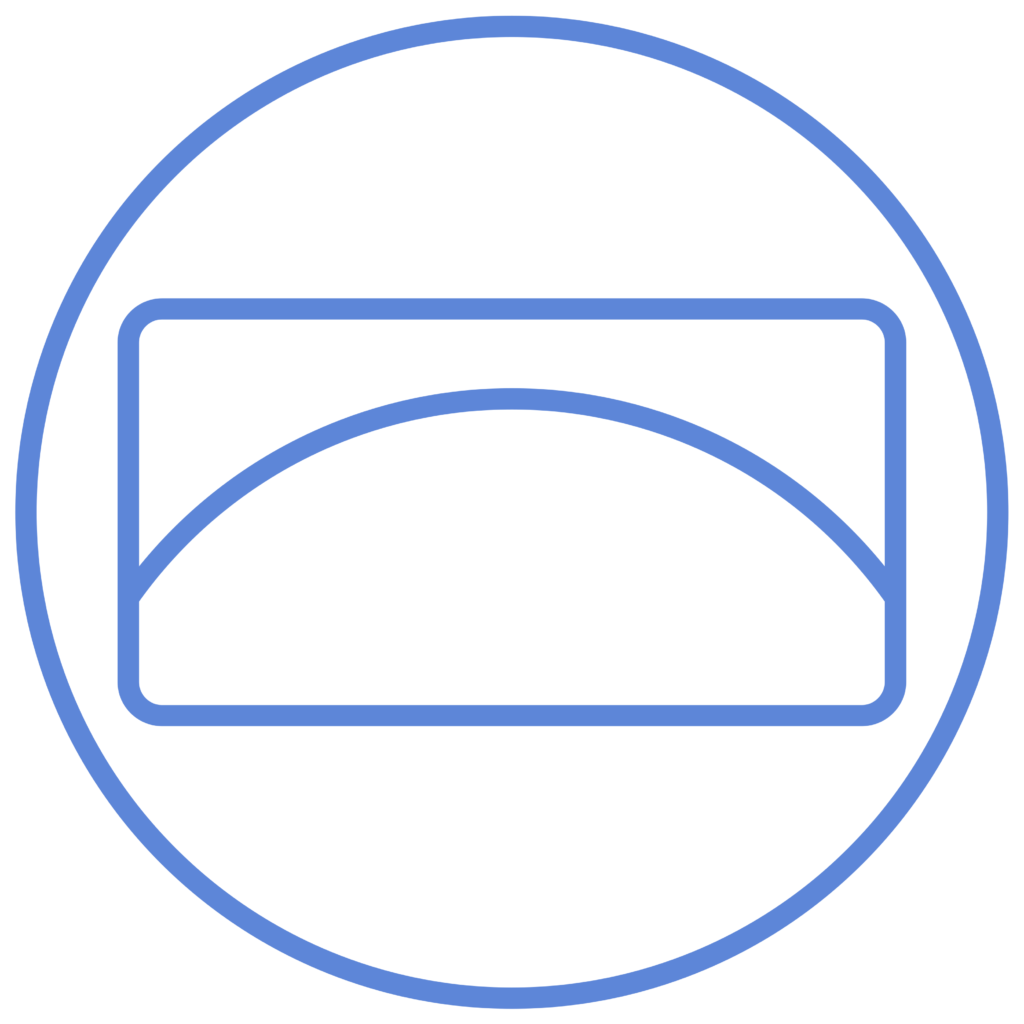 Average-weight stomach sleepers will do just fine on medium-firm and have a feel of balanced support and relief.
Firm
Firm mattresses offer maximum support for you to sleep comfortably on your belly. Some average weight stomach sleepers could find certain firm mattresses too sturdy, for example, the WinkBeds Plus with a firmness of 8/10 on the firmness scale.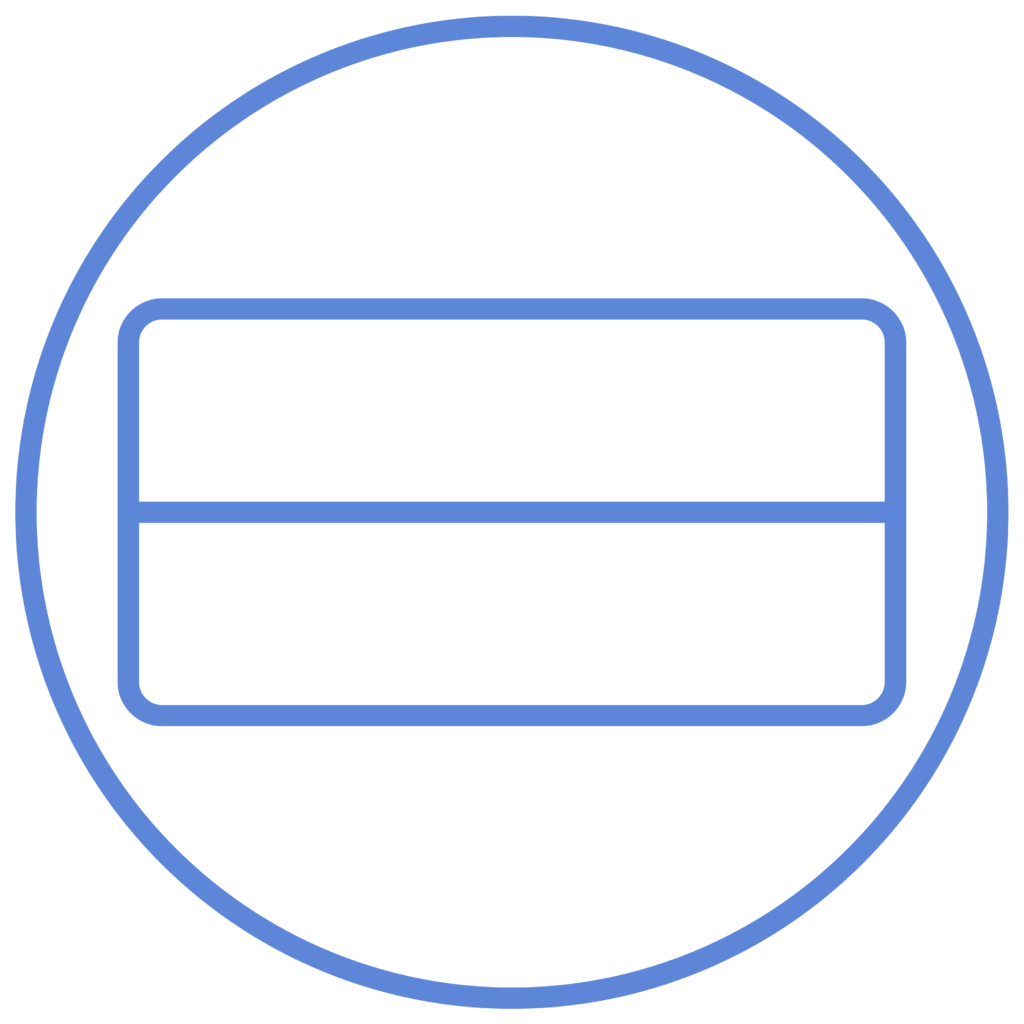 A firm bed will relieve pressure for sleepers, but those under 130 pounds should enjoy the medium-soft versions instead of firm. You could easily feel like laying on a rock and not relieved at all if you're in this weight group.
Do stomach sleepers need a firm mattress?
Not all stomach sleepers, but some do need a firm mattress. Those who are a part of a couple can and should opt for a firm mattress. The edge support on firm mattresses is unparalleled with any other hybrid or foam firmness. It should be a King Size mattress minimum if you're a part of a couple!
What Accessories Can Help with Sleeping on Your Stomach?
Pillows
The right pillow is the perfect solution for a comfortable night's sleep if you're a stomach sleeper. But, instead of using it for your head, place it under the pelvis to alleviate the spine and keep it healthy and neutral.
To wake up refreshed and painless, it is advised that stomach sleepers should sleep without a head pillow overall, but do it step by step to make the switch seamless. Try switching it for a thinner pillow at first, then a blanket or towel, and ultimately omit it altogether.
This pillow under the hips or pelvis will help you maintain good posture, alleviate back pain caused by hunching over all day long or from sleeping incorrectly, decrease leg cramps, and provide full-body support.
Mattress Toppers
A mattress topper rests on the mattress surface with the idea to change its firmness and feel and offer pressure relief and proper support. Toppers represent an affordable way to make your sleeping nook a tad more comfortable.
Materials that make toppers vary, like with mattresses – including memory foam, latex, organic cotton cover, wool, or other foam derivatives like polyfoam. But unlike mattresses, toppers are less thick, have less weight, and have no layers – they're practically a comfy cloth you put over your mattress.
Truth be told, the thickness may vary, but cushions in the topper make a sturdy mattress softer and more relaxing for a snoozefest. That way, a medium-firm bed could become softer.
This short-term solution fix is excellent for stomach sleepers looking to make their sleeping style more enjoyable and less painful. Remember that mattress toppers are not effective when your mattress is already saggy.
If you still experience pain even if you use pillows and toppers, consider changing your sleeping position.
How Can Sleeping on Your Stomach Affect Your Sleep?
Stomach sleeping isn't a popular sleeping style. Less than 1/5 of people snooze in this sleeping position, but it can still be a very comfortable position. You get certain advantages and disadvantages depending on how exactly you place your extremities, back, and neck.
Best mattresses for stomach sleepers should never cause you back and neck pain.
Drawbacks of Stomach Sleeping
Cons of stomach sleeping are tense muscles and discomfort upon waking. This doesn't happen to all sleepers, but many report it. Hot sleepers are often belly sleepers because glands and pores get more airflow than sleeping on the back.
Frequent neck & shoulder pain is also possible if sleeping in the wrong stomach sleeping position, primarily because of overextending the neck on the pillow. It really stiffens the neck, and that can be SO annoying. Remember that proper spinal alignment is imperative for quality sleep.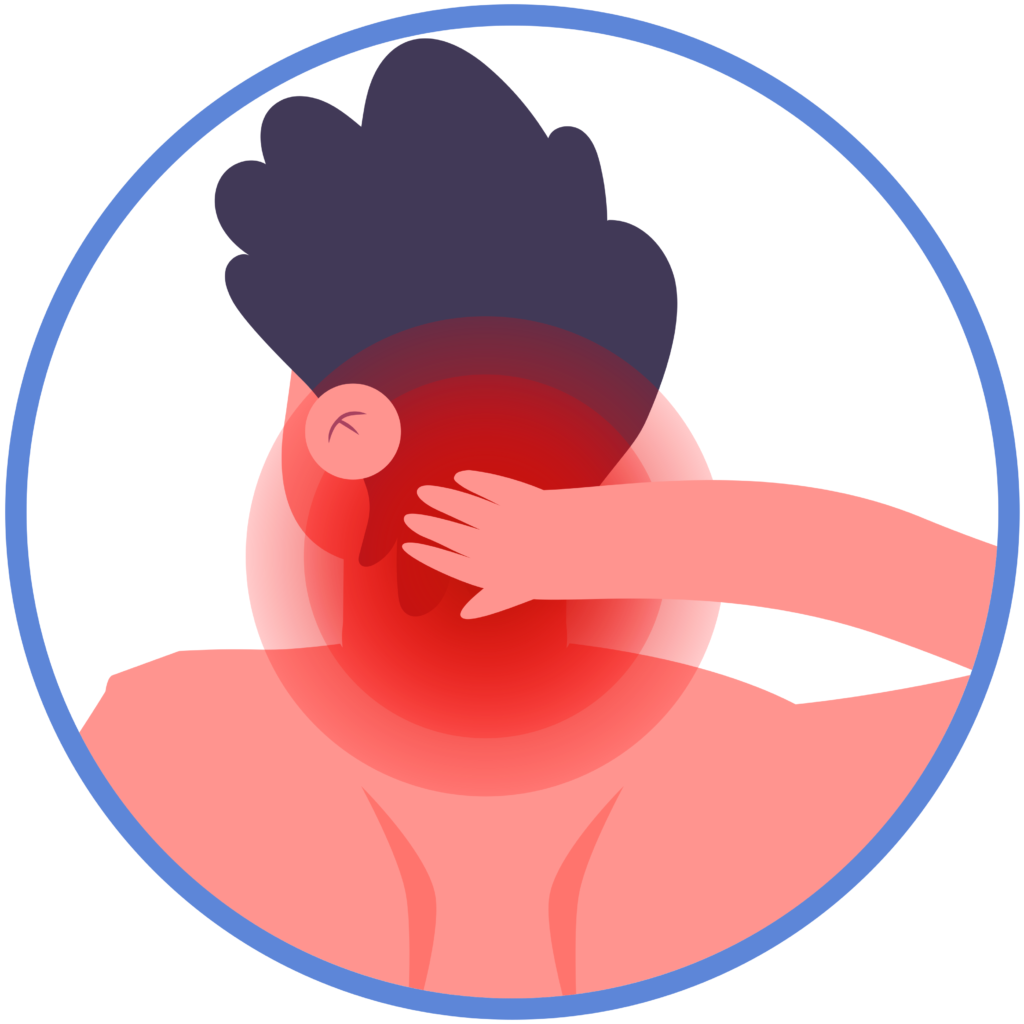 Benefits of Stomach Sleeping
Stomach sleeping can be beneficial for both snoring and sleep apnea. Respiratory organs have a better airflow when the whole body is placed face down on the mattress. Sleeping on the stomach can help prevent snoring and sleep apnea due to the position of your throat and tongue.
Keep in mind this: Side sleeping provides a similar protective effect on the airways, and it has fewer cons than belly snoozing.
Stomach sleeping also reduces acid reflux and heartburn, which is great because that can really be a pain in the rear when you try to concentrate on falling asleep.
How to Improve Stomach Sleeping?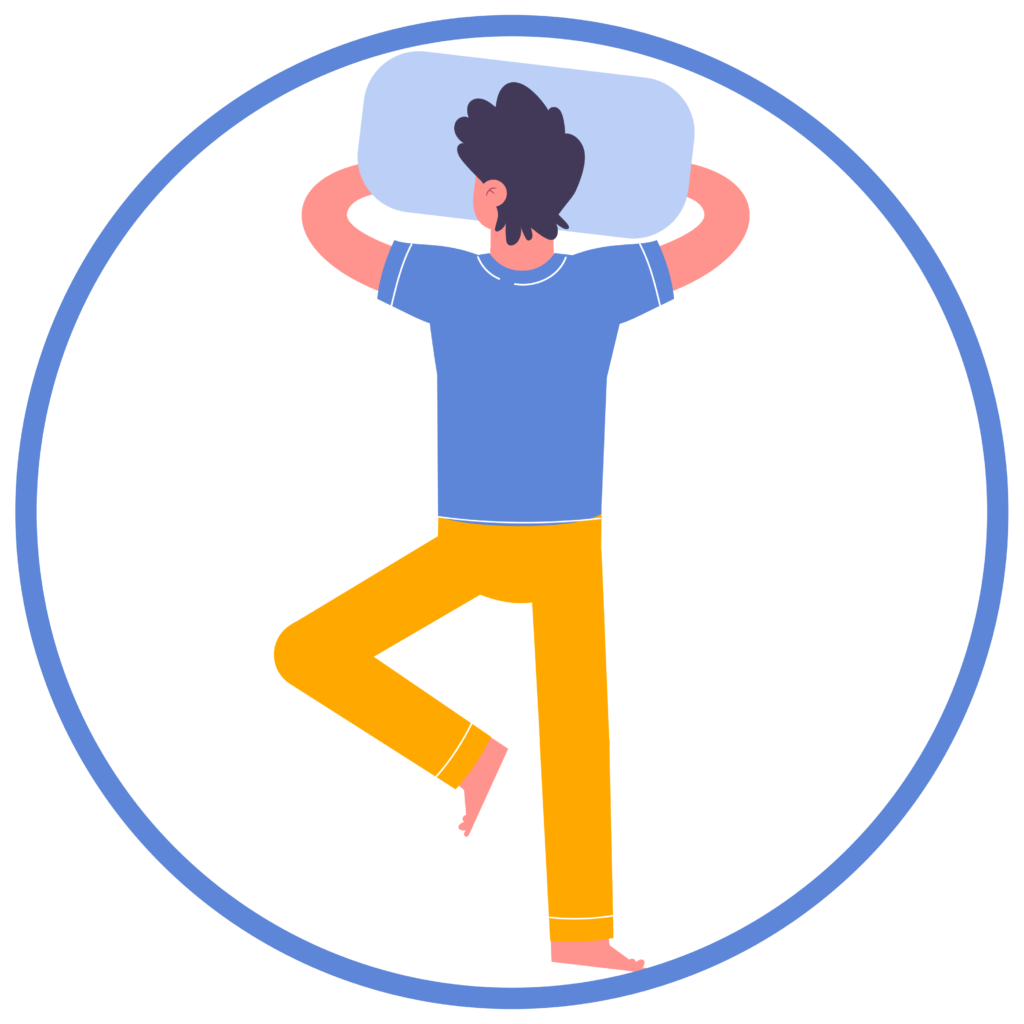 Sleep Without a Pillow
The key to a good night's sleep for stomach sleepers is getting rid of your pillow. It may seem hard at first, but once you find yourself without one and start sleeping on just the mattress instead; everything will feel so much better!
Why No Pillow?
Frequent back and neck pain happen if stomach sleeping is your preferred sleep position. And it's not so much the sleep positions but the usage of a pillow. So, if you have chosen the right mattress, with great pressure relief and edge support and all that makes it comfy but still have issues, consider sleeping without a pillow. That can be hard, we know.
For starters, consider using an adjustable pillow, if sleeping without one is impossible for now. The adjustability of a pillow is key to making sure that it suits your individual sleep positions and needs. The internal fill can be removed and replaced with differing levels of firmness, which means you're always able to find the perfect level for yourself.
In time, you will get used to keeping your neck leveled with your spine, but you will probably still switch sides during the night to catch your breath. And that's totally fine, as you won't have to keep your precious neck in an odd, uncomfy sleep position.
Place a Pillow under Your Hips
The pillow will help keep your hips from sinking into the mattress and alleviate any pressure on the lumbar area. Average-weight stomach sleepers tend to like medium-firm support, while heavyweight stomach sleepers need a firm, supportive mattress.
But both can feel pain in the neck. It's because the pillow is in the wrong place. Instead of placing it under your head, consider placing it under your hips.
If you do not have the right mattress, scroll up to the beginning of this article and find your best mattress for stomach sleepers. Then come back for more tips here.
Now that you've set your eye on a mattress, you shouldn't have chosen one too soft or will make your hips sink in. Mattresses for stomach sleepers should always be sturdy and firm enough to keep pressure points alleviated & proper spinal alignment in check.
Keep Your Legs Straight
When lying on your stomach, it's essential to keep the lower part of your body in alignment so that none of those excess stresses are placed onto vital organs. Try keeping both legs down and straight while hitching out just enough for comfort; finally, relax, have forty winks or a deep night's sleep.
Besides keeping your legs straight, you need the best mattress that will keep them level with the upper and middle body. That's why we recommend getting a medium-firm hybrid mattress for stomach sleeping.
Additional Things to Consider When Buying a Mattress for Stomach Sleepers
Body Type
Mattresses come in different firmness levels, depending on what type you need and your sleeping positions. And depending on your weight, you should choose a more or less firm bed.
Average-weight stomach sleepers will find medium-firm, the most comfortable, and pressure-relieving.
Lightweight stomach sleepers under 130 pounds cannot sleep on a medium-firm bed unless it is all foam and tends to cradle the body. A medium-firm hybrid mattress will be tough to break in with this weight so nights will be more unpleasant than the opposite.
Heavyweight stomach sleepers over 250 pounds require a firm to a very firm mattress and ideally outstanding edge support, so they don't get the feeling of rolling off the bed during the night. They need the vouch that the mattress will support their hips enough not to sink in the coils, foams, or other materials, misaligning the spine.
Mattress Support
The materials used in a mattress are a vital consideration for stomach sleeping. If the comfort layer has really low-density foam, it will start sagging and denting over time, making sleepers uncomfortable and will throw the body out of alignment. Not only that, but it can cause pain, build tension, and sore muscles.
Stomach sleepers are at risk of putting more pressure on their beds, leading to premature wear and tear, which is why mattresses for stomach sleepers must be:
durable,
supportive,
with a great warranty policy
ideally with coils (innerspring mattresses/hybrid mattresses)
The type of fillings in the comfort layer of the mattress that cushion your body can significantly affect how well you're able to rest.
Some people move around less than others mainly because they use mattresses with higher quality layers instead of their cheaper counterparts, which may not offer adequate support. It won't be durable or supportive enough if the comfort layer is too soft or thinning out quickly upon touch.
Always read the warranty page of the mattress you decide to buy, and read the fine prints especially. If you're investing your precious dollar, it better pay off!
Pressure Relief
One benefit for stomach sleepers is pressure relief from around their hips, shoulders, or other sensitive spots where they experience discomfort when sleeping on a medium-firm bed.
The right kind for you can make all the difference in getting quality rest!
A contoured surface can help relieve pain by spreading weight more evenly across the surface – like magic!
When choosing your best mattress for stomach sleepers, look for quality pressure relief. Stomach sleeping requires less shaping than other positions, but it's important to find the best mattress with proper cushioning for any pressure buildup.
Consider Changing Your Sleeping Position
The health benefits of sleeping on your back are numerous, but there's one major drawback: it can cause pain in the long term. You could try switching to the side sleepers team because it is considered the healthiest sleeping style. Sleeping on your back is also acceptable.
Easier said than done but do a slow transition. This shift is significant if you experience tingling, numbness, pain, and pressure on the muscles, joints, and discs.
You'll adapt or switch multiple sleeping positions as combination sleepers do in time. This could be a challenge for heavyweight stomach sleepers unless they get a bouncier hybrid mattress.
Frequently Asked Questions about Mattress for Stomach Sleepers
Is it bad to sleep on your stomach?
So, you've probably heard from a friend or some sleep experts that it's no bueno if you sleep on your stomach. It does come with many problems, like:
pain in the lumbar area or neck because of poor spinal alignment
numbness and stiffness, mainly if you stick your arms below the body or pillow and pressure muscles
early wrinkles and wearing down the quality of your skin
shoulder pain for stomach sleepers that toss and turn
The most important thing is sleep quality. As long as you feel well-rested and with no discomfort, it's OK to sleep on your stomach. But, if it starts to affect your sleep pattern, you should break the habit.
How can I avoid sleeping on my stomach?
Leaving old habits is hard, but if stomach sleeping leaves you stiff and unrested in the morning, try out ways to optimize your sleep.
As mentioned above, try to switch to back or side sleeping. We know you're used to dozing off on your belly, but if there's constant pain, you should consider switching, ideally to the side.
Second, to avoid discomfort on your stomach, try using an adjustable pillow under the pelvis or putting hands on your hips to alleviate the spine and keep it healthy and neutral.
You probably won't be able to switch in one night, but be persistent: sleep comprises a third of our precious lives. Excellent sleep hygiene means excellent health.
Around 16% of people rest on their stomachs, and while it is suitable for snoring and sleep apnea problems, your spinal alignment and neck are often compromised.
Also, stomach sleeping is a position that isn't variable during the night and is not the same as similar sleepers. Some sleepers place arms under the pillow, while some put their legs in a running man position, bending the knees. Some even keep the neck flat and the pillow on the forehead.
It ultimately comes down to finding a pose that won't make it difficult to wake up & seize the day. Implementing some tips is one way, and getting a perfect mattress for prone sleeping is the other. A firmer mattress, more than a softer one, will help you achieve perfect spinal alignment in this sleep position.
Do stomach sleepers need a firm mattress?
To piggyback on the previous question, stomach sleepers need sturdier beds. These beds will keep them from sinking in too much. Firmer mattresses keep the body on top, thus lessening the pressure on joints and muscles. So this means that stomach sleepers will love firmer mattresses.
But this is only scratching the surface. Factors like body type and weight also have a big influence if a person will like the mattress. Here's a good example. If you're a stomach sleeper that's petite in build, you will have a bad time on a mattress with a firmness ranking of 9. It will feel like you're sleeping on a boulder, and you'll wake up with sore joints. But, you can't go with a mattress that's three on the firmness scale because it will be too soft.
Now that we've put this into perspective, here's what we recommend you do. Focus on looking for the following firmness ranks, based on your weight:
If you are a petite stomach sleeper, you'll probably weigh less than 130 lbs. Look for a medium mattress that ranks around 5 on the firmness scale.
If your weight falls somewhere between 130 to 230 lbs, mattresses that rank from 6 to 7 will be the best bet for you.
If you're over 230 lbs, you should go with a mattress that ranks at least a 7 or an 8.
Keep in mind that these are just our recommendations. Your own preferences can come into play! You might like softer mattresses than the ones suggested. Thankfully, a lot of mattress companies offer trial periods. So we encourage you to take full advantage of that.
Is it okay to sleep without a pillow?
Yes. If you sleep without a pillow on your stomach, your head is likely flat during the night. The most important thing with sleep is keeping the spinal alignment, and with the stomach sleeping – no pillow is how.
Sleeping without a pillow may reduce some stress on your neck and shoulders while sleeping with a pillow keeps the neck unnaturally bent. Instead of being extended backward and aching in the morning, you could sleep pillowless to combat the discomfort in your neck and let your muscles and tension dissipate in your high-quality mattress.
If you're just trying out sleeping without a pillow, approach it gradually:
Don't immediately remove the pillow, but use a blanket or a thin towel instead for starters, and then slowly continue to flatten your head support and omit the pillow altogether.
Even without a pillow, keep in mind that the stomach sleeping position isn't the healthiest among sleeping styles: back and side sleeping is. This is because stomach sleeping conditions you to keep your head turned on one side or switch between sides during the night.
That's not your neck's favorite activity, and you should still use a pillow as support for the rest of your body to maintain spinal alignment: under the pelvis, between the knees, and so on.
What is the best mattress for side and stomach sleepers?
It's not easy to find a mattress that will be great for both stomach and/or side sleeping. Both of these positions have differing needs.
Side sleepers tend to like softer or medium-firm mattresses. They put a lot of pressure on the hips and shoulders. Whereas stomach sleepers need a bed that will not let their midriff sink in and cause pain in the lumbar area. So they like medium-firm to firm mattresses.
And don't take bodyweight out of the equation! Depending on your build, it might be one of the deciding factors on which mattress you will ultimately choose.
If you prefer to sleep on your side, check our top choices of mattresses for side sleepers.
Final Thoughts
So, what can you take away from this list? First, let's do a quick run-through:
| Mattress | Best/Most |
| --- | --- |
| Saatva Classic Mattress | Best Hybrid Mattress For Stomach Sleepers |
| Helix Dawn Mattress | Best Stomach-Sleeper-Specific Mattress |
| Loom & Leaf Mattress | Best Memory Foam Mattress for Stomach Sleepers |
| Nectar Mattress | Best Mattress for Stomach Sleepers with Back Pain |
| WinkBed (Plus) Mattress | Best Extra Firm Mattress for Stomach Sleepers |
Buying a new mattress is never easy. Especially if you're a stomach sleeper.
You might come across mattresses that are too soft, too firm, not firm enough, too bouncy, and other issues. You might even find a mattress that interests you. But then you find out from other mattress reviews that it might not be the right fit for you.
Before you venture further on your quest, take these best mattresses for stomach snoozers list as your guide. Pay special attention to the materials used to the firmness level. If the mattress is too soft, you won't get the back support you desperately need.
If you do find what you think is the mattress of your dreams, make sure to get yourself acquainted with it better. Always read its review very carefully.
For now, we wish you good luck and lots of fun on your journey!