TempurPedic Mattress Review for 2023: A Thorough And Frank Look
Written by: Milica Terzic
Updated: 02/20/2023
Transparency Disclosure: For products purchased through the links on this page and throughout the site, we may get a referral fee (with no extra cost to the buyer). Please read our full How We Rate page for more information. There you can see how we conduct research and test products, as well.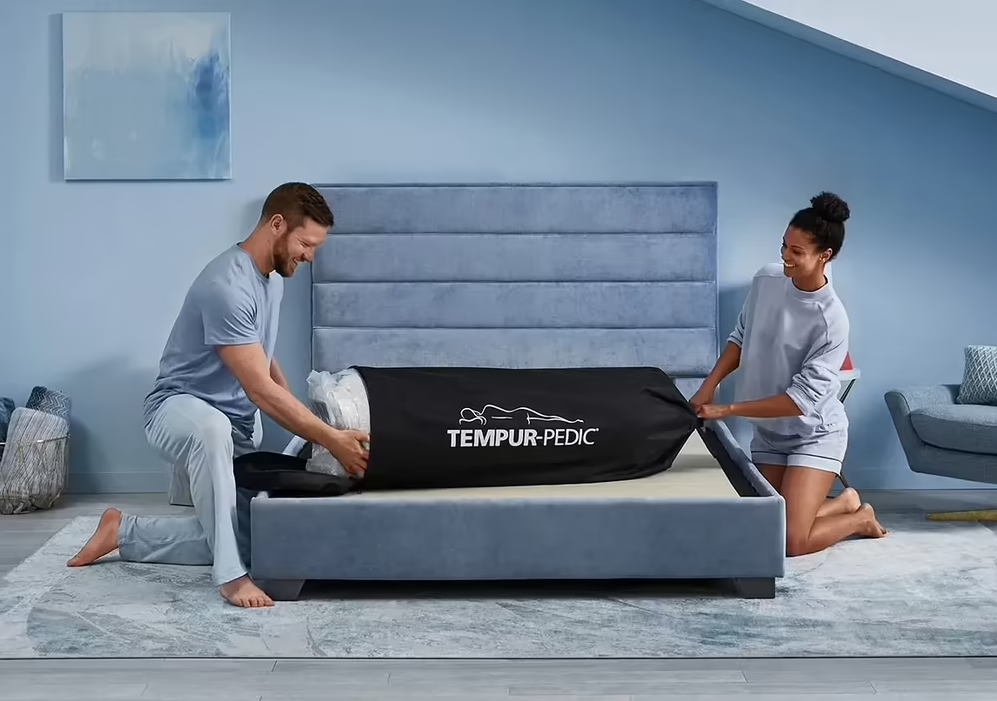 Let's rewind the time for a bit. The year is 1992, and you've just turned on the TV. You see an ad where a lady is jumping on a bed with a wine glass. No, it's not sorcery! It's the TempurPedic mattress.
First founded in Sweden, the company has headquarters in the USA. Today, the Tempur-Pedic mattress company is one of the most popular household brands. It is well-known for being the first to use specialized memory foam as a luxury material. It's also known for its high-end prices. Many people praise the TempurPedic for their extraordinary pressure-relieving properties. As such, they also suit a wide range of sleepers.
Other than TempurPedic mattresses, the company offers:
toppers,
bases,
pillows,
beddings,
and more.
This TempurPedic mattress review will focus on their current lineup of all-foam models. TempurPedic mattresses like:
TEMPUR-Cloud®
TEMPUR-Adapt®
TEMPUR-ProAdapt®
TEMPUR-LuxeAdapt®
TEMPUR-Probreeze°
TEMPUR-Luxebreeze°
We will focus on what are some of the similarities and differences between the TempurPedics. We're going to see if they are really that pressure relieving and who might enjoy them the most. We'll also touch upon some of the benefits if you order Tempur-Pedic and why they are different from regular memory foam.
So, let's get this review on the road and get started!
Tempur-Pedic Mattress Review in a Nutshell
What makes TempurPedic mattresses unique?
They are all-foam mattress models.
The TempurPedic company has been on the market for almost 30 years.
They come in different firmness levels.
Luxury, high-end foam mattress.
Very durable and conforming models.
Excellent at pressure relief and motion isolation.
Appealing to side sleepers and some back sleepers.
Have a 10-year limited warranty.
Three models come in a hybrid version.
TEMPUR-Cloud®
TEMPUR-Cloud® comes with a three-layer design and a medium-firm feel that is both gentle and supportive.
Construction
When we come to this part of the TempurPedic mattress review, we mostly write about a single mattress and its layers. So we usually section it off according to each layer. However, the focus of this review are all Tempur-Pedic mattress models. Each mattress differs slightly from the rest.
Therefore, we'll need to shift our focus. Today, we will present how each TempurPedic mattress model, or should we say series, is constructed. We'll also show what makes them different from one another.
If you would like to know more about them, please read our more detailed reviews about each Tempur-Pedic series.
The TEMPUR® Material
Before we begin, let's address the elephant in the review. Now, most reviewers put TempurPedic mattresses like memory foam mattresses. But, that's not entirely the case.
The Tempur-Pedic company uses a specific material to construct all of their TempurPedic mattresses. It's called the TEMPUR® Material. NASA was actually the one who created the TEMPUR® Material. So that they can use it to cushion astronauts when they travel to space. Today, the TempurPedic company has further perfected the material to provide you with unmatched comfort and support while you sleep.
What makes TempurPedic different from generic memory foam?
The TEMPUR® Material maintains its shape over time, making it more durable. This Tempur-Pedic material itself consists of millions of moveable open cells. This sort of structure allows for better body-weight distribution and increased comfort. This Tempur-Pedic foam contours the body more closely so that you can enjoy better pressure relief.
As the TEMPUR® Material is entirely conforming, it also isolates movement well. That way you can sleep much longer and undisturbed. Thanks to the open-cell structure, the material is also more breathable compared to memory foam.
Today, the Tempur-Pedic company has developed several different formulations of the TEMPUR® Material. Each of these formulas answer various consumers' needs and wants better.
Which TempurPedic mattress uses which formulation?
Well, you just have to read more about the TempurPedics' designs to find out.
Cover
One of the first things everybody notices about a new bed is the cover. Its job is to invite you to try out the bed and make you picture how it will look in your own little sleep haven. It has to be soft to the touch and well designed. Bonus points if it also helps with the overall breathability of the mattress.
All Tempur-Pedic mattresses have a cover that also helps you sleep cool at night. But, there might be some differences. Three different TempurPedic covers are:
Moisture Wicking Cover
The Cool-to-Touch Cover and
The SmartClimate® Dual Cover System with EasyRefresh™ Washable Cover
So which Tempur-Pedic series has which cover, and what's the difference? (for fun times, try saying this five times fast!)
The Moisture Wicking Cover is specific for the Tempur-Cloud® mattress model. It is a premium-quality cover that promotes better airflow while you sleep cool at night. It is also really stretchable, as it encases the entire TempurPedic hence why it is non-removable.
The Tempur-Adapt® mattress series comes with the Cool-to-Touch Cover. This incredibly soft polyester cover is interwoven with high-performance cooling yarns. These dense and heavy yarns are the actual reason why this TempurPedic mattress feels cool to the touch. Because they are woven into the cover and not infused, the Tempur-Pedic cover can promote better airflow, keeping you really cool at night. Like with Tempur-Cloud®, this cover is also non-removable.
Finally, we have the SmartClimate® Dual Cover System with EasyRefresh™ Washable Cover. What a mouthful!
But what's so special about this Tempur-Pedic cover?
This dual-layer cover is present with Tempur-ProAdapt®, LuxeAdapt®, and both breeze° series mattresses.
It is made out of polyester. Like with the Adapt® series, it has high-performance cooling yarns interwoven.
A bonus point of this TempurPedic's cover is that it's removable and easy to wash.
The cover for the Tempur-Pedic breeze° series contains an extra layer of a PureCool+™ Phase Change Material.
This material absorbs heat from the sleeper's body. It absorbs heat until the TempurPedic's surface reaches a specific temperature.
The material was added to ensure you can sleep cooler and deeper throughout the night.
TEMPUR-Cloud® Construction
How's a household mattress company like Tempur-Pedic with years of experience to compete with other online companies? By introducing their own bed-in-a-box, of course! Or rather bed-in-a-bag!
TEMPUR-Cloud® is one of the newer, all-foam models from the Tempur-Pedic mattress lineup. This more affordable TempurPedic mattress is designed for quick and unique delivery. Instead of being compressed in a box, the mattress fits into a sturdy and reusable canvas bag. A mattress and a bag? Don't mind if we do!
The Cloud® is made out of three foam layers. Together they produce a medium-firm feel mattress without sacrificing comfort and support.
The first layer of this Tempur-Pedic mattress is the Tempur® Comfort Layer. The layer features the signature TEMPUR® material with a slight twist. As the material is a new formulation, it is designed to be soft and responsive. You still get the memory foam feel but more supportive as it cushions the body.
Underneath is the Tempur® Support Layer. This firmer layer adapts and contours to your body slowly. That way, you can expect more pressure relief while you sleep on your TempurPedic. It also acts as a buffer, so you don't come into direct contact with the base.
Finally, we have the Tempur-Pedic Base layer. This layer consists of a premium, high-density polyfoam. It adds to the overall support and durability of this TempurPedic mattress.
TEMPUR-Cloud®
TEMPUR-Cloud® comes with a three-layer design and a medium-firm feel that is both gentle and supportive.
TEMPUR-Adapt® Construction
The first model in the Tempur-Pedic Adapt® series is Tempur-Adapt®. This TempurPedic model comes in two versions; medium all-foam and medium hybrid. Out of this series, the Adapt® is the most affordable out of the three. Compared to Cloud®, the Adapt® is slightly softer. It's also known for its pressure-relieving properties.
Take note of this TempurPedic mattress model's comfort layer! The comfort layer features a softer version of the TEMPUR® material, the TEMPUR-ES. This Tempur-Pedic formula is what gives this Adapt® series its balanced feeling that conforms to your shape. The support or the base of this TempurPedic mattress has the Original TEMPUR® material. Its main goal is to adapt further to your body to provide more comfort and support.
Although they do not disclose its density, each TempurPedic mattress has a polyfoam transitional layer. This layer is underneath the comfort, and depending on the model, it's usually 2″ to 3″ thick.
All all-foam models of the TempurPedic Adapt® series have a third base layer. Like Cloud®, the Adapt® has a high-density polyfoam designed to stabilize both the Tempur-Pedic bed and your body.
TEMPUR-Adapt®
TEMPUR-Adapt® is a slightly softer model with superb pressure relief great for combination and side sleepers.
TEMPUR-ProAdapt® Construction
The next in the Adapt® series is the Tempur-ProAdapt®. The ProAdapt® is actually the most popular bed of the series. This TempurPedic mattress is 12″ tall and comes in 4 different firmness levels: soft, medium, medium-hybrid, and firm.
Now, as part of the Adapt® series, this Tempur-Pedic model has a similar structure to the Tempur-Adapt®. It also features the TEMPUR-ES in the comfort layer. But there are some differences. According to the TempurPedic official website, the ProAdapt® has 20% more TEMPUR® Material. It comes in the form of the APR™ Material, which adds to the pressure-relieving effect of this TempurPedic mattress. These two foams build a system of two comfort layers for advanced support, comfort, and extra RnR.
Interestingly, the ProAdapt® high-density polyfoam core is very convoluted. This gives the foam Tempur-Pedic material an egg-crate look.
TEMPUR-ProAdapt®
TEMPUR-ProAdapt® is a 12" all-foam mattress with additional pressure relieving properties and four levels of firmness.
TEMPUR-LuxeAdapt® Construction
The final model in the Tempur-Pedic Adapt® series is the LuxeAdapt®. If you are looking for a TempurPedic model with maximum pressure relief, then the 13″ tall LuxeAdapt® might be a good bet.
In many ways, the LuxeAdapt® and the ProAdapt® are similar in design and have many of the same benefits. Both of these TempurPedics isolate motion well, are close conforming, and they tend to cradle the spine comfortably. They also both contain the TEMPUR-ES and the convoluted polyfoam. However, there are a few twists with this Tempur-Pedic model.
The LuxeAdapt® is only available in two firmness levels – soft and firm. This makes it the only TempurPedic model from the Adapt® series without the hybrid option. The LuxeAdapt® is also not available in Twin and Full mattress sizes.
The second comfort layer of the LuxeAdapt® has the APR+™ Material, the premium version of the APR™ Material. This Tempur-Pedic material contains 40% more TEMPUR® Material. As such, this TempurPedic model is the most conforming and highly adaptive in the series. According to the Tempur-Pedic website, it's 30% more conforming than the APR™ Material.
As such, many have called this model a step-up from the Tempur-ProAdapt®.
TEMPUR-LuxeAdapt®
TEMPUR-LuxeAdapt® comes with a balanced comfort, support, and minimal motion transfer great for couples and side sleepers.
TEMPUR-Probreeze° Construction
Memory foam mattresses get a bad wrap for tending to trap heat too much. With the breeze° series, the Tempur-Pedic mattress company wanted to change that notion. How? By building a memory foam bed that maintains a cool temperature for the best sleeping experience.
This TempurPedic series has two models, the first of which is the Tempur-Probreeze°. The 12″ TempurPedic mattress is available in two options: medium, and medium-hybrid. Even though it's designed for hot sleepers, this Tempur-Pedic model doesn't lose on motion isolation and excellent pressure relief.
The Tempur-Pedic website says that the Probreeze° is supposed to sleep up to 3 degrees cooler than other TempurPedic mattresses.
But how is this achieved? Let's look at its construction.
In the cover section, we already mentioned that this mattress's cover features two materials. The SmartClimate® Dual Cover System with EasyRefresh™ Washable Cover and the PureCool+™ Phase Change Material. We also said that the TempurPedic's Phase Change Material actively absorbs heat away from the body. In the comfort layer, you can find another variation of the TEMPUR® Material.
It's called the TEMPUR-CM+™ Material. This new Tempur-Pedic formula further betters the airflow of the mattress. It allows the trapped heat and humidity to cycle out of the mattress. This, in turn, further cools down the TempurPedic. All of these elements combined, make a superb cooling structure. Say goodbye to sweaty mornings!
In the base layer, you can find their Original TEMPUR® Material. It's role is to add to the stability of this TempurPedic mattress.
TEMPUR-Probreeze®
TEMPUR-Probreeze° has outstanding cooling properties which make this model stand out as an excellent choice for hot sleepers.
TEMPUR-Luxebreeze° Construction
As the second model from the TempurPedic breeze° series, the Tempur-Luxebreeze° is similar to the Probreeze°. But, there are some notable differences:
The Luxebreeze° mattress is 13″ tall.
It comes in two options: soft and firm.
It sleeps up to 3 degrees cooler.
It's not available in Twin and Full mattress sizes.
As its base or support layer, it has Ventilated TEMPUR-APR® Material.
What is Ventilated TEMPUR-APR® Material?
The Ventilated TEMPUR-APR® Material is a pressure-relieving and ultra-breathable Tempur-Pedic material. What makes it interesting are its built-in ventilation channels. These channels are what enable the overall better breathability and cooler temperature.
Based on this construction, we can definitely say that this is the TempurPedic company's "coolest" model yet!
TEMPUR-Luxebreeze®
TEMPUR-Luxebreeze® is 13" tall with added comfort and up to 8 degrees cooler sleeping experience for many different sleepers.
Firmness & Feel
When it comes to how firm a mattress is, a lot of factors can come into play. From the foams used to external factors like body weight or sleeper type. So what might be soft to you might be too firm for someone else.
We already know that TempurPedic mattresses come in different firmness options. But, there are two things to note:
The company states which TempurPedic mattress comes in which firmness option, but not where it ranks on the firmness scale.
The Tempur-Cloud® is relatively new on the market, but nowhere does it state explicitly if it's medium, soft, or firm.
So, we need to see what the other TempurPedic mattress reviewers have ranked it as.
From what we can tell, most have said that the levels correspond to the available options. Soft TempurPedic models usually rank 3 out of 10, while the medium mattresses' firmness rank is around 5. Firm Tempur-Pedic's rank at 7, making them just the right amount of firm. With Cloud®, some reviewers have said that it has a medium feel to it. Unfortunately, none have stated its rank on the scale. As most Tempur-Pedic medium mattresses rank at a 5, let's assume that the Cloud® is also ranked the same.
Now, let's talk about how TempurPedic models feel!
In short, they feel like a memory foam mattress. Many reviewers stated that the TempurPedic mattresses have a very hugging feel. It stems from the contouring nature of the TEMPUR® Material. This Tempur-Pedic material cradles, or hugs, the body in places where pressure tends to build up. It also allows you to sink in the mattress, which a lot of people might like. Depending on the firmness level, this sinkage might be more pronounced with other TempurPedic beds.
As to not get confused, we've made a table where you can see the firmness rankings of each TempurPedic option available.
| TempurPedic Model | Soft Option's Rank | Medium Option's Rank | Firm Option's Rank |
| --- | --- | --- | --- |
| Tempur-Cloud® | / | 5* | / |
| Tempur-Adapt® | / | 5 | / |
| Tempur-ProAdapt® | 3 | 5 | 7 |
| Tempur-LuxeAdapt® | 3 | / | 7 |
| Tempur-Probreeze° | / | 5 | / |
| Tempur-Luxebreeze° | 3 | / | 7 |
How long does a TempurPedic mattress last?
Based on its limited warranty, your Tempur-Pedic bed should last you 10 years. If you consider multiple factors like body weight, or proper mattress use, it may break down sooner. You also have to take into account that most all-foam mattresses last about 5 to 7 years.
However, TempurPedic mattresses are not like most all-foam mattresses. Ever since its beginning, the Tempur-Pedic company has pioneered the use of its TEMPUR® material. This TempurPedic material is known to have better quality than those found in budget mattresses. As the material is quite premium, the TempurPedic mattress models, in turn, can retain their shape for a much longer time. And let's be frank! You can't be in the mattress business for nearly three decades without having something to show for.
According to several Tempur-Pedic mattress reviews, expect that your TempurPedic will last you 7 to 8 at least! But this doesn't mean that you should forget about proper mattress care. Over time, you can expect to notice body impressions in your TempurPedic mattress. Especially if you pick a model with a softer surface. To minimize the impressions, rotate your TempurPedic every 3 to 6 months.
Motion Transfer
Imagine – you and your partner blissfully sleeping. The moon is up, the bedroom is comfy, and all of a sudden, you feel a bounce. And then another one, and another one, etc.
You know what's happening. Your significant other is once again moving and once again you'll wake up unrested.
Our advice? Invest in a mattress that excels at motion isolation — a mattress like Tempur-Pedic.
Many Tempur-Pedic mattress reviewers agree that all Tempur-Pedics are excellent at isolating movement. Their secret? Why it's the TEMPUR® Material, of course! As this high-density TempurPedic material is placed in the comfort layers. It works hard to absorb any movement and to minimize possible transfers. No matter which TempurPedic mattress you choose, you definitely don't have to worry about any interrupted sleep!
It is no wonder why the TempurPedic mattresses are one of our top choices for couples and co-sleepers!
Edge Support
You might be thinking, why is edge support so important? Well, a lot of people, like couples or those with mobility issues, rely on it. Couples count on the extra sleeping surface. The latter need some additional help getting in and out of bed. So having a sturdy mattress edge is something that you need to look for.
Most memory foam mattresses tend to perform okay in this regard. But you will notice sagged edges after a while. But the TEMPUR® material is more durable and dense than regular memory foam. Meaning most sleepers won't experience the feeling of "rolling-off" from a Tempur-Pedic bed. Keep in mind that the TempurPedic mattresses are made with body contouring in mind. As a result, you might notice more sinkage sooner than with a hybrid or a latex model.
When it comes to Tempur-Pedic mattresses, you might not get the edge support you need. Although, TempurPedic mattress reviewers have noted that some models do perform differently from one another:
Tempur-Cloud® is the newest TempurPedic model, so not a lot of people have commented on its performance.
With the Tempur-Adapt® series, you can expect some significant sinkage.
The Tempur-breeze° series has potential for sinkage along the edges. It does perform better than the other TempurPedic models.
If you have mobility issues but are still set on a Tempur-Pedic mattress, then try their hybrid models. We also encourage you to check out our specially curated list for your needs. Just in case you might find something better suited.
Pressure Relief
No one, we repeat no one, wants to wake feeling aches and pains from a bad mattress. Honestly, why buy a mattress if it's going to make you feel like you've gone through the wringer!
It's no secret that a lot of memory foam mattresses are praised for their pressure relief. But this rings especially true for the Tempur-Pedic mattresses! Since day one, the TempurPedic company has made unparalleled pressure relief as one of their main strengths.
Thanks to the Tempur-Pedic's unique design, you can rest assured that your spine and body will be properly aligned. Even though their foams are highly dense, the Tempur-Pedic still cradles the body and eases pressure points!
All in all, it doesn't matter if you go with Cloud®, LuxeAdapt®, Probreeze°, or any other TempurPedic model. Expect to wake up with no tension at the sensitive spots along the body!
Keep in mind that softer Tempur-Pedic models tend to conform more closely to the body than the firmer ones. You might want to factor in your body weight when choosing your own TempurPedic mattress.
Do TempurPedic Mattresses Sleep Hot?
Foam mattresses tend to have a reputation for sleeping hot. Sadly, this also rings true for most Tempur-Pedic mattresses. But, they do have something that helps regulate it so that most sleepers can enjoy them.
For example, the Cloud® mattress has a cover that wicks moisture away. The Adapt®'s cover is cool-to-touch. Both ProAdapt® and LuxeAdapt® have a dual-layer cover. This helps the TempurPedic models maintain comfortable sleep temperatures for most. The TEMPUR® Material and its variations are more breathable than regular memory foam. This is because they have an open-cell structure. Due to the materials conforming nature, the TempurPedic mattresses tend to absorb the body's temperature. This, in turn, causes Tempur-Pedics to sleep warm, so we don't recommend them for really hot sleepers.
If your heart is set on a TempurPedic mattress, consider their hybrid versions and the Tempur-Pedic breeze° series. The breeze° series is designed to sleep cooler than competing all-foam mattresses. The only downside to this series is that they are pretty pricey. But if you're a hot sleeper with some money to spare, it might be worth considering.
Off-Gassing
Despite offering White Glove Delivery, you may experience some off-gassing with your new Tempur-Pedic mattress. Now, you shouldn't worry about the gas being harmful. The odor results from VOC being released from the mattress's foam. But this is a normal occurrence. The amount of VOC is also very low so that it's not threatening to your health.
Usually, the smell goes away after a few days if you place the Tempur-Pedic in a well-ventilated room. But some TempurPedic mattress reviews have noted that it may last a long-time and that it is relatively strong. One reason for this longer off-gassing might be the nature of the foams.
TempurPedic mattresses, like the Adapt® series, in particular, tend to use high-density foams. Due to this density, the foams may emit stronger smells than other less dense mattresses. Coincidentally, the TempurPedic breeze° series is better in this regard. Its overall structure promotes breathability.
So what's our takeaway?
If you are sensitive to smell, you might want to consider going with the breeze° series. If you are still bothered by the off-gassing, feel free to use their return policy.
Sleeper Type Preferences & Weight
Here's the tricky part. Most mattress companies usually mention which model might suit which sleeper type or body. But, the Tempur-Pedic mattress company emphasizes how pressure-relieving and supportive their mattresses are. Which, don't get us wrong, they are! But, no mattress fits all. Various factors all influence how a mattress might suit your needs.
How to determine which sleeper type will like which TempurPedic mattress? We're going to go off other Tempur-Pedic mattress reviews and see the results.
So, like always, please pay close attention to the following sections!
Side Sleepers
With side sleepers, you need to remember that they need extra cushioning and support. They put more pressure on the hips and shoulders.
As Tempur-Pedic mattresses are entirely conforming, it makes sense they'll be a hit among side sleepers. They do have excellent pressure relief. But which TempurPedic fits best for their needs may differ from model to model and their firmness. So we need to factor in the weight as well.
Lightweight side sleepers will definitely enjoy all the models that come in the soft firmness level. TempurPedic mattresses like ProAdapt®, LuxeAdapt®, and Luxebreeze°. These Tempur-Pedic models allow them deeper sinkage. Sinkage, that enhances the pressure relief from critical points.
Average-weight side sleepers have given positive points for medium-firm versions of TempurPedic models like Cloud®, Adapt®, ProAdapt®, and Probreeze°. This isn't surprising, as they like mattresses that have some sinkage but not too much. In short, a more balanced out and cradling feeling. They might also like softer models, but medium TempurPedic mattresses are more comfortable.
With heavier side sleepers is a bit complicated, as they do require added support. That's why they're always recommended to try out hybrid TempurPedic models. But some heavier-bodied side sleepers might like the firm ProAdapt® mattress or other medium Tempur-Pedics.
Because of the overall construction and versatility, we can't help but put Tempur-Pedic mattresses as one of our top choices for side sleepers.
Back Sleepers
Back sleepers require a mattress that can keep their spine aligned better.
From what we can tell, based on other TempurPedic mattress reviews, firm mattress models are a better fit for back sleepers. These firmer mattresses will give them the much-needed support. They will also make sure that their spines are properly aligned.
Some have noted that lightweight back sleepers might like the ProAdapt® and the Cloud® mattress. Both models come in a medium firmness option. Some other TempurPedic reviewers have noted that the Adapt® hybrid version might also be an excellent pick for them.
Heavier-bodied back sleepers that enjoy foam mattresses, might like the firmer TempurPedics better. But, we think they might like the hybrid TempurPedic mattresses better.
Average-weight back sleepers will like the medium and firm's supporting and consistent pressure relief.
Stomach Sleepers
As stomach sleepers are getting some shut-eye, their spines tend to curve downward. This, in turn, throws their spinal alignment out of balance.
From what we can gather, stomach sleepers may prefer medium or firm Tempur-Pedic mattress options. But, we've also noticed some mixed results.
For example, some recommend getting the firm LuxeAdapt® for stomach sleepers, while others say to avoid it. Both Cloud® and Adapt® should be okay with lightweight stomach sleepers. Meanwhile, some think the Adapt® hybrid model is a better fit. Some think that the firm ProAdapt®, might not be the best fit for stomach sleepers.
What we did notice across the board was that many stomach sleepers were just okay with Tempur-Pedic mattresses. Our advice? Try out the medium and firm options of the following TempurPedic models:
Adapt®,
ProAdapt®,
Probreeze°, and
Luxebreeze°.
Also, if you are heavier bodied, you might want to consider the hybrid TempurPedic mattresses, as they have added support.
Combination Sleepers
Combination sleepers tend to change to multiple positions during the night. So they need a mattress that's responsive, i.e., bouncy.
Here's the thing – TempurPedic mattresses are designed to cradle the body. Because of this, we're not sure how many combination sleepers will like TempurPedic models. As coils add the needed bounce, they might prefer to try out the hybrid TempurPedic mattresses of Adapt®, ProAdapt®, and Probreeze°. The Probreeze° will be a hit with combination sleepers that sleep very hot.
If you still want to try the foam models, we suggest going with the firm Tempur-Pedic options. They're usually made with denser foam so that the sinkage might be minimized. Although, some TempurPedic reviewers do recommend trying the Cloud® and the Adapt® models. But only if you like a tad bit softer mattress.
Other Mattress Models
As we previously mentioned in this TempurPedic mattress review, three series have a hybrid version of their models. These are:
TEMPUR-Adapt®
TEMPUR-ProAdapt® and
TEMPUR-Probreeze°
Most of the time, we write about each of these models in a bit more detail. As it turns out, the TempurPedic hybrid models are only slightly different from their all-foam counterparts. They have the same height, are priced the same as the foam ones, use similar foams, etc.
So today, we'll just focus on explaining these minor differences. We'll also briefly touch upon who might like them better than the foam Tempur-Pedic models.
Without further ado, let's dive right in!
Hybrid Models
First of all of the hybrid versions of the Tempur-Pedic mattresses have a pocketed coil core. It consists of 1,000+ premium spring coils. Because of this, these TempurPedic models have better edge support, which makes them a better pick for those with mobility issues.
Coils also make the mattresses more durable. So you can expect that your hybrid Tempur-Pedic mattress will last you longer than the foam ones. As such, heavier-bodied sleepers might like these models much more.
As the coils are pocketed, they promote better mattress breathability. So particularly hot sleepers may find these models to be a better fit.
If you are a combination sleeper, the chances are that you like responsive mattresses. As the coils add to the bounciness, you might like the hybrid Tempur-Pedic mattresses better. As these TempurPedic models are bouncy, they also don't offer that cradle-like feeling.
According to the Tempur-Pedic website, the hybrid models are made using their TEMPUR-ES™ formula. This makes them feel slightly softer than their medium foam models. So average-weight sleepers might enjoy the TempurPedic mattresses.
Keep in mind that coils are made from a heavy material, making these TempurPedic models a bit heavier. Our advice? Take advantage of the TempurPedic White Glove Delivery.
How much does a TempurPedic mattress cost?
One thing that might confuse shoppers is that the Tempur-Pedic company is not upfront about the weight of each mattress. For example, a Twin Size Tempur-ProAdapt® mattress weighs from 52 to 69 pounds. However, this mattress comes in three different firmness levels. Hence, we've decided it's best to leave something for the more in-depth individual model TempurPedic mattress reviews.
Still, it's important to know what the height of each mattress is and in which sizes they're available. Hence why we've made this nifty table. Here you can see the dimensions and sizes of all the Tempur-Pedic mattresses. Please note that If you see the "/" sign, it means that the mattress isn't available in this size.
| Dimensions | Cloud® | Adapt® | ProAdapt® | LuxeAdapt® | PRObreeze° | LUXEbreeze° |
| --- | --- | --- | --- | --- | --- | --- |
| Height | 10" | 11″ | 12″ | 13″ | ~12″ | ~13″ |
| Twin | 38″ x 74″ | 38″ x 74″ | 38″ x 74″ | / | / | / |
| Twin Long (XL) | 38″ x 80″ | 38″ x 80″ | 38″ x 80″ | 38″ x 80″ | 38″ x 80″ | 38″ x 80″ |
| Full/Double | 53″ x 74″ | 53″ x 74″ | 53″ x 74″ | / | 53″ x 74″ | / |
| Queen | 60″ x 80″ | 60″ x 80″ | 60″ x 80″ | 60″ x 80″ | 60″ x 80″ | 60″ x 80″ |
| King | 76″ x 80″ | 76″ x 80″ | 76″ x 80″ | 76″ x 80″ | 76″ x 80″ | 76″ x 80″ |
| Cal King | 72″ x 84″ | 72″ x 84″ | 72″ x 84″ | 72″ x 84″ | 72″ x 84″ | 72″ x 84″ |
| Split King | missing* | 76″ x 80″ | 76″ x 80″ | 76″ x 80″ | 38″ x 80″ (each piece) | 38″ x 80″ (each piece) |
| Split Cal King | / | 72″ x 84″ | 72″ x 84″ | 72″ x 84″ | 36″ x 84″ (each piece) | 36″ x 84″ (each piece) |
*For some reason, the Tempur-Cloud® Split King size mattress dimensions are missing from the Tempur-Pedic website. If you see the "/" sign, it means that the mattress isn't available.
One of the first things people look at while searching for their dream mattress is the price. Unfortunately, the price of the Tempur-Pedic mattresses might be something that turns people away. For example, the price range for the Queen-sized models is from $1,199 to $5,499, which is a no-bueno for budget shoppers.
Here's the thing – Tempur-Pedic mattresses are not your regular, run-of-the-mill all-foam models. The company has consistently produced premium-quality mattresses that use high-grade materials. As such, they have well-established themselves as a leader in the industry. Translation? The TempurPedic name might add some spice to the price. It's no wonder that the prices are high-end. So if you want to invest in a bougie mattress, then consider getting the TempurPedic mattress!
The following table shows the full prices of each available size for Tempur-Pedic mattresses. If you are still searching for an awesome deal, don't miss out on our coupon page!
TempurPedic Models

Twin

Twin Long (XL)

Full/
Double

Queen

King

Cal King

Split King

Split Cal King

Cloud®
$1,899
$1,899
$2,099
$2,199
$2,599
$2,599
$3,798
/
Adapt®
$1,899
$1,899
$2,099
$2,199
$2,599
$2,599
$3,798
/
ProAdapt®
/
$2,849
$3,199
$3,349
$4,049
$4,049
$5,698
$5,698
LuxeAdapt®
/
$3,649
/
$4,149
$4,849
$4,849
$7,298
$7,298
PRObreeze°
/
$3,949
$4,299
$4,499
$5,149
$5,149
$7,878
$7,878
LUXEbreeze°
/
$4,949
/
$5,449
$6,149
$6,149
$9,898
$9,898
Split and Custom sizes
You might be wondering two things:
What do Split King and Split California King sizes mean?
Does Tempur-Pedic offer custom sizes?
Let's answer the first question. Split King or Split California King mattresses refer to mattresses that are made of two Twin XL mattresses. You can either get the same two TempurPedic beds or combine two different mattresses. The latter is a great option to choose if you and your co-sleeper have different sleep preferences. Just call their Sleep Experts and find out more.
Have an RV or a boat, but want to get any of the TempurPedic mattresses? No prob. The Tempur-Pedic company offers a mattress customization option. By ordering through the TempurPedic Sleep Experts, you can choose different sizes and shapes of your new Tempur-Pedic mattress. The request is then sent to their authorized customizing partner. They will make the mattress according to your desired specifications. Just remember to have your custom measurement before ordering, and you're all set!
Deals & Discounts
Do you like the Tempur-Pedic mattresses but are not, like, in love with them?
You might want to visit the TempurPedic official website and find out more about their current offers.
But for an even better deal and discount, visit the Anatomy of Sleep's Coupon page. Don't sleep on our special offers tailored to your needs and wishes!
Overview of Benefits
Where can you buy TempurPedic mattresses?
If you are interested in Tempur-Pedic mattresses, you can get them at select stores, online retailers, and even directly from Tempur-Pedic.
Offline
You can visit the Tempur-Pedic Retail Store Directory on their website to see where you can find them. Not sure which one you should get? Visit the TempurPedic brick-and-mortar stores, where you can get help from their consultants. You can also complete your sleep haven, with other Tempur-Pedic products, like sheets, mattress toppers, and more.
Online
Online shopping doesn't have to be so confusing! You can chat, fill out their form, email them, or even call TempurPedic if you have any questions or problems.
Talk with their Sleep Expert if you need help finding your own TempurPedic mattress or placing the order.
Have questions about your order? Contact their Customer Support.
In the table below are the working hours for Sleep Experts and the Tempur-Pedic Customer Support. If you need any help, visit the following link to connect with them.
| Tempur-Pedic Sleep Expert Working Hours | Tempur-Pedic Customer Support Working Hours |
| --- | --- |
| Monday: 9am – 11pm EST | Monday – Friday: 8am – 8pm EST |
| Tuesday – Friday: 9am – 9pm EST | Saturday: 9am – 8pm EST |
| Saturday: 9am – 6pm EST | Sunday: 10am – 8pm EST |
| Sunday: 9am – 7pm EST | |
Please note that you can also order TempurPedic mattresses from their authorized online retailers and not on sites like eBay or Craigslist. If you see Tempur-Pedic items on Amazon with a label 'sold and shipped by Amazon,' that is authentic merchandise.
International orders
If you live outside of the US, you can order your TempurPedic mattress by visiting www.tempur.com. Select your country, e.g., Canada, and visit the Tempur-Pedic website designed for you. Depending on where you live, you can either order online or visit your local retail store for the TempurPedic products.
Sleep Trial
At Tempur-Pedic, you get a 90 Night Tryout period. At first glance, this might seem a short amount of time. After all, other mattress companies offer 100-nights trial periods. But there's only a 10-day difference!
We argue that 90 nights are just enough time to get used to your new TempurPedic mattress. If you're still not happy with your TempurPedic, you can always contact the helpful Tempur-Pedic Customer Service.
Warranty
Warranty is usually a section that causes a lot of confusion with customers. They are usually very long and written in a confusing law lingo that really makes your head spin.
But here are some essential things to remember regarding the Tempur-Pedic warranty:
All Tempur-Pedic mattresses come with a 10-year limited warranty, which is an industry-standard.
Only mattresses purchased from the TempurPedic company or any of their authorized dealers are covered under it.
TempurPedic products sold by non-authorized resellers or that were used by another consumer are not under warranty.
The warranty covers deterioration caused by sagging or indentation greater than ¾ of an inch (0.75″). It also covers physical flaws in a Tempur-Pedic bed made during manufacturing or that cause the foam materials to break down despite normal wear and tear.
It does not cover deterioration measuring less than 0.75″. Additionally, damages caused by abuse and improper care of the TempurPedic mattress are not covered under warranty.
Still, it is crucial for you to get acquainted with it, as you have to know what exactly is and isn't covered under it. As such, please visit the TempurPedic Warranty page for more information about it.
Certification
When looking for a new mattress, one of the things most people ask is: "Is [mattress name] safe?"
Which is understandable. After all, we spend a lot of our time sleeping, so it makes sense to want to know if a mattress is made with safe materials.
We're happy to note that all Tempur-Pedic mattresses are made from 100% CertiPUR-US® certified foams. The foams that are used by TempurPedic during production are:
Free from ozone depleters
Free from PBDEs, TDCPP, or TCEP ("Tris") flame retardants
Free from formaldehyde
Free from mercury, lead, or other heavy metals
Made with low quantities of VOC
Not only that, but TempurPedic mattress company also carries two additional seals:
the NASA® Certified Space Technology Seal and
the Good Housekeeping® Seal
The former recognizes groundbreaking products that are based on space technology. In this case, the TEMPUR® material. The latter seal means that several TempurPedic mattresses have been evaluated by Good Housekeeping®. They have also been determined to perform well as the TempurPedic company promised.
Free Shipping
If you buy the Tempur-Pedic mattress or any other products online, expect free shipping with a White Glove Service. However, this is only free for locations within the contiguous US via UPS grounds.
What are some other things to note?
TempurPedic doesn't ship to PO boxes.
Depending on when you live, the delivery time may vary.
If you need your TempurPedic mattress to be shipped more quickly, you can call their customer service.
If you live in Alaska, Hawaii, and other remote locations, you will need to pay a $600 surcharge per order for mattresses.
The company doesn't ship TempurPedic beds to APO/FPO and US Territory addresses.
An adult (18 years or older) must be present at home to accept delivery and sign it.
If you live in California, Connecticut, or Rhode Island, you may need to pay a recycling fee.
The Tempur-Pedic company doesn't ship to Canada, so you have to visit their international site www.tempur.com.
If you want to know more about the TempurPedic Delivery service, please visit their website page "Shipping & Delivery" and their FAQ page.
Do TempurPedic mattresses need special bed frames?
According to the Tempur-Pedic mattress website, all of their models and power bases are designed to be used with most modern bed frames. So they may not fit inside antique frames or other non-standard furniture.
However, some reviewers have noted that you may need a special bed frame, as the TempurPedic models are quite heavy. In order to avoid any warranty issues, buy a TempurPedic mattress foundation. You can also place Tempur-Pedic on a flat surface with solid support. Adjustable bases and platform beds are also okay to use. But we don't recommend box springs based on some mixed reviews.
Additional Services
White Glove Delivery
As previously mentioned, all Tempur-Pedic mattresses are shipped via White Glove delivery. This service is free for customers within the 48 contiguous United States. Those that live in Alaska, Hawaii, and US territories need to pay an additional fee.
This service by TempurPedic also includes setup and old mattress and foundation removal.
Note: Due to the COVID-19 pandemic, the Tempur-Pedic company may not be able to offer the White Glove Service in certain limited areas. This is to protect your well-being and of their delivery agents.
Mattress and Foundation Removal
Within the White Glove service, the Tempur-Pedic company will arrange the removal of your old mattress and foundation.
Financing
Now, this is something that makes the TempurPedic mattress company really stand out from the rest. They accept payment from major credit cards like Visa, MasterCard, Discover, and American Express. But you can also pay via their own form of financing – the Tempur-Pedic Financing.
Why is this interesting?
Other online mattress companies offer financing through services like Affirm. Having their own financing option further solidifies Tempur-Pedic as one of the household names in the industry. The Tempur-Pedic Financing is administered by Wells Fargo Bank, NA. You even get your own credit card. Although you can only use it to purchase TempurPedic products, you may get approved for 0% APR for a monthly payment plan for up to 36 months. Or, in some cases, you can get approved for a monthly plan of 48 months. Now that is very generous!
How does it work?
You have to apply for Tempur-Pedic Financing on their website.
Before applying, you can choose to go through the pre-qualification process. Basically, Wells Fargo Bank uses basic credit information to let you know roughly how much you might be able to borrow without it affecting your credit score.
The payment plans and interest rates can vary depending on the terms in effect when you purchase your Tempur-Pedic.
Within 30 days after your application is approved, you will get your own Tempur-Pedic credit card in the mail.
Good news – there's no annual fee for the Tempur-Pedic Financing!
You can split your payment between financing and a credit card with the help of their Sleep Experts.
After you pay your Tempur-Pedic account in full, you can close it with the help of the Wells Fargo Bank, NA customer service.
Not so fast! While we did tell a lot about the Tempur-Pedic financing option, we do recommend you read more about it on the following links on the Tempur-Pedic website:
Return Policy
As we mentioned in our Sleep Trial section, the trial period for Tempur-Pedic mattresses lasts 90 days. But what to do if you're not happy with it? Well, you can always take advantage of the Tempur-Pedic return policy.
Here's what you need to know:
You need to try out the TempurPedic mattress for 30 nights so that you can make a more precise decision if you want to return the mattress.
If you decide to return or exchange it, you need to call the TempurPedic Customer Service.
In case of returns, the Tempur-Pedic company will refund the money, less shipping charges.
You need to pay a shipping fee to return or exchange the mattress.
If you bought TempurPedic from a retailer, you might need to call the retailer's customer service. The mattress bought from the retailer is under their return policy.
Caution: Some reviews that we've come across have noted that they had some trouble with the Tempur-Pedic's return policy and customer service. While we don't know the full extent of those issues, it is something to keep in mind.
Are TempurPedic mattresses worth it?
So, let's see: what we have learned from this Tempur-Pedic mattress review?
First off, they are made with a special memory foam that today has several formulations. Each of them has specific properties that correspond to each TempurPedic mattress they are used in. As these are no ordinary memory foam mattresses, they will last you for a long time.
Because of this variety and durability, TempurPedic beds are well-known as luxury-tier priced beds. Not for the faint budget-shopper heart! So if you would really like to invest in a bed, you might want to consider TempurPedic mattresses.
Though they may lack in some aspects, they make up for them in others. All-foam mattresses are notorious for trapping heat. But the Tempur-Pedic breeze° series might be a treat for some hot sleepers. Thanks to the nature of their design and materials, the TempurPedic mattresses are guaranteed to provide you with otherworldly pressure relief and splendid motion isolation.
As Tempur-Pedic beds tend to hug the body, side sleepers will enjoy this feeling of support and comfort the most. Some back sleepers and a few stomach sleepers may find suitable models for them as well.
Need any help with ordering or want a custom-sized TempurPedic? Contact their friendly and helpful customer services. Not the right fit? Take advantage of their 90-day sleep trial and return policy!
All in all, if you want to own a luxurious mattress with outstanding comfort, then you have to take any one of the Tempur-Pedic mattresses for a test spin!
TEMPUR-Cloud®
TEMPUR-Cloud® comes with a three-layer design and a medium-firm feel that is both gentle and supportive.