5 Best Mattresses for Side Sleepers in 2023
Written by: Milica Terzic
Updated: 02/20/2023
Sleeping on your side is more beneficial than you may think!
According to Healthline, side sleeping aids digestion and reduces heartburn. It also boosts brain health, clears brain waste, and reduces snoring/sleep apnea. Sleeping on your side helps your brain reset faster than sleeping in other positions. How cool!
Are you among the lucky ones to sleep on the side? You must be feeling good right now. Jokes aside, you are here because you are a side sleeper of some sort and need a great mattress to give you true love.
Hopefully, you'll find your mattress charming here and now. If you don't, keep browsing and come back later.
We have coupons and deals with most of the mattresses mentioned in this list. That is because we believe they are among the best mattresses for side sleepers, and we keep our fingers crossed that you find one that you'll love.
The thing that matters most to side sleepers is the firmness of a mattress. A plush one is what most side sleepers choose. Something soft to hug the body and let a side sleeper get its well-deserved rest.
There is, of course, a firmness scale that ranges from extra soft to extra firm, on a scale of 1 to 10. (1 being the softest, 10 being the firmest).
Anywhere from a 3+ is a softness that most side sleepers will enjoy, as they usually need pronounced contouring.
There are cons to side sleeping, like placing pressure on your joints – the neck, hips, shoulders, and knees. That is why you need to find an apt mattress for your sleeping habits. The right will let you wake up rested and ready to conquer the day.
The proper mattress for a side sleeper will secure a painless good night's sleep. While reducing pressure points, will keep the spine in proper alignment. Also, it should support the center of your body.
Disclaimer: This list of best mattresses displays mattresses that you might find suitable. It's based on various parameters. We tried including different styled mattresses that cover the widest variety of sleepers.
Feel free to visit our other best mattress lists and reviews. There's plenty of extra information that will make your mattress decision-making process simpler.
Without further hold, let's dig into this list and see what the top mattresses for side sleepers are!
Our Picks for Best Mattresses for Side Sleepers
Saatva Classic – Best Luxury Mattress for Side Sleepers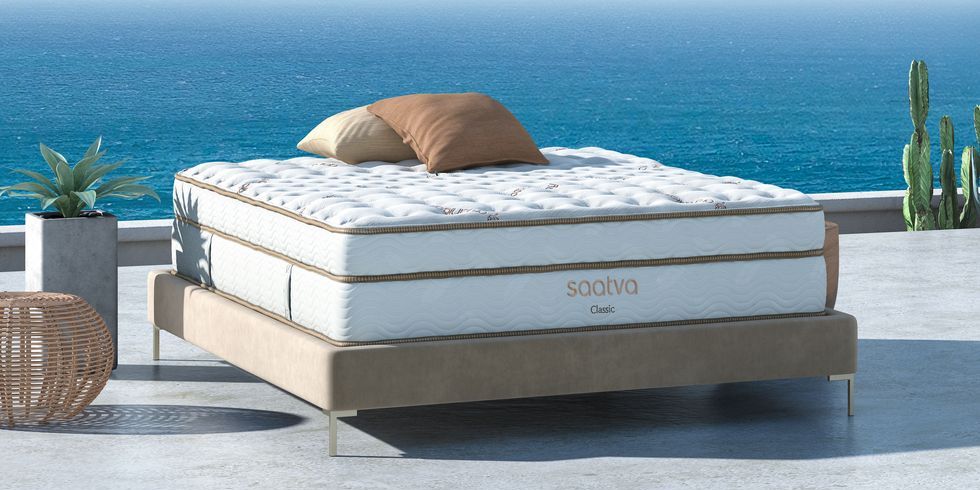 Going through the list of best mattresses for side sleepers, we come across this multi-firmness luxury mattress. It comes from the Saatva Company. The Saatva Classic is another hybrid innerspring mattress. It has a breathable cover that is 100% organic cotton.
Saatva Classic is a customizable mattress with three firmness levels:
Plush Soft (ranked 3),
Luxury Firm (ranked between 5 to 7),
and Firm (ranked 8).
All levels give its user enough pressure relief. Still, different firmness options provide adequate contouring for different sleeper types. Plush soft is the best for side sleepers—especially those who enjoy the cushiony feel.
Because of its softness, side sleepers enjoy soft hybrids that carve to the body's shape. The fuzzy Euro pillow top mattress offers embracing comfort. The coils give you generous, well-known support for Saatva. Coils track movement and respond to it while making the mattress extra durable.
With a 180-night home trial, this mattress is luxurious for its benefits and materials.
White-Glove delivery comes free throughout the contiguous U.S. That's not your standard curbside delivery service. Rather, this service includes setting up any Saatva mattress in your bedroom. You can choose the delivery date and time and a gratis removal of your old mattress.
Saatva Classic uses high-quality, premium, eco-friendly materials. They give the mattress its rich and bohemian vibe. Those materials are:
certified organic cotton
Guardin™ non-toxic and botanical antimicrobial treatment
CertiPUR-US® certified foams
recycled steel coils
a barrier made from natural thistle pulp (it's flame retardant)
Why Does Saatva Classic Mattress Stand Out?
This is a mattress with proper spinal alignment qualities
Saatva Classic is durable and offers support to the pressure points
It's a luxurious mattress with free White Glove Delivery and old mattress removal
Side sleepers love it for the squishy soft Euro pillow top
Saatva Classic is one of the best luxury possibilities for side sleepers' joyful dreams. Wouldn't you agree?
Ready for luxury? Read our full Saatva Classic mattress review to see it in full shine…
Saatva Mattress
Available in 3 firmness options, the luxury hybrid mattress Saatva enjoys great popularity with various sleeper types.
Helix Sunset – Best Soft Hybrid for Side Sleepers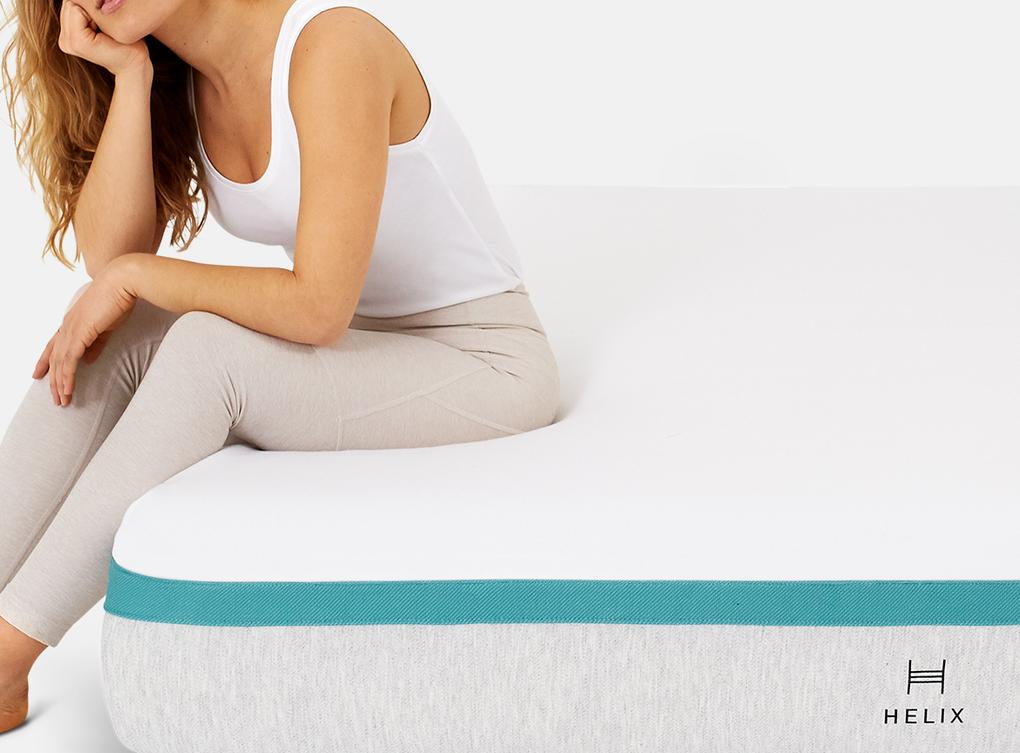 What comes to your mind when you hear the word sunset? For us, it's a moment of calm, a feeling of sureness, and a golden-hour-like softness. It is what a hybrid innerspring model like Helix Sunset brings to side sleepers.
It might be one of the most suitable mattresses for side sleepers out of their many models. Each Helix mattress is hand-assembled and custom-built in the US. The devotion to creating an exceptional sleeping experience is absolute.
Helix Sunset is a plush mattress. It offers the right amount of comfort and pressure relief a side sleeper needs. Those are the most important factors for anyone snoozing on their side.
Helix Sunset has different density foams: Memory Plus Foam and Helix Dynamic Foam. They both hug and love all your pressure points. The mattress contours to your knees, shoulders, and hips. At the same time, it has excellent motion transfer and aligns your spine. Just how you need it.
If you wish for even more plushness, you can add their Plush Pillow Top on top.
The Sunset model might not be the best choice for side sleepers that weigh more than 250 lbs. The memory foam layers let you sink into the mattress. Heavier sleepers could feel trapped and have a less durable mattress.
Why Does Helix Sunset Mattress Stand Out?
It's one of the best genuine soft mattresses for side sleepers
Memory foam in Helix encases your body and lets it float off in deep dreams
You get 2 Dream Pillows as a gift with the mattress
Nights on Helix Sunset are restful, deeply contouring, and uninterrupted
For more juicy details, read our full Helix mattresses review here…
Helix Sunset
Helix Sunset, the company's softest model, enjoys great popularity with many side sleepers of all shapes and sizes.
Leesa Hybrid – Best Mattress for Side Sleepers with Edge Support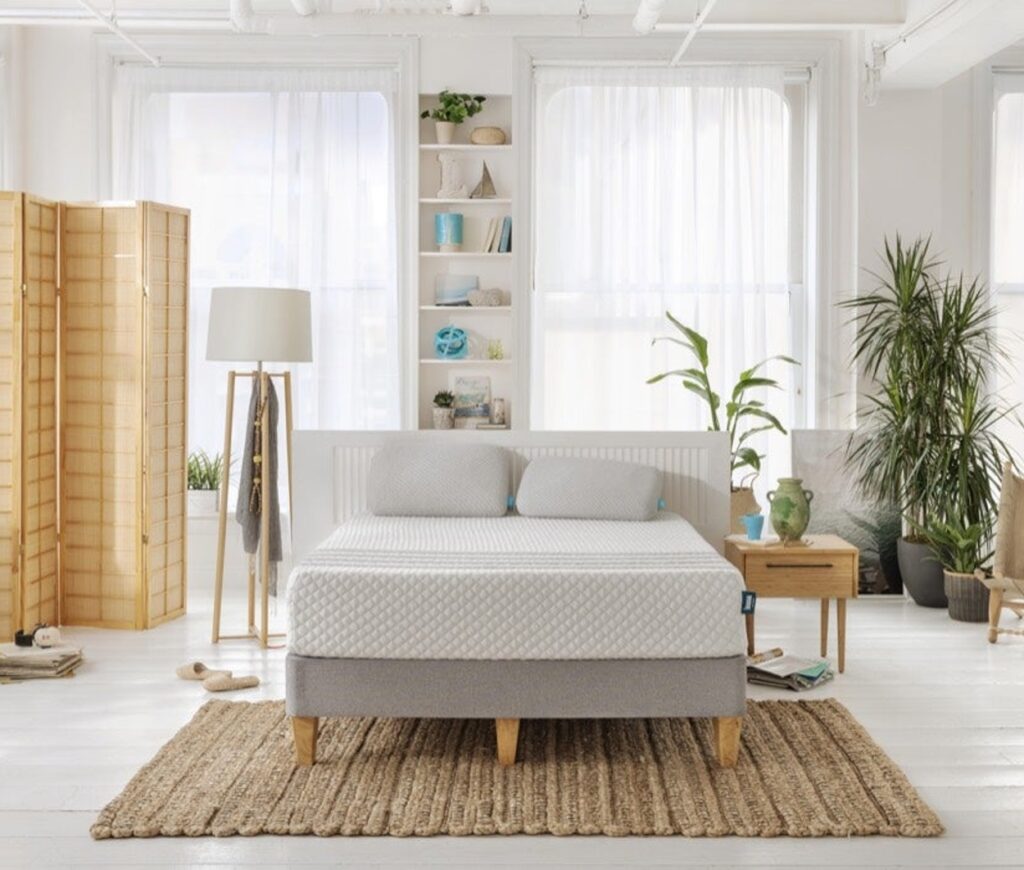 Next in line is a superior innerspring hybrid mattress that's great for side sleepers: the Leesa Hybrid. It will be an excellent choice for most side sleepers. It will especially benefit those sharing the mattress, aka couples and co-sleepers.
The key benefits of Leesa Hybrid are:
bouncy responsiveness
better pressure relieving properties
exceptional temperature control.
This is due to the support layer made of coils, which go along the perimeter of the mattress. Coils let air flow throughout the layers, making it convenient for those sleeping hot. Hot sleepers can enjoy their night without waking up sweaty and steamy.
Leesa Hybrid is a stable mattress with perfect edge support. It brings the stability and longevity couples who sleep on their side need. No sagging over time, so no nervousness and discomfort sleeping on this mattress! The slow-moving foam in comfort layers makes Leesa Hybrid exceptional at motion isolation.
The only downside of the Leesa Hybrid is its high price limit: $1,499 for a Queen mattress isn't exactly cheap. But, the high quality structure justifies the price.
Why Does Leesa Hybrid Mattress Stand Out?
Why does the Leesa Hybrid mattress stand out?
It doesn't overheat due to its hybrid construction
There's no waking up during the night, even with a partner
Leesa Hybrid has exceptional edge support, so no falling off the mattress
Offers loving pressure relief for pain points
Doesn't the Leesa Hybrid sound like a dream? Read our full Leesa Hybrid mattress review here…
Leesa Hybrid Mattress
The supportive coils and premium foam are what make the Leesa Hybrid a great mattress of choice with side and combination sleepers.
Nectar – Best Mattress For Side Sleepers With Neck Pain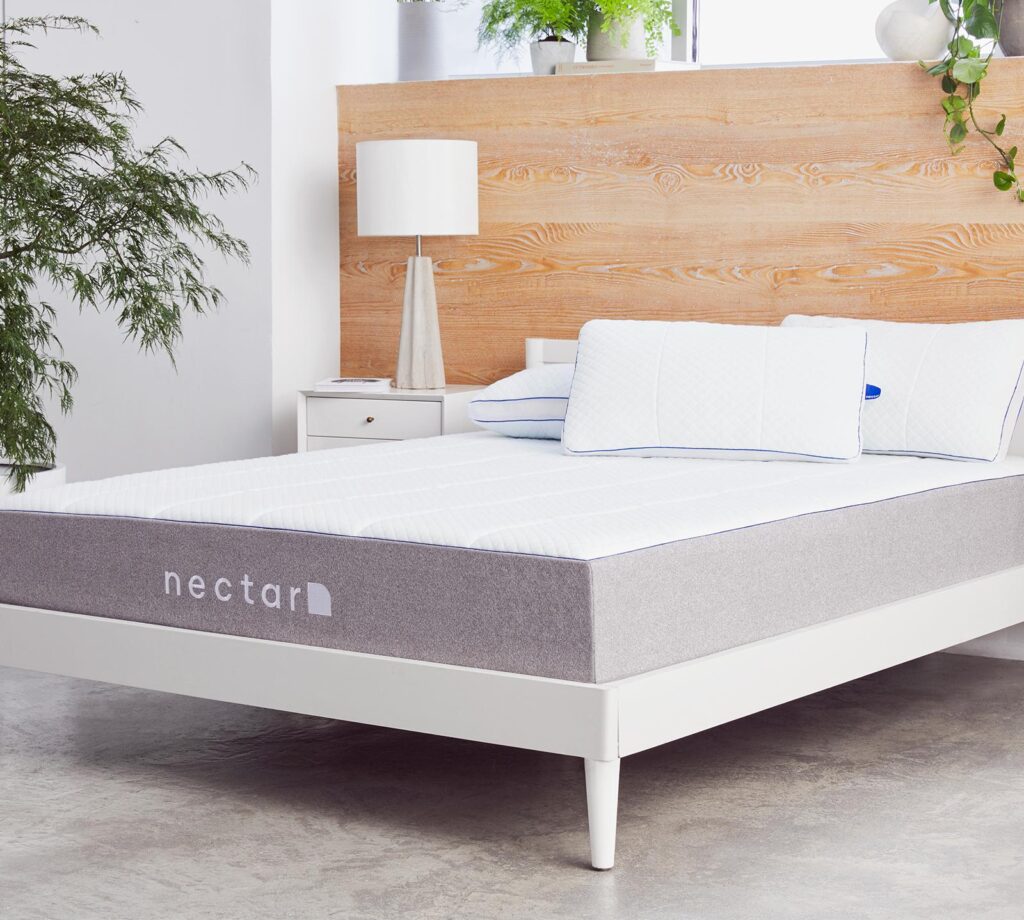 Hey side sleepers, have you ever heard of Nectar Sleep? This memory foam mattress is a fantastic choice for you who need your joints hugged and massaged.
Nectar has been rewarded for comfort and soothing back and neck aches. It is one of the best soft mattresses for side sleepers with back pain and neck pain because of its gel memory foam comfort layer.
Side sleepers report alleviated support and deep comfort sleeping on this mattress.
With a lifetime warranty, the Nectar mattress also has impressive motion isolation. It's one of those 'sleeping in,' not 'on' types of bed mattresses. Due to all-foam construction, Nectar is neither responsive nor bouncy but hugging and conforming to the body.
Side sleepers need to find the right spot every time and not wake up during the night. Slow-moving memory foam lets you stay asleep when your co-sleeper tosses and turns. It is one of the best reasons for getting this all-foam mattress.
The price is also inviting: Nectar is $999 and less expensive than similar all-foam mattresses, where the average is $1,050 for a Twin size.
Alongside all this, you get great gifts with your mattress:
two free Nectar pillows (one for Twin and TwinXL)
a free mattress protector (hypoallergenic cotton)
free sheets (microfiber, and choose the color of your preference)
Why Does Nectar Mattress Stand Out?
Nectar is an affordable mattress rewarded for its comfort quality
It's a slow-moving all-foam mattress with impressive movement isolation
It comes with loads of gratis gifts
It tremendously helps with back and neck pain
Wouldn't you agree this is the best mattress for side sleepers?
Get more info about the mattress in the full and detailed Nectar mattress review here…
Nectar Mattress
Nectar is a premium quality mattress at an affordable price. The secret to its outstanding comfort lies in plush layers of memory foam.
Layla – Best Flippable Mattress for Side Sleepers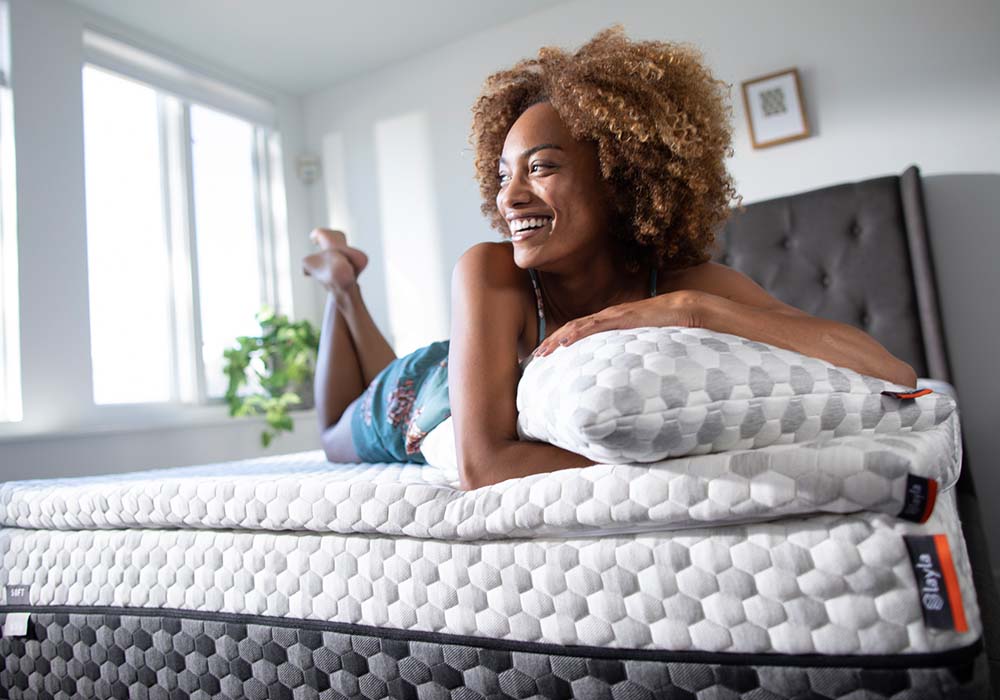 Side sleepers report love toward the soft side of the Layla mattress. Made in the USA, this mattress is flippable with a firm and soft side distinguishable by color.
The firm side is genuinely medium-firm, while the soft has a cloud-like softness.
The soft part embraces and gives your side the ample support and pressure relief it needs. Like most all-foam mattresses, Layla allows your body to sink in mildly while not applying pain and discomfort.
The feeling of sleeping on a cloud and not feeling hot comes from the secret ingredient: copper-infused foam! The 3″ layer of the Layla mattress is much cooler due to the copper infusion. Sleeping on Layla, you will have a comfy, cocoon-like experience that is also antimicrobial.
At the same time, it brings much cooler sleep than old-time conventional memory foam. Temperature regulation is vital for side sleepers who sleep hot, and Layla will have you backed up.
If you're asking yourself if a firm or plush side is better for side sleepers, simply flip the mattress when you need to. Allow yourself to discover what type of support suits your sides. Both will keep your spine in order.
Why Does Layla Mattress Stand Out?
It's a flippable mattress with two firmness options, a medium-firm and soft
Because of its copper infusion, its regulates heat very well
It allows a cocoon-like feeling which side sleepers enjoy
Both sides of the mattress align your spine and relieve pain and discomfort from the day
Interested in Layla? Read our full Layla mattress review here…
Layla Mattress
Layla is a mattress with switchable firmness. Side sleepers enjoy it most, but all sleeper types call Layla a dream in a box.
How to Choose a Mattress for Side Sleepers
Woah! That would be our list of the six best mattresses for side sleepers you can find right now! There are various choices, and one of them could be your mattress soulmate!
However, if, unfortunately, none of them fit your requirements, there are some steps you can take to find the perfect mattress for yourself. We wrote this short guide to help side sleepers look for their next bed. Let's get into it!
Why Do Side Sleepers Need an Appropriate Mattress?
Most importantly, we should answer the question – why do side sleepers need a proper mattress?
A mattress is considered good if it's comfortable and keeps your spine aligned when sleeping. This is why not every bed is suitable for side sleepers.
Side sleepers need a bed that will keep their spine aligned while still being soft enough to contour their hips and shoulders, the widest parts of their body. If a mattress isn't body-contouring, it won't keep the spine aligned, which can cause more pain and health problems.
If you're a side sleeper, you should watch out for a few things when getting that next bed, all of which we'll cover here.
Side sleeping can be tricky, but like everything, it has its good and bad sides. Here are some of them.
Pros of Side Sleeping
Side sleeping can even come with health benefits! Side sleepers certainly sleep in a better position than stomach sleepers.
When you sleep on your side, you put less pressure on your neck and won't snore. Additionally, there's a difference between sleeping on your left and your right side because of the position of the organs.
Sleeping on your left side is healthier and can even improve digestion, circulation, and lymphatic drainage. On the other hand, sleeping on your right side can cause acid reflux or heartburn, so it's less ideal.
Cons of Side Sleeping
Side sleeping isn't all rainbows and butterflies, though! The most common problem that side sleepers face is shoulder pain.
Shoulders are the widest parts of the body, and a mattress that isn't body-contouring enough to let them sink when you're sleeping on your side can cause shoulder pain. This is why side sleepers need a softer mattress with pressure relief.
Side sleepers can also feel neck and lower back pain if they don't sleep on proper beds. That's why a mattress with good comfort and support is essential.
What to Watch Out for When Getting a Mattress for Side Sleepers
Everyone's personal preferences are different, but you can watch out for a few things when buying a new mattress for a side sleeper.
Some of these might be obvious, but some can help you choose the perfect bed immensely. Let's see how to select an ideal bed for side sleepers!
Support
As mentioned before, side sleepers need excellent support if they don't want to get painful joints. Well, that's something no one wants.
The keyword here is spinal alignment. Keeping your spine aligned when sleeping is one of the ways to save your back. Your spine should be in a straight, neutral position.
Side sleeping is generally the best position to keep your spine aligned, but only if you have the right mattress and sleeping environment.
A side sleeper should have a bed supportive enough to keep their spine aligned and soft enough to let their shoulders and hips sink into it. Beware! Support and firmness might sound similar, but they're not the same.
Support is there to take care of your spine, and firmness is a subjective feeling of mattress softness.
Additionally, there are a couple of variations of the side sleeping position. Symmetrical sleeping is suitable for your spine, and the fetal position might strain your back too much.
Your neck should also be adequately supported, and you might want to sleep with a thin pillow between your legs to keep your hips aligned.
Side sleepers might find that the best bed for this is a hybrid mattress, but we'll get into it later. They could also get a mattress with zoned support if they need more support on their hips and shoulders.
Contouring
Sleeping on a body contouring mattress is essential for side sleepers. As mentioned before, this can affect support and spinal alignment. If your hips and shoulders aren't appropriately contoured, it can lead to back problems.
The perfect mattress for side sleepers should let the hips and shoulders sink while still giving support. The best body contouring mattress material is usually memory foam, which is why most side sleepers prefer it. It gives a cocoon-like feeling thanks to its slow responsiveness.
This isn't everyone's thing, though, so watch out. On the other hand, innerspring mattresses will generally contour your body the least.
Side sleepers might find that a hybrid mattress is the best choice for them.
Firmness
Mattress firmness is an entirely subjective feeling of how soft or hard a mattress is. To make things easier, it's usually represented on a scale from 1 to 10, with levels ranging from extra soft, soft, medium, hard and extra hard. Most people prefer a medium to a medium-firm mattress.
Mattress firmness also depends on your sleeping position. While stomach sleepers need firmer mattresses, side sleepers need to sleep on softer mattresses. As mentioned before, side sleepers need adequate support and softness, so the best mattress for them won't have high foam firmness.
However, the perfect mattress firmness also depends on the body, which we'll get into later. Lightweight side sleepers have different needs from average-weight side sleepers. Still, they should stay on the softer side, although even a medium-firm mattress could be perfect for some.
Also, remember that mattress firmness and support aren't the same! Especially when it comes to side sleeping. A firm mattress will push on your hips and shoulders too much.
The best soft mattress for side sleeping is probably memory foam.
Mattress Types
Four of the most common mattress types on the market are memory foam, hybrid, latex, and innerspring. They all have varying aspects and features; some are better for side sleeping, while others are not.
Let's see which one of these mattress types is made for you!
Memory Foam
All-foam mattresses are made from a support layer and comfort layers made entirely of foam. The support layer in a memory foam mattress is usually made from high-density foam, with a memory foam layer on top.
Memory foam is a good mattress for side sleepers because it's a soft, body-contouring material that will give in enough to let the shoulders and hips sink. It can even have varying foam firmness.
However, ensure that the support layer in a memory foam mattress is thick with high enough foam firmness to keep your spine aligned. Otherwise, your hips and shoulders will drop too much.
Traditional memory foam mattresses also have an issue with temperature regulation because even the best memory foam mattress traps heat. Hot sleepers could get a gel memory foam mattress to combat this issue, or they could go for another type of cooling mattress.
Gel-infused memory foam can also improve support. Memory foam can come with zoned support in the form of gel pads, which help with cooling too.
If you think that this is for you, check out our list of the best memory foam mattresses!
Hybrid
A hybrid mattress combines two types, most commonly an innerspring support layer with memory foam or latex comfort layers.
That's why a hybrid mattress has both good support and comfort, which makes a hybrid mattress a good choice for side sleepers.
Because it uses the best parts of certain mattress types and minimizes the cons, a hybrid mattress is generally the best choice for all sleeping positions. Whether back sleepers, stomach sleepers, or combination sleepers, a hybrid mattress should handle it.
The best hybrid mattress for side sleepers is probably a combination of innerspring and memory foam. While the coils of innerspring mattresses give good support and breathability, the memory foam provides excellent contouring and a bit of motion isolation.
You could also get a hybrid mattress with pocketed coils. Although, you can expect a luxury hybrid mattress to set you back some cash.
Latex
Latex mattresses can be made from organic and non-organic latex. An organic mattress is a good choice for eco-conscious shoppers.
Latex mattresses are known for their fast response and the bouncy mattress surface. Side sleepers should take care when choosing a latex mattress. Make sure it's soft enough to let your hips and shoulders sink.
There's also a significant number of latex hybrid mattresses with a coil support core. A hybrid mattress with a latex top layer is a good choice if you're looking for good support and comfort, but don't like the sinking feeling memory foam gives.
Remember that natural latex mattresses are expensive, and some people are allergic to them.
Innerspring
An innerspring mattress is the oldest mattress type. A traditional innerspring mattress is made from coils with a thin comfort layer.
Innerspring mattresses offer good support and breathability, so they're a great cooling mattress, but they have almost no motion isolation and aren't very body contouring.
An innerspring mattress with pocketed coils is a good option if motion isolation is a big thing for you. Pocketed coils are individually packed, so they minimize motion transfer.
However, an innerspring mattress is arguably the least adequate mattress for side sleepers. Innerspring mattresses are usually firm mattresses and have less body contouring, but you might find a suitable model if you do enough research. A hybrid mattress with pocketed coils is a good alternative.
Pressure Relief
A mattress with ample pressure relief is essential for people with painful joints, but especially for side sleepers.
Side sleeping can cause pain in your neck, shoulders, hips, and back, and you should get a mattress that alleviates those pressure points as much as possible.
Generally, the best mattress for side sleepers with good pressure relief is a memory foam mattress or an all-foam mattress. Firm mattresses are a big no-no for people with painful joints.
Shoulder Pain
Side sleeping puts a lot of pressure on your shoulder. This is why the best mattress for side sleepers should let your shoulders sink in enough and not put too much pressure on them.
Hip Pain
The hips are the other widest part of your body that gets under a lot of pressure when sleeping on your side. The best mattress for you is a pressure-relieving mattress soft enough to let your hips sink, but not too much.
Back Pain
Back pain is caused by bad spinal alignment, so your cure should be to get a bed with good support and comfort. We already told you about keeping your spine aligned when sleeping on your side.
The best mattress for you will relieve pressure from your shoulders and hips and keep your spine in a neutral position.
Body Weight
Your body weight can also impact the mattress choice. It has the most impact on mattress firmness.
Heavier people, with more than 230 lbs, put more pressure on the mattress, so they need a durable and firmer mattress that will keep them comfortable and supported. The best mattress firmness for heavier side sleepers is a medium-firm to a firm mattress. The best mattress for them might be a memory foam hybrid with a higher foam firmness.
We also have a list of the best mattresses for heavy sleepers you could check out!
Average weight side sleepers, which we'll define from 130 to 230 lbs, need a supportive and body-conforming mattress. They'll sleep best on medium, medium-soft, or medium-firm beds.
Lightweight side sleepers, that weigh less than 130 lbs, put less pressure on the mattress and need a softer mattress. Firmer mattresses won't provide lightweight side sleepers with enough pressure relief. Lighter-weight side sleepers should get a soft, medium-soft, or medium mattress.
Mattress Size
Mattress size depends on your sleeping position and sleeping situation. Side sleepers take up less space, so they can sleep on smaller mattresses, unlike combination sleepers and even back and stomach sleepers.
Also, do you sleep with a partner? If so, you'll need to consider their needs. If you're both side sleepers, a good choice might be memory foam or a hybrid mattress with memory foam. They'll have enough support and motion isolation for two side sleepers.
If you're hot sleepers, you could go for a hybrid mattress with pocketed coils. This way you'll have good support from the coils with less motion isolation and heat retention, but also comfort from the soft foam layers.
Materials
No matter how you like to sleep, it would help if you ensured that your mattress's materials are high-quality. The problem with side sleeping is that most side sleepers sleep best on memory foam and other softer materials.
However, even the best soft mattress, especially ultra-soft memory foam mattresses, tend to be less durable. Heavier sleepers can expect their beds to deteriorate faster because a lot of pressure is put on them. Lightweight side sleepers and average weight side sleepers usually don't have this problem.
Always do your research and feel free to inquire with the manufacturer to ensure that your bed is of the utmost quality and has the right foam firmness.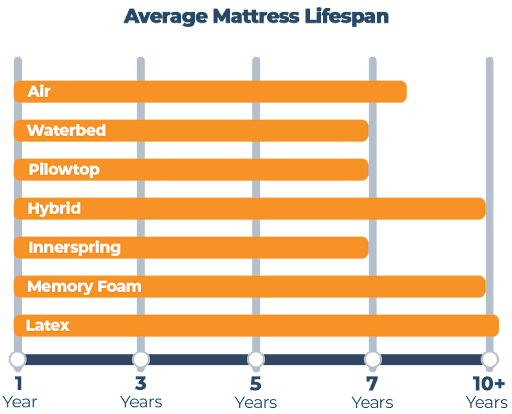 Temperature Regulation
Another thing that everyone should watch out for, regardless of their sleeping position, is temperature regulation, especially for hot sleepers. Most side sleepers prefer a memory foam mattress, but memory foam has one big problem – it traps body heat.
Memory foam is a closed-cell material, which means it's not breathable. If you're a hot sleeper, it's not the best mattress for you. Even the best memory foam mattress will trap heat.
Manufacturers try to fix this and create a cooling mattress with materials like gel memory foam or copper-infused memory foam.
If they're still not suitable for you, a good option is to get a hybrid mattress with a memory foam comfort layer. The coils in the support layer will improve breathability and create a good cooling mattress.
Budget
Finding a mattress that will provide reasonable support and enough body contouring while still being made from high-quality and durable materials might be a bit harder in the lower price range.
Most budget mattresses are made from firmer materials, but that doesn't mean it will be impossible to find one. You could still find a good budget bed. You'll just need to do more research.
Foam is generally cheap, but you must find a supportive and durable one. A luxury mattress from high-quality materials is a good choice if you can afford it.
If you're interested, check out our list of the best budget mattresses!
Online Shopping
Is it better to get your mattress from an online seller, or should you go to your local brick-and-mortar mattress store? There are good and bad sides to both of these options, but we prefer online shopping.
You might be thinking that physical stores are better because you can test out the mattress, but online stores let you do that too. It's called a sleep trial and lasts way longer than the measly fifteen minutes you'll get in the store. Additionally, physical stores tend to be more expensive because they have other expenses.
Online stores make it easier to research options and ask the manufacturers questions. They also usually come with free shipping, free sleep trial, extended warranties, and other good things.
Sleep Trial
When looking for your next mattress in an online store, always ensure you get a good sleep trial. Well, this won't be a problem since most online stores offer a free sleep trial.
They can range from thirty days to even a whole year, but most companies provide 100 nights during which you can sleep on your new mattress, figure out whether you like it, and send it back free of charge if you don't.
Warranty
A good company offering good mattresses will also give you a warranty. A warranty isn't just there to ensure your purchase and quality.
An extended warranty is a must when mattress shopping. Even the best memory foam mattress could come with manufacturing issues that have nothing to do with how you take care of it, and you should be able to return it without problems.
Whether it's a cheap foam mattress or a gel-infused memory foam luxury mattress, you should get an adequate warranty!
Do Your Research
Last but not least, always do your research when shopping for your new mattress!
It's essential to take as much time as you need to ensure you get the best mattress for side sleeping. Feel free to ask around, inquire with the manufacturer, have a couple of options, and don't forget to check for customer reviews (if you can find any)!
What Else Do Side Sleepers Need?
The mattress isn't the only thing that will affect your sleep quality and comfort as a side sleeper. There are two other things you should follow some general guidelines for.
Pillows
Good side sleeping isn't just about keeping your spine aligned. You should also relieve pressure from your neck. Your neck should be adequately supported, and this is done by choosing the right pillow.
Side sleepers should get a tall pillow to cradle their neck in this position while still contouring their head.
But pillows aren't just for the neck. Side sleeping also depends on good hip positioning, and you can improve this by sleeping with a thin pillow between your legs.
Mattress Toppers
As mentioned before, side sleepers need good body contouring, and mattress toppers can help. They can indeed make a firmer mattress more comfortable.
Since memory foam is the softest, it might be the best choice for a mattress topper for side sleepers. It will certainly let your shoulders and hips sink enough.
Tips for Side Sleepers
Well, that would be all you need to know when shopping for your new mattress as a side sleeper! We also have some additional tips for you to improve your sleeping.
Get a pillow high enough to cradle your neck! This is essential, so you don't develop neck pain.
Get as many pillows as you need to make yourself comfortable. Sleeping on your side can be improved by hugging a pillow and adding a thin pillow between your knees to reduce pressure on your hips and lower back.
Invest in a good mattress topper if your bed is too firm. Get one that will let your hips and shoulder sink into it.
If your bed doesn't have good edge support, which is typical for an all-foam mattress with just high-density foam on the perimeter, position yourself in the middle of the bed.
Frequently Asked Questions
Is memory foam better for side sleepers?
It is shared among side sleepers to opt for a mattress that will hold pressure points and contour them. These points need to be comfortable so a side sleeper can have a healthy alignment and continuous sleep cycles.
Most often, memory foam is the one that does the work for side sleepers. It hugs those points and secures proper spine order.
Latex is a type of material that does the same, but memory foam is definitely more widespread.
Sometimes, all-foam mattresses could be too soft, even for side sleepers. Choosing a good hybrid mattress model is the way to go.
A medium-soft firmness is an ideal firmness level for all types of side sleepers. It's neither stiff nor too snug, but it will still embrace your side. Medium-soft memory foam mattresses won't let you sink beyond comfort, nor will they displace spinal alignment.
Are hybrid mattresses good for side sleepers?
Typically, innerspring hybrids are excellent mattress choices for side sleepers. Yet, firm ones will probably be less conforming and more sturdy than a conventional side sleeper will find acceptable.
You really don't want a stiff, extra bouncy hybrid that will give you morning neck pain. So, if you are a side sleeper looking for a hybrid, try to find ones that have more plush comfort layers. Look for options with a 3+ grade on the firmness scale, so you get both the support and comfort you long for.
Also, hybrid mattresses are known to have better edge support than all-foam mattresses. This means there would be more mattress space for couples sharing a mattress. The combination of coils and foam layers allows your side to drop in, feel the support and sleep tight.
Should side sleepers have a firm or soft mattress?
It's always better for a side sleeper to choose a softer mattress instead of a firmer mattress. The reasons are the pressure points: side sleepers rely on their necks, shoulders, hips, and knees. They feel pain and pressure sleeping on cushions too firm. So, choosing a softer one is a much healthier choice.
These pressure points deserve and need caress and contour. A great, soft mattress will let pressure points sink in a bit and lock their position. All to achieve comfort for those 8 hours and allow the body to rest.
Just imagine sleeping on your side on a mattress so sturdy that you wake up restless and have bad dreams. You'll end up feeling groggy for the rest of the day. What a bummer, right?
To avoid that, find a medium-soft mattress with a 3+ grade on the firmness scale. A side sleeper cannot go wrong with this type of mattress, whether they choose an all-foam, all-latex, or hybrid cushion.
What to look for in a mattress for side sleepers?
Individuals who sleep on their left or right side apply pressure to specific body parts. The neck, shoulders, hips, knees, and even ankles can suffer on an improper mattress.
Joints will feel stiff and painful if they are on an improper base as well.
What you should do before buying a mattress is to see if you sense any pain when you wake up. See what type of firmness and feel suits you best, and how big your budget is. Also, consider your personal preferences.
In what position do you sleep, do you toss and turn, and do you sleep hot?
The mattress industry is rich in options, and companies offer long trial periods. You don't have to worry about losing precious $ on the wrong mattress when you can always return it! Take your time to try out and find the untarnished mattress for you.
But the absolute truth is: the proper mattress for a side sleeper may depend on the location of the pain if there is any.
Generally, all side sleepers prefer softer plusher cushions and pillows. It's because of the pressure applied to the joints. These cushions hug and embrace joints not to feel swollen, stiff, and achy in the morning.
But, the mattress shouldn't be too soft either. A proper spinal alignment is still necessary for side sleepers. A firm center of a mattress makes sure the spine is placed healthily. That's why a ridiculously soft mattress won't be the best mattress for side sleepers.
A side sleeper will most enjoy a good quality mattress that is either all-foam or hybrid with some foam in it. It should have supportive, pain-relieving cushions that will let you sleep like a baby.
See for yourself, do you prefer a bouncy and responsive flat surface that a hybrid gives? Or, do you enjoy a sinking, contouring feel when sleeping 'in' the latex or memory foam mattress?
What is the best mattress for side sleepers that are overweight?
Heavier/larger sleepers over 230 pounds will prefer mattresses that are a tad more firm. Anywhere in the medium-firm range is where they will feel more comfortable.
Helix Sunset, Saatva Classic, or Leesa Hybrid will all be ideal picks for side sleeper people over 230 pounds.
Plus-size side sleepers also need pressure relief on their joints. That means that a hybrid mattress will be best for side sleepers that are overweight. It's best to find a mattress with the right amount of cushioning and a robust support system in the base layer. A zoned support system made of individually wrapped coils is the best way to go!
Depending on the pain you have, you will choose a firmer or a more plush mattress. Those with backache may even consider an extra firm bed. Softer models best manage shoulder pain.
What also depends on choosing a mattress is other sleeping habits. Those include sleeping alone or in a pair. You will either need a stable mattress with exceptional edge support or a bouncy mattress for undisturbed nighttime activities.
Of course, all mattress decisions are personal. And you will have to draw the line at the end of this article which mattress will most fulfill your needs. Remember to consider these factors:
your weight
your budget
pain location
firmness and feel you like
and do you sleep hot?
Final Thoughts
And scene! That is about it for the best mattresses for side sleepers. You have hopefully learned something new and valuable that will aid you in your mattress-finding adventures.
Here's a summary of our top picks for best mattresses for side sleepers:
| Mattress | Best Mattress for Side Sleepers |
| --- | --- |
| Saatva Classic | Best Eco-friendly Mattress for Side Sleepers |
| Helix Sunset | Best Soft Hybrid for Side Sleepers |
| Leesa Hybrid | Best Mattress for Side Sleepers with Edge Support |
| Nectar Mattress | Best Mattress For Side Sleepers With Neck Pain |
| Layla Mattress | Best Flippable Mattress for Side Sleepers |
Look out, side sleepers. One of these mattresses could be your destined sleeping friend. Which one will it be?