Helix Mattress Review for 2023: A Bed For Everyone
Written by: Milica Terzic
Updated: 02/20/2023
Transparency Disclosure: For products purchased through the links on this page and throughout the site, we may get a referral fee (with no extra cost to the buyer). Please read our full How We Rate page for more information. There you can see how we conduct research and test products, as well.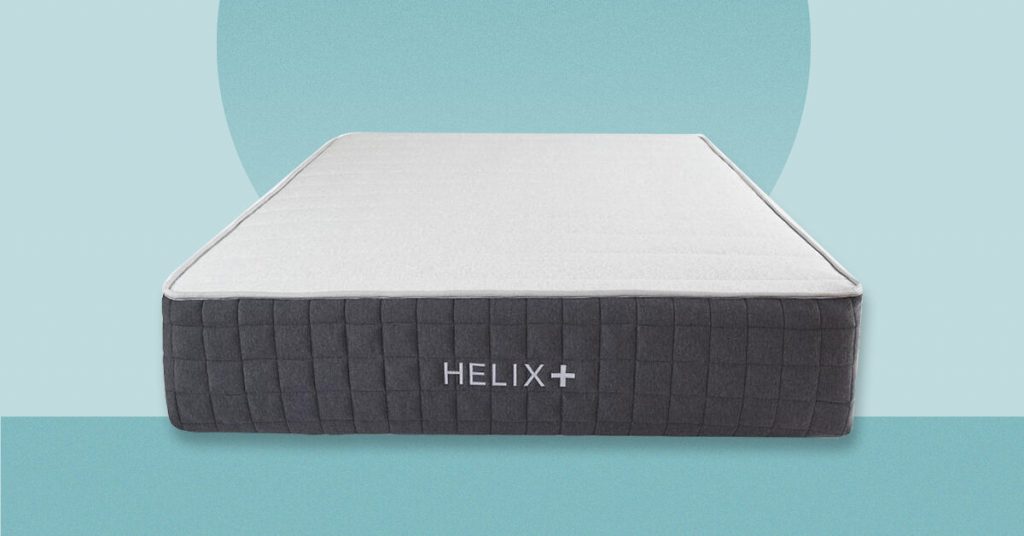 Sunset, Midnight, Twilight, Dawn. No, these aren't the names of Stephenie Meyer books. Instead, they're really excellent mattress models by Helix.
The Helix mattress company officially launched in 2015. Since then, they've put time and energy into developing quality mattresses at a great value. This bed-in-a-box online brand continues to grow in popularity. They also add their personal touch to everything they do. You can further personalize your sleep haven by purchasing their various pillows, bases, frames, and other bedding items.
As no two people are the same, the company offers an extensive selection of beds of different firmness levels. Each model is specially customized to suit specific needs. They currently offer 14 models: 6 standard, 6 luxe, and 2 special mattresses. One of the special models, Birch, is sold on a different website.
Today we will introduce you to the standard lineup and one specialty model. These are:
Helix Sunset
Helix Moonlight
Helix Midnight
Helix Dusk
Helix Twilight
Helix Dawn
Helix Plus (previously known as Helix Nightfall).
But why should you consider these hybrid models? Are they really so special, or is there a gimmick?
There is only one way to find out. As they say in show biz, lights, camera, Helix mattress review!
Helix Mattress Review in a Nutshell
What makes Helix mattresses special?
They are all hybrid innerspring models.
Different firmness levels from soft to firm.
Excellent quality at a reasonable price.
Very durable and responsive mattresses.
Great at edge support and temperature regulation.
Appealing to various sleeper types and body types.
Have a 10-year limited warranty.
Made in the USA.
There are also 6 luxe models and one other mattress.
Helix Midnight
The brand's most popular model, the Helix Midnight, achieves the perfect marriage of comfort and support that many sleepers will greatly enjoy.
Construction
Usually, with our regular reviews, we write about each mattress layer in great detail. As such, this part is divided into sections, where each one corresponds to one part of the bed. However, today we will review 7 models, so we need to make some slight changes.
The focus of this part of the Helix mattress review, we'll write about the construction of these 7 models. These include the 6 standard Helix mattresses and the Helix Plus model. We will cover specific things such as layers and materials. We'll also see what makes them different from one another.
For even more detailed information about each model, feel free to visit our more in-depth reviews about them.
Cover
All of the standard Helix mattresses and the Helix Plus are hybrid models. As such, they are all quite similar in structure and appearance. However, there are some differences the more you go in-depth.
Each Helix mattress in the standard lineup has a cover made out of 100% polyester. Because of the nature of the material, the cover is soft and quite stretchy. It's also dual-layer. The first layer is the Two Touch Design Cover, and the second is the Soft Touch Cover. Both layers are also designed to be very breathable. That way they promote the overall mattress airflow better.
If you choose the Plus model, the cover is designed similarly, with a slight change. It features Tencel Airflow Technology. This fabric boosts the breathability and cooling of the bed. So if you are a really hot sleeper, you may like this a lot.
Unfortunately, the cover is non-removable, so you can't wash it in a machine. Instead, you can spot clean the cover. If you are worried about the stains, you can always get their Mattress protector.
Helix Sunset Construction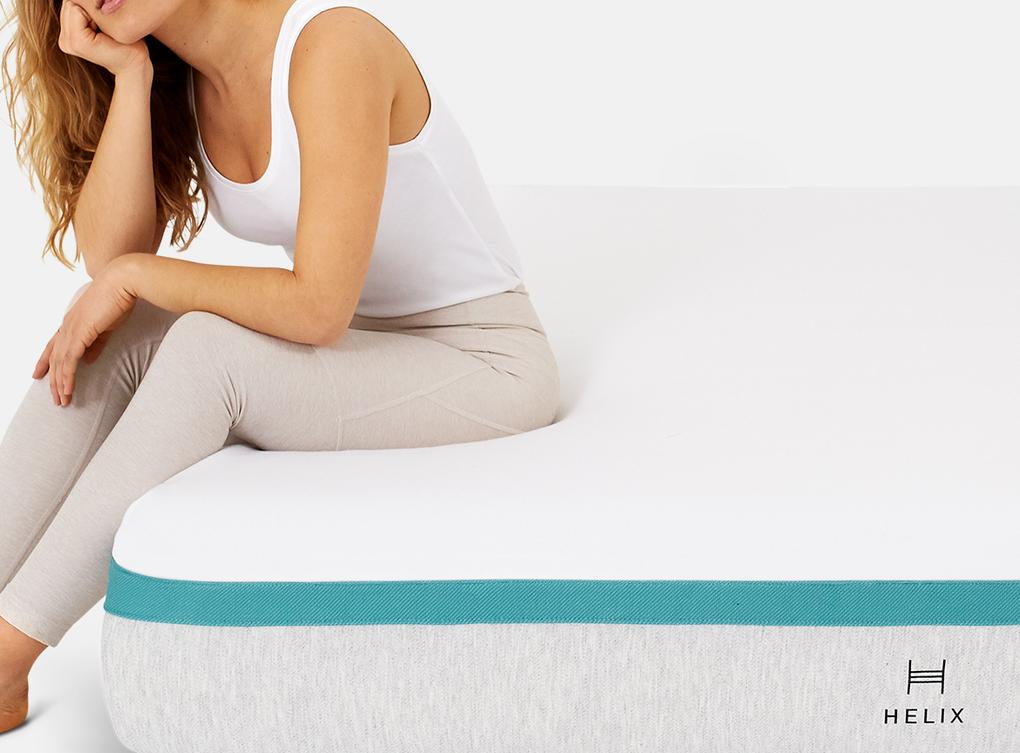 The first mattress in the standard collection lineup is the Helix Sunset. The company's softest model is best suited for lightweight side sleepers. But we'll see about that in a different section below. The mattress has a signature light turquoise stripe around the perimeter. That way you can recognize it easier.
Many have said that the Sunset feels almost like memory foam rather than a hybrid model. Which is of no surprise. The mattress's comfort layer features the company's Memory Plus Foam. This 2″ foam layer is a unique blend of 2.5 PCF, and it is gel-infused. This plush memory foam also contours to the sleeper's body. It relieves pressure points like shoulders and hips. It also has a slow response to pressure.
In the transitional layer underneath, this model features the Helix Dynamic Foam. What makes this foam layer special is that it is a latex-foam hybrid alternative. It is designed to be responsive like latex, but it is a touch firmer, supportive, and bouncier. This layer is 1″ tall, and it also offers ergonomic support and soft cushioning.
Helix Midnight and Helix Twilight also have a similar construction, but with some differences.
Helix Sunset
Helix Sunset, the company's softest model, enjoys great popularity with many side sleepers of all shapes and sizes.
Helix Moonlight Construction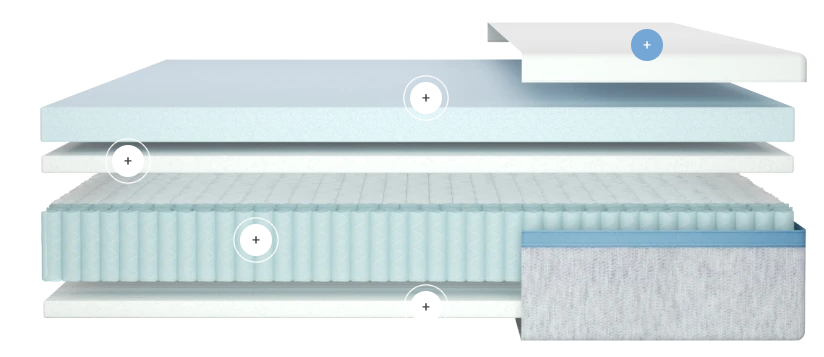 Equally as soft as Sunset but more supportive is the Helix Moonlight model. This model has a light baby-blue signature stripe. Like Sunset, it has the Dynamic Foam as the transitional layer.
Unlike the Sunset, the Helix Moonlight uses this unique latex-foam alternative in both comfort and transitional layer. But what do you get when you have dual layers of the same type of foam?
The 1″ Dynamic Foam in the comfort layer still responds quickly to pressure. It also keeps the spine properly aligned. Essential for both back and stomach sleepers.
Unlike memory foam, it doesn't contour as closely to the body. The body will be more on top of the mattress, so the model has a buoyant feel to it.
Underneath is the second 2″ layer of the same foam amps up the bounciness of the bed. Something that combination sleepers might like. It also provides more cushioned support and deep comfort to the body.
Both Helix Dusk and Helix Dawn have similar elements in their construction, but the former has a different transitional layer.
Helix Moonlight
As one of the company's softer models, the Helix Moonlight mattress offers much-needed R'n'R to lighter back sleepers.
Helix Midnight Construction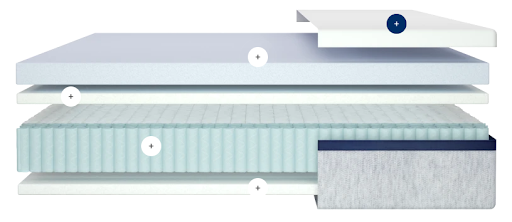 The company's most popular model is by far the Midnight mattress. Based on their website, this model was designed for side sleepers. It has a medium feel, so it can even suit different sleeper types. It also might be a hit with couples.
Like the Sunset, this Helix mattress has memory foam in its comfort layer. It also has a characteristic dark blue stripe. This foam layer has a more medium, responsive feel to it. It's also responsible for providing excellent pressure relief and body contouring.
Instead of the Dynamic Foam, the transitional layer consists of a high-grade polyfoam. This 1″ dense foam provides ergonomic support to the body. The foam also curbs unnecessary sinkage. It effectively cushions the body and offers much-needed comfort. The foam also quickly responds to pressure.
Helix Midnight
The brand's most popular model, the Helix Midnight, achieves the perfect marriage of comfort and support that many sleepers will greatly enjoy.
Helix Dusk Construction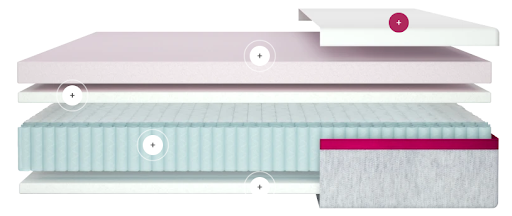 Another medium feel model in the lineup is the Helix Dusk mattress. This model with the wine red stripe is similar to the Moonlight and Dawn beds. It is designed with back and stomach sleepers in mind.
In the comfort layer, there is the Dynamic Foam. This layer gives the model its bounciness and responsiveness. It's a bit bouncier than other Helix mattresses. Even though you might not sink into it, the mattress provides a great pressure-relieving experience. As it doesn't hug the body too much, this model might be an excellent fit for combination sleepers.
What's interesting about the Helix Dusk mattress is its transitional layer. It has a thin layer of Memory Foam Plus. This might be unusual at first glance, but it's actually not a bad idea. Placing memory foam in the transitional layer reduces the sinkage of the bed. If you do sink in, the layer provides a great contouring experience and pressure relief.
And because it's a medium-feel model, it hits the right spot with many sleeper types. We believe combination sleepers, in particular, will enjoy this model.
Helix Dusk
Designed with back and stomach sleepers in mind, the medium-firm Helix Dusk mattress has remarkable pressure-relieving properties and support.
Helix Twilight Construction
The Helix Twilight is a very similar model to the Midnight. It has a slow-moving, pressure-relieving memory foam in the comfort layer. In the transitional layer, there is a 1″ high-grade polyfoam. But what are the differences?
Its signature stripe is in dark green.
The 2″ memory foam is firmer and denser, so it is a great choice for those with shoulder and lower back pain.
The 1″ high-density polyfoam adds to the firmness of the model. It keeps you more on top of the mattress and adds to the overall support.
It's a tad bit softer than the Helix Dawn model but still supportive enough for those that like it firm.
Helix Twilight
Due to its firmness, the Helix Twilight is a excellent fit with many back and stomach sleepers in need of a supportive mattress.
Helix Dawn Construction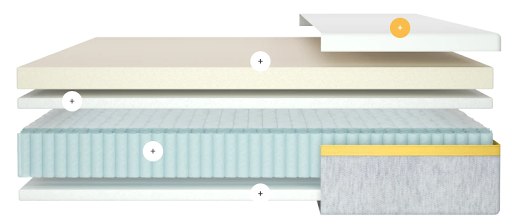 Like Moonlight, the Helix Dawn mattress has two layers of Dynamic Foam. We already know that this design enhances the bounciness and the cooling vibe. But, what makes this model stand out?
First of all, this mattress has a signature yellow stripe.
The Dynamic Foam has a firm feel to it, which makes the bed really stiff. Perfect for sleeping on your stomach or back.
The comfort layer is bouncy and gives nice support to the body, without the cradling feel.
The transitional layer adds to the reactiveness and the support. It pushes the body back to the surface. Need a lift?
If you like a firm bed, you might want to keep this model in mind.
Helix Dawn
The Helix Dawn mattress is the firmest of the bunch, making it also the most supportive bed for stomach sleepers.
Helix Plus Construction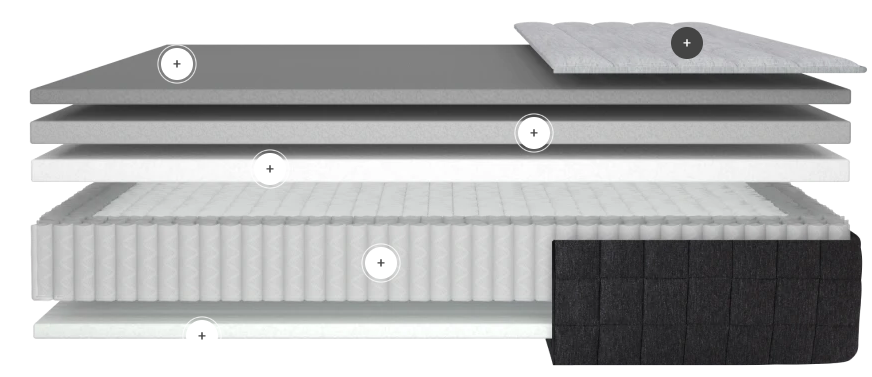 Ok, so let's address the elephant in the chat room. Most Helix mattress reviews treat the Helix Plus mattress as a specialty bed. As it's designed for heavier-bodied and/or tall people, they write about it separately. However, we've decided to include this model in our review.
In essence, the Plus mattress is like the standard model but with some spice, as the kids would say. Looking at their website, you will see that it's placed with the rest of the standard models. Keeping all this in mind, we argue that the Plus mattress is a specialty model from this collection. So it needs to be added to the roster.
Because it's designed for people with higher BMI, the mattress is much more durable. It uses higher-density foams of 3.75 and 4.0 PCF. So you don't have to worry about it sagging or leaving body impressions.
One thing that makes the Helix Plus stand out is that it has an extra comfort layer. Or, as the company calls it, the support layer. It's added to boost the overall comfort and support of the bed. But how is this achieved? Let's go through each of the middle mattress layers.
First off is the comfort layer. It is made from Ultra Dense Memory Foam, which is another unique Helix blend. This durable memory foam focuses on providing pressure relief, giving the body the comfort it needs.
The support layer features the medium feel Dynamic Foam. It works together with the upper memory foam layer to create a comfort system. It contours to the body so that it enhances the experience of relief. It also makes sure that this Helix mattress is quite bouncy so that one can easily move on top.
And finally, we have the transitional layer. A layer of firm memory foam acts as a buffer between the comfort system and the springs. It's also responsible for the extra dose of support, so you don't have to worry about the sinkage.
Overall, if you are over 250 lbs and are looking for a sturdy bed that's not too firm or too soft, this might be the right pick for you.
Helix Plus
Made with curvier bodies in mind, the Helix Plus mattress offers a balanced out sleep experience to both big and tall.
Base
As we previously stated, all standard Helix mattresses have a similar construction with some slight changes. But, there are two things that they all have in common: the cover and the base.
So, all hybrid models have a core made out of coils. In the case of the standard model lineup, this core is 8″ thick. It consists of hundreds of individually wrapped coils. This allows the springs to move independently and also minimizes the motion transfer.
These pocketed coils are spread from edge to edge. In other words, the Helix mattress perimeter is reinforced. This makes the models more durable and provides excellent stability and edge support. These springs also promote better and steady airflow and a cool sleeping experience.
As the coils are pretty bouncy, an extra layer is added underneath. The 1″ layer is called the DuraDense Foam. The main goal of this polyfoam layer is to provide stability and durability. Not just to coils but also to the entire construction. The layer is also very dense, as it has a density of 1.8 PCF.
But what about the Helix Plus mattress?
Well, the base is similar in structure to the standard models. In order to provide extra support and comfort to heavier-bodied sleepers, the pocketed coils are taller. After all, they are called XL Wrapped Coils.
These robust coils made out of reinforced steel are thicker. This ensures they have a more solid precision to support the heavier weight. After all, everyone deserves the best sleep experience and a little bit of TLC.
Where Is the Helix Mattress Made?
Unlike a lot of bed-in-a-box models, the Helix mattresses are 100% made straight in the dear ol' USA.
Not only that, but each Helix mattress is hand-assembled and custom-built. Each of them is made in their manufacturing facilities on both coasts and in the midwest. The Helix team of engineers, designers, and craftsmen continuously builds amazing sleep products while not losing sight of quality.
Firmness & Feel
When it comes to Helix mattresses, they're all neatly divided into specific firmness levels. Each of them is either a soft, medium-firm, or firm model. According to their website, this is how they are categorized:
Soft models:

Helix Sunset (2/3 on the firmness scale)
Helix Moonlight (2/3 on the firmness scale)

Medium-firm models:

Helix Midnight (5/6 on the firmness scale)
Helix Dusk (5/6 on the firmness scale)
Helix Plus (7/8 on the firmness scale)

Firm models:

Helix Twilight (8/9 on the firmness scale)
Helix Dawn (8/9 on the firmness scale)
However, how a mattress feels or how firm it is, usually can't be said, as it is entirely objective. It depends on a multitude of factors. Hence, when you look at other reviews, you will see different rankings on the firmness scale.
For the most part, the Helix mattresses rankings were in line with how they ranked on their website. Sunset and Moonlight were usually ranked from 3.5 to 5.5. This falls into the soft to medium-soft models. Though some have ranked Sunset as 2 to 3, and Moonlight as 6. Midnight and Dusk ranked either 5.5 or 6. Both models are constructed to form a more balanced sleep experience. Plus ranked 7 on the firmness scale, making it firm, but not too much. Since they use higher-density foam, both Twilight and Dawn are usually ranked 7 or 7.5. But, as Dawn is the firmer model of the two, it also ranked an 8.
What about how they feel?
As hybrid models, all of the models had a relatively springy feel to them. Combined with different density foams, these mattresses have a soft, neutral feeling. In short, they feel nicely balanced out, but there are some differences.
Due to their construction, Moonlight, Dusk, and Dawn are more responsive and feel slightly firmer. Plus feels sturdier than the rest, which is no surprise, as it's meant for people with higher BMI.
To be as biased as possible, we've created the following table. Here you can better remember what the rankings are.
| Model | Firmness Rating | Feel |
| --- | --- | --- |
| Helix Sunset | 2 to 5.5 | Soft to medium soft |
| Helix Moonlight | 3.5 to 6 | Soft to medium |
| Helix Midnight | 5.5 to 6 | Medium |
| Helix Dusk | 5.5 to 6 | Medium |
| Helix Twilight | 7 to 7.5 | Medium firm to firm |
| Helix Dawn | 7 to 8 | Medium firm to firm |
| Helix Plus | 7 | Medium firm |
Durability
When it comes to hybrid mattresses, they are known to be very durable. And this is actually reflected in their warranty, which is 10 years long.
As Helix mattresses use high-density foams and very robust coils, they're designed to be long-lasting. But when we look at other online Helix mattress reviews, there are some mixed results on how long they will last. Some expect that your model will last about 6,5 to 7 years. Others estimate that they should last about 7 to 10 years.
These numbers are about the average durability of most hybrid models, which is 6 to 8 years. You need to be aware that there are multiple factors that might increase or decrease the lifespan of your Helix mattress.
Softer models usually tend to show signs of wear and tear early on.
Polyfoam is less durable than memory foam, so a mattress that has a large quantity of it might not last as long.
Coils tend to minimize sagging and offer better support. But that doesn't mean you won't experience impressions.
So that you can prolong the bed's lifetime, you need to rotate it every 6 months head to toe.
Unless you want to sleep on hard steel, do not flip the mattress. How to remember which side is up?The Helix logo should always stay upright.
Your Helix mattress will last you a long time if you properly care for it. It's recommended that you support the bed by placing it on a proper foundation. Like a box spring, or even an adjustable base. Remember that the slats of your support system should not be wider than 5″.
Like all mattresses, there is a weight limit. According to their website, each Helix mattress can support up to:
500 lbs for individual and
1000 lbs combined weight.
That is pretty impressive!
Motion Transfer
If you are in a couple, you should really keep an eye on mattresses that are great at isolating motion. If you or your partner toss and turn at night, one of you is certainly not going to have a great time.
Keep in mind that hybrid models are not as great as memory foam beds in this regard. The Helix mattresses offset the motion transfer by having pocketed coils. The coils lessen the transfer of movement. However, not all models have the same design. Naturally, some will perform better than others.
Across the board, many can agree that the Sunset model is the best at motion transfer. The mattress features memory foam in the top layers. This material absorbs and isolates movement well. Because it's also a soft model, it tends to cradle the body, thus minimizing transfer more. Similar in structure, Midnight and Twilight also isolate motion pretty well. So if you like firmer models, you may want to consider them instead.
Helix Plus mattress has also shown itself to be great at motion transfer. Due to its two-layer comfort system, the motion doesn't reach the jumpy coils. In turn, the vibrations don't spread across the surface. It's doubtful you will stay up all night as your partner moves.
When it comes to Moonlight, Dusk, and Dawn, they tend to be decent at isolating motion. But they do have Dynamic Foam in their comfort layer. This material has some characteristics of latex, making them pretty responsive. Combined with coils, it's pretty likely that you will feel some movement. Though, we do admit that the Helix Dusk mattress is the best out of this bunch. It absorbs more motion as it has memory foam in the transitional layer, and it is a medium-firm model. Sadly Moonlight and Dawn are quite bouncy. As they have dual layers of Dynamic Foam, we don't recommend them for couples.
Edge Support
If you are someone that is a bit heavier-bodied or has problems with mobility, listen up! You might want to consider getting an innerspring or a hybrid model. Especially if they also have a reinforced perimeter. As both of these types have a coil core, they are more durable than foam mattresses. Plus, having a sturdier edge means more of the sleeping surface and an easier time getting up in the morning.
Helix mattresses are all hybrid models with additional reinforcement around the edges. Meaning less sagging, extra support, and more space to sleep on. In short, they all have top-notch performance. However, due to their design, some just have better edge support than others.
For example, Sunset and Moonlight don't feel as secure as others when you sleep on the edge. This might be because both of these models feature softer foams, so you may sink a bit. On the other hand, the other four models have sturdier and more stable edges, thanks to their firmer foams. With that logic in mind, the Twilight and Dawn will have the best edge support. They are the firmest mattress in the assortment.
What about Helix Plus? As this model was designed for people with higher BMI, it performs reasonably well. It does use taller and tougher coils, so you won't sink too far. However, its upper comfort layers can compress to a degree when you sit or sleep near the edge. Sadly, you might feel that it's a bit unstable. Besides that, it's still one of the best mattresses for heavyweight sleepers on the market. We do recommend you try it.
Overall, the Helix mattresses still perform rather great. We've gladly put them in our top pick for mattresses with excellent edge support.
Pressure Relief
Let's face it. Nothing sours your sleeping experience more than waking up with aches and pains. How can you conquer the day if your back is killing you? Therefore, you need a bed you can count on.
As it turns out, one of the best features of the Helix mattresses is their excellent pressure relieving properties. The company combines low-reactive foams with different levels of firmness. The foam then limits tension around essential pressure points.
How well a mattress relieves pressure also depends in part on various factors. Side and lightweight sleepers prefer softer beds, while heavier sleepers prefer firmer models. Keeping all of this in mind, let's see how each of the Helix mattresses performs in this aspect:
The Sunset mattress is really the best of the best at pressure relief as the softest models. Thanks to its memory foam comfort layer, this model will not leave you wanting more relief.
Moonlight doesn't contour as much as Sunset. It still offers much-needed relief to the back and stomach area.
As a medium-firm mattress, the Midnight performs exceptionally well, but offers more of a balanced feel to it.
Like Midnight, Dusk performs rather well. It doesn't provide deep comfort though, as the body lies more on top of the bed.
Some reviewers feel that the Twilight mattress might not be as pressure-relieving. It has to do with their firmness. You might experience some relief at the hips and lower back, but it's certainly not the best in the lineup.
Due to its firmness, the Dawn model will also not perform in this aspect. Given that the bed is quite bouncy, it will keep you mostly on top, providing comfort to the back area.
Heavier-bodied sleepers will enjoy the pressure relief Plus mattress offers. Thanks to the unique structure, it cushions and supports the body. Compared to other hybrid models, it does a superb job at pressure relief.
Temperature Regulation
When it comes to temperature regulation, hybrid models tend to sleep on the cooler side. Conversely, foam ones are notorious for retaining heat. This is because the former use coil cores, which allow more airflow.
Based on many Helix mattress reviews, overall these models have excellent temperature neutrality. Thanks to their design, they will keep most sleepers relatively cool. However, some models tend to sleep cooler than others.
Sunset, Midnight, Twilight, and Plus all have memory foam. As such, they tend to have about average performance. Memory foam is a material that is known in the mattress industry to retain heat. So it may conform closely to the body, but it also absorbs your heat. This can be an issue for some who tend to sleep really hot.
As for Moonlight, Dusk, and Dawn, these models also perform rather well. But, some have mentioned that Dawn sleeps relatively cooler. This model is known to be very firm and not allow the body to sink in too much.
We believe that most hot sleepers will enjoy these mattresses. But if you are worried about overheating, you might want to look into the Helix LUXE models. They have additional cooling features.
Helix Midnight
The brand's most popular model, the Helix Midnight, achieves the perfect marriage of comfort and support that many sleepers will greatly enjoy.
Off-Gassing
Bed-in-a-box mattresses are pretty useful. The bed is compressed and put in a box for easier delivery and assembling. What usually happens afterward might not be so great for the new owners.
As the bed is compressed, it might result in a release of low quantities of VOC once you unfolded. The VOC is what causes the "new mattress" smell, but this isn't harmful to humans and pets. But with Helix mattresses, you might not even notice it at first.
Hybrid and innerspring models tend to be better at breathability. Thanks to their coils, they usually tend not to release that much odor. So even if you notice a bit of smell, it will be very minimal. Nonetheless, you should still leave your Helix mattress to air out. Make sure you do it in a well-ventilated area for a few hours to a few days. Wait at least the recommended 24 hours before using it.
Sleeper Type Preferences & Weight
And now, things are getting quite juicy.
If you visit the Helix mattress website, you will see that they have divided their models pretty evenly. Sunset, Midnight, and Twilight will be a hit with side sleepers. Back and stomach sleepers will prefer Moonlight, Dusk, and Dawn.
However, is it really that cut and dry?
And what about Helix Plus? Which heavier-bodied sleeper types like it the most?
We've combed through the internet high and low, looking at various Helix mattress reviews. Our findings?
Well, you just have to read the following sections for more!
Side Sleepers
As a rule of thumb, side sleepers usually prefer soft to medium-soft mattresses. That way, these sleepers can get enough cushioning and support they need around the hip and shoulder areas.
Naturally, Helix Sunset just might be one of the best mattresses for side sleepers out of the rest. This model is quite plush and offers a nice amount of comfort. However, this model might not be the right fit for side sleepers that weigh more than 230 lbs. These side sleepers might rest better on Twilight or Plus.
We don't recommend Helix Dawn for side sleepers on the opposite side, as the mattress is too firm for them. With Dusk and Midnight, it depends on individual preferences and body weight, but we think the latter might be a better fit.
While also soft like Sunset, with Moonlight, we've gotten some mixed results. Some think lightweight side sleepers might like it; others believe that it might be a bit too firm.
Back Sleepers
As the name suggests, back sleepers put a lot of pressure on their back as they whisk away to dreamland. Hence why they need a mattress with a balance of support and comfort. Plus a model that maintains proper spinal alignment. They also usually choose firmer models than what side sleepers prefer.
If you, as a back sleeper, choose Helix Sunset, you're probably not going to get the support you need. On the other hand, Moonlight might be a great option for lighter back sleepers. It's more supportive than the former.
Midnight is a medium-firm mattress but has just the right amount of both support and comfort. We believe that most back sleepers under 230 lbs will enjoy this model. Another excellent option for back sleepers is Helix Dusk. It was designed to provide deep contouring and support. No matter which of these models you choose, you definitely will enjoy spending the night on them.
As the firmest, the Twilight and Dawn will mainly hit the right spot for back sleepers over 230 lbs. Of the two, the latter model is more supportive. So this makes it a slightly better fit for heavier-bodied back sleepers. The former will also suit the needs of average-weight back sleepers. Either way, both models are quite excellent choices for back sleepers.
If you are a back sleeper that is over 230 lbs and likes a model with an extra dose of support, then try out the Helix Plus. Even some heavier average-weight back sleepers might like this model. Especially if they have a preference for really firm mattresses.
Stomach Sleepers
Stomach sleepers as a whole need a firmer mattress. As they sleep, their hips tend to sink in. This causes their spines to start to curve down, which is why they can wake up with back pain.
Due to their softness, Helix Sunset and Moonlight will definitely not be the best for stomach sleepers. Moonlight might be okay with some lightweight sleepers. Regardless, we don't recommend you try it.
If you go with Helix Midnight, you might get a decent experience sleeping on your stomach. However, it might also be really lackluster. We think Helix Dusk will be a better option for most stomach sleepers that weigh under 230 lbs. It will better satisfy your need for support and cushioning.
Twilight is well-matched for most stomach sleepers. But by far, the best of the bunch is still Helix Dawn. It is the firmest and most supportive for stomach sleepers. If you decide to go with the Dawn model, rest assured that your spine will not go out of alignment.
Although it's designed for people with higher BMI, some stomach sleepers over 130 lbs might like Helix Plus. They may get enough support and cushioning they need for a long night's rest. With petite stomach sleepers, it's a mixed bag; some may like it, others may not.
Combination Sleepers
With combination sleepers, you usually have to consider not just their body type. You also have to put into an equation their preferred sleep position. Or simply put, the side they tend to gravitate toward the most. We also have to consider that combination sleepers like mattresses are more responsive. So they can easily switch positions at night.
Right off the bat, we feel that combination sleepers might not like Sunset. It's pretty conforming. Though soft, Helix Moonlight might be an alright choice, as it is more responsive than the latter.
Midnight is the most popular mattress, as it achieves a perfect balance between support and comfort. We feel like side combination sleepers might really like this model. Dusk is another fantastic option for combination sleepers. Due to being slightly firmer, you won't get the feeling of being "stuck" in it.
Helix Twilight and Dawn are quite firm, but they are also really bouncy. Combination sleepers will definitely enjoy them. With Helix Plus, we aren't sure if combination sleepers will like it. Looking at its construction, we can see that it tends to cradle the body. Which is something that combination sleepers do not like. Responsiveness is the key.
Other Mattress Models
Usually, when we write this section, we go a bit in-depth about every other mattress model. The thing about Helix is that they have in total 14 hybrid models: 6 standards, 2 specialty, and 6 luxe. That … is a lot of mattresses.
So, what's a reviewer to do? Well, we're going to write about the ones that are not the focal point of this Helix mattress review.
Besides the 6 standard model and Helix Plus, the company also offers:
The Helix LUXE collection
Birch by Helix.
As the name suggests, the Helix LUXE models are the premium versions of the standard six. Birch by Helix is an organic, hybrid bed that is sold separately on its own website. But let's jump right in and find out more about these mattresses.
According to our research, the Helix company used to offer Dual Comfort mattresses. These were models that were popular among couples with different sleeping preferences. These models are no longer available in their offer. Instead, to get a split king option, you can combine two Twin XL mattresses.
Helix LUXE Collection
Do you "like" the Helix mattress but are not "in love" with them? Are they missing an oomph?
Well, maybe the Helix LUXE models might just be your cup of tea. As you might have guessed, the Helix LUXE mattresses are luxury versions of the standard models. These are:
Helix Sunset LUXE
Helix Moonlight LUXE
Helix Midnight LUXE
Helix Dusk LUXE
Helix Twilight LUXE
Helix Dawn LUXE
Like the standard collection, each of the mattresses has its own colored stripes. They also come in different firmness levels, soft, medium-firm, and firm.
What makes these models stand out is that they feature 6 high-density foam layers. This also includes a Gel Visco layer for additional pressure relief. The models have 8″ Zoned Lumbar Support Coils. This means that the coils are placed in such a way that they provide a better spinal alignment. Even the cover is upgraded. It features a quilted Pillow top for a plush top layer feeling and Tencel fibers, making it more airy and soft.
Available in all standard sizes, the Helix LUXE models are 14″ tall. This makes them thicker than the standard ones. Due to the quality of the materials, these beds come with a 15-year warranty. In addition, they are also more expensive than their standard counterparts. The starting price for a Twin-size Helix LUXE mattress is $1,099. However, we do have to mention that this price is still lower than the price for an average hybrid model.

So, if you are looking for luxurious beds at a great value, these models might be the best place to start.
Helix LUXE Collection
The LUXE collection by Helix is upgraded with a luxurious feel of additional pressure relief, Tencel fibers in mattress covers, and a few extra inches of comfort.
Birch by Helix
As we mentioned above, in 2019, the Helix mattress company has launched a separate mattress on its own. The result was Birch, a natural and organic latex foam hybrid model.
The medium-firm mattress features natural materials like:
Talalay latex
Birch wool
Organic cotton and
Steel
Due to it having latex in its comfort layer, the bed has a nice bouncy feel. Something that combination sleepers might enjoy. This mattress will keep you relatively cool and comfortable at night. It features breathable materials like latex, wool, and cotton.
The 11″ thick Birch comes in all standard sizes. Because of the high quality of the materials, this model's starting price is $1,249 for a Twin size mattress. It also has a 25-year limited warranty, which shows how much more durable it is than other Helix models.
If you are interested in an eco-friendly mattress at an excellent value, then the Birch might be right up your alley.
Birch By Helix
Birch by Helix excels in pressure relief due to premium, organic materials. With a medium-firm feel, it's best for back and stomach sleepers.
Mattress Prices & Sizes
And now, for the moment, you've all been waiting for! What are the dimensions and prices of Helix mattresses?
When it comes to the dimensions, all Helix mattresses seem to be made out of the same cloth. Yes, this includes the LUXE models as well. The models are available in all standard sizes from Twin to California King. Based on their website, their weight also seems to be in the same range. The only difference is that all standard models are 12″ thick, while the Plus is 13″ thick. This isn't that surprising. After all, Helix Plus does have an additional comfort layer for better support.
Bonus point with these models is that all models from the standard collection have the same price. They are also more affordable than average hybrid models. The starting price for a standard model is $1,249 for a Queen size mattress. Even the Plus model, though a bit more expensive, is also reasonably priced. Its Queen size costs $1,749. If you take into consideration the sheer quality and the low price, it's hard not to find them appealing. Especially if you put value over budget.
Honestly, it's really no wonder that Helix mattresses are one of our top choices for value mattresses.
The table below shows prices and dimensions of the standard Helix mattress lineup and the Helix Plus. Keep in mind that the prices in the table are full-cost. If you are looking for a great deal, hop on over to our coupon page!
| Size | Weight | Dimensions | Helix Standard Height | Helix Standard Prices | Helix Plus Height | Helix Plus Prices |
| --- | --- | --- | --- | --- | --- | --- |
| Twin | 50-60 lbs. | 38″ x 75″ | 12″ | $849 | 13″ | $949 |
| Twin XL | 50-60 lbs. | 38″ x 80″ | 12″ | $949 | 13″ | $1,049 |
| Full | 80-90 lbs. | 54″ x 75″ | 12″ | $1,099 | 19″ | $1,249 |
| Queen | 80-90 lbs. | 60″ x 80″ | 12″ | $1,249 | 13″ | $1,749 |
| King | 100-110 lbs. | 76″ x 80″ | 12″ | $1,549 | 13″ | $2,099 |
| Cal King | 100-110 lbs. | 72″ x 84″ | 12″ | $1,549 | 19″ | $2,099 |
**As the beds are handmade, the company states that the dimensions might sometimes be different. They can either be wider or longer by up to 1″.
Deals and Discounts
Did you fall for the Helix mattresses? Do you have your fav?
Why don't you visit the official Helix mattress website and check out all of their currently available promos, deals, and discounts?
Breaking news! If you sign into the VerifyPass through their website, you can get a one-time 15% off discount code if you are:
An active military member, veteran, spouse, or family member.
First responder
Teacher
Click on each bullet to learn more!
Still left wanting? Visit the Anatomy of Sleep's Coupon page, where your dream deal is waiting for you!
Overview of Benefits
Availability
So, you are thinking about getting a Helix mattress but are not sure where you can buy it?
Well, the Helix is available both online and offline in various showrooms across the US.
Offline
Do you like to try out beds in person? The Helix mattress company has its own brick-and-mortar showroom. The Helix Showroom and Mattress Store NYC is located in Soho, on 1123 Broadway #600 New York.
But, the mattresses are also on display in the following partner stores in the contiguous US:
CB2 Showrooms (where only 3 models are on display: Sunset, Midnight, and Twilight)
SleepAre
Our Sleep Guide
The SLEEPSherpa
Visit this link to see at which locations you can see and try the Helix mattress models.
Due to the COVID-19 pandemic, the Helix Showroom and Mattress Store NYC is currently closed.
Online
Honestly, shopping in a store can be a bit of a drag. There are too many people, noise and lines. So if you have the option, why shop in a store?
You can order your Helix mattress of choice on their website. It's quick, easy, and simple. Not to mention the checkout is secure, so you don't have to worry about nasty little hackers.
Having problems with placing your order or need something changed?
You can contact their friendly and helpful customer experience team through email, chat or call. See here how and when you can contact them.
Sleep Trial
Great news for those who can't decide right away! The Helix mattress company offers a 100-night sleep trial. From its delivery date, you have a little more than three months to get used to your new bed.
Of course, if you are not satisfied with the mattress, you can return it at no additional cost. However, there is a required 30-day Break-In period. Translation?
You need to try your new mattress for a period of 30-days so that you can adjust to it. After 30 nights, you can start the exchange or return process.
Warranty
All standard Helix mattresses, including the Helix Plus, come with a 10-year limited warranty. This is a pretty standard warranty in the industry. It's also an excellent indicator of a mattress's quality.
Like all limited warranties, there are certain things that are or are not covered under it. As this language is usually very complex, we will try to explain the company's warranty as simply as possible.
Note: the Helix LUXE models have similar conditions in their warranty, but it lasts 15 years.
Who the warranty extends to?
The Helix Limited Warranty extends to the original purchaser of any mattress model.
The original purchaser is the person who purchased the mattress first. Either from Helix or their authorized retailers.
The original purchaser is located in the USA (not including the US territories) or Canada.
All warranties are non-transferable.
What does the Warranty cover?
Any physical flaws that cause the foams or the spring to split or crack, despite the normal wear and tear.
Any manufacturing defects made during the production process.
Sagging and indentation that is 1 inch or deeper.
What doesn't the Warranty cover?
A normal increase in softness. This happens over time due to the pressure-relieving properties of the foam.
Defects caused by abuse or damage in the form of cuts, burns, stains, tears, or liquid damage.
Beds that were previously used or purchased by another consumer.
Mattresses sold by unauthorized retailers.
The warranty is void if you remove the bed's cover.
Etc.
If you want to return a defective mattress, here's what to do. You'll need to pay a shipping fee and send the bed with a copy of the original proof of purchase. If the mattress turns out to be defective, the company will reimburse you up to $100 for the shipping charges. The company can choose to either repair or replace the mattress.
The Mulberry Accidental Damage Coverage
In partnership with Mulberry, the company offers you a 10-year program to add to your warranty. Basically, you get additional protection against everyday things that are not under warranty. Things like spills, stains, and other accidental damages. You can choose to add it when you decide to buy the Helix mattress.
Certification
We spend one-third of our lives sleeping. Hence why, getting a good mattress for our sleep environment is vital. The Helix mattresses have two certifications:
CertiPUR-US®
OEKO-TEX STANDARD 100
CertiPUR-US® certification means that the mattresses are not only safe for your health, but also for the environment. The Helix models are made without any unsafe material, such as:
Ozone depleters
PBDE flame retardants
Mercury, lead, and other heavy metals
Formaldehyde
Etc.
This certification also guarantees that the mattresses have low quantities of VOC. Translated, it means it has a low impact on indoor air quality.
The OEKO-TEX STANDARD 100 certification ensures that the used textiles have no harmful substances. This means that all mattress covers have been tested for any dangerous chemicals.
In short, you can rest easy as you saw logs on your very own Helix mattress.
Free Shipping
What is the number one thing that sparks joy in every online shopper? Free Shipping!
What makes Helix different from other bed-in-a-box brands is that shipping is free in all 50 states. Yes, you read that right – shipping is free for Alaska and Hawaii. How exciting!
The company also ships to parts of Canada; however, there a few things to note:
The company does not ship to Yukon, Nunavut, and Northwest Territories.
All orders to Canada will incur a Customs Tax.
During checkout, there is a shipping fee applied, which differs based on the item:

$250 per mattress
$175 per foundation
$75 per bed frame
Based on the latest information, all Helix mattresses are shipped within 3 to 10 business days. If you order more than one item, they will be shipped separately. You will receive a separate tracking code once each item is on the way.
In order to make shipping easier, your Helix mattress will be shipped in a box whose dimensions are 16″ x 16″ x 48″. The box is delivered straight to your doorstep. What's even great about it is that all packaging materials are recyclable. You can put it in separate bins or make something creative from it. We do like eco-friendly packaging!
All products are shipped via FedEx Ground from their facilities across the US. But, you might be wondering how it all works? We got you covered! Here are some things to note about the shipping and delivery before you order:
The product is delivered directly to one's address and not to a PO Box/APO/FOP address.
The company does not offer alternative shipping methods.
You can't request rush shipping or schedule the delivery for a specific date and time.
Once your order is placed, the Helix company can't delay the production or shipping of the mattress.
If you sign up for the FedEx Delivery Manager program, you can request to put your order on hold. You can also reschedule the delivery date through it.
You don't need to be at home to sign and receive the package. But the FedEx driver has a right to hold on to the package until you sign it. This is to ensure that the package has been delivered safely.
If you live in California, Connecticut, and Rhode Island, you have to pay a recycling fee. It's $10.50 for any mattress or foundation and not waivable.
Return Policy
Now, there is always a possibility that you may not be satisfied with your Helix mattress. Thankfully, during your 100-night trial period, you can decide whether you want to replace the mattress or exchange it. Of course, even though these processes are similar, there are a few differences. So, let's go through them together, shall we?
The first you need to remember is that there is a 30-day break-in period. During this time, you can decide if you want to keep, return, or exchange your Helix mattress. The break-in period falls under the 100-night trial, so it starts from the day you receive your mattress.
In the case of a Return
If you want to start the return process, you need to visit their website.
Fill out the "How can we help today?" form on their website.
The company will then send you a questionnaire. They do this so that they can collect your availability for the mattress pickup.
After that, the company will work with a partner service in your area to arrange the pickup.
The returned mattress will either be donated or recycled.
Once the mattress is collected, the company will issue a full refund in 5 to 10 business days. If you used one of their financing partners, it takes 3 to 5 business days.
In case that you received a damaged or defective product, fill out the form mentioned above. Don't forget to attach the picture of the item.
Only 2 mattresses per customer or household may be returned.
In the case of Exchange
Once you've passed the break-in period of your trial, you can start the exchange process.
In this case, you can either exchange your bed for a different size or a model.
You also have two options for how you can exchange it.

With option 1, you can complete the pickup of your original Helix mattress. Once refunded, you can order a new mattress. In this case, the pickup will begin immediately.
With option 2, you can order your new mattress and have your old bed be picked up when the new one arrives. Afterward, once the old mattress has been removed, the Helix company will issue a refund.
If you pick option 2, you will have a mattress to sleep on. But the company does not guarantee that the delivery and pickup will happen on the same day. You may have to hold on to the old one for some time.

You can initiate the exchange by filling out the "How can we help today?" form.
And like we mentioned above, only 2 mattresses per customer or household may be returned.
The Helix Mattress Topper program
What to do if you like your Helix mattress but are not quite sure if you like how it feels? And you also really don't want to exchange or return it just yet?
Not a problem! You can join "the Helix Mattress Topper program." The company offers a complimentary (free) mattress topper to every order made online.
The topper is designed to make a slight adjustment to your bed. It can make the mattress a bit softer or firmer, depending on your preference. The topper can also act as a middle ground between Helix models. It comes in two options:
The Plush Mattress Topper is machine washable and makes the mattress feel softer.
The Firm Mattress Topper makes the bed feel firmer, and you can only spot clean, as it has a layer of foam.
The topper is limited to customers within their 100-night trial. If you ordered your Helix mattress through a partner showroom, you're not eligible for this program. If you decide to return your bed, you won't get charged for the mattress topper. You can even keep it.

This might be our opinion, but little touches like this show us that a company really cares about providing you the best experience. Honestly, it's really impressive!
Additional Services
In-Home Delivery & Setup
We all like to sleep but hate to set up our new mattress. It's really such a drag!
Luckily, the Helix mattress company offers In-Home Delivery & Setup option. If you choose this option, their delivery partner will deliver, unroll and assemble your bed.
But, before you decide to choose this option, there are a few things to consider:
The service is only available in most zip codes within the 48 contiguous US states. So if you live in Alaska, Hawaii, or Canada, you can't choose this service.
In order to sign for the In-Home service, you must be at home and 18 years of age or older.
The flat rate for one item is $149, but if your order consists of 2 or more items, the flat rate is $199.
The delivery is scheduled Monday through Friday from 8 AM to 5 PM in a 4-hour window.
For more information about this service, visit their FAQ page, section Shipping & Delivery.
Currently, this service is not available due to safety concerns regarding COVID-19. The company continues to ship free via FedEx. Sadly, you will have to assemble the mattress yourself. But have no fear! The company sends a nifty instruction inside the mattress box and shipping email.
Mattress and Foundation Removal
Within the In-Home Delivery & Setup, you can also choose the Old Mattress Removal service. For an additional $75, the delivery partner will remove up to 3 items and replace them with Helix items. This service is limited to mattresses and box springs or foundations. They also must be replaced by a Helix product.
Sadly, as it is a part of the In-Home Delivery option, this service is temporarily unavailable.
Finance Options
As more and more people are shopping online, there are two things that people usually look for. One is Multiple payment options and the other is flexible payment plans. Luckily, Helix offers both.
On their secure checkout, you can pay for your new Helix mattress with all major credit cards. They also accept payment through:
Apple Pay (on Apple Devices)
PayPal
AmazonPay
GooglePay
And through your Shopify account
Now, that's what we call options!
In addition to this, Helix also collaborates with two great financing programs, Klarna and Katapult.
With Klarna, you can pay over time by selecting a flexible financing option that works for you. They offer 4 interest-free installments on your credit or debit card. And don't worry about your information being leaked! The company uses modern safeguards and security so that you can shop safely.
What if you have low or no FICO scores? You can finance your new Helix mattress with Katapult. When approved, Katapult will apply a $45 initial payment on all of their payment plans. This fee is non-refundable.
Final Thoughts
What can you take away from this Helix mattress review?
When the Helix mattress company says that there is a mattress for everyone, they really put their money where their mouth is! No matter which model you choose, you definitely won't be let down! All of the models are made with premium quality materials and with a great price to boot!
These color-coded hybrid innerspring models are supportive and very durable. You can also count on excellent edge support. They are great at relieving pressure and sleep cooler than other hybrid models.
Sadly, there is no such thing as a mattress that is best for all sleeper and body types. But these models are designed in such a way that you can find what you need more easily. Have a higher BMI? Go with a Helix Plus. Don't like getting stuck? Try Helix Midnight or the Dusk. Are you a lightweight side sleeper? Get the Helix Sunset. They also come in different firmness levels, so that you know what kind of mattress you'd like from the get-go!
If you'd like a bed with a bit more zest, check out their Helix LUXE models and the eco-friendly Birch mattress.
Not satisfied with your Helix mattress? Take advantage of their 100-nights trial period and their awesome return policy!
You can only be sure if the mattress is the right one for you if you try it. So, get on the Helix official website! See for yourself which of the Helix models are your dream-come-true!
Helix Midnight
The brand's most popular model, the Helix Midnight, achieves the perfect marriage of comfort and support that many sleepers will greatly enjoy.