7 Most Comfortable Mattresses – 2023 Reviews and Buyer's Guide
Written by: Milica Terzic
Updated: 02/20/2023
Transparency Disclosure: For products purchased through the links on this page and throughout the site, we may get a referral fee (with no extra cost to the buyer). Please read our full How We Rate page for more information. There you can see how we conduct research and test products, as well.
A comfortable mattress isn't a universal thing. But, some mattresses are more comfortable for you than others. That is completely normal as everyone is different and has a unique idea of comfortable.
If a mattress is well-padded and soft, it will likely relieve pressure from the spine and let you relax. Then again, you sometimes need more specific support.
That is why we included a broad range of mattresses in this practical list. We show you the most comfortable ones. You can easily come back whenever during your mattress picking process to find out more.
In the list below, you'll find our suggestions for the most comfortable mattresses. Indeed, there are more options out there, but these are top dogs to us. If you'd like, feel free to search for our other mattress categories.
Are you ready to dive in? We'd say 'get comfy' but things are just about to get comfier than ever!
Our Picks for Most Comfortable Mattress 2023
Saatva Classic – Most Comfortable Luxury Mattress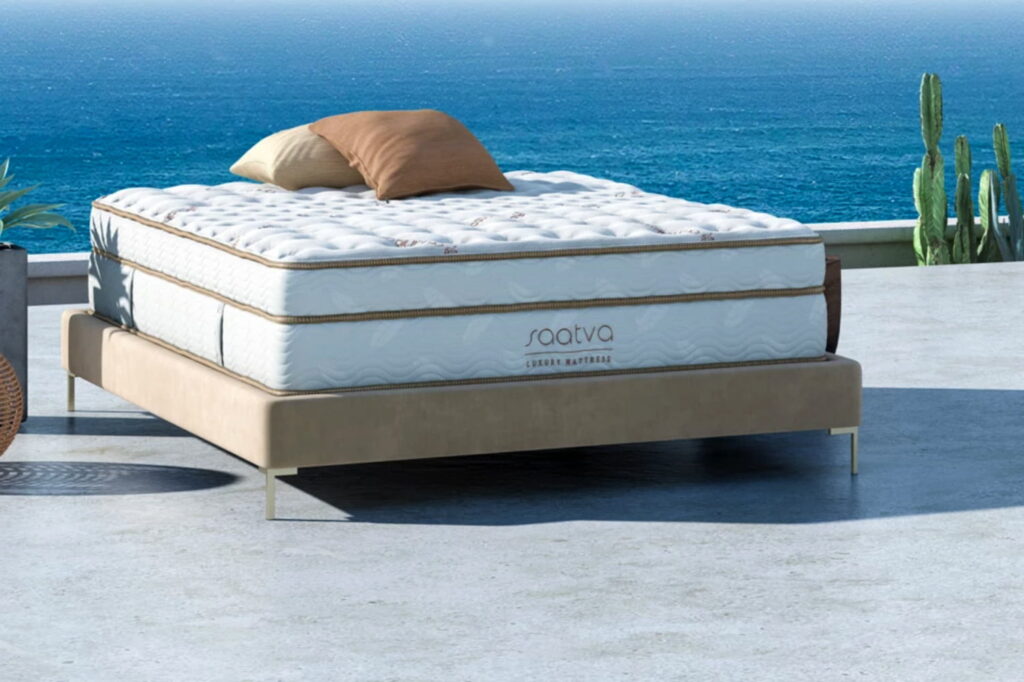 Now we come across one of the most comfortable innerspring mattresses on the planet. Yet, it is that comfy and adored by sleepers! Saatva is a popular mattress, exquisite for hot sleepers. The reason is that it has dual coil layers that promote superior airflow.
To put it this way, great temperature regulation makes Saatva very comfortable. The coils also let the mattress use its area, giving it exceptional edge support. Thus, Saatva is a snug cocoon for couples, too.
Also, Saatva has three firmness options, ranging from Plush Soft to Luxury Firm and Firm. The mattress brings together various sleeper types on its delightful surface.
Like we said – adored by many and for a reason! Did you know that Saatva has free white glove delivery for all customers and mattress models you buy? That's a banging deal!
This mattress offers whole-body support. And, it's made with organic cotton to top everything already mentioned. Who wouldn't want a mattress this perfect?
Saatva has an impeccable reputation for fantastic 24/7 customer service. Free mattress and foundation removal are also included in the price of the mattress.
Why Does Saatva Mattress Stand Out?
Very suitable for most sleepers
Exceptional temperature regulation & edge support
Free white glove delivery
Luxury materials
If you need more info on this luxury cushion, the Saatva mattress review is just a click away.
Saatva Mattress
Available in 3 firmness options, the luxury hybrid mattress Saatva enjoys great popularity with various sleeper types.
Casper Original – Most Comfortable For Back Pain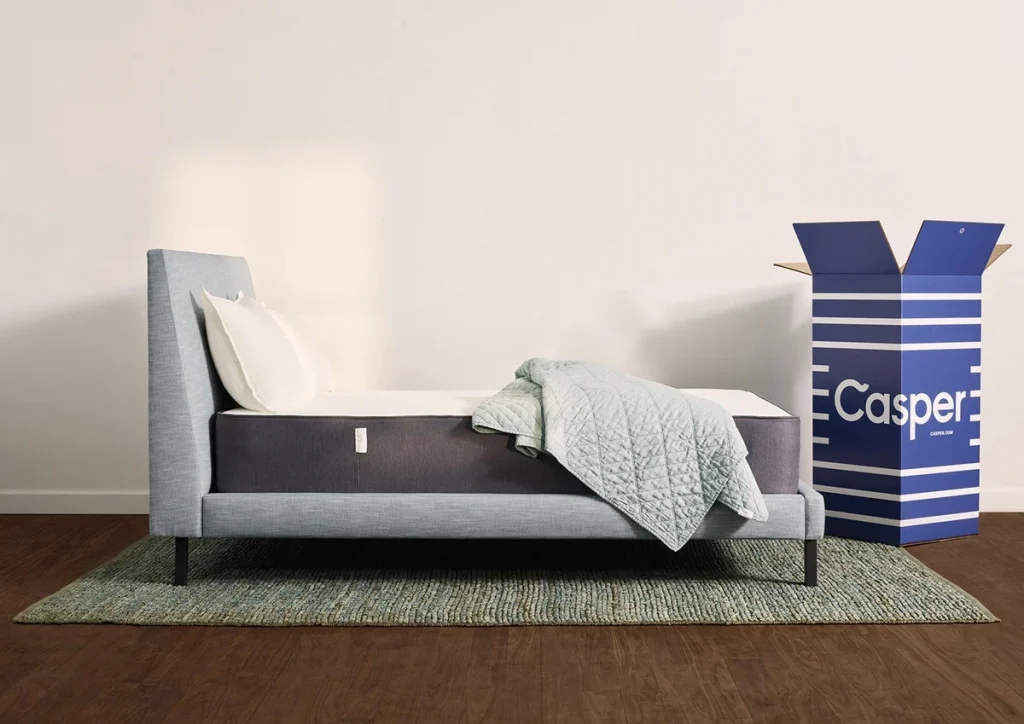 Casper sells their mattresses under a simple narrative. Engineered for cool and comfortable sleep, but that's not the only reason it has made it to this list. Casper is a fantastic choice for all sleeping habits and for relieving pressure. Moreover, many choose Casper because it is more affordable than its mattress counterparts.
There are two versions of the Original mattress; one is all-foam while the other is hybrid. Both hold the body with ergonomic Zoned Support™, divided into three zones. Their core function is to keep the spine aligned. The center of the mattress feels firmer than the rest of the bed. It supports the lower back and stomach area. Or the hips, when it comes to side sleepers.
The 'cool' part of the brand's narrative roots in the AirScape™ technology. It's made of thousands of perforations in a breathable foam. And the idea is to help you sleep chill all night long on the Casper mattress.
There is white glove delivery for the Casper mattress and old mattress removal for an extra fee.
Why Does Casper Mattress Stand Out?
It is an affordable but comfortable mattress.
It welcomes all sleeping positions on its ergonomic Zoned Support™.
It's a breathable mattress that will let you sleep cool.
It relieves a lot of pressure but back pain most.
Casper is a comfy dream, but there's more to this fluffy mattress. Read the comprehensive and all-including Casper mattress review.
Casper Original Hybrid
A mattress perfect for couples due to outstanding movement isolation and edge support. Hot sleepers love it for its advanced cooling properties.
Nectar – Most Comfortable For Side Sleepers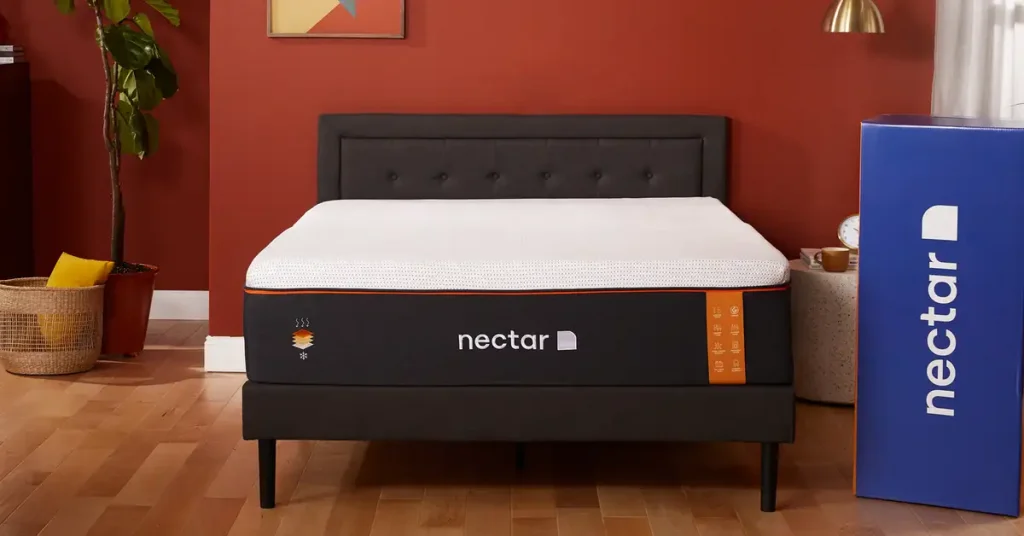 One of the most comfortable mattresses out there is Nectar. A soft, cozy mattress entirely made of memory foam. It helps achieve happy and healthy sleep for almost every sleeper type.
The comfort layers of gel memory are open-cell, meaning more air passing through. Less foam density and stiffness allow Nectar to alleviate pressure points. Gel memory foam gives the body pronounced contouring and room to relax.
In other words, Nectar is excellent for anybody wanting to relieve back or neck pain during sleep. The foam gives a hugging sensation, typically what most people who love mattresses for side sleepers appreciate. Couples enjoy this hugging feeling because there is little to no transfer movement.
The comfort comes from the high-quality construction of the Nectar. Gel foam layers distribute the weight evenly, letting all body parts relax.
But, factors like body weight could alter the sensation of the most comfortable experience. Heavy sleepers over 230 pounds won't consider Nectar a convenient mattress. They could feel trapped in the comfort layers. Also, they could feel like rolling off the mattress due to looser edges. For this reason, heavy sleepers should check one of the hybrid/innerspring models from this list.
Nectar works on all bed frames. It has a 365-day sleep trial and is certified to have no ozone depleters, PBDEs, TDCPP, mercury, or lead.
Why Does Nectar Mattress Stand Out?
It's a soft and cozy memory foam delight, loved by many.
And yet, Nectar is most enjoyed by side sleepers and couples.
Factors such as body weight could oust the comfiest experience.
Nectar is fantastic for pressure relief in the neck, shoulders, and back.
Want more details about this comfy cushion? Check out the full Nectar mattress review.
Nectar Mattress
Nectar is a premium quality mattress at an affordable price. The secret to its outstanding comfort lies in plush layers of memory foam.
DreamCloud – Most Comfortable Firm Mattress

Doesn't the name DreamCloud already suggest we're dealing with a ridiculously comfortable mattress? If not, it would be helpful to mention its superstar properties.
First, sleepers with chronic pain report extraordinary pressure relief after sleeping on DreamCloud. It relieves aches in the neck, back, and shoulders fantastically.
Second of all, this isn't a memory foam comfortable bed. This is a hybrid comfortable mattress, so no hugging feeling while sleeping on this one. The mattress is a winning pick for hot sleepers but also heavier individuals.
Thirdly, what contributes to comfort is the beautifully smooth cashmere mattress cover. It isn't a soft mattress but a medium-firm to almost firm. Nonetheless, it is very comfortable and supportive. All that is thanks to innerspring coils that give the best sleep every night.
And finally, even though light as a cloud, lightweight sleepers could find it too stiff. Thus, they should look for a more plush option than DreamCloud.
DreamCloud has a full-year trial and lifetime warranty. Free shipping and no contact delivery are also available.
Why Does DreamCloud Mattress Stand Out?
DreamCloud is firm and supportive but highly comfortable.
It reduces chronic pain in the neck, back and shoulders.
Hybrid construction makes the mattress breathable and durable.
Great for hot and heavy sleepers, but light sleepers should avoid it.
You've seen DreamCloud, but have you felt it? Before you buy it, read the full DreamCloud mattress review to make sure.
DreamCloud
The DreamCloud mattress is a five-layered hybrid mattress known for its great value. The model is especially a hit with hot and back sleepers.
Layla – Most Comfortable Value Mattress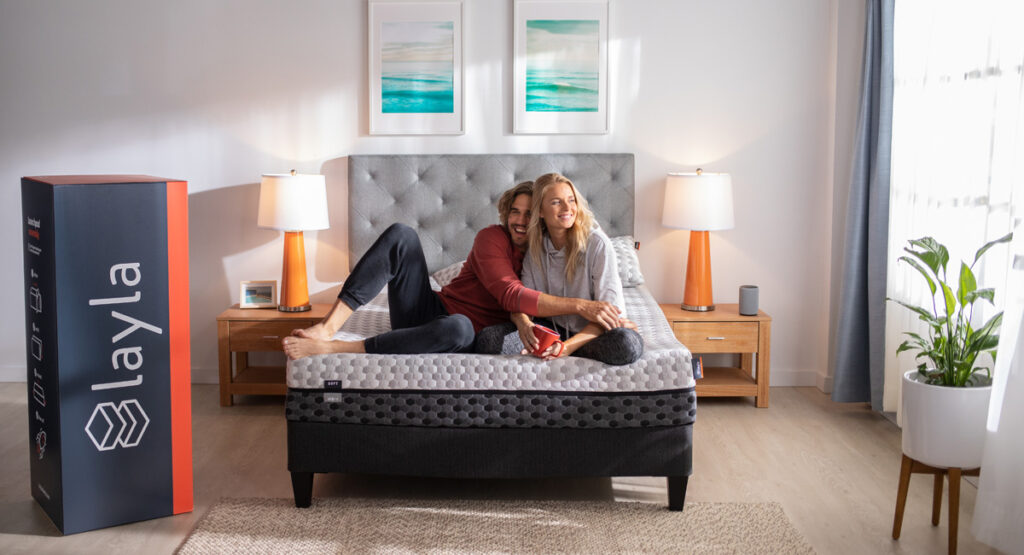 One of the most accurate things to do is to use the words Layla and comfortable in the same sentence. Yes, this all-foam bed holds the crown for one of the most snug as a bug in rug mattresses. What cradles the body is the gel memory foam present in all mattress layers.
Layla is unique because it has a copper infusion in the memory foam. The gel foam secures body contouring and motion isolation alongside pressure relief. And Layla ensures no excess heat using copper. Hot sleepers like this as well because it gives them uninterrupted sleep. The copper is antimicrobial, too.
Layla also offers Flippable Firmness – the mattress has a softer and firmer side. You'd only have to flip the mattress to change it. In effect, you get two comfortable mattresses for the price of one. So, this is an affordable, comfy mattress as well. That's a steal in our books!
The softer side is delightful for all side sleepers. Lightweight and average-weight back sleepers enjoy it as well. The firmer side is generally most comfortable for stomach and back sleepers.
Heavyweight sleepers who are also side or back sleepers can look into the Layla Hybrid mattress. The reason is that it gives more ample support with stronger edge resilience.
The Layla mattress comes at a great deal. They offer financing and free shipping of all sleeping products to all states except Alaska, Hawaii (& Canada).
What Makes Layla Mattress Stand Out?
Has all benefits of memory foam
Has copper infusion for cool sleep & hot sleepers rejoice
Has two firmness levels, softer and firmer
Has a hybrid version great for heavy sleepers
Layla's a very comfy flippable mattress. Learn more about it in the complete Layla mattress review.
Layla Mattress
Layla is a mattress with switchable firmness. Side sleepers enjoy it most, but all sleeper types call Layla a dream in a box.
Amerisleep AS3 – Most Comfortable For Pressure Relief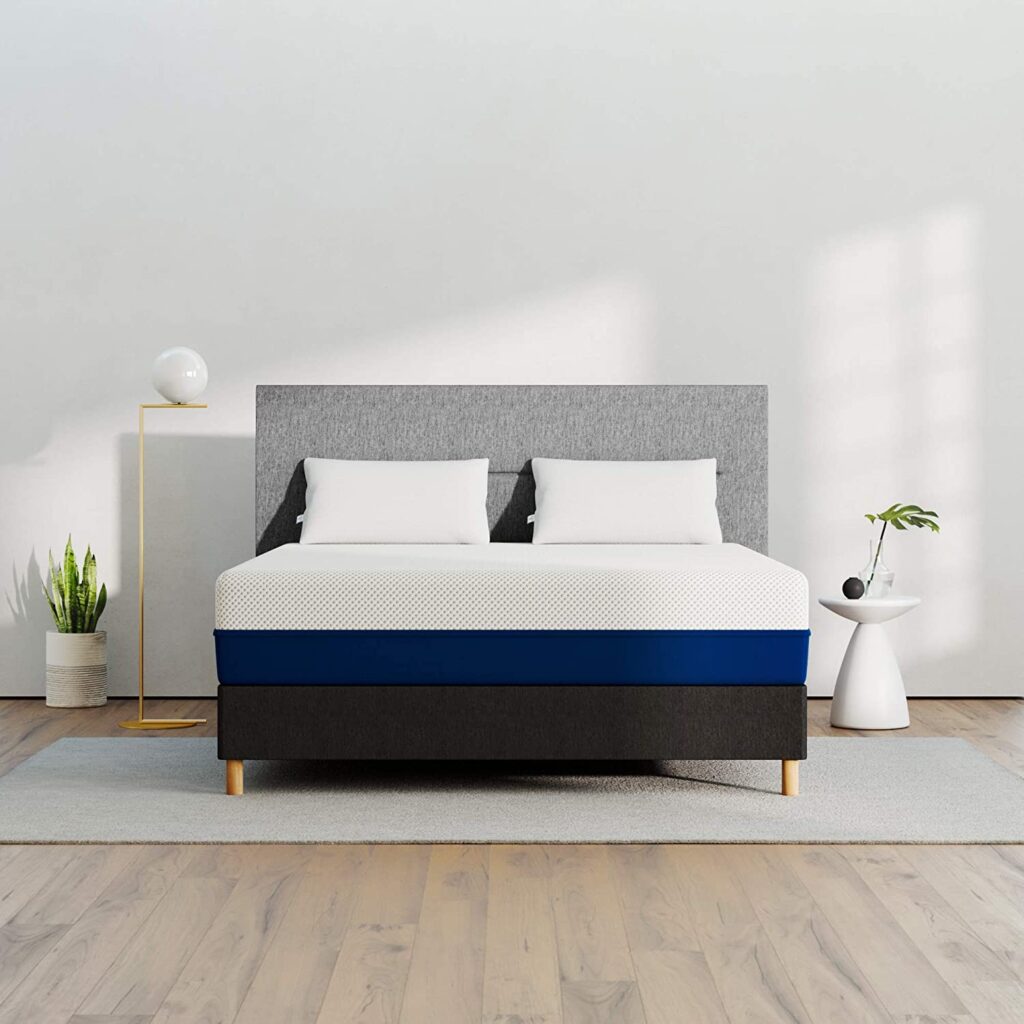 Of course, there is one more memory foam mattress on the list of most comfortable beds. There is no hidden reason for that. So, it's well known how much people enjoy sleeping on memory foam. It gives the cradling effect and often has outstanding motion isolation.
By the same token, Amerisleep AS3 is a top-rated mattress among sleep enthusiasts. Multiple layers of Bio-Pur® foam soothingly relieve pressure and pain.
The slow-moving foam hugs the body closely. That enables you to get the most comfortable sleep and most profound relaxation.
This model has a 3″ Bio-Pur® Comfort Layer – which could hold more heat than other Amerisleep models. But motion isolation is excellent on the Amerisleep AS3 because of the layer in question. That makes Amerisleep AS3 a hit with couples. The plush layer is why this mattress is on the list of most comfortable mattresses.
Not to forget that the Bio-Pur® is used in Amerisleep production because it is more eco-friendly. Alongside, fewer petrochemicals mean less off-gassing. That makes Amerisleep a safe mattress for your household.
Customers who order an Amerisleep Bed Package get white glove delivery. The Package includes one of the Amerisleep mattresses plus an adjustable bed.
Why Does Amerisleep AS3 Stand Out?
Thick, slow-moving memory foam top layer
Healthy production and safe materials
Extraordinary pressure relief and motion isolation
Awesome choice for couples
Amerisleep AS3 is very, very comfy, but there are even more models. Check out other foam models in the extensive Amerisleep mattress review.
The WinkBed – Most Comfortable Hybrid Mattress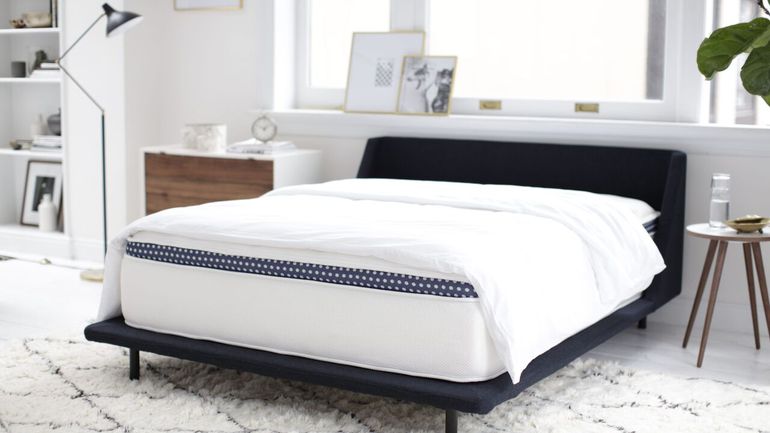 One of the most comfortable mattresses available is the WinkBeds mattress. It's also among the most luxurious. Not only is it comfy and lux, but it is handmade too. You can find them in the finest luxury hotels.
Often called a true hybrid mattress, the WinkBed comes in four firmness levels:
Softer
Luxury Firm
Firmer
PLUS – Heavier People
And believe it or not, all are remarkably pleasant to sleep on.
The WinkBed PLUS, for example, is outstanding for heavy back and stomach sleepers. It is engineered to provide comfort and support at the same time. A combination of pocketed coils and latex foam makes the WinkBed PLUS bouncy and responsive. That makes the mattress easy and smooth for moving on it.
All four firmness levels have a natural Tencel® mattress cover, which is Eucalyptus-derived.
Due to being handmade with precision and quality in mind, WinkBeds tend to last their owners a long time. Reviews suggest Winkbed stays comfortable over time, providing just the right amount of sinkage and rested sleep.
Even though it is very comfy for most sleepers, it may be too stiff for very light sleepers because it's a hybrid.
Every WinkBeds mattress is made by hand on order. It doesn't expand or re-inflate. It comes to your door new, fresh, and ready to accept comfy snoozes.
Why Does WinkBed Mattress Stand Out?
Luxury category mattresses (featured in lux hotels!)
True hybrids – bouncy and responsive
Different firmness levels
Long-lasting & durable mattress
If you like how WinkBeds sound, take a peep at the full WinkBeds mattress review.
WinkBeds
WinkBeds are true hybrid mattresses made by hand. Crafted with luxury in mind, they're among the most comfortable mattresses on the market.
How to Buy The Most Comfortable Mattress?
Sleep Positions Guide
For every sleep position, there is the most comfortable mattress. Depending on your preferred sleeping position, you could look into different mattress types.
Side Sleepers
What makes a mattress comfortable for side sleepers?
The best mattresses for side sleepers are softer and medium firm. They usually have problems with spinal alignment in this sleeping position and could face some back pain and neck pain due to this.
With that, the best mattress for side sleepers is the one that gives them pressure relief in their hips by keeping their spine aligned.
Back Sleepers
What makes a mattress comfortable for back sleepers?
Since back sleepers need a mattress that will help their sleep position by aligning their hips and shoulders to avoid back pain.
Foam firmness is an important factor to consider because back sleepers won't appreciate a mattress too firm or too soft. A firm bed will put too much pressure on their back, causing this pain.
The best mattress for back sleepers is a medium-firm bed because it will give them balanced support and better spinal alignment.
Stomach Sleepers
What makes a comfortable mattress for stomach sleepers?
Stomach sleepers usually won't go for a soft mattress because they tend to sink, which results in back pain. Stomach sleepers sleeping position works best with a medium-firm mattress that can give them good spinal alignment.
Also, stomach sleepers, just like back sleepers with a bigger BMI, will enjoy a firm and medium-firm mattress to avoid back pain in this sleeping position.
Combination Sleepers
What makes a comfortable mattress for combination sleepers?
Combination sleepers will enjoy a mattress with good motion transfer because they tend to move a lot while they sleep, which could make a partner sleep better next to them without feeling the movement on their side.
Most combination sleepers should go for a medium-soft mattress that will give them support and help those who like to sleep on their side sometimes without sinking.
How To Choose The Most Comfortable Mattress For You?
Size and Body Weight
Taking your body weight into account when choosing a mattress is very important. Sleepers with a BMI up to 130 pounds usually consider a soft mattress to be the most comfortable mattress for them because it allows enough sinkage for comfort.
People with a BMI higher than 240 pounds might want a firmer option for better comfort, edge support, and less sinkage.
Mattress material used in the construction can impact the level of comfort you feel during slumber.
Mattress Materials
For example, in foam beds, there can be a different number of foam layers that are combined differently from mattress to mattress, aiming to create the perfect level of support, comfort, motion transfer, isolation, and temperature regulation.
Some mattresses have an additional comfort layer that can be made from different lighter and heavier materials such as various types of memory foam, latex, or polyfoam.
Sleeping With a Partner
If you're sleeping with a partner, it can be challenging to find a mattress that will be comfortable for both parties. For this to be possible, your new mattress needs to perform well in motion isolation. If you or your partner toss and turn throughout the night, you'll want to make sure that the other person isn't disturbed.
Sleeping Hot
Another factor to consider when purchasing a mattress is your body temperature. If you're a hot sleeper, you will enjoy a mattress that can keep you cool through the night. A foam bed with cooling gel-infused foam can help regulate your body temperature and provide a comfortable night's sleep for hot sleepers.
A gel-infused foam helps to absorb heat, keeping you cool and comfortable all night long. When choosing a cooling mattress, be sure to consider the type of foam used, as well as the thickness and firmness of the mattress. With so many options available, you're sure to find a mattress that suits hot sleepers.
Sleeping Cold
If you're someone who tends to sleep cold, memory foam may be the best mattress option for you. This type of mattress retains heat better than other types of mattresses, so you'll stay comfy and warm all night long.
Plus, you won't need to pile on the blankets – foam will provide the perfect amount of warmth. So if you're looking for a mattress that will keep you cozy all night, foam is the way to go.
What Are The Most Comfortable Mattresses?
Memory Foam Mattress
How Comfortable is The Memory Foam Bed?
Memory foam mattresses are beds with a foam layer that conforms to the shape of your body. It is denser than other types of foam, so it's often used in mattresses because it provides support and pressure relief.
However, it can also be less firm than other types of foam, which may make it less comfortable for some people. In addition, memory foam mattresses often have poor edge support, so they may not be the best choice for people with a bigger body mass index (BMI).
These mattresses usually have two or three layers of foam, with the top layer being the softest and most responsive to your body's heat. This top layer is usually a comfort layer that provides extra pressure relief.
The bottom layer is usually firmer and provides support for the mattress. Memory foam beds price range can vary. Typically, the more layers there are, the more expensive your mattress is, which also depends on the quality and type of foam used in the mattress.
Check out our best memory foam mattress picks in 2023!
Hybrid Mattress
How Comfortable Is The Hybrid Mattress?
A hybrid mattress is built by layering different foam layers on top of spring coils. They come in different levels of firmness and depending on your needs, you can choose the most comfortable hybrid mattress.
A lot of hybrid mattresses come with individually wrapped coils that all adjust to your movement during the night, which is especially good if you tend to change sleep positions.
Hybrids with these individually wrapped coils that are actually pocketed coils, make the mattress softer and provide better spinal alignment, reducing back pain.
A hybrid mattress usually has a comfort layer on top and will provide side sleepers, stomach sleepers, and back sleepers with a balance between comfort and firmness. Some hybrids also make a good rejoice for hot sleepers if they combine different cooling layers, rather than using foam.Take a peek at our picks for the best hybrid mattress in 2023!
Innerspring Mattress
How Comfortable are the Innerspring Mattresses?
Innerspring mattresses are a popular choice due to their responsiveness and offer a good level of support, making them ideal for back sleepers. They're also comfortable for hot sleepers as they allow air to circulate freely, preventing the build-up of body heat.
Innerspring mattresses tend to be more comfortable for individuals who like to sleep on top of their mattresses, and they are also more responsive. This means that if you move around a lot in your sleep, you're less likely to feel trapped in one position.
An innerspring mattress can come with pocketed coils just like a hybrid mattress can, which is good for combination sleepers who need better motion transfer and side sleepers who want to avoid back pain.
Take a look at our list of the best innerspring mattresses in 2023!
Latex Mattress
How Comfortable is The Latex Mattress?
Latex mattresses have become increasingly popular in recent years because latex is a natural material derived from the sap of rubber trees.
It's often used in mattresses because it's very bouncy and responsive. That means that it contours your body well and helps to distribute your weight evenly. It's also quite durable, so you can expect a latex mattress to last for many years.
A latex foam bed contains a layer of latex foam on top of a base of springs or memory foam. This provides the comfort benefits of latex at a more affordable price point.
Speaking of latex mattress price range, they tend to be more expensive due to the natural latex materials in their build, which is worth the buck if you're a heavy sleeper who wants to alleviate back pain.
Check out our list of the best latex mattresses in 2023!
What Is The Most Comfortable Mattress Firmness?
Extra Soft Mattress
Extra soft mattresses usually give sleepers that cradling, warm feeling as if they were wrapped in clouds. But an extra soft mattress might not be a fairytale for all.
Who will like it?
Light-weight sleepers and side sleepers who'd like to feel cradled love extra soft mattresses.
Who won't like it?
A mattress that allows a lot of sinkages could create some issues for hot sleepers as their own body heat increases even more when cradled inside a plush soft mattress.
Stomach sleepers and back sleepers probably won't have a fun time with this mattress, as they need firm mattress materials in the build for better support.
Softer Mattress
Is a Softer Mattress More Comfortable Than a Firm Mattress?
Depending on your needs and sleeping position, it doesn't mean that a softer mattress will always be more comfortable than a firm mattress.
Softer mattresses have the most balanced sinkage in comparison to extra soft mattresses. Side sleepers usually enjoy these the most because of pressure relief and deep contouring.
Their life span is shorter than with other mattresses due to mattress materials and their thin build, but a firmer mattress might be a better choice for stomach sleepers and those with a bigger BMI.
Medium Firm Mattress
Medium-firm mattresses are a brilliant choice for side sleepers because they provide enough edge support, balancing sinkage between the comfort layer and other mattress materials in their build.
Back sleepers and restless sleepers can also enjoy these beds because they aren't plush soft enough to let them "sleep in the mattress", but can be comfortable enough to avoid getting any pain during sleep.
Firm
Hard mattresses are most comfortable for back sleepers and stomach sleepers who need to avoid sinking for the sake of comfort.
If one of these is your sleeping position, your new mattress should be 7-8 on the mattress firmness scale.
A hard mattress for back pain performs so good because you get to sleep on the top of your mattress, which is something back sleepers appreciate. They are also good for couples and don't discriminate against your weight because they are so adaptable.
Sometimes, hard mattresses come as hybrids too, which makes a good choice for people who like the mattress materials to vary. Back sleepers with a bigger BMI will enjoy the sink-proof layering of firm beds the most.
Extra Firm
For back and stomach sleepers, an extra hard mattress firmness can provide better support.
This is especially important for people who have a bigger BMI, as they are more likely to experience back pain. Extra firm mattresses also tend to be less noisy than softer mattresses, making them ideal for people who want to sleep in peace and quiet.
In addition, they are often more durable than softer mattresses, meaning they will last longer. As a result, an extra hard mattress may be the best option for back and stomach sleepers who want a supportive and comfortable mattress that will last for years.
Need more information on choosing the right firmness for your mattress? Check out our mattress firmness guide to make this an easy-peasy job!
What Mattress Features Are Important for Comfort?
Mattress Construction
Most mattresses are made using one of three materials: natural latex, innerspring, or memory foam.
Latex is a natural material that is derived from rubber trees. It is known for its durability and cooling properties. A latex mattress can be considered a cooling mattress that can help hot sleepers rest comfortably and without worry that their body heat will increase due to the materials used in mattress construction.
On the other end, we have the innerspring mattress, which is the most common type of mattress on the market. An innerspring mattress features a network of coils that provide support and bounciness, which makes them responsive and good for sex.
Hybrid mattresses are a relatively new type of mattress that combines foam, latex, and sometimes innerspring coils. This construction provides the benefits of both materials and results in a medium-firm bed that is exceptionally comfortable and supportive, but not too firm.
Lastly, all-foam beds that combine different foam layers to build the most comfortable mattress, allow sinkage that make you feel like you're sleeping "in" your bed no matter the sleeping position, which isn't good for hot sleepers or back sleepers, as they need to sleep more on top of their mattress for maximum comfort.
Indentation Load-Deflection (ILD)
ILD tells you how firm your mattress is. Depending on your sleep position, you will love or hate mattresses that are firmer or softer.
With that said, the most comfortable mattress types aren't unique to all sleepers and their sleeping positions, so if you're on the team back sleepers, you will enjoy a medium-firm bed, such as a hybrid mattress that will help alleviate back pain by giving you better spinal alignment.
There are more benefits to medium-firm mattresses for other sleeping positions as well, like for stomach sleepers. They will enjoy either a hybrid mattress or an innerspring mattress for their back pain.
Pressure Relief
The most comfortable mattress for you is always going to be the one that helps alleviate the pressure points and any pain that might come otherwise.
If you are a side sleeper or a stomach sleeper, your best choice is going to be either a hybrid mattress or a medium-firm all-foam mattress for back pain and neck pain you might get in the morning. That's due to your old mattress being unable to contour properly to your body, but your new medium-firm one could provide the balance between comfiness and firmness.
Medium-firm mattresses are also a popular option because they provide support while still being comfortable.
One of the best medium-firm options is the Purple mattress for back sleepers and side sleepers. Make sure to check out our full review.
Responsiveness
An important factor that makes a comfortable mattress and affects your mattress purchase is its responsiveness. Some sleepers prefer a bouncier mattress that feels like it's from a dream when you finally get into bed at the end of a long day.
For instance, innerspring mattresses and latex foam mattresses tend to be more responsive, which means they bounce back when pressure is applied, making them easier to move around on. Take them medium-firm and you'll get relief for both back sleepers and stomach sleepers who don't like their mattresses too firm, but still responsive enough.
A hybrid mattress combines coils with materials like foam or latex, while innerspring mattresses are made entirely of coils. Innersprings are built with pocketed coils that are there for better motion transfer, which makes them a good option for couples.
Frequently Asked Questions
What is the number 1 best comfortable mattress?
There are loads of things to consider when you're choosing a mattress that will be most comfortable for you.
When it comes to sleeping positions, back sleepers usually prefer a firmer mattress because it provides the most support for their spine.
Side sleepers usually prefer a softer mattress because it contours to their curves and provides pressure relief for their shoulders and hips.
The most comfortable mattress for hot sleepers though is a cooling mattress that also has a comfort layer for better support.
So, as you can see, there is no one-size-fits-all answer when it comes to the firmness of your mattress. It really depends on your sleeping position and what feels comfortable for you.
How do I find the most comfortable mattress for side sleepers?
Side sleepers often experience hip pain, shoulder pain, and back pain due to the misalignment of their spine while sleeping.
In order to alleviate this pain, side sleepers need a mattress with zoned support. This means that there is extra support in the areas where side sleepers typically experience the most pressure.
Additionally, the most comfortable mattress for side sleepers should be soft enough to contour to their body, but firm enough to provide support. A mattress that is too soft will not provide enough support, while a mattress that is too firm will be uncomfortable.
For side sleepers suffering from back pain, a medium-firm mattress is often the best option. This type of mattress provides the necessary support for the spine while also alleviating pressure points.
Also, some side sleepers are also hot sleepers, which is why latex or a hybrid mattress with cooling properties will work great at pressure relief.
What does a mattress need to be comfortable?
It is really vital to consider more than one thing when choosing the most comfortable mattress for your needs. First of all, it requires the right:
Thickness – from low profile to extra thick, this will greatly influence the feel and comfort of a mattress.
Quality construction – different styles of layer construction are what makes a mattress extra comfy. That is if it aligns with your personal preferences.
Support for your sleeping style – do you sleep like a hot mess similarly to this? Be sure to find the mattress that will keep you happy and well-rested.
Foundation – without a proper base, you may be missing the full potential of a mattress' comfiness.
What is the most comfortable type of mattress?
The comfiest mattresses are memory foam and latex, considering comfort. But, every 'mattress type' has been made with comfort in mind. In either case, it will depend on you and your needs.
Memory foam and latex are both foams. So, both are notable for being squishy, fluffy, and light. Latex is bouncy while memory foam eats up movement. Motion transfer is one of their few discrepancies, but both are crazy comfy for the whole body.
Some sleepers have issues with heat and need a mattress that will keep them cool at night. Without interruptions. In that case, latex foam is definitely the comfier choice.
Hybrid mattresses are very comfortable as well, especially for hot and combination sleepers. Combos need a responsive, almost bouncy feel of the mattress as they rotate and turn during the night. Sleeping on an ultra-plush foam bed wouldn't be the best idea in this case. Hybrids are phenomenal because they won't overheat you at night.
After all, knowing what you like will help you find the most comfortable mattress, right here!
How comfortable is a memory foam mattress?
Well, that depends. Do you like sleeping on a soft and squishy mattress?
Memory foam is like that by its nature. Thus so are the mattresses made with it. If you're a fan of such comfort, you will enjoy sleeping on a comfortable memory foam bed.
One of the top things about memory foam is that it lets your body sink in the mattress, but not too much. This way, you can fall asleep hugged by the foamy surface of your mattress.
Another quality of memory foam is motion isolation, so sharing a bed with someone is no problemo. Also, pressure relief – the hugging foam relieves pain by contouring the body. Memory foam lets you rest and lets all accumulated stress evaporate.
Bodyweight plays an important role in comfort levels when it comes to mattresses. A very soft foam bed could make you feel trapped or stuck if you're more on the heavy side.
The same goes with very light sleepers. Some could miss the opportunity to feel foam's squishiness, and hot sleepers won't like the heat build up that happens with foam mattresses. Medium-firm to firm might be the way to go.
How you sleep also matters – memory foam is light and fluffy and is the most frequent choice of side sleepers. Some stomach sleepers dislike foam mattresses because hips could be misaligned. Those who use mattresses for back sleepers mostly enjoy foam mattresses. That depends greatly on preference, body size, and possible pain points.
What is the most comfortable, affordable mattress?
Some of the most affordable mattresses are:
There are a lot of mattresses on the market that are comfortable and affordable. These two are among the best and thus we confirm them as the most convenient.
How do I find a comfortable mattress for back pain?
To find a comfy mattress for back pain, be sure to look for the following:
mattress with excellent pressure relief for the lumbar area
mattress with an enhanced back support system for the lower back pain
construction of the mattress that allows deep pressure relief for back pain
We wrote about this query much more on the best mattresses for back pain. Pay a visit and get yourself the perfect bed.
Final Thoughts
You already know sleep is a significant factor for overall health. The immune system, your mood, productivity, etc. greatly depend on the quality of sleep.
Choosing a mattress comfortable for thee is crucial! Let's get the uninterrupted eight hours of slumber and stay healthy!
Hopefully, this list of most comfortable mattresses will assist you in mattress shopping.
Are you interested in some of the mattress models? Feel free to browse our blog and find all the juicy details about the mattress that caught your eye. We're sure at least one did.
| | |
| --- | --- |
| Mattress | Most Comfortable Mattress |
| Saatva Classic | Most Comfortable Luxury Mattress |
| Casper Original | Most Comfortable For Back Pain |
| Nectar | Most Comfortable For Side Sleepers |
| DreamCloud | Most Comfortable Firm Mattress |
| Layla | Most Comfortable Value Mattress |
| Amerisleep AS3 | Most Comfortable For Pressure Relief |