Zenhaven Mattress Review for 2023: Best Eco-friendly Bed?
Written by: Milica Terzic
Updated: 02/20/2023
Transparency Disclosure: For products purchased through the links on this page and throughout the site, we may get a referral fee (with no extra cost to the buyer). Please read our full How We Rate page for more information. There you can see how we conduct research and test products, as well.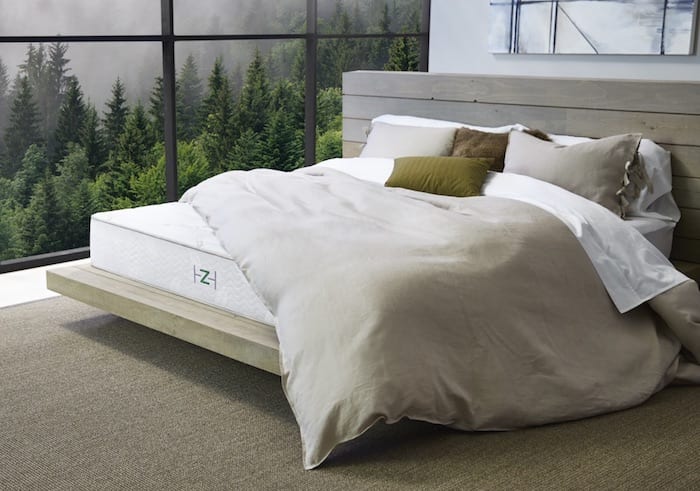 Zen is a word that emphasizes the value of meditation and intuition. A haven is a place of safety, a place of refuge. Those two words combined give us Zenhaven. A meditative harbor in the form of a mattress, made intuitively to ensure the most wonderful snooze.
Saatva makes Zenhaven, a company specialized in luxury mattresses. Launched in 2010, they offer a plethora of handcrafted mattresses at a fraction of the price. Instead of industry-standard bed-in-a-box, Saatva makes mattresses by order.
The company offers seven different mattress models, like the Saatva Classic and the Loom & Leaf. They also sell bed frames, bases, pillows, sheets, and other bedding products.
Among the most popular models is the Zenhaven mattress. It is an all-foam luxury mattress made with high-quality, eco-friendly materials. No memory foam, just latex!
With this Zenhaven mattress review, we want to make it easier for you to decide if this is your dream new mattress. If you're a latex fan, you'll love its bouncy-spongy type of feel. It makes the mattress comfortable, responsive, and rubbery.
Stay tuned as we are going to take a look into what this luxurious mattress is all about!
In A Nutshell
Zenhaven Latex is a natural latex mattress.
Zenhaven mattresses have free shipping.
It has multiple firmness options.
One side of the Zenhaven is Luxury Plush (4.5) and the other is Gentle Firm (7/10).
The mattress is extra bouncy & resilient.
It contours the body and has excellent pressure relief.
Those who sleep hot love it for the cooling New Zealand wool cover.
The mattress is best for back sleepers and side sleepers.
Zenhaven Mattress
An all-latex mattress like Zenhaven is a top choice for anyone who prefers organic, luxurious materials and switchable firmness levels.
Construction
Eco conscious shoppers, look out! USA-made, Zenhaven is a dual-sided mattress made from 100% natural Talalay latex. This material is considered a premium version of latex. Mattresses' construction is also enriched with organic wool straight from New Zealand.
Zenhaven uses Talalay latex. This latex is naturally derived from rubber trees' sap and is not just certified organic. It is both hypoallergenic and antimicrobial. Organic New Zealand wool is in charge of regulating the temperature. Both materials are natural, breathable, and of the highest quality.
Natural latex mattresses, such as those for seniors or people who have allergy reactions to other materials, offer significant pain relief and durability.
Here is the detailed Zenhaven mattress construction:
Organic Cotton Cover
YYour first touchpoint with the Zenhaven mattress is the organic cotton cover. It is quilted with hypoallergenic, antimicrobial cotton with 100% organic origin and a GOTS certification.
Besides being really soft to the touch, the organic cotton cover is breathable and should help you sleep cooler. Alongside the eco-friendliness of the product – the cover of the mattress has a pleasant, earthy smell. A raw foam mattress can't have a plasticy smell due to being 100% natural.
For these reasons, organic mattresses are a great pick for sensitive senses.
Comfort Layer
We already brought up that this mattress is dual-sided. This means you choose the level of comfort you need. When it comes to the Zenhaven mattress, there are two sides. These are the Luxury Plush and the Gentle Firm side of the Zenhaven mattress.
Luxury Plush has a flame-retardant layer of wool, beneath which is 1.5″ of Luxury Plush Talalay latex.
On the top is the Gentle Firm side when you flip the mattress, with another 1.5″ Gentle Firm comfort layer. It is in fact a medium firm mattress.
The flippable mattress option is more frequent with a memory foam mattress, but Talalay latex is a very versatile material. Thanks to this, it is easy to combine two distinct comfort levels. As mentioned on the Saatva website, picking sides is highly encouraged! This way the mattress can accommodate any sleep position.
Organic cotton is on both sides, but firmness varies across the mattress's surface. It provides more support under the hips and a softer feel under the shoulders. The most significant difference is that Luxury Plush is better for side sleepers. Stomach sleepers will enjoy the pressure relief of the Gentle Firm side more, but heavier side sleepers could find it comfy as well.
To be sure of your choice, take a look at more mattress reviews or check the best mattress for side sleepers.
Transitional Layer
In between these 1.5" layers are two more 3" latex layers with tiny pinholes for circulating airflow and keeping the bed cooler. One is firmer than the other, depending on which side you have flipped the mattress. These transitional layers offer increased support.
The tiny pinholes vary in density and thickness. Thanks to them, certain parts of the foam mattress are softer or firmer. Due to their structure, both the hips and lumbar region are supported. That way, you can expect a deep and comfortable sleep.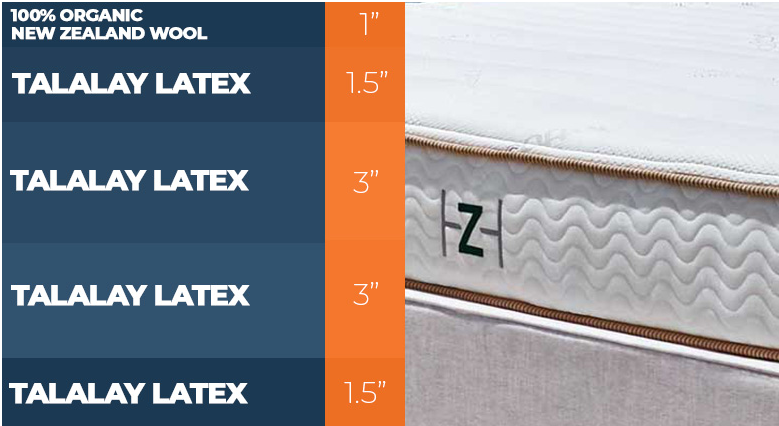 Base
What is one of the key things you should remember from this mattress review?
The mattress doesn't have coils! But because of the high quality of latex foam, it really gives the finest feel to your sleep.
Zenhaven is all-foam but not petroleum-based or polyurethane. It's 3″ inch Talalay latex in the base, making it supportive, highly resilient, and durable. What does this mean for you? A lot of support on your hips!
You should never feel thrown out of spinal alignment lying on the Zenhaven mattress.
Will the Zenhaven Mattress Work with Your Existing Foundation?
You can throw a Zenhaven mattress on top of box springs, platform beds, and adjustable bases. It is compatible with most foundations. Sure, if the foundation is less than seven years old and in excellent condition. If your box spring or foundation is sturdy or saggy, you won't get the luxury heaven-like experience.
Can You Use Zenhaven on a Platform Bed?
Absolutely! As long as the platform is solid, you will avail yourself of consistent sleep. If the platform has slats, you should cover them with plywood to create a solid surface.
Combining the mattress with the Linear adjustable base is perfect for a most cloudy feel.
Firmness & Feel
Of course, everyone has a different idea of what a mattress's firmness is and should be. Some people prefer a softer mattress, while others need a firmer mattress for their frequent pain.
Depending on your weight and how you sleep, you will need and like certain kinds of softness or firmness. If you're unsure, there is a firmness scale that puts the multiple firmness options in perspective.
How Firm Is the Zenhaven Mattress?
Zenhaven isn't a soft mattress, even though it is soft to the touch. It is on the medium firm side of the firmness scale. Zenhaven's uniqueness lies in flippability: you can choose the Luxury Plush side or the Gentle Firm, which is the firmer side. Your old hybrid mattress could never!
The Luxury Plush side of the Zenhaven mattress has a comfort level of 4.5/10. The Gentle Firm side of the mattress has a comfort level of 7/10.
What Do These Values Mean for Latex Mattresses?
According to the Saatva website, the Luxury Plush side gives you a soft, zero-gravity feel. When you sleep it contours to you effortlessly. This way it relieves pressure points from all sleep positions.
So, the Gentle Firm side is significantly firmer than the Luxury Plush. It gives stomach and back sleepers more uplifting, pressure-free support.
When it comes to changing sides, the mattress has 10″ sewn-in handles for flipping. This makes the whole process way more user-friendly.
Reviews suggest about 80% of Zenhaven owners use the softer, Luxury Plush side.
By the way – if you are in the market for deep sinkage and pressure relief, Zenhaven may not be your dream choice. Instead, take a look at the best hybrid mattresses.
Durability
People who purchased the Zenhaven mattress got double worth for their buck. Why may you ask? It is because the flipping option makes it a durable mattress.
How Long Does Zenhaven Mattress Last?
Saatva offers a 20-year warranty, which means you can get at least that much. Maybe more, if you take good care of it and flip it regularly.
Among all Saatva mattresses, Zenhaven itself is in the high-quality league because of Talalay latex. It is durable by nature and is the reason for Zenhaven's longevity. A latex bed, especially the all natural latex mattress is more durable than regular memory foam mattresses.
Heavy sleepers should avoid sleeping on the Luxury Plush, mainly because of comfort. Regarding durability, the mattress shouldn't make saggy spots that easily. For average weight sleepers, a latex bed like Zenhaven will conform to almost any sleeping position.
And don't be surprised if you can't get out of this comfy cloud-like mattress in the morning – it will snuggle you up!
Motion Transfer
Everyone has a unique sleep style. And motion transfer of a mattress is extremely important whether you sleep alone or with a partner.
Many report that the Zenhaven mattress has incredible motion isolation. They also say that it gives no back pain in the morning. The dense latex layers are responsible for isolating motion transfer. The Luxury plush side is softer, so naturally, it will have better motion isolation.
The mattress itself is quite bouncy and responsive. Talalay latex has pretty good isolation properties. This feature makes Zenhaven an excellent mattress for sex. Without proper bounce, moving around the bed can be awkward, which is no issue with Zenhaven.
Yet, the bounciness may indicate discomfort, especially if you sleep with a restless partner on the Zenhaven mattress.
Combo sleepers will love both sides of the Zenhaven. Why? Because both sides are rubbery and responsive.
Edge Support
Zenhaven is a luxury product made better than most latex mattresses, but its edges sink a bit. This is due to the nature of the materials. The support isn't awful, it's actually really good. But the Luxury Plush side is significantly less supportive than the Gentle Firm, as much as 4 inches.
Also, heavyweight sleepers noticed way less edge support. This could ruin the sleeping experience, feeding the feel of unsafety. You could get the feeling like you're gonna roll off Zenhaven.
Hence, if there is less support on the edges, there's instantly less sleeping space. This is a problem if you share a bed with a partner.
On noise, Zenhaven is a very quiet mattress, which is thanks to the luxury Talalay. Having no coils contributes as well, as they could start squeaking in time.
Edge support is a far smaller problem if you sleep alone, it is more of a concern when you're sharing a mattress with a partner.
Pressure Relief
The vision behind crafting the Zenhaven mattress is to provide space where you'd drop all tension and relieve pressure points. Its mission is to provide a healthy weight distribution of the body. This way, pressure points are reduced.
You should feel no soreness or pain when you wake up. More hours of quality sleep are ensured with Zenhaven.
Investing in a mattress like Zenhaven will relieve you of the shoulder, hip pain, and muscle soreness.
Back sleepers report support and pressure relief sleeping on both sides of the mattress.
Side sleepers report more relief sleeping on the Luxury Plush.
Stomach sleepers, in most cases, prefer the Gentle Firm side.
Temperature Regulation
How your body feels when you're sleeping is a significant factor. Are you hot or cold during Zzz hours?
Latex has fewer heat-retaining characteristics than foam. That is why Zenhaven is breathable and pleasant for warmer nights. It makes a top-notch beds for hot sleepers.
Those who sleep on all-foam mattresses and wake up in sweat are gonna love the comfortable, cool feel of latex. This benefit is due to its open cell structure.
A luxury tier mattress provides great air circulation. This is thanks to the pinholes in layers of latex that make Zenhaven.
Besides thermoregulation, natural latex is:
Antimicrobial
A natural insect repellent
Preventing mold and dust mites
Preventing allergies
Dust mite resistant
Zenhaven Mattress
An all-latex mattress like Zenhaven is a top choice for anyone who prefers organic, luxurious materials and switchable firmness levels.
Sleeper Type Preferences & Weight
Depending on the way you sleep, will this mattress fulfill your needs?
Side Sleepers
If you belong to the side sleepers group, Zenhaven mattress performance will wow you. The pressure relief should be instantaneous if you're among average-weight side sleepers. Your shoulders and hips will be so grateful if you sleep on the Luxury Plush.
But the Gentle Firm could be a bit too firm for average weight side sleepers. Our advice is to stick to Zenhaven's soft plushy to rest blissfully on the side sleeping position.
Heavier side sleepers could enjoy the Gentle Firm side of the Zenhaven, but it's best to visit our finest beds for heavy people list to find your perfect one.
Back Sleepers
If you dream vividly on your back, get to call Zenhaven your new slumber buddy. Both sides of the luxury cushion offer tremendous support to average-weight-back sleepers. It also relieves your backaches and pains.
If you're one sleeping position is on the back, then take a look at our exceptional mattresses for back sleepers.
Stomach Sleepers
Stick to the Gentle Firm side if you're among stomach sleepers, as the Luxury Plush could be too soft. That's even for average-weight stomach sleepers. It may also make you feel like you're sinking too much, so we'd recommend sticking with the Gentle Firm side of Zenhaven.
Because it is firm but also gentle, both heavier and average weight stomach sleepers will enjoy the firmer mattress side of the Zenhaven.
Check out more superb mattresses for stomach sleepers.
Combo Sleepers
It isn't a rule, but most combination sleepers' mattress preferences are medium firm.
You will be reaching the ultimate sleep solace if you're one of the combination sleepers on the Zenhaven mattress.
You will love both sides, mainly for its bounciness. Weight is evenly distributed when you lie on the mattress. On the Gentle Firm side, there's a little bit of added pressure to the shoulders and hips. The Luxury Plush side is great for combination sleepers who enjoy a little cradling.
To sum up, sleepers of almost any body type or preferred sleep position will find comfort in the Zenhaven mattress, including hot sleepers.
Other Mattress Models
Besides Zenhaven, The Saatva company offers six more models for you to choose from:
Saatva Classic
Saatva Latex Hybrid
Solaire Adjustable
Saatva Youth
Loom & Leaf
Saatva HD
Saatva Classic
The Saatva Classic is a flagship hybrid-innerspring mattress. It has coils, while the Zenhaven is all foam. Saatva's coil-on-coil construction provides additional support in the spinal area and amazing edge support. Zenhaven uses a different method for comfort.
The Saatva Classic comes in three firmness options instead of Zenhaven's two:
Plush Soft (3)
Luxury Firm (5-7)
Firm (8)
Depending on the preference, you can choose the bed's thickness; it can be either 11.5″ or 14.5″ thick. It is an excellent choice for average to heavier sleepers.
Price-wise, the Saatva Classic is less expensive than the Zenhaven mattress. Its Queen size is $1,595, while the Zenhaven is $2,495. Both models are available in all standard sizes. To find out more about the Saatva Classic Mattress, read our in-depth Saatva Mattress review.
Saatva Classic
An all-latex mattress like Zenhaven is a top choice for anyone who prefers organic, luxurious materials and switchable firmness levels.
Saatva Latex Hybrid
Like Zenhaven, Saatva Latex Hybrid is made from latex. Unlike regular memory foam mattresses, it has eco-friendly and organic materials. Both use natural New Zealand wool for thermoregulation, and both proudly contain Talalay. Both are made for enhanced support.
The Saatva Latex Hybrid's starting price is $1,149 for a Twin Size. Compared to the Zenhaven mattress, it is a bit less expensive. The Latex Hybrid Mattress is also slightly thicker at 13″. It isn't available in the Split California King Size.
So if you are looking for an all-natural bed that is a tad cheaper – this model may be worth exploring.
Saatva Latex Hybrid
An all-latex mattress like Zenhaven is a top choice for anyone who prefers organic, luxurious materials and switchable firmness levels.
Saatva Solaire Mattress
Saatva Solaire Mattress is a premium air mattress from the Saatva company. Solaire is special because it has 50 firmness options that can match your needs. Zenhaven has two – the Luxury Plush and Gentle Firm.
Solaire Adjustable has memory foam, while Zenhaven doesn't. It's also a bit thicker than Zenhaven, 13″ all combined.
However, this luxury bed is the most expensive Saatva model. The starting price is $2,147 for a Twin XL while Zenhaven's is $1,449 for the same size.
Solaire
An all-latex mattress like Zenhaven is a top choice for anyone who prefers organic, luxurious materials and switchable firmness levels.
Saatva Youth
The Saatva Youth is a children's mattress. It is meant for ages 3 to 12. The bed is 10″ thick and is available in three sizes: Twin, Twin XL, and Full. Like Zenhaven, it's flippable. Each side has a different firmness option that corresponds to different age ranges. The first side fits children from 3 to 7, and the second children from 8 to 12.
Like the Zenhaven mattress, Saatva Youth is hypoallergenic. It also has organic materials in its construction. These two beds aren't much comparable as they cater to different age groups.
Saatva Youth
An all-latex mattress like Zenhaven is a top choice for anyone who prefers organic, luxurious materials and switchable firmness levels.
Loom & Leaf
The Loom & Leaf mattress is an all-foam premium mattress made of high-density foam. It has 100% organic cotton. It's hypoallergenic and breathable, just like its luxury counterpart – the all-natural latex mattress – Zenhaven.
Just like Zenhaven, Loom and Leaf has two firmness varieties. But both are more firm than Zenhaven, which would be best for stomach and side sleepers.
Relaxed Firm size is 5-7/10, while Firm is a solid 8/10 on the firmness scale.
It has a shorter lifespan than Zenhaven but is also more affordable. The twin mattress is at a whopping $999 while Zenhaven's twin size is $1,449.
Loom & Leaf
An all-latex mattress like Zenhaven is a top choice for anyone who prefers organic, luxurious materials and switchable firmness levels.
Saatva HD
Everyone deserves quality sleep, which is why the Saatva company has made Saatva HD. It is a high-density bed, best for heavier bodies, between 300 and 500 lbs.
This 15.5″ mattress is similar in structure to the Saatva Classic. To make it extra supportive, it has tighter coils and reinforced edge support. Unlike the Zenhaven mattress, it comes in only one firmness level of 7/10. This is a sturdy mattress ideal for average weight and heavyweight stomach sleepers.
It is made differently from Zenhaven but also has a feature for hot sleepers. Because of the coil layer, better airflow is provided. Saatva HD Mattress also has better edge support, which is what heavier sleepers need. This also makes it an excellent choice for those that need extra help getting in and out of bed.
It really depends on the requirements. However, choosing Saatva HD over Zenhaven is a better choice if you need more dense support. Price-wise, they're pretty similar.
Saatva HD
An all-latex mattress like Zenhaven is a top choice for anyone who prefers organic, luxurious materials and switchable firmness levels.
Mattress Prices & Sizes
This wouldn't be a proper Zenhaven mattress review if there weren't words about the price range. Like all luxury mattresses, Zenhaven is in the higher price range. But, the real question here is:
Is the Zenhaven Worth It?
That's something you'll have to decide for yourself, but we're here to help and break down the full price range of Zenhaven. Take a look at the table below. Here you'll be able to see all sizes and measurements and choose one according to your needs.
There isn't a Split Cal King version of the Zenhaven mattress.
All mattress sizes have the same 10″ thickness, which is for the five layers of natural Talalay latex. The weight of the mattress ranges from 80 lbs for the Twin to 165 lbs for the Cal King mattress.
Don't worry about the weight of the mattress. Your free white glove delivery will bring the mattress to your bedroom.
Also keep in mind that this flippable mattress has no volatile organic compounds (VOCs) but organic cotton, wool, and Talalay latex, so the price range is discernible.
| Size | Price | Weight | Height | Dimensions |
| --- | --- | --- | --- | --- |
| Twin | $1,595 | 80 lbs | 10" | 38"x75" |
| Twin XL | $1,825 | 82 lbs | 10" | 38"x80" |
| Full | $2,395 | 100 lbs | 10" | 54"x75" |
| Queen | $2,795 | 125 lbs | 10" | 60"x80" |
| King | $3,395 | 165 lbs | 10" | 76"x80" |
| Split King | $3,650 | 165 lbs | 10" | 76"x80" |
| Cal King | $3,395 | 165 lbs | 10" | 72"x84" |
It looks as Zenhaven comes at a higher price point at first glance, but it has a long expected lifespan. (Check the warranty section). It is more expensive, we'll admit it – but it's of great value. In fact, we would recommend the Zenhaven mattress to be one of the best mattresses under $2000.
Zenhaven is an excellent choice for value hunters. It isn't cheap, but for an all natural latex mattress with 0 memory foam, it really is a great pick for your sleep. It's safe to say that the price point is fair.
Keep in mind, there is no weight limit with this one. But if you weigh over 300 pounds, try Saatva HD. It is a hybrid innerspring mattress, which is specifically engineered for bigger-sized bodies.
Hint for Snooze Pros: Depending on the size, the mattress is quite heavy. When you change sides of Zenhaven, try sticking with it for some time.
Deals & Discounts
The Saatva company offers discounts on mattresses for certain groups. This way, it shows thanks and brings back to the community. This discount also applies to the Zenhaven mattress.
A discount of $225 off* on orders of $1,000 or more is only applicable to these groups:
Active Duty Military Members
Military Veterans
Government Employees
First Responders
Healthcare Professionals
Teachers
Senior Citizens (55+)
Receiving this discount for Zenhaven is a simple process. All you have to do during checkout is register with ID.me, a secure platform for online verification. All your data is protected and safe.
When you register, you'll be asked to prove you're a veteran, active military member, first responder, government employee, senior citizen, teacher, or healthcare professional. And after a few minutes, if all the data is entered correctly, the price of the mattress will be reduced.
* Have in mind, this deal cannot be combined with other offers. By the way, there is little chance you'll run into additional discounts for the Zenhaven mattress. It's unlikely you'll get it cheaper than it is unless you belong to the people mentioned.
Overview of Benefits
Availability
The luxury latex bed is available for purchase on the official Saatva website. There you will see all the different size options for the mattress. You will be able to see a fully detailed explanation of its layers and ingredients as well. On the website, you'll also come across a mattress representative. They will be at your disposal 24/7.
Why not ease the decision-making process? If you happen to be in New York City, you could experience Zenhaven and the delightful Talalay latex mattress on your skin. Visit 969 Third Avenue (58 Street) in Manhattan. Talk face-to-face with a mattress professional.
Sleep Trial
If you order the mattress without physically trying it out, you get 180 nights to test the product. Sleep tight and enjoy. You'll have enough time to decide whether Zenhaven is right for your snooze.
On the other hand, if you're not feeling the cushion to be your best fit, no problem. You can return or exchange it during this trial period. In which case, you simply need to pay a small fee of $99 for transportation, gas, and labor.
From our standpoint, a Zenhaven free trial is a cool feature. Particularly, if you have difficulties deciding which mattress you should get. This way, you get to test with little commitment.
If you're unsure, take a look at more mattress reviews that have long sleep trials, like the Avocado mattress review.
Warranty
A comprehensive description of Zenhaven's warranty is available on Saatva's website. What you need to know is you get a non-prorated 20-year warranty. This warranty guarantees that you can replace your Zenhaven mattress if any defects occur. And for only a transportation charge of $99 each way.
What Does the 20-Year Warranty Really Prove?
The 20-year warranty shows just how much Saatva believes in the quality of its product. Still, pay attention to the fine prints when you read through them.
Eco-Friendly Mattress
The Zenhaven is marketed as eco-friendly and made from natural materials. As such, it is Saatva's proud example of a green, Earth-oriented initiative. In the Zenhaven mattress review, we have to include that.
The mattress itself is made from 100% natural Talalay latex, which is organic by nature.
Once the latex is harvested from sap rubber trees, a small amount of inorganic material must be added. This has to be done to convert liquid latex to solid form. These materials are nontoxic and in no way disturb the quality of sleep or life in general.
Also, the wool used in the mattress is organic and derived from New Zealand.
Reduce your carbon footprint by buying a mattress that won't harm the environment.
Certification
All Zenhaven mattresses have:
Certified GOTS organic cotton outer covers protected with Guardin®. This substance is a botanical antimicrobial.
100% pure natural Talalay latex. The latax is OEKO-TEX® Standard 100, eco-INSTITUT®, Rainforest Alliance and Cradle to Cradle certified.
And a flame retardant barrier made from natural organic wool from New Zealand. This wool is a perfect alternative to harmful chemicals.
No bleaching processes that add unnecessary chemicals.
Is the Zenhaven Mattress All-Natural?
All certifications indicate that the Zenhaven mattress is natural and safe. Especially in your house, around kids, for your skin and great for eco conscious buyers.
Free Shipping
Arranging delivery of the Zenhaven mattress to your bedroom is never a hassle. Get free shipping ordering any Saatva mattress! The company lets you pick the time and the date. You can even cancel, and you won't be charged any fees.
Every model is made to order. This means you get a fresh and sealed mattress that has never been used before to your home address for free.
Where Do They Ship?
Saatva offers free shipping on all orders that are placed within the United States. They do not offer this service for Alaska and Hawaii unfortunately, but they can arrange delivery through a freight forwarder in California or Seattle if needed!
Saatva also ships internationally to Canada – however there is no option of getting your order shipped without paying any fees associated with international transactions unfortunately.
Return Policy
You basically get a six-month period to test out if the Zenhaven mattress is your siesta utopia or not. If that's not the case – no problem. You will get a full refund but will have to pay a $99 transportation fee to cover the mattress pickup's gas and labor. But hey, at least it's free shipping.
Additional Services
Free White Glove Delivery
Choosing a Zenhaven latex mattress gets you premium services! Alongside free shipping, there is even more!
If you want all the work done for you, trusting a free white glove delivery service is the key. The If you want all the work done for you, trusting a free white glove delivery service is the key. The professional crew will remove your old mattress. They'll also install the new Zenhaven mattress. You will only need to tell them which side of the mattress you'd prefer.
Living in high-rise apartments and houses makes it hard to bring the mattress to your bedroom. But a white glove delivery will do that for you. The luxurious Zenhaven won't waste your time unboxing and setting up.
Why? Because there's free white glove delivery at your disposal. From Twin to King mattresses, these guys will deliver and set up any size of the Zenhaven.
Pro tip: Make sure to tell the white glove delivery company which side you'd prefer, because Zen is a multiple firmness options mattress.
Free Foundation & Mattress Removal
So far, this review indicates you're getting a lot for the price! And you don't really need to worry about what to do with the old mattress. Your new luxury mattress will be installed and the old one disposed of for free. That's another cool feature that comes with purchasing the Zenhaven mattress.
Pro tip: Be sure to select the free foundation & mattress removal option. You can do that at the checkout when ordering the mattress.
Easy-to-Use Financing Options
Saatva's partnership with Klarna makes it easy to manage your new mattress order over time. You can choose the financing options payment plan that works for you and apply. The chances are you'll be approved for the Klarna financing options.
When you get a confirmation email you'll be able to manage your financing options from your account. Everything is just one simple process at this point!
Is the Zenhaven a Good Mattress for You?
The firmer side of the Zenhaven is great for back, stomach sleepers, and hot sleepers, while its softer counterpart can serve as a perfect slumber buddy for average-weight side sleepers.
Not only does it have multiple firmness options and organic bedding material such as cotton and wool but also strives heavily on recycling initiatives, replacing your old mattress, offering free shipping, white glove delivery and etc.
If you value these features and characteristics, the medium-firm mattress could satisfy all your fantasies.
Final Thoughts
If you are in the market for a new mattress with organic ingredients, which is luxurious and flippable – Zenhaven Latex is your go-to option. Remember: it has organic cotton covers, free shipping, and no volatile organic compounds.
Even though it is a higher price range mattress, remember that the Zenhaven mattress also comes with a free white glove delivery and mattress removal. And a whopping 20-year warranty.
Medium-firm bed is great for sexually active couples, due to bounciness and just the right amount of motion transfer. Hot sleepers also love it due to its great cooling effects and multiple firmness options.
If you're still unsure if Zenhaven will embrace you in your sleep, don't worry. You have a generous sleep trial period that doesn't commit you. Hey, you can always return or exchange it for a different new mattress.
Waking up rested is your luxury! If you like how that sounds, give Zenhaven a try.
Zenhaven Mattress
An all-latex mattress like Zenhaven is a top choice for anyone who prefers organic, luxurious materials and switchable firmness levels.