8 Best Online Mattresses for 2023 – A Good Night's Sleep Is Only a Click Away
Written by: Milica Terzic
Updated: 02/20/2023
Transparency Disclosure: For products purchased through the links on this page and throughout the site, we may get a referral fee (with no extra cost to the buyer). Please read our full How We Rate page for more information. There you can see how we conduct research and test products, as well.
In recent years, online shopping has become more and more popular. And why wouldn't it?

It's no longer necessary to go and visit every store and spend time in ridiculously long lines. In just a few easy clicks, you can find and buy whatever you need and want on the world wide web. Plus, shipping has become significantly easier than in previous years.

However, now there is a new type of problem. With a plethora of choices online, how do you know what to choose? After all, in terms of mattresses, that is not an investment you can make lightly. Not only will the wrong kind of bed put a dent in your household budget, but it will also mess up the quality of your sleep.

And sleep is crucial for our overall health! A good night of counting sheep does wonders to the body and mind. So why risk that?

Well, you've come to the right place!
In this roster, we will be presenting you with our topmost picks for the title of best online mattress. Each of the beds presented on this list offers outstanding perks and has extraordinary assets that are quite a treat! To make it even easier to find your next best bedroom addition, there are various categories to choose from.

But, let's cut to the chase and get this show on the road! Ready, set, read away!

Please keep in mind that the mattress presented here, are the ones we believe will best suit your preference. Yet, if you believe that none of these beds will be a great fit for you, feel free to visit our other best mattress lists and reviews.
Best Online Mattress List
Saatva Classic Mattress – Best Online Innerspring Mattress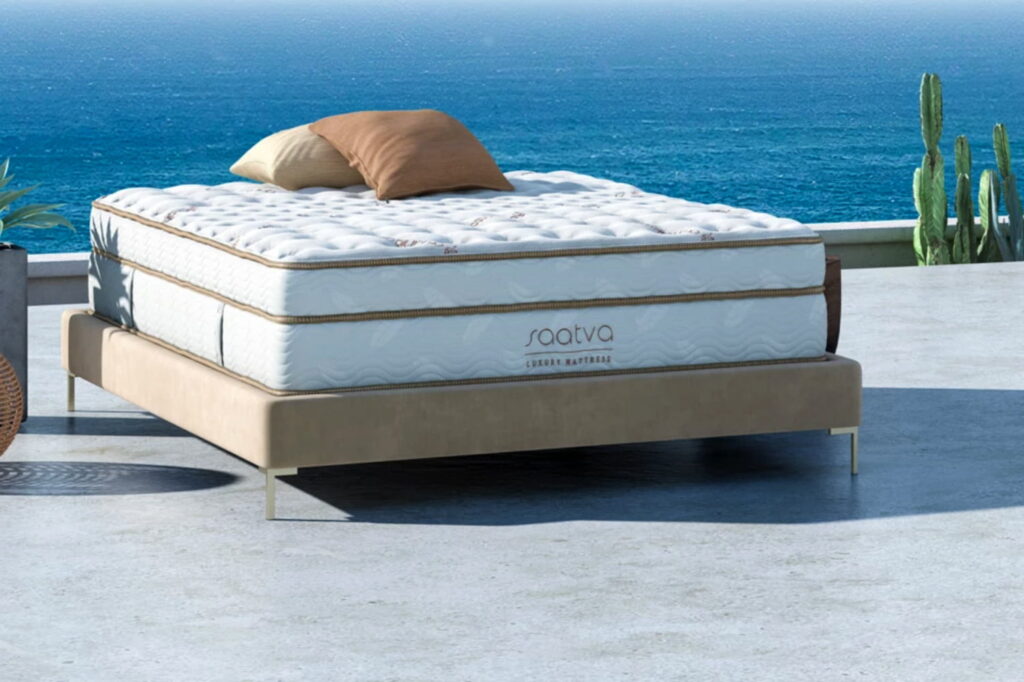 Even with an increasing number of foam and hybrid mattresses on the market, there are still plenty of high quality and affordable innerspring mattresses available. And some of them deliver for free straight to your doorstep.

The Saatva Classic mattress, or just Saatva if you prefer, is one of our top innerspring bed recommendations. This versatile mattress enjoys great popularity and continues to get praises from a wide range of sleepers.

As a matter of fact, the Saatva mattress is one of the best beds for all sleeper types: side, back, stomach, and combo. Its secret? The mattress model is available in 3 firmness levels and 2 height profiles. Thanks to these firmness levels, the bed can suit the needs and wants of different sleepers and body types.

However, it's thanks to the mattress' base layer that it has a traditional innerspring feel to it. The Saatva Classic has not one, but two layers of pocketed steel coils. Because of this, the bed is not only sturdy and responsive, but also breathable and motion isolating. It's hardly a wonder why so many people continue to gravitate towards this amazing bed.

Other than the impressive design, the Saatva Classic is a great value model for many budget-conscious customers. In addition to the 6 month sleep trial and a 15-year warranty, the brand offers a free white glove delivery and setup. Normally, other companies charge additional for this service, which just goes to show you how much the company cares about providing you the best customer experience possible.
Why does the Saatva Classic mattress stand out?
Premium hybrid innerspring model.
Has a double layer of individually-wrapped coils.
Is quite sturdy and responsive model
You can choose between 3 firmness levels and 2 height profiles.
Perfect mattress for all sleeper types and couples.
Curious to know more? Head straight to our candid Saatva mattress review. Don't miss it!
Saatva Mattress
Available in 3 firmness options, the luxury hybrid mattress Saatva enjoys great popularity with various sleeper types.
Casper Original Mattress – Best Online Mattress For Combination Sleepers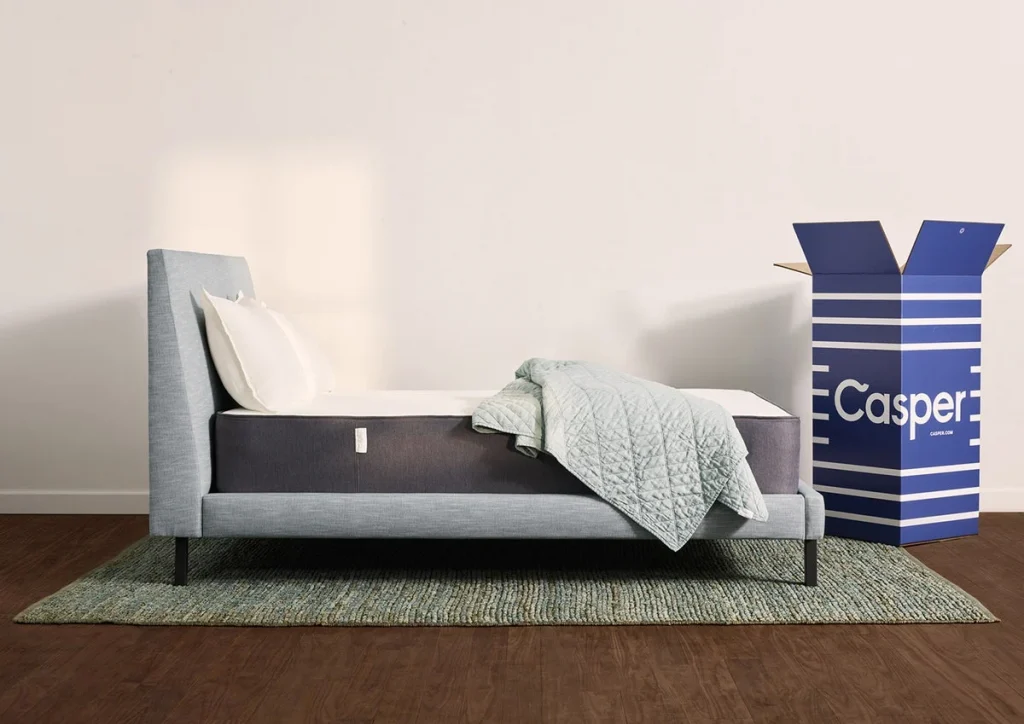 Combination sleepers usually tend to stick with mattresses with coils instead of foam. This is because they like more responsive mattresses that allow them to move freely at night. Yet, this particular mattress is one of the rare exceptions to the rule.
As one of the first and popular bed in a box models, the Casper Original mattress has well-established its dominance. Thanks to its fantastic features and many customer friendly benefits, it is no wonder that this mattress is also on our best bed in a box mattress roundup.
But what is the secret behind its enormous popularity? To answer this question, we have to take a closer look at its design. Or to be more specific, its comfort and transitional layers.
The Casper Original's comfort layer is made out of specific perforated polyfoam. Named AirScape™, the foam has tiny holes throughout, so that it can amp up the breathability of the mattress. That way, you can sleep cooler at night. Even though this foam is quite responsive, it also excels in motion transfer. To put it more simply, you can move all you want without waking your significant other. Hence why, you can also check this mattress out in our top choices for couples.
However, the real bread and butter of the Casper Original mattress is its transitional layer, that they call the Zoned Support™ layer. As the name suggests, this ergonomic layer consists of 3 zones of memory foam with different firmness levels.
This sort of design helps with maintaining a healthy sleep posture. It cushions the feet and shoulder zone, while it lifts the midsection. Because of this, the Casper mattress achieves unparalleled pressure relieving properties, making it a popular choice for those that suffer from back and neck and shoulder pain. Pain-free mornings? Yes please!
Fun fact – the Casper company was one of the first to offer direct-to-consumer shopping via the internet. In addition to free shipping and returns, the Casper Original mattress comes with numerous other benefits like: a lengthy warranty, a 100-night sleep trial, easy financing, and much more. Oh, and if you need some help, they also have their customer service available.
Why does the Casper Original mattress stand out?
One of the most popular beds on the market.
An all-foam mattress with memory foam.
Scores high on pressure relief, motion transfer, and responsiveness.
Great choice for combo sleepers, couples, and sleepers with back, neck, and shoulder issues.
Comes with amazing perks.
Would you like to learn more about this model? Visit our full Casper Original mattress review for more details. Don't miss it!
Casper Mattress
With a perfect balance of comfort and support, it's no wonder that the all-foam Casper mattress is such a great fit with back and combination sleepers.
Helix Midnight Mattress – Best Online Mattress For Couples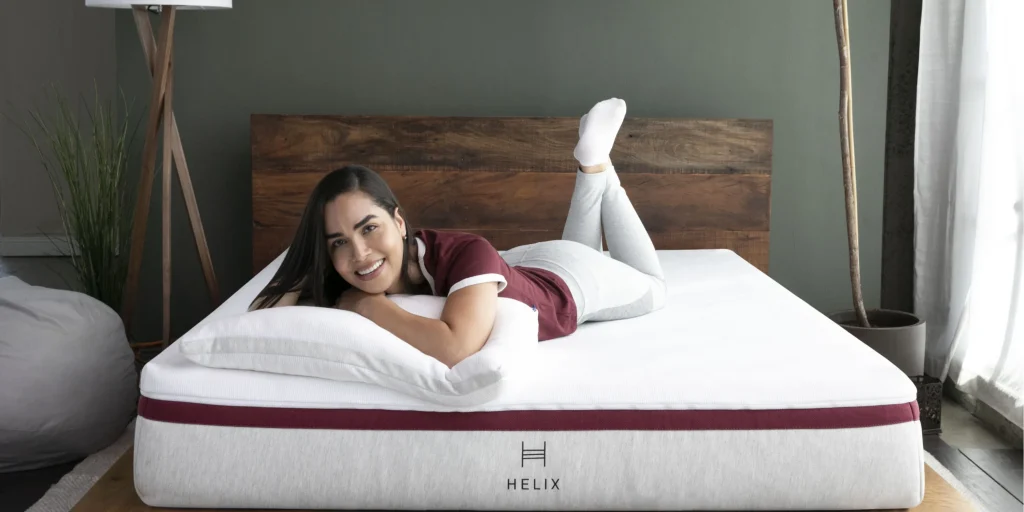 Finding a mattress for one is not easy, but finding one for two people? Well, it can cause a lot of bickering. Thankfully, this next model guarantees you and your partner will have a good night's rest!
The Helix company has become one of the best online mattress brands in recent years. The brand boasts itself with their impressive and colourful lineup of hybrid innerspring mattresses. However, one model in particular enjoys great popularity – the Helix Midnight mattress.
The Helix Midnight is a versatile and popular mattress among many sleepers. It is a medium-firm mattress, making it a perfect choice for most sleeper types. It's also a hit with many couples. So much so that it landed on our two lists: the best mattress for couples and the best mattress for sex. Oh là là!
One of the most important features of this mattress is its use of high quality materials. The foams in the Midnight mattress are responsible for the model's outstanding pressure relieving properties and maintaining proper spinal alignment. But couples will like these foams because they isolate motion and sound quite well.
But, what really sells this model are its 8" pocketed coils in its support layer. These coils are the reason why this mattress is so supportive and responsive.
First off, they don't allow your body to sink in the bed.
Because they are pocketed, they also promote better mattress breathability.
Thirdly, you won't have to worry about falling off the bed, as they are spread edge to edge.
And lastly, as they make the bed more bouncy, they allow you to move freely at night, without waking up your partner.
As we stated, the Helix brand has risen to popularity in a short period of time. Other than the premium hybrid models, the company offers fantastic perks to all of their customers. Aside from the lengthy trial period and warranty, they also have their customer service, free shipping, and multiple financing and payment options. So customer-friendly!
Why does the Helix Midnight mattress stand out?
A medium-firm hybrid innerspring model.
The company's most popular mattress.
Balances exceptional comfort and support.
Numerous amazing benefits that customers can enjoy.
Perfect for couples and sexually active sleepers.
Did you know that the Midnight mattress is only one model out of 14 in the company's impressive collection? In our Helix mattress review we've dissected each of the models in the Helix's standard lineup. Read all about them in one place!
Helix Midnight
The brand's most popular model, the Helix Midnight, achieves the perfect marriage of comfort and support that many sleepers will greatly enjoy.
Avocado Green Mattress – Best Online Organic Mattress
Wait, how can a mattress be organic? Don't they have foam, chemicals, and other manmade materials? Well, what if we told you that some mattresses are technically vegan? This next model, for example, has a whopping 12 certifications.

If you are someone that cares about the environment and sustainability, then you should probably check out the Avocado Green mattress. This trendy and eco-friendly, hybrid mattress has landed on our best organic mattress list thanks to its unique design and sustainable, organic materials.

One of the most important materials in this model is the pure Dunlop latex. Known for its cooling and pressure relieving properties, this 100% natural latex can be found in the bed's comfort layer. Latex is also great, because it's exceptionally more durable and responsive than memory foam. It also feels firmer than regular foam, which makes it a better choice for many back sleepers.

In order to boost the cooling experience of the mattress, the Avocado Green mattress has an organic cotton cover that has a layer of thermoregulating wool. Not only does this unique pillow top help out with the mattress airflow, but it also amplifies the overall comfort. In addition, latex, cotton, and wool are antimicrobial and anti allergenic. Translation? It's perfect for those sleepers that have allergies!

As we mentioned above, the Avocado Green mattress is a hybrid model. The support core of this bed is thress-zone pocketed coils system. The coils, made from recycled stainless steel, are responsible for keeping your spine in a healthy alignment. It achieves that by redistributing your body weight and not allowing you to sink in the bed as you sleep. So say hello to well-rested and energized mornings!

Unlike some beds on the market, you can purchase your new Avocado Green mattress straight from the company's own online store. Not only does it ship free in a box to your doorstep, but it also comes with some great perks. Perks like a year long trial period and a 25-year warranty.
An affordable organic bed with amazing bonuses? Better bookmark it right now!
Why does the Avocado Green mattress stand out?
It's a 100% organic, hybrid bed.
Features eco-friendly, high quality materials.
Comes with 12 certifications.
Known for its durability, cooling, and pressure relief.
Perfect pick for eco-conscious back sleepers.
Is it really that organic or is it a gimmick? Well, the answer can be found in our comprehensive Avocado Green mattress review. Get to know its fantastic features and benefits, before you decide to add it in the cart.
Avocado
Avocado is a hybrid mattress with latex comfort layer and pocketed coils popular among many different sleepers.
Nectar Mattress – Best Online Memory Foam Mattress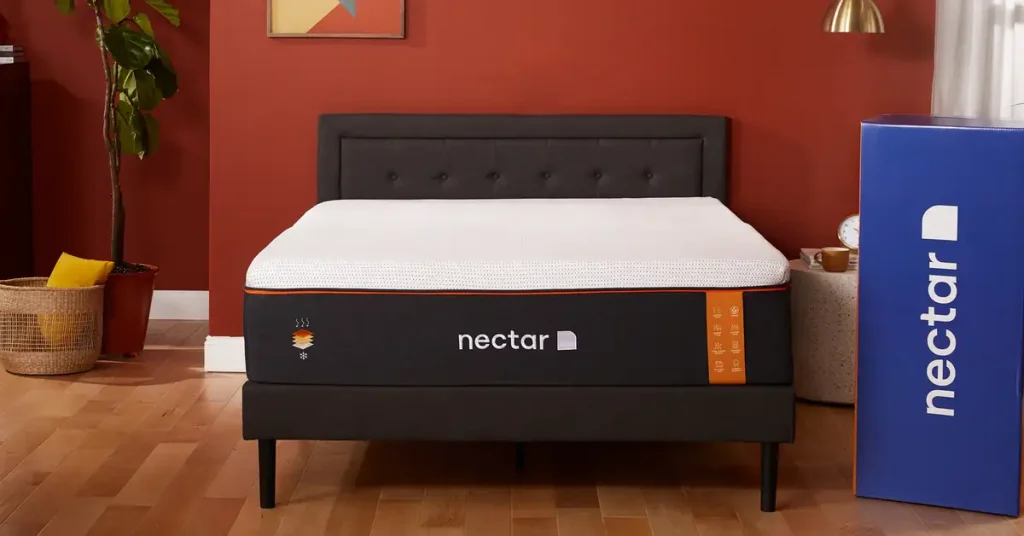 While many people like memory foam mattresses, they don't associate them with having great value. However, this next mattress was meant to change the game.

With a name like Nectar, it is no wonder that the Nectar mattress has risen to become one of the industry's most sought after memory foam beds. This direct to consumers online bed has repeatedly been featured among many best mattress recommendations. Seriously! We've even recommended it to side, back, and stomach sleepers.

It's greatest strength? It's two thick memory foam layers of the highest quality. The Nectar mattress really boasts itself on having that classic, plush memory foam mattress feel to it. You can really let yourself blissfully sink in the bed. As you let yourself enjoy this cradling sensation, you can really feel the Nectar mattress pinpointing pressure points and relieving aches and pains.

Another bonus to memory foam is that it dampens motion and sound that you make as you move at night. So, if you sleep with a partner, you will definitely feel no disturbance at night! So couples, please take note! You really don't want to miss one of our best beds for couples, would you?

Taking all of this into consideration, you've probably thinking that the Nectar mattress will set you back a pretty penny. Actually, it's quite the opposite! It's actually a great choice for many budget shoppers. Not only is it affordable, but it comes with amazing benefits.

What kind of benefits? While most warranties are only 10 years long, Nectar offers you a lifetime warranty, along with a 365-night sleep trial. A year long trial? For a mattress? Now, that is a great deal in our books!
Why does the Nectar mattress stand out?
An all-foam memory foam bed.
Excellent mix of premium quality and great value.
Outstanding pressure relief and motion isolation.
Versatile mattress for most sleeper types.
Highly praised by sleepers with back, neck, and shoulder pain.
Still not sure if you should get this mattress? Well, maybe reading our cover-all Nectar mattress review will do the trick.
Nectar Mattress
Nectar is a premium quality mattress at an affordable price. The secret to its outstanding comfort lies in plush layers of memory foam.
Layla Mattress – Best Online Mattress For Side Sleepers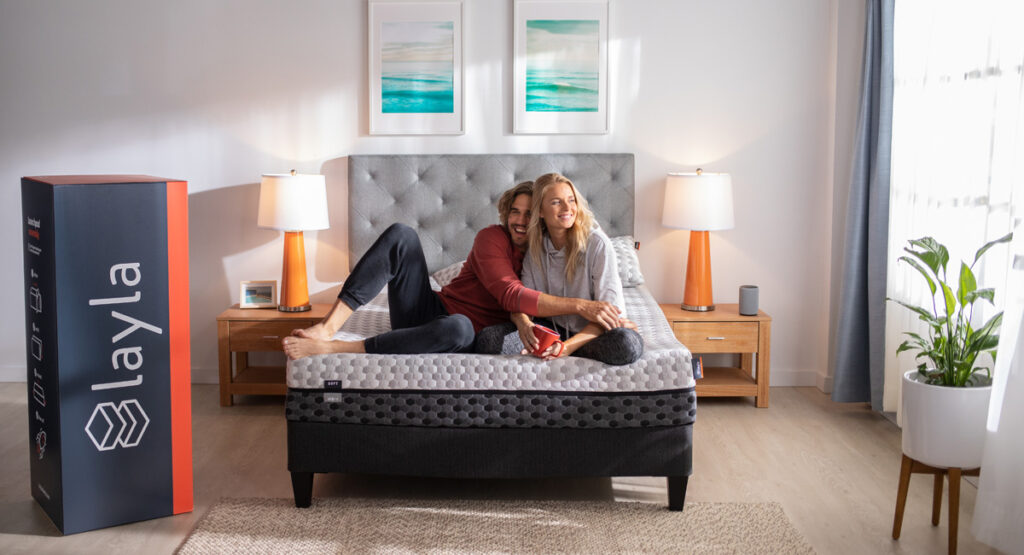 Not taking one's favorite sleeping position into consideration is a mistake that can worsen the quality of your sleep. Afterall, people have preferences that they take seriously, like favorite foods or movies. Why should sleep positions be any different?
One of the most common sleeper preferences is sleeping on your side. Side sleepers prefer soft mattresses that cushion the neck and shoulders, where they tend to put a lot of pressure on. As such, they tend to really like memory foam models like the one-of-the-kind Layla mattress.
As one of the most popular memory foam mattresses, the Layla boasts its extraordinary pressure relief and motion transfer. However, what truly makes it unique is that it's one of the rare flippable mattresses. Translation?
Unlike most beds, the Layla mattress has two mattress sides of different firmness levels. You can choose the firmness option you prefer by just flipping the bed. Hence why it can suit many sleepers with different preferences.
For instance, the soft side is more body-conforming, making it one of our top choices for side sleepers.
On the other hand, the firmer side is more supportive. It's also why this model is also one of our favorites for back sleepers.
And that's not all! In comparison to other foam beds, the Layla mattress doesn't trap heat. This is because the memory foam in this bed is infused with copper. Why copper? Well, copper is a conductor, meaning that it absorbs heat to it and away from you. So if you are someone that is a hot sleeper with a preference for soft beds, this might be a great pick for you! (Also visit our other picks of cooling mattresses.)
The Layla mattress is not only an outstanding bed with awesome assets, but it's also one great online mattress with superb perks. It has an easy-to-use financing option, ships free, and has a lifetime warranty. All this for just $949 dollars (going full price for the Queen size). If this isn't generous, we don't know what is?
Why does the Layla mattress stand out?
A reversible memory foam bed.
Has two sides with two different firmness levels.
Infused with copper to keep you cool at night.
Balances both comfort and support.
Perfect choice for side, back, and hot sleepers.
If you want to know more about this model, feel free to check out our Layla mattress review. We really did go into great detail.
Layla Mattress
Layla is a mattress with switchable firmness. Side sleepers enjoy it most, but all sleeper types call Layla a dream in a box.
Tuft & Needle Original Mattress – Best Affordable Online Mattress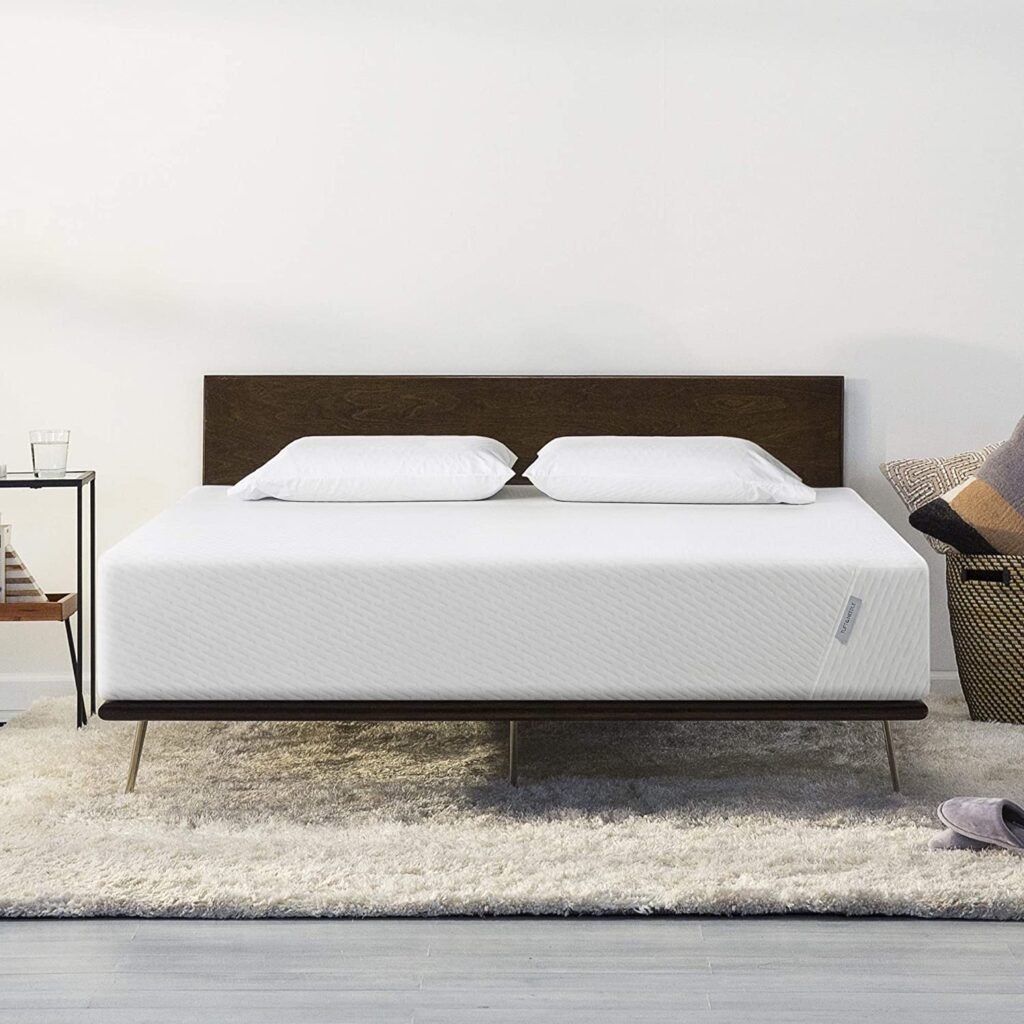 With so many options out there, it can be so hard to choose one mattress with no-frills, or any bells and whistles. Well, they do say that simple is the best.

And that is why we think you'll like the Tuft & Needle Original mattress. While it has only two foam layers, don't let that deter you from trying it out. This model has amassed great popularity from many satisfied customers. It even makes an appearance on our top picks for combo sleepers.

The bed features the company's signature foam, the T&N Adaptive® foam. This particular foam has characteristics of both latex and memory foam. It's responsive like latex, but conforming like memory foam. Not only can you move around at night with ease, you can also count on pressure relief. That's a win-win for us!

Although foam mattresses are known for trapping heat, the Tuft & Needle Original has a trick up their sleeve. The Adaptive® foam is infused with both graphite and ceramic cooling gel beds. Graphite absorbs the heat, while the ceramic beads keep it away from the body. While it might not be great for those sleepers that tend to overheat, others will enjoy this temperature neutral bed.

However, another thing that makes this bed really great is its price tag. A Queen sized Tuft & Needle Original at full price will set you back just under $995. So affordable!
Plus, your new Tuft & Needle Original mattress also comes with multiple payment options, a 10-year warranty, and a 100-night risk-free trial period. Hence why we also put this model on our best mattress under $1,000 list! It's a pretty sweet offer, you don't want to miss it!
Why does the Tuft & Needle Original mattress stand out?
Simplistic all-foam mattress.
Features the innovative T&N Adaptive® foam.
The bed is pressure relieving and responsive.
Keeps you relatively cool at night.
Great pick for combination sleepers and those on a budget.
Want to read more about this bed? Our in-depth Tuft & Needle mattress review has everything you need to know in a lot more detail. Feel free to check out!
Tuft & Needle Mattress
Tuft & Needle is an all-foam, budget-friendly mattress with a simple design, that will provide you excellent comfort and support.
WinkBeds Mattress – Best Online Luxury Mattress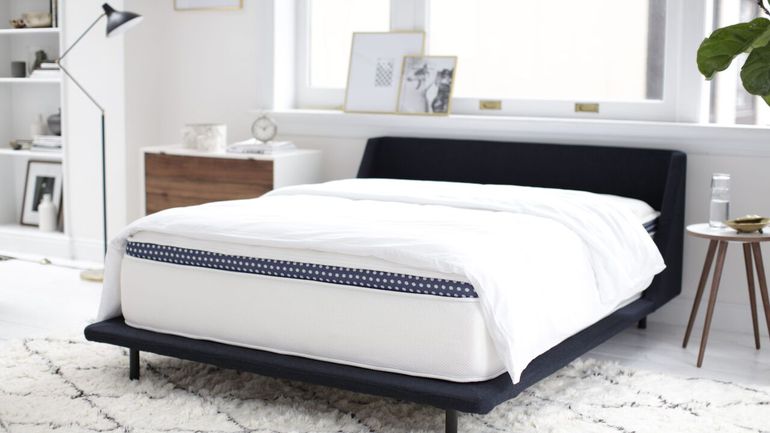 Usually, when you hear the word "luxury", the first thing that comes to mind is expensive. Especially when it comes to hybrid mattresses. But this next brand proves that a great quality bed doesn't have to put a dent in your wallet.

The WinkBeds mattress has won the hearts of many sleepers. This premium handmade bed is featured on our multiple best mattress lists, including our finest picks for back, stomach, combination, and heavy sleepers. Seriously, it's that inclusive!

The secret behind this versatility is that the WinkBeds comes in 4 amazing firmness options. These are: Softer, Luxury Firm, Firmer, and Plus. The first 3 firmness options feature the brand's own Hypersoft foam in their comfort layer, while the Plus has latex. The reason behind this is that the Plus version is designed for bigger and taller people. But no matter which one you choose, each version guarantees to provide you with the extraordinary pressure relief that you deserve.

But, the real highlight of the WinkBeds mattress lies in its core. The base consists of 5 zones of individually wrapped steel coils. These sturdy and springy coils are the bed's secret weapon. Not only do they make it easier for you to switch positions at night, but they make sure to keep your spine perfectly aligned as you sleep. This is great news for those sleepers that wake up with aches and pains in their back. In fact, the bed also made it onto our best beds for hip pain roster.

With all of these awesome features presented here, it would be easy to think that the WinkBeds mattress is on the more expensive side of the mattress market. Yet, it's actually one of the more affordable luxury beds out there with a starting (full) price of $1,149 for a Twin sized mattress.

And let's not forget the even more amazing perks! The WinkBeds mattress is a bed-in-a-box model, meaning it's delivered straight to your doorstep in convenient packaging. Oh, and the shipping is free! Not convinced? Well, bear in mind, that the bed comes with a 120-nights sleep trial and, get this, a lifetime warranty. Now, you've got to admit, that's pretty generous!
Why does the WinkBeds mattress stand out?
It's a luxe hybrid innerspring bed.
It's 13.5" tall.
Provides outstanding comfort and support.
Very versatile model.
Sleepers with back pain will enjoy it greatly.
We get it. You need some time before you decide if you want to try it out for yourself. Might we suggest using that time wisely and visiting our WinkBeds mattress review to learn more about it?
WinkBeds
WinkBeds are true hybrid mattresses made by hand. Crafted with luxury in mind, they're among the most comfortable mattresses on the market.
How to Choose a Mattress Online
There you go! This is our list of the best online mattresses of 2023. We hope that one of them is the right one for you.
And in case it isn't, we've got you covered. Buying a mattress online is easy, but choosing the right one can be tricky.
Check out our best online mattress buying guide to help get that new mattress!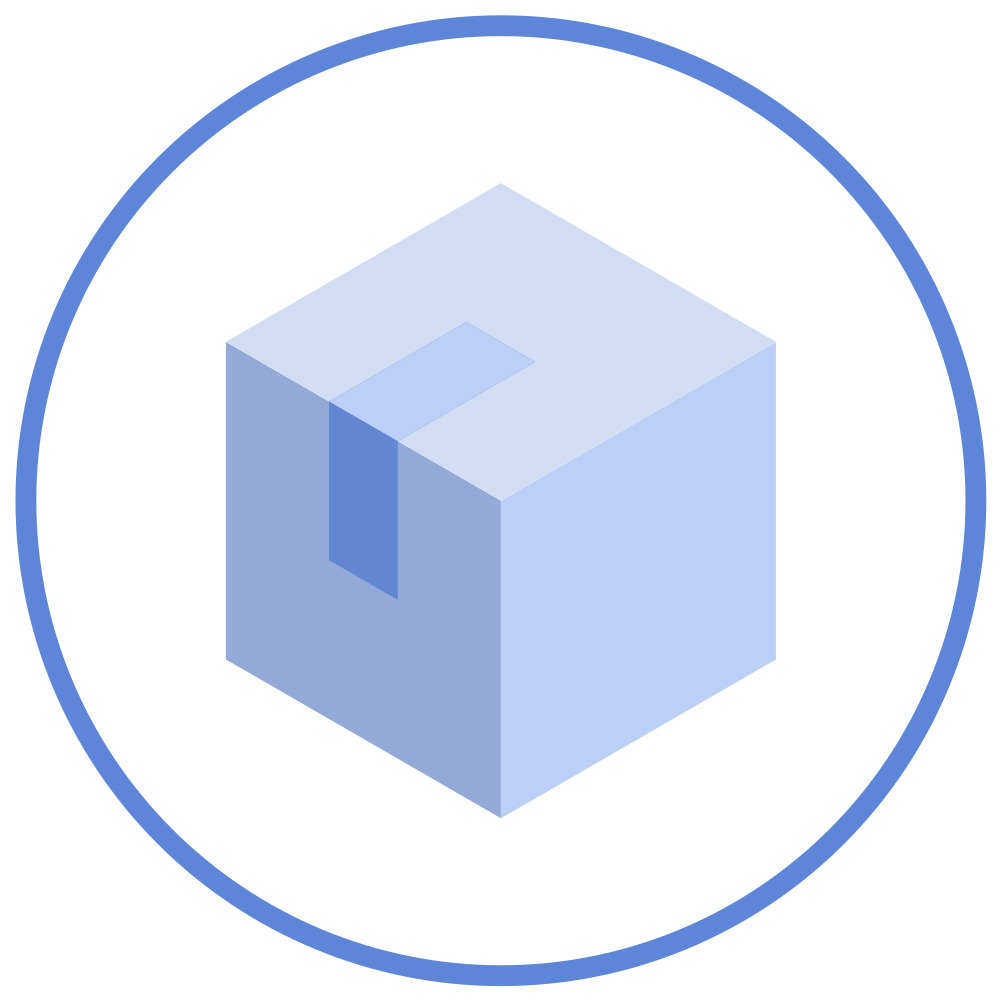 Pros and Cons of Buying a Mattress Online
Of course, buying a mattress online comes with advantages and disadvantages. Here's what you should know before starting.
Pros
In the lower price range than brick-and-mortar mattress stores
You have more time and information at hand
Sleep trials let you test the mattress
Shopping online is easier
Longer warranties
Online stores often have discounts
Cons
You can't feel a mattress before buying it
No in-home setup unless you get white glove delivery
Too many options can be confusing if you aren't sure what you're looking for
What to Look for When Buying a Mattress Online
It's time to get rid of your old mattress. Our first piece of advice? Know your preferences before you begin looking for the best online mattresses. Here are a couple of things that can help you with your choice.
Support
One of the essential things your mattress has to offer is support. A good bed is supposed to keep your spine aligned. Bad spinal alignment can lead to bad sleep quality, painful joints, and other health issues.
Choosing a supportive mattress depends on the material, preferred sleeping position, and even your weight. Hybrid or spring mattresses are considered the most supportive because of their coils. However, depending on your sleeping preferences, latex or foam can also be excellent, even if they have lower foam firmness.
Side sleepers will sleep better on memory foam or latex mattresses, and heavy sleepers, stomach and back sleepers need a firmer bed, like a hybrid or an innerspring.
Firmness
Does your bed feel soft or firm to you? Mattress firmness is a subjective feeling that describes this.
Mattress firmness is rated on a scale from 1 to 10, with extra soft, soft, medium-firm, firm, and extra firm levels. Most people prefer a medium-firm feel, but that might not be the case for you.
The perfect mattress firmness depends on your preference, sleeping position, and body weight. While back and stomach sleepers need a firmer bed so their hips and shoulders don't sink too much, side sleepers need a softer mattress that will do precisely the opposite.
Also, the lighter you are, the softer mattress you can sleep on. Average-weight stomach sleepers have different requirements than lightweight side sleepers. Heavy sleepers need a bed that won't let them sink too much and can handle a lot of pressure. Firmer mattresses tend to do just that. Hot sleepers might also prefer a medium-firm to a firm bed.
Mattress types usually don't matter since most mattresses come with different firmness options. Even foam mattresses can have varying foam firmness, from soft to medium-firm feel to even firmer.
Durability
When getting a mattress, you want it to last a long time. A durable mattress should be made from high-quality materials. For example, a mattress with low foam firmness is going to deteriorate faster, no matter its price range.
Most mattresses last 6 to 8 years, but different mattress types have different life spans. For example, foam, a softer mattress, typically doesn't last long. Innerspring mattresses are similar because their coils could deteriorate fast.
On the other hand, latex and hybrid beds are known for their durability. They can last you more than ten years – especially natural latex, a bouncy and durable material. However, they're usually in the higher price range.
Contouring
When a mattress follows the shape of your body, it's a contouring mattress. Contouring is connected to support, mattress material, foam firmness, and other things.
Some mattresses are deeply contouring, while some are not, but contouring is essential in general. Side sleepers need a contouring mattress because the widest parts of their bodies, hips, and shoulders, need to sink into the bed. For example, stomach sleepers don't need that much contouring.
A memory foam mattress is the best choice if you're looking for a profoundly contouring bed, but it can have varying foam firmness. Other good options include a latex bed or a hybrid mattress, but they're in the higher price range. Innerspring is usually the least contouring mattress, with more of a medium-firm feel.
Pressure Relief
Your mattress is supposed to distribute your weight and not put too much pressure on specific body parts. Don't worry, a mattress doesn't have to be in the high price range to relieve pressure.
A mattress with inadequate pressure relief can lead to painful joints. People who experience back pain or joint pain should go for a pressure-relieving bed that doesn't put too much pressure on these body parts. Different sleeping positions come with different pressure points.
When it comes to pressure relief, memory foam mattresses are considered the best. Pressure-relieving foam can also be found in latex or a hybrid mattress. Innerspring usually isn't very good at pressure relief. A mattress doesn't have to be extra soft to relieve pressure, a medium-firm mattress can do just fine.
Quality Materials
Once you determine what you want, make sure you're getting a mattress made with high-quality materials. This will improve the performance overall, and it will make the mattress last longer.
Many online mattresses are from high-quality materials, so you won't have to worry about this one too much. Some even offer a lifetime warranty as proof. Still, you should do your research based on what you're looking for.
Let's say you've set your eyes on an innerspring mattress. What type of coils does it have? What is the pillow top made from? Research this to make sure you're getting the best option for your money. Also, keep in mind that more high-quality materials are usually in the higher price range.
Mattress Size
Online mattresses come in plenty of sizes, and you can find non-standard ones. Picking the right mattress size depends on who you sleep with, your height, how you sleep and how big your room is. For example, the same mattress can fit two side sleepers but be too cramped for two stomach sleepers.
Standard mattress sizes are easy to find online, and one of them is likely the right fit for you. Sizes Twin, Twin XL, and Full can fit one person, while Queen, King, and California King are usually for two people. The bigger the mattress, the higher the price range.
Responsiveness
Some mattresses are slow to respond to your body, while some are fast. Some aren't even that responsive at all.
The best mattresses for responsiveness are foam and latex. While memory foam has a slow response that feels like you're sinking into the mattress because of the foam firmness, latex is fast. The proper responsiveness depends on your preferences, but combination sleepers and heavy sleepers usually prefer latex.
Temperature Regulation
For hot sleepers, temperature regulation is significant. Hot sleepers need a breathable and cooling mattress.
Hot sleepers should avoid traditional foam mattresses. An all-foam mattress traps heat, and it's going to feel like hell for hot sleepers. That isn't to say hot sleepers won't find a cooling memory foam mattress. Technology is improving, and you can find options for a cooling mattress, like gel memory foam and copper-infused memory foam.
Cooling mattress options for hot sleepers include latex mattresses, innerspring mattresses, and hybrid mattresses. Unlike with foam, air can get through these beds, so hot sleepers can finally get that good night of sleep on a cooling mattress.
Edge Support
You'll want a bed with sturdier edges if you like to sit on the side of your bed, if you sleep near the side or if you're heavier. Edge support is the key element here.
If you want good edge support, the best mattress is an innerspring or hybrid mattress. They tend to have sturdier coils on the perimeter, making better edge support.
On the other hand, all foam mattresses and latex mattresses will have higher foam firmness on the edges, which isn't that good if you want ample edge support.
Off-Gassing
You'll notice a particular smell when you first unbox a new mattress. This is called off-gassing, and it happens because of the manufacturing process.
Off-gassing happens to a new mattress because it usually comes in a box and doesn't have time to air out. That's why you'll need to leave them to air out for a few days to wait for the smell to dissipate.
All-foam mattresses tend to off-gas the most because they're made from synthetic materials and could emit volatile organic compounds (VOCs). These usually aren't that dangerous unless you're sensitive to them.
If you want a model with less to no off-gassing, look for an organic mattress, an innerspring, or a latex model. Although, organic mattresses tend to be in the higher price range.
Motion Transfer
Do you share a bed with someone? Can you handle their tossing and turning? You might need a mattress with no motion transfer if the answer is no.
Innerspring mattresses are generally the worst at this. Coils transfer motion, but pocketed coils can help. Pocketed coils are individually wrapped coils, so they transfer less motion. Hybrid mattresses can also transfer motion, so look for a model with pocketed coils.
If you want less to no motion transfer, look for a memory foam mattress. It's one of the best mattresses for this. Latex is also a solid choice.
Noise
Is your old mattress squeaky? Or are you looking for a silent mattress for nighttime activities? Then it would be best if you were looking for a noiseless mattress.
The best option for a noiseless mattress is anything without coils. So foam and latex are your best friends in this case. Unfortunately, even with pocketed coils, innerspring and hybrid mattresses can get noisy fast.
Allergies
Some people can be allergic to dust mites or chemical compounds in a mattress. Sleepers who suffer from allergies need to find a new mattress that's also hypoallergenic.
If you're looking for the best mattresses for allergy-prone people, the safest place to look for is organic mattresses. They're usually latex or latex hybrid, made from natural materials that repel dust mites and are chemical-free. But, you'll find them in the higher price range.
Body Weight
Your body weight is also essential when choosing the best online mattresses. The heavier the sleeper is, the firmer and sturdier a bed should be. Average-weight stomach sleepers need different foam firmness than side sleepers. To make things simple, we separated sleepers into three groups.
Lightweight sleepers under 130lbs don't put a big dent on a mattress; they can sleep on a soft to medium-firm mattress. If a mattress is too firm, it can cause spinal misalignment and back pain. Memory foam is a good option for them.
Average weight sleepers, between 130 and 230lbs, should sleep on a medium-firm to a firm mattress, depending on their weight and preferred sleeping position. Are they back sleepers or side sleepers? Average-weight stomach sleepers should go for a firmer bed. They could sleep on any mattress type.
Heavier sleepers over 230lbs need a supportive mattress, and firmer mattresses are a better choice. They're usually durable, while softer mattresses deteriorate faster and cause back pain. More durable mattress types include hybrid mattresses and latex mattresses. The best mattress for heavy sleepers would be in the higher price range.
Sleeping Position
Lastly, the best mattress for you will depend on your preferred sleep position. This has a lot to do with support and firmness. Back sleepers, stomach sleepers, side sleepers, and combination sleepers need different things.
Back Sleepers
Back sleepers are the most common sleeping position. Back sleepers need a firmer mattress that will keep their spine aligned but won't let their hips and shoulders sink too much.
The best mattress for back sleepers is a medium-firm to a firm one, and virtually any mattress type is adequate for them.
Side Sleepers
Side sleepers are a bit tricky because they need a mattress that keeps their spine aligned and lets their hips and shoulders sink. This means that side sleepers need a good combination of support and firmness. Side sleepers also have pressure points in their hips and shoulders, so they need that pressure relief.
Side sleepers should sleep on a soft mattress to a medium-firm mattress. The best mattress types for side sleepers are a memory foam mattress, latex mattress, or a hybrid mattress.
Stomach Sleepers
Stomach sleepers don't have the best sleeping position, but like back sleepers, they need a firmer mattress to keep their hips elevated. They have pressure pints in their hips, so their mattress should have good pressure relief.
The best mattresses for stomach sleepers are medium-firm to firm, and the mattress types they might like could be latex, spring mattress, hybrid mattress, and even firmer memory foam.
Combination Sleepers
Combination sleepers toss and turn and need a bed that can follow their movement. Since they sleep in all positions, there isn't a set firmness for them, but a medium-firm bed could do just fine.
Because they need a fast response and good support, the best choices for combination sleepers would be a latex mattress or a hybrid mattress.
Types of Online Mattresses
Now that you know how to choose the best online mattresses of 2023, it's time to see what you'll run into. Here are the most common mattress types you'll find in the online mattress world.
Memory Foam Mattress
An all-foam bed can be made with different types of foam, but memory foam is the most common comfort layer material. The support in a memory foam mattress is offered through firmer foam layers from polyfoam.
A memory foam mattress is known for its softness, although it can have varying firmness levels. It has a slow response, contouring, and no motion transfer and is a good option for side sleepers. Pressure relieving memory foam is the best for painful joints and other pressure points. It's usually in the lower price range.
However, foam is hell for hot sleepers. Sure, you could find a cooling memory foam mattress, but even the best memory foam mattress will have trouble with temperature regulation. Hot sleepers, stay away! Unless you're getting gel memory foam or any other quality mattress with cooling properties. Also, heavier sleepers might not like the sinking feeling this material gives.
Read more: Best Memory Foam Mattress
Innerspring Mattress
The innerspring mattress is the oldest mattress type. The key elements are metal coils, which give support, while a thin pillow top, like a quilted cover or something else, is put over them for comfort. These coils can be made in different ways, including pocketed coils.
Innerspring mattresses are very sturdy, and an innerspring mattress can last long if made the right way. They're supportive and bouncy and a good choice for back sleepers, stomach sleepers, hot sleepers, and heavier sleepers. Also, innerspring beds are usually in the lower price range, making them more affordable.
The most significant downsides of an innerspring mattress are its motion transfer and noise. Even though it's the oldest, it's not everyone's favorite, especially because it doesn't really help the pressure points.
Read more: Best Innerspring Mattress
Latex Mattress
A latex mattress is one of the more luxurious ones on this list. It can be made from natural latex, which is in the higher price range, or synthetic and blended latex.
Latex mattresses have a fast response, are bouncy, and offer good support and comfort. They're a good choice for combination sleepers, heavier sleepers, those looking for an organic mattress, and those who sleep hot. It's also a good choice for back sleepers and stomach sleepers, but also for side sleepers if the foam firmness is lower.
The biggest downside of latex is that it falls in the higher price range. This might not be your place if you're looking for a budget mattress.
Read more: Best Latex Mattress
Hybrid Mattress
A hybrid mattress is made as a combination of two mattress types, getting the best of both worlds. The most common varieties in a hybrid mattress are coils in the support layer and memory foam or latex on top of them for comfort.
A hybrid mattress is supportive, firm, and comfortable. It's a good choice for almost anyone, especially for combination sleepers, heavier sleepers, and those who sleep hot. Back sleepers, stomach sleepers, and side sleepers could also enjoy it.
The biggest downside of a hybrid mattress comes from its coils – they transfer motion, even when they're pocketed coils, and even the best hybrid mattresses can get noisy. Also, you'll find a hybrid mattress in the higher price range.
Read more: Best Hybrid Mattress
Airbed
When looking for a mattress online, you'll also run into airbeds. In an airbed, the support layer is made from an air chamber. By controlling the air amount, you control the firmness.
The top layer can be made from foam or other soft materials. Airbeds are usually bouncy, softer, and supportive. They could be a good choice for any sleeping position or body weight because of their adjustability.
However, airbeds lack things like motion isolation and edge support, and they're usually in the higher price range.
Buying a Mattress Online
Buying a mattress online isn't just about your preferences and mattress types. Here are a couple of more things you should know.
Budget
Setting a budget before shopping is a must! Luckily, online mattresses fall in an extensive price range, and you'll indeed find what you're looking for, from budget mattresses to luxury mattresses.
Additionally, online stores are usually in the lower price range compared to a brick-and-mortar mattress store. Also, most online mattress companies tend to have discounts throughout the year, so you can get your new mattress in a lower price range.
Still, some mattress types are in the higher price range. If you want a latex mattress or a hybrid mattress, expect to shell out more than an innerspring or memory foam mattress.
Online Shopping
As mentioned before, online shopping is simpler, more affordable, and has a lot of other benefits.
You have all the information; you just need to choose a mattress, pay for it, and deliver it to your doorstep, usually with free shipping. Other benefits include a sleep trial, warranties, and even getting rid of your old mattress. Although, sometimes, you'll have to pay extra for white glove delivery.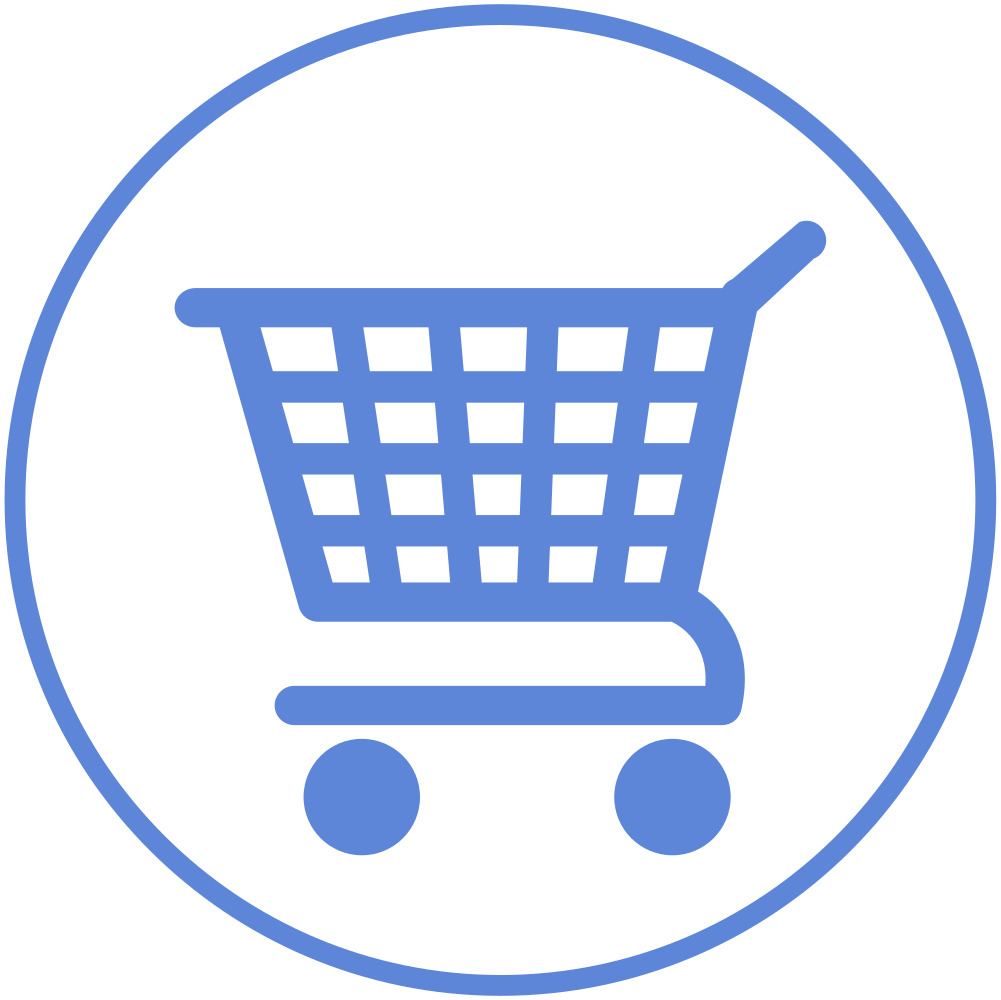 Sleep Trial
A sleep trial is a must when getting that mattress. Most online mattress companies offer a sleep trial because they get that shopping online means that you can't feel your bed. How do you know if medium-firm foam firmness is right for you?
A sleep trial can last anywhere from 30 days to even a whole year, but the most common is the 100-night sleep trial. If you realize you don't like your online bed in this time frame, you must deliver it back to the company.
Warranty
A warranty is a way for the mattress brand to say that they're sure their product is good. Online mattress brands tend to offer lengthier warranties than physical mattress stores, which is another plus.
If you want to ensure you're getting a good warranty, look for those of at least ten years. There are even lifetime warranties for more luxury mattresses!
Unpacking the Mattress
Unpacking a mattress is a big part of ordering a bed online. Unless you order white glove delivery, which means in-home setup, your mattress will be delivered in a box. You'll likely have to set it up by yourself.
Because this mattress-in-a-box is compressed, you have to open it in the room you want to put it in. These mattresses will always come with instructions on opening the box, so follow them closely to get the best results.
It might take a while for a mattress to expand and air out, especially if there's off-gassing involved. This depends on mattress types, materials, and manufacturers, but it should also be a part of the instructions.
Do Your Research
And finally, take your time and do your research! That mattress isn't going anywhere.
Determine what you like and how you want to sleep. This guide can help you out with that. Afterward, ensure you get all the information and check mattress reviews and customer ratings. Make sure that your new mattress is the best possible one!
Why You Should Buy a Mattress Online
Buying a mattress online can seem challenging for first-time shoppers, but it's effortless. You can buy a bed online from the comfort of your home and have all the information at hand! In 2020, 47% of mattress buyers had a preference for online mattress shopping.
Online brands also have a wider variety of options to get variations of all the possible mattress types. They are also more affordable, with discounts, free shipping, and lengthier warranties. They can also come with white glove delivery, often with additional payment.
You should buy a mattress online if you don't want to bother with delivery too much and if you want to have the information about the bed at hand at all times.
On the other hand, you shouldn't buy a mattress online if you have a problem with off-gassing from synthetic materials or if you can't set up the bed by yourself.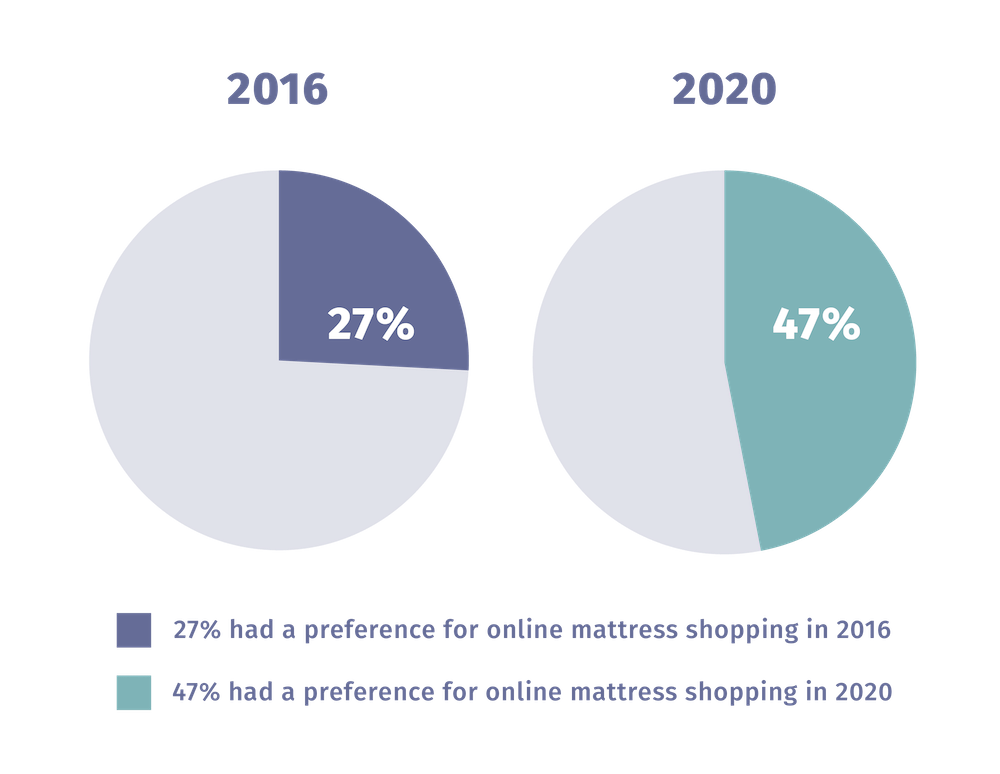 Frequently Asked Questions
What is the best online site to buy a mattress?
Like there is no one best mattress, there is no one best online site to buy a mattress.
But while there are plenty of online retailers and marketplaces to choose from, we do recommend that you buy your mattress of choice straight from the source. Or, in other words, straight from the brand's official website.
In our best online mattress list, we present our top 8 choices with whom you'll have a wonderful shopping experience. Each brand has certain perks that you will find more or less appealing based on your preferences and values. Some of the perks are free shipping, a lengthy sleep trial period, long warranties, etc.
Though, a word of caution is needed. There are a lot of websites, like Craigslist, where you can find second-hand mattresses for dirt cheap. While we understand that one's budget is usually a pretty big deciding factor, we strongly discourage buying a used mattress.
If you buy a used bed that has a defect, then you won't be able to contact the manufacturer to fix it or replace it. As the warranty is only valid to the original purchaser, any second-hand mattress is no longer under warranty. Plus, oftentimes, the mattress company has its own customer service that is there to help you if you have any questions.
Is it better to buy a mattress online or in a store?
Well, truth be told, there are pros and cons to both choices.
If you buy a mattress in a store, then you can:
Ask questions to the knowledgeable staff.
Personally test out the mattresses you're interested in.
Get a free in-home setup with your order.
On the other hand, shopping in stores can be stressful. You can only shop when the store is open for business, and if you shop on weekends, it can get crowded. Plus, not every brick-and-mortar store has exact products. One shop might have your bed, but the other might not.
If you want shopping to be quick and easy, then online shopping might be your cup of tea. Online mattresses tend to cost less than the ones in a store as there are no overhead costs. Most mattress companies offer free shipping straight to your doorstep, and some even offer in-home delivery and setup.
While you won't be able to test out the mattress before buying, the majority of brands offer lengthy sleep trials. If you decide to return your mattress, you can count on a full refund.
Is an online bed right for me?
Of course, it is!
In recent years there has been a real boom in online mattresses. Almost all mattress brands have their own online stores. You can virtually choose from thousands of different mattresses that differ in shape, design, and type. You definitely can find what suits your needs and wants the best.
However, it can be daunting to begin your search for a new bed, especially if you have so many choices. Hence why we made this best online mattress list – so that we can best guide you on your quest.
Final Thoughts
And finally, let's take a final look at our finalists:
| | |
| --- | --- |
| Mattress | Best/Most |
| Avocado Green Mattress | Best Organic Mattress |
| Saatva Classic Mattress | Best Innerspring Mattress |
| Nectar Mattress | Best Memory Foam Mattress |
| Casper Original Mattress | Best Mattress For Combination Sleepers |
| Helix Midnight Mattress | Best Mattress For Couples |
| Layla Mattress | Best Mattress For Side Sleepers |
| Tuft & Needle Original Mattress | Best Affordable Mattress |
| WinkBeds Mattress | Best Luxury Mattress |
Although it might be difficult to navigate an ocean of online mattresses, this list is proof enough that there are still quite a few models that really separate themselves from the rest.
Not only are these mattresses of the highest quality imaginable, but they offer outstanding benefits, deals, and discounts to their customers. There are plenty of options to choose from, so finding a mattress that best fits your lifestyle is easier now than ever.
And in the rare case that your new bed might not suit you, you can always return it for a full refund.
So don't bang your head against the wall. Remember to find enjoyment on your journey to find the mattress of your dreams. We hope this list is a good starting point and wish you good luck!