Lull Mattress Review for 2023: A Good Bed in a Box Option?
Written by: Milica Terzic
Updated: 02/20/2023
Transparency Disclosure: For products purchased through the links on this page and throughout the site, we may get a referral fee (with no extra cost to the buyer). Please read our full How We Rate page for more information. There you can see how we conduct research and test products, as well.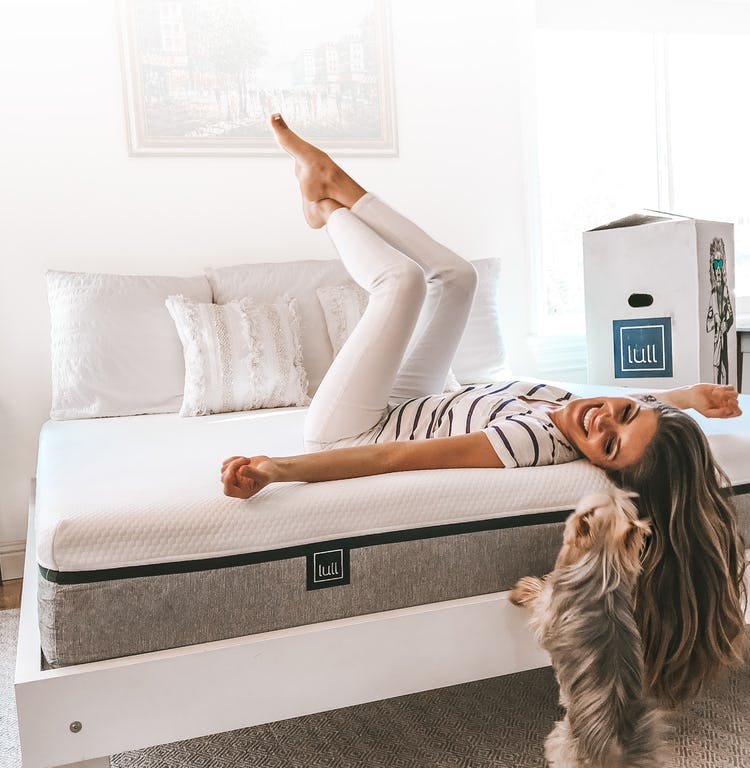 Parents often sing sweet lullabies so that their children can fall asleep. And with a name like that, you definitely can't go wrong with a mattress like Lull.
The Lull company launched in sunny Santa Barbara, California. They combine the Californian lifestyle and the values of American business. As such, the company strives to uphold high environmental and social standards.
All of the mattresses are made with CertiPUR-US® certified foams. They also pay close attention to reduce waste and minimize pollution. The Lull employees work in safe working conditions. The company actively takes part in the local communities.
Other products in their offer include various pillows, bedding, and bed frames.
Other bed-in-a-box mattress companies offer various models. Unlike them, the company has dedicated time to researching and perfecting one model. They wanted to achieve a premium "one type fits all" bed at an affordable price. The result was the Lull mattress.
On the website, it states that the mattress is a memory foam type. It is actually a hybrid foam mattress, as it has both memory and premium polyfoams. Though it has been on the market since 2015, the Lull isn't the most recognized model. But it appeals to many people on social media because of its simplicity.
Today we will be unraveling the Lull mattress piece by piece. Find out if this mattress might be the answer to your sweetest of dreams.
Lull Mattress Review In a Nutshell
The Lull mattress is a memory foam and foam hybrid mattress.
It has excellent motion transfer and pressure relief.
The Lull mattress sleeps cool at night.
It is a medium-firm mattress that ranks 6 or 6.5 on the firmness scale.
Best suited for back and most side sleepers.
It comes with a 10-year limited warranty.
The company offers free shipping and a trial period of 100 nights.
The mattress is a great option for those on a budget.
Lull Mattress
Lull is best suited for back and most side sleepers who prefer an all-foam mattress with excellent motion transfer and pressure relief.
Construction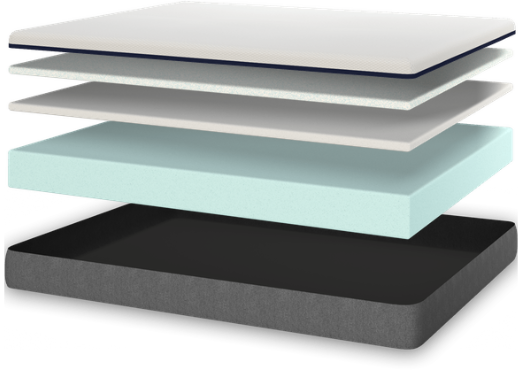 Cover
Durable, soft, and cozy – these are the words that people use to describe the Lull mattress cover. The cover, made from polyester and rayon, can easily stretch over the mattress. It is also breathable, allowing the cool air to circulate easily.
Though the cover can be easily removed, the company doesn't recommend it. The mattress is wrapped in a fire retardant sock. Because of this, they don't recommend touching or placing anything on the said sock.
If the cover does get dirty, you can spot clean it with cold water and a gentle detergent. The company says to not machine wash or dry it.
Comfort Layer
After a long day, the last thing one needs is a mattress that is harder than a rock. The Lull mattress has got you covered.
The first layer inside the mattress is the 1.5″ viscoelastic memory foam. The memory foam is known to be slow responding, as it allows you to sink in the bed. Interestingly, the foam is infused with gel, which adds to the bed's overall cooling experience.
For some reason, the Lull company has not released the density of the bed's foams. Nevertheless, this layer is designed to provide the much-needed comfort and pressure relief.
Transitional Layer
This 1.5″ layer is made out of a premium, high-resilience blend of foams. This blend also has some characteristics of latex. The foam offsets the memory foam's sinking feeling in the upper layer. It aids
the base in properly aligning the spine. That way, it offers additional support and rejuvenation, which might be appealing to side and back sleepers.
As the layer has some latex-like qualities, the mattress has some bounce to it, so you don't feel stuck in it. The bounce is what helps with the distribution of motion across the bed.
Base
Having a good supporting and long-lasting mattress is key to a good night's sleep. Hence, you need to pay close attention to the mattress's base layer.
The base layer is 7″ thick and made of polyurethane foam. The dense foam is what is responsible for the strength and durability of the bed. While the upper layers give pressure relief, the base focuses on providing support. It aligns the body properly so you can wake up with no pains and aches.
Where is Lull mattress made?
According to the website, Lull mattresses are manufactured in the USA, but some parts are made in Vietnam and China. The final assembling is done in the USA under strict safety and environmental regulations.
If you would like to try a mattress made entirely in the USA, check out our Saatva model reviews:
Firmness & Feel
To answer this question, we have consulted many Lull mattress reviews. On a firmness scale of 1 to 10, many have rated it at 6 or 6.5, making it a medium-firm mattress. This is no surprise, as memory foam beds usually carry this ranking.
Nonetheless, if you like firmer mattresses, the Lull will provide you both support and comfort.
Even though the Lull has memory foam, it doesn't feel like a regular memory foam mattress. Because the model has polyfoams as well, the mattress has a more balanced feel to it. The sleeper can experience some sinking in, but it won't affect the responsiveness of the bed. This might be the reason why many have experienced the Lull softer than medium-firm.
Keep in mind that the firmness and feel of the bed are somewhat subjective. Depending on one's weight, size, shape, or personal preference, it can impact the overall experience. Though, many agree that medium-firm mattresses can appeal to different sleeping positions. Based on the balanced feel of it, the Lull might be a good choice for side and back sleepers.
But, we will be the judge of that!
Durability
The Lull mattress is designed to be long-lasting. The foams inside the bed are of premium quality. They work together to provide the ultimate sleep experience.
Depending on external factors, the model should last you from 6, 7, to 10 years. These factors can be anything from how much you weigh, how often you use the mattress or properly take care of it.
According to their website, the Lull can support two people who weigh up to 250 lbs each. This means that you might want to check out another mattress if you are on the heavier side. The website also recommends that you do not flip it, as the base layer is super-firm. Instead, you should rotate the mattress 180 degrees every 3 to 6 months so that it lasts you even longer.
Motion Transfer
Nothing kills a romance faster than a mattress that is not good at motion transfer.
Looking through other Lull mattress reviews, we are happy to announce that the Lull scores high on motion isolation. Thanks to the firm foam layers, the bed will be a hit even with sensitive light sleepers. The model also has some bounce to it, making it even better at absorbing and redistributing motion. Even sensitive light sleepers will be able to "lulled" to sleep on this bed.
In short, it is an excellent mattress for couples and those that have pets.
Edge Support
When it comes to edge support, here we have some mixed results.
Like other foam mattresses, the Lull mattress doesn't offer enhanced edge support. Thanks to its dense foams, the Lull performs better than other foam and bed-in-box models. Lightweight sleepers should feel enough support when they sleep on the edge.
Others may find this mattress lacking. If you rely on edge support, you will experience more pronounced sinkage when you sit. For sleepers that weigh over 230 lbs, this bed's perimeter might not be strong as they'd like. Some couples may like this mattress. We recommend them to sleep in the middle or get a bigger-sized model.
To cut a long story short, the Lull mattress does lack a bit in this department. But it won't be a deal-breaker for many sleepers. Some dip is to be expected as it is an all-foam bed, but it's less pronounced than with other competitors.
Check out our picks for heavier-bodied sleepers and those that rely on edge support.
Pressure Relief
If you check out their official website, the Lull mattress was designed to provide optimal alignment for a night of R'n'R.
Many Lull mattress reviews agree that it does provide excellent pressure relief. The bed has a memory foam that conforms to the sleeper's body. It alleviates pressure from the head, neck, and spine. So that the sleeper doesn't sink in, the transitional layer provides additional support. As back and side sleepers rely on pressure relief, the Lull mattress might be the perfect match for them.
However, keep in mind that the Lull mattress is an all-foam bed. Lighter sleepers should expect a night without pains and aches. Sadly, the same cannot be said for heavier sleepers. There is a possibility that they could sink in and experience some pressure buildup.
Temperature Regulation
When most people hear memory foam, one word comes to mind – hot. Due to the fact that the memory foam conforms to the body, the material does have a tendency to retain some heat.
The Lull company offsets this by infusing the memory foam with a premium cooling gel. That way, the layer helps with air circulation and cooling throughout the mattress.
A lot of Lull mattress reviews acknowledge that the Lull has a better cooling experience than some other all-foam models on the market. But they also say that the mattress might not be the best for those that tend to sleep excessively hot.
Our recommendation? If you sleep hot and like memory foam mattresses, this is the match made in the sleeper's heaven. Otherwise, have a look at our top picks of mattresses for hot sleepers.
Lull Mattress
Lull is best suited for back and most side sleepers who prefer an all-foam mattress with excellent motion transfer and pressure relief.
Sleeper Style & Weight
If you ask the folks over at Lull, the mattress is designed to fit all sleeper types: back, side, or stomach. They choose to specialize in creating and perfecting only one model. An it-doesn't-matter mattress if you will (points if you get the reference).
Here lies the kicker – not all people have the same sleeping experiences. Experiences can change based on the sleeper type, body type, shape, and even weight.
After scouring the internet, we've gathered all the information about the Lull mattress. Let's jump right in and see if the Lull will be the bed of your dreams, or you should keep looking.
Side Sleepers
Most Lull mattress reviews agree that the model is a decent choice of bed for side sleepers. The mattress provides them with much-needed pressure relief around the shoulders and hips. It also provides proper spinal alignment.
Side sleepers that weigh 230 lbs and less will get to enjoy a good night's sleep. With heavier sleepers, there's a different story. Side sleepers at or over 230 lbs may experience some sinkage, especially around the hip area.
Because proper spinal alignment is essential for side sleepers, we recommend the following:
Petite and average-weight individuals should definitely try out the Lull mattress.
Heavier individuals should

check out other models that are more suited for them.
Back Sleepers
Like side sleepers, back sleepers tend to rely a lot on spinal alignment and pressure relief.
As the Lull mattress is a medium-firm bed, back sleepers, both light and average weight, can sleep soundly. Even heavyweight sleepers will give it a thumbs up. Thanks to the firmer polyfoam layers, the mattress will have the best of both worlds. Expect superb pressure relief and spinal support.
We do have to mention that some back sleepers may experience some slight sinking in around the midsections. If you like a bed with a soft feel to it, this might be the right pick for you.
Stomach Sleepers
Stomach sleepers usually need a firmer mattress so that their spines don't curve down.
Here we've gotten some mixed results, but one thing is clear. Many Lull mattress reviews agree that the bed might not be supportive enough for this sleeper type.
Some lightweight stomach sleepers may either have a good or a lack-luster experience. Average and heavyweight will not enjoy it. In short, stomach sleepers, especially the strict ones, should look for a mattress with firmer support.
Combination Sleepers
Now with combination sleepers, it is a bit difficult to say if they will enjoy a mattress or not. As they tend to change multiple positions during the night, it really comes down to their preferred side and body type.
If they sleep primarily on their side, they might have a great experience if they are more on the petite side. Those who like to sleep on their back shouldn't have difficulty falling asleep on the Lull mattress. If their preferred side is the stomach, you might want to look for a firmer model.
Also, if a combination sleeper is at or over 230 lbs weight, this might not be a good mattress for them. They should either look for a firmer mattress or an innerspring one.
Average and lightweight combination sleepers with a back or side preference should get a decent amount of support. We suggest that you should take advantage of their 100-night trial period to see if you should keep it or not.
| | Under 130 lbs. | 130-230 lbs. | Above 230 lbs. |
| --- | --- | --- | --- |
| Side Sleepers | Good | Excellent | Fair |
| Back Sleepers | Excellent | Good | Fair |
| Stomach Sleepers | Excellent | Fair | Fair |
Other Mattress Models
Here's an interesting fact about the Lull mattress. There is only one model available. Shocking, we know.
The company does offer other products but only one mattress model. It's also not likely that they will be making a new model any time soon.
But why? To put it simply, the company has decided to go with the quality over quantity mindset. Instead of creating various models, they have invested time to research. They engineered a mattress that provides quality sleep at a very affordable price. A mattress that is not like a traditional memory foam mattress nor an innerspring one.
Some may say that limited choice is no good, though we argue that it can be beneficial. For example, you don't have to wreck your brain to choose which mattress to go with. Instead, you can have enough time to select other items, so that you can sleep more comfortably.
If you are still unsure if this is the right choice for you, check out our recommendations for memory foam mattresses.
How much does a Lull mattress cost and weigh?
Excellent quality and an affordable price? Is it really possible?
Well, if you were to ask the folks over at the Lull company, they would say yes.
The Lull mattress is sold for the third price of a traditional mattress because they cut out the "middle-man."
They also frequently offer promotions on their website. Their starting price is $899 for a Twin sized bed. Therefore, if you are shopping on a budget, you might want to add this model to your list.
Like most mattress models, the Lull is available in all standard mattress sizes.
Interestingly, its bigger-sized beds are lighter compared to other mattresses. For example, the average weight of a Queen size mattress is around 120 to 160 lbs. Meanwhile, the Queen size Lull mattress is 77 lbs.
Note that the company does state that the weight and the dimensions are approximate. This is due to the nature of the foam.
As the Lull is a bed-in-a-box, it is shipped in a box that is 21″ x 21″ x 44″. To paint a better picture, the box is the size of a mini-fridge.
When it comes to thickness, the Lull mattress is 10″ thick, which is about average for an American bed.
In the table below, you will find the prices and dimensions of all Lull mattress sizes.
Keep in mind these are full prices, i.e., without discount. Want to get the best offer available? Check out our coupon page!
| Size | Price | Weight | Height | Dimensions |
| --- | --- | --- | --- | --- |
| Twin | $899 | 48 lbs. | 10″ | 38″x75″ |
| Twin XL | $799 | 52 lbs. | 10″ | 38″x80″ |
| Full | $699 | 66 lbs. | 10″ | 54″x75″ |
| Queen | $1,199 | 77 lbs. | 10″ | 60″x80″ |
| King | $1,349 | 96 lbs. | 10″ | 76″x80″ |
| Cal King | $1,349 | 94 lbs. | 10″ | 72″x84″ |
Deals & Discounts
Are you interested in trying out the Lull mattress? Check the Lull official website for more information about their current deals and discounts.
Go to the Anatomy of Sleep's Coupon page and get the best deal courtesy of us!
Overview of Benefits
Availability
Considering getting the Lull mattress?
The Lull company sells its mattress directly to consumers via its official website.
They don't have showrooms or sales representatives.
Fun fact, the Lull mattress is also available on Amazon, and it comes with the 100-night trial as well.
Sleep Trial
Great news if you want to try out the Lull mattress! With each Lull mattress, you get a generous 100-nights trial period. This trial period starts the moment the mattress is delivered to your doorstep.
But if you are not completely satisfied with it, the company can arrange a free pickup, no hassle!
Warranty
Like most bed-in-a-box mattresses, the Lull mattress comes with a 10-year limited warranty. Thanks to rigorous testing, the company guarantees comfortable sleep for many years. Is something wrong with your Lull mattress? You can contact their customer service via email or call.
Please note that the warranty is only applicable if you purchased the Lull mattress through their website or an authorized distributor. If you are not the original purchaser, then you won't have the warranty.
Any physical and manufacturing flaws that cause the mattress to break down prematurely are covered under warranty. If your Lull mattress broke down due to improper use or normal wear and tear, then the warranty is not applicable.
Is Lull mattress toxic?
We spend almost a third of our lives sleeping.
That is why it is crucial to have a mattress that is safe for your health and wellbeing.
The Lull mattress is made with foams that are CertiPUR-US® certified.
This means that the foams are free from ozone-depleting substances, harmful chemicals, and heavy metals.
The mattress also contains a fire retardant in the form of a sock. This sock is wrapped around the core of the mattress, and it is not treated with any harmful chemicals. If a fire does occur, the sock will melt and put off the fire
Free Shipping
If you order directly from them, the Lull company will ship the mattress in a box the size of a mini-fridge. The mattress is shipped via premium delivery services like FedEx, free of charge. However, if you live in Alaska or Hawaii, you may need to pay a small shipping fee.
According to their website, it usually takes about 1- 4 business days to receive a Lull mattress. Once it's shipped, you will receive an email with tracking information.
Currently, the Lull company ships only in the US. But they are looking to expand internationally. They also don't ship to P.O. boxes, only to physical addresses.
Additional Services
White Glove Delivery
The Lull company doesn't offer white glove delivery. You have to set up the mattress yourself.
Please note that once you take the mattress out of the box, it will take 24 to 48 hours for it to expand fully.
Mattress and Foundation Removal
Sadly, the company doesn't offer a mattress and foundation removal service.
Easy-to-use Financing
One of its bonus features is that Lull offers easy-to-use financing.
The company has partnered with Affirm. With them, you can pay for your new mattress via a bank transfer check or a debit card.
Using Affirm, you can get approved for 0% APR, which you can pay off your monthly bill over 6,12, or 18 months.
Return Policy
Not satisfied with your Lull mattress purchase?
No problem. You can easily arrange with them to pick up the mattress and remove it at no cost. Just give their customer service a call to arrange it. Just make sure it falls under the trial period. If you want to return the mattress, you will also get a full refund. Talk about a steal!
If you want to exchange it, the company will process the difference between the two mattresses.
They will then ship you a new one. But, your second Lull won't come with a 100-Night trial.
Ordered another smaller item from Lull? You will receive a free return shipping label for the local parcel service.
In the case you ordered the Lull mattress from Amazon, you will have to return it through Amazon directly.
Just log to your Amazon account and head over to their return page. Find the mattress in their list and click "Return or Replace Item." Then you can schedule with them to remove or return the mattress.
If you have any troubles, contact Amazon's customer service.
What happens to returned Lull mattresses?
The company donates them to charities and organizations that require beds.
Giving Back to the Community
Besides their commitment to improving the quality of sleep, the Lull company also strives to better the local communities.
From their humble beginnings, the company strives to improve working conditions.
They support fair labor practices and ensure a safe working environment for their employees.
Not only that, but the company participates actively in its local community.
They partner up with non-profit and charitable organizations.
To prevent landfill build-up, they re-purpose any Lull mattress that was returned.
They donated them to families in need or local charities.
Sustainability
With the threat of climate change hanging over us like a grey cloud, it is essential, now more than ever, to reduce our carbon footprint. Hence, the Lull company is also dedicated to providing a product that is also good for the environment.
One way the company achieves this is by ensuring that all of the foams are CertiPUR-US® certified. To cut down on pollution and possible environmental harm, the foams are free from harmful substances. Additionally, the foams also have a very low amount of volatile organic compound emissions (VOC). That way they promote better air quality in your home. In other words, all of the materials that they use are non-toxic and non-carcinogenic.
The Lull company is also committed to reducing waste. The mattresses they produce are compressed and rolled into boxes. Doing this reduces the use of unnecessary packing materials. It also decreases the package's volume by 70%. They reduce pollution further by shipping directly to your doorstep.
Also to note is that the company is a proud member of the Sustainable Furnishings Council®. What does this mean? They analyze how their products impact the environment and health. They do this by assessing the mattress's life cycle. By doing so, they adopt measures to help minimize the following:
Carbon emissions
Waste stream pollutants
And other non-recyclable matter.
Final Thoughts
So, what can you learn from our Lull mattress review?
The Lull mattress is an excellent pick for those who don't want a mattress with many bells and whistles. It is an all-foam, hybrid mattress that has memory, conventional, and polyfoams. It provides the necessary support and comfort at a great price.
The Lull mattress may not have good edge support, but it has excellent pressure relief and motion isolation. The medium-firm mattress is long-lasting and sleeps cooler than other all-foam models out there.
The bed is a smash hit with lightweight and some average-weight sleepers. Back sleepers will definitely have a pleasant night's sleep on the Lull mattress. Some side and combination sleepers should also enjoy sleeping on this model. Hot sleepers with a preference for foam mattresses will like it as well. Strict stomach sleepers and heavier-bodied sleepers should consider getting a different model.
Bonus point if you are considering getting the Lull mattress? The company offers easy-to-use financing and an extended trial period of 100 nights.
See for yourself if this mattress is your new sweet Lull-aby or if you should just pass it over.
Lull Mattress
Lull is best suited for back and most side sleepers who prefer an all-foam mattress with excellent motion transfer and pressure relief.