Best Cooling Mattress for 2023 – Hot Sleepers Rejoice
Written by: Milica Terzic
Updated: 02/20/2023
Raise your hand if this has ever happened to you.
You go to bed, right? You get all comfy with your fluffy covers, the puffy pillows, and all the good stuff. You turn on the AC. All is fine, and well, everything is going to plan.
Except – everything does not go to plan. You still wake up sweaty as hell, mouth dryer than the Gobi Desert, and you're still tired. What gives?
If you are one of these unfortunate souls this is happening to; then you are most definitely a hot sleeper.
Here's the first good piece of news – you're not alone. A lot of people tend to overheat while sleeping. And depending on the various factors it can determine how hot you will sleep. Factors like weight, the climate, your age, medical conditions, sleep environment, and others.
Sadly you can't change some of these issues overnight. But you can still do something to make the experience more comfortable for you. You can change the thermostat, or get some plants. You even change your sheets for more moisture-wicking ones. And if you can, you can invest in a new cooling mattress.
Believe it or not, there are a lot of options out there for hot sleepers. So many that it might get overwhelming when you first start looking.
A little heads-up before you begin. The goal of this list is to help you find a mattress that might suit you the best, based on your needs and wants. If you feel that none of these mattresses is suitable for you, please visit our other reviews and top picks. Before making a final decision, we encourage our readers to take into account their personal preferences.
Best Cooling Mattress 2023 List
Saatva Classic Mattress – Best Luxury Cooling Mattress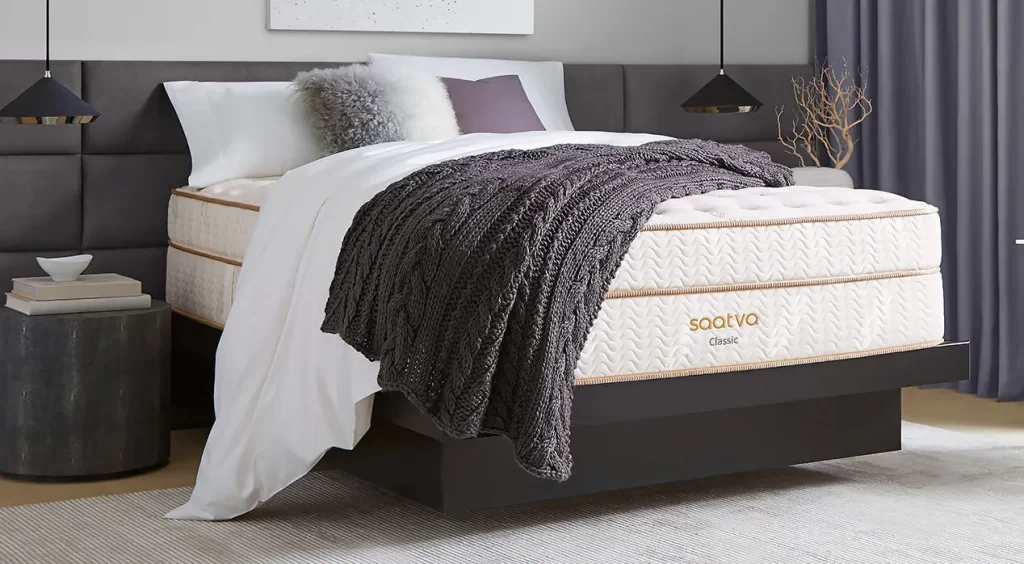 Looking for a five-star hotel-like bed that also has excellent cooling aspects? Might we make a suggestion?
As one of the most popular hybrid models, the Saatva Classic mattress consistently ranks high on many best mattress lists. As it should! This model excels in almost all aspects of a mattress.
Need edge support? The Saatva Classic has a dual layer of pocketed coils that are spread edge-to-edge.
Feeling pain in the lower back? No prob, the model is designed to relieve pressure.
Not sure if the firmness level or the height is right for you? You can choose between three different firmness (Plush Soft, Luxury Firm, or Firm) and two height options (11.5″ or 14.5″).
Oh, did we also mention that it comes in two split mattress sizes, the Split King and Split California King?
But, how is it at temperature control?
First, let's look at the overall construction. The Saatva Classic mattress has a dual layer of pocketed coils. These provide more than ample space for air to flow freely. That way, the mattress doesn't have the "new mattress smell" and sleeps much cooler. Another thing that helps with better mattress airflow is its soft cover. The cover is derived from 100% breathable, organic cotton.
However, the Saatva Classic owes its luxurious feel to its plush 3″ Euro pillow top. This top is sewn into the comfort layer. Thanks to this top, the mattress can provide unparalleled comfort and support. It balances out the coils' sturdiness and the cushions' softness.
With its organic materials and overall versatility, is it any wonder that the Saatva Classic is one of the most premium quality mattresses on the market?
Why does the Saatva Classic mattress stand out?
It is a hybrid innerspring model of exceptional quality.
It's available in 3 firmness and 2 height options.
Other than the standard sizes, you can also get split mattress models.
It offers exceptional quality, comfort, and support at a fraction of the price.
Thanks to its overall design, you can expect a superb cooling experience.
Leesa Mattress – Best Cooling Foam Mattress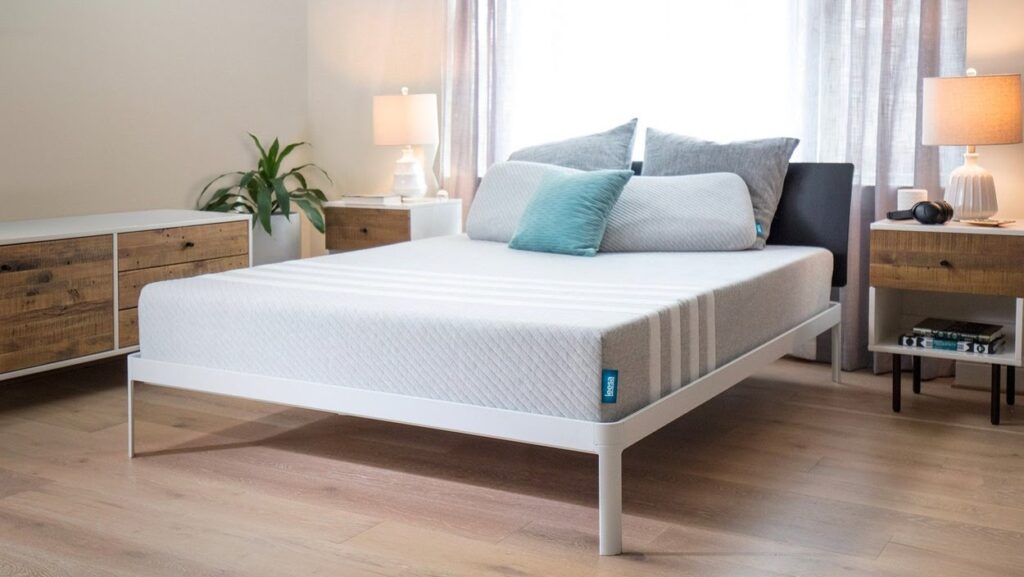 There is something about Leesa that just keeps us coming back for more.
Like we previously mentioned, foam mattresses aren't really praised for their cooling properties. But, there are always exceptions to the rule.
The Leesa Original mattress, better known as the Leesa mattress, is the company's flagship model. This model excels in relieving pressure and isolating movement. Which is an A+ for many light sleepers and those with back pain.
Now, you've probably seen that many classify the Leesa as a memory foam mattress. However, that is technically not entirely true. The model features a special foam in its comfort layer, an amalgam of both memory foam and latex. The foam is called the LSA200, and it's the reason why the Leesa mattress made it onto this list.
The foam is described to have an egg-carton shape design. This sort of design is great, as it gives more space for air to move freely throughout the mattress. The latex qualities of the foam make the Leesa mattress:
More responsive, so you don't have to worry about getting stuck.
More durable, as it lasts longer than other foam models.
And finally – more breathable, so you can expect to wake up refreshed and cool after a long night of rest.
Honestly, it would be a downright shame if you didn't try this mattress out for yourself.
Why does the Leesa mattress stand out?
It is an all-foam mattress model.
Its comfort layer consists of a special LSA200 foam that has many aspects of memory foam and latex.
The foam has an egg-carton shape design.
Because of the LSA200, this model sleeps quite cool.
It also excels at pressure relief.
DreamCloud Mattress – Best Cooling Mattress for Couples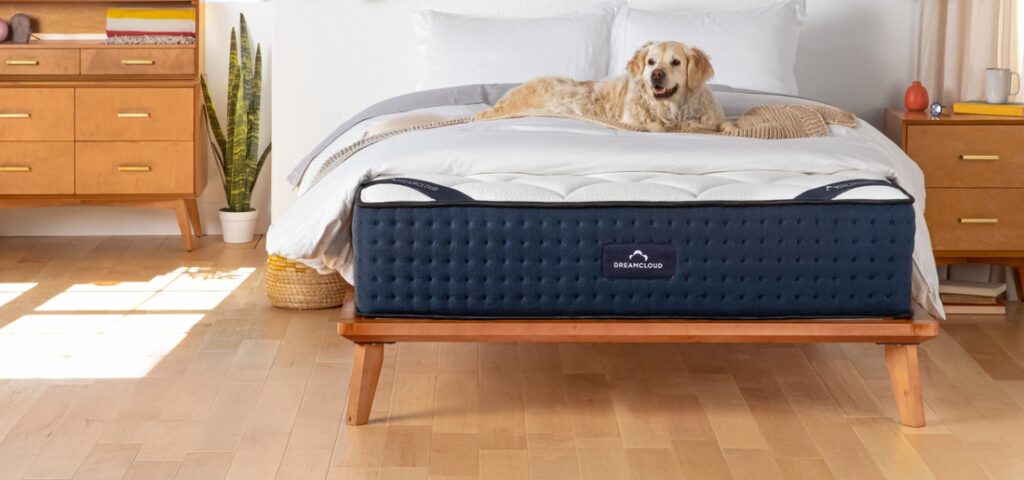 With a name like DreamCloud, you just know that a mattress is excellent at cooling.
Launched in 2018, this premium hybrid innerspring mattress has steadily risen in popularity. Many people greatly enjoy the very balanced sleep experience it provides. But how does it hold up at temperature control?
Let's take a peek at its construction, shall we? The DreamCloud mattress is a 14″ model whose main part is the dual layer of pocketed coils. The coils make the bed more durable and bouncier. Which is something that combination sleepers might like. Another bonus of the model is that the coils are spread edge-to-edge. That way, you can count on extra sleeping areas, which is vital if you are a couple.
By individually wrapping the coils, the mattress allows better airflow. And in turn, it makes it better at cooling than other models on the market. However, it's not just the coils that help with the cooling. The DreamCloud mattress is encased with a polyblend quilted cover. It gives the model its luxurious look and feel. What's specific about this cover is that it contains Mongolian cashmere. Now, cashmere is a material known for its breathability. It's also three times more insulating than regular sheep wool.
Another aspect that helps with keeping you cool is the secondary comfort layer. This layer consists of soft memory foam. Which is a material best known for excellent pressure relief. But this memory foam is infused with a special cooling gel. This gel further dissipates body heat.
With all of these elements working together, it is no wonder why many hot sleepers and couples turn to DreamCloud mattresses.
Why does the DreamCloud mattress stand out?
It is a high-quality hybrid innerspring model.
Enjoys great popularity since its launch in 2018.
It is taller than average models on the market, with a height of 14″.
Uses premium quality materials. Materials like cashmere blended covers, gel-infused memory foams, and pocketed coils.
Great for hot and combination sleepers and couples.
Layla Mattress – Best Reversible Cooling Mattress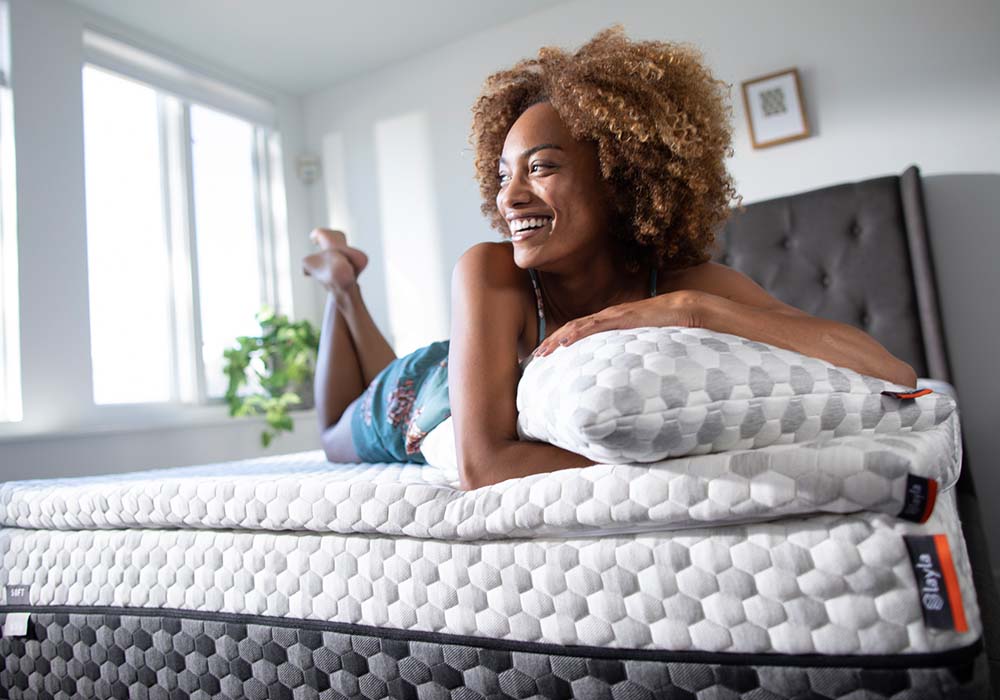 Did you know that the name "Layla" is Arabic in origin and means "the night?" What a perfect name for a mattress company!
As one of the most popular models on the market, the Layla mattress has a design that just stands out from the rest. And with a saturated market like the mattress one, that is no small feat!
First off, the Layla mattress is a dual-sided memory foam mattress. What does that mean? Well, it means that the model consists of two memory foam layers with different density levels. Just flip the bed, and you can enjoy the softer or firmer side. Pretty cool, right?
Here's something even cooler! Now, we all know by now that memory foam is quite notorious for heat retention. However, the Layla mattress combats this in two small ways:
The polyblend cover has a special ThermoGEL, whose job is to help sleepers sleep cooler.
The memory foam is infused with copper. Copper is a metal that absorbs and dissipates heat away from the body.
It really is no wonder why the Layla mattress is so popular with hot sleepers. Especially with those that sleep on their side.
Why does the Layla mattress stand out?
It's a reversible memory foam model.
It has a unique design.
Both sides of the mattress have different firmness levels.
It uses copper-infused memory foam to disperse heat.
Popular also with side sleepers.
How to Choose a Cooling Mattress
So, what do you think? Do any of the mattresses on this list seem like the best cooling mattress for you?
If none seem the right fit, don't worry, we got you. Here's what you should watch out for when choosing a cooling mattress so that it fits your preferences perfectly.
What is a Cooling Mattress?
Some people sleep hot, and their bed can make it worse. They need a cooling mattress to help them sleep through the night.
A cooling mattress is supposed to help hot sleepers by not making it any warmer than it already is. Not all beds are made the same; some are better at this than others. Cooling mattresses use different construction and materials to make this work for hot sleepers.
Sleeping cool can depend on many factors, from the mattress to your weight and sleeping position. Not all of them are the same, so the best cooling mattress for you should be based on your preferences.
A mattress for hot sleepers can be made from many materials and fall into a wide price range.
What to Look for in a Cooling Mattress
Even though a cooling mattress can't lower your body temperature, it can help you by not trapping heat. Here are some features that can impact the mattress' cooling properties to help you find the best cooling mattress.
Firmness
Mattress firmness is an entirely subjective feeling.
Simply put, it's how firm or soft a bed feels to you.
Still, the mattress firmness scale goes from 1 to 10, with the extra soft, soft, medium, hard, and extra hard levels. The perfect fit for you depends on many factors, such as your personal preferences, body weight, and sleeping position. Most people prefer a medium-firm mattress.
When it comes to sleeping cool, firmness can't help directly. A medium-firm will have you feeling like you're sleeping on top of it, while a softer mattress will have more contact with your body. This bigger contact area can affect how hot you sleep.
Memory foam can have varying foam firmness, while latex, hybrid and innerspring make a firmer mattress. The best cooling mattresses tend to be on the firmer side.
Contouring
Ample support and contouring are an absolute must! A contouring mattress will feel like a hug, which is super important for some, like side sleepers.
However, that hug can suffocate a hot sleeper, so watch out! For example, traditional memory foam is the best contouring material but not the best cooling mattress – it tends to trap heat. Latex or a hybrid mattress is the way to go if you want the best cooling mattress with extraordinary contouring abilities. Although, a cooling hybrid mattress with foam should have cooling features, like gel-infused foam.
Pressure Relief
Connected to the previous two points, pressure relief can heighten your body heat if the bed isn't made from suitable materials.
Everyone needs pressure relief, especially in a mattress for back pain. Your body weight should be evenly distributed on the mattress, and certain areas shouldn't have to handle more pressure than the rest. This can lead to back pain and other health issues besides just discomfort.
Unfortunately for hot sleepers, the best material for pressure relief is memory foam. It's soft and comfortable, and it's not the best cooling mattress. It's going to be harder to find a cooling mattress for back pain.
A foam mattress for hot sleepers can have gel-infused foam, copper, or similar materials. Latex and hybrid mattresses can also work, but innerspring probably isn't the best choice. Make sure that the foam layers in the hybrid are cooling.
High-Quality Materials
One of the critical things that make the best cooling mattress is high-quality materials. No matter how much the rest of its properties suit your preferences, a bed isn't going to cool you down if it's made from regular memory foam.
This is why it's essential to choose materials that will help regulate temperature instead of making it feel like you're sleeping in an oven. You do need that cooling cover as a mattress protector.
Here are some of the critical materials to search for in cooling mattresses.
Advanced Memory Foam
You won't find many of the best cooling mattresses for hot sleepers made from traditional memory foam. This closed cell material traps body heat like it's paid to do so! Luckily, you can find a cooling memory foam mattress with just as good pressure relief.
Some new memory foams offer breathability through small holes and perforations in the material, which affects foam firmness. Other options include the gel memory foam or the copper memory foam mattress.
A gel-infused memory foam mattress has gel in the foam layers to create a cooling memory foam mattress. Gel-infused memory foam feels cool to the touch but isn't as good as the more breathable options.
On the other hand, a copper-infused memory foam mattress works by trapping body heat and keeping it away from the body—these additions up the price range.
Coils
Whether a cooling hybrid mattress or an innerspring, coils make some of the best cooling mattresses. They won't trap heat because the air can flow freely through them.
Even pocketed coils don't trap body heat and are suitable for motion isolation.
Regarding the hybrid mattress, ensure that it doesn't have a memory foam layer on top unless it's a gel memory foam or another cooling material.
A cooling innerspring mattress isn't very pressure relieving, so this isn't the place to look for a cooling mattress for back pain.
Latex
Even though latex is foam and traps some body heat, natural latex is way more breathable than memory foam. Synthetic latex is a bit worse at temperature regulation, though.
Most latex mattresses come with holes, which help with air circulation for hot sleepers.
Phase Change Materials
Also known as PCM for short, phase change material works by trapping heat and then releasing it at a specific body temperature. Absorbing heat from your body, a phase change material will only stop when you reach that particular temperature. This is a new cooling technology made to dissipate heat.
Once your body temperature is low, the phase change material will release the heat, creating a cycle. This makes them an excellent choice for hot and cold sleepers. This cooling technology is in the higher price range.
Body Weight
When getting that new bed, you also need to consider your weight. Body weight can impact mattress firmness, support, and durability; heavier sleepers need a high-quality mattress.
Lightweight sleepers under 130lbs need a soft to medium-firm mattress to sink into. Average-weight sleepers with weights ranging from 130 to 230lbs need a bit more firmness, but a medium-firm mattress should work just fine. A mattress for heavy sleepers who weigh over 230lbs should go be a medium-firm to a firmer bed that won't deteriorate from the pressure.
Even though there isn't a set rule, heavy people tend to overheat more, and a bed with good temperature regulation is a must. The best cooling mattress for them would be a firmer option. They also need a durable mattress, so a cooling innerspring mattress might be a good choice. The best cooling hybrid mattress should have cooling agents in the top layer.
Sleep positions are also a significant factor. Average-weight stomach sleepers aren't the same as lightweight stomach sleepers.
Sleeping Positions
Lastly, the perfect bed for you depends on your sleeping position. This is where firmness and body weight come into play a lot.
Your preferred sleep position can impact your mattress choice and might even have something to do with temperature regulation.
Back Sleepers
Back sleepers are the most common sleep position. It's easy to keep their spine aligned, so back sleepers need a medium-firm to firm mattress that will let their hips and shoulders sink in just enough.
A cooling mattress for back hot sleepers should be a firmer mattress, and they can choose from different mattress types.
Read More: Best Mattresses for Back Sleepers
Side Sleepers
Sleeping on your side is the second most common position, but it's also a bit trickier. Side sleepers must keep their spine aligned while letting their hips and shoulders, the widest parts of their body, sink into the mattress. Side sleepers should get softer mattresses, preferably with foam layers. However, hot sleepers will have a bit of a problem with this.
A good option for side sleepers who sleep hot would be advanced memory foam types, latex, or a hybrid with a cooling gel memory foam layer. These are usually in the higher price range, but they're the best for side sleepers.
Read more: Best Mattress for Side Sleepers
Stomach Sleepers
Stomach sleepers aren't that common, but like back sleepers, they need a firmer mattress that won't let their hips and shoulders sink too much. And as you know, a firmer bed is better for hot sleepers.
For example, average-weight stomach sleepers can go for a medium-firm mattress, and lightweight stomach sleepers can also do that. Mattress types that could suit stomach sleepers sleeping hot include innerspring and hybrid mattresses, but latex could also be a solid choice.
Read more: Best Mattress for Stomach Sleepers
Combination Sleepers
Lastly, combination sleepers. Their tossing and turning can worsen if they're also hot sleepers. They need a responsive mattress that will conform to their body no matter the sleep positions.
The best options for combination sleepers, especially those who sleep hot, are latex or a cooling hybrid mattress. They respond fast while still giving that pleasing contour and pressure relief.
Read more: Best Mattress for Combination Sleepers
Cooling Mattress Types
Well, there's no perfect mattress type for a cooling mattress, but some are better than others.
Here's what you should know about cooling properties to find the best cooling mattress type.
Memory Foam Mattress
First, let's handle the elephant in the room – foam. Foam mattresses are entirely made from foam; their support and comfort layers are made from memory foam and other types of foam.
Memory foam mattresses offer excellent pressure relief and motion isolation, giving you a sinking feeling with various foam firmness. That's fine and dandy, but it's hell for hot sleepers and has terrible edge support.
Because it's a closed-cell material, traditional memory foam mattresses trap heat. Also, its softness leads to more of the body being in contact with the material, so it's not the best cooling mattress.
But not all is lost! New cooling technology can help battle the memory foam mattress problem and make a plush cooling mattress. Examples include gel-infused memory foam, copper memory foam, and even memory foam mattresses with graphite and charcoal. You might find a good cooling mattress for back pain here.
You can also get a good hybrid mattress with a memory foam comfort layer for a good night's sleep.
Latex Mattress
Latex foam can be natural or synthetic, and it's usually a high-end foam with a firmer feel and a fast response. Like a comfortable memory foam mattress, it offers good pressure relief and motion isolation, but it's far more durable.
But unlike foam, latex is a pretty breathable material, but it's still not the best cooling mattress. Some latex mattresses are additionally perforated for air circulation.
The biggest downside is that natural and organic latex can set you back some serious bucks. A latex hybrid mattress with coils can also be a good choice for hot sleepers.
Read more: Best Latex Mattress
Hybrid Mattress
A hybrid mattress is made as a combination of two mattress types, and the most common one has coils in the support layer, with foam or latex on top.
A hybrid mattress is the best choice for those looking for comfort and support. Different sleeping positions might feel best on a hybrid mattress, especially on the combination and side sleepers.
The properties of a hybrid mattress can vary based on its construction and materials. You should avoid the hybrid mattress if you're looking for sound motion isolation, but it has great edge support. Pocketed coils can help, but it's not a perfect solution.
Since they're usually made with coils in the middle, a hybrid mattress is one of the best cooling mattresses. A hybrid mattress gives you comfort and luxury but won't make you sleep through hell to get it. The memory foam layer could cause some trouble, so get one with cooling technology, like gel memory foam with a cooling cover.
Innerspring Mattress
A traditional innerspring mattress is the oldest type. You probably know about this one. It's made from sturdy metal coils that act as support, with a thin comfort layer on top.
The coils make for a firm mattress with good edge support. You'll know this one will last you a long time. However, be ready for awful motion isolation.
That can be fixed too! Kind of. There are different types of coils, and some of them are better than others. For example, pocketed coils are the way to go if you want a bed with no motion transfer.
Because of their construction, a cooling innerspring mattress is made for hot sleepers. The coils add to the breathability, and the material has no heat retention. Although they're not everyone's favorite, people prefer a hybrid mattress over it.
Read more: Best Innerspring Mattress
Buying a Cooling Mattress
Well, those are some basics you need to know before choosing the best cooling mattress! However, there are some other things you should watch out for.
Budget
You must have a budget, no matter what you're shopping for. The good news is that the price of cooling mattresses can fall into a wide price range.
It depends on the mattress type and materials used. For example, traditional innerspring mattresses are in the lower price range, but if you want one with a pocketed coil support core, you'll need to shell out more.
On the other hand, you'll find latex or a hybrid mattress in the higher price range without the added cooling materials.
And lastly, a memory foam bed can be found cheaply, but it traps heat, which is a big no-no for hot sleepers. But, any cooling agents added to memory foam will up its price range.
Don't fret if you're on a budget, though. There are a lot of good budget mattresses out there, and you can always use little tricks like shopping online for cheaper cooling mattresses.
Online Shopping
Online shopping has plenty of benefits that in-store shopping can't give you. It might seem better to feel your mattress before buying it, but isn't it better to get a sleep trial with ample time to test it out?
Also, online stores have all the information and often come with free shipping, white glove delivery, and extended warranties. You'll find some of the best cooling mattresses for hot sleepers in online stores.
Sleep Trial
A sleep trial lets you test a mattress to see whether it's the right one for you, and it's something you should always look for when shopping online. They can last from 30 nights to a whole year, but most companies offer a 100-night sleep trial. That's enough time to see whether the new mattress helps you sleep a bit cooler!
Warranty
A warranty is a way for a company to tell you, "Hey! Our product is good!" No matter what you're buying, always look for a warranty. The quality of a cooling mattress for hot sleepers can vary, but you should be able to send it back at no charge if something is wrong with your bed. Some even come with a lifetime warranty.
Do Your Research
And finally, take your time! Please list your preferences, and find a cooling mattress that can match them!
Online stores have a lot of information about every mattress, so you can even check the customer rating or the review of a bed you like. Spend time on research now so that you won't regret it later!
Other Things to Keep in Mind
Just a mattress isn't going to help you sleep cooler – many other factors are involved. Some essential tips include having a cold shower before sleeping and setting some plants in your room to help with air circulation.
People could sleep hot for many reasons, including diseases and medical conditions. So if nothing helps, you should contact your doctor.
But we're here to see what cooling mattress accessories can help you regulate temperature. Here's what to keep in mind for a good night's sleep.
Mattress Cover
A mattress cover, or a mattress protector, protects the mattress from outside threats like dust and mites, but it can also help you sleep cooler.
A non-quilted cooling cover with fewer materials is a good option.
A mattress cover can also be made from phase change materials. Other suitable materials for a cooling cover include lycra and Tencel. Lycra offers a breathable cover, while Tencel can wick away heat.
Sheets
Besides a cooling cover, sheets can significantly impact a hot sleeper's life. There's a reason why some of your sheets are hell for sleeping hot – they retain heat.
The best sheets for hot sleepers, or just those for summer, should be made from lighter and more breathable materials, like linen, lycra, and Tencel. Some could even have synthetic cooling materials.
Pillows
Hot sleepers can find a lot of accessories on the market – there are even cooling pillows. The best cooling pillows are made from latex or advanced memory foam, but there are even more breathable ones with air chambers.
Blanket
Now, you might think, why would a hot sleeper need a blanket? Some blankets retain heat, but some can help you sleep cool.
It all depends on the material. Just like with sheets, fabrics like wool and thick cotton are great for winter but will be hell doing summer. On the other hand, linen, lycra, and Tencel blankets are what the hot sleepers need.
Mattress Topper
A mattress topper is used to upgrade a mattress. For example, if you want to change the mattress firmness. Its cooling properties will depend on the material. To sleep cool, you shouldn't get a mattress topper from regular memory foam.
Luckily, there are a lot of options on the market. Try getting a mattress topper with advanced memory foam or latex. A phase change material is also a good option.
Frequently Asked Questions
Do cooling mattresses really work?
Cooling mattresses do work, but they are not really all-powerful. They have their limits.
Depending on the features they use, they can help you sleep cooler at night. For example, they can use cool-to-the-touch fabrics that will draw heat away from your body. But, it's more than likely, that they alone won't keep you cool throughout the night.
Newer foam mattresses are enriched with unique substances that keep you cool at night. They use metal particles, gel substances, or even phase-change technologies. That way, they can absorb heat away from the body for a longer period. Many mattresses can also come with breathable chambers. Or they can use springs to promote better air circulation.
If you have some money aside, you can invest in some plug-in options. But keep in mind that these options are usually high maintenance and can take up a lot of space.
Our advice? Write down on a piece of paper all of your preferences, and start the search from there. And don't forget to use this list as a guide on your search.
What mattress types sleep cool at night?
Let's preface this section by stating that no one mattress type is the crème de la crème. Each mattress type has its pros and cons, but also personal preferences come a lot into play.
That being said, many people usually recommend innerspring mattresses as the best type for sleeping cool at night. Due to their construction, they consist primarily of coils with thin layers of foam. However, these beds tend to be quite bouncy, so beware if you sleep with a partner.
In terms of cooling, hybrid mattresses are just as great as innerspring ones. But, they do tend to sleep a bit warmer, as they have foam in their comfort layer. Though the newer models often offset this by enriching the foams with cooling agents.
Latex, especially the organic kind, is a material known for its breathability. It wicks heat away from the sleepers thanks to its unique open-cell structure. While it's cooler than other foams, latex tends to be pricier. Which is why so many manufacturers combine it with other foams. These new foams are latex-like, but they are likely not to excel at cooling.
Foam beds, but especially memory foam ones, have a bad rap when it comes to retaining heat. Because they tend to conform around the body, this reduces the mattress airflow. In turn, it makes them quite warm. However, a lot of newer foam models tend to integrate materials that help combat this. Materials like metal particles, cooling gel, graphite, and many others. Though they might still tend to overheat, these new formulas tend to sleep cooler than regular foam mattresses.
How can I cool down my mattress?
Let's face it – waking up sweaty is not a great way to start your day. It can really put a damper on your vibe.
Here are some of our tips to stay cooler than cool as you drift off into slumberland:
Regulate the temperature in your room.

Turn down the thermostat a few degrees lower or, if you can, sleep with the windows open. And while you're at it, get some little green buddies, i.e., plants, that help regulate the airflow.

Invest in a cooling mattress.

Get a mattress that will help you feel cool at night. Look for a mattress with springs or that has material that dissipates heat. To start, take a look at our top picks for cooling mattresses right above. We got you covered!

Opt for breathable bedding.

There are many beddings on the market that are made from moisture-wicking materials. One such superb example is linen sheets. Perfect for summer and even winter.

Stay cool with a mattress topper.

Can't get a new mattress? No problemo! There are special cooling mattress toppers/pads that can help you sleep more comfortably. They come in a wide variety of styles, so you can even find some really budget-friendly ones.
Why do I sleep hot at night?
If you wake up feeling sweaty, you're not alone. A lot of people fall into the category of hot sleepers or people who tend to overheat while sleeping. But why does this happen?
Usually, it has to do with where one sleeps. If you sleep in a hot and humid environment/climate, it can cause you to overheat at night. Or it can have something to do with the bedding. Beddings that are made with materials that aren't breathable can make you heat up.
Even your mattress can cause night sweats.
For example, foam mattresses are not recommended for hot sleepers, as they conform quite closely to the body and basically soak up your own heat.
While most of these can be easily solved by changing your sleep environment, overheating can be due to certain medical conditions. People that have menopause, anxiety, hyperthyroidism, or others are known to sleep hot at night. In that case, it's best practice to consult with your doctor to see what the real cause might be.
Final Thoughts
Before you click away, here's a speedy run-through:
Now, we all know that there is no ultimate mattress that will suit all of your needs. But that is why we made this list, to begin with.
Each of us is unique, and all of us require different things while we sleep. Hence, we shouldn't have the notion that just because this is the best mattress, it will necessarily be the right pick for us.
You might like the DreamCloud mattress, but someone else will like the Leesa. Maybe the Saatva mattress will be too firm for you, whereas Layla will be just fine. Or maybe all of these mattresses will be heaven to you.
Either way, if you like any of these models, you should read their more detailed reviews. Get to know every little detail about them so that you can make a more informed decision.
For now, we hope that this list was of great help to you. And that you've also found what you've been looking for. If you didn't, then good luck on your adventure!