Casper Mattress Review for 2023: To Buy or to Avoid?
Written by: Milica Terzic
Updated: 02/21/2023
Transparency Disclosure: For products purchased through the links on this page and throughout the site, we may get a referral fee (with no extra cost to the buyer). Please read our full How We Rate page for more information. There you can see how we conduct research and test products, as well.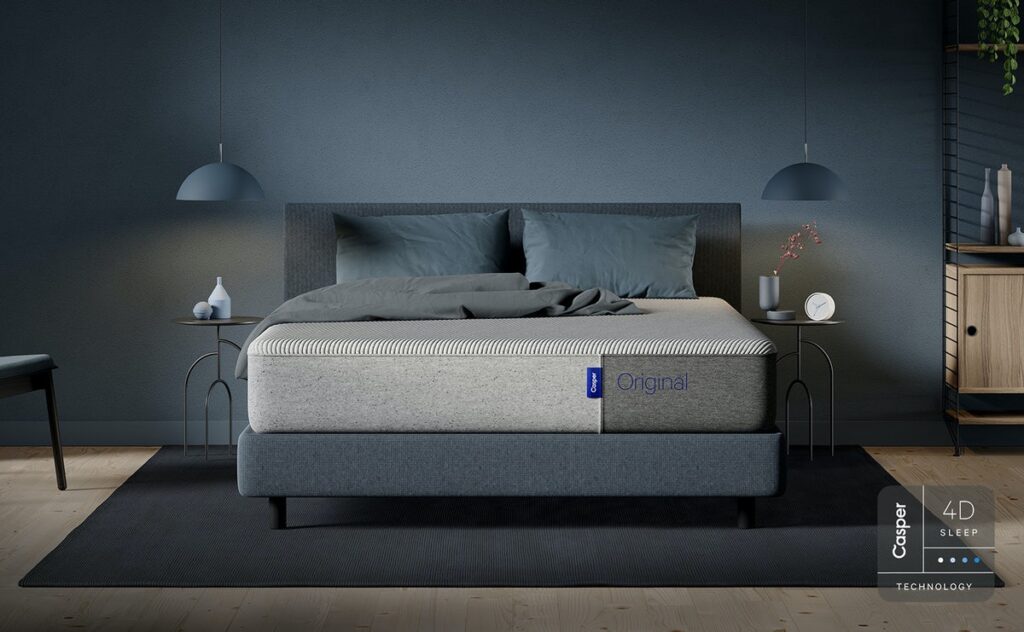 The chances are that when you were a kid, you enjoyed watching Casper, the friendly ghost. Whether you liked the live-action movie or the TV series, the story never failed to bring us joy and delight. But, today, we are talking about a different Casper.

Although we are not 100% sure how they got their name, the Casper Sleep company launched in 2014. It was one of the first brands on the market to offer bed-in-a-box mattresses. The company quickly rose to popularity thanks to its fantastic customer service and design. Today, you can find its products both online and in its stores across the US. They also collaborate with Target, where you can find some of their items in stores. The company is also committed to social and environmental causes.

The Casper team works tirelessly to create innovative products. These products are meant to improve the quality of one's sleep. Other than their flagship bed, the company also has four other mattress models, bedding, bed frames, pillows, dog beds, and other amazing products like their Glow light. They even have a book that helps improve how you sleep based on the latest research.

While we'd love to gush about all of the products, especially the beds for pooches, today we will be focusing on the Casper Original mattress. You might know it as the Casper mattress. Today, this flagship model still enjoys great popularity and praise from its customers. It is a versatile and very comfortable bed, made out of different types of foams. It also has a unique construction that is not common with most other beds on the market.

But you are probably wondering if this praise holds up. Is the Casper mattress really that great? Should you get it? Well, there is only one way to find out.

Shall we start this Casper mattress review?
Casper Mattress Review In a Nutshell
The Casper mattress is a hybrid all-foam mattress.
The mattress is great at motion isolation.
Excellent pressure-relieving qualities.
Sleeps cooler than other all-foam models.
Ranks 7 out of 10 on the firmness scale.
Best suited for back, majority of side and combination sleepers.
Offers a 10-year limited warranty and a 100-nights trial period.
The company has four more models: Casper Original Hybrid, Casper Wave Hybrid, Casper Nova Hybrid, and Casper Element.
Casper Original
Casper Wave Hybrid has stronger temperature regulation than most hybrid mattresses and a soft 4/10 firmness level.
Construction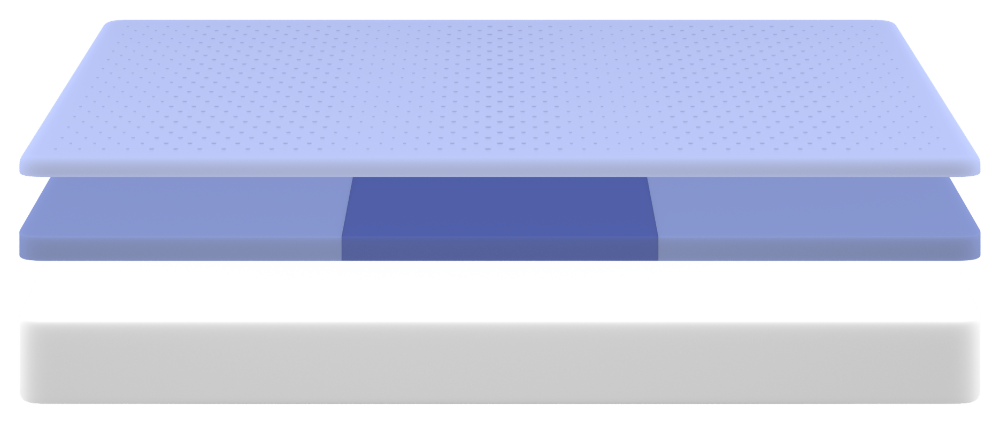 Cover
One of the things that many sleepers note is if the mattress cover is soft and inviting.
All of the Casper mattress covers are made from a knit blend of various materials. These include cotton, lycra, rayon, and recycled polyester. The polyester is derived from 57 recycled bottles, making the bed very planet-friendly.

The soft and thin cover is not meant to be machine-washable. Instead, you can spot clean it using a mild detergent.
Comfort Layer
Up next is the comfort layer. The Casper mattress's top layer is a 1.5″ perforated polyfoam named the AirScape™. The soft foam is designed to increase the airflow of the bed. This design has two functions:

1. It helps air the mattress, keeping it fresh.
2. It keeps you cool at night.

The AirScape™ foam is also more responsive than memory foam. It contours to the shape of the sleeper's body so that it can relieve pressure at the shoulders and hips. The foam also has a slight bounce to it.
Transitional Layer
What's really interesting about Casper's transitional layer is its memory foam. The foam is divided into three ergonomic zones. Hence, the name Zoned Support™.

Each zone targets different areas of the body. The softer foams target the shoulder area and feet, providing more relief to the upper and lower body. The firmer foam in the middle section is focused on the hips, which lifts them up and, in turn, aligns the spine.

This 2″ layer helps to provide more even weight distribution. The layer also properly aligns the spine. It achieves a more balanced feel of the bed and makes it a good fit for those with pain issues.
It is truly a unique design, as most bed-in-a-box companies don't divide the layers.
Base
And last but not least is the base. The 7″ base of the Casper mattress is made out of a thick layer of high-density polyfoam. This material is very durable and stable. It also gives the bed its signature shape.

The primary role of the base is to support the sleeper's body. It prevents the body from sinking and provides additional support. That way, the sleeper can wake up feeling refreshed and ache-free.
Firmness & Feel
Even though the Casper mattress has a soft feel to it, we have varying grades for its firmness. Most have rated it a 7 out of 10 on the firmness scale. Some have rated it a 6.5, a 6, or even a 5. In short, it can be confusing, and sometimes you don't know whom to trust.
But, here's the catch. Firmness and feel are entirely subjective. If you are petite, this model might feel firmer to you, and if you are a bit larger, it might feel softer. Meaning that you will have a different experience based on a multitude of factors. Also to note is that the transitional layer is divided into three different zones. It might feel firmer in the center.

So what's our takeaway? Based on the other Casper mattress reviews and its construction, we also rank it at a 7 out of 10. This ranking makes it a medium-firm mattress but leans more on the firmer side.

Like the firmness, the feel of a bed is also entirely subjective. However, we noticed that most Casper mattress reviews agree that it has a soft, balanced feel to it. This is achieved thanks to its construction. It is soft to the touch and also provides a nice amount of relief in shoulder and hip areas. On the other hand, it also keeps the body "on top," not allowing it to get stuck in one place. Still, the Casper might feel a bit uneven, as it's a bit firmer in the center due to the Zoned Support™ system.

Nonetheless, it does achieve a unique balanced feel. This might make it an excellent choice for combination sleepers.
How long does a Casper mattress last?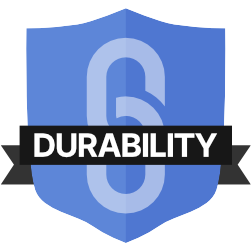 Right off the bat, the Casper mattress comes with a 10-year limited warranty. Meaning that it should last you at least 7 years. The mattress's longevity is achieved thanks to its 7″ inch base. The base is made out of high-quality and durable polyfoam. Not only does it make the bed stable, but this layer also supports and aligns the body properly.

According to their website, the mattress has practically no weight limit. The reason being that it's designed to support different shapes and sizes. But don't hold them to it! Please read our Sleeper types preferences and weight section to learn more.

If you want your mattress to last you a bit longer, it is essential to take care of it properly. One way to take care of it is to rotate the mattress every 6 months for even wear. Don't flip the bed as the base is on the bottom and not comfortable to sleep on.
Motion Transfer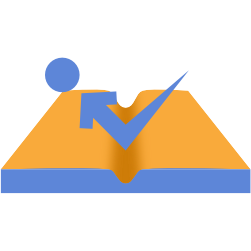 We can't even imagine how many couples have fought over the motion transfer. It can be so frustrating when one partner is particularly restless and the other wants to sleep.

All of the Casper mattress reviews agree. The mattress performs well in motion isolation. Thanks to its dense foams, the bed is great at absorbing and isolating movement. This is not surprising. All-foam beds tend to be great at limiting cross-bed motion.

Because the top breathable layer is responsive, you might still feel some movement. But it shouldn't disrupt your sleep so that we wouldn't worry about that.
All in all, this might be one of the best mattresses for couples.
Edge Support
Another important factor for couples looking for a bed is edge support. A bed with a supportive edge will not prematurely sag and make it feel more stable.

Most all-foam models don't have great edge support. That doesn't seem to be the case with the Casper mattress though. Thanks to its build, the mattress has decent edge support. You don't have to worry about rolling off the bed.

We think it's a good pick for couples. We don't recommend it for individuals over 230 lbs. They will probably experience more sinkage around the edge.
Pressure Relief
Honestly, sleeping on a mattress that doesn't provide you the necessary pressure relief might as well be a nightmare.

Points that are most affected by pressure are the hips and shoulders. Sleepers usually put more weight on these areas. To counteract this, the Casper mattress has an unusual tri-zoned memory foam layer. The middle part is firmer in order to provide support to the midsection.

That way, it prevents the hips from sinking in too deeply and redistributes the weight evenly. By doing this, the pressure doesn't build up. You can expect to wake up with no pains and aches. Perfect for those suffering from back pain!

Due to its medium feel, the Casper mattress might not be suitable for individuals over 230 lbs. They might experience more pressure as the bed might feel too soft for them.
Temperature Regulation
According to their website, the Casper mattress's top layer is a perforated breathable foam. The foam promotes better air circulation and keeps you cool during the night. However, that doesn't change the fact that the Casper mattress is an all-foam model. As such, they tend to trap more heat than a latex, hybrid, or innerspring bed.

But looking at other Casper mattress reviews, it performs better than other all-foam models. Thanks to the nature of the AirScape™, it does a terrific job of cooling the bed down and not absorbing heat. You might feel some heat, as the memory foam underneath can restrict airflow as it conforms to the body.

Simply put, on a hot and cool scale, the Casper mattress is in the middle, but it does lean more towards the cool side. Most sleepers won't have a problem with the mattress overheating.
Casper Wave Hybrid
Casper Wave Hybrid has stronger temperature regulation than most hybrid mattresses and a soft 4/10 firmness level.
Does Casper mattress smell?
Let's be frank. All mattresses that come in a box tend to emit an odor when you open them. This usually happens because the mattress is compressed so that it can be shipped easier. Also, beds that have memory and/or polyfoams are also prone to off-gassing. During the manufacturing process, they are made with low levels of volatile organic compounds (VOC). The VOC can also be responsible for odors.

Don't be alarmed by this! The Casper mattress also emits these odors, but they are not harmful. Instead, they're more inconvenient, as you have to leave your bed to air out.
At most, it takes 48 hours, but if it's in a well-ventilated room, the odor goes away after the first few hours.
Sleeper Type Preferences & Weight
If you go off their website, the Casper mattress is their most popular model. It suits sleepers of all kinds that want both support and cooling.
But, we all know that this can be a bit of a stretch. Depending on various factors, one can have a different experience with a mattress.

After searching far and wide through the web, we've collected all of the experiences with the Casper mattress. Let's see if this mattress is just as friendly with all sleeper types or if it does play some favorites.
Side Sleepers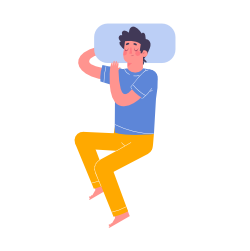 As side sleepers tend to put a lot of pressure on their shoulders and hips, they rely on pressure relief.

Thanks to the Zoned Support™, the Casper mattress will feel soft under the shoulders. It also keeps them from sinking in too deeply, which helps with spinal alignment.

Unfortunately, the mattress might not be a great pick for some side sleepers. The mattress might be too firm for some lightweight side sleepers. Heavyweight side sleepers might not find it supportive at all.

Basically, if you are an average-weight side sleeper or not a strict side sleeper, you will most likely enjoy the Casper mattress.
Back Sleepers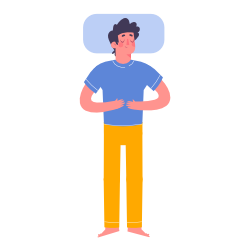 Back sleepers tend to look for mattresses that support the lower back area. That way they don't sink in too deeply and wake up with pain.

The Casper mattress might be a bit softer than what they usually prefer. However, based on what we can see, the Casper is popular with the majority of back sleepers. Thanks to the transitional layer, their spine won't lose its natural posture. The bed does a great job at lifting the hips and filling in space at the lower back. It really is not surprising that it often ranks as one of the best mattresses for back pain.

But what happens when we factor in weight? Most back sleepers under 230 lbs will definitely enjoy sleeping on the Casper mattress. They can experience the cradling feeling that prevents their midsections from curving downward.

With heavier-bodied back sleepers, it's a different story. There is a possibility that the Casper mattress might not be firm enough, so their hips can sink in. That way, their spine will be put out of alignment, and that can cause pains and aches.

Still, we do have to agree that the praise for this model is not unwarranted. As there are more praises than complaints, we think it might be one of the best mattresses for back sleepers.
Stomach Sleepers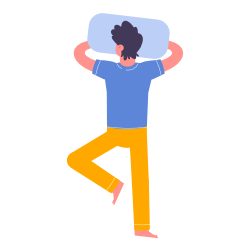 These sleepers need a mattress that can give them enough support around the abdomen and hips. If the hips sink too much, it puts a strain on their lower back, which is why they tend to pick firmer mattresses.

So what about the medium-firm Casper mattress? Honestly, it's not the worst, but not the best mattress for stomach sleepers out there. They might enjoy the tri-zoned memory foam layer. It provides them an extra dose of support around the abdomen, but it might not be enough.

Petite and average-weight stomach sleepers can find Casper supportive. Heavier stomach sleepers should still look for a firmer model.
Combination Sleepers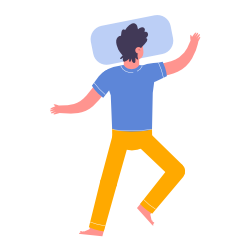 Now combination sleepers are a tricky bunch. They tend to move a lot during the night, so they need a mattress that can quickly adapt to their movement. So when we say "not strict sleeper type," we usually mean them.

Well, we are pleased to say that the Casper mattress might just be what the doctor ordered for combination sleepers. The mattress is versatile enough to support switching between different positions. Also, they will get the pressure relief they need in critical areas. Honestly, it's no wonder that some have put it in the best mattresses for combination sleepers.

Even though the Casper mattress really excels in this area, we still don't recommend it for heavier-bodied individuals. Our recommendation is to check our list of best mattresses for heavier sleepers.
| | Under 130 lbs. | 130-230 lbs. | Above 230 lbs. |
| --- | --- | --- | --- |
| Side Sleepers | Good | Excellent | Good |
| Back Sleepers | Good | Excellent | Fair |
| Stomach Sleepers | Good | Good | Fair |
Other Mattress Models
Besides the Casper mattress, the company offers three other mattress models:

1. Casper Wave Hybrid
2. Casper Nova Hybrid
3. Casper Element

But, here's something else that is interesting. The Casper mattress is so popular that the company added a new hybrid version – the Casper Original Hybrid. Because there are some differences, we will be comparing the two as separate models.

Let's jump in and find out what makes them unique!

We do have to mention that there is one more mattress model, the Casper Snug. The model is only available at select partner retailers like Target. As such, we couldn't find much information about it. Hence, we have decided to focus on the models available on their website.
Casper Original Hybrid
The Casper mattress is so popular that the company decided to make a hybrid. The result was the Casper Original Hybrid mattress, or in short, Casper Hybrid.

Honestly, the Casper and the Casper Hybrid are not all that different construction-wise. The only difference is that the Hybrid has a 7″ vase with pocketed coils. These coils are encased in polyfoam. This gives the mattress an extra dose of bounciness and breathability.

Because the Casper Hybrid has coils, it might not isolate motion as much as the Original. On the other hand, it has much better edge support, making it more durable.

Both the models have the same thickness. They are also available in all standard mattress sizes. The Casper Hybrid is a bit heavier due to the coils. It is also a bit pricier, as its starting price is $995 for a Twin-sized mattress.

Do you like what the Casper mattress offers but want a more supportive and long-lasting mattress? Then the Casper Hybrid might be a good choice to try out.
Casper Original Hybrid
A mattress perfect for couples due to outstanding movement isolation and edge support. Hot sleepers love it for its advanced cooling properties.
Casper Wave Hybrid
The Casper Wave Hybrid is advertised as the company's most advanced mattress model. Looking at its construction, it honestly shows.

This hybrid mattress model has 5 layers of foam and springs. That way it achieves a more pressure-relieving and supportive mattress. Compared to the Casper mattress, the Wave Hybrid has a Zoned Support™ Max system. The system features gel pods that add support to the waist and lower back. It also has an advanced cooling system, the AirScape™ 3. It has a whopping three layers of breathable foam. Talk about extra heavy on the side!

Compared to other Casper models, the Wave Hybrid is the thickest at 13″. It's also the heaviest, weighing in from 70 to 145 lbs. Considering that the mattress uses premium materials, it is also significantly pricier. The starting price is $1,595. If you don't mind spending a little more, you might want to consider the Wave Hybrid.

According to the website, the Casper Wave Hybrid is excellent for people with back pain or other health issues.
Casper Wave Hybrid
Casper Wave Hybrid has stronger temperature regulation than most hybrid mattresses and a soft 4/10 firmness level.
Casper Nova Hybrid
The Casper Nova Hybrid is the company's softest mattress on the market. The top is quilted with soft, velvety fabrics, which enhances the feel of the mattress.

Like other Casper models, the Nova Hybrid features both the cooling and the zoned support systems with a slight difference. The Airscape™ 2 has two layers of cooling foam to prevent overheating. The Nova Hybrid's Zoned Support™ Pro has seven support zones and contoured cuts. This design provides an optimal spinal alignment.

Comparing it to the Casper mattress, the Nova Hybrid feels much softer. This might make it a better option for side sleepers. The Nova Hybrid is also a bit thicker at 12″ and weighs from 60 to 127 lbs. It is available in sizes from Twin to California King.

Looking at its price, it is smack in the middle between the Original and Wave Hybrid. The starting price is $1,195 for a Twin mattress.
Casper Nova Hybrid
Nova Hybrid is Casper's ultra-plush model with a premium foam top layer with a velvety soft feel, ideal for side sleepers.
Casper Element
Budget-hunters rejoice! The Casper Element is a comfortable, quality mattress at a very cozy price.

If we had to describe this mattress model, it would be "simple." In comparison to the Original, the Element only has two layers. These are the breathable Airscape™ and the durable foam base. As such, the Element can feel firmer than the Casper mattress. It also might make it a better pick for lightweight sleepers.

The Element is also the smallest Casper model. It is 10″ thick and weighs from 41 to 87 lbs. The mattress is available in standard sizes from Twin to California King.

But the best thing about the Element? Its price! This model is the cheapest Casper mattress at a $395 starting price. What a steal!
Casper Element
Casper's coziest-priced foam mattress is designed with AirScape™ technology to help you sleep cool and wake up refreshed.
How much does a Casper mattress cost & weigh?
And now, let's take a peek at two of the most important aspects during buying – price, and size.
Price-wise, the Casper mattress is close to average compared to other all-foam mattresses. It certainly isn't the cheapest, but also not the most expensive. The starting price is $695 for a Twin size mattress, which is pretty decent and affordable for most.

The Casper is available in all standard sizes, from Twin to California King. What's interesting to note is that bigger-sized models are a bit lighter than the average. The Casper Queen size weighs 79 lbs, while the typical average weight of a Queen mattress is around 120 to 160 lbs. Something to keep in mind if you don't want the In-Home Delivery and Setup service.

The mattress is also 11″ thick, making it slightly thicker than the average all-foam bed.

All in all, we can see why the Casper mattress is advertised as the company's most popular model. It is made out of premium materials and has excellent value for a bed-in-a-box mattress.

In the table below are represented all of the prices and dimensions of the Casper mattress sizes. The prices are without a discount. If you are interested in getting a great offer, please check out our coupon page!
| Size | Price | Weight | Height | Dimensions |
| --- | --- | --- | --- | --- |
| Twin | $995 | 46 lbs | 11" | 38" x 75" |
| Twin XL | $1,145 | 50 lbs | 11" | 38" x 80" |
| Full | $1,445 | 67 lbs | 11" | 53" x 75" |
| Queen | $1,495 | 79 lbs | 11" | 60" x 80" |
| King | $1,945 | 101 lbs | 11" | 76" x 80" |
| Cal King | $1,945 | 100 lbs | 11" | 72" x 84" |
Deals & Discounts
Took a liking to the Casper mattress? Read all about their current promos, deals, and discounts on the Casper official website.

Our favorite offer? Casper offers a 20% discount for:
1. Military
2. Healthcare professionals
3. Teachers
Click on each category for more information.

Don't forget to visit the Anatomy of Sleep's Coupon page and find the best deal courtesy of us!
Overview of Benefits
Availability
Interested in the Casper mattress? You will be pleased to know that it is available in many places.

If you like to shop online, you can order it through the Casper website or Amazon.

Need help when shopping? You can contact Casper's 24/7 customer service via chat or give them a call.

If you like to try the mattresses out in person, you're in luck! The Casper company has several shops in the USA and other locations (click here to find the store closest to you). Some of the Casper items are also available in Target, both off- and online.

Due to the Covid epidemic, some of the Casper retail shops are temporarily closed. Not sure if the Casper mattress is the right one for you? You can book Virtual appointments on their website. Visit their official website or check out their FAQ page, to find out more.
Sleep Trial
It is tough to make a decision sometimes, especially when choosing the right mattress for you.

If you like to take time with their decisions, you will like Casper's lengthy trial period. If you get the Casper mattress or any other mattresses, you will get a 100-night trial period. That way, your body can comfortably get used to sleeping on top of the Casper mattress.

Still not satisfied with the mattress? You can return or exchange the mattress free of charge. Keep in mind that you only get one trial period per product.
Warranty
There is nothing worse than a mattress that is not long-lasting! But, have no fear!
All Casper mattresses come with a 10-year limited warranty. So rest assured that you will be enjoying your Casper for years to come.

The warranty extends only to the original purchaser of the mattress. This means that it is only valid to the first person that bought the mattress from either Casper or their authorized retailers. It cannot be transferred to another.

Under warranty, any physical flaws that might shorten the mattress's "lifespan" are covered. Additional terms and conditions may apply.

For more details about the Casper mattress limited warranty, please visit their website.
Certification
Today, it is vital to take care of one's health now more than ever. That is why it is crucial to get a mattress that doesn't endanger our well-being.

We are happy to report that the Casper mattress has foams that are CertiPUR® certified. What does that mean? It means that the foams do not contain the following harmful materials:
1. Formaldehyde
2. Flame retardants
3. Ozone depleters
4. Mercury
5. Lead and other heavy metals
6. High levels of VOC

What is also important to mention is that the company doesn't test on animals. It also does not use any materials derived from animals.
Free Shipping
What are everyone's favorite two little words? Free shipping!

Currently, the Casper company ships via UPS to the 48 contiguous US and most of Canada. When you place your order, you will receive an email with a tracking number in 1-2 business days. After that, it usually takes them 1-3 business days for delivery.

There are two things to note. Firstly, certain Casper articles are not eligible for free shipping. They're indicated on the website. Secondly, the company charges shipping to:
1. Alaska and Hawaii in the US
2. Northern Canadian Provinces of Yukon, Northwest, and Nunavut territories.
Additional Services
White Glove Delivery

Honestly, the last thing you want after a long day is to set the mattress by yourself. That is why many sleepers look for companies that offer White Glove delivery. Or, in the case of the Casper company, the In-Home Delivery, and Setup.

Here's the kicker. The Casper company offers this service in 48 contiguous states in the US and certain parts of Canada:
1. Toronto
2. Montreal
3. Vancouver
4. Calgary
5. Edmonton
6. Ottawa
7. Winnipeg

All you have to do is schedule with their shipping partners the delivery date, and they'll do the rest. Like setting up the mattress and removing all of the packings.

Unfortunately, the service is not free. In the US, it costs $149, regardless of the number of ordered products. The fees also include removing the old mattress in the price. However, this fee is not refundable if you return or exchange the mattress.

Mattress and Foundation Removal

As we stated above, for the fee of $149, you can also add the old mattress and foundation removal and recycling.

However, in order to be eligible for the service, there are a few conditions:
1. This service is only limited to previously owned Casper products.
2. If you ordered one mattress, only one mattress will be removed.
3. All mattresses for removal must be in a good sanitary condition.
4. If you ordered one foundation, your old box-spring/foundation will be removed.
5. Casper's delivery partners do not remove bed frames.

Easy-to-use Financing

Let's face it – shopping online can be a bit of a drag! Thankfully at Casper, you get multiple payment and financing options.

You can pay with a credit or debit/bank card or even through PayPal on their website. Love us some options!

Also, Casper has a partnership with Affirm. Through them, you can easily pay off your Casper mattress over 3 to 24 months with a rate as low as 0% APR. That is quite a generous time, as most offer only up to 18 months.

Like to learn more about this incredible partnership? Then visit Casper's website!
Return Policy
Sometimes, the mattress you ordered might not be the right fit. If the Casper mattress is not what you were looking for, you can start a return or exchange process.

Within the 100-night trial period, you have to contact Casper customer service. They will arrange with you a pickup through a local charity or a recycling center in case of returns. You can return a maximum of two items of the same product type. You will also be fully refunded within two weeks. This includes shipping costs to Hawaii and Alaska as well.

In case of an exchange, you have to reach out to their customer service during your trial period. They will arrange to deliver the replacement product and pick up the existing one. Once the pickup is complete, they will refund you for your first purchase.
Giving Back to the Community

Other than improving the quality of sleep, the Casper company is also very conscious. They give back to communities and are reducing their impact on the environment.

They also commit time and energy to improve the world around them. In partnership with numerous organizations, the company donates returned items to those in need. The donated items are in good condition.

According to their website, they also offer at some Casper locations in-store recycling. To lessen their impact on the environment, they take old pillows, beddings, and sheets. After that, they recycle them.

Talk about giving a sheet!
Is the Casper mattress good?
So, what is the takeaway from this Casper mattress review?

Well, the Casper mattress is an excellent choice for those that like a mattress with a bit of spice. It's not too firm nor too soft, has a plush feeling to it, and gives you all the necessary support. Great for a couple of snoozes.

The Casper mattress has a distinct design. It boosts pressure relief and its longevity. Although it does a decent job at edge support, it excels at isolating motion. That way you and your partner can sleep soundly. This bed-in-a-box model will also keep you cooler than other mattresses on the market.

Due to its construction, the Casper mattress is popular with back sleepers. Even those that suffer from back pain like it as well. Most side and combination sleepers will enjoy sleeping on this mattress. The majority of hot sleepers should have no problems with overheating.

Sadly, not everyone will enjoy this model. Stomach sleepers might find the mattress a bit lackluster. Heavier-bodied sleepers may not get the support they need. Nonetheless, the mattress is still versatile and appeals to a variety of sleepers.

If you decide that the Casper mattress doesn't fit you, you can always return or exchange the mattress. They do offer an ample 100-nights trial.

Honestly, there is only one way to truly see if the Casper mattress will give you plenty of sweet dreams or not. You need to try it out.
Casper Wave Hybrid
Casper Wave Hybrid has stronger temperature regulation than most hybrid mattresses and a soft 4/10 firmness level.