Best Hybrid Mattress for 2023 – Top 5 Reviews and Ratings
Written by: Milica Terzic
Updated: 02/20/2023
If you are looking for a new mattress, chances are you've come across the word hybrid. And chances are you've frequently seen it as a part of the phrase "hybrid-innerspring."
As you might expect, how well a hybrid mattress will perform depends on its overall design. If it has pocketed coils (as most do), it will have better edge support and durability. Foam Hybrids will be good at relieving pressure points. Those with latex will have better airflow and extra bounce. So it's an excellent pick for someone that wants a more balanced mattress.
On the other hand, hybrids combine multiple high-grade materials. So they tend to be a bit more pricey than other mattress types. Also, keep in mind that not every mattress will fit all sleepers. Regardless of their construction.
So out of the sea of thousands upon thousands of hybrids, where do you even start? Well, how about you keep reading this helpful list of the crème de la crème hybrids, curated by yours truly?
Without further ado, let's get this show started!
Keep in mind that this list aims to present mattresses that you might find appealing. Please feel free to visit our other best mattress lists and reviews. Get a full picture of what you may like better based on your specific needs and wants.
What are the pros and cons of a hybrid mattress?
Pros:
Extra support, especially along the edges
Fantastic pressure relief without too much cradling
Sleep cool as a cucumber at night
Bounce around with ease
Cons:
No deep body contouring
Not as great at motion isolation
Probably not a good choice if bargain hunting
It can be challenging to move (they're heavy)
Best Hybrid Mattresses 2023 List
Saatva Classic Mattress – Best Hybrid Mattress for Lower Back Pain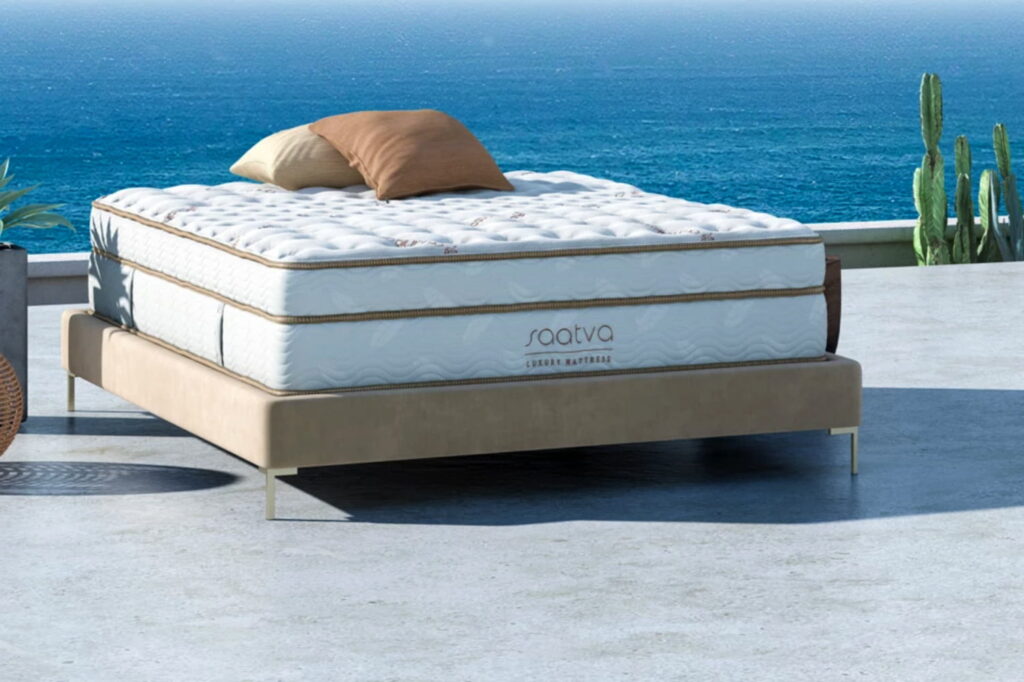 Purity, wholesomeness, and virtue. These are what the Saatva company tries to embody through their mattress designs. And that's what you can experience with their flagship model, the Saatva Classic.
The Saatva Classic mattress, Saatva for short, is a high-end hybrid innerspring model. One of the first things you notice about it is its snatched look. It's characterized by the soft, organic cotton cover and plush Euro pillow top. Together with the thin foam layer, this design adds to the overall comfort of the mattress. It really hits the spot for all those critical pressure points! No wonder that the mattress is also considered one of the best at alleviating lower back pain.
What makes Saatva Classic's design even more unique is the dual-coil system. Because of this, the mattress is a lot more durable and responsive. Which explains the 15-year warranty. As both coil layers are individually wrapped, the Saatva Classic is a worthwhile investment for a lot of hot sleepers. You can even expect exceptional support on the edges as well.
Another thing that makes the Saatva Classic mattress unique? The mattress is available in three different firmness level options. Plush Soft, Luxury Firm, and Firm. Combined with the fact that you can choose between two height options (11.5″ or 14.5″), the mattress is very versatile. You can find what best suits your preferred sleeping position.
With a Queen size going for $1,595, the Saatva Classic is a luxury you can afford. If you're still not convinced, keep this in mind! Each Saatva mattress comes with free shipping and white glove delivery.
Why Does Saatva Classic Mattress Stand Out?
You can choose between two different heights and three firmness options of the Saatva Classic mattress.
The mattress is a versatile model, suitable for a wide variety of sleepers.
The Saatva Classic has remarkable pressure point relief. An excellent choice for sleepers with lower back pain.
It also scores highly in durability, edge support, and temperature control.
What sells this hybrid model are the incredible benefits. Benefits like the free white glove delivery service, or the 15-year warranty.
Want to know if the raving reviews hold any merit? Why not check out our own Saatva Classic mattress review?
Saatva Mattress
Available in 3 firmness options, the luxury hybrid mattress Saatva enjoys great popularity with various sleeper types.
Helix Midnight Mattress – Best Hybrid Mattress for Your Money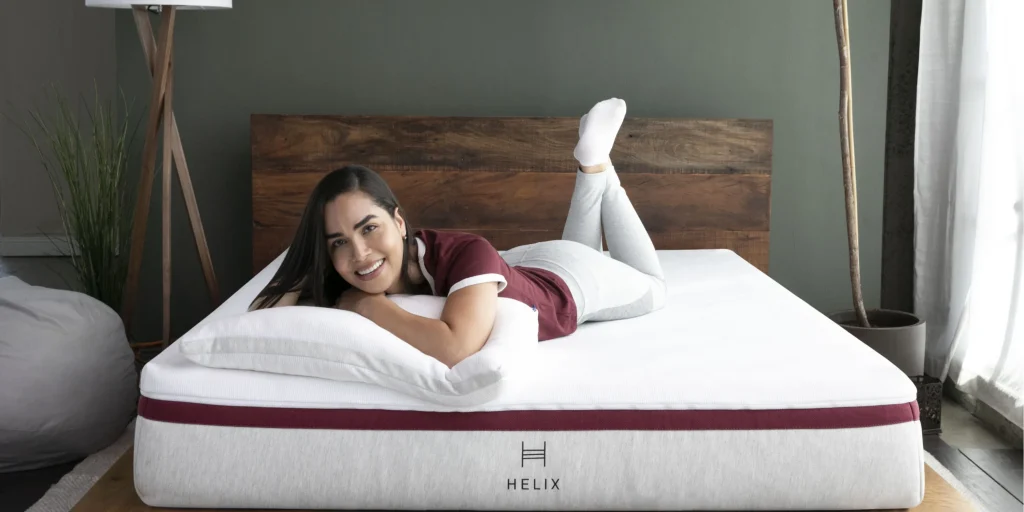 With its color-coded mattress models and an awesome Sleep Quiz, the Helix company has a hybrid model for each occasion. But one model really stands out from the rest – the Helix Midnight model!
One of the ways that the Helix Midnight model stands out is its signature dark blue stripe on its cover. This dual-layer cover is also very soft, and super-stretchy. It is not only designed to be comfy but also very breathable.
The Helix Midnight owes its great pressure relief and balanced feel to its memory foam comfort layer. With a mattress firmness level of 5.5 to 6 on the scale, this bed has a more neutral feeling. This makes it an excellent choice for many sleeper types like back, and combination. As memory foam is known for heat retention, this model might not be a favorite with overly hot sleepers. On the other hand, it does a pretty good job at isolating movement.
Thanks to its 8″ pocketed-coil core, this stable mattress is designed to last you a long time. Don't worry about rolling off the bed – coils are spread out edge-to-edge. Which makes it a great pick for those that rely heavily on edge support. The coils also add to the overall mattress breathability.
Hence why you might not notice any "new mattress" smells, or in other words, off-gassing.
If you are a value-seeker, then you're in for a real treat! A Queen-sized Helix Midnight will set you back for only $1,249. This price really sells this model more accessible than other hybrid ones on the market!
The Helix company is also well-liked thanks to its varied and customer-friendly benefits. Benefits like:
multiple payments and financing options,
a 10-year warranty, free shipping,
a free Mattress Topper program,
and many more!
Why Does Helix Midnight Mattress Stand Out?
The Helix Midnight mattress is the company's most popular mattress model.
With its high-quality materials and an affordable price tag, this mattress is a great value mattress.
The Helix Midnight mattress is excellent motion isolation, pressure relief, and edge support.
It is best suited for a large variety of sleeper types.
The mattress comes with a 10-year warranty and other great benefits.
Not sure if the Helix Midnight is the right pick for you? Please take a look at our comprehensive review of all standard Helix mattresses!
Helix Midnight
The brand's most popular model, the Helix Midnight, achieves the perfect marriage of comfort and support that many sleepers will greatly enjoy.
Leesa Hybrid Mattress – Best Hybrid Mattress With Edge Support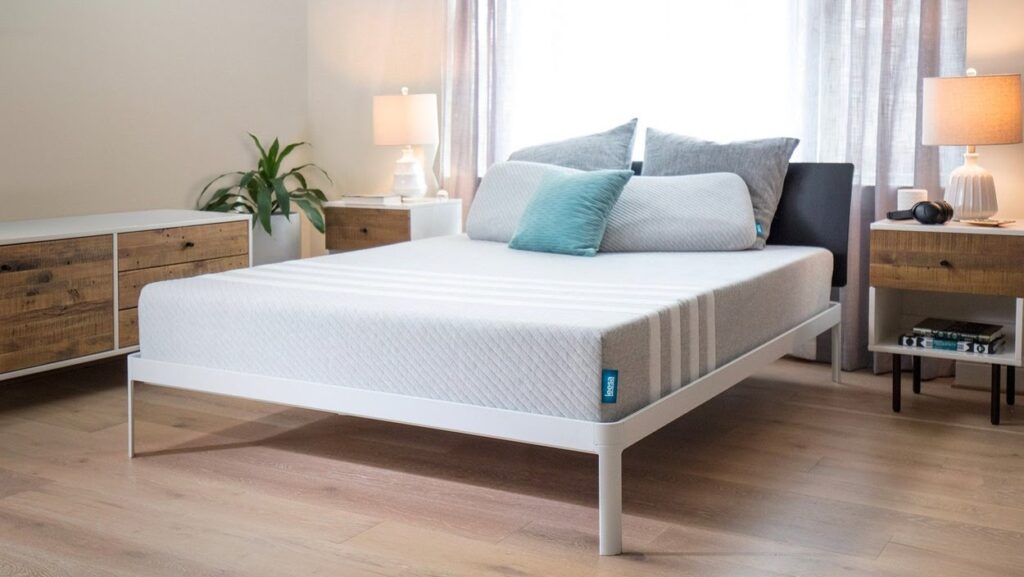 Are you in the market for a quality bed-in-a-box mattress with exceptional support on the edges? Might we interest you in a Leesa Hybrid mattress?
The Leesa Hybrid is the Leesa company's popular model. It ticks many boxes with both its fantastic design and even better benefits. You can recognize it easily thanks to its quilted, white, and gray cover with signature four stripes.
The model's comfort layer is made out of two foam layers. The first one, the Avena foam, is designed to offer a better cooling experience. An excellent pick with hot sleepers! The second layer consists of high-density memory foam. The layer helps with isolating the motion better than other hybrid models. The memory foam is responsible for the bed's above-average pressure point relieving attributes. The mattress usually ranks 6/6.5 on the firmness scale. As such, it is no wonder that the mattress is well-liked by most side and back sleepers. Especially by those with back pain!
But what really makes this model popular is their 6″ pocketed-coil system. This system adds to both the temperature control and phenomenal support on the edges. Thanks to this, the mattress is just what the doctor ordered for hot sleepers and those with mobility issues. As it is quite bouncy, Leesa Hybrid is also a hit with combination sleepers.
What about the price? As the mattress features high-grade materials, the full Queen size mattress price is $1,499. This makes the bed fall somewhere between the middle to the more expensive price range. So it might not be the fan-favorite with budget hunters. If you consider its many qualities, then the Leesa Hybrid might be worth checking out.
Why Does Leesa Hybrid Mattress Stand Out?
The Leesa Hybrid mattress is highly praised for its outstanding edge support and pressure point relief.
Due to its many benefits, it is a very popular mattress.
Thanks to its design, it is a great mattress for both hot sleepers and those with mobility issues.
Considering its high-grade foams and coils, the Leesa Hybrid mattress is a worthwhile investment.
The bed comes with great benefits. Benefits like the 10-year warranty, financing options, and others.
Did we pique your interest? Learn all about the Leesa Hybrid mattress from our inclusive review!
Leesa Hybrid Mattress
The supportive coils and premium foam are what make the Leesa Hybrid a great mattress of choice with side and combination sleepers.
DreamCloud Mattress – Best Hybrid Mattress for Back Sleepers

Have you ever wondered how it feels like to sleep on a cloud? Well, wonder no more! The DreamCloud mattress is a luxurious hybrid innerspring flagship model. Ever since its launch in 2018 by Nectar Sleep, it has quickly risen in popularity in a short time. Since then, it has consistently ranked high on the top picks for hybrid mattresses.
The DreamCloud mattress has a premium poly-blend cover. It features breathable and soft cashmere. Quilted into the cover is a polyfoam layer. This layer is what gives the mattress its pillow-like appearance. As it looks like a giant fluffy pillow, the mattress is all that more inviting to try out.
One of the comfort layers is made up of gel-infused memory foam. The layer is highly praised for its excellent pressure point relieving properties. Because the mattress is ranked as a medium-firm model, it makes it suitable for many sleepers. However, it's especially a hit with back sleepers! The infused cooling gel is responsible for keeping you cool and refreshed as you sleep. A dream come true for hot sleepers!
The central part of its support layers is a pocketed-coil core. It makes the overall construction of the DreamCloud mattress more sturdy and durable. Thanks to these coils, the mattress has better airflow and support on the edges. Although the DreamCloud mattress's coils are quite bouncy, the model has better motion isolation than other hybrids.
But, what sells this mattress is its wallet-friendly price tag! With a starting price of $1,798, it is much more affordable than most other hybrids on the market. Not sold yet? The DreamCloud mattress has a lifetime warranty and a bountiful 365-nights trial period. Cue jaws dropping!
Why Does DreamCloud Mattress Stand Out?
The DreamCloud mattress uses high-grade quality materials.
The DreamCloud mattress is great at pressure relief, edge support, and temperature regulation.
It is a good match for hot, back, combination, and some side sleepers.
The DreamCloud mattress company has many benefits that are generous to the customers.
Want to know all the ins and outs of this model? Check out our in-depth review of the DreamCloud mattress!
DreamCloud
The DreamCloud mattress is a five-layered hybrid mattress known for its great value. The model is especially a hit with hot and back sleepers.
WinkBed Mattress -Best Hybrid Mattress for Couples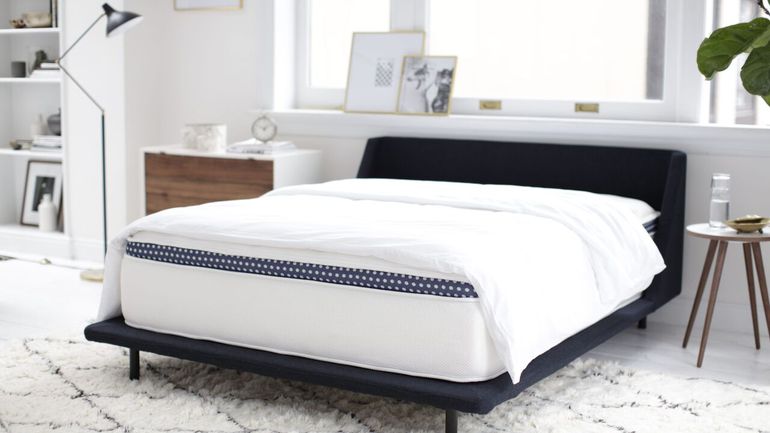 If you wink, you'll miss it! Handmade in the US and high-end, the WinkBed is just the right mattress to complete your sleep haven.
This hybrid-innerspring model comes in four firmness options, which makes it very versatile. Whether you choose Softer, Luxury Firm, Firmer, or Plus WinkBed, it will be a great decision for you! It will suit not only your body type and weight but also your preferred sleep positions.
One of the things that makes this model particularly inviting is its Tencel cover. Derived from eucalyptus, it enhances the cooling sleep experience. Underneath is a double-quilted Euro-pillow top. It relieves vital pressure points and provides much-needed comfort and support. Perfect for both you and your co-sleeper!
But by far, one of the most important parts of the WinkBed is its pocketed coil support layer, or should we say layers. A whopping 5 layers of micro coils to be exact! These coils are responsible for the bed's temperature control and better motion isolation. They also work together to achieve better spinal alignment. That way it pinpoints and alleviates pressure points. Combined with the Anti-sag support on the edges of this mattress, this makes the bed popular with many couples.
And that's not even including the price! The Queen-sized WinkBed mattress will set you back for only $1,799. Which is only a drop in a bucket if you consider the mattress's high-class materials and qualities. If this doesn't rock your boat, keep in mind that the WinkBed comes with plenty of benefits:
lifetime warranty,
free shipping, and
an option to exchange the mattress for a different firmness option.
Honestly, it would be almost a tragedy if you and your partner don't take it for a sleep spin!
Why Does WinkBed Mattress Stand Out?
The WinkBed mattress comes in not one, not two, but in four distinct firmness options.
It is a versatile mattress that is a perfect pick for various sleeping positions!
The WinkBed excels in pressure relief, edge support, motion isolation, and temperature control. Expect a night of blissful sleep for you and your co-sleeper!
It's handmade and assembled in the dear ol' USA.
Bonus points: lifetime warranty, free shipping, firmness exchange, and much, much more!
Intrigued? Have we awakened your thirst for knowledge? Visit our cover-all WinkBed mattress review and judge for yourself if it fits your needs!
WinkBeds
WinkBeds are true hybrid mattresses made by hand. Crafted with luxury in mind, they're among the most comfortable mattresses on the market.
What Is a Hybrid Mattress?
A hybrid mattress refers to a mattress model that combines multiple foam layers and at least one layer of coils. The result is a mattress that is an amalgam of both innerspring and foam mattresses. In other words, you get the best of both worlds.
How Are Hybrids Constructed?
A hybrid mattress combines different types of support construction, layering memory foams or latex foams on top of innerspring coils that vary from model to model, depending on what type of hybrid you chose.
From bottom to the top, hybrids are constructed with thicker layers and spring coils, while thinner foam or latex layers are put on top, to achieve medium-firm support and comfort.
Types of Coil
Hybrid mattresses layer innerspring coil layers with memory foam layers or latex foam layers. There are four types of coils that hybrids are built with: pocketed coils, Bonnell coils, continuous wire coils, and offset coils.
Let's take a look at what each of these types of coils offers:
Pocketed Coils
Pocketed coils exist to give you better spinal alignment, giving your back pain a run for its life. If a hybrid mattress is built with pocketed coils, that usually means you've come across a soft hybrid mattress.
These coils are part of an amazing system made from individually wrapped coils that move exactly how their name says, giving a more supportive feel to your hybrid mattress, as every one of them is wrapped in its own fabric "pocket" or spring and reacts to your body movement.
This makes hybrid mattresses with pocketed coils best at motion isolation.
Bonnell Coils
A hybrid mattress with Bonell coils might be in the more affordable price range, but it lowers the durability of your hybrid mattress.
To be honest, the best hybrid mattress out there doesn't have these coils in its construction, so if you're looking for a high-quality hybrid mattress, you might want to look into one with individually wrapped coils or other.
Continuous Wire Coils
If you're looking to buy a hybrid mattress that will last the longest, look into buying a mattress with continuous wire coils. Its advantages lie in the difference between these and the pocketed coils.
The continuous wire coils are made from one long wire into an S-shape to reduce motion transfer, which makes them a great addition to hybrid mattresses for combination sleepers. Also, they increase your hybrid's durability and give back and stomach sleepers moderate pressure relief.
Offset Coils
If you don't like a noisy bed, a hybrid mattress with these coils might be perfect for you as they are designed for a quieter slumber. Another great selling point is that they are much more responsive to movement and make your hybrid mattress comfortable. Why?
These coils are a by-product of Bonnet coils. They're both wired in an hourglass shape and have interconnected helical wires. They are very responsive to lighter or heavier pressure, providing a pushback when needed so you don't sink into your mattress. When used in the construction of hybrids, they present a great feature for sleepers of any body weight.
They are more expensive to produce, so you won't find them in low-quality mattresses and the price range of your hybrid mattress might be higher due to these coils in its construction.
Types of Foam
There are various types of foam that are used in the construction of hybrid mattresses and the combinations vary from model to model. Most of the time, they are foam hybrids or include memory foam, polyfoam, or latex foam.
When it comes to deciding which one makes the best choice for different sleeping positions, you should know that most hybrids tend to be better at reducing motion transfer, pressure relief, and giving you that amazing cradling feeling.
Let's take a look at how different types of foam layers affect hybrid mattress performance.
Memory Foam
A hybrid mattress built with memory foam comfort layers has promising cooling and pressure relief properties.
Traditional memory foam mattresses lack some great qualities of a cooling hybrid mattress that are important for hot sleepers. Online and in stores, you can find some of the best cooling hybrid mattresses built to fight your body heat. Most of them have top-notch gel-infused foam that can be found in the best cooling hybrid mattresses and satisfy hot sleepers' needs.
Gel memory foam mattresses also have pressure relief properties: the memory foam contours to your body accordingly, which makes memory foam hybrid mattresses a good choice for side sleepers, as memory foam helps distribute their weight better and relieve their pressure points.
Polyfoam
Polyfoam is a usual component within memory foam mattresses because of its ability to give hot sleepers, who also have different pain points, much-needed pressure relief, reducing sinkage at the same time.
Polyfoam in a hybrid mattress will give you that "springy" feel, which is something to look for in hybrid innerspring mattresses that will suit combination sleepers.
Hybrids built with polyfoam layers tend to be less noisy and are quite trustworthy when it comes to motion transfer, but not for many years to come as memory foam mattresses tend to last much longer.
Latex
The better the bounce, the better your dreams.
The best latex hybrid mattresses are bouncier, depending on their overall construction. That said, a hybrid bed with a thickly layered comfort system similar to those found in latex mattresses is more responsive to movement. Because of this, it might not be the best pick for couples where both are restless combi sleepers.
Foam Hybrids
Hybrid beds built with memory foam comfort layers closer to the top of the mattress are good for light body contouring with a solid support system.
Side sleepers may enjoy them for their balanced cradling feel, where they perform better than all-foam mattresses. They can also be a favorite for those sleepers who like softer hybrids, but won't have the best performance in the cooling department.
What Does a Hybrid Mattress Feel Like?
Hybrids are medium-firm beds best suited for side sleepers, stomach sleepers, and combo sleepers because they don't feel too soft, or too firm.
When you sit on a hybrid, you will notice that there isn't much potential for sinkage, because the spring coils aim to keep you on top of the mattress. You will feel cradled, but not too much, which will give you much-needed support and comfort at the same time.
What to Consider When Looking For a Hybrid Mattress?
Your needs should always come first, and that's why it's important to consider your sleep type or any pain your old mattress is giving you besides a headache.
For instance, do you suffer from back pain? Then you should avoid a soft mattress and go for a medium-firm hybrid, or take a look at some options for the best latex hybrid mattress for back pain.
Side sleepers need support on the edges, and for stomach sleepers, it's important to never sink inside your mattress, while hot sleepers will enjoy hybrid's cooling properties that promote airflow and need the best cooling hybrid mattress out there.
So, the answer is simple: look for you and solutions to your problems and needs!
Quality of Materials
Most high-quality hybrids use pocketed coils as they are more durable and responsive to movement.
A hybrid mattress can be a memory foam mattress, gel memory foam mattress, or a latex hybrid mattress at the same time. These hybrid beds are multi-layered beds that combine spring and foam layers that should offer you the best sleeping experience, providing great comfort and support.
Depending on your budget and your needs, you can choose between different types of foams and coils, though it's always good to consider continuous wire systems, as they tend to last longer than their individually wrapped counterparts.
Firmness
How firm are hybrid mattresses?
Hybrids are a 5 on the mattress firmness scale, which puts them into the medium-firm category. This makes them comfortable for many sleeper types, especially for side sleepers, stomach sleepers, combo sleepers, and sleepers who suffer from back pain.
Hybrids are firmer than memory foam mattresses because they combine different types of foams and coils, and are built with softer layers that usually sit on top of the mattress. This way, hybrids make a firm enough mattress to give you the needed support and comfort, as they don't fall into the category of soft foam mattresses that might cause back pain.
Motion Transfer
Hybrids made with individually pocketed springs aim to keep the motion transfer to a minimum.
These pocketed springs make the mattress more responsive, which means they could transfer movement depending on how each spring reacts. If you're sleeping with a partner, you'll probably feel some slight movements and some noise because the springs are very reactive to movement.
Edge Support
Hybrid mattresses should be your go-to choice because they are built to provide the most solid edge support compared to other mattress types.
Because they rely so much on their spring system, some hybrid mattresses are made especially with coils pocketed on the sides so they would keep your body on top of the mattress and increase motion isolation, preventing you from rolling off your bed or hanging onto to the sheets at night, especially if you have a partner or you belong on the team side sleepers.
Durability
How long do hybrid mattresses last?
With proper care, hybrid beds should last up to 6 years which is a big plus, considering that it's best to change your mattress every 8 years due to wear-offs. Though, its durability depends on the quality of materials used to build the mattress.
If your mattress comes with continuous wire coils, it will probably last the longest, compared to mattresses with singled-out coils, as they respond to body movement individually. This means that a few broken springs could become a problem for the sleeper because the coil gauge usually isn't as strong as it is in a continuous wire system.
Density
One of the hybrid's best quirks is that these mattress types use coil systems instead of high-density polyfoam. Hybrids will give you balanced comfort with better bounce, breathability, and support along the edges.
This will prevent your mattress from being too soft and satisfy all medium-firm needs for eliminating back pain.
Coil Count
Coil count represents the number of springs used in the support layer. Total coil count in hybrids can range from 400 to 1200, depending on the type of coils used in the making. Hybrid mattresses should have 800 coils in a standard size, and up to 1000 coils for a queen-size bed.
Hybrids with a higher coil count make the best soft hybrid mattress, providing you with a springier feel.
Be wary of hybrids with a small number of coils, as they won't give you the support you need and could reduce the durability of your mattress.
Coil Gauge
Coil gauge in hybrid mattresses tells you about the firmness of your mattress and the thickness of the wires used to make them. When it comes to hybrids, their coil gauge can range from 12 to 15, depending on what your needs are for the firmness and durability of your mattress.
If you're looking for a firm hybrid mattress, look for one that has a coil gauge below 13.
If you need the best soft hybrid mattress, go for the mattress with a coil gauge of 14.
Overall, the thicker wire will last longer, but it shouldn't affect your purchase as much because there are different factors, such as types of foam and coil types that are important to consider when buying a new mattress.
Indentation Load-Deflection
What does indentation load-deflection mean?
Load-deflection tells you where on the firmness level your hybrid mattress, memory foam mattress, innerspring mattress, or another type of mattress belongs. Most hybrids are made to maintain strong support on the edges and perform great when it comes to motion isolation.
They are much more fun as they are bouncier and provide you with a balanced feel between comfort and firmness. You can choose between different firmness levels, depending on your needs, but note that they are a 5 on the mattress firmness scale, which makes them medium-firm mattresses.
Temperature Regulation
Hybrids usually have good temperature regulation powers because they often use the properties of a spring mattress with pocketed coils for extra airflow. Note that some of the best cooling hybrid mattresses perform even better for hot sleepers if they were built with a latex foam layer.
If your old mattress isn't fighting to keep you cooler throughout the night, look for the best cooling hybrid mattress with latex or gel-infused foam. Make sure to avoid memory foam hybrid mattresses as they tend to overheat.
Price
How much does a hybrid mattress cost?
Hybrids are often in the higher price range, which depends on their properties and brands. They are not in the same price range as all-foam mattresses and tend to use high-quality materials that will give you the best hybrid mattress experience.
This is why some hybrid mattresses start at $1200, while a luxury hybrid mattress can cost up to $2000 and more.
Off-Gassing
Hybrid mattresses are built with an innerspring support system with pocketed coils that increase the airflow of your mattress, which is why they are good for hot sleepers who usually need an extra cooling hybrid mattress for better slumber.
These properties increase hybrid mattress breathability, helping regulate not only body heat but also the smell of your hybrid mattress itself, preventing off-gassing. Hybrids are also medium-firm mattresses that won't sink too soon and release gasses that gather between their layers like foam mattress types.
What Is the Best Sleeping Position When Using Hybrid Mattresses?
Hybrid mattresses tend to be the best for:
combination sleepers
back and stomach sleepers
It's not comfortable to sleep on a mattress that could make your body ache during your slumber. These sleeper types all need a mattress that will give them good support without being too soft or too firm and that could alleviate any type of pain and provide the much-needed comfortability that other types of mattresses couldn't provide due to their all-foam properties.
Hybrid vs. Memory Foam
Hybrid beds are different than memory foam mattresses when it comes to three characteristics:
Temperature regulation – hybrids tend to have better cooling properties than their foam counterparts.
Motion Isolation – hybrids are built with coils that prevent you from feeling any motion commotion, while memory foam adjusts to your body immediately after you've fallen asleep on it, which makes you feel both your and your partner's movements.
Responsiveness – hybrids are more responsive to movement, built with pocketed coils that work individually.
Even the best memory foam mattress can't keep hot sleepers cool for the summer, as hot sleepers always feel like it's that warm when they're under the sheets. Hybrids can make dreams come true for hot sleepers who need a mattress with better temperature regulation that promotes breathability.
Overall, hybrids are medium-firm that offer good pressure relief and will alleviate your back pain because they are good at balancing between comfort and sturdiness.
Hybrid vs. Innerspring
Hybrids are different from innerspring mattresses in many aspects, even though they are both built with a spring coil system.
A hybrid is layered with memory foam comfort layers or latex foam, which makes them softer than innerspring mattresses, rising to a medium-firm level.
If you need a mattress for back pain, a medium-firm hybrid mattress offers better support, especially for stomach sleepers because they are built to provide a balance between comfort and support for those who suffer from back pain.
Hybrids also promote airflow better than memory foam mattresses which tend to overheat because of their body contouring properties. Overall, if you're on the lookout for the best cooling hybrid mattress for back pain or pressure relief, it's good to avoid those with memory foam comfort layers that some sleepers might find "too comfortable".
Hybrid vs. Latex
Being medium-firm, hybrids have a few tricks in their layers that could charm different types of sleepers.
But what is the difference between a hybrid and a latex mattress? And what makes the best latex hybrid mattress? Let's dive into it.
Hybrids usually combine memory foam or latex in their comfort layers. Depending on your body contouring needs, pressure relief, or back pain you could be facing, hybrids could provide good airflow during the night, but not as much as latex mattresses.
Latex mattresses tend to be on the cooler side; when this natural material is paired up with a hybrid, they make an amazing cooling mattress together.
A firm hybrid mattress probably won't have latex in its build, and it's bouncier and has better motion isolation if it was built as a softer hybrid with memory foam in it.
Though latex mattresses can last longer than hybrids and are hypoallergenic, hybrids can't do much there. Overall, they work great together, but latex wins the race for durability, natural material, and a springy feel, while hybrids win at better support and responsiveness.
Who Should Buy a Hybrid Mattress?
Side Sleepers
Side sleepers will also enjoy hybrid mattresses for back pain they could suffer from if their current mattress is too firm. Hybrid's medium-firm composure makes it a comfortable and firm enough option for side sleepers.
It also keeps side sleepers on the top of the mattress without sinking, and since hybrids have pocketed coils incorporated in them for top-notch support on the edges of the mattress, they also make a great choice for side sleepers who have bigger BMI.
Stomach Sleepers
Stomach sleepers need extra support from a mattress so that they don't sink, which is crucial for them. Because hybrids rely a lot on the coil system they were built with, stomach sleepers will enjoy a hybrid with individually wrapped coils that are positioned more on the top of the mattress and keep the body from dropping into the mattress.
Back Sleepers
Hybrids are very enjoyable for back sleepers who need medium-firm support. This medium-firm feel comes from combining thicker support layers and thinner comfort layers, which is very common in hybrids. Hybrids are good at helping their spine get better alignment, which they wouldn't get with a foam mattress because back sleepers enjoy firmer options better.
Sometimes, back sleepers will get back pain from not keeping their legs straight and aligned with their body during sleep, which is why they would enjoy a hybrid mattress for back sleepers.
Combination Sleepers
Hybrids have many amazing selling points that might hit every nook and cranny with combo sleepers. Though, because they fall into the medium-firm category, hybrids make the right pick for combo sleepers. Another selling point hybrids have for combo sleepers lies in the way these mattresses are constructed: comfort layer usually on top and firmer layers deeper in the mattress, achieving the perfect level of firmness for everyone who likes to change positions during sleep.
Who Shouldn't Buy a Hybrid Mattress?
Couples might not find a hybrid mattress to be the best fit, as it's very responsive to motion, which can create an unnecessary frenzy for both sleepers.
Another thing with hybrids is that they perform well when it comes to transferring motion, but if the coils break over time, your mattress will sag and create an imbalance on both sides, shifting weight from one heavier side to the other, which is out of whack for couples.
Also, sleepers who enjoy much softer options may be satisfied with the best soft hybrid mattress out there, but it still may not be soft enough if you're a lightweight side sleeper.
Frequently Asked Questions
Can you buy a hybrid mattress in a box?
Yes, you can! It may seem like a difficult task because of all the coils it has in its construction, but hybrids can be compressed and fitted into a box, ready to be delivered to your door.
Because they are medium-firm, it's easy to think that hybrids won't be easy to expand, let alone wrapped, packed, and ready for that free white glove delivery. Luckily, that's not true.
Most hybrids will expand in hours after you've unwrapped them, and you may be able to try them out on the same night. Note that sometimes, hybrids could take up to 48 hours to expand depending on the foam type used in its layers, which shouldn't stop you from making the bed sooner!
What type of frame is best for a hybrid mattress?
Hybrids are built with spring coils and combine different foam types. These quirks make hybrids heavier, which is why they need a more supportive frame. We recommend going for a platform base – a basic metal bed frame, an adjustable frame, or a solid, slatted foundation.
Make sure you avoid wooden slats as they are not as supportive for heavier mattresses and are meant for an innerspring mattress. Hybrid beds usually require sturdy support, so a bunkie bed, narrow slats, or a solid board might be great choices as well.
Are hybrid mattresses better than memory foam?
This question is a bit tricky to answer, but it depends on your own needs and preferences.
The use of coils makes the hybrids more durable and bouncier. Which is excellent for combo sleepers. Hybrid mattresses are also more breathable, which is especially appealing to hot sleepers. Firmer in nature, they are a better fit for those looking for extra support, like stomach sleepers.
On the other hand, memory foam mattresses might be a better fit for those that rely on pressure relief. They cradle the body better. Memory foam beds are also fantastic at isolating movement. A plus if you have a particularly restless co-sleeper! Also, they are typically more affordable than hybrid models, so it's great if you're on a budget.
To put it simply, you have to see which one ticks more boxes for your needs and wants. If you want to know more about them, check out our top picks for memory foam models and see if you'll like them better.
Can you flip a hybrid mattress?
Technically, you can, but we don't guarantee you'll have a good time. On the bottom of every hybrid mattress is the coil core. Usually, there's only a thin foam layer placed there so that the coils can bounce off something. As such, if you flip a hybrid, you'll come in close contact with very sturdy coils, and that's an instant ouch for your back.
So to keep body impressions from forming on the upper foam layers, you'll need to rotate the bed. Every 3 to 6 months, turn the mattress 180 degrees. That way, your hybrid bed will last you longer.
Is a hybrid mattress good for side sleepers?
Again, it depends on a hybrid mattress. Side sleepers generally like softer mattresses. They cradle the body more and alleviate pressure points on their joints.
The Plush Soft Saatva Classic could be a great pick for side sleepers. The model features softer foams that tend to contour better to the body. Leesa Hybrid is another superb choice for most side sleepers.
If you would like to see other models, then visit our list of best mattresses for side sleepers.
What is the best hybrid mattress for comfort?
Comfort is a subjective grade. It depends on your personal preferences and body type/weight. So we can't claim for sure which mattress will be the most comfortable. We believe that Saatva and DreamCloud might be just the right pick for some.
Luckily, we've prepared a specially curated list of the most comfortable mattresses. There you'll find not just hybrids but also other types of mattresses as well, that might suit you better.
What is the best hybrid mattress for a 300-pound man?
Hybrid mattresses tend to be a great choice for people with a bigger BMI. However, not all hybrids are built the same. A combination of robust coils and firm foams is needed to best suit your needs. At first glance, the firmest options of Saatva Classic and WinkBed mattress may be just the right fit. But before you click shop now, see our top choices of mattresses for heavier sleepers, just in case.
Final Thoughts
Now, let's do a quick little recap:
| | |
| --- | --- |
| Mattress | Best for |
| DreamCloud | Back Sleepers |
| Helix Midnight | Your Money |
| Leesa Hybrid | Edge Support |
| Saatva Classic | Lower Back Pain |
| WinkBed | Couples |
Searching for an overall balanced-out mattress? Then a hybrid mattress is an excellent choice. Hybrids are:
suitable for different sleeper types,
are supportive and comfortable enough, and
offer many qualities you can't find in other mattress types.
Although there is no one-mattress-fits-all, these hybrid models offer something for everyone. We're quite sure that you will find the right mattress that caters to your specific needs.
Don't be shy! Visit our other top picks for different sleeper and mattress types!