Avocado Mattress Review for 2023: A Great Organic Option?
Written by: Milica Terzic
Updated: 02/20/2023
Transparency Disclosure: For products purchased through the links on this page and throughout the site, we may get a referral fee (with no extra cost to the buyer). Please read our full How We Rate page for more information. There you can see how we conduct research and test products, as well.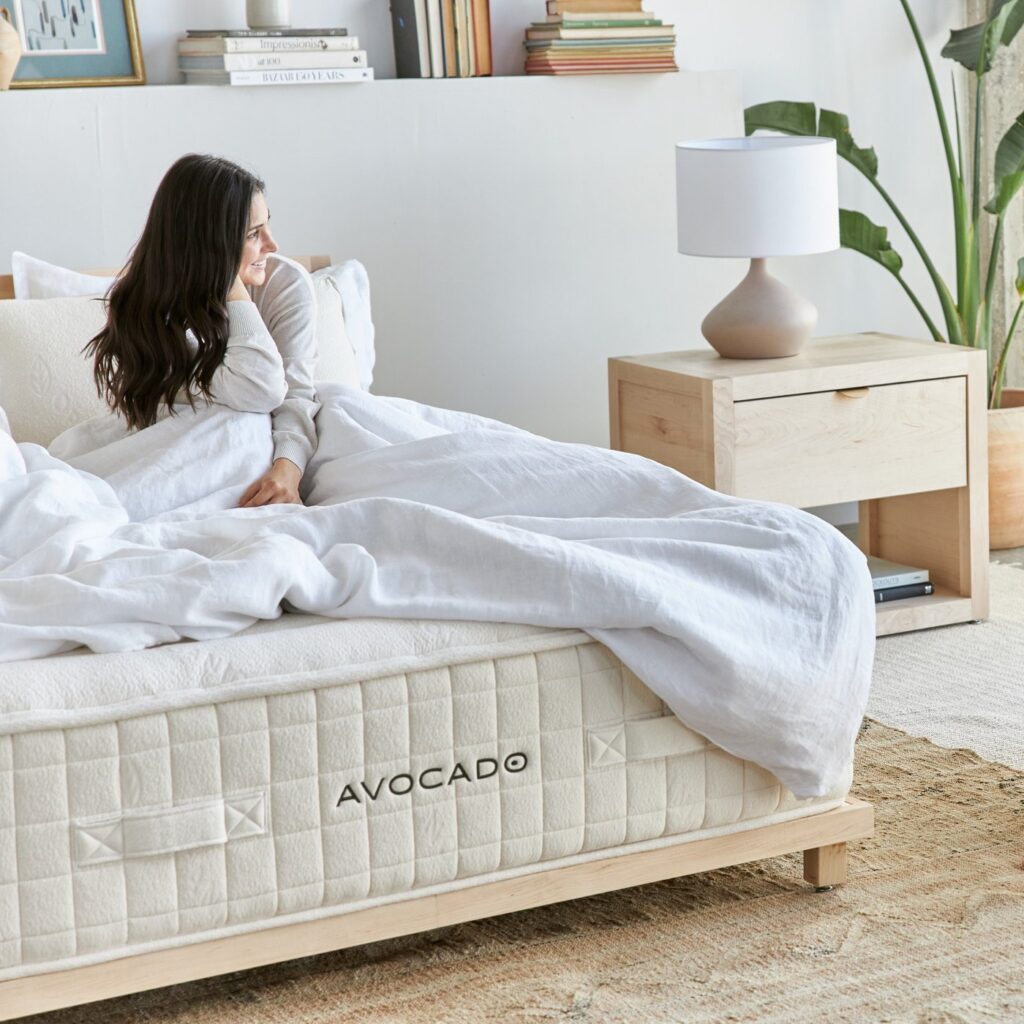 Are you in need of a new mattress? Do you long to find an option that isn't devastating for the Earth?
Behold the most eco-conscious mattress on the market – the Avocado mattress review.
The name is familiar to all. When ripe, avocados are healthy with buttery flesh. Rich in fatty acids, avocados stimulate our brain to function better.
Similar is with the Avocado mattresses. They are among the healthiest options when it comes to materials and production.
The company was founded in 2016 to make healthy sleep accessible and affordable. Avocado crafts natural, safe, and responsible mattresses. They have only the finest certified and organic materials.
All to safeguard the health of sleepers and protect the planet, Avocado sells:
mattresses
toppers
bases
pillows
protectors
bedding
bed frames and furniture.
The most popular brand model is the Avocado Green Mattress.
Do you want to see how it behaves in harmony with your surroundings? Please keep reading the Avocado mattress review and enjoy!
Avocado Mattress Review In A Nutshell
The Avocado Green mattress is a hybrid mattress with 100% organic materials. It is the perfect pick because it's:
healthy
certified organic
GREENGUARD GOLD certified
non-toxic certified
handmade in the USA (Los Angeles)
rated #1 for back support
durable
sustainable and responsible
got a one-year trial
got a 25-year warranty
Avocado
Avocado is a hybrid mattress with latex comfort layer and pocketed coils popular among many different sleepers.
What does inside of Avocado mattress look like?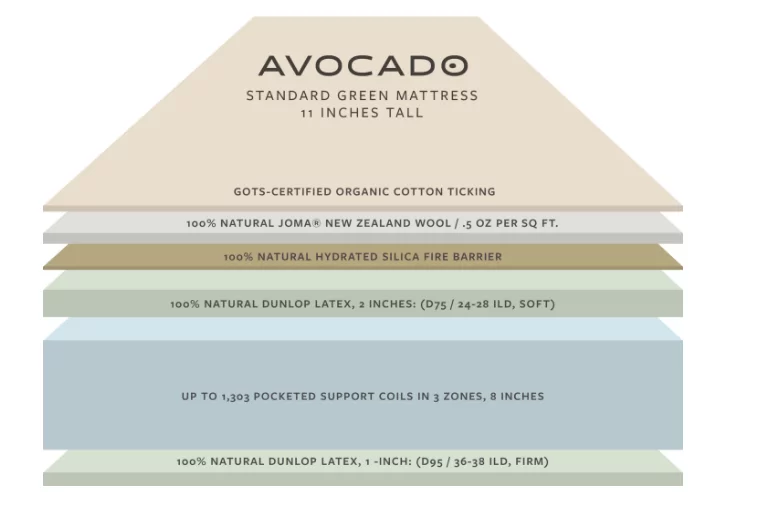 There is the regular Avocado mattress and the version with a pillow-top layer. Both are hybrids with organic cotton, wool, latex, and coils made from recycled steel.
Two upholstered handles are on the side panels of the Avocado. But this doesn't mean that the Avocado is a flippable mattress. Keep in mind that the panels are for moving or adjusting the mattress stress-free.
The regular Avocado Green mattress is 11″ thick. It has three main layers: the cover, comfort layer, and a coil base. The other version of the Avocado mattress is an extra 2″ of pillow-top. That's a total of 13″.
Cover
The first palpable layer of the Avocado mattress is the organic cotton cover. The cover keeps all other mattress layers safe and intact. When you move your hand across the cotton, you can feel it's cozy and gentle to the skin. Organic cotton also makes the cover very breathable.
Beneath the cover is a 0.5 inch 100% natural Joma New Zealand Wool. The wool regulates heat when it's hot and warms up when it's cold. Under the wool is a 100% natural fire barrier made from hydrated silica.
Pillow-Top Layer
If you want extra cushioning you will love a pillow-top on the Avocado! It's a European-style Pillow-top that has a cocoon feel to it, and it's a higher mattress altogether. If you get the pillow-top, you will feel a plush latex foamy layer with a quick response and a bounce. The Dunlop natural latex also helps with breathability.
Comfort Layer
If you get your Avocado mattress without a pillow-top, there is still a layer of Dunlop latex. It's also bouncy and promotes cool sleep. The 2″ GOLS organic certified latex foam balances out the firmness, comfort, and support.
If you have the pillow-top added, you will have double the cushion and double the comfort.
Base
The support layer of the Avocado mattress has individually pocketed coils made from recycled steel. At the very base of the mattress is an inch of Dunlop latex. Coils are individual in the mattress and move more freely. The mattress is designed as a 3 zone system, so coils make the mattress bouncy, responsive, and kind of stiff.
But the stiffness helps with better support during a night's sleep. In extension, tall and pocketed coils circulate air well and motivate healthier sleep.
The thin Dunlop latex layer isn't bound with chemical adhesives to the coils. It's needle tufted by hand.
If you like the springy, bouncy support of a mattress, Avocado Green is such a catch.
Firmness & Feel
The Avocado mattress has two firmness options. Which one you'll choose depends on your stiffness preference, but your budget too.
The mattress is broken down into three strategic zones to support the pressure points.
Pressure points include shoulders, hips, lower back, and knees.
Avocado's design features 1,414 tempered steel coils that make a solid foundation. 8″ inch tall coils offer the most support to the edge of the mattress.
There is the standard 11″ version of the Avocado Green mattress. It is a medium-firm hybrid mattress with a strong 7/10 on the firmness scale.
Standard is excellent for anyone searching for comfort, support, but also proper firmness. Sleeping on your stomach or back on the standard version is a chef's kiss experience.
But, some search for more pressure relief and a more luxurious feel while snoozing. Avocado didn't sleep on this insight, thus creating one more firmness option.
You will enjoy the pillow-top version because of an extra layer of organic latex sewn-in. The pillow-top gives the Avocado a gentle, firm feel because it is still a mattress with coils. It is a 6/10 on the firmness scale, so side and combo sleepers prefer this option.
Both versions distribute the weight evenly, relieve pain and contour the body's curves. And all with beautiful, green, and clean materials. Keep in mind: The pillow-top is not removable. If you like a mattress with interchangeable firmness, choose the standard version and a mattress topper.
Durability
From the design of the Avocado mattress, we see serious efforts to make an environmentally conscious and high-quality product.
Mattresses and other bedding products are in close contact with our body, skin, eyes, and respiratory organs. So it's essential to invest in a long-lasting sleeping product. Invest in one that won't lose its quality and emit toxic particles during use.
Because the factory in California makes it by hand, the Avocado mattress should last you for a long while. Only organic and durable cotton, wool, latex, steel, and other materials make the Avocado mattress. Any products made from such quality materials, with care and devotion, excel in quality. They are a worthwhile investment.
As a sturdy and robust foundation, coils prolong the life of the mattress the most. Even though expensive to produce, latex is also very durable. It doesn't lose shape and get dents like memory foam over time.
Among satisfied customers, Avocado is considered fundamental in durability and sustainability categories.
Motion Transfer
Unlike foam mattresses, hybrids made of coils lack movement isolation. These materials are springy and make friction; that's why Avocado uses pocketed coils.
Each of 1,414 coils is tall and individually wrapped in the support layer of the mattress. The construction is to stifle motion transfer on the cover of the Avocado mattress.
Motion transfer is essential for two main reasons:
uninterrupted sleep and
proper spinal alignment.
If you sleep with a restless partner on a mattress with horrible motion isolation – you will both lose sleep. Not only that but your pressure points will move, giving you aches and pains.
And no one should start their day like that!
Avocado has sound motion isolation for a hybrid mattress with latex as the comfort layer.
On the other hand, a springy mattress is often an excellent mattress for sex. Changing positions and rotating during sleep is easy on a hybrid mattress like this.
The standard version is more appropriate for these activities than the pillow-top because of a less plush feel.
Edge Support
A mattress that has impressive edge support utilizes the whole area of the mattress. A mattress should be made to last and offer support. The Avocado mattress is more durable and has better edge support than many similar mattresses in the industry.
It's important for couples, that high-grade edge support will keep you both on the mattress. Sleep on the Avocado mattress without sinking into the mattress or rolling off.
Coils make sure to support your body to the edge, in whatever position you sleep. The latex helps prevent sagging over time and keeps its original structure.
The pillow-top model has a tad poorer edge support than the standard version of Avocado. However, because of an added layer, edges are more flaccid, and there is enhanced cradling.
Overall, Avocado is a mattress with exceptional edge support. It is suitable for singles and couples.
Pressure Relief
Avocado mattresses offer great support, thanks to latex and coils. Thanks to these two, it is designed to take the stress off the body and soak it all up so you can rest and relax in deep REM.
Latex is bouncy and responsive, unlike memory foam that remembers your contour. It often sags over time, but that's not the case with Dunlop latex. You will still be getting proper pressure relief over time sleeping on the Avocado mattress. The bounce is not going anywhere, and all sleeper types will be thankful.
The added pillow-top offers more profound pressure relief on the shoulders and hips. This is a vital determinant for side sleepers.
Back and stomach sleepers will prefer the standard 11″ Avocado mattress. Because of the appropriate tension release, it offers those positions quality sleep.
Temperature Regulation
If you've been researching for a while and came across this review, you've already figured this out. Hybrid mattresses are excellent when it comes to heat regulation.
Due to having coils as the most significant part of the construction, air circulates undisturbed. As a result, no heat is trapped between the mattress layers, and sleeping cool is guaranteed.
We've mentioned that having organic materials keeps the Avocado mattress's quality score, and it won't be redundant to repeat it once more! The certified organic wool in the mattress is characteristic for regulating heat. It also keeps the mattress fresh and fire-resistant.
Thanks to the organic Dunlop latex, the Avocado mattress exceeds artificial or petroleum-based polyurethane foams. Latex isn't chemically made but derived from sap trees. It's poured into a mold with many holes, providing airflow.
The 100% GOTS organic certified cotton is one of the softest and most breathable fabrics. It also wicks away moisture, raising Avocado's cool sleep status to an even higher grade.
Avocado
Avocado is a hybrid mattress with latex comfort layer and pocketed coils popular among many different sleepers.
Sleeper Type Preferences & Weight
Breathability and support are Avocado's tangible characteristics. Because of its construction and open cell structure, it is one of the best naturally cool mattresses.
The Avocado Green mattress has two firmness options:
standard and
pillow-top versions.
This way, the mattress tries to serve most sleeper types.
Side Sleepers
Most people sleep on their side, switching between left and right. This sleeping position requires a lot of pressure relief and extra plush padding. Thus, the Avocado Green mattress with the pillow-top version is the recommended mattress for side sleepers. But, it could still be too firm.
The pillow-top transforms the Avocado mattress from a proper firm to a more gentle firm hybrid mattress. Individuals who weigh under 130 pounds enjoy the Avocado mattress with the added pillow-top rather than the standard model.
Back Sleepers
Those sleeping on their backs prefer support, enhanced contouring, and relief on the pressure points like the lower back and neck. The Avocado mattress is perfect for back sleepers!
The standard model of the Avocado mattress is appropriately firm, which is more significant for back sleepers.
The pillow-top version could be too soft for back sleepers. Especially for heavyweight sleepers, this version could be too soft, offering little to no support.
Back sleepers over 230 pounds will enjoy the standard Avocado Green model much more.
Stomach Sleepers
Sleeping on the tummy requires more firmness than plushness. Hips tend to sink in and disturb spinal alignment on softer surfaces. Thus the standard model is better for stomach sleepers but isn't the perfect option.
It's better to avoid getting the Euro pillow-top sewn if you sleep like this to avoid sinkage and ensure maximum comfiness.
Heavyweight stomach sleepers will find the Avocado mattress too soft. Their hips will sink more into the latex comfort layer, misaligning the spine.
Instead, check out the best mattresses for stomach sleepers.
Contrary to that, light stomach sleepers could find the Avocado too firm. The pillow-top version would be a much better investment than the standard!
Combination Sleepers
Combo sleepers prefer changing positions during the night and require a mattress that allows them to toss and turn without much effort.
Rotating between positions is pretty easy on any hybrid mattress due to springy coils. But, because combos sleep on their sides a lot, they prefer softer mattresses. Getting the pillow-top is probably the best option for combo sleepers of all sizes.
Many people who ordered and enjoyed the Avocado mattress were disappointed that the pillow-top is so expensive. Yet, it completely transforms the sleeping experience for combo sleepers who switch between back and side during the night.
Other Mattress Models
The Avocado Green mattress is the shining star of the brand. But, did you know there is a vast selection of other mattress models?
Some are mutually similar, but every mattress is remarkable in its way. Those are:
Avocado Vegan Mattress
Avocado Latex Mattress
Avocado Vegan Latex Mattress
Organic Luxury Plush Mattress
Avocado Vegan Mattress
Sleeping uninterrupted sometimes means knowing how ethically made your mattress is. Avocado stepped up and created a fully vegan version of their famous hybrid model. It doesn't contain any wool!
Like the Avocado Green, the vegan option also has 1,414 tall, individually pocketed coils. Like the non-vegan version, it is arranged in three zones.
Avocado Vegan Latex Matress
Avocado's Vegan Latex Mattress is non-toxic with a 100% Organic Cotton Cover. Ideal for active couples and back, stomach, and combo sleepers.
How tall is Avocado Green Vegan mattress with pillow top?
The mattress is 13″ with the added pillow-top. It's also hand-tufted in Los Angeles. Vegans will be more than happy to know there's a mattress following their lifestyle.
Avocado Latex Mattress
The full foam mattress by Avocado is their most sustainable but also the firmest mattress yet. Because it's all-foam, its comfort and motion isolation are much different than the Avocado Green mattress. But same as the Green, the Latex Mattress is non-toxic and organic with a lot of bounce.
No springs are in the Avocado Latex mattress, but it's still a firm one, with a 7.5/10 on the firmness scale.
Back and stomach sleepers adore sleeping on this mattress. It has zero lousy stuff, and it's biodegradable.
Avocado Latex Mattress
Avocado Latex is a hybrid mattress with latex comfort layer and pocketed coils popular among many different sleepers.
Avocado Vegan Latex Mattress
Another non-hybrid by Avocado, the Vegan Latex mattress, has:
9 inches of organic, responsive latex
organic cotton on the cover
three targeted zones that contour the body
a vegan certification
approval by PETA.
The Avocado Vegan Latex is also GREENGUARD Gold and 100% GOTS organic certified.
Unlike memory foam, latex doesn't let the body sink, but it gives it a sense of floating. Support on this mattress is outstanding because it's a proper firm, 7.5/10 mattress.
This mattress is ideal for couples, back and stomach sleepers who prefer comfort and even body pressure distribution.
Avocado Vegan Mattress
At 11-inches thick with over 1400 coils, Avocado Vegan Mattress is a medium-firm hybrid mattress, PETA-approved, & certified vegan.
Organic Luxury Plush Mattress
Avocado's most luxurious and premium model is the Organic Luxury Plush model. It has 21 incredible added layers of latex, wool, mohair, silk, flax, and cotton. Above those are 3,136 coils in a five-zone system. They do an amazing job of isolating motion and supporting your pressure points.
It is also the most expensive of the bunch, coming at $4,999 for the Queen Size. A vast, heavy-duty mattress has a crazy fantastic construction. The Organic Luxury is designed for those who value soft, body-hugging, contouring support. It is the softest mattress available.
The Avocado Organic Luxury Plush Mattress does not come compressed in a box, but it has the in-home delivery flat via a freight carrier.
Organic Luxury Plush Mattress
This mattress is ultra plush with outstanding support and motion isolation due to 21 layers of premium organic, latex, wool, silk, and cotton.
Mattresses For Toddlers & Infants
Avocado extended its offer by making two crib mattresses that are safe and non-toxic. They are both flippable for the infant and toddler. Those are:
Organic Crib Mattress, the affordable and unique dual-sided mattress and
Luxury Organic Crib Mattress, a premium organic mattress with 170 cotton-wrapped coils.
Mattress Prices and Sizes
The Avocado is a luxury-tier hybrid cushion with organic latex. It's handmade in California, with love and care toward the planet and the customer.
Organic certifications and ethical resources would make you think Avocado is very expensive. But, its cost is not through the roof. Avocado Green is actually an affordable, moderately priced hybrid mattress.
You can get the regular Avocado Green mattress in a Queen size for $1,999. This price is lower than average for an organic, luxury hybrid mattress.
There is the regular six-size variation of the Avocado Green mattress. Twin is the smallest and California King being the largest mattress. Taking a glance at the table below, you'll see how much it'll cost you to get your desired mattress:
| Size | Price | Weight | Height | Dimensions |
| --- | --- | --- | --- | --- |
| Twin | $1,399 | 59 lbs | 11" | 39" x 75" |
| Twin XL | $1,499 | 63 lbs | 11" | 39" x 80" |
| Full | $1,699 | 82 lbs | 11" | 54" x 75" |
| Queen | $1,999 | 97 lbs | 11" | 60" x 80" |
| King | $2,599 | 123 lbs | 11" | 76" x 80" |
| Cal King | $2,599 | 122 lbs | 11" | 72" x 84" |
As you can see, the California King mattress will cost you a little more than $2,599. And that's astounding for a 122 lbs organic mattress with individually pocketed coils.
If you need more gentle support, the Avocado offers an additional 2″ of plush comfort. They did it via a European-style Pillow-top that is permanently sewn in, so you won't be able to remove it. Getting this attached will cost you a few hundred bucks more. It also changes the thickness of the mattress to 13″:
| Size | Price | Weight | Height | Dimensions |
| --- | --- | --- | --- | --- |
| Twin | $1,799 | 59 lbs | 13" | 39" x 75" |
| Twin XL | $1,899 | 63 lbs | 13" | 39" x 80" |
| Full | $1,995 | 82 lbs | 13" | 54" x 75" |
| Queen | $2,375 | 97 lbs | 13" | 60" x 80" |
| King | $3,199 | 123 lbs | 13" | 76" x 80" |
| Cal King | $3,199 | 122 lbs | 13" | 72" x 84" |
Deals & Discounts
Avocado offers a 5% discount on all products to those fighting against the pandemic. The symbolic price reduction is valid for:
nurses
doctors
military
law enforcement
firefighters
emergency medical techs
educators
Avocado shows appreciation for all the work and service done by service workers. Hence a deal like this!
If this review woke your fancy, grab a coupon code from our coupon page to get a deal with Avocado.
Overview of Benefits
Avocado is an affordable, green mattress with coils. It offers healthy sleep and proper spinal alignment.
If a green mattress brand is what you want to endeavor, scan all the goods Avocado offers.
Where to buy Avocado Green mattress?
Natural, organic, and sustainable is what you're searching for in a mattress, right? The fabulous thing about Avocado is that there are a few options to get the mattress.
You can buy it in a store, online, or with the help of Avocado customer support via Zoom.
Showrooms
There are a couple of showrooms in California and New Jersey. Precisely in Santa Monica, La Jolla, Orange County, and Hoboken. These spaces are beautiful – they are roomy, airy, adorned with wood, plants, and earthy vibes. These experience centers are open for visits and follow all safety regulations. Shopping for an organic, natural, and non-toxic mattress is safe, convenient, and comfy.
But what if you aren't near these locations and want to verify you're buying quality stuff?
Zoom Experience
The Avocado mattresses can now be browsed and experienced via Zoom! Yep, you've read it right! Avocado offers its customers a free Zoom call consultation/virtual experience. This is the company's effort to keep most safety and convenience from your home.
What you get is a simple & fun experience, with no risk or obligation. Schedule a free live call via Zoom so the customer service can support you. The sales team you'll be in contact with knows all the features of Avocado mattresses. And other products too, so they will explain and answer all your queries.
Book a private and personalized appointment at any time you like. Choose your perfect Avocado mattress from the comfort of your home!
Sleep Trial
Rest at ease while you get a whole year to trial the Avocado mattress! It's almost unbelievable that you get 365 days to test out the mattress, but it's true.
Avocado's cost is somewhat high, but there's substantial time to get to love the mattress. A long sleep trial justifies the price. There is also an excellent customer service program available.
If you aren't satisfied with the performance and don't sleep the way you wish, return it within 365 days.
Warranty
Green mattresses are high-quality and durable. Hence why you get a 25-year limited warranty for Avocado. This is a phenomenal perk because the industry's average is ten years. Avocado's warranty is two times longer than the average.
There are two phases of the warranty:
full coverage (from years 1 to 10)
limited coverage (from year 11).
The full coverage of the Avocado mattress will not charge to repair or replace a mattress. If it qualifies the warranty, of course.
Yet, when year 11 of using Avocado mattresses begins, there is limited coverage to repairments. They come at a small charge besides transportation and shipping fees.
It's crucial to remember the warranty is non-transferable. It applies to the original purchaser of the Avocado mattress only.
Some actions will void the 25-year limited warranty:
any misuse or abuse of the mattress
failure to keep the mattress clean and stain-free
improper base use and any damages associated with it
any liquid spills, burns, irregular ventilation.
Avocado is a "bed-in-a-box," so your warranty is valid if the box is opened within 30 days of receiving the mattress. This prevents compression, structural damage, and condensation.
You must rotate the mattress head-to-toe once a month for the first six months to ensure even wear when you get it. After that, rotate every other month to keep your warranty valid.
Avocado Mattress Warranty is an extensive one, so be sure to study it on their website before buying.
Certification
The uniqueness of the Avocado mattress lies in its philosophy. Sustainability makes the brand relevant and authentic. All bedding products are organic, carbon negative, and non-toxic!
Avocado has certifications that verify all organic claims:
GOTS (Global Organic Textile Standard). This certification ensures organic cotton and wool are harmful chemicals free. Resources are verified and ethically sourced.
GOLS (Global Organic Latex Standard). It ensures 95% certified organic raw material content in products.
USDA Organic Certification that crowns the whole Avocado brand. All facilities, materials, and finished products are certified organic.
Responsible Wool Standard. Avocado respects strict rules of health, safety, and ethical treatment of sheep.
Avocado production is powered by 100% clean and renewable energy. It's certified wind & solar powered by Arcadia Power.
Avocado has been Climate Neutral certified since 2019, achieving carbon negativity. It means it offsets more carbon than it generates.
FSC® Certification. It confirms that the forests Avocado uses are being managed to conserve biodiversity. Rainforest Alliance issues the FSC® certification.
Non-toxic certifications include:
GREENGUARD Gold Certified for no chemicals and pollutants exposure.
Formaldehyde-free certification
Eco-Institut verification. Issued by a German lab, confirming no harmful substances in latex rubber
OEKO-TEX® Standard. A certification for latex, wool, and cotton safety against allergenic dyes, pesticides, and heavy metals.
MADE SAFE® Certification. It only allows the use of ingredients that don't harm human health, animals, aquatic life, or ecosystems.
All vegan Avocado products are Vegan certified and PETA approved.
Where is Avocado mattress made?
The Avocado mattress is handmade by order and hand-tufted in California. All parts of the process are certified organic. The Avocado Factory in LA is one of few meeting rigorous manufacturing standards.
Free Shipping
Avocado has free standard shipping to all of the US. No expedited shipping is available, but the mattress is ready to ship in 3 to 5 business days. The mattress arrives at your door compressed and rolled into a box. Be wary that these boxes are heavy, and you'll need help from a family member, roommate, or friend to set it up.
Who delivers Avocado Green mattress?
FedEx delivers the Avocado Green mattress to your address. When ordered, the mattress will arrive at your destination approximately within a week. The delivery time varies by location, some will have to wait longer to get their mattress.
Additional Services
In-home Delivery
Standard shipping is free to all in the US. But, for an extra $249, the Avocado will be installed and assembled in your bedroom. With this type of delivery, you even get your old mattress removed as well. This way, Avocado can upcycle its products and fulfill its sustainable goals.
Easy-to-Use Financing
You deserve a high-quality sleeping experience! To pay the Avocado on your terms, pre-qualify Affirm Financing and pay over 6, 12, or 18 months hassle-free. Then, pick a loan that fits your budget at checkout. Of course, it would be best if you enjoyed sleeping on the mattress as soon as you want!
Return and Exchange Policy
You can return the Avocado mattress and other bedding products. Avocado will cover all costs. They will send a service partner to take out the mattress for recycling or donating.
Wait for some time before returning the Avocado mattress. Your body needs some time to adjust to a new cushion.
The payment will be refunded when the mattress returns to Avocado's HQ. The company will confirm the mattress's good condition and refund.
Giving Back to the Community
Do you want to replace an Avocado mattress within the warranty?
Avocado may ask you to donate the used mattress to charity. You can also repurpose the mattress and give it a second chance.
Final Thoughts
Summing up the Avocado mattress review with a final thought:
We spend a third of our life sleeping. We can refuse to surround ourselves with lousy, harmful, and unhealthy ingredients.
Instead, we have the freedom to choose and enough resources to get a mattress that will hug and love our bodies and keep our spines aligned. And pick a healthy mattress for us, for our home, and the planet we live on.
Back and stomach sleepers will find the Avocado mattress fitting their needs best, but the truth is all sleeper types are spoiled for choice as there is an abundance of green, eco-friendly options.
Avocado is that kind of cushion.
Avocado
Avocado is a hybrid mattress with latex comfort layer and pocketed coils popular among many different sleepers.