WinkBeds Mattress Review for 2023: Affordable with a Luxury Feel
Written by: Milica Terzic
Updated: 02/20/2023
Transparency Disclosure: For products purchased through the links on this page and throughout the site, we may get a referral fee (with no extra cost to the buyer). Please read our full How We Rate page for more information. There you can see how we conduct research and test products, as well.
Another day, another mattress. And this one stands out from the crowd! Before you are true hybrid mattresses – WinkBeds.
They promise deep comfort and excellent contouring. We promise an exceptional WinkBed mattress review.
Started in 2015 as a small mattress company, WinkBeds isn't your average mattress brand. And that's not an exaggeration – as a company, they are pretty unique. Besides using the highest-quality materials to produce high-end mattresses, all processes of bed-making are in the USA.
WinkBeds mattresses begin their life in a single facility in Watertown, Wisconsin, and are assembled by hand.
They call it American craftsmanship, and we couldn't agree more! Eliminating go-betweens lets WinkBeds offer their mattresses exclusively at a lower price. It also lets them be in full control of the essence of mattresses.
After being made by hand, they travel to your bedroom, where they're not only a fantastic sleeping companion but an aesthetic upgrade. Buying a WinkBeds mattress will give your bedroom that Good Housekeeping magazine vibe. And that's for real! Have you seen how beautiful the mattresses are?
So fancy and exquisite, even high-end hotels use WinkBeds mattresses.
Is Winkbed a good mattress?
You'll decide for yourself, but objectively speaking – WinkBeds are great because they:
Are breathable and cool
They have four firmness options
Give a lot of support to critical spots
Are bouncy and responsive due to coils
Look very beautiful (even hotels use them!)
Don't move slow and don't sink in
This review will focus on the WinkBed Hybrid Mattresses, the flagship model. With four firmness options, these accommodate most sleeper types.
Hang on as we dive into the WinkBed mattress review! ????‍♀️
WinkBed Mattress Review In A Nutshell
WinkBeds is a brand striving to cover all sleeping habits and types of sleepers.
In addition to the WinkBeds mattress:
You get a 120-night sleep trial
There's easy firmness exchange
Incredible edge support on hybrids
Free Luxury Bedding Bundle with each mattress purchase
There's fast & free shipping
Handmade mattresses on order in the USA
100% natural Eucalyptus-derived Tencel® cover
Lifetime warranty & durability guarantee
WinkBeds
WinkBeds are true hybrid mattresses made by hand. Crafted with luxury in mind, they're among the most comfortable mattresses on the market.
Construction
The fun thing about WinkBeds mattresses is their construction. If you're asking how it can be fun, just keep on reading!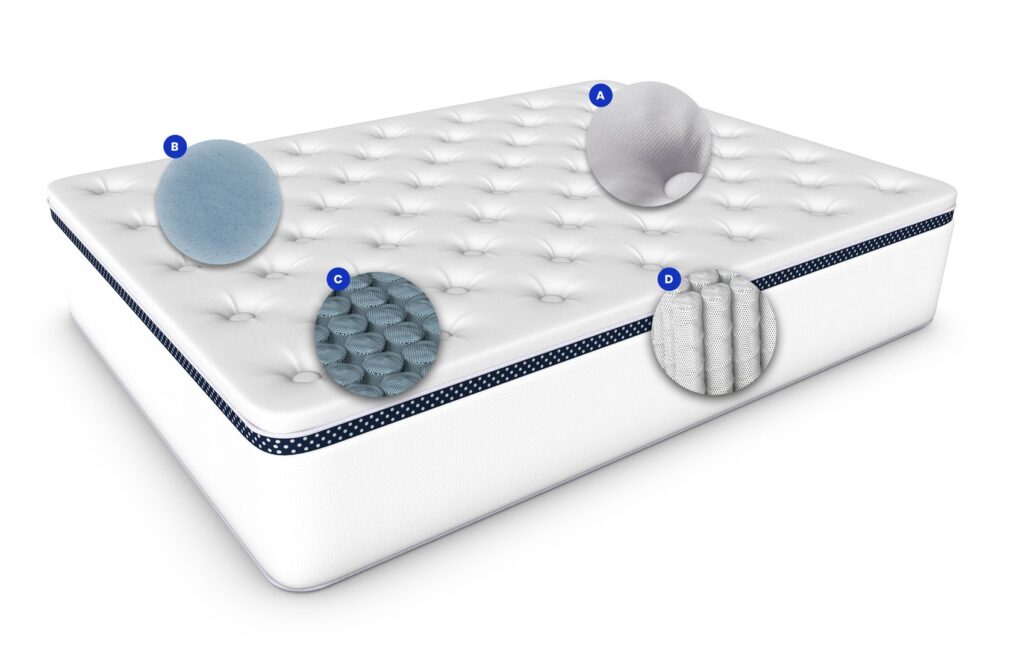 Besides the US production, the company uses diverse technologies for each mattress layer. Using American-sourced materials, WinkBeds makes sure to produce a high-quality luxury mattress.
The whole idea is to use sleep innovations to engineer a fine mattress with a luxury feel but no luxury price!
There are four firmness options with WinkBed Hybrids:
Softer
Luxury Firm
Firmer
Plus
Cover
The cover made from Tencel gives the mattress its bright and clean white color. The Tencel is a eucalyptus-derived cover that absorbs more moisture than cotton. It keeps the mattress breathable and brings a cooler night's sleep.
Top Comfort Layer
The Softer, Firmer, and Luxury Firm WinkBeds mattresses have a double quilted Euro-pillow top with gel-infused Hypersoft Foam. The medium-firm layer gives the mattress pressure-relieving properties that your back, hips, and shoulders will love!
The WinkBed PLUS mattress is also a hybrid but it's made with a combination of pocketed coils and latex foam, so it's more bouncy and responsive than other firmness options.
Don't worry about muscle tension sleeping on the WinkBed mattresses! The gel-infused foam offers superior cushioning and support. Gel contours the body and even wicks away excess heat.
The Softer WinkBed mattress has three layers in its pillow top layer, unlike the first three.
Support Layer
The next layer of the Luxury Firm mattress has a layer of 5 zones of pocketed microcoils. They are pocketed and wrapped individually for extra air circulation. Coils flex to relieve body pressure.
The five-zone coils provide both support and plying, depending on the body part and support it needs. The LumbarLayer technology is for extra support in the middle "lumbar region" of your body.
With SleepCalm™ Motion is a layer of stabilizing gel foam. The layer controls movement isolation in a simple way. Foam sitting on pocket springs controls movement on the mattress.
All three layers use The Triple Layer Heat Disperse™.
It will absorb all heat and moisture and help achieve better sleep on the mattress. Motivating most airflow, this mattress is the perfect choice for those who sleep hot. Effects of Triple Layer Heat Disperse™ will make you feel tucked away every single night.
If you decide to sleep on a WinkBeds mattress, a healthy and proper spinal alignment is guaranteed! Coils and gel-infused foam ensure less hot nights. Alongside, they reduce motion transfer and support painful parts.
Firmness & Feel
WinkBeds is a versatile brand that suits a variety of sleepers. There are four considered firmness options for the WinkBed innerspring flagship model:
The softer, plush model, which we rate 4/10
Luxury Firm, the most popular choice at 6.5/10
Firmer, a proper firm mattress at 7.5/10
Plus, which we rate around 8/10.
The Softer WinkBed mattress is a plush, soft model out of the bunch. It has a medium-soft feel.
Luxury Firm, the most popular version of the WinkBed mattress, is firmer than average. As a frequent choice, it exceeds the performance of the finest luxury hotel mattresses. It offers a perfect balance of support and body contouring. If firmer than average is too firm for you, try the Softer version or other best soft mattresses instead.
The Firmer WinkBed mattress is a proper firm mattress ideal if you need unyielding support. Extra cushioning will keep you comfortable all night. There is no back pain that the Firmer WinkBeds mattress won't relieve at least a little.
The Plus version is excellent for heavier sleepers. Its sturdy feel avoids premature sagging, making it more durable than the others.
Because all firmness options are hybrid mattresses, they are all bouncy and responsive. This makes all WinkBeds great mattresses for sex.
Will WinkBeds fit your sleeping habits and preferences? Depending on your physique and likings, the mattress could appear firmer or softer.
Durability
When it comes to buying a high-quality mattress, durability is what matters a lot. WinkBed mattresses are hybrids with coils, so they should last by default.
On their website, WinkBeds points out an organization called the Carpenter Technical Center. They did a professional study of mattress durability. A test was run on all WinkBeds mattresses to see how long they will last—simulating ten years of bed usage by throwing a hefty block of foam 80,000 times. The mattresses held up!
The WinkBeds mattress should last anywhere from 8 to 10 years in a person's home and keep up its quality.
Motion Transfer
The next thing to cover in the WinkBed mattress review is motion transfer.
First of all, it is a critical factor for those sharing a bed. How well a WinkBed mattress isolates movement is up for debate.
If you share a WinkBed with a restless partner, you'll probably feel them moving during the night. Because of coils, it's typical with a hybrid mattress to sense a bit of movement.
Even so, the gel-infused foam layer on the WinkBed mattress minimizes motion transfer.
Sleepers won't have a hard time sleeping on the WinkBed mattress, even with a restless partner. Sleeping on it is actually very comfy and pleasant.
Because it's bouncy and responsive, changing positions on the mattress is easy, making WinkBeds one of the best mattresses for sex.
Edge Support
Edge support is one of the critical metrics for couples choosing the best mattress. Enhanced edge support is also vital for heavier sleepers who want a durable mattress.
Many customer reviews report feeling stable sitting on the WinkBed mattress. Sit uninterrupted on the edge of the WinkBed without sagging. The EXTRA-EDGE™ technology even makes WinkBeds fit adjustable bases, providing more sleepable areas.
Does Winkbeds sag?
EXTRA-EDGE™ gives the outer edges of a WinkBed mattress Anti-sag support. You can sleep close to the edge without a sense of rolling off.
Pressure Relief
In every hybrid mattress, various little things make the mattress great.
All firmness models have zoning in the coil layer, which targets support.
The Euro-pillow top is in charge of relieving pressure points. The gel-infused polyfoam hugs the critical points and lets them unwind.
Microcoils cradle and contour the body of all sleeper types, helping with aches and pain.
Those who experience pain during the day will feel extreme comfort when they hit the WinkBed sheets.
Those who like sinking in their mattress probably won't enjoy the WinkBeds, as it's a hybrid. It is a "sleep on, not in" kind of mattress.
Temperature Regulation
Generally speaking, hybrid mattresses tend to be breathable. This Winkbed mattress review will confirm the same. They usually have more outstanding cooling capabilities than all-foam mattresses.
If you tend to sleep hot, sleeping on the WinkBeds could help you remarkably. An advanced ventilation system moves heat from your body.
The main culprit of significant heat regulation is Tencel! The covers on the Luxury Firm WinkBeds model pulls heat away from the body. The Euro-pillow tops redistribute heat instead of trapping it. At the same time, pocketed coils allow maximum airflow. The same is for the Softer and Firmer mattress models.
The PLUS version has an added latex layer to its comfort system. You may know that latex has an open-cell structure, so air circulates very quickly.
Couples tend to sleep hotter than solo sleepers. So having a hybrid mattress like WinkBeds is a highly desirable choice.
WinkBeds
WinkBeds are true hybrid mattresses made by hand. Crafted with luxury in mind, they're among the most comfortable mattresses on the market.
Sleeper Type Preferences & Weight
So far, the WinkBed mattress review suggests mattresses fit a broad range of sleepers.
All mattresses give their sleeper:
the proper support
a fitting spinal alignment
firm body hold
the right cushioning.
Even for couples who sleep differently!
Side Sleepers
If sleeping on your side, you need softer mattresses as hips, knees, and shoulders endure much pressure. You should ideally choose a mattress that has close-contouring materials and a lot of cushioning. The best option from WinkBeds would be the Softer WinkBeds Hybrid for sleepers up to 250 pounds. The Euro-top pillow embraces knees, shoulders, and hips, keeping them healthy.
Yet, heavier sleepers above 250 will need added comfort and a more durable mattress. They better pick WinkBed Plus. A pocketed coil support core helps maintain spinal alignment for heavy sleepers.
Back Sleepers
If sleeping on your back, your pick between WinkBeds will be easy. All firmness options have LumbarLayer for extra support in the body's middle "lumbar region."
There is a 3-step Back Relief system that eliminates muscle tension. It also aligns the spine while sleeping.
Yet, the weight could be one factor for back sleepers:
Those under 130 pounds can choose the Softer or Luxury Firm, while those up to 250 can pick the Firmer WinkBeds Hybrid. And there is a particular firmness option for those over 300 pounds – the WinkBeds Plus model.
Stomach Sleepers
Firmer options are perfect for stomach sleepers and heavy bodies. Such construction takes care of low back pressure relief. At WinkBeds, there are two such options: the Luxury Firm & the WinkBed Firmer Hybrid.
Both will keep your spine in neutral alignment. And the beds are sturdy enough not to sag in the midsections, which is important for stomach sleepers.
The Softer WinkBed mattress will be a great pick for lighter stomach sleepers.
Combination Sleepers
The WinkBeds all have coils in the support core, so bouncy and responsive are their nicknames. If you change positions during your night's sleep, WinkBeds mattresses will suit you beautifully.
Decide on the optimal firmness level by your weight and dominant sleeping position.
Other Mattress Models
Besides the hybrid WinkBed mattresses in this Winkbeds mattress review, there are two more models available. The GravityLux has three firmness options and the EcoCloud has one.
GravityLux
This mattress is fantastic for sleepers who prefer memory foam mattresses over hybrids. They come in Soft, Medium, and Firm comfort levels. It's an all-foam mattress great for couples who value motion isolation.

Side, back, and combo sleepers will all enjoy sleeping on GravityLux.
It's designed with breathable AirCell™ foam, another innovative technology from WinkBeds. The foam features billions of shock-absorbing air capsules for support and pressure relief.
All GravityLux models have Tencel covers tufted with 2-inch premium gel foam. There is way less heat retention, thanks to this top layer! This model is the perfect balance between bounce, pressure relief, and movement isolation.
Gravity Lux
WinkBeds are true hybrid mattresses made by hand. Crafted with luxury in mind, they're among the most comfortable mattresses on the market.
EcoCloud
One more mattress model from WinkBeds is EcoCloud. It is a latex-hybrid model made with Talalay, which is 100% natural. EcoCloud also has organic cotton and recycled steel coils in its support layer.
Latex is supportive, bouncy, and eco-friendly, which for some sleepers is very important.
On a firmness scale, we'd rate EcoCloud a 6.5/10, meaning it's a medium-firm hybrid mattress.
Thus, side and combo sleepers will enjoy sleeping on EcoCloud the most. Stomach sleepers, on the other hand, probably won't feel supported enough.
EcoCloud is perfect if you need a mattress that is:
environmentally conscious,
hypoallergenic
of organic origin.
EcoCloud
WinkBeds are true hybrid mattresses made by hand. Crafted with luxury in mind, they're among the most comfortable mattresses on the market.
Mattress Prices & Sizes
The WinkBed Luxury Firm mattress comes at a lower price than average for a luxury hybrid model.
How tall is a WinkBed mattress?
All layers make the flagship model 13.5" thick. Because it's a hybrid mattress, WinkBed is a taller than average mattress. Coils take up more space than foam, for example.
A glance at the table below will show sizes, dimensions, and prices for the Luxury Firm WinkBed mattress. The dimensions of the Softer, Firmer, and Plus WinkBeds mattresses are the same, but prices vary.
| Size | Price | Weight | Height | Dimensions |
| --- | --- | --- | --- | --- |
| Twin | $1,149 | 75 lbs. | 13.5″ | 38″x75″ |
| Twin XL | $1,249 | 85 lbs. | 13.5″ | 38″x80″ |
| Full | $1,499 | 120 lbs. | 13.5″ | 54"x75" |
| Queen | $1,799 | 135 lbs. | 13.5″ | 60"x80" |
| King | $1,999 | 145 lbs. | 13.5″ | 76"x80" |
| Cal King | $2,049 | 142 lbs | 13.5″ | 72"x84" |
The most expensive size is the Cal King, coming at a whopping $2,049. The best deal for your budget will probably be queen size, especially if you share a bed with a partner.
Among the most expensive WinkBeds mattress models are:
The EcoCloud, coming at $1,999 for a Queen size bed
WinkBed Plus for Heavier people at the same price, $1,799
Deals & Discounts
Are you interested in getting the WinkBed Luxury Firm mattress?
The affiliation gives us a fair but meaningful boost to keep writing honest and useful reviews.
Hit our Coupon page to get the best deal on mattresses!
Overview of Benefits
Where can I buy a WinkBed mattress?
The handmade WinkBed mattress looks like it would fit any bedroom!
To make sure it fits you, try out a WinkBed mattress at six different physical locations:
The SleePare Showroom in New York City, 218 W. 30th St. New York, NY 10001.
The SleePare Showroom in Tyson's Corner, 1524 Spring Hill Rd, McLean, VA 22102.
The SleePare Showroom in Miami, 217 NW 36th St, Miami, FL 33127.
The Sleep Sherpa Showroom, Twin Cities, 7301 Washington Ave S. Edina, MN 55439.
The Sleep Sherpa Chicago Showroom, 415 W. Huron St. Chicago, IL 60126.
Our Sleep Guide Austin Showroom, 27200 Highway 290, Suite 170 Cypress, TX 77433.
Visiting one of these locations isn't an option for you? Do you need more confirmation beyond the WinkBeds mattress review?
Please don't be scared of buying a WinkBed mattress before trying it. You get a fair share of trial sleeps before you decide to keep it. Take advantage of the lengthy trial!
Sleep Trial
You get a 120-night risk-free sleep trial if you buy any WinkBeds mattress. Four months is more than enough time to let your body get to know the innerspring hybrid mattress. Let it feel the magic of coils and unrivaled quality foam.
During the trial, you can question and test all the benefits of a WinkBed mattress. See for yourself – is WinkBed a mattress of (for) your dreams?
Give it at least a month before returning it! After those 30 days, you can return the mattress and get a refund.
Warranty
WinkBeds mattresses are long-lasting and thus have a lifetime warranty. A lifetime warranty is valid only for the original purchaser and original purchase date. It is also non-transferable.
Although, WinkBed warranty covers some defects:
Deterioration causing the mattress to have a visible indentation
Physical flaws caused by manufacturing causing foam or spring material to be degraded, split, or crack, despite normal usage and proper handling
Certification
WinkBeds mattresses are happy to confirm that all beds are CertiPUR-US certified.
Foam in all mattresses available is made without:
ozone-depleters,
PBDE flame retardants,
mercury,
lead and heavy metals,
formaldehyde,
prohibited phthalates regulated by the Consumer Product Safety Commission.
WinkBeds' ecological efforts are also something to commend. Especially if you take extra care buying eco. WinkBed mattresses are low in volatile organic compounds (VOCs). Their Talalay latex is OEKO-TEX Class 100 certified.
The Tencel mattress covers are derived from Eucalyptus trees. The materials come from responsibly managed forests.
Also, WinkBeds use up to twenty times less water to make the fabric. The production has a lower carbon footprint.
WinkBeds' innerspring is made from recycled steel and impurity-free iron, tempered three times.
Free Shipping
When you buy WinkBed, the bed comes to your address in a wink. It is first manufactured by hand for 3 to 5 days and built fresh with care and tremendous attention to detail.
The mattress is delivered for free in about two weeks from the day of the order. We consider it an excellent time frame for a fresh new bed made just for you.
Every WinkBeds mattress is compressed and rolled into one small box. No parts need assembling, and there is no off-gassing odor. How great!
When the mattress is out of the box and unwrapped, you should place it on your bed frame. That's it. No expanding or re-inflating is needed.
You have a new WinkBeds mattress right in front of you, ready to be slept on!
Keep in mind that:
No contact, free delivery is available within the contiguous United States only.
No international shipping is available.
Free deliveries do not require a delivery appointment, nor do they include new mattress installation.
There is no white glove delivery with the WinkBed mattress, but truly you don't need it. The mattress comes in a practical box; it's easy to unwrap and lay on your base.
Additional Services
Return Policy
WinkBeds gives you the option of returning the mattress for free. If WinkBed didn't fit your needs, just reach out to WinkBeds' contact center and arrange the return.
You can exchange a mattress for a firmer or softer version at WinkBeds. Happy WinkBed customers did so and commended the whole process on the company's website.
When you exchange a mattress, the new one is free. However, there is a $49 fee, which covers:
the logistics of the new mattress delivery,
the removal of the original mattress from your home,
and any state or local mattress recycling fees.
When you exchange a WinkBed mattress, your trial period restarts, but it's 60 days. During this time frame, you can test out if the new one is a better fit.
Should I Flip Or Rotate My WinkBed Mattress?
It would be best if you didn't flip WinkBed mattresses. But, you can technically flip the GravityLux Firm mattress and the Firmer WinkBed. They have an extra-firm bottom sleep surface.
WinkBeds recommends rotating the mattress every two weeks for three months and every two months after that. This is to elongate the mattress's life and make sure the foam breaks in smoothly.
Do WinkBeds mattresses need a box spring?
WinkBeds recommends using a platform foundation or a slatted bed frame for its mattresses. Boxspring is not mandatory.
But, investing in a new foundation isn't crazy. Some old foundations could diminish the full potential of a WinkBeds mattress. They could also void the lifetime warranty.
Final Thoughts
After reading this WinkBeds mattress review, you know if WinkBeds is a brand you'll let into your bedroom. We've covered all there is to know about these beautiful hybrid mattresses and their latex and foam counterparts.
The sum of it is:
WinkBeds offers mattresses for a range of sleepers – there are various firmness options, various models, and other sleep goodies available. This way, there is something for everyone at WinkBeds.
Which mattress is perfect for you depends on how you sleep and your physique.
Don't forget that these hybrids are excellent heat absorbents. They have bounce and responsiveness as their strong sides but cannot transfer motion the best because of their construction.
WinkBeds are eco-friendly, handmade in the USA, and extensively test their product to offer a fantastic product for a more quality life.
A WinkBed will be transcendent if you have a relaxed budget and need quality support and pressure relief. Also, if you sleep hot or simply love hybrids. A mattress so lavish is worth it.
WinkBeds
WinkBeds are true hybrid mattresses made by hand. Crafted with luxury in mind, they're among the most comfortable mattresses on the market.