Layla Mattress Review for 2023: Our In-Depth Guide
Written by: Milica Terzic
Updated: 02/20/2023
Transparency Disclosure: For products purchased through the links on this page and throughout the site, we may get a referral fee (with no extra cost to the buyer). Please read our full How We Rate page for more information. There you can see how we conduct research and test products, as well.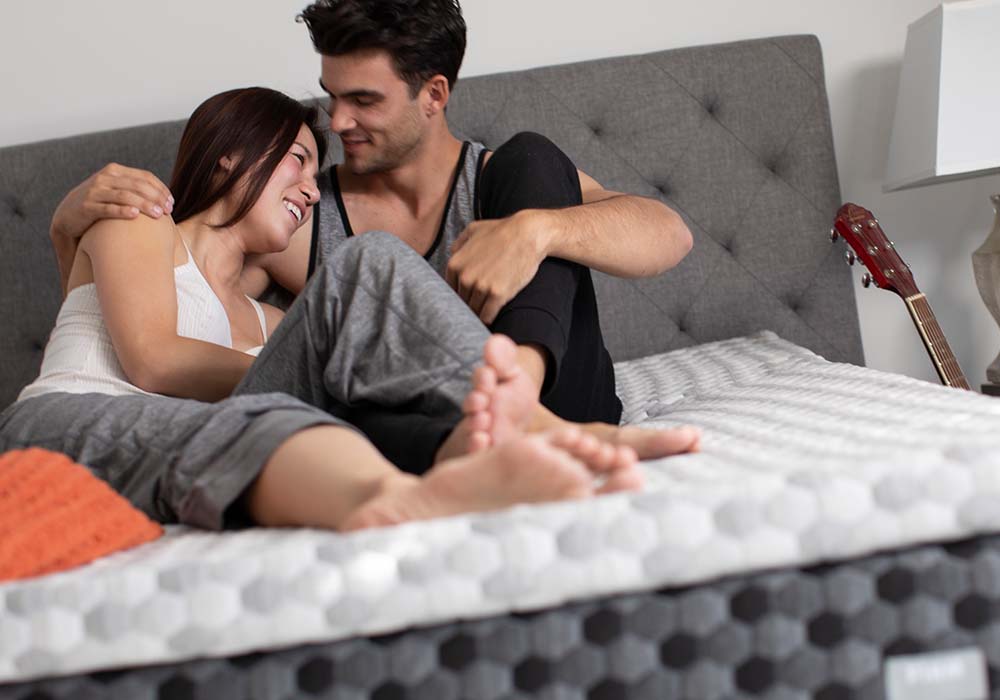 The Layla Memory Foam Mattress is a dream in a box. It's a copper-infused foam mattress. Yes, copper is the secret ingredient of Layla.
It's no witchcraft, just a little bit of magic. Copper is naturally a heat conductor used for its antimicrobial and cooling properties. In this case, it's the perfect partner for relaxed, deep, clean sleep.
Layla got its start in 2016 and has since skyrocketed in the mattress industry. Today it's one of the most popular mattresses and bedding choices.
Besides mattresses, Layla offers other bedding products like pillows, bases, blankets, and others.
This Layla mattress review should convince you to try the Layla mattress. If you do and you love it, you will be singing like Eric Clapton: 'Laylaaaa, you got me on my knees, Layla!'
Even though we don't know how'd you sleep on your knees to do so… Let's say it makes sense. Why don't you keep reading to find out more about the mattress and later study the lyrics?
Layla In A Nutshell
In all seriousness, you will love this mattress if you:
Like switchable firmness levels
Enjoy all-foam mattresses
Sleep with a partner who moves often
Need pain relief and support
Are pregnant (baby bellies love the soft side)
Layla had these and many other issues in mind when crafting this mattress. Their main goal is to make the mattress usable for all sleeper type groups & preferences and all ages.
Are Layla Mattresses Good?
Layla mattresses are excellent for the price point. They're made in the USA with care and precision. The idea behind Layla is to sleep better to be better.
The Layla mattress:
Keeps your weight in check
Reduces stress
Helps the body fight diseases
Makes you a better parent, friend, person
Layla Mattress
Layla is a mattress with switchable firmness. Side sleepers enjoy it most, but all sleeper types call Layla a dream in a box.
Construction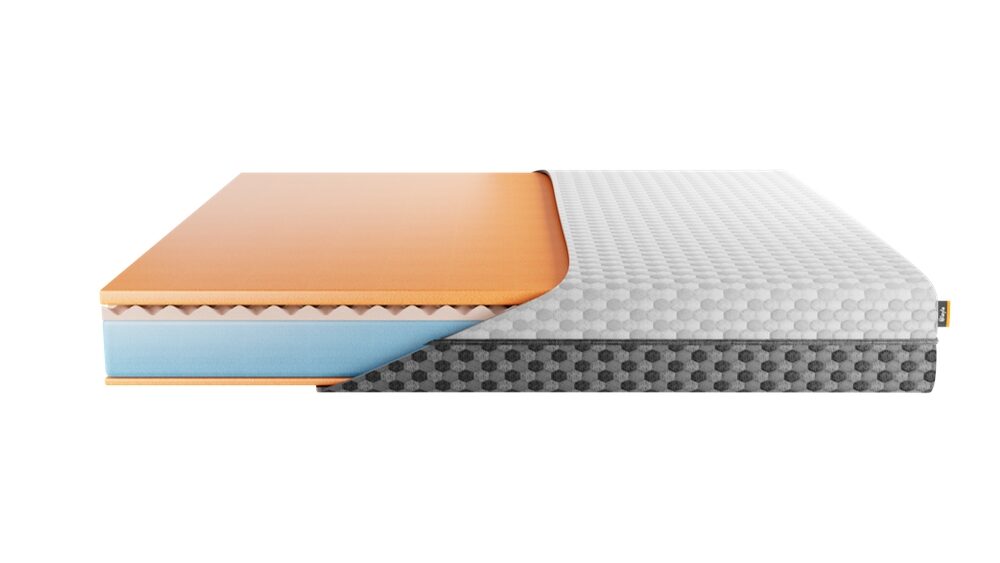 Five layers create a fantastic bed with flippable firmness. All layers combined, the thickness of Layla is 10 inches. Particular layers are copper-infused for cooling purposes.
Cover
The first thing you notice about the Layla mattress is the cover and its contrasting colors. They distinguish the two firmness levels of the mattress – the soft and firm side.
One side is lighter in color than the other, and that's how you know which side's in use. This is an excellent feature because you don't have to change the cover when you flip the mattress. Just flip it.
The cover is 66% polyester, 30% viscose, and 4% poly/lycra. It's made with a ThermoGEL cooling agent that activates when your body warms up.
The cover has a zipper for easy removal, but it's dry clean only. Layla recommends not removing the cover if there's a small stain. Instead, mix lukewarm water and natural soap to spot clean the area.
Copper-Gel Memory Foam Layer
With a soft and plush feel, the top comfort layer is 3″ of soft memory foam. But it is not traditional memory foam at all – it is copper-infused!
Copper has multiple properties:
it makes the foam antimicrobial
it has cooling properties (temperature regulation)
it brings much cooler sleep than old-time conventional memory foams
Praise for innovation! Deep compression areas have Variable Support, which ensures a lot of pressure relief. Layla is very comfortable, which is why we have it on our most comfortable mattresses list.
Max Airflow Support Foam Layer
Layla's middle orange layer is from polyfoam. It's a 2″ thick transitional layer that ensures the most airflow.
It acts as a middle layer between all the other layers and offers customized support. It uses Surface Modification Technology (SMT) and deep channeling for maximum cooling. This way, the circulation of air is motivated.
Base
Alongside the Airflow Support layer, there is the base layer. It gives more support to the Layla mattress. It is a common practice among mattresses to use high-density poly foam as a base. The same is with Layla – the 3″ core isolates movement soaks up all the bounce and prolongs the mattress's life.
You know what they say: Without a solid foundation, you'll have trouble creating anything of value!
1″ Copper-Gel Memory Foam
If you use the Layla mattress's soft side, this would be the cushion's last layer. And if you flip the mattress, it would be the first layer of the firm side.
It's one inch only, but it has rapid cooling and body heat transfer properties. Same as its 3″ counterpart, it offers ample support around deep compression areas.
Another great perk: The copper gel gives antimicrobial odor control.
Layla works on existing bases and foundations. But keep in mind that an improper or worn-out base will significantly impact the mattress's feel.
Your best options include:
A box spring, if not worn or sagging
Slatted bases, no more than 4″ apart
Different kinds of adjustable bases
The official Layla bases emphasize the mattress's softness. Buying this base with the Layla mattress gets you the best experience.
Get the most from the famous copper-infused memory foam!
If you're into getting the most out of your mattress, know that there are options available:
The Layla Essential Mattress Protector
Layla Adjustable Base
Layla Platform Bed
Layla Mattress Foundation
Layla Bed Frame
Memory foam mattresses are your jam? Glance over our top best memory foam mattresses.
Is a Foundation Needed?
You can indeed use your Layla mattress directly on the floor, but this prevents airflow. No air circulation prevents enough dryness and encourages mold development. This action could void your warranty.
Is Layla mattress Made in USA?
The flippable, homely mattress is made in the USA. The idea of the Layla concept emerges from the Bay area.
The foam for the Layla mattress comes from Georgia. Including the peculiar copper-infused memory foam, the convoluted foam, and the support foam.
All textiles for the Layla mattress come from North Carolina. All covers are woven and embedded with the cooling gel technology in NC.
Finally, Arizona is where all the materials meet and merge to give a beautiful Layla mattress. Arizona then wraps, packages, and ships the mattress directly to you.
Firmness & Feel
The uniqueness of the Layla mattress lies in its dual firmness. At Layla, they call it Flippable Firmness, and it's two foam sides. The two different layers of copper-infused memory foam are on each side of the mattress.
Layla's soft side has softer than average firmness, anywhere from 2 and 4 on the firmness and feel scale. It offers tons of pressure relief, which is most important for hip, shoulder, and back pain. It's due to the thick layer of memory foam right on top. Side sleepers will LOVE this cloud-like soft side.
If you like your mattress even softer, you can add the Layla Topper. You will feel hugged and snug even if you're sleeping alone.
If that's too soft for you, feel free to flip it!
The firm side, which isn't very firm at all in a traditional way, will be around 5.5 on the firmness scale. It's genuinely medium firm.
Sleeping on it will also relieve tons of pain located in the shoulders, neck, and back. No nightmares of sinking into quicksand, as it offers increased support and less sinkage.
Interchangeable firmness is excellent because you can flip the mattress to your favorite side. Also, you can experiment with different firmness levels and adjust the way you sleep. Who knows, Layla could change your view of a soft mattress.
Another thing: Mattress's lifespan is longer thanks to its versatility. Your investment pays off double.
Durability
You're reading a Layla mattress review, and you already know what we're going to recommend. Take care of your mattress the best way you can.
How you maintain the mattress determines its durability. Predominantly all mattresses on the market today are made to last, and Layla offers a lifetime warranty.
Unhappily, this isn't your lifetime, but the lifetime of the Layla mattress. That would be awesome, though.
Such a mattress like Layla should last you more than a decade if you take care of it the right way.
Check the warranty section for more information, but know that defects in material and craft are covered.
The Layla mattress is a great sleeping choice for those who will take care of it regularly. It can be a good option for kids as they grow into their mattresses—especially the twin-size options.
Motion Transfer
The Layla mattress has slow-moving memory foam. It takes a few moments for the foam to pop back into place.
But, the Layla is comfortable for two – it doesn't matter which side. When you share your bed with a restless sleeper, it can be hard to slumber. But both sides of the Layla mattress reduce the transfer of motion, so you don't toss and turn. Memory foam infused with copper is the one absorbing motion. Movement on one part of the mattress isn't felt on the other side.
If you're looking for a mattress that will support you both, take a look at more top picks for the best couples' beds.
There's no sound on Layla: having no springs or internal frames keeps the foam mattress quiet.
Layla is not the bounciest of mattresses out there. So moving around on it isn't exactly effortless. This makes those fun nighttime activities a bit hard.
Yes, we mean sex, and for mattresses that are better for this activity, check out the best mattresses for sex.
Edge Support
Excellent motion isolation of the Layla mattress is thanks to memory foam. But, the downside of foam mattresses is poor edge support. The reason for this is how memory foam is by its contexture.
Edge support means sitting on the edge and not collapsing. You don't want to roll off the mattress when you sleep because there's insufficient brim support.
The firm side of the Layla mattress sinks less than the soft. Sleeping on the Layla with a partner won't be a problem if you pick one of larger sized mattresses. From Queen size beds and up will do good.
Pressure Relief
One of the essential elements of a mattress is how well it relieves pressure. The Layla mattress is also called a four-layer cake of comfort and support! The fun, yummy name comes from the way Layla mattress's construction is.
The secret lies in the memory foam layers. Who would've thought? ????
The center supportive core layer gives the most support. The convoluted foam layer provides air gaps to help release body heat. And the outer layer is where the copper is.
Copper helps memory foam to provide additional support in areas of more pressure. As copper compresses, it strengthens. A structure arises that's keeping you aligned during the night.
Whatever side of Layla you choose for a snooze, pressure points will feel supported. And this applies to most sleepers, not just specific groups.
Temperature Regulation
Memory foam mattresses tend to be on the warmer side when it comes to temperature regulation. The copper gels in the Layla mattress work their way to absorb body heat and transfer it away from the body.
Thermal Gel infusion goes superb with copper – working together, they keep a comfortable temperature. This natural cooling technology prevents hot nights while the copper disperses body heat.
It's better to know right away that hot sleepers could have a problem sleeping on the Layla mattress. After all, this is an honest and unbiased Layla mattress review. Count on us; we're always candid.
If you keep it on a base, cooler sleep is possible. Placing the Layla mattress on the ground (not recommended) won't help you sleep cooler. While you're here, check out other great mattresses for cooling.
Layla Mattress
Layla is a mattress with switchable firmness. Side sleepers enjoy it most, but all sleeper types call Layla a dream in a box.
Sleeper Type Preferences & Weight
The Layla mattress is for all sleeper groups. Some will like it more than others, and that's normal.
It's probably sinking in your mind that there is some sinkage when sleeping on the Layla mattress. (Did you see what we did there with the word sink? Okay, now back to being the professional author of this Layla mattress review ????)
Jokes aside, Layla gives tremendous pressure relief for hip, shoulder, back, and neck pain. That counts for both sides of the cushion. How you sleep is what will affect Layla's comfortability more.
Feeling pain is no fun; That's why we created dedicated lists for those experiencing pain. Check the list of best mattresses for neck & shoulder pain, as they're the most frequent pain points.
Side Sleepers
Side sleepers will love the soft side of the Layla mattress. The sensation of sleeping in a cocoon comes from the mild sinkage of this side. Memory foam guarantees exceptional pressure relief for the hips and shoulders.
Lighter side sleepers under 130 pounds will prefer Layla's soft side. Heavier sleepers over 250 lbs who sleep on their side will want the soft side more as well.
Back Sleepers
Do you wish a steamroller could go over your back sometimes because of the frequent pain? If you're a back sleeper that desperately needs pain relief, then the firm Layla option is the one for you, especially if you're over 250 lbs.
Be sure to try both firmness options, but reviews suggest that the soft side lacks support.
Stomach Sleepers
Stomach sleepers will enjoy the medium-firm side of the Layla mattress. It offers support and pressure relief and doesn't sink the hips too deep.
But, those over 250 lbs will need more support than the soft side of Layla can offer. They don't like sinking into their mattress too far. This is something you can see in many Layla mattress reviews online.
Combo Sleepers
Heavier combination sleepers won't enjoy the Layla mattress as much. Memory foam makes it hard to move. Switching positions at night will take more time, leaving you restless and groggy.
Sleeping in various combinations on the Layla mattress is generally okay. The shifting could wake you up, though.
Layla mattress doesn't give you the 'sleeping on top of the mattress' feeling. It is more of a 'sleeping in the mattress' nest' type of sensation.
If you're a combo sleeper, there are many options for you! Head over to our list of best combination sleeper beds and find your perfect choice.
Pregnant Sleepers
Layla is an excellent option for pregnant women who sleep on their sides once there's a bump. Pregnant combo sleepers will sleep braced on the firm side, but the soft will relieve more pressure.
Other Mattress Models
Layla Hybrid Mattress
Besides the Layla Memory Foam Mattress, there is the Layla Hybrid version. It's made in a similar way to the foam mattress. The Hybrid has the same cover, the same copper-gel memory foam, and the same support foam.
Innovation is the innerspring layer with more bounce and edge support than foam. An additional layer of coils makes the airflow better, keeping the temperature regulated.
The Memory Foam Layla comes at 10″ thickness while the Hybrid Layla Mattress has 13″. It makes it a bit difficult to find sheets for this mattress. They could be pricier, too.
Due to coils, this mattress option is more suitable for heavier sleepers. It's a better choice for those who sleep hot, too, as coils motivate more air circulation.
Because of all added features, the Hybrid version of the Layla mattress is more expensive.
Layla Hybrid Mattress
Layla Hybrid has innovative copper-infused memory foam and individually wrapped coils that support all activities on the mattress.
To compare Queen Sizes: Layla's Memory Foam mattress is $949, while the Hybrid is $1699.
Mattress Prices & Sizes
If you're considering buying a Layla mattress soon, you'll want to know how much it will cost you. Talking about prices – Layla is among the more affordable online mattresses on the market.
Here's the table with the regular prices of the Layla Memory Foam Mattress:
| Size | Price | Weight | Height | Dimensions |
| --- | --- | --- | --- | --- |
| Twin | $599 | 50 lbs | 10" | 38" x 75" |
| Twin XL | $699 | 55 lbs | 10" | 38" x 80" |
| Full | $849 | 70 lbs | 10" | 54" x 75" |
| Queen | $949 | 80 lbs | 10" | 60" x 80" |
| King | $1,099 | 90 lbs | 10" | 76" x 80" |
| Cal King | $1,099 | 90 lbs | 10" | 72" x 84" |
As you can see, there is room for you to choose one of six different sizes of mattress. How you sleep will dictate which one's for you. Are you buying Layla for your kids, pre-teens? Are you sleeping with a partner or alone?
Do you like the option of financing Layla over a few months? Head down to the Easy-to-Use Financing section to learn more about it.
See more mattresses worth the money (and hype).
Deals & Discounts
Are you in the neighborhood (of online mattress shopping), looking to save some bucks? We can help because we have a coupon code with Layla that will immediately save you $ on your purchase.
Free Gifts With Purchase
Whatever mattress you buy from Layla, you get two free pillows! And not just any pillows, but plush and airy with plenty of fluff inside.
Let them expand first by laying the pillow on any surface. Kneading it around will redistribute the fill. It helps even out the Kapok fiber and memory foam that could have got condensed during shipping.
Kapok is a natural fiber that makes the pillows extra plush and airy. It is softer and lighter than cotton, making it a literal sleeping cloud.
There is a zipper on the pillow so you can adjust the amount of fill to your liking. The pillows support necks and stay fluffy.
Overview of Benefits
Availability
You can buy Layla mattresses and Layla products online, meaning you can't test out the product in a store before buying it.
You get a long sleep trial, and you can always return the mattress if you're not feeling its foam delight.
Sleep Trial
The great thing is you get a 120-night sleep trial period for Layla. A 4-month window should be enough even for the pickiest of sleepers. During this time, you can allow your physical body to get used to the copper-infused memory foam.
The idea of the trial is to figure out how a mattress shapes your sleeping habits. The company suggests not returning it in the first two weeks, hinting to give Layla a shot.
Warranty
Those who get their beauty sleep on the Layla get a lifetime warranty! If you wonder how this is possible, take a look at the construction and materials of Layla. It's high-quality stuff. Don't be suspicious; they are made to last. There would be no lifetime warranty if there weren't a certainty of the mattress's durability.
Keep in mind that Layla is a dual firm, flippable mattress, so the lifespan of the bed is doubled.
Be wary of the warranty on Layla's website, but these are the key takeaways of what it covers:
sagging of more than 1 inch
loss of shape
splitting or cracking of the foam
loss of mattress height
Also, keep in mind that the warranty is non-transferable to another product or person. If you have a second-hand Layla or a black market Laylas, the warranty is void.
Certification
The Layla mattress contains three types of foam:
High-density copper infused memory foam
Polyfoam
Convoluted foam
These all are CertiPUR-US certified. This certification makes sure you don't want to worry about chemicals in the Layla mattress. And we firmly believe that is one of the most critical factors to consider when choosing a new mattress because your health and safety are priorities.
One more thing: Layla does not contain fire retardants. But, it has a fire-blocking system with no chemicals added.
Free Shipping
Shipping of all Layla Mattresses ships for free to 48 states, but fees apply to Alaska, Hawaii, and Canada. The exact shipping cost comes up when you add your mattress or other product to the Layla website cart. It varies according to the address how much that cost will be.
After you place your order, pros from Layla work on crafting your mattress. It usually takes 7-10 business days to make your mattress. After that, it will take 2-5 business days for the mattress to arrive at your doorstep, depending on where you are.
Additional Services
White Glove Delivery
Layla doesn't offer white glove delivery services, and they don't remove old mattresses. When the mattress arrives at your doorstep, you have to set it up on your own – which is manageable. You just need the help of a family member or friend.
Assembling the Layla mattress isn't a hassle. You have to:
Drag it from doorstep inside
Unbox the mattress
Rip the bag carefully
Unroll the mattress
Let it expand
How Long Does it Take For a Layla Mattress to Expand?
This mattress expands fully after 3 to 4 days. If you lay on it right away, it's okay, but know it's going to be much softer before it fully develops.
Easy-to-Use Financing
Okay so, you want to buy Layla but don't wanna break the bank. That's reasonable and the exact reason why it's possible to do easy financing with Affirm. It's super easy as Layla never charges your late fees no matter what the circumstance.
Check your eligibility to get approved before buying a Layla mattress. Once approved, you will have the option at checkout to choose a 3, 6, or 12-month term. This sleep you deserve!
How to Return Layla mattress?
Waking up on the Layla mattress isn't fulfilling your dreams? Pun intended. If you don't love it, all jokes aside, email Layla's support team.
You only need to have your order number and cite the reason for your return. The rest is up to Layla – they will pick up the mattress as is, no box or repackaging.
Layla partners with local non-profit organizations and charities to re-purpose the returned mattress. You will indeed receive 100% of your money back. What an excellent way to reuptake your old mattress and let it serve a new purpose!
Does Layla Mattress Smell?
Off-gassing is a process of releasing volatile organic compounds (VOCs). Off-gassing happens when you unbox the mattress. There is an initial odor when the Layla mattress is removed from the bag. This odor is due to the synthetic foam. But Layla mattresses are CertiPUR-US certified, meaning they have low VOCs.
Reviews on the Layla mattress suggest different intensities of the off-gassing. Some people are just more sensitive and feel the mild odor much stronger than others. Some reviewers sensed the smell but reported it vanishing in a few days.
The bottom line: Mattresses on the market have VOCs, but responsible companies lower their levels to disturb their users.
Where are Layla Mattresses Sold?
Layla is an online mattress, so buying it from their official website is the safest online option. Buy the original mattress because second-hand mattresses aren't covered in the warranty.
A new, fresh Layla mattress is made for you when you make the order. Isn't that amazing? No storage-held beds in this Layla mattress review!
Final Thoughts
This brings the Layla mattress review to an end, where we gave you a transparent view of the mattress. You know what to expect if you choose to change the room where the magic happens.
Layla gives you excellent quality sleep with lots of support. This mattress is an incredible find for anyone who dreams of a high sky. And for all who enjoy slumbering on foamy mattresses.
Don't forget; this mattress has Flippable Firmness so that you can experiment with it.
A side sleeper will love the Layla mattress most, but all sleeper types can get ready to call Layla a great sleeping buddy.
And now, one last question: When are you going to try Layla out?
Layla Mattress
Layla is a mattress with switchable firmness. Side sleepers enjoy it most, but all sleeper types call Layla a dream in a box.