Best Mattress for Neck and Shoulder Pain in 2023 – Ranked & Reviewed
Written by: Milica Terzic
Updated: 02/20/2023
Having neck & shoulder pain is a part of modern-day life. When we work, we sit in front of the screen, bend our necks to look at our phones, and sometimes forget about our posture.
Even though those things sound minor, they could leave us in aches and pains. Although many wake up with pain every morning, the stiffness shouldn't be ignored. It should be taken care of as soon as possible instead.
The neck or cervical spine connects the head to the rest of the body while also being mobile. And the shoulders are of shoulder blades, collarbones, and upper arm bones held by joints. They give the body flexibility and motion most diverse in the whole human body.
Without a healthy neck and shoulders, there is poor life quality. Ways to combat discomfort in the neck and shoulder area are:
– Visiting chiropractic
– Taking medication
– Exercising
Another very effective way is to combat pain with a mattress. This cushion should love and hug those pressure points in the right way. It is vital to choose a mattress that will not only be comfortable but supportive too.
The bed of your choice should:
release tension in the shoulders and neck
embrace the pressure points and cradle them
let the body sink a tad to ease the stiffness
be durable, of high-quality materials
be affordable for your budget
Besides everyday pain in the areas, some could also be struggling with more severe pain. Arthritis, degenerative disk disease, swollen tendons, etc., are all specific conditions that need special care.
Having a supportive and comfortable enough mattress helps deal with the sprain efficiently.
In front of you is a list of top-notch mattresses for shoulders and neck issues. These mattresses will either soothe or cure pressure in the named areas. All mattresses are creme de la creme on this list. If there are any updates in the industry, we will do our best to upgrade the list and give you the freshest info. Let the best mattresses for the neck & shoulder pain list begin.
Our Picks for Best Mattresses for Neck and Shoulder Pain in 2023
Saatva Classic – Best Innerspring Mattress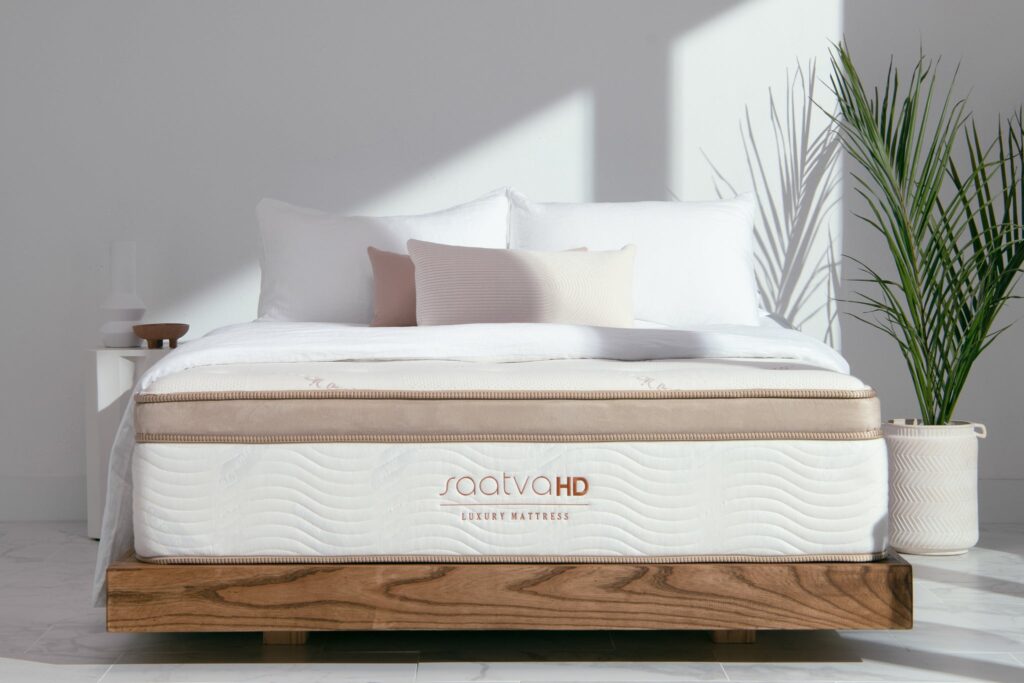 Is that Saatva again on the list of best mattresses for neck & shoulder pain? Yes, it's possible as the Classic model is loved by many for the tension relieving qualities. It's a fan favorite, especially for soothing neck and shoulder problems.
The Saatva mattress is divided into zones to ease stiffness and let you rest luxuriously. The secret of such comfort is the Euro pillow top in combination with two types of coils.
There are two types of coils to align the spine for all sleeper types in the best way possible. The added memory foam layer contours the body. Foam soothes and relieves pressure in the shoulders and the neck.
The zones in the mattress provide more pressure relief on the neck and shoulders. All sleeper types will find comfort with the Saatva Classic. It's a durable mattress for heavier individuals with these problems.
Yes, this is a soft innerspring mattress best known for its bounce and three firmness levels:
Plush Soft 3/10
Luxury Firm 6/10
Firm 8/10
Side sleepers with shoulder and neck stiffness prefer soft mattresses. They rest on these points the most and need the level of softness and comfort to feel the mattress doing the work.
Whichever position you prefer, the soft and medium-firm will relax the pressure. These two have the proper padding to give the shoulders and neck a break from all the tension.
Innerspring mattresses have above-average air circulation. Hot sleepers with neck and shoulder issues will also find Saatva a sleep haven.
Don't only take our word of praise for the Saatva Classic model. Take into consideration the word of Congress of Chiropractic State Associations. Saatva claims that they recommend and approve the Saatva Classic to chiropractic clients.
The Saatva Classic is also one of the most eco-friendly mattresses for neck and shoulder pain. It has recycled coils, organic mattress covers, and natural flame retardants. Made in the USA, it also offers free White Glove Delivery.
Why Does Saatva Mattress Stand Out?
Saatva Classic is a fan favorite when it comes to neck & shoulder pain relief
It has three firmness levels; Plush Soft and Luxury Firm are ideal for relieving muscle tension
The Congress of Chiropractic State Associations recommends this luxury mattress
Saatva Classic is environmentally conscious and comes with free White Glove Delivery
It caters to the broadest range of sleepers with scruff and shoulder issues
If you have persistent neck & shoulder pain, give Saatva Classic a chance. Dive deep into the Saatva mattress review to learn more.
Saatva Mattress
Available in 3 firmness options, the luxury hybrid mattress Saatva enjoys great popularity with various sleeper types.
Casper – Best Mattress for Combo Sleepers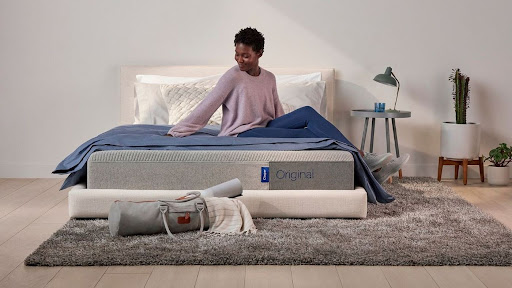 Now is the time to come across an outstanding mattress – the Casper Mattress. This is an excellent choice for anyone with upper back, shoulder, and neck soreness. The reason is the tri-zoned memory foam layer, making it both a soft and supportive mattress. This way, the Casper is versatile and adaptable to all sleeper types.
The middle part of the main foam layer of the mattress is firmer to provide support to the midsection. It distributes the weight, too. This way, hips don't sink into soft foam cushions. Shoulders don't build up pressure on the firm, stiff areas.
There is a softer foam zone in the shoulder area that provides great cushioning. And a firmer foam zone in the lower area is for both hips and lower back to help adjust the spine's proper alignment. Thousands of reviewers claim Casper helped relieve aches and transformed their sleeping routine.
Casper is popular because of this proprietary zoned layer. The whole idea behind it is to keep hips at level and shoulders hugged at the top of the mattress. But there is also the AirScape™ foam that makes the mattress responsive. At the same time, this specialty foam has a slight bounce while it also shapes the body's form.
As you may have guessed, Casper is a mattress popular with couples!
Because of these two, proper spinal alignment and deep relief are present on the Casper. And that's not only for those calm back sleepers who don't move an inch during the night.
Casper mattress is actually best for combination sleepers with neck and shoulder pain. You can easily move on the Casper mattress during the night. Enjoy a deep sleep and profound comfort. It's a responsive mattress but really comfy.
Casper combines even amounts of comfiness and supportiveness. Hence it is an excellent mattress for all sleeping positions:
Back sleepers get the right lower back support.
Side sleepers should feel tremendous ache alleviation on their shoulders and neck.
Stomach sleepers can get the fittest support they need on their knees and hips.
Casper is a sleeper's favorite mattress also because of its price – a Queen size is $1,495. Quality and price let Casper compete with luxury mattresses for neck & shoulder problems.
Why Does Casper Mattress Stand Out?
Casper has a tri-zoned system that combines comfiness and support
It is an affordable, high-quality mattress
The construction makes the mattress usable by all sleeper types
Casper is best for combo sleepers with ache and pressure in the neck and shoulder
It's an excellent option for couples due to the AirScape™ foam
Reading about Casper made you wonder about other ghosts, oops, mattresses? Then be sure to read our comprehensive Casper mattress review and pick your 'Boo!' um, bed! 🙂
Casper Mattress
With a perfect balance of comfort and support, it's no wonder that the all-foam Casper mattress is such a great fit with back and combination sleepers.
Loom & Leaf – Best Luxury Foam Mattress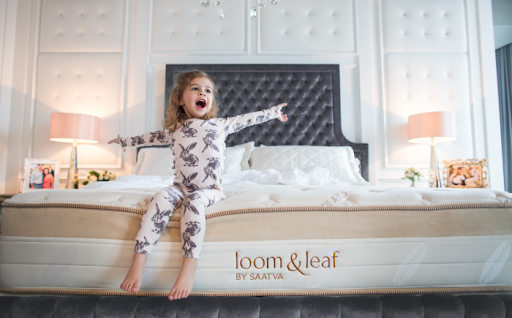 A luxury mattress made by Saatva is a safe bet, right? Loom & Leaf is an excellent mattress with excellent pressure-relieving properties. It is known for its tight cradling around the whole body. With Loom and Leaf, you get free White Glove Delivery and a mattress set up just how you want it.
The luxury mattress has high-density, slow-moving foam in the upper layers. How you sleep on the Loom & Leaf alleviates all pressure points. This includes the neck and shoulders. The idea is to release the body from any extra stress while you sleep.
Pretty tight, huh? Yep, the Loom and Leaf provide support for the shoulders and hips in the first comfort layer.
There is dense memory foam infused with Spinal Zone gel. The gel takes care of the neck & shoulders, while it also minimizes heat retention. That's something essential with all-foam mattresses.
There are two firmness options with Saatva's Loom and Leaf:
Relaxed Firm (Flagship model) – 5-7/10
Firm 8/10
The first model is flagship because most people choose this option over the firm model. Even though it's a Relaxed Firm, it gives a lot of support to the lumbar area. Loom & Leaf is also a great choice for people with lower back pain.
It has a softer, dense feel to the touch and gives a cradling and comfortable feel. Side sleepers with shoulder pain will most enjoy the Relaxed Firm of the Loom and Leaf.
The firm model will also contour to the body but won't sink too much. The firm option is for heavier stomach or back sleepers with neck and shoulders problems. The layers on this one are firm to ensure sleepers' spine receives more comfort.
Whichever firmness you choose, you will get the spinal alignment you require to ease the muscle tension. True for the shoulders especially. Combined with the perfect pillow, all neck numbness or tingling will dissipate.
Why Does Loom And Leaf Mattress Stand Out?
Loom & Leaf is both comfortable and supportive
High-density memory foam relieves shoulder and neck pain to all sleeper types
The mattress has two firmness options, the firmer ideal for heavier individuals
Spinal Zone gel in the comfort layer cradles the body, minimizing tension
Side sleepers with shoulder issues will sleep best on the Relaxed Firm side of the Loom & Leaf
The Loom and Leaf is a mattress crafted for comfy snoozes, and to learn more about it, check out our Loom & Leaf mattress review.
Loom & Leaf
Loom & Leaf is a premium all-foam mattress, that excells both at pressure relief and motion isolation. Perfect for those that have neck and shoulder pain.
DreamCloud – Best Hybrid Mattress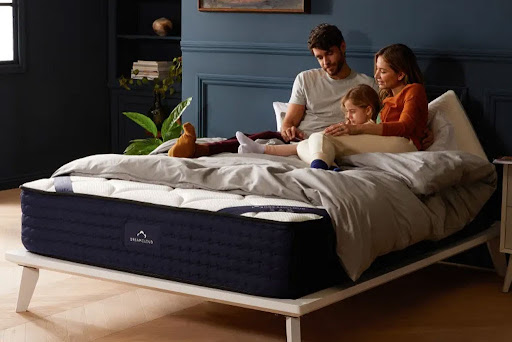 The name tells a story already, but DreamCloud has a cloud-like feel for sound dreams.
With 14″ thickness, this hybrid mattress has a cashmere-blend top for softness to the touch. Pressure relief is thanks to the second pressure-relief comfort layer. It's made of gel memory foam that contours to your shape.
Right below it is another layer that lets you sink but not get trapped in the foam.
DreamCloud has a medium-firm feel, a 6 out of 10 on the firmness scale.
The mattress is easy to move on and releases tension in the neck and shoulders. The mattress is characteristic for being responsive alongside being soft. Couples can make a safe bet with the DreamCloud mattress.
Coils in the base target pressure points and ease the pain. The coils also allow better airflow that doesn't occur in all-foam mattresses. DreamCloud is a perfect pick for hot sleepers with pressure on their neck and shoulders. Sleeping on DreamCloud won't leave hot sleepers waking up sweaty or in pain.
Back and stomach sleepers of any weight enjoy relaxing on the DreamCloud mattress. But, very light side sleepers under 130 pounds could find it too firm. They feel no significant pain relief. Sleeping on the DreamCloud makes them grumpy when awake. It could give them throbbings in the hips and knees.
If you are a light side sleeper with neck and shoulder issues, opt for the DreamCloud Premier instead. This mattress variation has two Euro Top layers, one for cradling and one for support. These layers will hug your sides more lovingly and give you more quality dreams.
When it comes to pressure relief, DreamCloud is admired by its owners. Thanks to its hybrid construction, there is pressure relief for the hips, shoulders, and neck.
Why Does DreamCloud Mattress Stand Out?
It's a hybrid mattress perfect for pressure relief in the neck and shoulder area
DreamCloud caters to all sleeper types except very light side sleepers
Having coils, it's also an excellent option for those sleeping hot
DreamCloud is also very responsive and thus convenient for couples
Learn more about this dreamy mattress in the detailed DreamCloud mattress review.
DreamCloud
The DreamCloud mattress is a five-layered hybrid mattress known for its great value. The model is especially a hit with hot and back sleepers.
Nectar – Most Affordable Memory Foam Mattress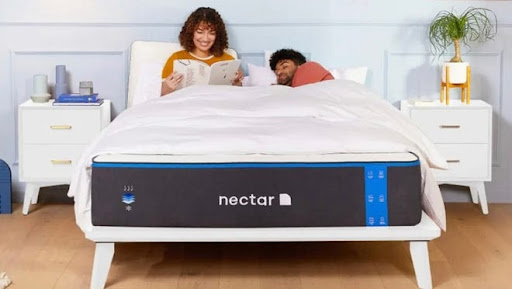 Another memory foam champ on this list is the Nectar Mattress.
Did you know that 90% of customers said their Nectar mattress helped reduce overall pain, stiffness, soreness, or discomfort?
This premium foam mattress is less expensive than most of its competitors. Alongside, it is perfect for relieving shoulder and neck pain, and it does it best for side sleepers and back sleepers.
The conforming memory foam works its way to embrace pressure points. It lets them ease and unwinds, letting you sleep soundly.
All sleeper types and sizes will enjoy the cloud-like feel of the Nectar mattress. All except side sleepers under 130 pounds. They'd find the Nectar too stiff, thus not releasing any neck stiffness or pain in the shoulders.
With 6/10 firmness, Nectar is a medium-firm all-foam mattress. It has three memory foam layers that stay close to the body to massage all pain points. Including the shoulders and neck.
The 3-inch comfort layer follows the body's outline, thus hugging it.
The mattress relieves stress as it wraps the body, which is characteristic of memory foam. This means less discomfort.
Nectar has excellent movement isolation. We'd recommend it as a superb mattress for couples that have neck and shoulder issues.
You will sleep profoundly because you won't sense motion from your partner on the Nectar. The dense polyfoam layers absorb it. The base of the mattress keeps you well-comforted throughout the night.
Tencel is used to cover and wrap the whole Nectar mattress. Its role is to regulate temperature but also contribute to the comfort of the mattress.
Another reason to love this mattress? Its sleep trial period lasts an entire year! ????
Why Does Nectar Mattress Stand Out?
Nectar is an affordable premium memory foam mattress
Customers said it relieved neck & shoulder pain
Nectar mattress is most suitable for side and back sleepers up to 230 pounds
Sleepers get a full year to try out the mattress and exchange it if wanted
Excellent motion isolation makes it great for couples with neck & shoulder pain
Find out more juicy details about this customer favorite in the Nectar mattress review.
Nectar Mattress
Nectar is a premium quality mattress at an affordable price. The secret to its outstanding comfort lies in plush layers of memory foam.
Amerisleep AS3 – Best Mattress For Couples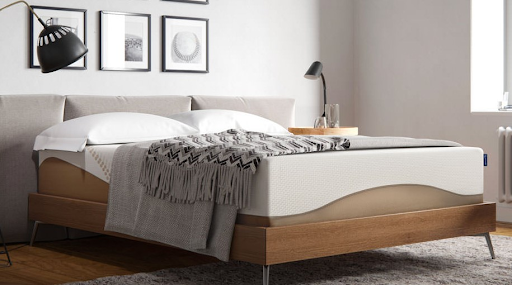 Amerisleep tailors its mattresses to hug and massage pain points. At the same time, these mattresses offer comfort and support. The AS3 has medium firmness, which is the perfect mix to ensure uninterrupted sleep. The most popular mattress model gives pressure relief for neck and shoulder pain.
Amerisleep AS3 is a memory foam mattress made with a Celliant cover. Besides regulating heat, the Celliant cover helps reduce pain. Sleeping on AS3 will feel outstanding. Especially well will feel those with sore muscles or injuries in the neck & shoulders.
Amerisleep has dense memory foam in its construction, making it a durable mattress. It's great for couples because it isolates transitions pretty well. Split the cost of Amerisleep's best-seller mattress with your loved one! Get Amerisleep for even less by grabbing our coupon.
There is a range of Amerisleep mattresses, and each is designed to cater to a different sleeper type. Because of its medium-firm feel, AS3 is an amazing pick for combination sleepers up to 230 pounds and stomach sleepers. They will feel relief on the neck and shoulders. But, back and side sleepers won't feel as relieved.
The 3″ Bio-Pur® Comfort Layer handles the extraordinary motion isolation, as it has a plush feel. Memory foam hugs and contours to the body, alleviating pressure in the neck and shoulder. No disturbance or achy neck while your partner turns on the Amerisleep AS3 mattress.
Neck and shoulder sufferers sense pain relief on the Amerisleep foam mattress. The brand also offers a hybrid version – AS3 Hybrid that could be better for back and side sleepers over 230 pounds.
You aren't sure if the AS3 will reduce all pain and let you sleep like a log? Don't worry, as Amerisleep lets you try out a mattress for full three months! If you don't feel at home with three, try out some of the others instead.
Why Does Amerisleep AS3 Mattress Stand Out?
Due to its excellent motion transfer, AS3 is loved by couples.
As a memory foam mattress, it has a quiet and seamless performance.
AS3 reduces shoulder & neck problems in almost all sleeping positions.
It's a best-selling model because it's a perfect balance between a firm and plush feel.
Known for deep contouring and weight distribution, sleepers feel especially mellowed and chill.
Be sure to read our complete Amerisleep mattress review, where we cover all five foam models.
Amerisleep AS3 Mattress
The brand's most popular model, Amerisleep AS3 mattress, is an eco-friendly bed and offers an phenomenal balance of comfort and support.
Layla – Best Mattress for Side Sleepers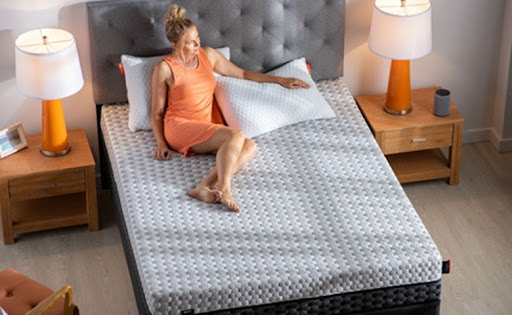 One of the most famous online mattresses is Layla, a brand that offers a memory foam model and a hybrid mattress. The memory foam version relieves pressure from the hip, shoulder, back, and neck pain.
It is also flippable and has two firmness levels:
Firm 5.5/10 – a genuinely medium-firm side
Soft – between 2 and 4/10 – a cloud-like soft side
This copper-infused mattress is a four-cake layer of comfort and support. The center core is most supportive in the mattress, but it's not alone. The copper infusion also takes care of pressure points like the neck and shoulders.
Besides making the Layla a more comfortable mattress, the copper eats up the warmth. It will assist in heat dissipation and wick away excess moisture. Those making the Layla claim that the copper infusion makes the mattress antimicrobial.
If you have tension in the neck and shoulder area, Layla will transform how you sleep. There is pain-relieving memory foam on both sides of the Layla mattress. The pressure will greatly loosen up in the upper back.
Have we already mentioned that Layla is flippable? 🙂 Many sleeper types are welcome on the Layla mattress.
Depending on how you sleep is a determinant of which side will suit you more. Side sleepers with neck and shoulder problems will prefer the soft side of the Layla. The soft cushions contour the body and have close cradling.
Yet, stomach and back sleepers need less cushioning and more ample support. The firmer side will probably be their preferred choice.
Because of such profound compression support, sinking in the mattress's memory foam is inevitable. To find out more details about Layla, read our full Layla mattress review.
The Queen size retails for just above $900, which is impressive for a mattress that has two beds inside. Coming with a lifetime warranty, you practically have a mattress for decades. If you want a mattress for less than a thousand, check out the best mattresses under $1000 and find a banging deal.
Why Does Layla Mattress Stand Out?
Layla is an online memory foam mattress with flippable firmness
Its firm side is a fantastic pick for side sleepers with neck and shoulder pain
It's not the best mattress for sex, but it's affordable
It has deep compression support on both sides – soft and firm
Layla melts away heat and pressure at the same time
To find out more details about Layla, read our full Layla mattress review.
Layla Mattress
Layla is a mattress with switchable firmness. Side sleepers enjoy it most, but all sleeper types call Layla a dream in a box.
Final Thoughts
There you have it, the best mattresses for neck and shoulder pain are in front of you. Battling between themselves when the reality stays the same. Every mattress is remarkable for something different, but they should all:
release tension in critical areas
hug the pressure points
let your body sink into comfort layers
be long lasting and durable
be in your ideal price range
Let's have one more look at those mattresses:
| Mattress | Best Mattress for Neck & Shoulder Pain |
| --- | --- |
| Saatva | Best Innerspring Mattress |
| Casper | Best Mattress for Combo Sleepers |
| Loom & Leaf | Best Luxury Foam Mattress |
| DreamCloud | Best Hybrid Mattress |
| Nectar | Most Affordable Memory Foam Mattress |
| Amerisleep AS3 | Best Mattress for Couples |
| Layla | Best Mattress for Side Sleepers |
There are a plethora of choices on this list. It depends on your personal preference and need, which one will end up with.
Which mattress is going to be your nighttime haven? Which one will have the honor to relieve your neck and shoulder pain? Let us know!
Frequently Asked Questions
Is a firm mattress good for neck pain?
Neck pain mostly happens due to sudden movement, a muscle strain, or a ligament or tendon injury. A medium-firm mattress is an ideal firmness for those with frequent neck pain.
Is the way you sleep giving you neck pain?
If you sleep on your stomach a lot, that could be the reason.
Try changing your sleeping position. It is best to sleep on your back or side if you have neck pain.
Different softness levels will work better for each sleeping position. Sleeping on your side with neck pain will need a slightly softer mattress.
Also, be wary about which pillow you choose – too thin or too thick could misalign the spine.
Is memory foam good for neck pain?
Time, exercise, and visiting chiropractic can improve most types of neck pain. Sleeping on an all-foam mattress like Nectar can also be of enormous help for the stiffness in the neck area. A hybrid or innerspring mattress with memory foam is better for hot and heavy sleepers.
Back and side sleepers will benefit most from memory foam. Foam contours the body and relieves pressure from painful points. It also offers enough support for the points to feel stable and rest.
Combo sleepers with neck problems may dislike slow-moving memory foam mattresses. It could be challenging to move and switch positions during the night. The reason is that memory foam has sunk their body.
What type of mattress is best for shoulder pain?
The mattress type best for shoulder pain should be supportive but comfortable. It should let shoulders release stored tension but still hold them in place and not let them sink too much. If shoulders do sink a lot, you could lose the neutrality of the spine needed for healthy sleep.
Shoulder pain is an everyday thing. The pressure accumulates during the day. From carrying heavy stuff, sitting too much to sleeping on an unfitting mattress.
Picking the right mattress is inevitable for anyone wanting to sleep stress-free.
We have listed phenomenal mattresses that relieve both neck and shoulder pain. We have hopefully covered one that will fit your needs most…
Can a hard mattress cause shoulder pain?
A mattress you sleep on can be a culprit of your shoulder pain. As with neck pain, it depends on:
what type of mattress you have
how you sleep
what pillow you use
how firm or soft your mattress is
To avoid shoulder pain, don't sleep on too firm mattresses, especially on your side. You could wake up with stored tension in the shoulders, which could ruin your day. Unless you are a heavy stomach or back sleeper, in which case a firm mattress will do you more good than harm.
Heavy side sleepers should opt for a medium-firm to firm mattress to ease shoulder tension.
Lightweight and average body types sleeping on their side should choose softer mattresses. Stomach and back sleepers can be safe with a medium-firm mattress.
Reasons for shoulder pain can be many. Make sure you also choose a pillow that befits your sleeping position and the type of ache you feel.